Do you have any old wooden chairs hiding away in your garage that you don't love anymore? Try out this step-by-step thrift flip hack which will transform a relic of the past into a new piece of furniture for your home — plus it is easy and fun to do! We recommend using the Resene SpaceCote Low Sheen Waterborne Enamel – shade Paddock on the bench seat, which is a calm, cool green that adds the perfect touch of peaceful.


What You Need: 

2x Old wooden chairs
Drill
Screws
Sand paper + cork sanding block
Handler roller + dacron sleeve
Paint brush
Metal Ruler + Pencil
Scissors
Hammer
Measuring tape
Hand saw
Pliers
Flat head screwdriver
Craft knife
Wood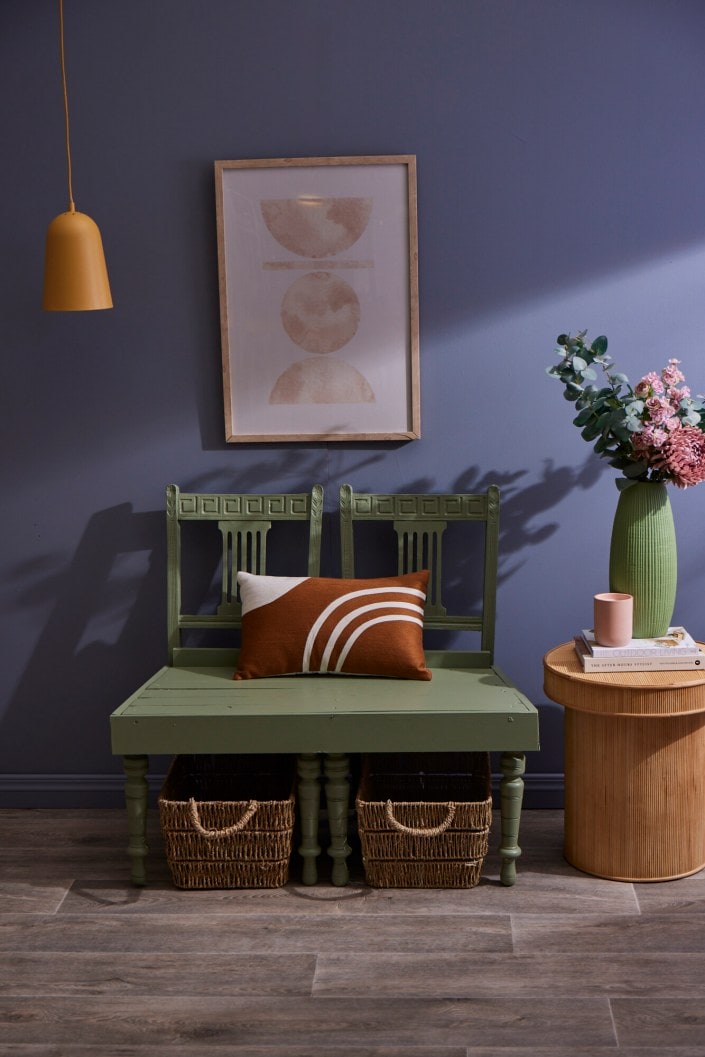 Step By Step Guide

Step 1: Use your flat head to pull out the strips.
Step 2: Use a hammer and flat head to loosen up the pins and then use pliers to pull out the pins.
Step 3: Use flat head to unravel fabric.




Step 4: Use a craft knife to cut through hessian fabric and cut around hessian.
Step 5: Use hammer and flat head to loosen old nails.
Step 6: Use hand saw to cut out the square wood on top.




Step 7: Now that the chairs have been stripped, drill the wood planks into the top of the chairs to create a new seat.
Step 8: Use the ruler and pencil to measure where you are going to cut and then saw the wood down using these markings.
Step 9: Sand the cut edges for a smoother edge.




Step 10: Cover the front and sides with another wood plank for a cleaner look.
Step 11: Sand your chairs and dust off.  Then apply one coat of Resene Quick Dry primer and allow to dry.




Step 12:  Apply two coats of Resene Paddock onto the bench seat.  We used Resene SpaceCote Low Sheen waterborne enamel.




All finished! We recommend adding some extra touches to make your new bench seat seamlessly tie into your decor, like painting a matching vase to sit next to it, or adding a cushion for comfort. Thrift flips are easy and breathe new life into your lovely home, and you create an original piece that cannot be bought anywhere else! 


Top Tips
If you decide to opt for a brighter colour, use a gloss finish, such as Resene Enamacryl waterborne enamel, to help your colour pop.
For antiqued effect, choose two Resene colours. Use one as your basecoat, then apply Resene FX Crackle, and the second colour as your topcoat. The Resene FX Crackle will shrink and crack revealing the basecoat colour through the topcoat.
Related Article: How To Spruce Up Your Shed With Resene