The classic art of flower pressing is enjoying a resurrection. Here's how to immortalise your greenery in a striking and thoroughly modern manner.
The shape of things
Modern pressed plants and leaf forms are as much about preserving their beauty as making a statement in your home. Look for graphic shapes to play with and group them in a random or orderly fashion – the effect of either can be striking. Here, a collection of pressed nasturtium leaves, ferns and a single, sculptural leaf marries beautifully with a lush gathering of fresh leaves and potted plants.
Plant art
There are no hard and fast rules for decorating with pressed plants and flowers. Here, a mismatched collection is teamed with a sculptural hanging plant and placed in a spot where it becomes an attractive foil for the garden outside. Taller, sculptural plants and flowers can be used to great effect in interior settings – think toetoe, lilies and irises.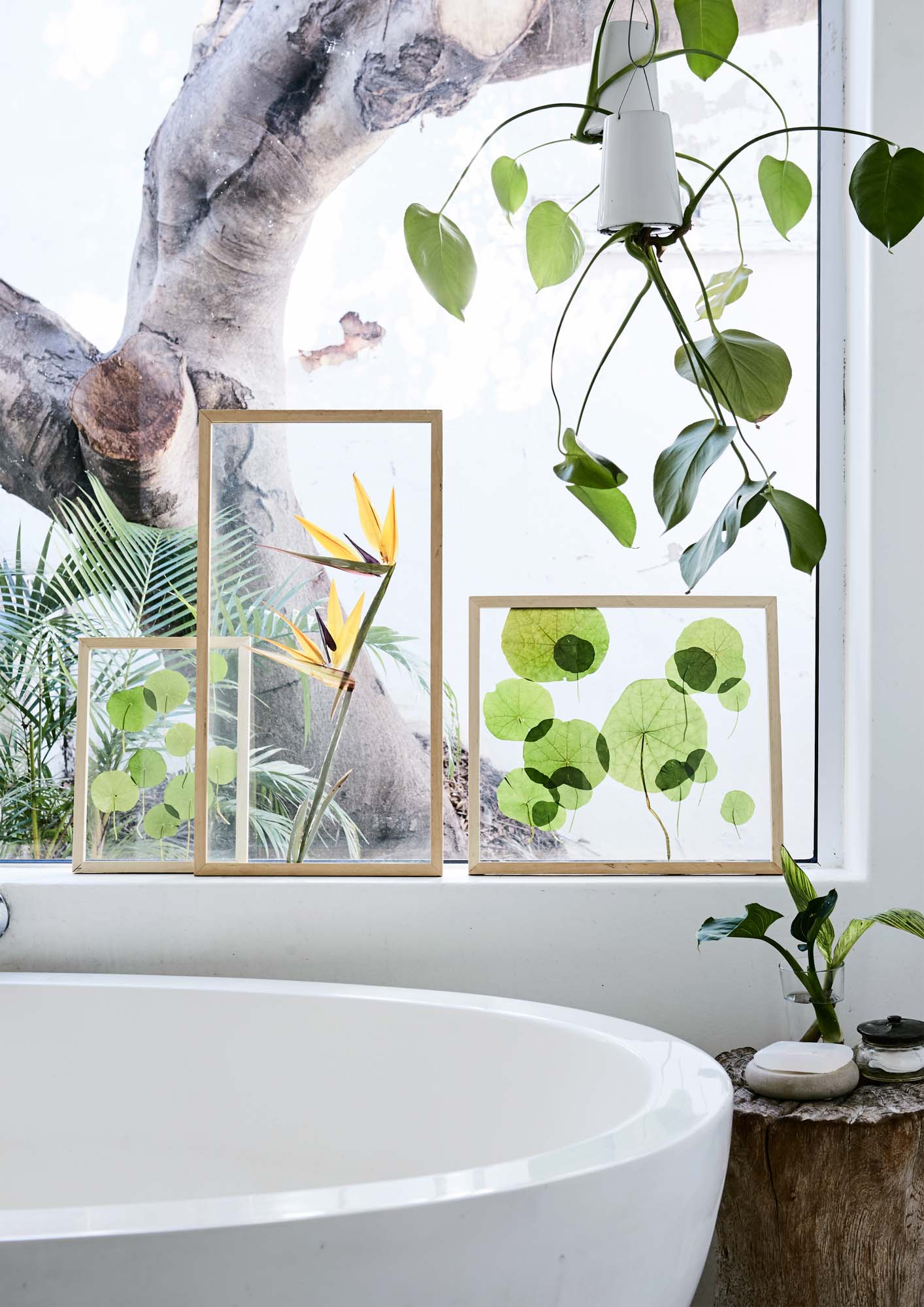 The way these particular cuttings are displayed – carefully sandwiched between sheets of glass – enhances their colour and allows light and glimpses of the garden to filter through. It's a contemporary approach to the classic art of plant pressing for posterity. To enhance the ethereal nature of plants pressed between glass, choose leaves and flowers that are thin enough to become translucent, and play around with colours (though be aware that they'll fade after a while).
How to press plants and flowers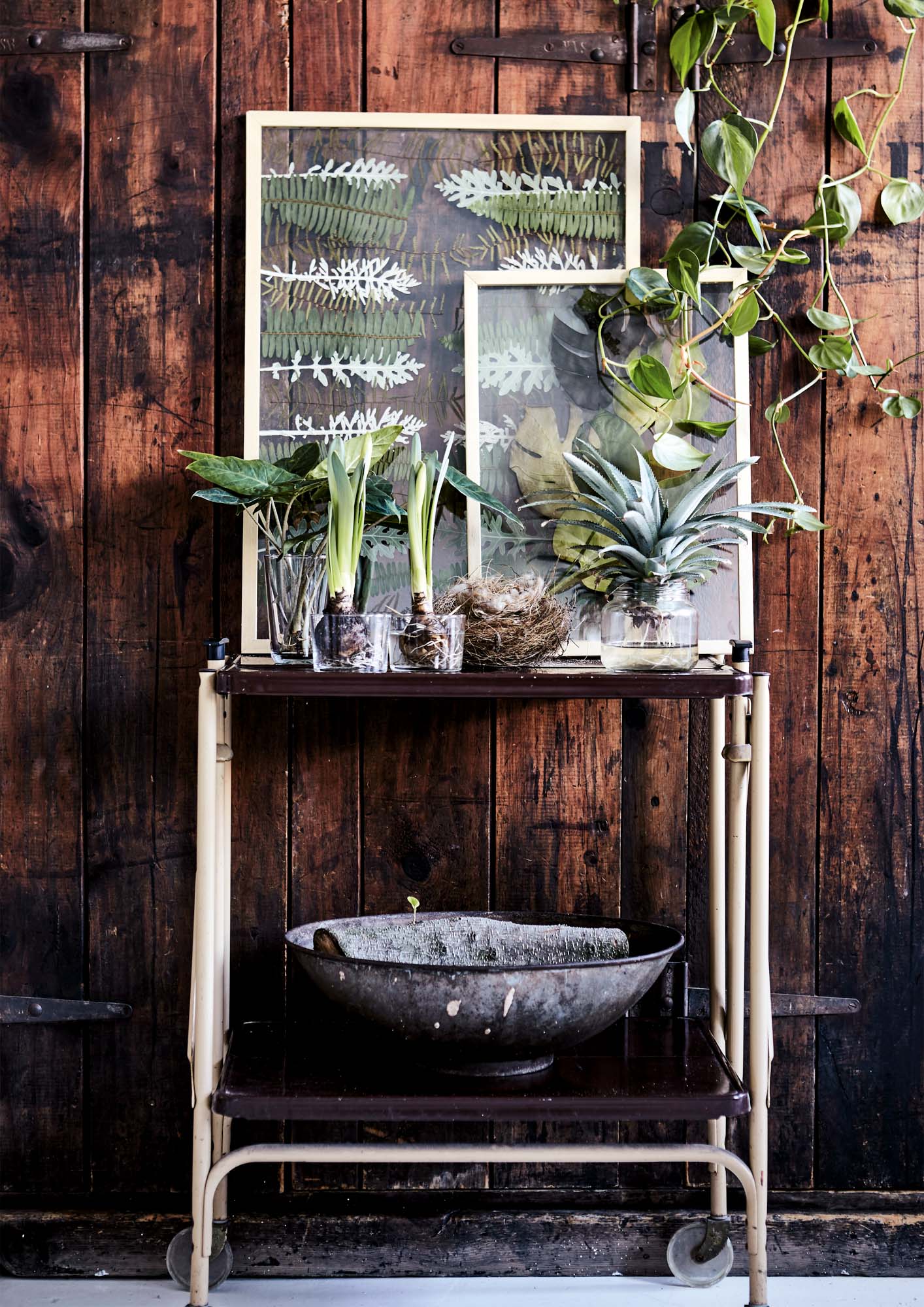 Any space is transformed with the addition of plants and flowers – and pressed botanicals help you preserve that sense of bringing nature in. Whether you gather leaves, sprigs or blooms from your garden or on a rural or neighbourhood walk, all you need is an appreciation of colour and form and you'll be good to go.
You'll need
Plant cuttings and/or flowers
Secateurs or scissors
Vessels for sorting and for standing stems in water
A small roller for flattening leaves and flowers
A craft knife for dissecting bigger flowers
A flower press (If you don't have a press, heavy books weighted down with a brick or two will work)
Cotton sheets, muslin or blotting paper
Thick card to use as stabilisers in your press
Method
1. Pick your plants and flowers. Harvest flowers first thing in the morning once the dew has evaporated and when they have just opened, not at midday when blooms are likely to be past their prime.
2. Immediately after cutting, plunge the stems into cold water and recut them underwater and at an angle. Allow them to stand in the water to absorb as much water as possible.
3. Remove any stamens, wipe the leaves clean, and dissect larger flowers into pressable segments.
4. Carefully roll the flowers and leaves flat with the roller.
5. Place plants in your press, laying cotton, muslin or blotting paper between layers. Thick card can help to stabilise your press.
6. Leave the press in a cool, dry place and wait a week. Replace paper if necessary, then leave for a further
2-3 weeks. Your flowers and/or leaves should now be ready for framing and displaying.
Pressing tips
Bigger leaves, flowers and plants can take 2-3 weeks to dry properly.
If you're short on time, you can use a microwave to dry small blooms for pressing in just a few minutes.
Look for flowers with flat petals such as poppies – these are likely to give good results. Some other flowers that press well are tulips, cosmos, calla lilies, alstroemeria, narcissus, freesias and lisianthus. Roses are notoriously difficult to press, though individual petals will work. Larger flowers such as hibiscus can be dissected.
Leaves that press well include those from monstera, ferns such as maidenhair or ponga, and certain philodendrons.
Herbs and young vegetable leaves press well and look great as part of kitchen decor.
Pressed flowers and leaves fade with time – displaying them out of direct sunlight will prolong their life.
Glass is the obvious choice for frames but Perspex also works.
IMAGES VIA WARREN HEATH