When a Wellington entrepreneur needed to downsize, she found a garage conversion that at first sight seemed unpromising. But upon walking in, she saw the potential to create an art-filled home for her family of three.
Moving from an elegant six-bedroom villa with two living spaces with oodles of character into a garage sounds like the stuff of nightmares. But for Dee Johnston, it's worked out remarkably well.
It helps that the "garage" in question was converted into a compact and stylish three-bedroom house 22 years ago, and that the furniture and artwork Dee has been collecting for years easily made the transition.
Dee, whose company Plain and Simple supplies New Zealand-made organic cotton and merino babywear, sold her villa in Karori, Wellington, in 2019, after separating from her husband.
"We get on well now," says the mum of Margaux, six, and Charlotte, five, "but he'd moved to Mount Victoria so it made sense for me to buy a place here so the girls could move between our houses."
It was easier said than done, with homes in the inner-city suburb hard to come by. When a real estate agent took Dee to view the garage conversion, expectations were low. "I thought, 'That house is quite ugly, so it's probably in my price range!'"
But stepping inside told a different story. The whitewashed space with dark floorboards weren't lacking in the wow factor. "Visitors are amazed at how special this small space is," Dee says.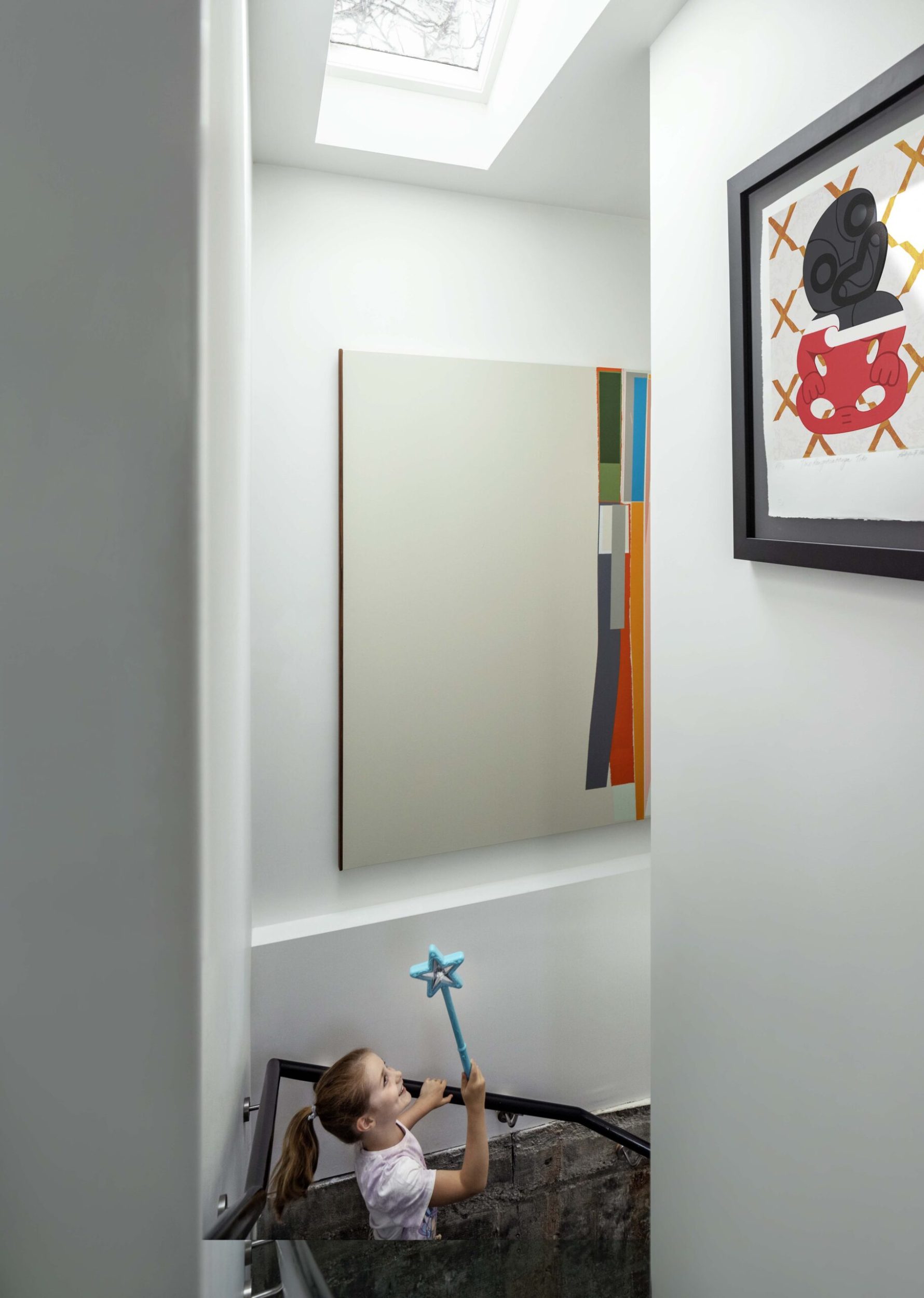 As well as having three bedrooms and being close to the girls' father, it was even closer to the Wellington Town Belt, a 520ha slash of green that encircles the capital. "We have a small courtyard but it doesn't matter that we're lacking a garden because the town belt is 50m away."
Getting used to a 90sqm house, however, was another matter. "I was used to the high ceilings and generous proportions of villas," Dee says, "so to have to shoehorn all my stuff into this compact, low-ceilinged space was a challenge."
It meant shedding a lot of possessions, including hundreds of books. "I had to be quite ruthless because in my last house I had a whole wall of built-in bookcases but here I've only got two shelves, so the fiction books had to go and only the cookbooks remained."
Fortunately, there was little Dee needed to do in terms of decorating, but she had fun arranging her furniture into the space. "I have eclectic taste and don't stick to just one style. That adds depth to the space and means it's easy to make items work if you move house."
Come through the front door and you'll be greeted by a vintage bar cart Dee found on Trade Me. A delicate black glass vase that has pride of place on the cart's top shelf was posted from a friend in Bali and miraculously made it in one piece. Beside this, a hurricane lamp from Città is now home to a collection of champagne corks. Hanging above the cart is one of the first pieces of art Dee ever bought – a Dick Frizzell print she saved up for.
"I was in my twenties and my girlfriends were buying handbags while I was buying art. But I love New Zealand art and have a bit of an addiction to it. I had to adopt a policy of putting money aside to only buy one good piece a year."
Her latest buy is a large pastel work by Ed Bats that now hangs in the staircase, while in the downstairs living room she has lined the walls with pieces by Whangārei artist Dave Beazley and a pencil drawing of Jacques Cousteau by Otago artist Tim Chapman.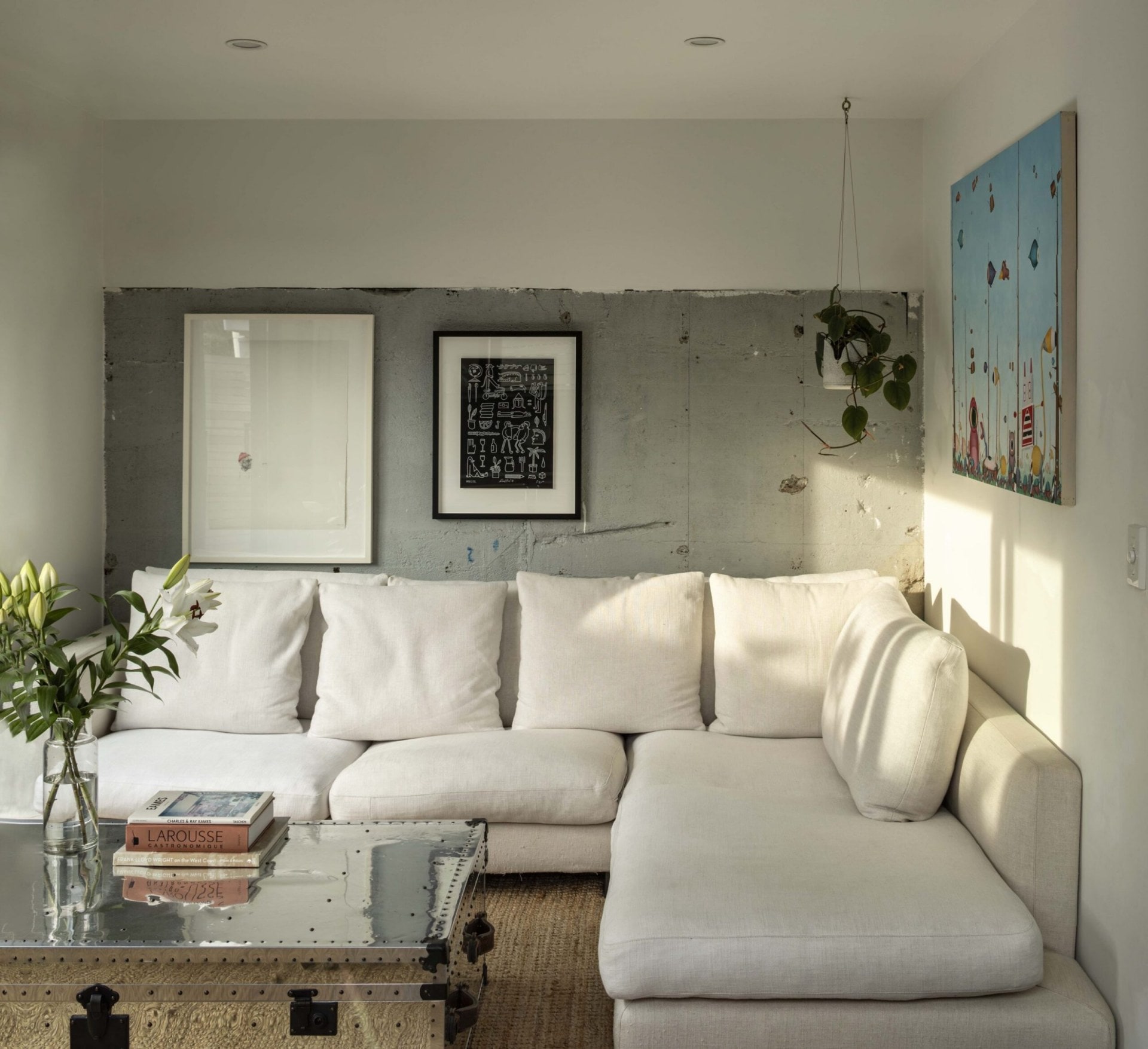 "I had seen a similar work by Tim and eventually tracked him down, which wasn't easy. But it was well worth it as everyone comments on that artwork."
Her cream couch came from the villa, as did some Wassily chairs she bought on Trade Me when she was living in Auckland 15 years ago. "I've researched them and am pretty sure they're authentic but even if they're not, I love them!"
Even though it's compact, the kitchen/dining area is open and airy, thanks to a clever use of space, including the kitchen island with its ample storage.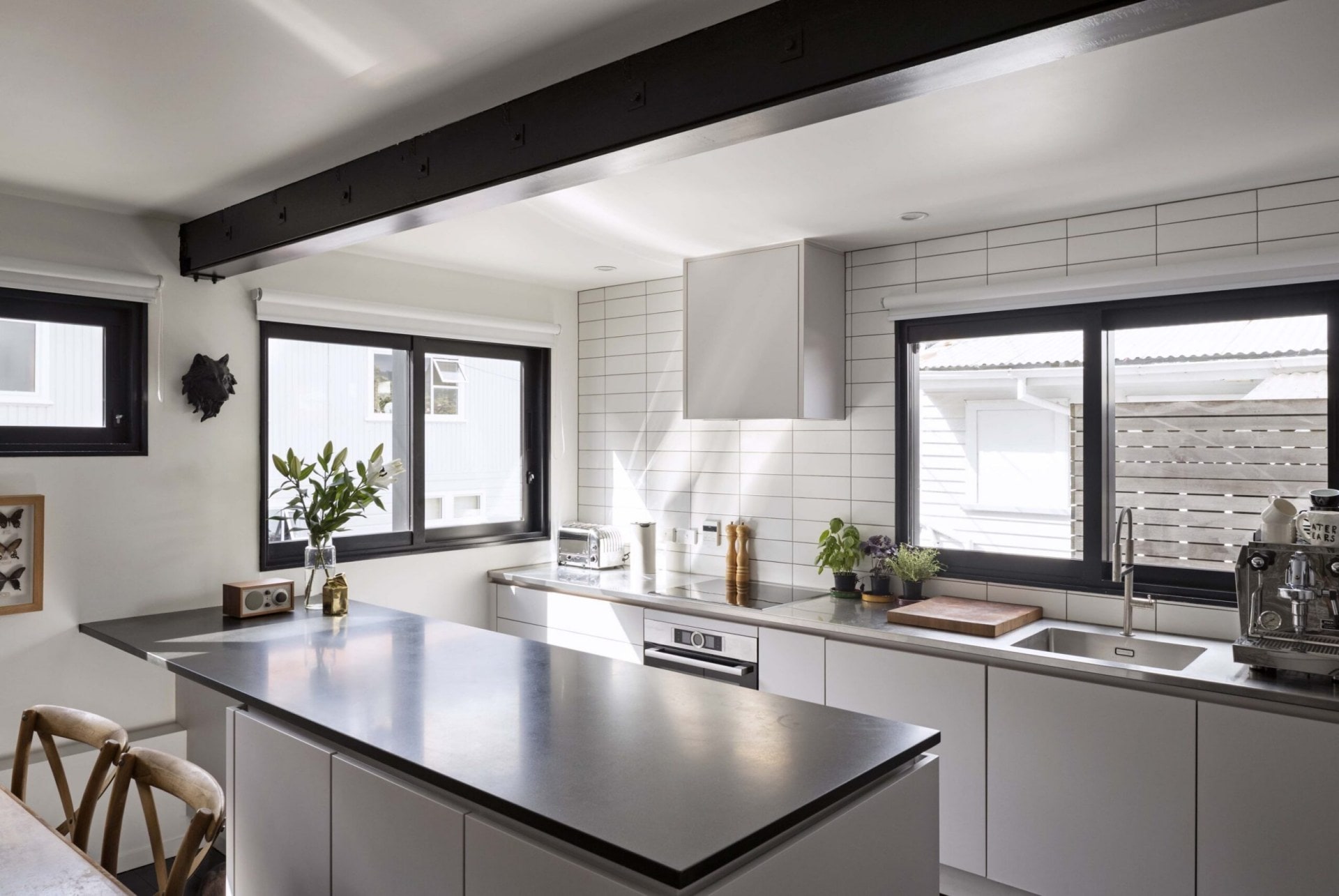 Dee, who has Croatian heritage, loves to cook. In fact, every Wednesday night she hosts small dinner parties. "Croatians are feeders. We'll never let you leave our house hungry!"
Dee found her dining table on Trade Me and bought the chairs from Corsi De' Fiori. Each artwork on the dining room wall tells a story, from butterflies she brought back from Prague and had a hard time getting through customs to a green art-glass bowl that once belonged to her grandmother and is firmly secured to a shelf in case of earthquakes.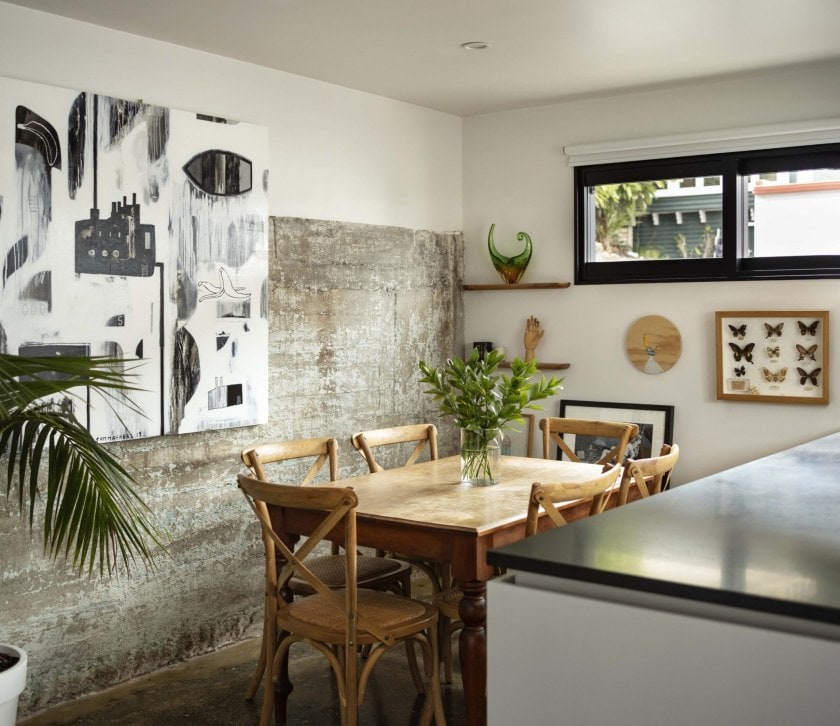 One reminder of this home's beginnings as a garage is the original sump, which is hidden under the dining room floorboards. It's now used as storage space for suitcases and other large items.
Exercise rings hang from the living room ceiling, and are a favourite with the children and their friends, though Dee admits they're often used by adults. "Usually after one of my Wednesday night dinner parties someone will end up on them!"
Upstairs are three bedrooms – Margaux and Charlotte share one and the spare bedroom is currently the HQ for Plain and Simple, which Dee started last year. It includes a pull-out bed from Ikea that can accommodate visiting friends or family.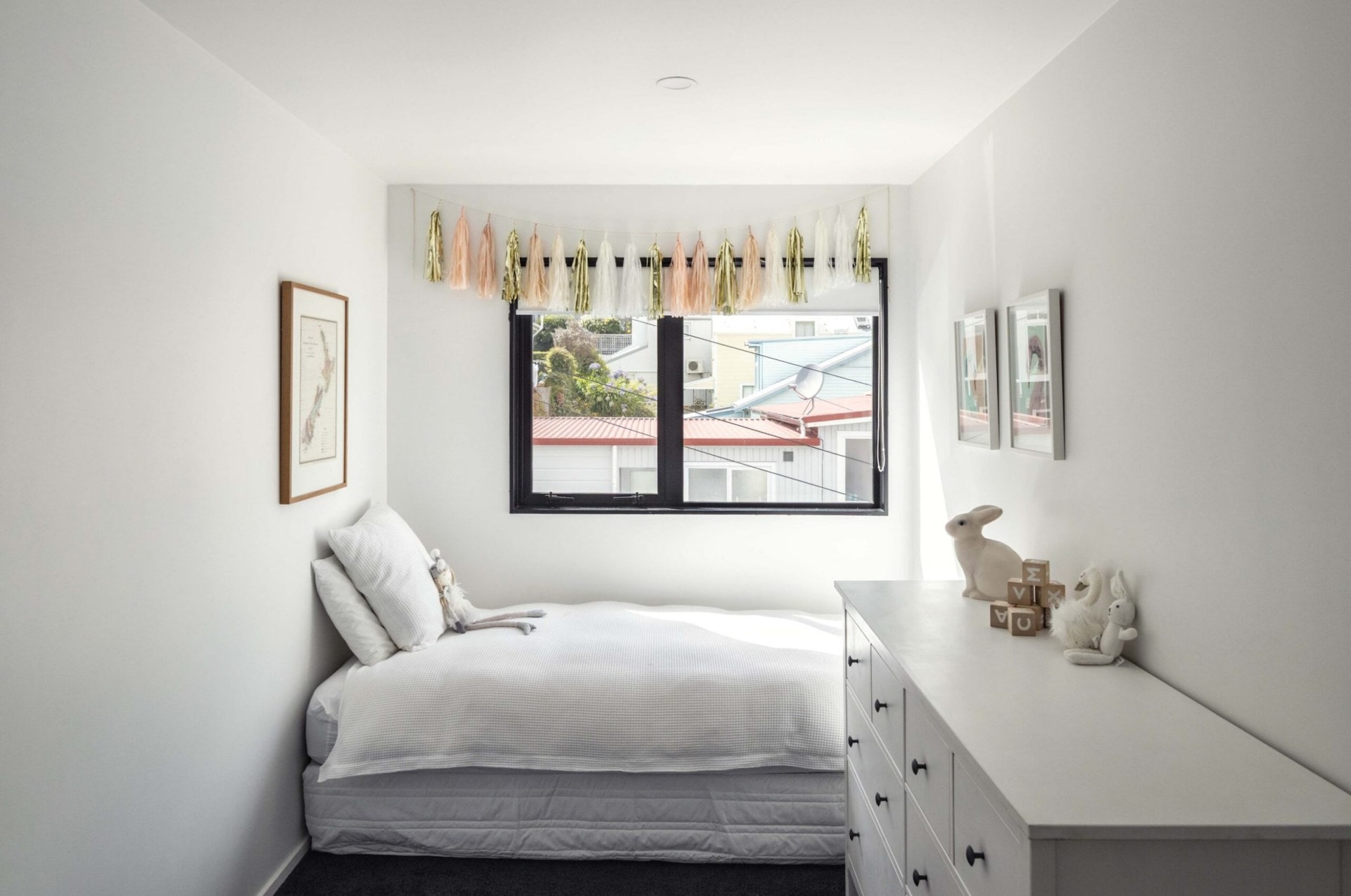 One of Dee's favourite finds is a black Anglepoise lamp in the main bedroom. She spotted it in a second-hand shop in Whangārei and dashed there to grab it as soon as the shop opened. "A woman raced in the other door towards it but thankfully I got there first to claim this bargain $12 lamp!"
Although Dee loves her home, she has plans to change a few things. "I'm going to get the house re-clad in a stained timber because the plastic weatherboards aren't the most attractive, and I'd like to change the aluminium front door at some stage. But other than that, it's the perfect house for the girls and me."