A recent arrival to Wellington, communications consultant Jess Harkins loves getting to know her vibrant, multicultural suburb of Newtown.
Where do you call home?
A colourful rented cottage in Newtown, Wellington. We've lived here 14 months since moving from Queenstown for our jobs.
Who do you live with?
My fiancé Mike McCann and our black cat Ringo.
What is your home like?
It's a two-bedroom circa-1910 cottage painted in some pretty eclectic colours. Once inside, it's a calming space. We're surrounded by native planting, so it's private and feels like an urban oasis overlooking Newtown. Ringo loves the roof for sunbathing.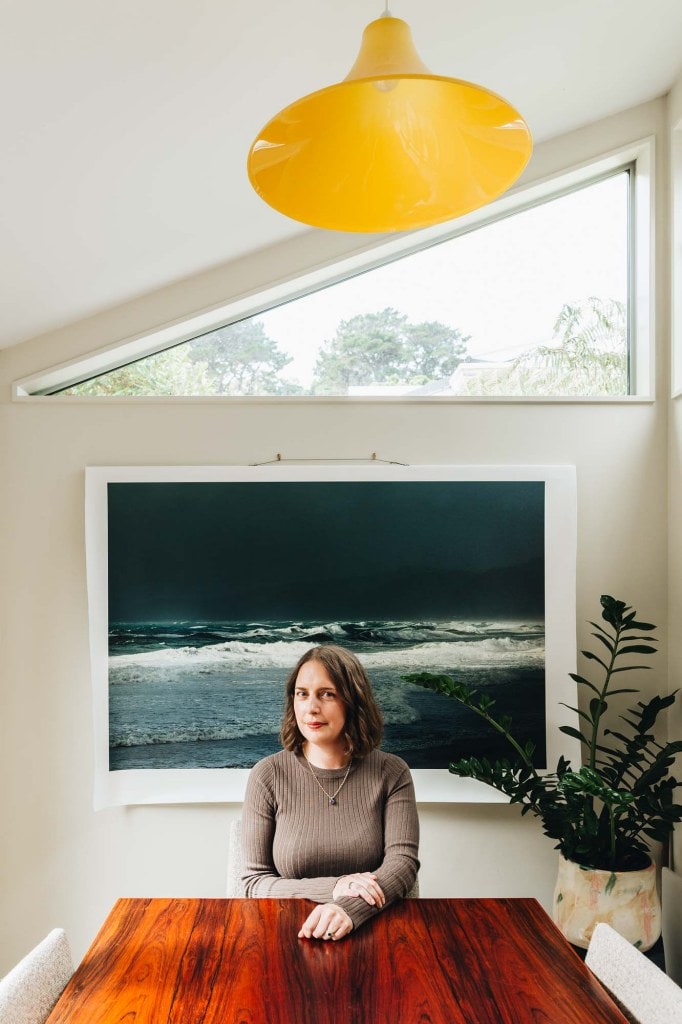 Given that it's a rental, are you limited with the decor and things you can change?
Our landlords are great and this was their family home, so there isn't any of the awful grey carpet you see in many rentals. We've been able to hang art, grow things in the garden and treat the place like it's our own. We've worked with the original colour scheme throughout the house, which is generally quite neutral and suits us, but then there's the pretty crazy feature wall in the second bedroom, which I've learned to embrace.
What's your interiors style like?
I'm no minimalist! My things tend to dominate our decor. There are pieces from my travels around the world, ceramics I've started collecting and things that have drawn my attention over the years. I've always been interested in how things look, and my homes – whether a room in a flat in my 20s or the homes Mike and I have had together over the years – are an extension of myself and my personality. One area Mike and I can agree on is plants. We had some pretty epic house plants and a garden in Queenstown and now we have a few plants on the go. There are also piles of books everywhere in the bedrooms, as we're both voracious readers. I haven't gotten around to buying a large bookshelf – it's hard to find what I have in my mind.
Do you prefer shopping for vintage/second-hand finds, modern items or a bit of both?
Both. I'm firmly in Camp Mid-Century Design, but overall we're drawn to wood, warm tones and creating a cosy vibe. It's eclectic but overall there's cohesion.
Where do you get your creative inspiration from?
From the world around me, nature, and of course Instagram. I don't follow trends but from time to time trends cross over with what I love, including mid-century design, colour blocking, chequerboard (it's everywhere and I'm here for that) and gardening, which should always be in vogue!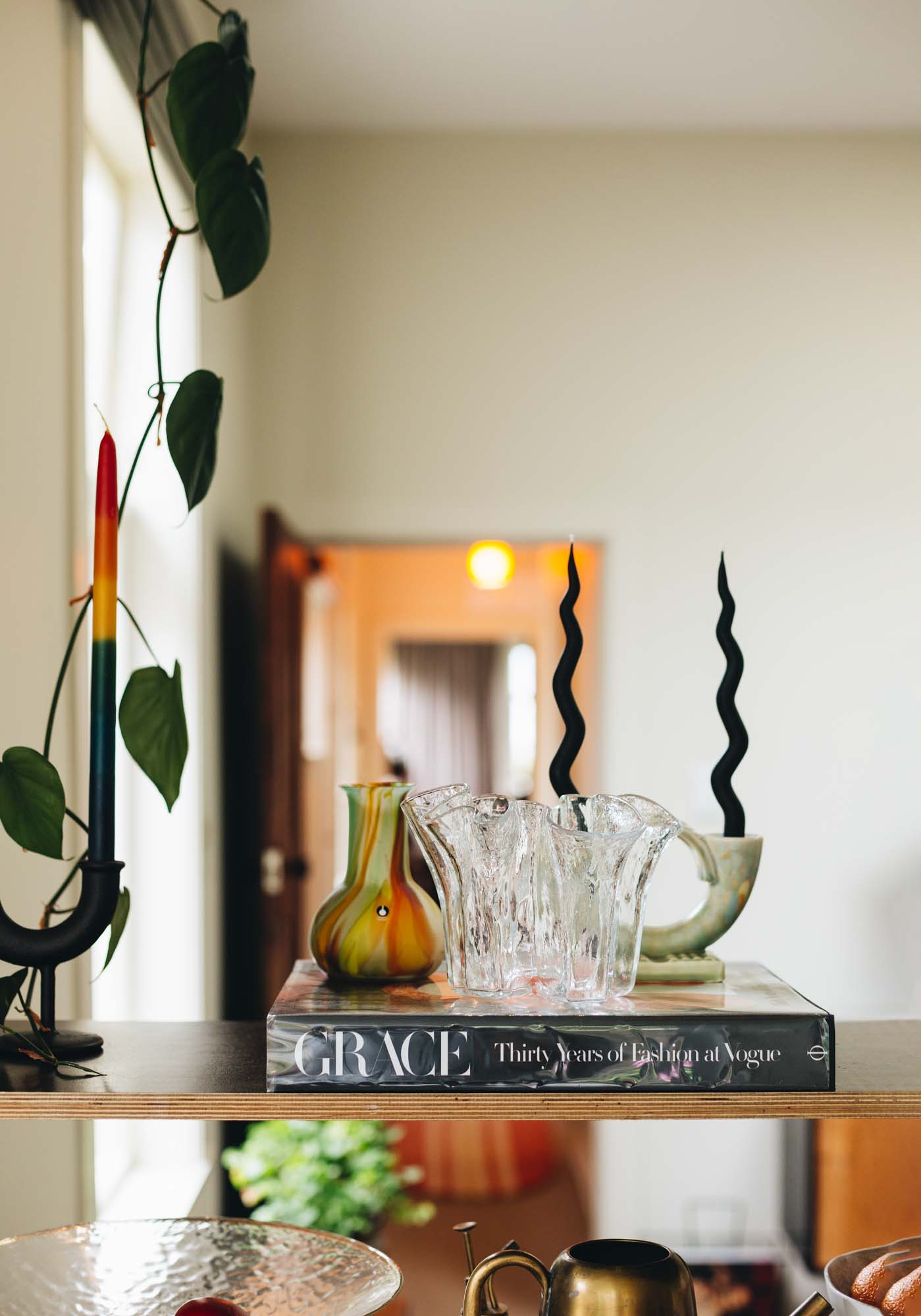 Have you brought items from other houses or bought specific pieces for this space?
We owned our own house in Queenstown, so we moved most of our things with us, then added the dining suite. We've hung onto a lot of the furniture and decor from when we first moved in together seven years ago, when we were given items by Mike's family, including carpets his dad bought in Pakistan years ago.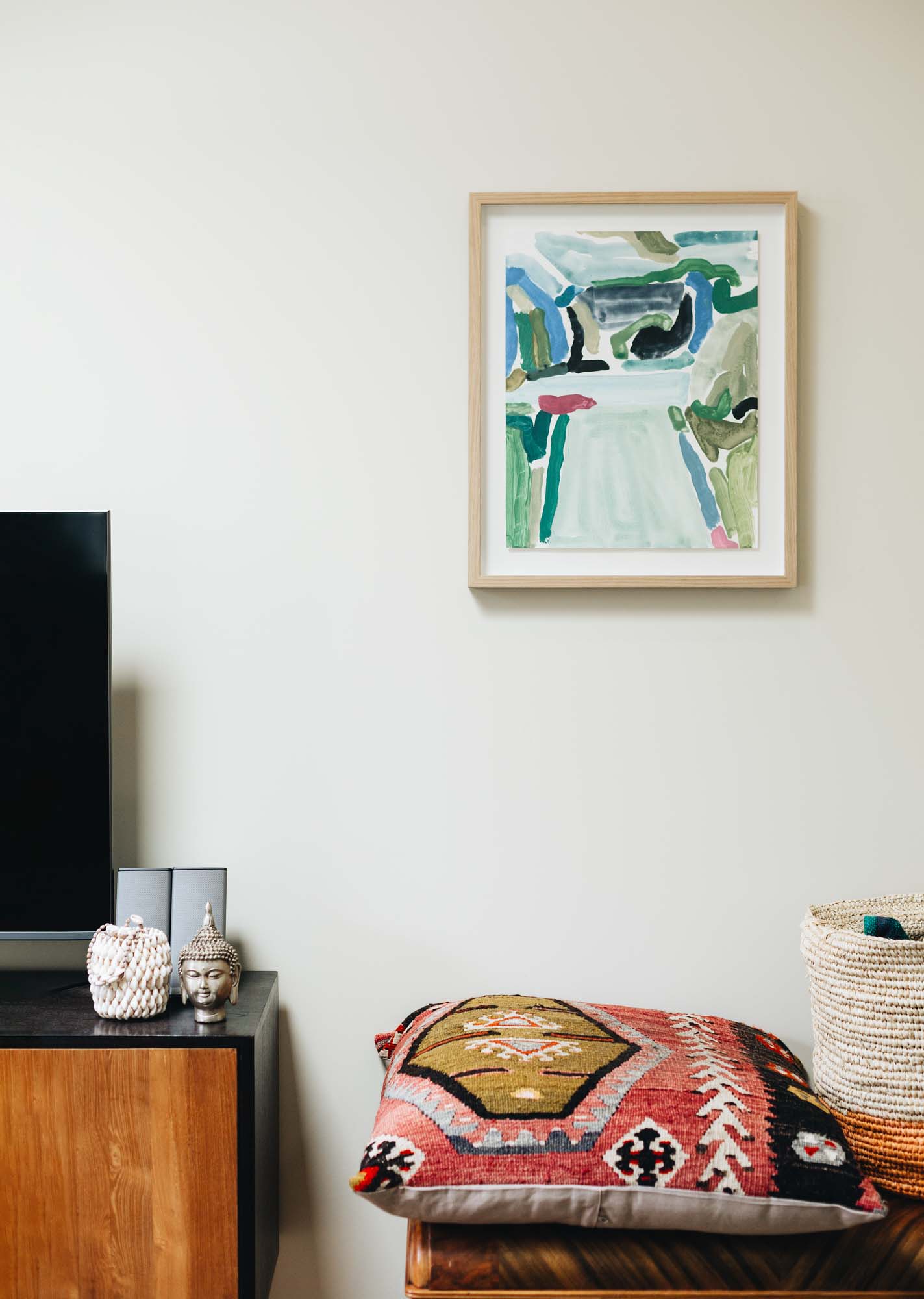 What's the most recent item you bought for your house?
I've just hung a Lauren Gudex painting in the living room. Her latest show at Kaukau was an exploration of colour and nostalgia. It brings a cooler element to our lounge.
What do you love about your neighbourhood?
Before we moved, I had no idea just how good the location was. Newtown is a vibrant suburb, which means it's not exactly quiet, but we're tucked into a corner, surrounded by greenery and on the doorstep of the Town Belt and Southern Walkway. It's also close to the CBD, so I often walk to work. The weekend produce market also adds to the community vibe.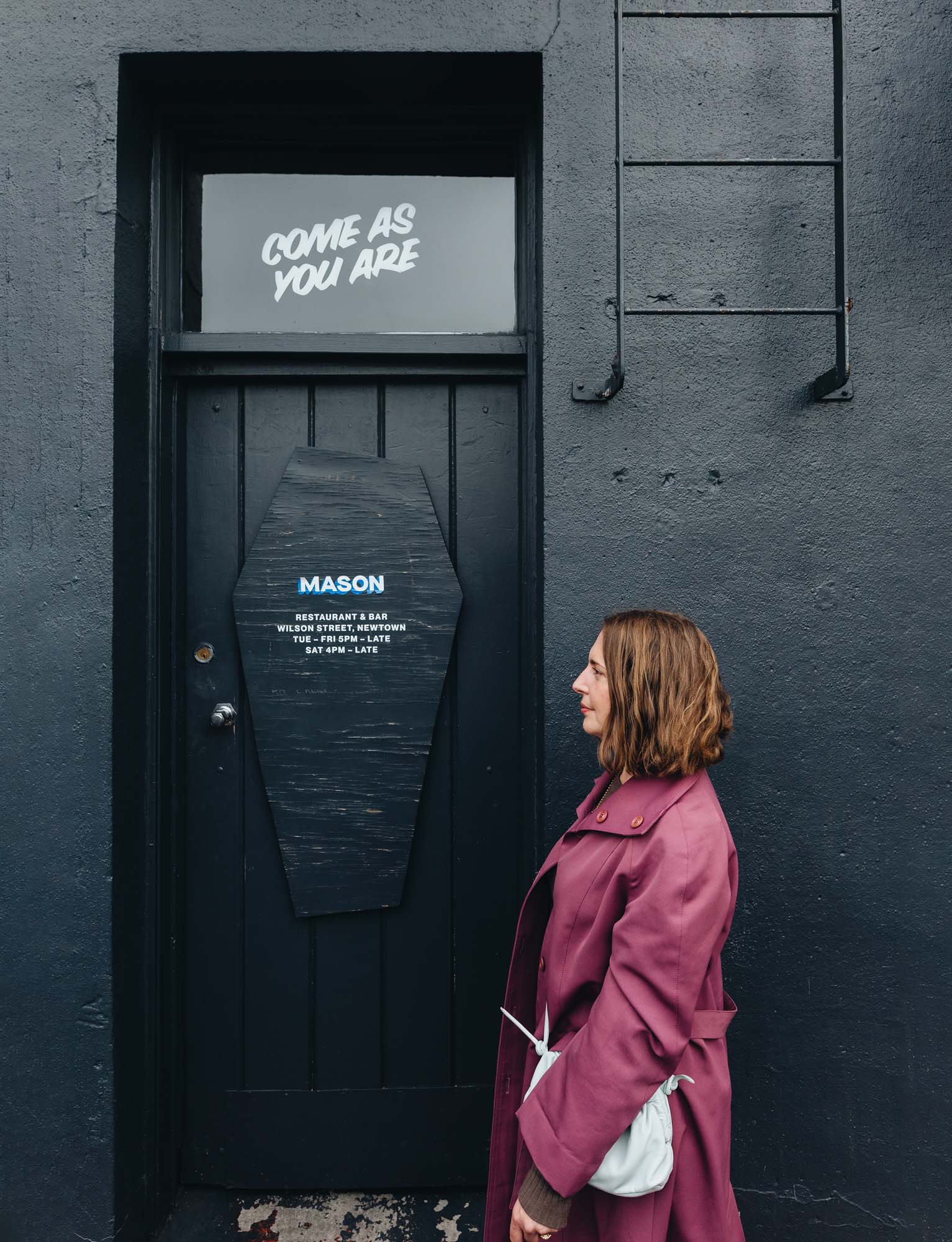 Do you entertain at home or prefer to go out?
We have the odd dinner party with friends to give the extendable dining table a workout but we definitely love to explore Wellington's dining scene. Finding new restaurants and discovering favourites was practically a hobby in the first few months.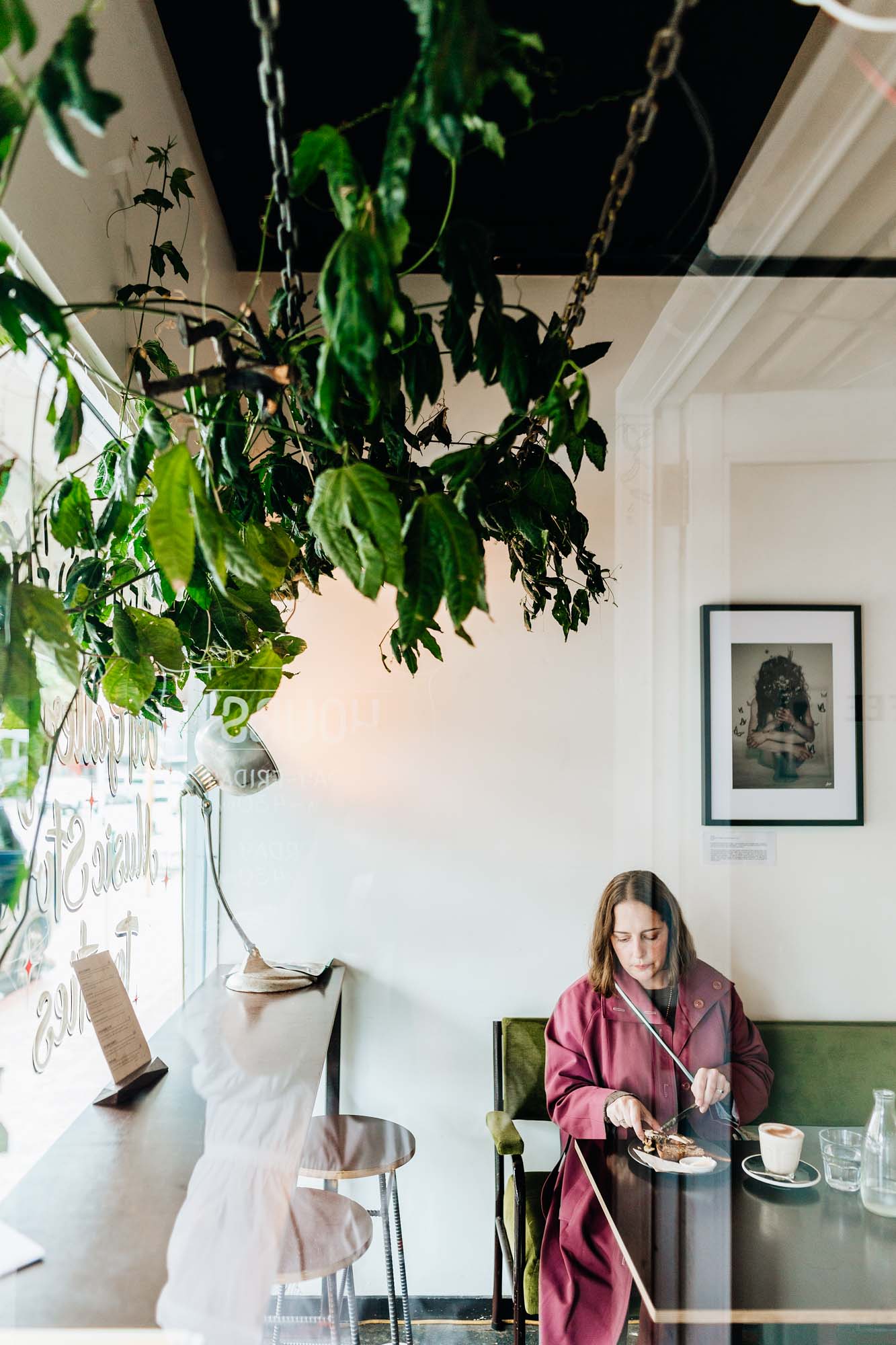 What are your favourite places to eat?
Mason, on our doorstep, is great for dinner with friends, if we can get a table. Cicio Cacio has excellent Italian and Urban Masala is my go-to Indian, though all three of the Indian joints in Newtown are pretty good.
Best cocktail in town?
Beer is the drink of choice in Newtown, so Bebemos is our go-to for a pint. Further afield, the city's Hanging Ditch has a great cocktail menu, and Kuikui Lane has an extensive New Zealand gin menu and does a great dirty Martini, which is my latest discovery.
Where do you go for a local dose of nature?
Walk out the front gate, turn left and in about 50m we're on the Southern Walkway. There are lots of walking and bike trails. We both love the sea too, so a trip to Lyall Bay or Red Rocks for a walk during the weekend or on a summer evening is often on the cards.