Get your kids outdoors and into the garden with these fun and easy nature crafts.
Now is the time in the summer holidays when we start running out of ideas to keep the kids entertained and – if you're anything like me – patience! Christmas presents have been played with, most of us have gone back to work and we start counting down the days until school and kindy reopen.
These hands-on activities will get kids outdoors and exploring their own backyards – most of them don't require a trip to the shops either and can be done independently. In fact, the more you leave children to it (age dependent), the more creative and individual the outcome will be.
Miniature gardens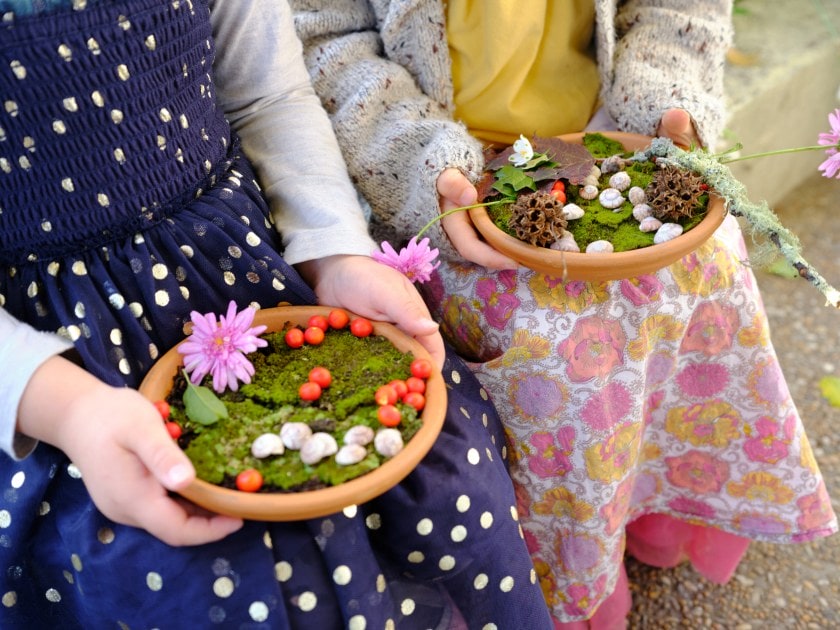 Remember these? Many of us made them for primary school galas or pet days, but back then they were called sand saucers. You'll need a saucer or plate which is at least a couple of centimetres deep – I like to use terracotta plant saucers because of the depth, but even a meat tray or an ice-cream container will do. Add a few centimetres of sand or soil from the garden so you can easily insert flower stems and twigs into it (when opening a fresh bag of potting mix, always wear a mask and spritz the mix with water). Next, gather the materials to create your miniature world. Moss is wonderful to touch and can be used to create lovely, lush lawns. Pebbles and tiny shells can become pathways and twigs and bark are ideal for archways, bridges and other structures. Bury a bottle cap or jar lid in the sand to make a little pond that you can fill with water.
Once the hard landscaping is complete, your child can decorate their garden with flowers or individual petals, leaves, pine cones, berries (non-poisonous ones, please!). They may also like to add clip-on butterflies or miniature plastic animals. There's a universe of fairy gardens on Pinterest if you're looking for inspiration, but it's also fun to leave the kids to it and see what they come up with on their own. Or they might like to ditch the saucer all together and take over a corner of the garden that they can transform into a miniature world.
Flower crowns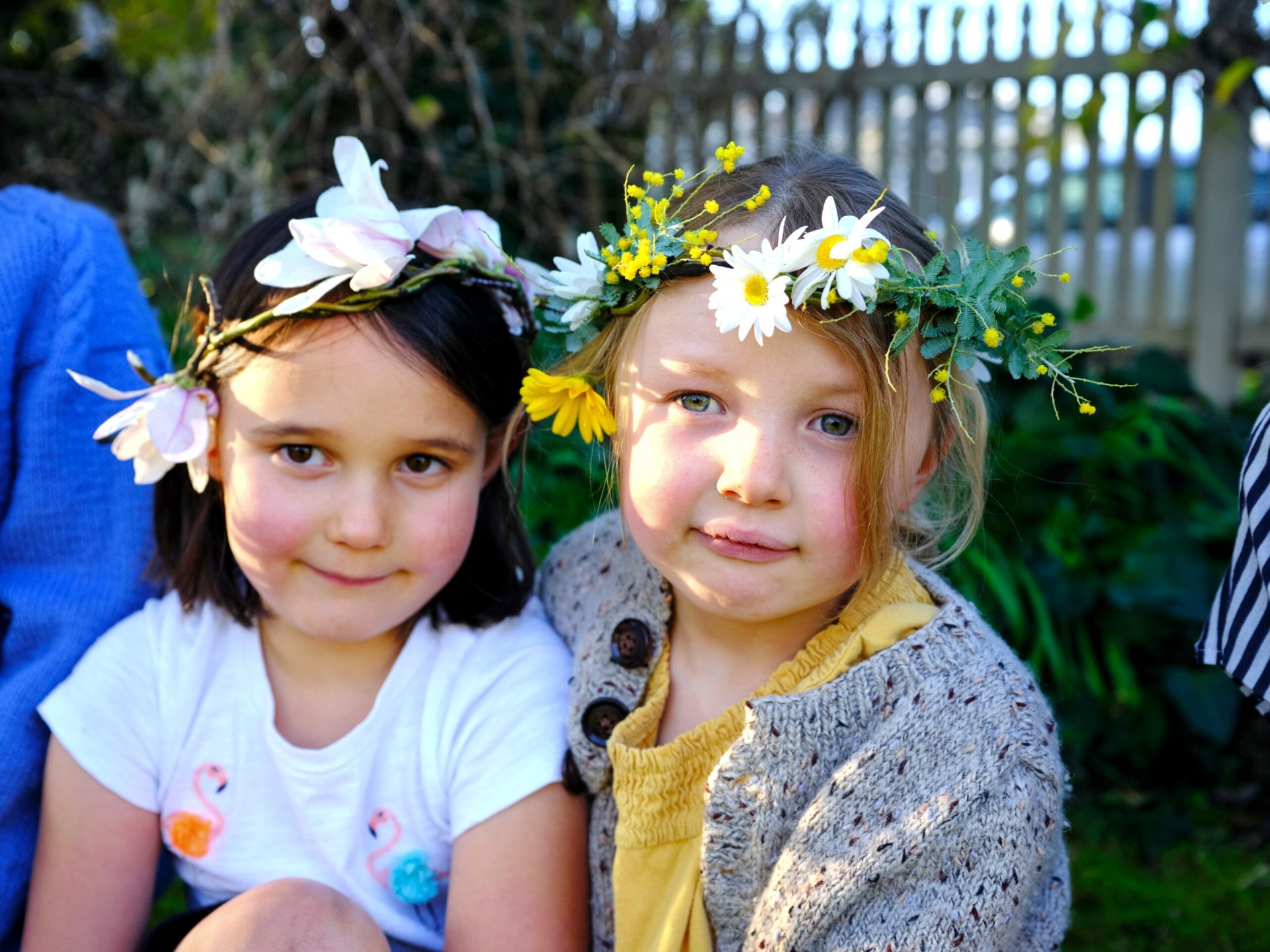 Come on, who doesn't want to be adorned with flowers? Flower crowns are surprisingly easy to make. Find a vine with bendy stems – wisteria, jasmine and willow are ideal – and cut a long piece that should extend approximately two or three times around the circumference of a child's head. Next, wrap the vine around the intended wearer's head once, so that it fits comfortably. Remove it from their head, being careful to hold the circle of vine together, then twist the loose length of stem around the circle until you have a wreath. You can usually make a knot to attach the loose end of vine, but if this doesn't work, tie it with string or bendy wire. Next, collect your flowers and leaves and cut the stems to size. Insert them between the gaps in the vine to keep them in place. Any heavier flowers can be attached with string or bendy wire.
Nature wands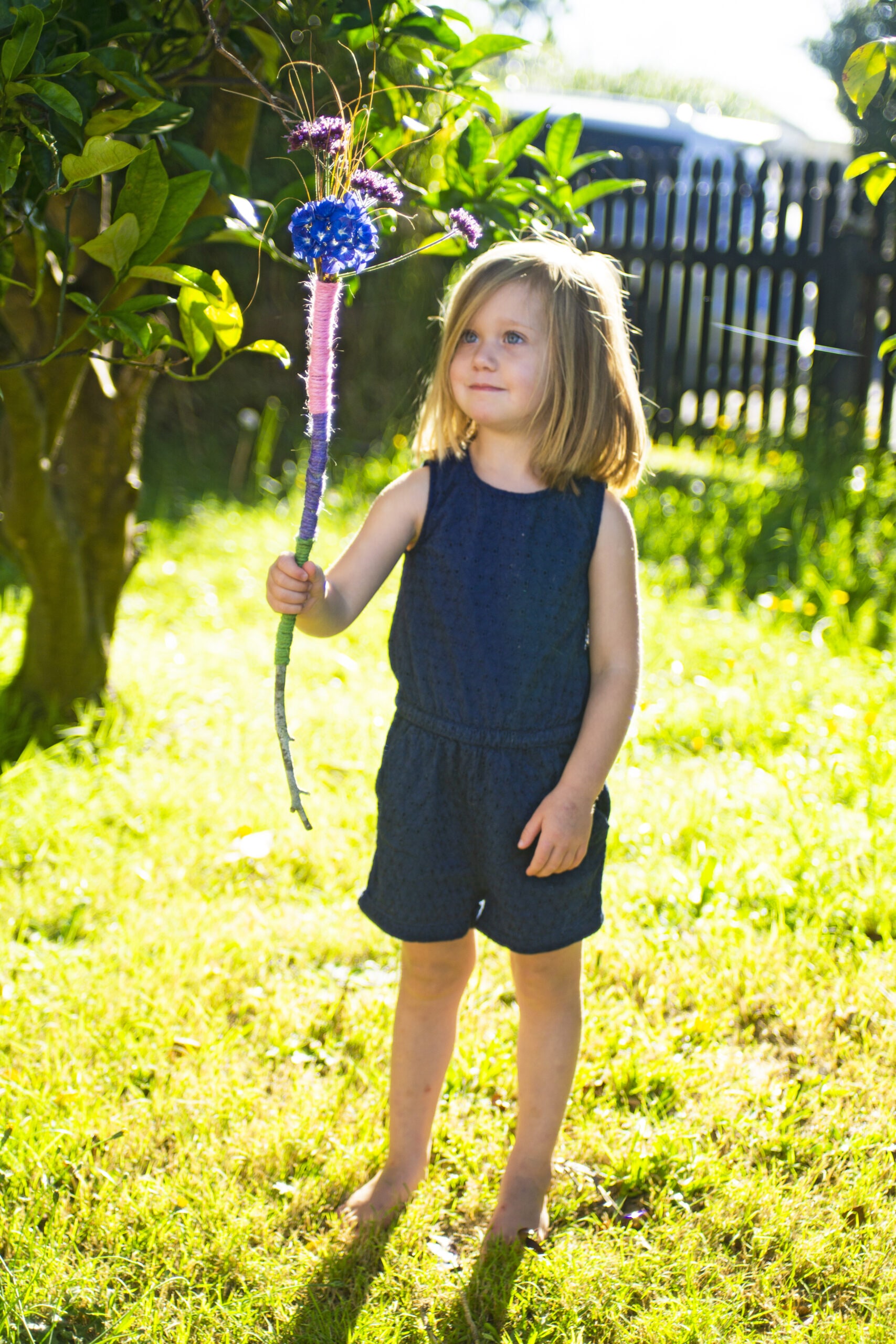 Any fairy or nature sprite worth their sparkly salt has a magic wand. Find a suitably long twig or cut it to size (make sure the ends aren't sharp), then decorate it with leaves or flowers, attaching their stems to the wand using pieces of bendy vine, flexible wire such as floral wire, ribbon or string.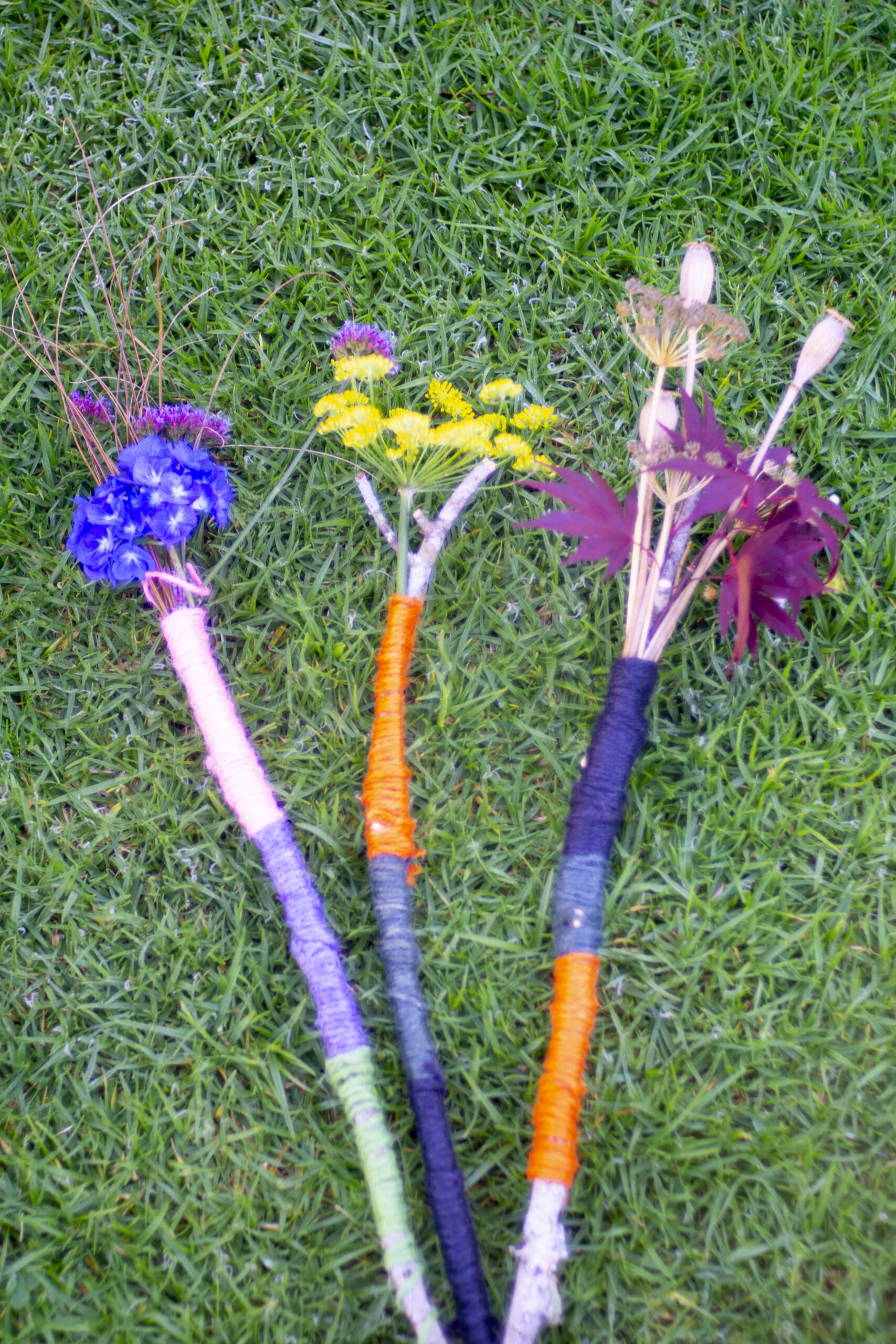 Another way to do this is to wrap string or wool around the twig, trapping flowers, leaves and feathers underneath it as you go. Get ready to be turned into a pumpkin!
Fairy lanterns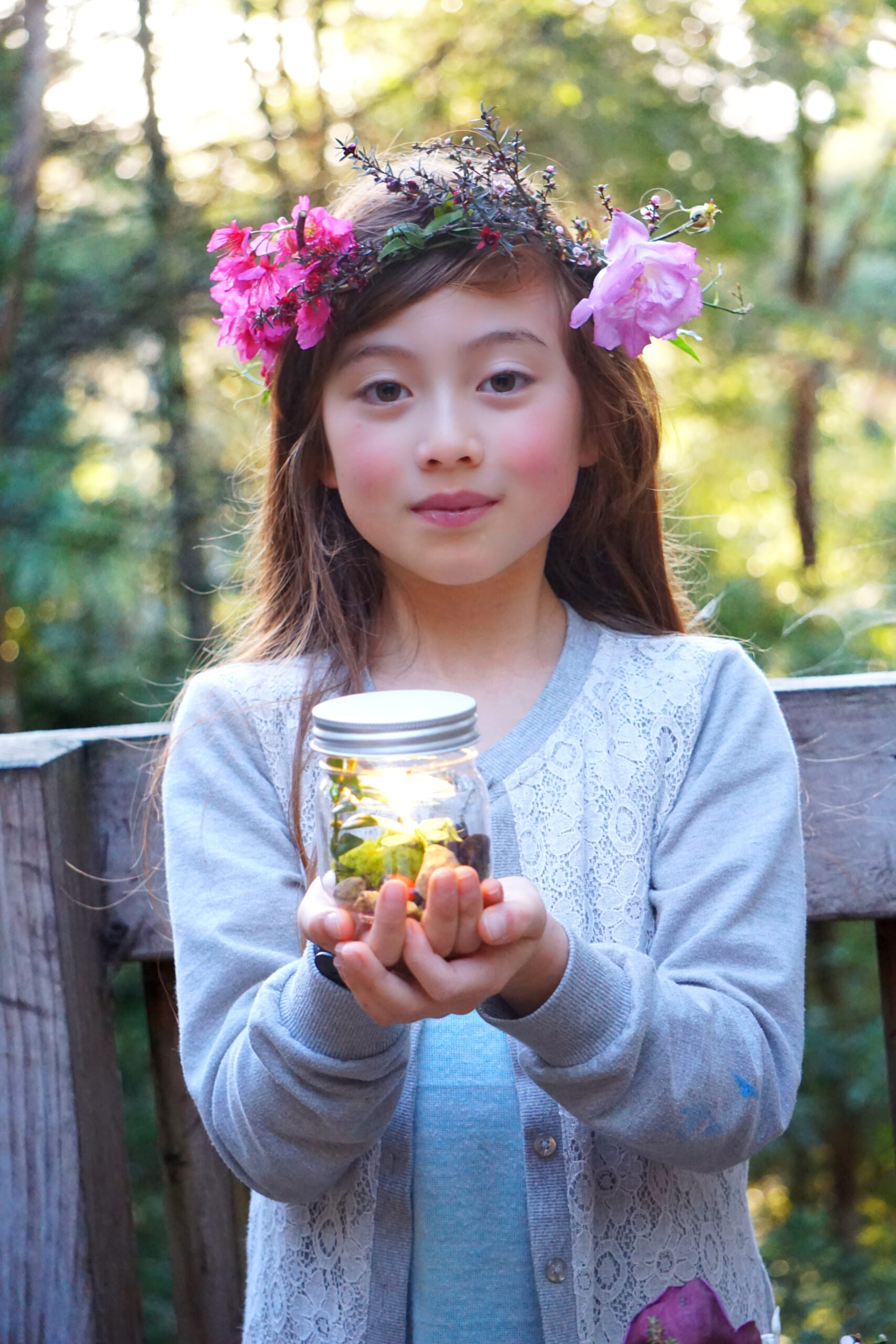 Make illuminated miniature gardens inside jars of seed lights. These are available online or from stores such as Kmart or Mitre 10, and the batteries sit just inside the lid of the jar. Because you're working within a smaller area, this is a slightly more fiddly activity than working on a flat surface like a saucer, so the kids will probably only be able to add a few objects to the jar if they want to see everything inside it clearly.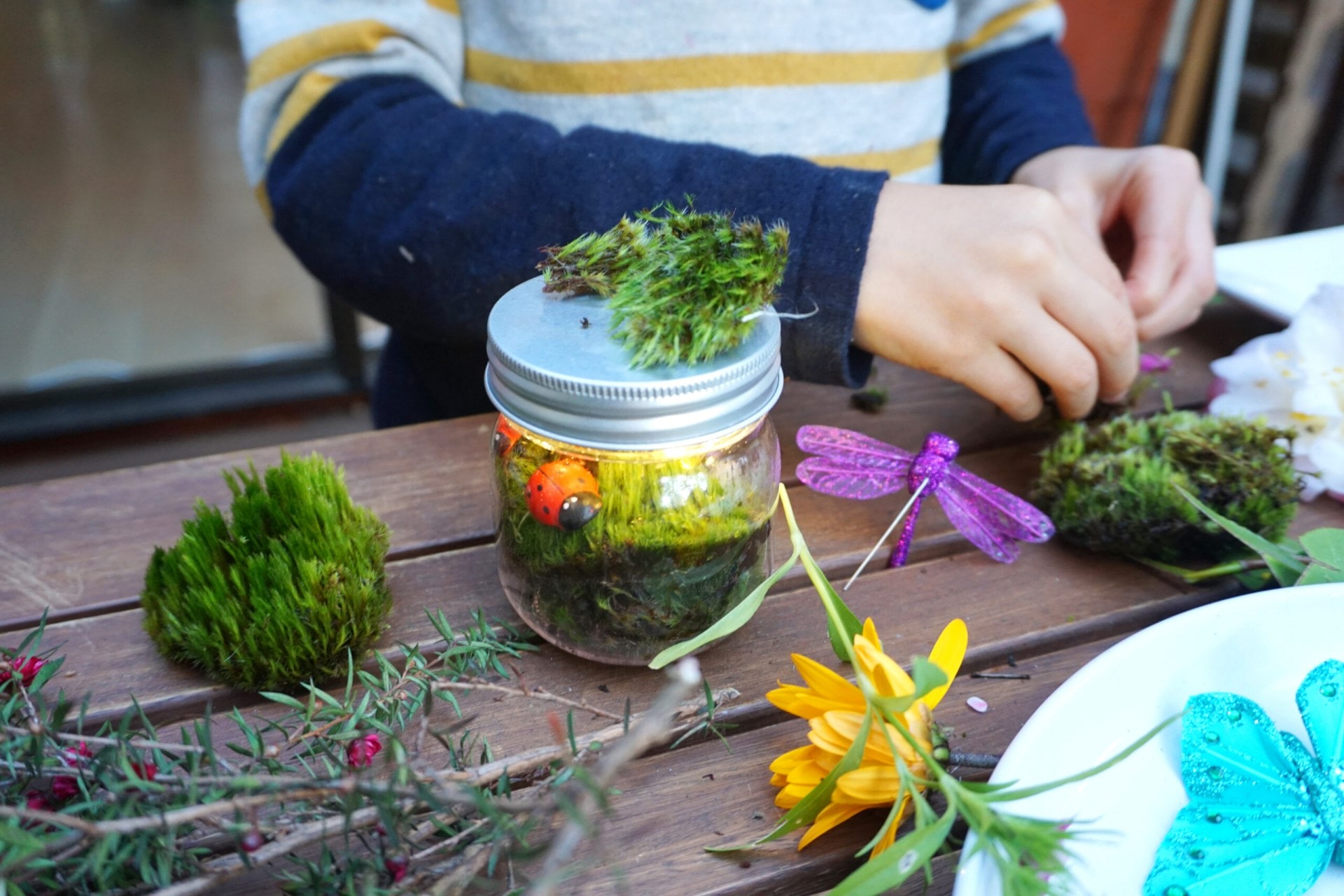 Once the sun sets, play a game of fairy spotlight, where players hide with their lanterns in the garden waiting to be discovered. Or hide the lanterns under bushes or on trees, then you can all take a magical journey through the garden, collecting each lantern as you go until they've all be discovered.