Creative mum Krystal Boyd-Priest loves filling her West Auckland home with quirky homewares and fashion-forward accessories.
Where do you call home?
We live in Massey, in West Auckland.

Who do you live with?
My fiancé David Long, our baby girl Lennox, and pugs Penelope and Malibu.
Textured pillows, clashing prints and zany mirrors blend harmoniously in the visionary pair's creative home.
PHOTO BY KRYSTAL BOYD-PRIEST
How would you describe your interiors style?

Fun and vibrant with mid-century features.

Do you prefer shopping for second-hand finds or modern design, or a bit of both?
Shopping-wise, I love supporting New Zealand and Australian fashion designers. Some of my current local favourites are The Knitter, Olivia Cashmore and Emma Mulholland on Holiday, and international brands Ganni, Story mfg and Sandy Liang. My homewares are a mix of old and new, from department stores to op shops and online – I love local makers Simon Lewis Wards, Kate Mitchell Glass and Flex Factory.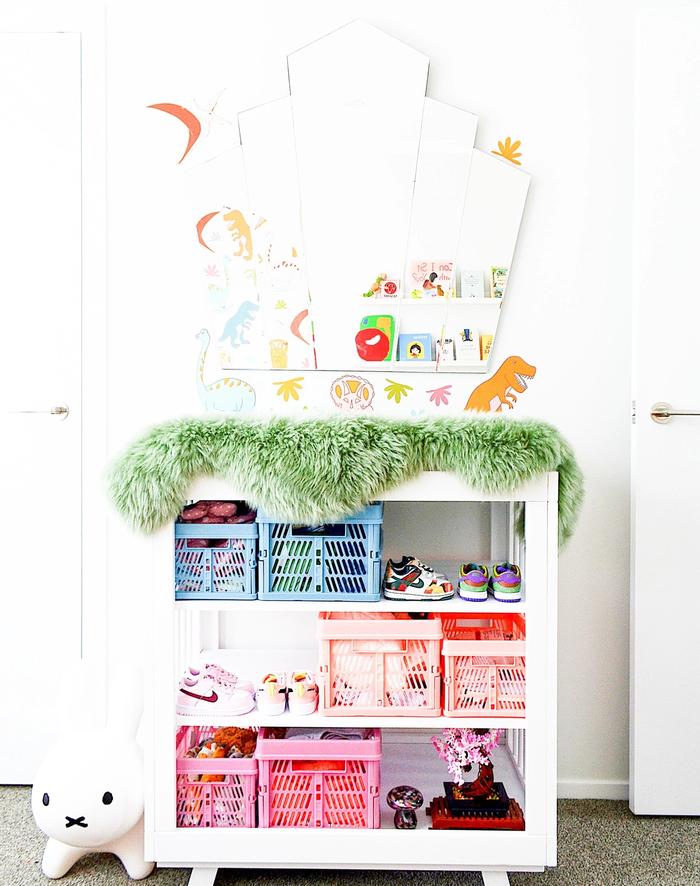 PHOTO BY KRYSTAL BOYD-PRIEST
Where do you find your creative inspiration?
From all corners of the internet. I like seeing how different people from different countries style their homes and how their cultures may influence this. David and I have lived together in 10 different homes in the last 10 years, between Auckland and Perth, and friends would always joke that we had a minimalist approach to furnishing because we moved around so much. So it's been a real joy to buy, collect and put everything together in a home we know we will finally be in for a while. It's even more special with Lennox here now too.
Have any items travelled with you from home to home?
The only things that have travelled with me in the past decade are our two puggles, Penelope and Malibu, and a handful of coffee table books. We have quite a collection now and finally have a coffee table, which we didn't really have until last year!
PHOTO BY KRYSTAL BOYD-PRIEST
Where do you find your art?
The art in our house is a curation of photos our friends have taken, artworks from exhibitions we hosted in Perth and also work from some of our favourite tattoo artists.
What's the most recent item you bought for your home?
A purple Kartell stool.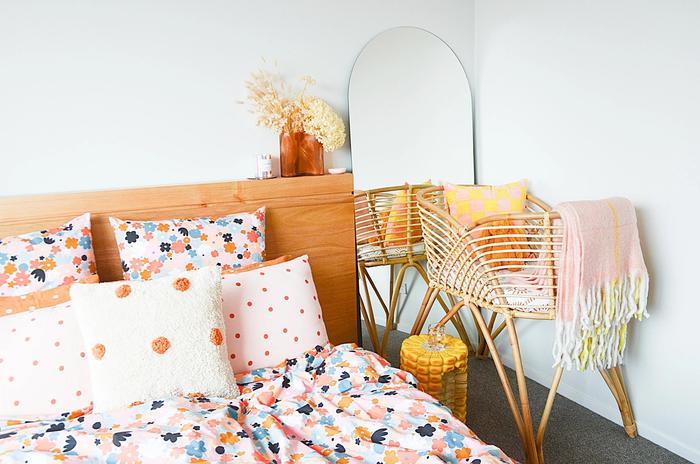 PHOTO BY KRYSTAL BOYD-PRIEST
Do you entertain at home or prefer to go out?
We loved entertaining before the most recent lockdown and the arrival of Lennox, but it's more convenient for us now to go out for a quick and early dinner with friends.
How else has home life changed since having a baby?
Everything revolves around Lennox's sleeping and feeding schedule at the moment, but once she starts crawling we'll have to baby-proof a bit more.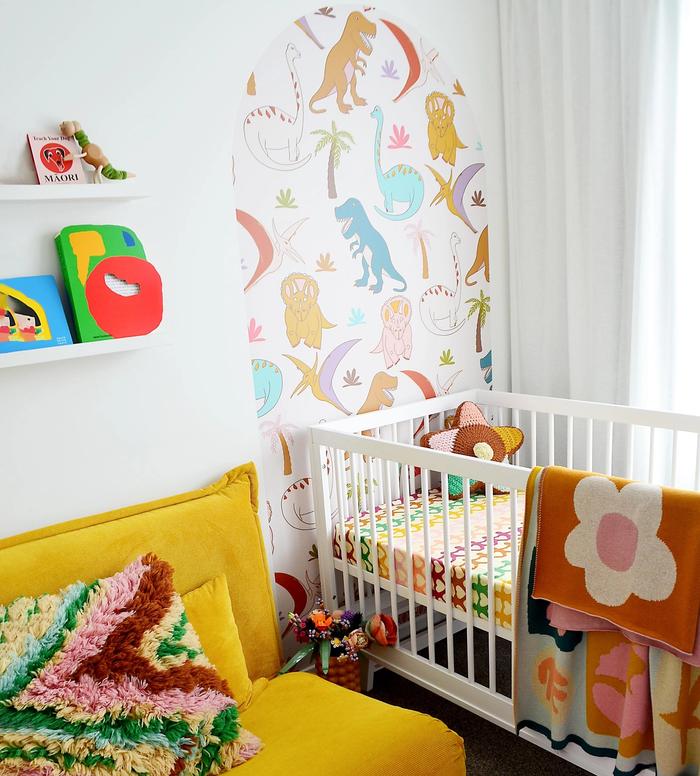 What do you love about your neighbourhood?
It's very multicultural and diverse, and a short drive to beaches on the west coast.
What are your favourite local restaurants and cafés?
Hare and The Turtle in New Windsor for coffee, sweets and breakfast burgers, Mr Lobster Private Kitchen in Henderson for fresh and authentic Chinese food and yum cha, and Shanghai Street on Lincoln Road for cheap and cheerful dumplings and noodles.
PHOTO BY KRYSTAL BOYD-PRIEST
Where do you go for a local dose of nature?
Heron Park in Waterview is one of our favourites because dogs can be off-lead in most areas.
Any hidden gems or top tips for things to do nearby?
Kakamatua Inlet in the Waitākere Ranges is great for dog walking.