Finding the perfect home for their family and other treasures resulted in a sleek new build for a design-mad duo.
When you're mad on design, art and trinkets, you need a house that's graceful enough not to compete for attention with the treasures inside. For Meredith and Martin Street, that perfect gallery-style backdrop is a striking new home perched on a hill in Wellington's northern suburbs, with neutral interiors, plenty of light and big white walls.
Back in 2016, the art-loving couple and their children, Dita, Arlo and Ezra, were living in a typical, wonky Kiwi bungalow on Auckland's North Shore and dreaming of a bigger home for their rapidly growing family. With Martin able to transfer his communications job to Wellington, they began looking for homes in the capital, where their budget would reach further.
Nothing was quite right, with most houses for sale on the wrong side of a hill, too dark or damp, or not suited to young kids – and with a family history of lung problems, a sunny, dry home was vital. After a fruitless search, they decided to reassess their options. It seemed a new build would be the only way to tick all the boxes.
That same eureka day, they visited the new Woodridge subdivision just outside Newlands and looked at some of the house and land packages available. "We loved that there were distinct differences in the exterior design of each home, rather than it all being really cookie cutter," says Meredith, a project manager and photographer. "Our vision for a striking black house on the hill, with plenty of room for our family and for extended family and friends to come and visit any time they liked came into focus, and we committed to a package."
As lovers of good design, being involved in the process from day one was key to ensuring they wound up with a home that reflected their personal style. The non-negotiables were concrete floors and black cladding, which took a bit of work to get right.
"For the interior, concrete flooring was key and we were firm on what we wanted – not polished and no aggregate showing through," Meredith says.
"Unfortunately, we had concrete laid and then had to redo it because the original lay wasn't going to give
us the finish we wanted. We could have compromised here for something that we didn't love but could have made do with. But the floors set the tone for the entire living space and I'm so glad we pushed to get our original vision."
Their dream of a black-clad house on a hill was another design decision they resolutely followed through on. "It would have been easier for everyone if we'd agreed to go with a lighter colour for the weatherboards, not to mention cheaper, but we really wanted our black house! We had to upgrade the weatherboards to be able to paint the house black but it was worth the extra cost. We were lucky that we got involved early enough to customise these elements."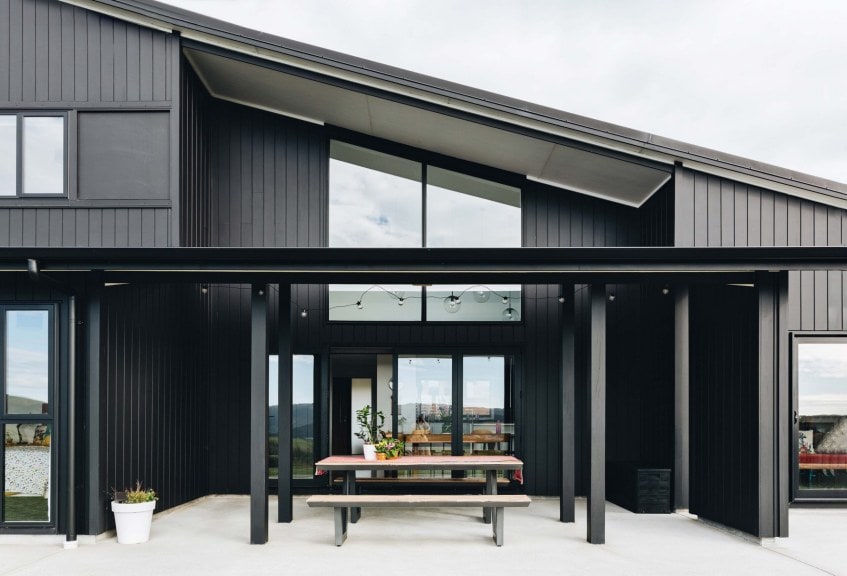 All in all though, it was an easy way to go about building a home for the first time, she says. "It's been such a good experience and home for our family in this stage of our lives."
With the house built and a blank canvas to style, the Streets were ready to move in and find places for their much-loved treasures, including Meredith's stunning photography, in which family takes front and centre.
"Moving in after a really long building process was the absolute best feeling, and bringing our kids into the home on the first day and seeing them run through the rooms with joy – there really is no way to explain how cool that felt! Building felt like a whole family experience. It took longer than we anticipated, so we were really all so, so excited to get in and start this next chapter. Being able to make the home feel like 'us' has been so cool."
At first it was a little intimidating to put things up on the lovely new white walls. "But once we got started, we quickly filled the white space to show our personality. In a modern house without the character of an older home, I love being able to showcase some of the sentimental items we've collected throughout our marriage, to mix it up – like the embroidered cushions and pictures made by Martin's nana, or the fossil collection from my dad I always admired.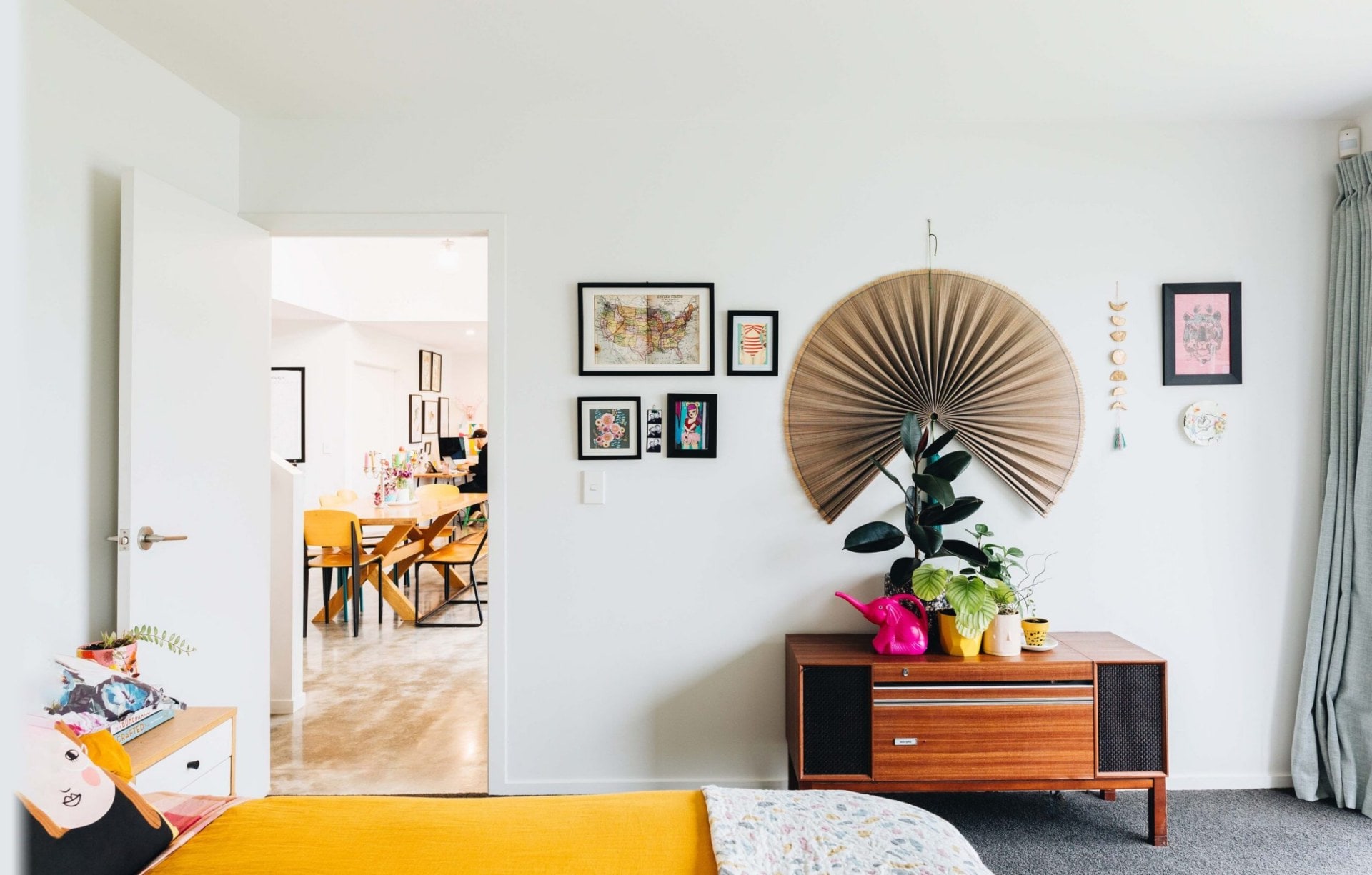 "I'm drawn to colour, patterns, and artwork that makes me feel something, so we have a huge variety of trinkets, art and mini collections throughout the house, which make me very happy (and only the littlest amount of regret when I have to dust)."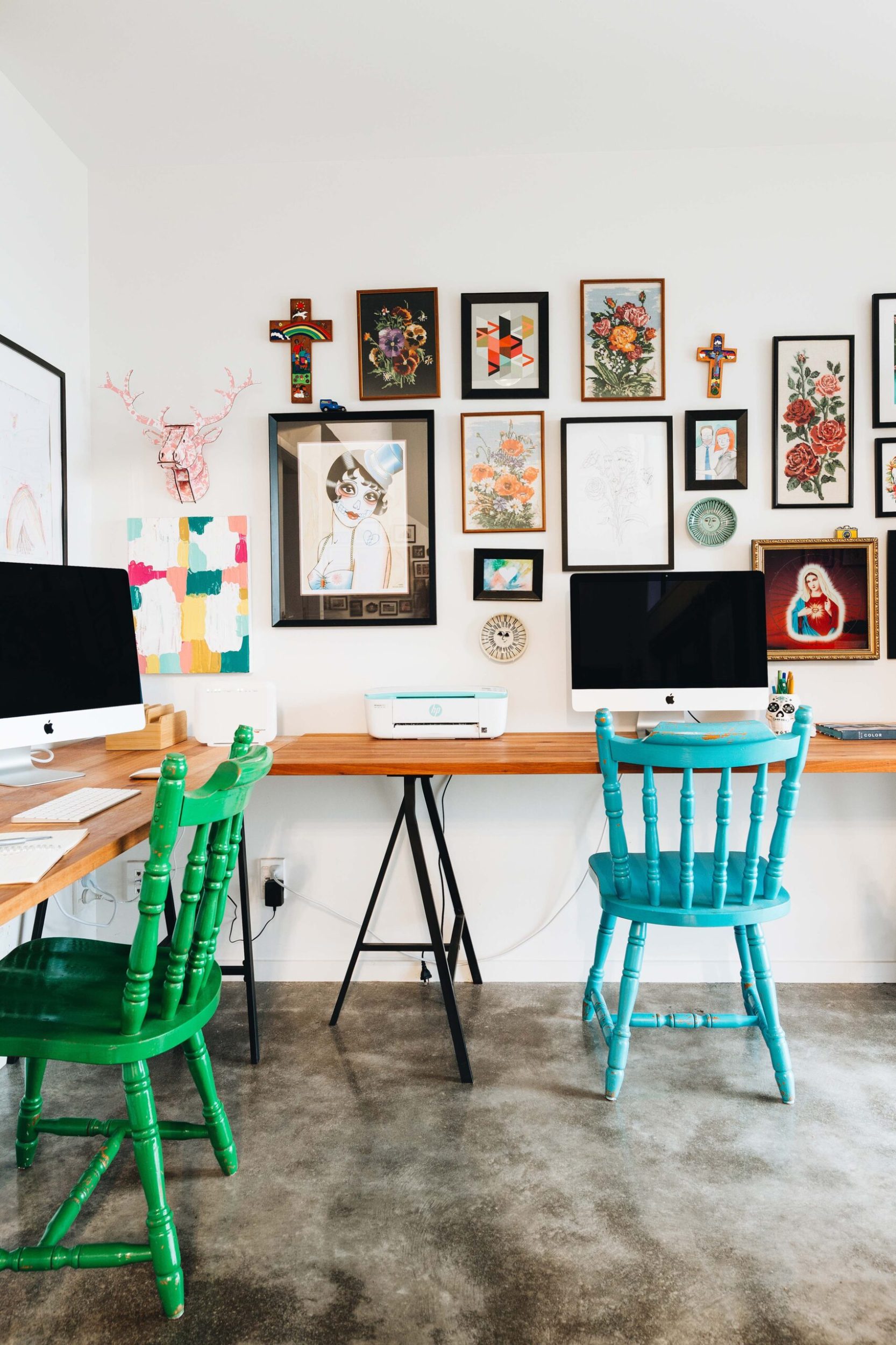 Since their flatting days, the duo have been ardent collectors of retro objects and art sourced from websites and vintage stores. "Our favourite artwork is this enormous pastel drawing from Misery, which we bought at a sale she held in St Kevins Arcade on K Rd, when we were flatting in Ponsonby. It was the only thing we could afford at the sale, and we had to really consider whether we could stretch to pay for it. When we picked it up from her shop two weeks later, she said the corner had been ripped so she would discount it by 50 percent!
"We skipped out of the shop with our original picture and spent an absolute fortune we also couldn't afford to put it in a crazy gold frame. It's followed us through all our flatting adventures and through being homeowners."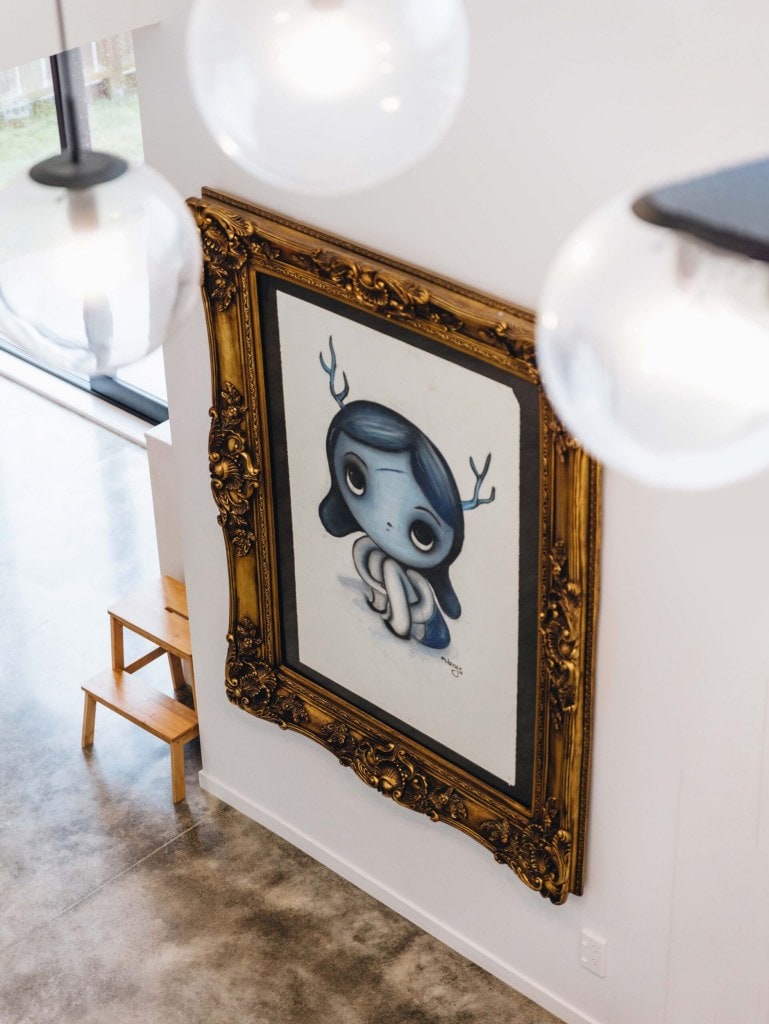 In fact, the couple have collected so much art that they've had to display some in the garage, which makes Martin happy when he's pottering in his man cave.
The layout of their quirky abode works perfectly for the busy, creative family, with open-plan living downstairs, along with the main bedroom, and the kids' rooms upstairs. A separate lounge is the perfect spot for their family tradition of movie nights on Fridays. "We gather our snacks, cuddle up, make it dark and then try to come to a consensus on what to watch!"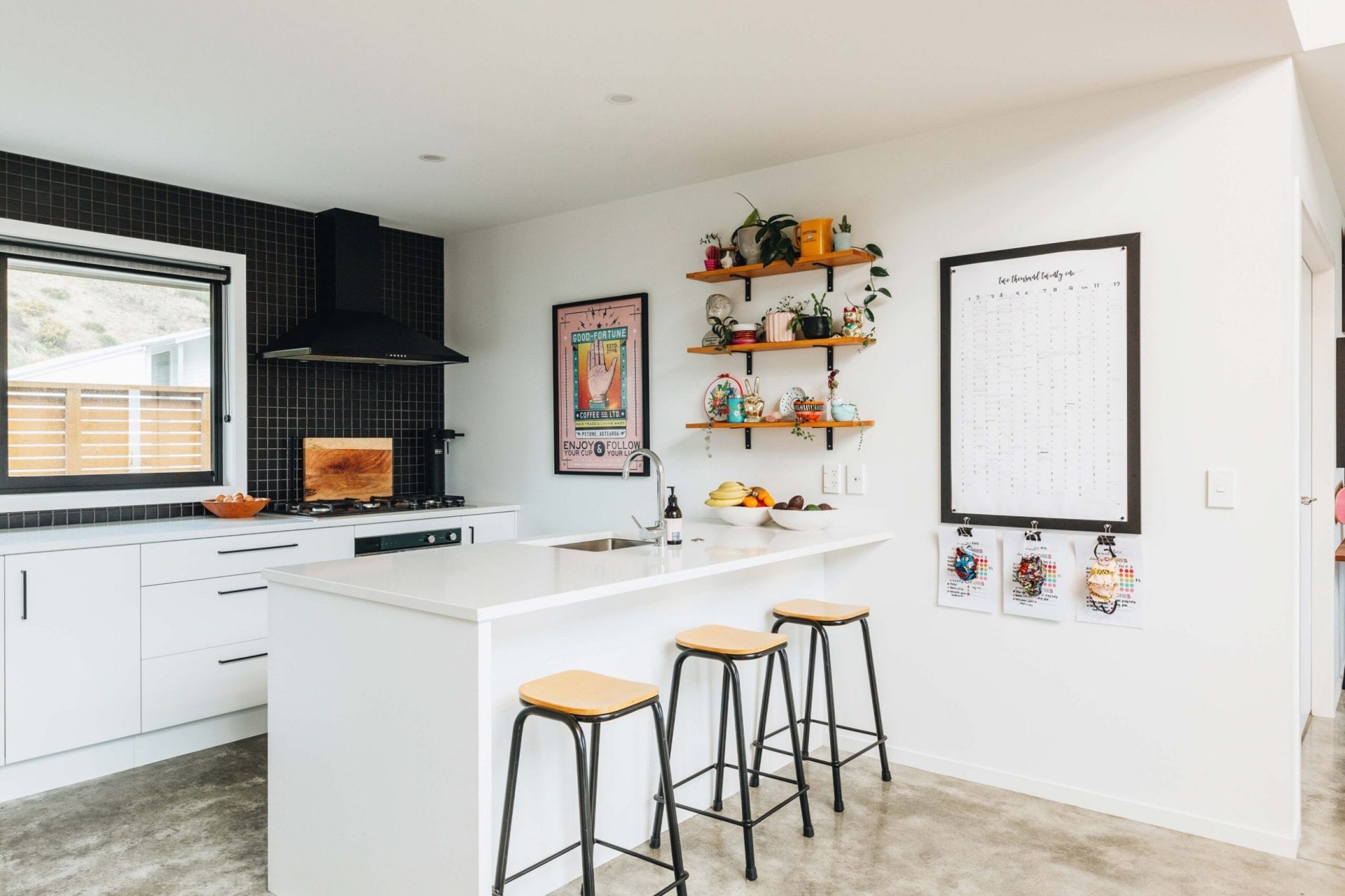 Choosing a spot on the hill has given them no regrets, enabling sun to pour in during the day, and showcasing remarkable sunsets come evening, with the entire sky turning orange and glowing through the double-height windows. Even the wild weather Wellington is famous for is enjoyable from this high perch. "Being on the hill, we are really exposed to the wind, so during a storm it is incredible to hear the elements doing their thing outside while we're all snuggly. As Aucklanders, the weather we've had the opportunity to experience here is actually one of our favourite parts. Nothing better than the house being lashed!"
While the family have loved this new home, another adventure awaits, this time in the Mighty Waikato. Whether they will buy and renovate or embark on another new build is up for discussion.
My heart on a wall
"As I'm a photographer, it was really important to display some of our favourite family photos on the wall," says Meredith. "I adore our photo gallery wall – it is a real statement about who we are and what we are about, and everyone comments on it. The kids love pointing at all the baby photos and teasing each other about funny faces they're pulling. It's basically my heart on a wall, and will absolutely be recreated in our next home, wherever that may be."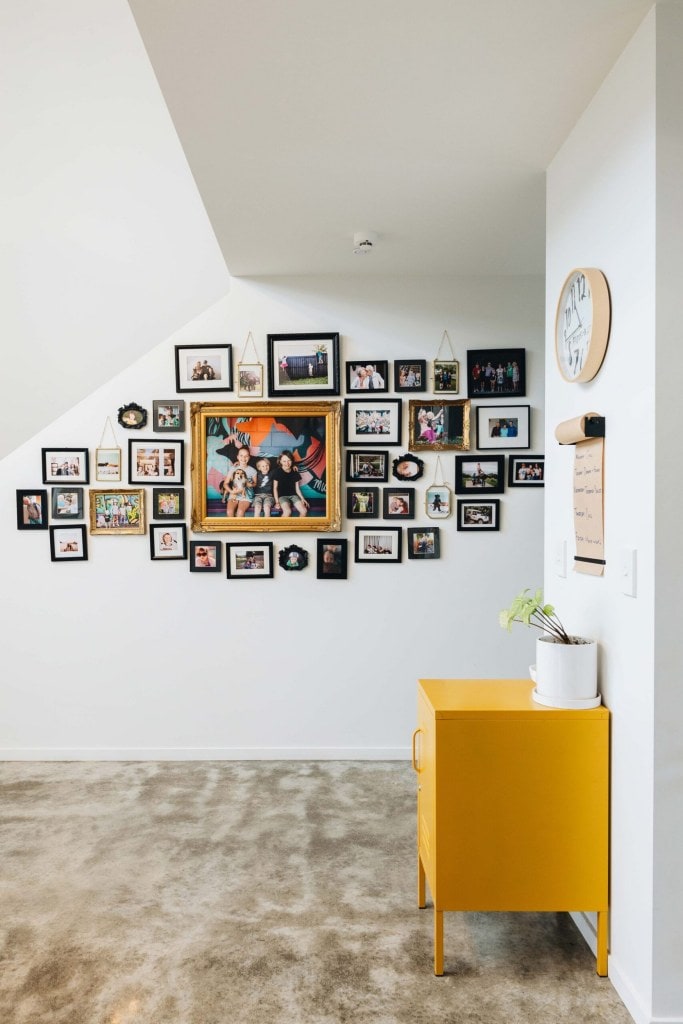 Top tip
Try using a mix of horizontal and vertical frames in your photo wall. Here, a few round and gold frames also break things up. A less structured layout gives a sense of the wall being a work in progress – just like your family.