After a disaster destroyed their dream home, a determined East Auckland family rebuilt their lives from the foundations up.
What do you do when you've spent seven years renovating a house and just as you finish, fire rips through and destroys it? That was the nightmare scenario facing Sarah and Shane Watkin and their children Henry, nine, and Alice, six, in March 2019. "We'd just put in the outdoor fire, which was the last piece of the renovation jigsaw," says Sarah of their 5ha Clevedon property. "But one night it sparked, catching a nearby wooden bench and spreading to the house."
Fortunately, the family was able to get out, but they lost not only their possessions but also the home that they'd gradually coaxed back to life. "When we first saw the 1940s bungalow, which had been moved onto the site from Takapuna, it was pretty run-down, including holes in both the roof and the floor," Sarah recalls. "But we fell for the views across the countryside to the Hūnua Ranges. We're not city slickers, and Shane had grown up on a farm, so we wanted that rural life for our kids."
But after the fire, they were back at square one. They eventually moved into a barn they'd built on-site and began planning a 350sqm rebuild. Their first ports of call were local architectural designer Bruce MacKenzie and builder Rod Harvey, who liked their brief of "two black barns separated by a central atrium/entrance". They envisioned a practical but comfortable dwelling that brought the advantages of a modern build but with the cosy feel of their previous home. So sterile concrete floors and walls were out, but black Axon Panel and cedar cladding were in, as well as oodles of floor-to-ceiling windows to take advantage of the views of rolling hills and native bush.
Having previously lived on the site, they knew all about the prevailing conditions. So they located the house 5m back from its original position to maximise the sun, and added decks to catch the morning and evening light.
Inside, the plan was to create two distinct zones so the children and adults could have their own spaces. "But post-fire, we didn't want the kids to be too far away from us," says Sarah, who works in HR.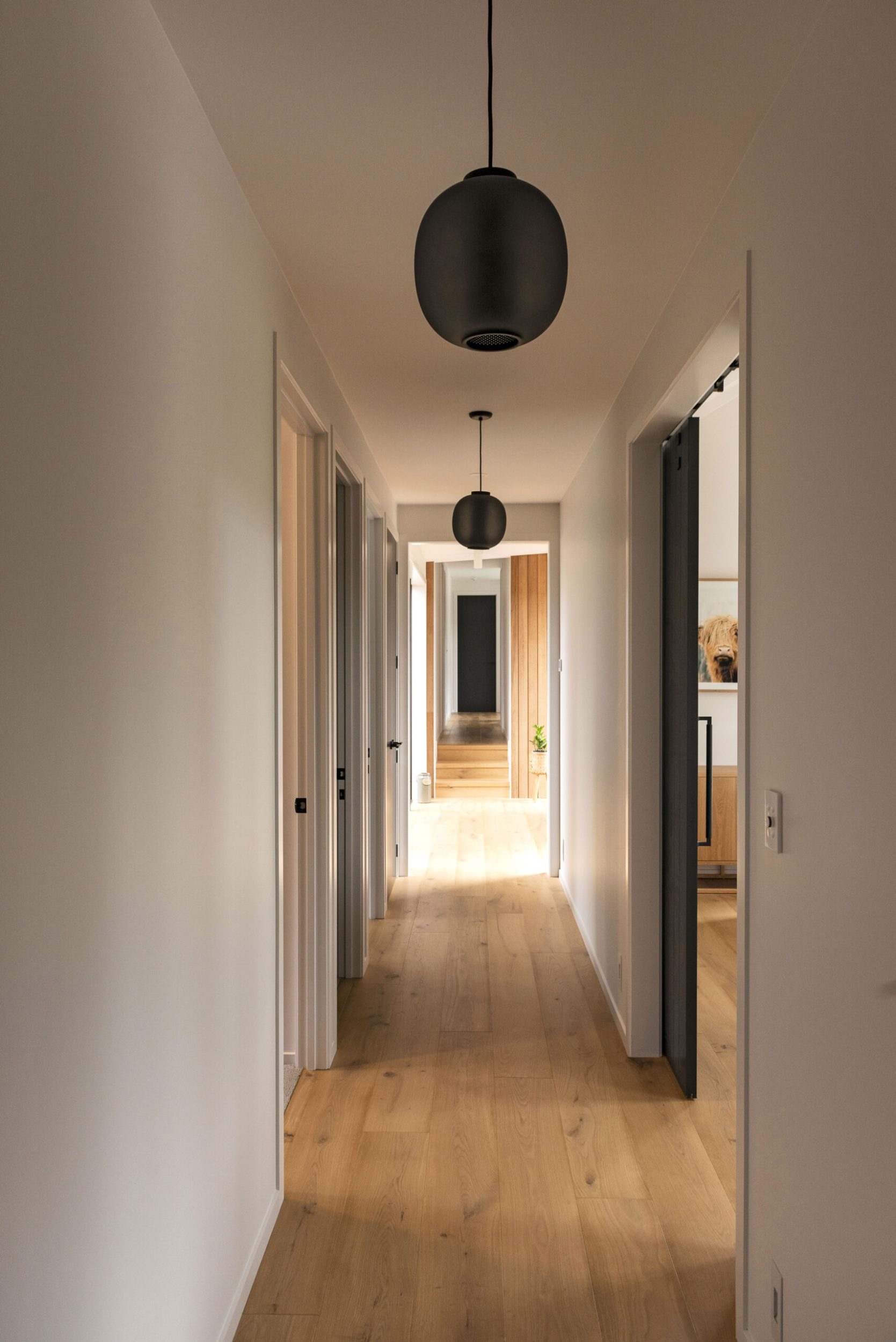 To one side of the central atrium is a generous kitchen/living space with cathedral ceilings that add to the sense of openness. There are also two lounges – one with a cream couch that Sarah dubs "the gin lounge". "Friends asked if I really wanted a cream couch, with young children. But this is my lounge and generally a child-free zone!"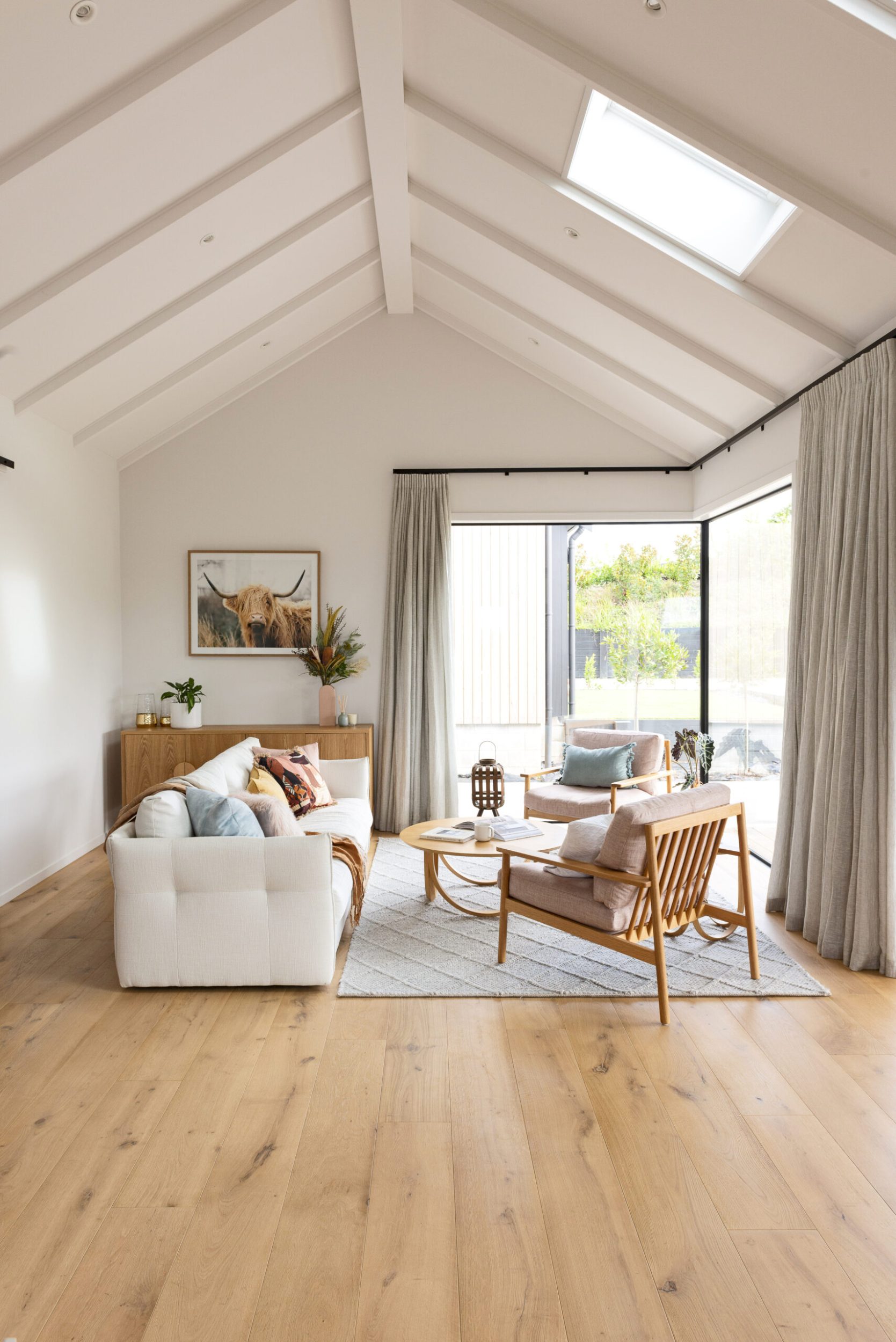 Not that the kids miss out – not only do they have their own lounge in their wing, but there's also a family room decorated with couches in a more forgiving grey. There's also a cedar window seat to take advantage of the views.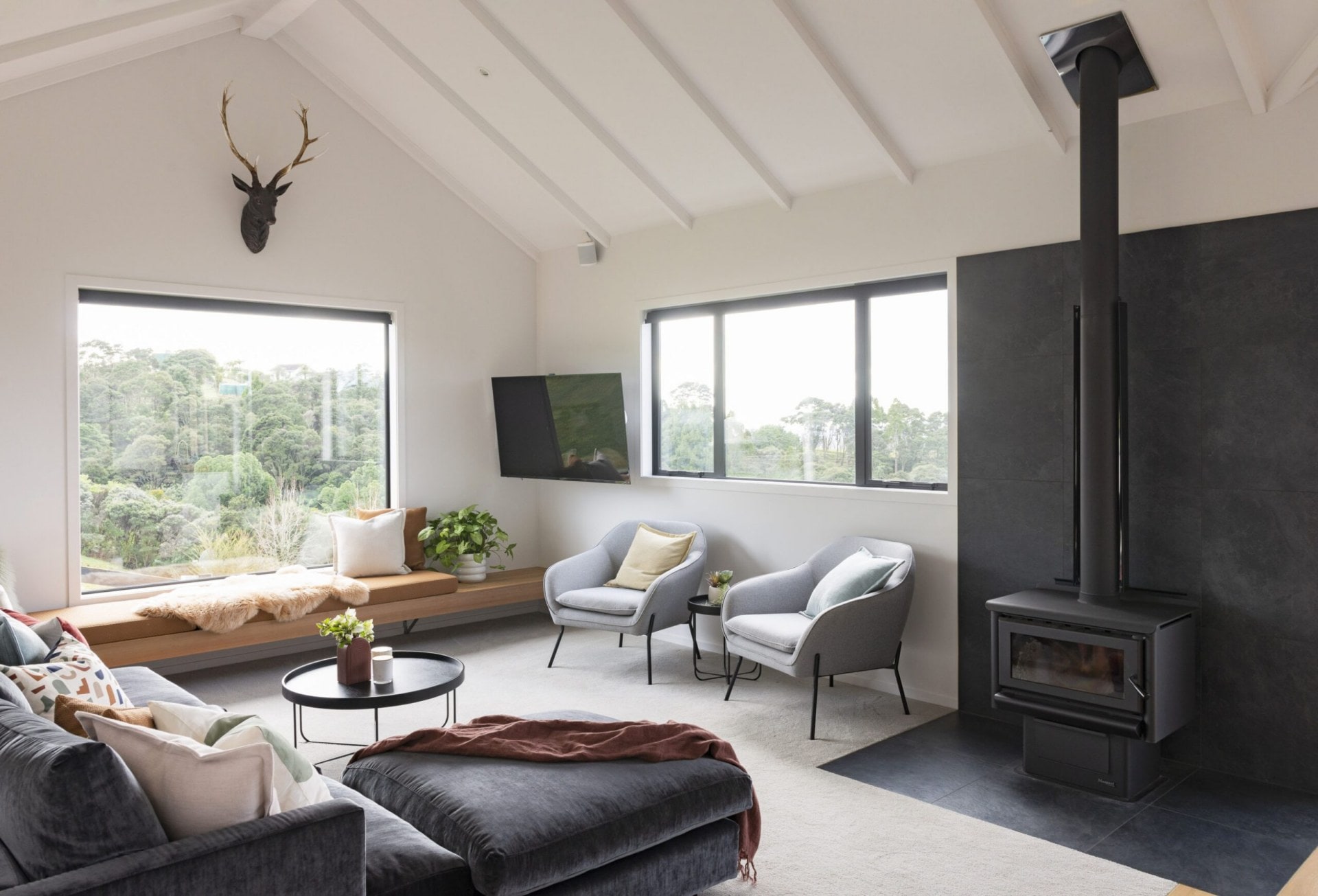 Both Sarah and Shane are foodies and love to entertain. Shane, who owns a hire business, hunts for a lot of the family's meat – they're about to convert the barn they lived in while building the house into a butchery – and is a dab hand at turning it into delicious meals. So a hard-working kitchen was a priority.
"We needed lots of prep space and opted for Dekton benchtops – a stone surface you can put hot pots on, that doesn't scratch," Sarah says. "It's also so easy to keep clean that we used it as a splashback. We blinged up the kitchen with brass handles and tapware."
A generous scullery was also high on the list, and this comes complete with a wine station, including a wine fridge.
Because they had to start from scratch with their furniture, Sarah called in Mary-Ellen Hinton from Hello Saturday Interior Design. "I didn't have the time to run around town deciding between 10 different types of taps," Sarah says, "so Mary-Ellen was great, especially at finding great vintage lights from places such as lighting company Mr Ralph."
The main bedroom is near the entrance and opens out to a spa pool. The en suite, which mirrors the family bathroom, has uninterrupted views across native bush.
To one side of the entrance is the children's wing, where Sarah opted for a light pink wallpaper with gold stars for the ceiling of Alice's room. "We wanted something different and although I was a bit nervous to do it, it looks great."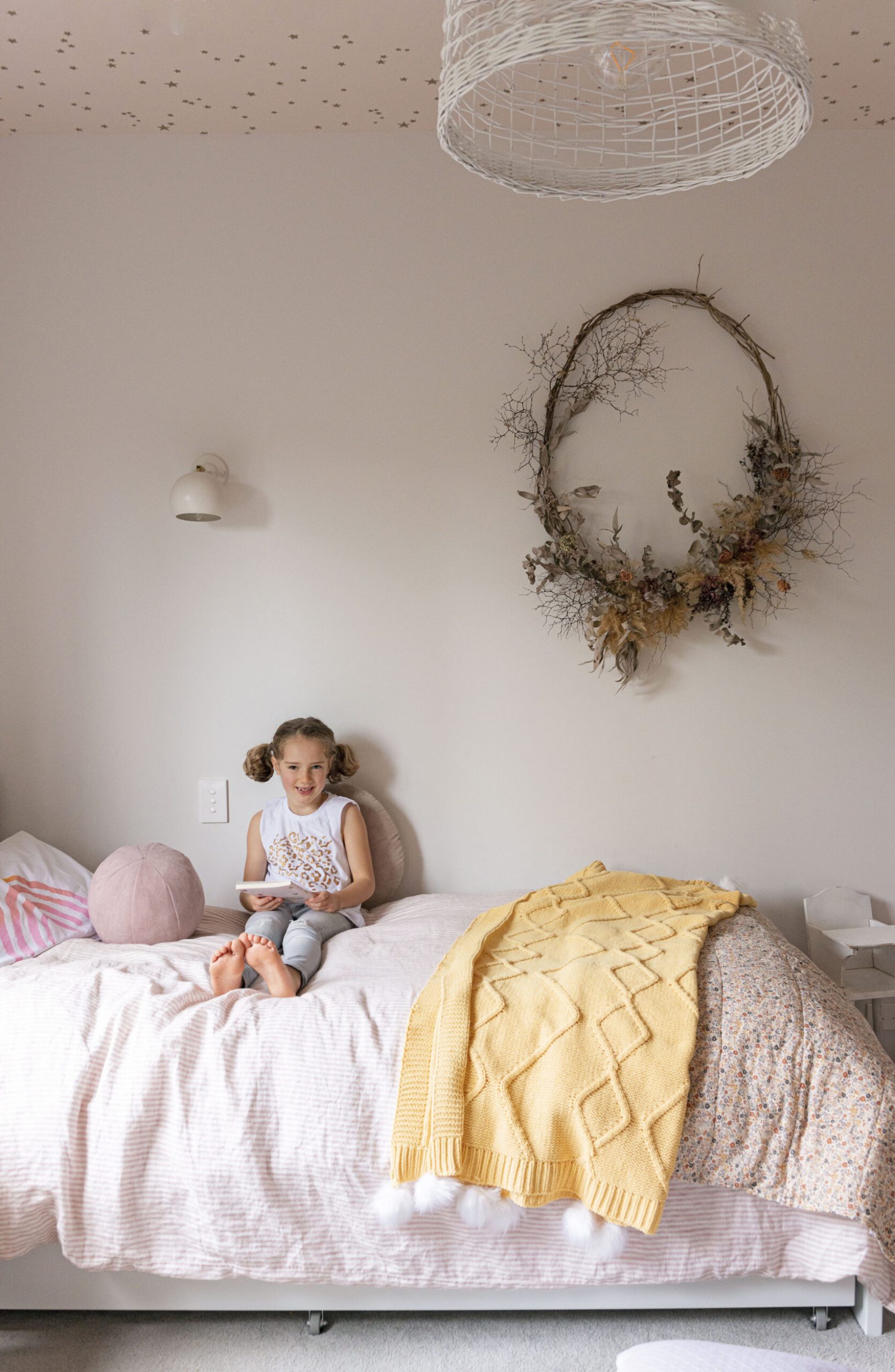 Next door in Henry's room, Sarah wanted a future-proof style. "I want it to still work for Henry when he's 15." They were initially planning to add wood panels to the wall behind the bed but found a dark wallpaper that replicated the look. A sun- drenched window seat is Henry's favourite spot in the house. "He curls up with a book here and we hardly see him!"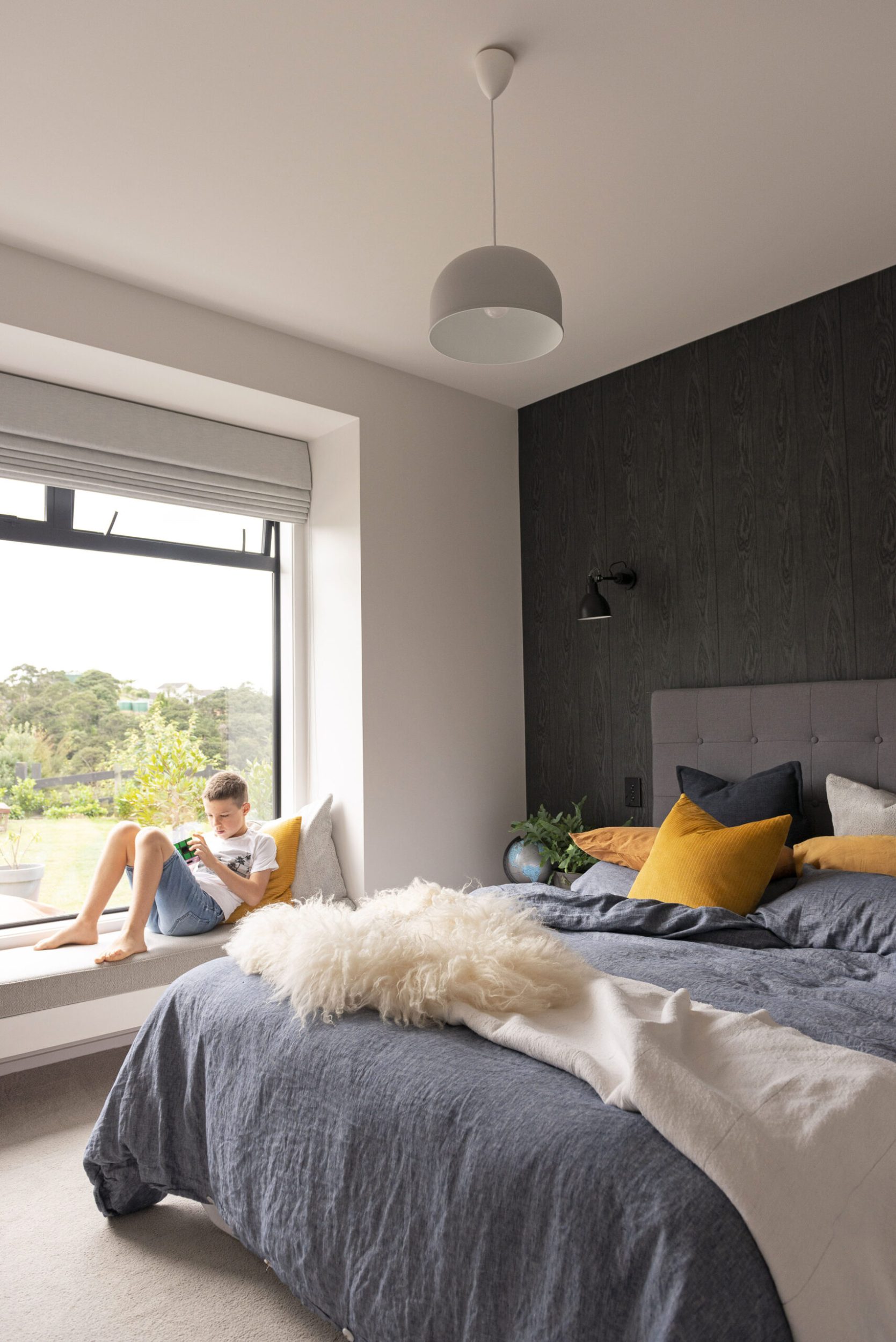 When it came to landscaping, Sarah called on Kirsten Sach from Mt Eden who, it turned out, had landscaped the original property six years ago. "This time around, we've gone for more colour and flowers but plantings that enhance the setting and location," says Sarah. They also added an outdoor fireplace and a pizza oven, as well as artificial turf outside the children's bedrooms. "It provides a great space for them to hang out on the beanbags."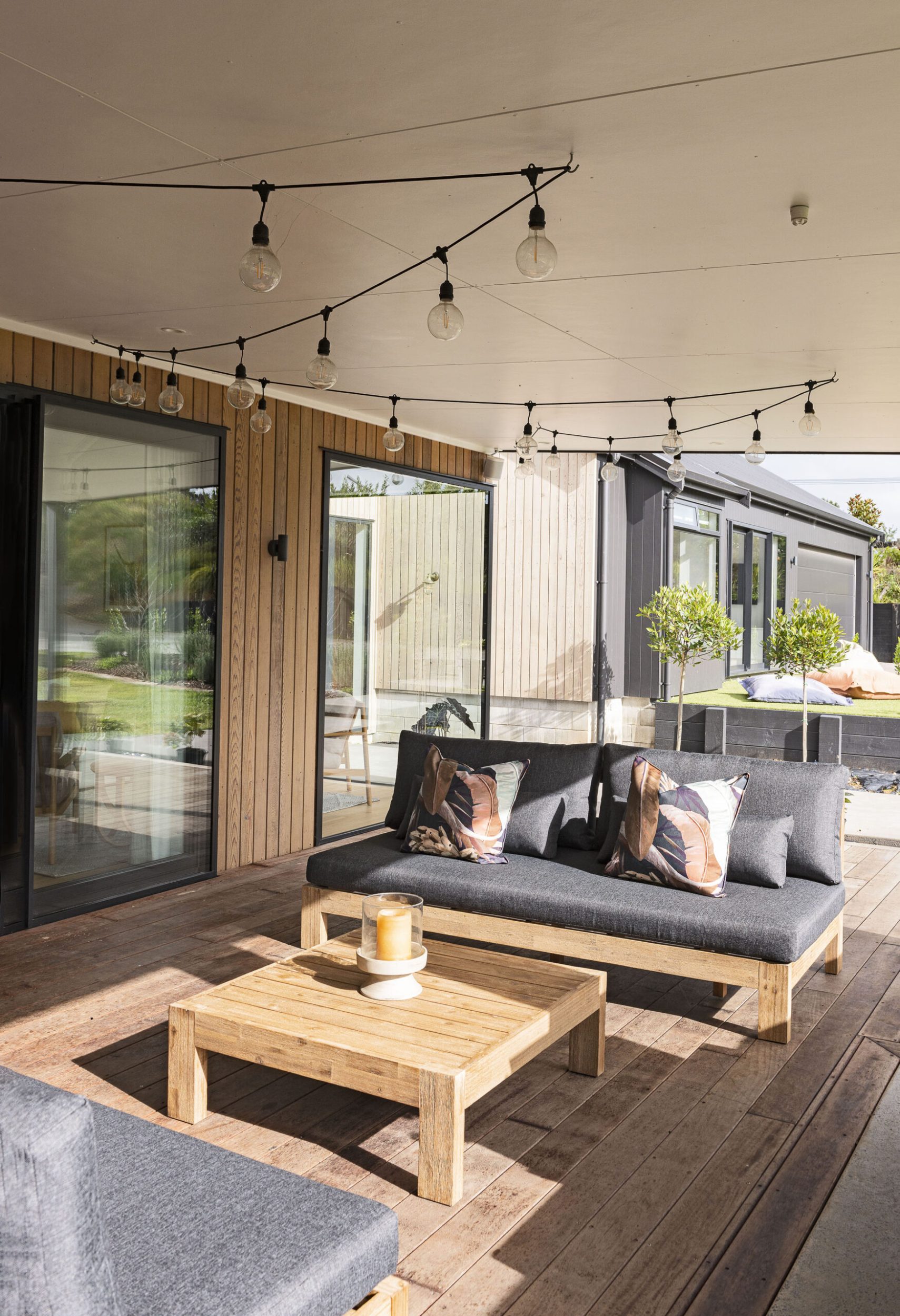 Although Sarah admits the fire was devastating, she says the family is "quite practical and resilient" and got on with rebuilding their home and their lives. In fact, they enjoyed the process of building this house so much, she'd love to do it again.
"Maybe not just yet! This is the first house we've built from scratch and I'd love the chance to one day do it all again."
Swipe the style