Precious keepsakes and vintage treasures breathe life into this iconic 1960s home.
While it's not always easy to put your stamp on a rental, digital editor Lakshmi Krishnasamy and planning consultant Nafis Rashid did just that with a 1960s Freemans Bay, Auckland, townhouse.
Having grown up in a big old villa in Grey Lynn, Lakshmi says she never thought she'd be a small-space dweller. But after the couple flatted with friends in a tiny renovated council estate in London, they fell for the compact lifestyle and the ability to walk everywhere.
After leaving London, while travelling, Lakshmi was offered her dream job. They cut the trip short and returned to Auckland. Determined to hold onto that metropolitan feeling, they looked for a rental property near the inner city, and found the two-storey, two-bedroom flat. Not only was it a short walk from Lakshmi's new role and the thriving bar and restaurant scenes in Karangahape Road and Ponsonby, but also the mid-century home was part of a development known for its thoughtful design and innovative approach to medium-density living.


Originally built as social housing in the 1960s (a proportion of the homes are still owned by Kāinga Ora – formerly Housing New Zealand), the Freemans Park "star block" apartments are something of an Auckland icon – even former resident Jacinda Ardern has sung their praises. Built around shared park-like grounds, the apartments were modelled on a design used throughout the country, and named for their star-shaped layout when seen from above. The "star blocks" were supplemented by terraced houses and maisonette blocks – two-storey units stacked two high – the latter being where Lakshmi and Nafis settled.
"One thing I love is how unassuming the place is from the road," says Lakshmi. "It seems like this grey, set-back, very bland building with a parking lot in front of it, and there are some nice trees around, but you can't really get a sense of it."


The couple's many visitors are always surprised by how nice the house is once they are inside. "Everyone who comes around really enjoys being there. Some houses just have that vibe, I think".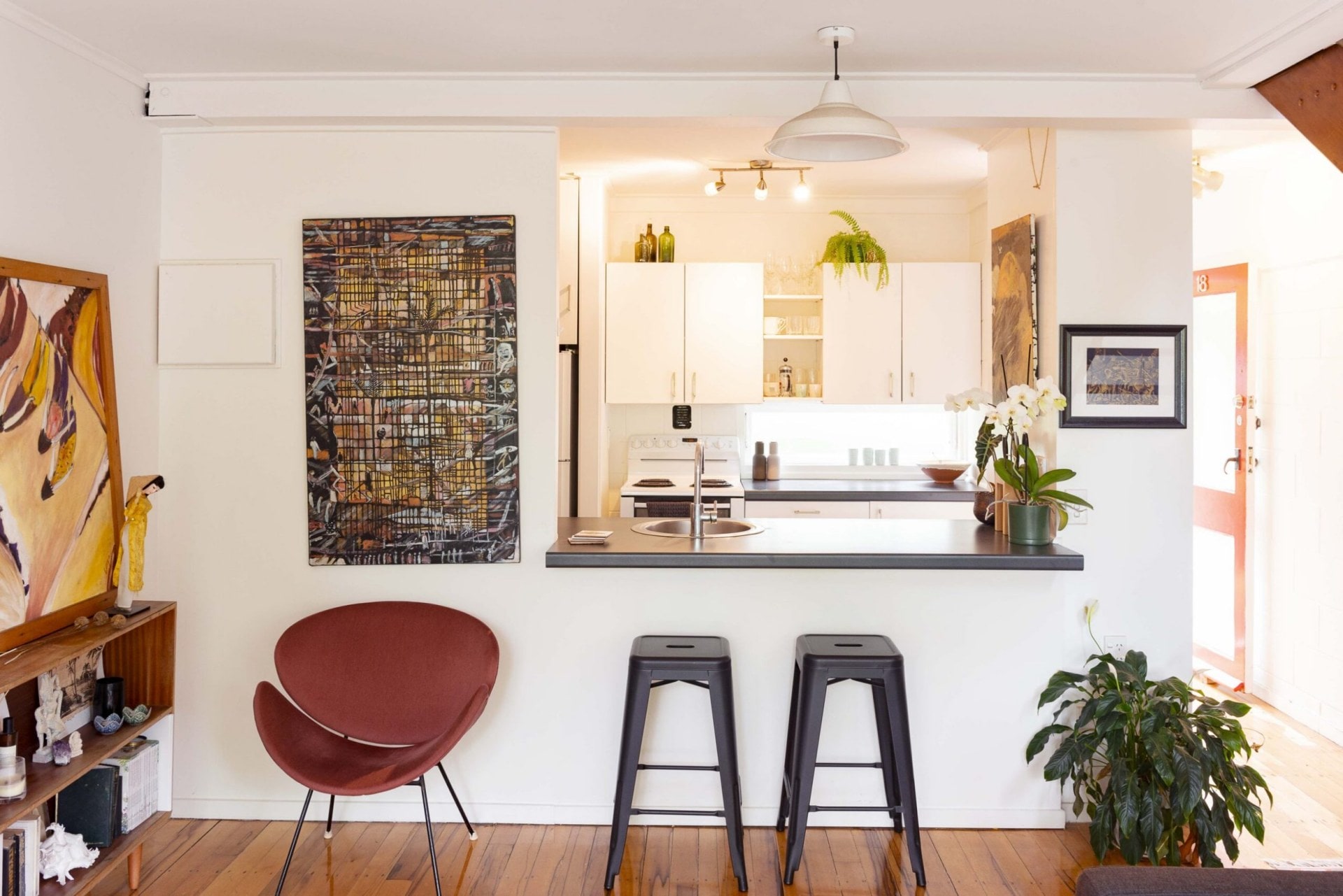 Though only 65sqm, the home feels spacious, with a galley-style kitchen that opens onto the living room on the ground floor, and two bedrooms (one converted into an office) and a bathroom on the floor above.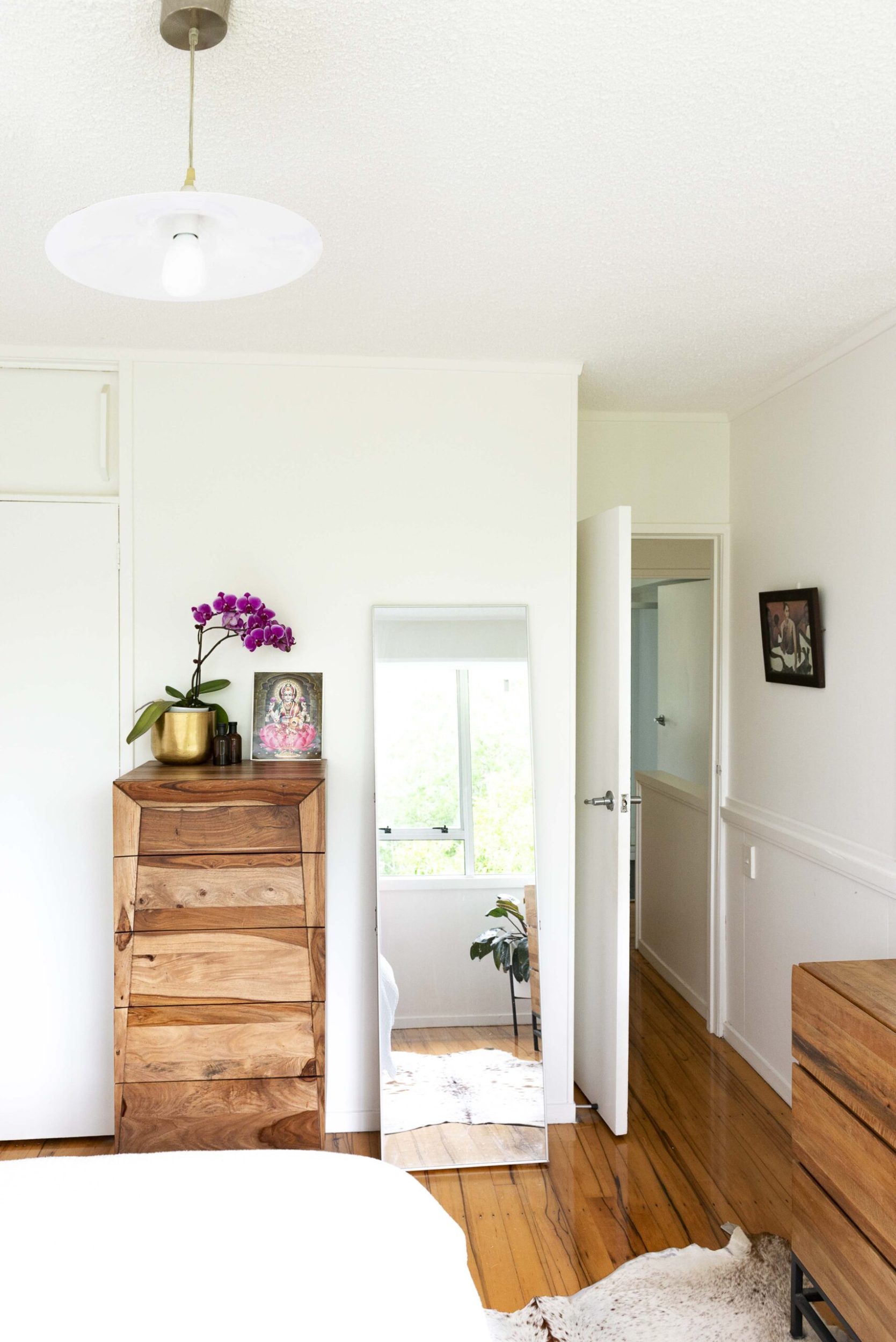 It's well connected to the outdoors, with double-height windows flooding light into the open stairwell, and a large interior window filtering this into the adjacent bedroom – one of many clever architectural features in the house.


Sliding doors open from the living room into a leafy courtyard, where a gate leads into shared grounds beyond. Mature trees and birdsong surround the house, and even though it is close to a motorway, it feels peaceful.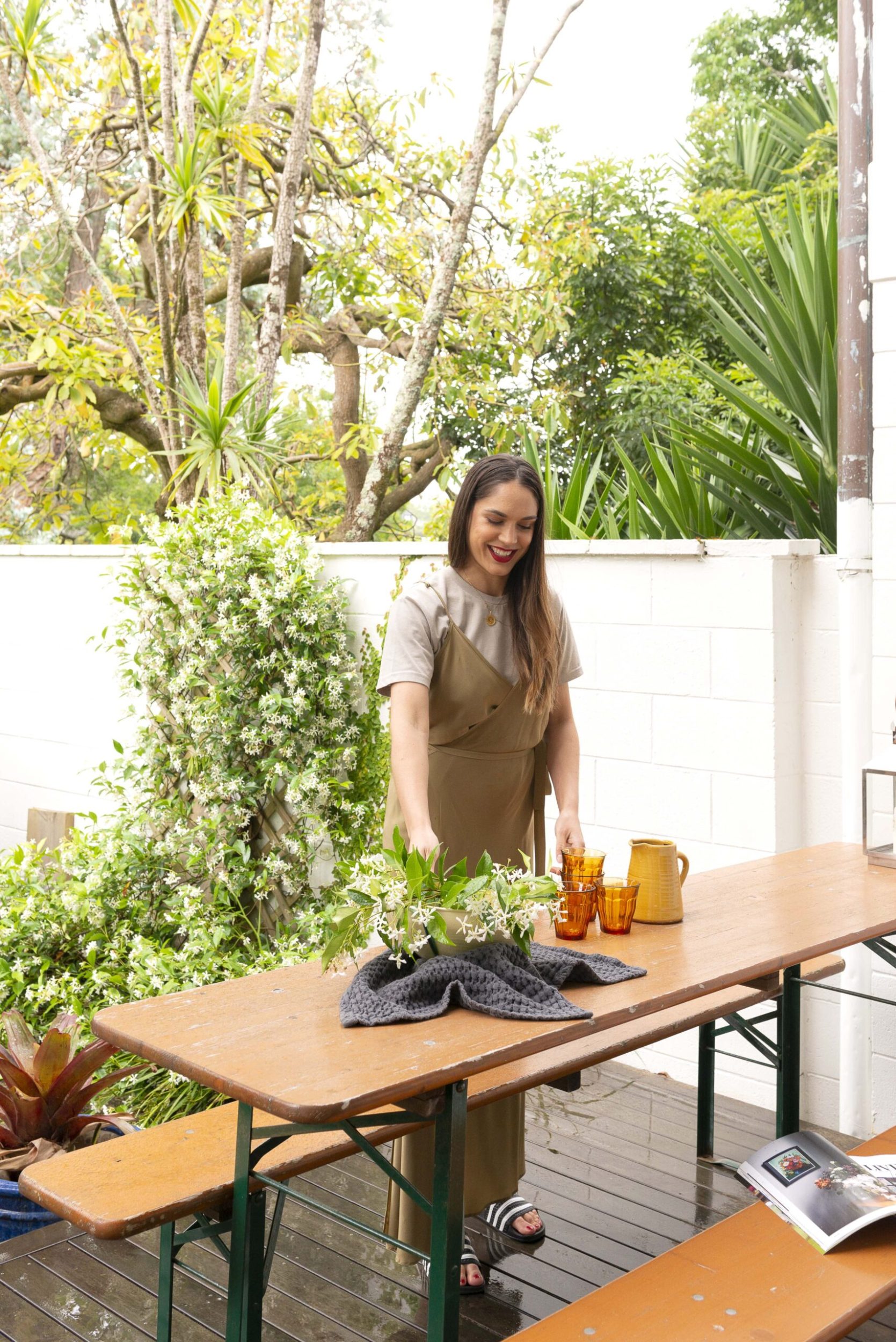 Having spent their life savings travelling, the couple's decorating budget was minimal, so they had to be resourceful, with many items coming from Trade Me. Lakshmi was influenced by the era of the home to seek out mid-century furniture.


"This was our first home that we lived in without flatmates, so it's been an interesting journey figuring out what we like," she says. "One thing we've learnt is that we both like pieces that tell a story. I love the idea that something has lived a whole other life before I've bought it and that its story doesn't just begin with me."
She looked to natural textures, handcrafted elements and colours partly inspired by two beautiful large artworks in the living room, painted by her father, Linga Krishnasamy. "At first glance it looks quite eclectic, but there is a bit of cohesion through the home's colour palette. I like the calming effect of soft, sandy tones."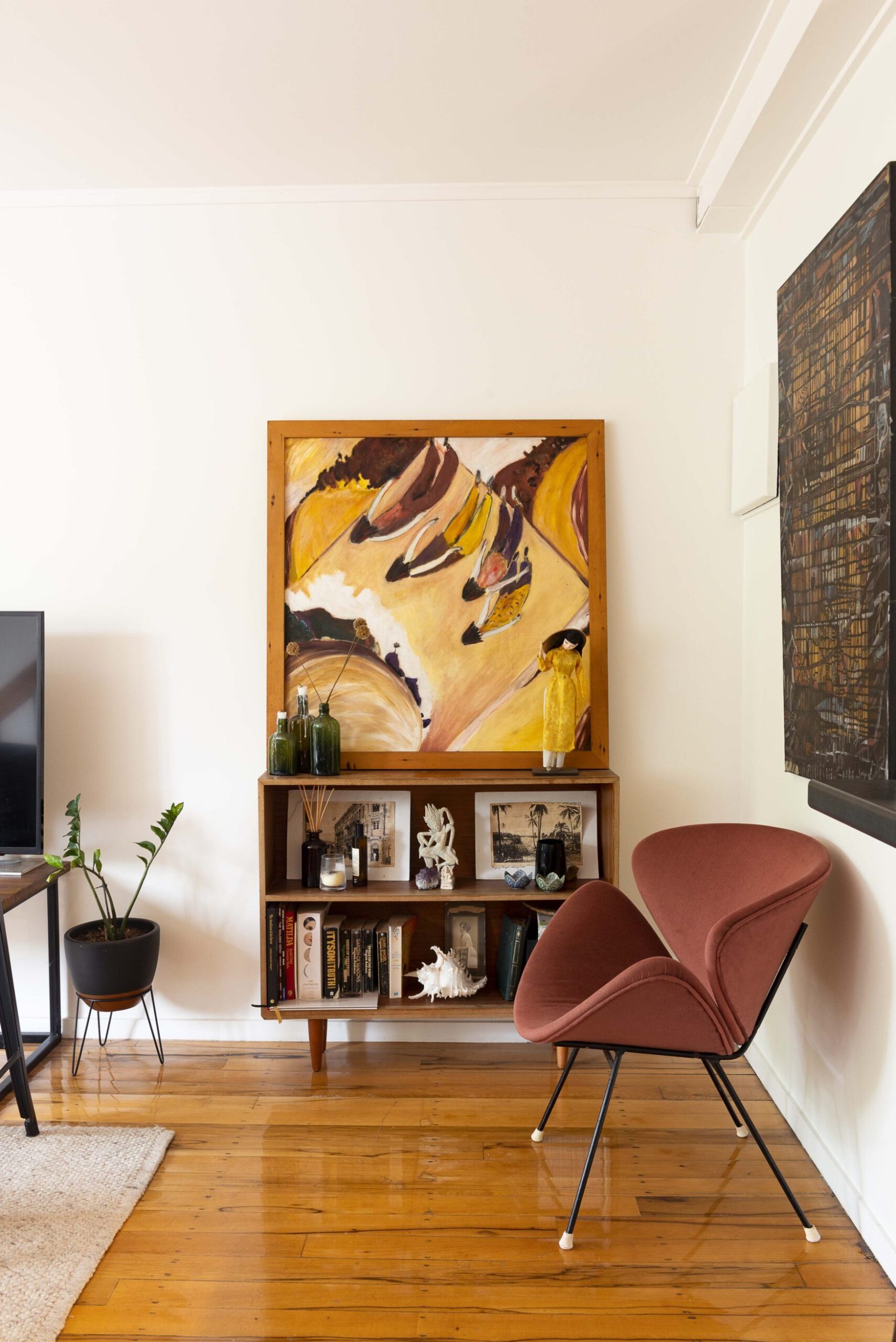 Having been a digital editor for various interiors magazines – including in her current job for Haven – Lakshmi is surrounded by home ideas. But it was important to her not to blindly follow trends that didn't reflect her and Nafis's experiences.
"Looking back, it's been a bit of a process finding my authentic style. When we first moved in and I was hunting for interior inspiration, I didn't feel like I could relate to a lot of what was out there. I couldn't see myself reflected back in the style, the people or the stories."
While both Lakshmi and Nafis grew up in Auckland, Lakshmi's father is Malaysian Indian and Nafis lived in a number of countries when he was younger, so bringing these influences into the home was important. "I've definitely noticed a lack of representation in the people who are featured in the home and interiors space. That's what inspires me to tell my story and showcase who I am through my home," says Lakshmi.
Mementos from the couple's travels are scattered throughout the home – horseshoes found on the road in Indonesia, a Buddha gifted by Lakshmi's aunt on her first solo trip to Thailand, vintage photos of her dad's hometown, a Vietnamese doll (the sole survivor of a childhood collection).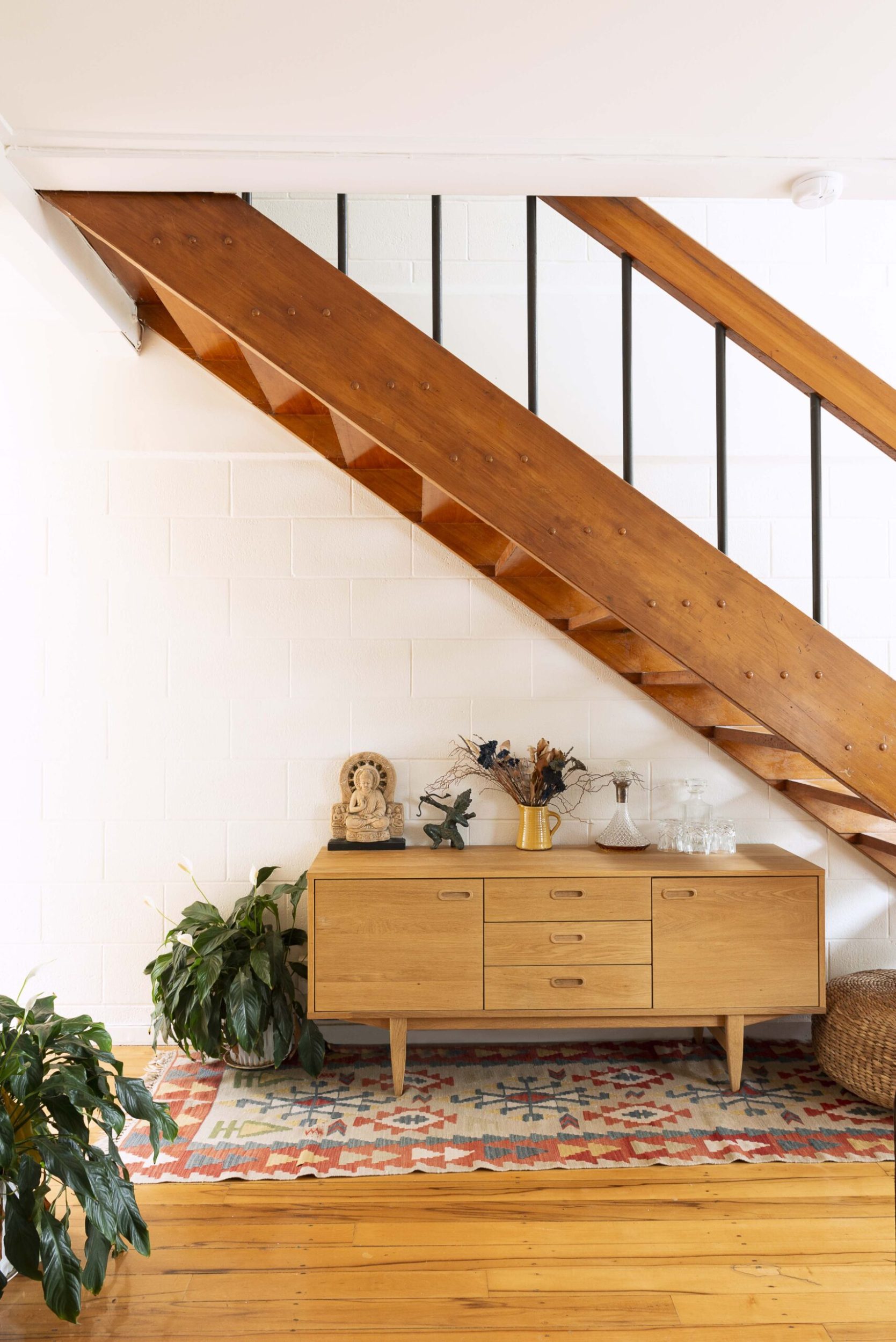 Drawbacks of small-space living – lack of storage and clothesline space – were more than made up for by benefits such as the central location and community feel. And lack of storage led them to only purchase things they loved. "In small spaces you have to be more deliberate about what you want."
Four years after moving in, the couple are small-space converts, and have now bought their own inner-city apartment. But it was hard to leave this place, admits Lakshmi. "We just had so much fun in this house. It felt like a really good chapter."


Swipe the style
RELATED ARTICLE: Compact Home Packed with Colour and Style