An 80sqm short-term housing solution for a creative Auckland couple has turned into a treasured home for more than a decade.
It's hard not to feel envious of Rosetta Allan's family and friends. Because once a year the Auckland poet and novelist has a massive clearout, giving away covetable artwork, books and decorative pieces such as vases, cushions and candles to her nearest and dearest.
"We live in an 80sqm house and we're definitely not minimalists," says Rosetta of the two-bedroom home in Kingsland, on Auckland's city fringe, that she and her husband James bought 12 years ago. "So every year we give stuff away. You have to be clever when you live in a small space and like collecting things."
For Rosetta, the magpie gene is strongest when it comes to clothes, shoes and books. For her husband James, it's all about vases, cushions and candles, while both of them love collecting New Zealand art.
"We need to move things on so we can make space for more!" she says. This is the fourth house the couple has owned since meeting in Hawke's Bay 38 years ago. James, a visual artist, started his own advertising agency shortly afterwards.
"James managed the strategy side of the agency, I was the creative and writer, and at one stage we had 15 staff. We only retired from it in 2020," Rosetta says. They initially bought this place – one half of a 1970s duplex – as a rental, but plans quickly changed. At the time they were living in a large house with expansive views in Red Beach and were planning a new build in Muriwai.
"But then I realised Muriwai would be too remote," says the mother of two and grandmother of eight. "So we sold that land, along with the building plans."
Meanwhile, the flow-on effects of the Global Financial Crisis were denting their finances. "We had nowhere else to go, so we moved into this place." They had six weeks to renovate the home before they moved in – and it wasn't in good shape. "We were both overwhelmed when we realised how much work there was to be done."
But this is a couple who don't muck around, and they got stuck right in to basics such as replumbing, rewiring and repiling. They also reconfigured the internal spaces, knocking down a wall that separated the "poky" kitchen from the living space. "By opening up the room we were able to reposition the kitchen along one wall and create a sense of space."
Although they both love colour, they hadn't planned on installing an orange kitchen. "But we needed a kitchen in a hurry and the only one that worked in this space was the one the kitchen place used for their staff! So we grabbed that and added an aluminium splashback and a black free-standing cupboard, which we turned into a pantry."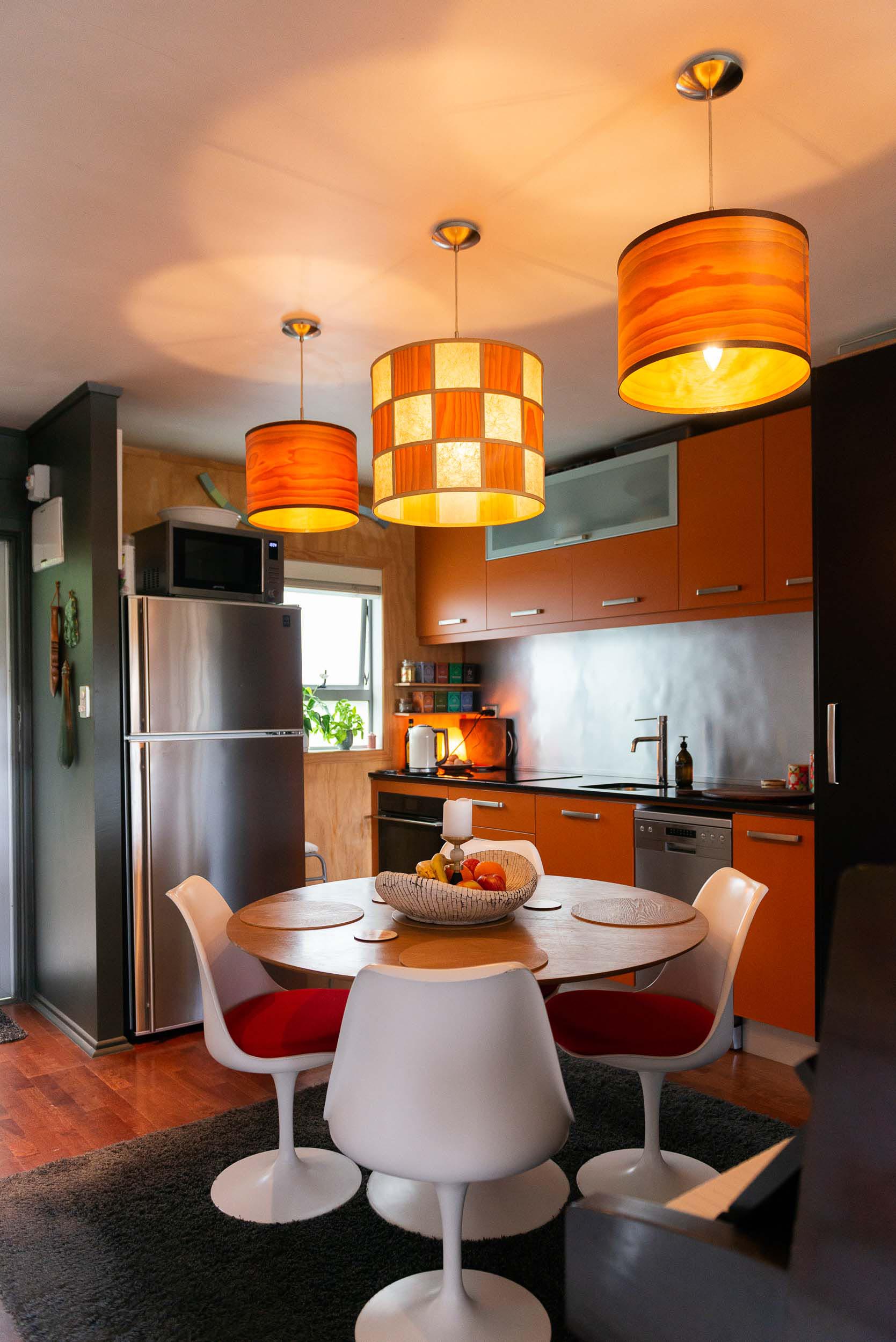 An oversized teak bookcase came from their previous home. Though it was a challenge to get it through the door, it now serves as the perfect room divider. On the kitchen side of the bookcase is a piano that once belonged to James's grandfather. "I wasn't sure we had the space for it but it fitted in nicely. James plays it, as do our grandchildren and our musician friends, who love to jump on it while we're cooking dinner."
A vintage Chinese cupboard also made the trip from their previous home and is the perfect spot to display a Jonathan Adler vase that James bought Rosetta for her birthday last year. When it came to designing the interior, James took the lead. "He runs everything by me but because of his design background I trust his taste," Rosetta says. "James makes great choices when it comes to the contrast of light and dark, of colour and texture. He makes my world beautiful."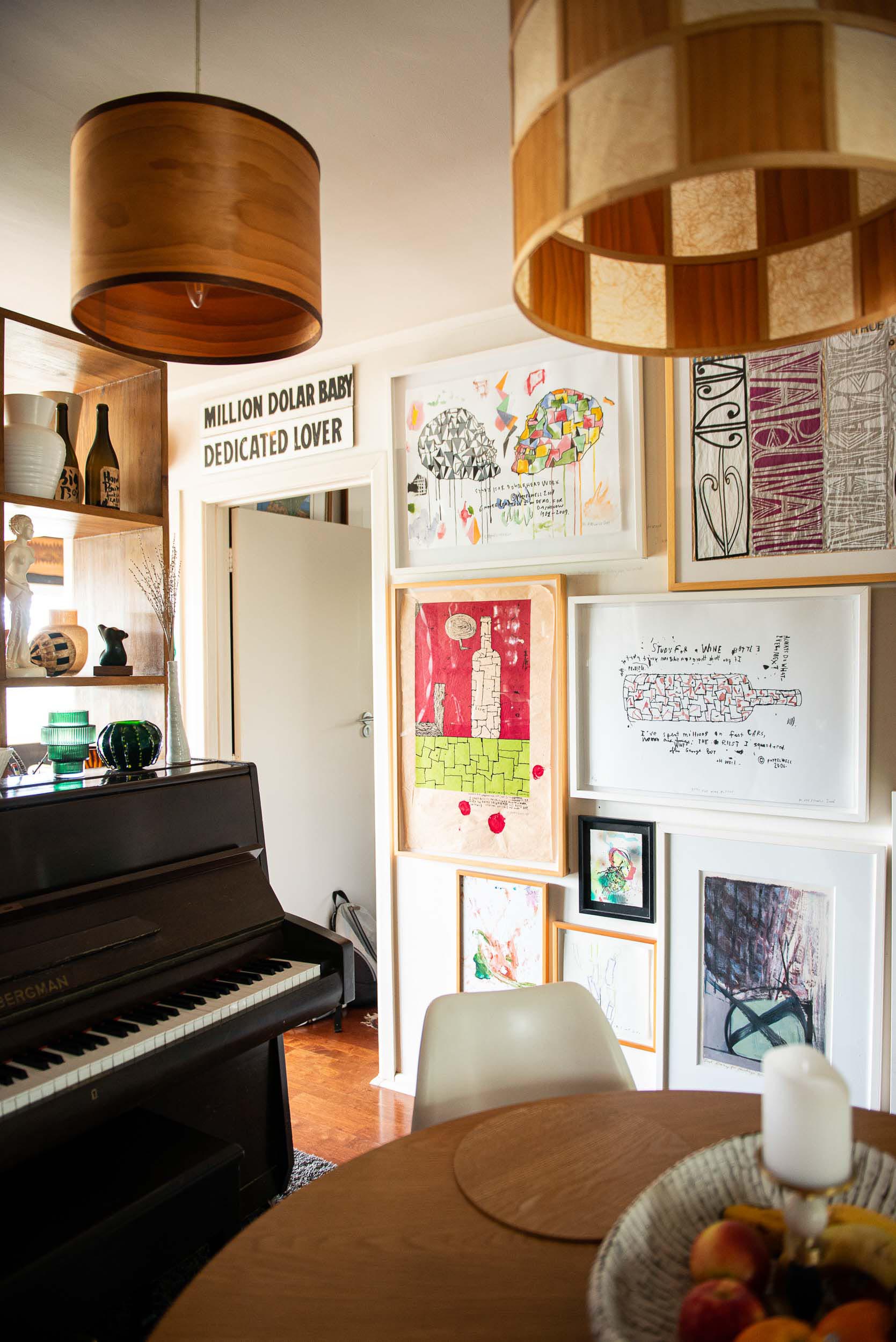 James came up with the clever idea of covering the original brick walls with cladding and marine ply, which not only modernises the space but also retains warmth and creates a sound barrier. One ply wall in the living room was painted black, as was one in the main bedroom, to provide contrast and cosiness.
"The old brick walls were cold in winter and you could hear every sound the neighbours made," Rosetta says.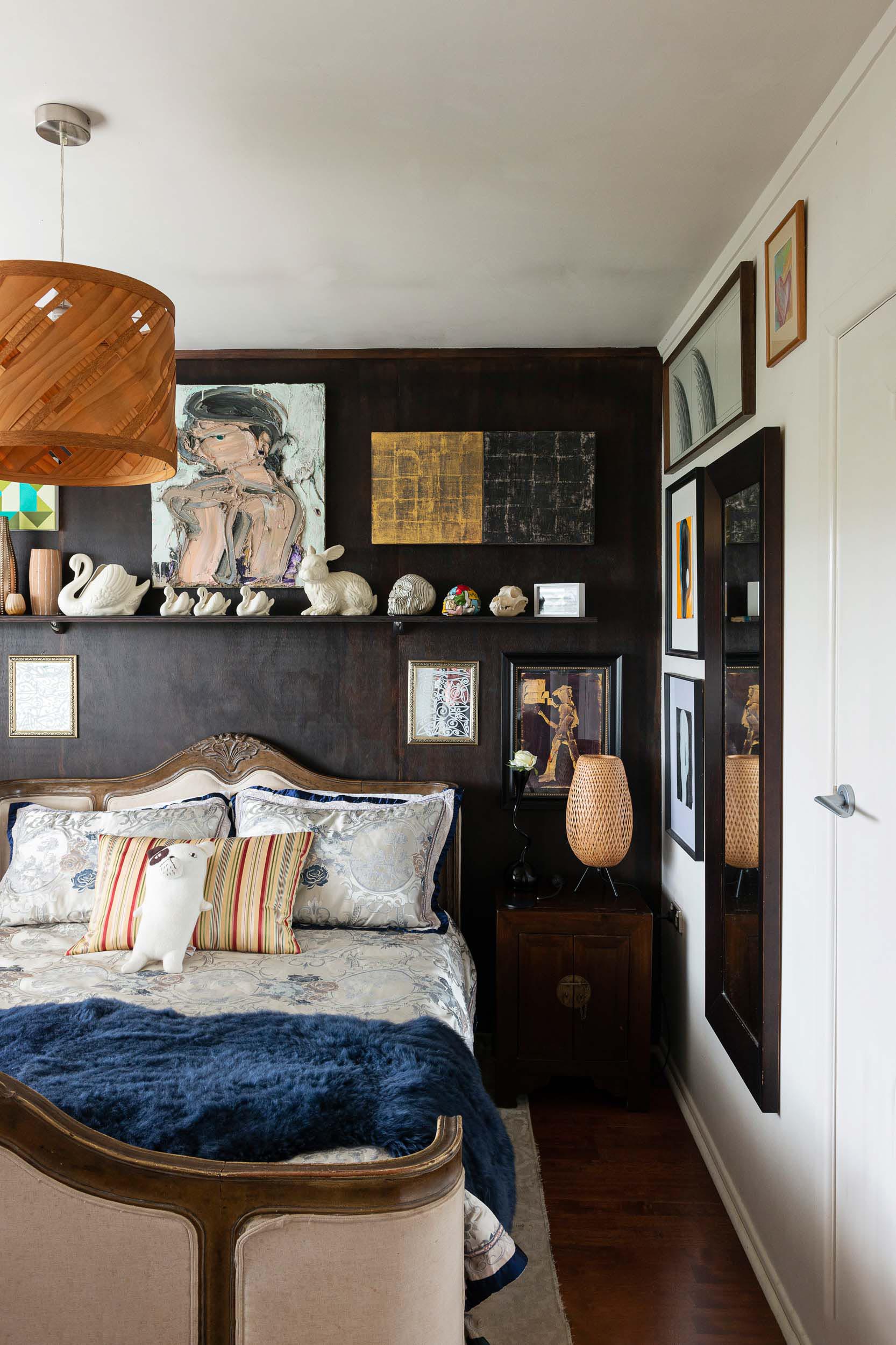 Art is the fuel this home runs on, with most of the pieces in it by emerging artists. "We used to have investment art but sold it to focus on emerging Kiwi artists. There isn't a piece on our walls that didn't come from an artist we know and love." That includes a red rose painting – a gift from artist Martin Poppelwell on his wedding day ("I wrote a poem for his wedding and he gave us the painting") – portraits of the couple by Jamie Chapman, and a large painting of Rosetta by Toby Raine.
"Tony saw a picture on my Facebook page of when I won the Mrs New Zealand Elegance title in 1986, so he painted that photo and gave it to me."
While James has commandeered the house's second bedroom as his office, the couple's sons built her a writer's hut downstairs.
They borrowed space from the garden to create the studio, which is decorated in bright red paint and textured wallpaper. A striking artwork by Tame It takes pride of place above a console stuffed with notebooks and ideas for Rosetta's future novels.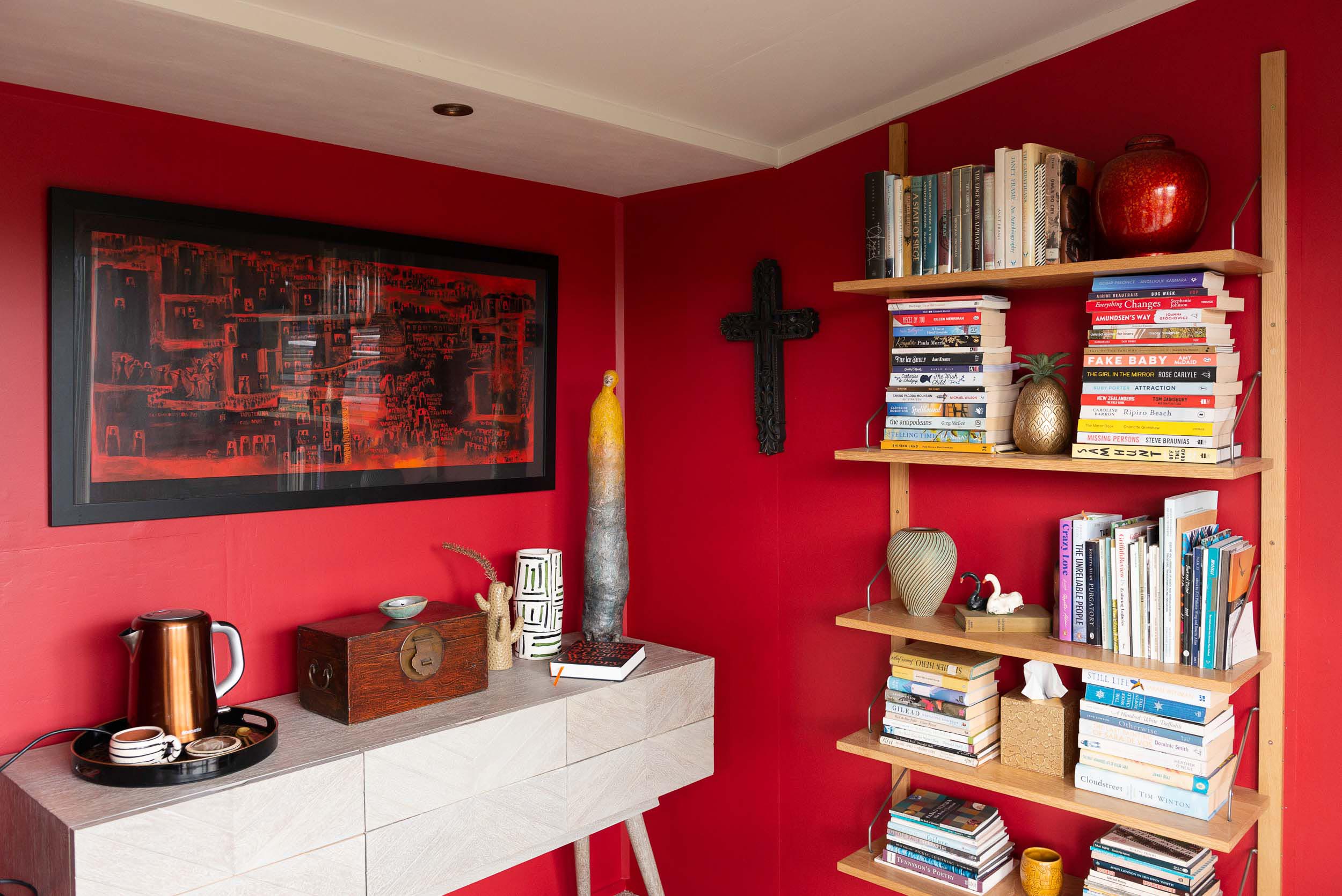 The garden she gazes upon while tapping on her laptop certainly looks better than it did when the couple bought the house. Then it was an overgrown tangle but over the years they've created two distinct courtyards, adding a spa, brazier and sculptures by Ricks Terstappen.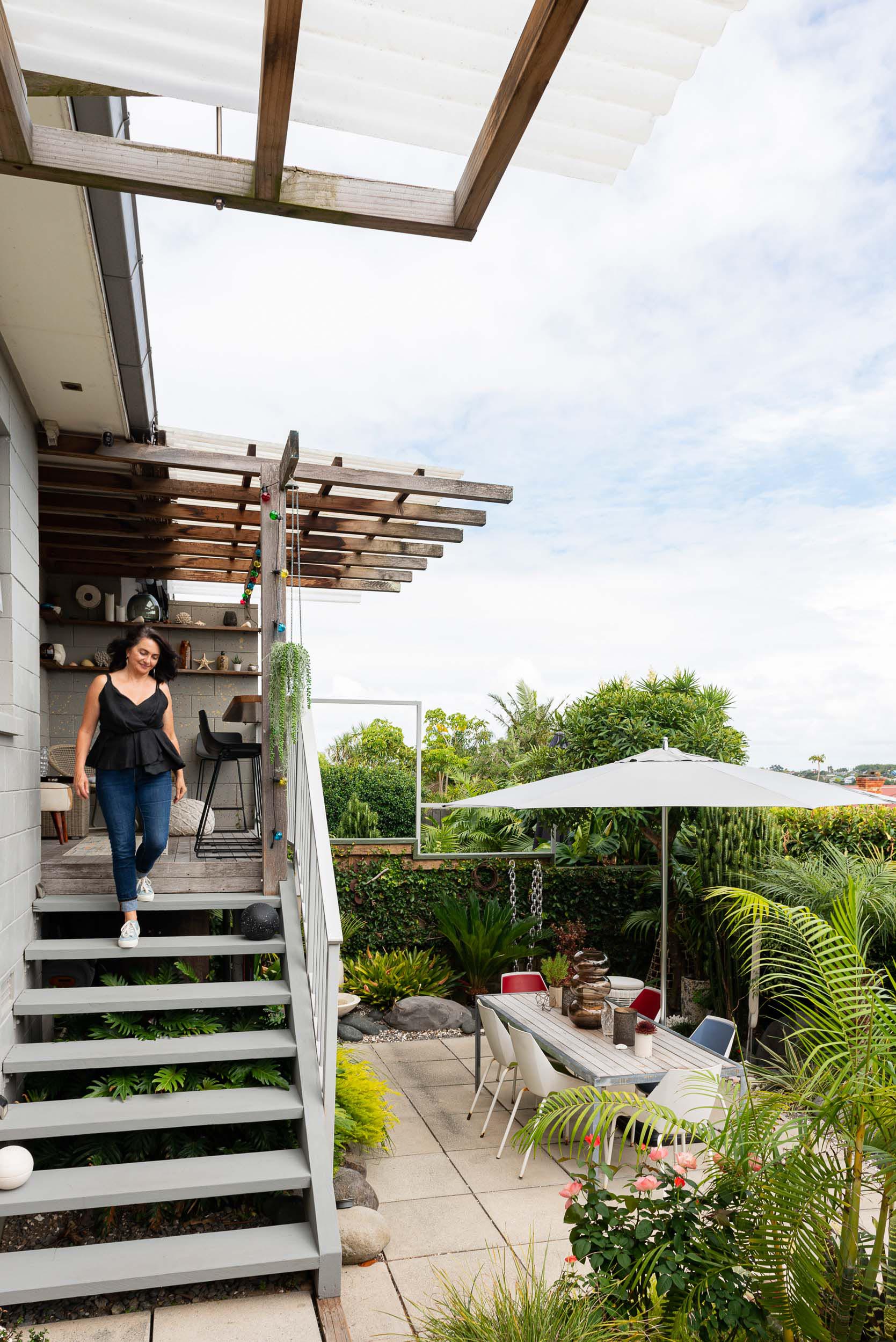 Although they only intended to stay for two years, the couple recently celebrated their 12th anniversary of living here. It is, says Rosetta, their happy place.
"We love this house and the neighbourhood and we definitely love the city buzz and energy. I can't see us leaving any time soon."

RELATED ARTICLE: Nano Home Bursting with Design Inspiration