From the East Coast to Shortland Street and now Mexico, Te Ao o Hinepehinga Rauna has the world at her feet.
Actress Te Ao o Hinepehinga Rauna was emotional during our special Matariki photo shoot, after seeing herself with a temporary moko kauae drawn on her chin.
It's a traditional mark of honour worn by many proud Māori women, including Te Ao's own mother and many of her nannies and aunties. But for the first time, Te Ao, 26, saw what she would look like with a moko kauae, and it gave her a deep longing to have one.
"I became emotionally attached to the moko kauae and nearly went to bed wearing it because I didn't have the heart to wash it off," she says. "I'm aware of its importance and its meaning for Māori women. It's about reclaiming our identity and being proud of our culture."
Today, moko kauae is experiencing a resurgence, with many Māori women – young and old – choosing to have one.
But as a sought-after actress, Te Ao realises that it's not the right time for her to get a permanent moko kauae. In the past two years, Te Ao (Ngāti Porou, Ngāti Kahungunu) has landed roles on TV shows Shortland Street and Head High. Recently, she received the exciting news that she nabbed the lead role in Breakwater, an upcoming US series that's being filmed in Mexico. It will be her first major international production.
"Having a moko kauae would make it difficult for me to pursue an international career," Te Ao says. "It's an internal battle. But I see a moko kauae in my future. It's something that my wairua is calling for."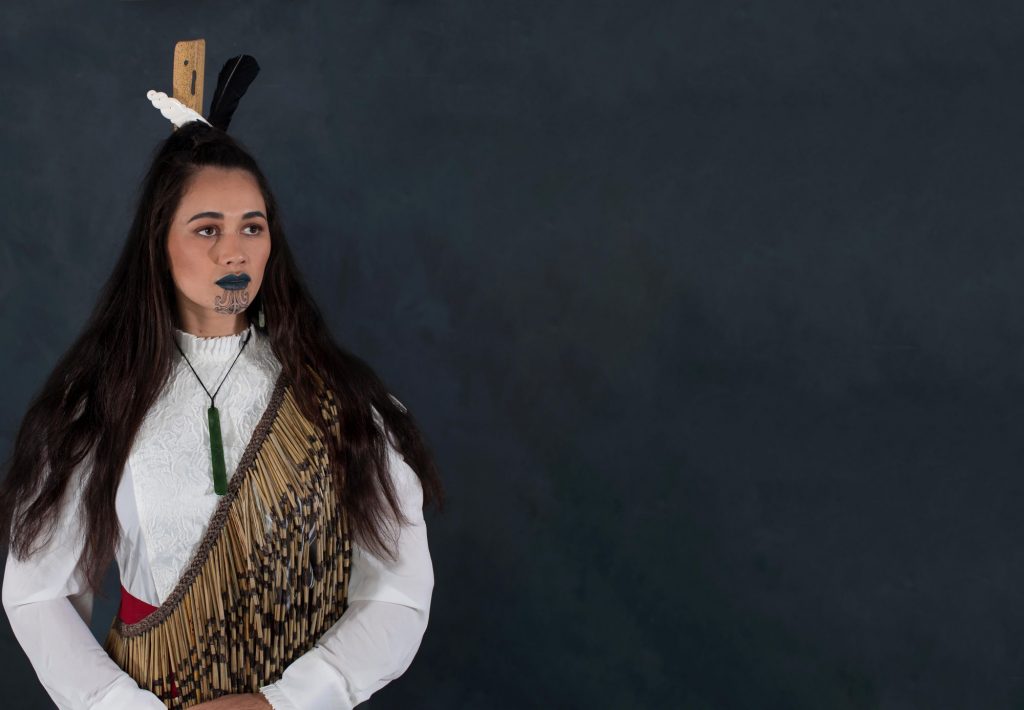 For now, she'll look at other ways to make her mark and promote her culture and traditions. In fact, when she was cast in Breakwater, she was pleased that the producers were keen to incorporate te reo Māori into the script. She'll be playing a biracial character in the series, which is set in the future in an apocalyptic Los Angeles, following a group of refugees who are displaced due to the effects of climate change.
"The producers are flexible and have asked if I'd be open to speaking Māori in the script. They want to know what I can bring to this character as a Māori woman, because they want the show to be a true representation of multiple ethnicities."
Te Ao will spend three months in Mexico with her boyfriend of four years, Theo Poizat, filming the show and travelling around the country. She says securing the role, after playing pregnant teen Aria O'Kane on Head High and feisty nurse Waimarama Glover on Shortland Street, is a testament to her commitment to acting.
"I've spent the last few weeks wondering if I'm ever going to wake up from this dream. I'm aware of what's at stake and the hard work I have to do. I didn't expect this to happen so quickly. I thrive on challenges and I'm ready."
I've spent the last few weeks wondering if I'm ever going to wake up from this dream. I didn't expect this to happen so quickly
Te Ao grew up in the small East Coast town of Tolaga Bay. She has performed in kapa haka groups for most of her life, and discovered acting when her drama teacher saw her potential and encouraged her to pursue what would become her passion.
"I was 14 and was going through that typical young teenage girl time where you're not sure how you fit in the world," she says. "Everything seemed weird and I was overly conscious of what everybody was thinking about me. Acting was this safe space where I could express myself. Drama is about letting go."
When Te Ao finished high school and left Tolaga Bay to study theatre in Christchurch, it was a culture shock. "Where I grew up, the majority of the people were Māori who spoke the language, and that was the standard and the norm for the first 18 years of my life. Then I moved to Christchurch and it was completely different. For instance, how you greet someone. I was so used to greeting someone by hugging them, kissing them on the cheek and giving them a hongi – that was normal to me and how you show respect. Greeting someone by shaking their hand was very foreign to me."
After graduating from drama school, Te Ao started her path towards an acting career. She did a stint in Sydney as a model and dancer, and was even convinced to compete in an international beauty pageant, the Miss Tourism International contest in China. She was a reluctant beauty queen and only entered because of the all-expenses-paid trip. To her surprise, she came away with the title of Miss Congeniality.
"I always thought that pageants were superficial, and I believe that brains are much more important than beauty. But my mother always taught me to be open to different experiences and opportunities."
As a Māori actress on the verge of a successful international career, Te Ao acknowledges that her achievements are only possible because of the hard work that other Māori actresses have endured.
"I know about the struggles for Māori in this industry. As the younger generation, it's our duty to continue that fight. You can see it in the way that I work and all of the jobs that I have done. I can see the opportunities that have come my way may not have been available to the likes of [Māori actress] Nancy Brunning. I'm benefitting from their hard labour. I feel that it's my duty to continue their work."
Acting is not the only career path that Te Ao is pursuing – she's also studying psychology part-time, inspired by her mother, Tania Rauna, who works in social services and community development.
"Coming from the East Coast, a place where not everyone has that perfect middle-class life, I see that there is a lot that can be done for our people. I want to give back. I want to create a space for others to be uplifted and supported and to provide opportunities that I have had."