Our te reo columnist Stacey Morrison speaks to Siena Yates about overcoming imposter syndrome and embracing Māori language.
There's no feeling quite like the buzzing anticipation of being called on the marae, where silence is broken by the call of a woman's voice summoning you forward. The karanga (welcome call) is a revered role for women only, one which bridges the divide between visitors and tangata whenua, the physical world and te ao wairua, the spiritual world.
"It's that primal sound and frequency that only women can produce," says reo Māori star Stacey Morrison. "When I first had my baby I realised it's similar to the primal sounds you make when you're giving birth – and that connects two worlds, just like a karanga. That is in recognition of the power of women."
Stacey is a woman who needs little introduction, having been a staple on our screens and airwaves since the mid-'90s, and becoming something of a reo Māori icon along with her husband Scotty Morrison (though neither of them will let you say that to their face).
Now, on top of her day job as a co-host on The Hits Drive, creating TV shows such as TVNZ series National Treasures, releasing books including Māori Made Fun, as well as her commitments with various organisations and charities – she's joining Woman as a te reo Māori columnist.​
The legacy of language
Stacey is aware many have the misconception that women do not speak or have power on the marae, but she points out, "Importantly, it's called the mother tongue, te reo ūkaipō, because generally, that's where you get your first language from – your mother.
"Of course it's not exclusively just for mothers, but it's an opportunity we have as women and I actually think women deserve more support around that language we offer. When you come to the marae to go on, the very first voice that you hear is the karanga…and there's oratory in that as well. They're actually giving information about where you're coming to, what the hui is about, who's coming on, what the connections are between the two iwi.
"I think what happens is that the person standing at the front is seen as the VIP in a western world view, yet that's not the case in a Māori worldview." Women very much impact what's said, when it's said and who says it on the marae – through waiata (song) as well. Waiata are used to support the speakers, "but also can be to say, 'You've spoken enough now, we're done,'" Stacey laughs.
Scotty always cites an incident at his uncle Sir Howard Morrison's tangi, where Stacey's kuia cut someone off with a waiata. "It wasn't to be nasty or anything, it was just that someone was going very much off track and it wasn't appropriate," Stacey explains. "So she stood up and went and put her hand on his shoulder and started singing a waiata. He's going, 'Hey, hey, I haven't finished yet,' and she says, 'Yes, you have,' and just kept on singing.
That's the mana of women, and so many of our creation stories talk about the mana of women." She references the Māori goddess of death, Hine-nui-te-pō, who crushed Māui to death with the obsidian teeth in her vagina after he crawled inside her in a bid to overcome death itself. "So, you know," Stacey says, "you just remember the power of women."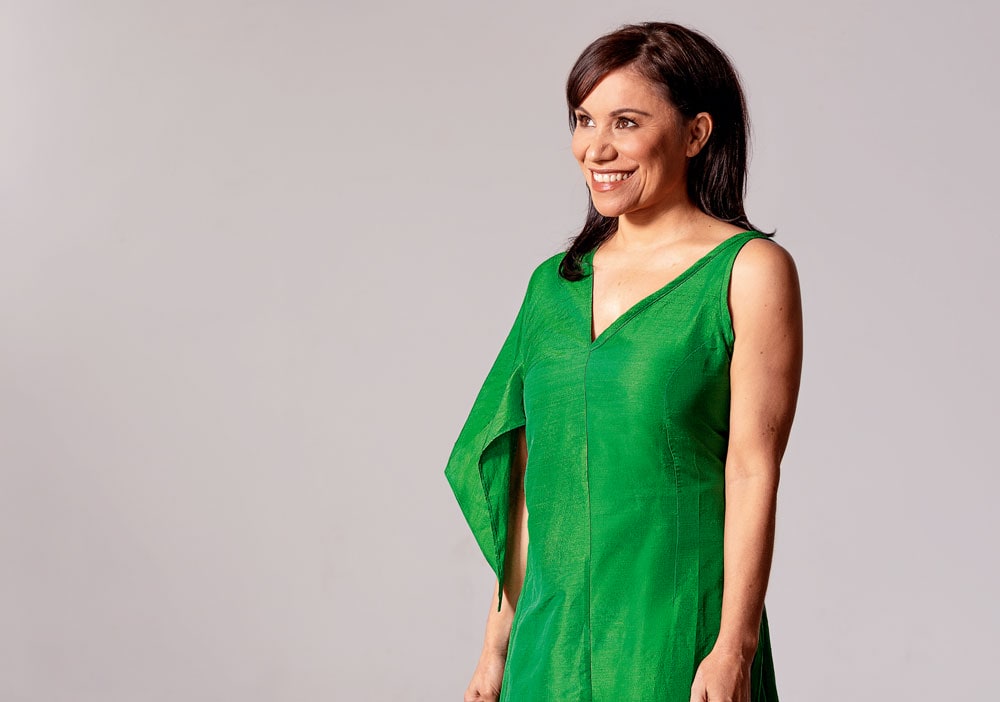 Finding her voice
Frankly, it's a power that's hard to forget when you're sitting opposite someone like Stacey, who oozes confidence, mana and humility.
We catch up for brunch at the Blue Rose café, a spot well-known for its Māori and Pasifika cuisine. Everyone who walks in knows Stacey, but either she doesn't notice their sideways glances or she's become very good at pretending.
This is what so many people have done before us and this is just our shift. It's our time to offer something.
Stacey has been in the public eye since she was 18, when she took her first role on children's show What Now. Before that her family was in the public sphere thanks to her radio legend dad, James Daniels. The fame, it seems, she's come to terms with, even laughing about how random men have recently been admitting they had a crush on her back in the day. But it's when I call her a reo icon that she flat out says, "No, I refute that." She's also not comfortable with being called a "leader". "Because I know who I consider to be my leaders," she says.
Overcoming imposter syndrome
Stacey and Scotty were not only taught by the likes of Sir Timoti Karetu, Professor Pou Temara and the late Professor James Te Wharehuia Milroy, but they became like family. Professor Milroy became a father figure to the pair and even married them "in a Māori sense", binding them in whakapapa. So now, as far as she's concerned, "This is what so many people have done before us and this is just our shift. It's our time to offer something."
The difference is, of course, that we've had the rare opportunity to watch Stacey's reo journey from "a kia ora girl" (someone whose vocabulary is limited to basic phrases) to fluent speaker. "As much as it would have been more comfortable for me to just come out and go, 'Ta-da, here I am, a fluent speaking butterfly,' my metamorphosis has been visible. So I think maybe people can relate to that."
She still has moments of inadequacy though, like one year when she presented the Māori Language Awards. "You know those milliseconds where you take a breath and then teeter on the edge of a massive imposter attack? I just went, 'What am I doing? Why am I in front of these Māori speakers? They're gonna find out that I'm useless!' It was like 20 years of my life flashing in front of my eyes," she laughs.
The truth is, the place she's found herself in is one which still feels surreal. She's 47 now, and if you'd told her when she was 30 that she was going to marry Scotty Morrison and raise Māori-speaking children, she wouldn't have believed it. Yet here she is.
Paying it forward
Stacey and Scotty, 49, make a point of passing their knowledge on out of "a sense of responsibility to the people who were generous enough to teach us". The reason they raised their kids with te reo is one she hopes other women will relate to.
"Quite a few of us have probably purposefully decided to rewrite the script for our kids' lives on different things," Stacey explains. "It might be something about your own childhood that you always determined was going to be different for your kids, and I guess my kids being able to speak their ancestral language was part of that. We just considered that a birthright."
Now her three children – Hawaiki, 13, Kurawaka, 12, and seven-year-old Maiana – are comfortably bilingual. Stacey made sure of that because her own journey wasn't easy. She didn't start learning te reo Māori until she was 17, after an exchange trip to Japan saw her speaking Japanese better than her own language.
It was that realisation which led to a series of night classes, full immersion courses and more. In the end, it became what she describes as "a calling" – one which she couldn't ignore. "The good news is that once you've had that calling it won't go away and the bad news is once you've had that calling it won't go away," Stacey laughs. "You can resist and you can go away, then come back and go, 'No I'm failing, no I'm not good enough,' and yet you can't not want it.
"It's like a love affair that you didn't ask for and you say, 'No, I don't have time. Sorry, we can't be together right now.' You can't ghost it – well you can, and people do for a long time, but then you just realise that it's futile and then the regret is awful.
I hear people beat themselves up saying, 'I should be better, I should, I should.' But it's not our fault that we are where we are, it's just our choice what we do from now on.
Language, in te ao Māori, is key to everything. "When you understand the words, you can see the full extent of the wisdom and the beauty of things," explains Stacey. Like how in Māori we talk about emotions in terms of the puku – the gut.
"We say, 'I love you from the bottom of my liver,' because that's where emotions come from. Pukukino literally means your puku is bad – that means grumpy. When you say pukukata, that's laughing. So it's talking about how the way your puku is feeling directly impacts your entire wellbeing which, you know, has now been verified by Western science, so welcome to the party!
"I think we can talk about mental health more easily when we talk about spiritual health, and I find that te reo is like spiritual healing for me, for us," she says. "Tikanga Māori is seated in a real deep understanding of humanity and what people need emotionally."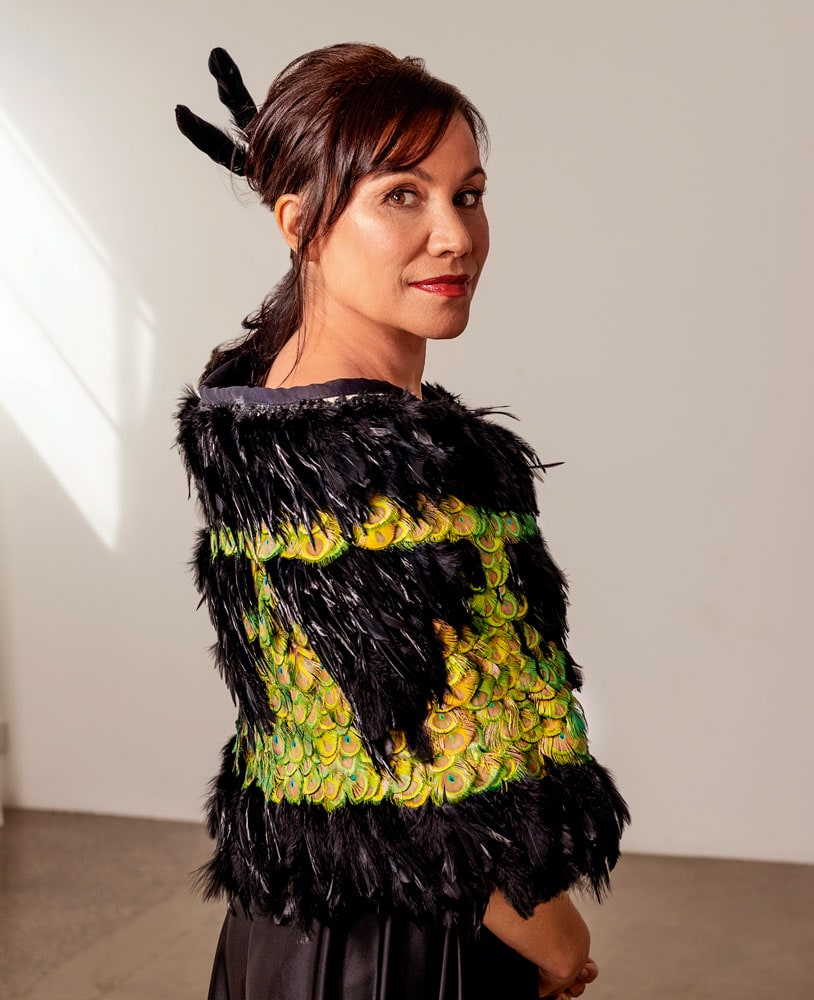 "Think about when you come onto a pōwhiri, you know when people get goosebumps and they feel that atmosphere, that electric kind of energy? That's the feeling of heightened tapu, and all of the structures of pōwhiri are there to manage that. When we meet people, we need to quickly connect and go, 'Well, who are you? This is who I am and this is what we're here for.' When we share that breath of life, we've escalated the process of getting to know each other exponentially, because we have shared something together based on knowledge of how our emotions and how our spirit is feeling at that time."
Tikanga Māori is seated in a real deep understanding of humanity and what people need emotionally.
For Stacey, and for many others, reo Māori is identity, spirituality, physical and mental health, connection, history and love. It's why she's dedicated her life to passing it on and doing her bit to ensure its survival and revitalisation, despite the fact that it hasn't always been easy and even though – like any calling – it's sometimes tiring.
"There was definitely a time when I thought maybe if I wasn't so out as a Māori I would have got different jobs," Stacey tells. "But then I would have had to be less authentic and when you sell out, there's a cost.
"One thing I always remember is that I'm older than my mum ever got to be, so there's my privilege. I also remember thinking at my pōua's tangi, he was 86 and was one of the people involved in the Ngāi Tahu settlement, and he never really got the full benefits of that, never really got the reo himself. But it wasn't an individual fight. "So many people have tried to protect and grow and look after our culture, not for their own individual benefit, but for all of ours. So now it's just our turn."
Photography by Jamie Wright.