Bringing Māori closer to their tūpuna and restoring a sense of pride is what Taaniko and Vienna Nordstrom focus on at specialist photo studio Soldiers Rd Portraits. Siena Yates finds out more.
A man in jail, whose last photo was his mugshot upon arrest, suddenly finds himself the main attraction of a prison art exhibition. His standard-issue uniform is replaced with traditional Māori garb, a heavy greenstone taonga around his neck, and marks of mana temporarily inked on his face. In that frame hanging on the wall, he stands tall and proud.
This man will take the picture back to his cell and keep it as a reminder of who he is inside, and he will take that new man with him when he finds freedom. Until then, his family will hang a copy in their home to also be reminded of who he really is.
"That might be the one and only time they ever feel honoured and dignified in that way, and where they themselves are the main attraction and the centre of their own journey and their own story," says Taaniko Nordstrom, one half of the Māori photography team Soldiers Rd Portraits.
"It's a reminder of the work they're doing, of their potential, and of their innate mana and their ability to utilise that to whakamana (uplift) everyone else around them."
As well as studio portraits – and now, Woman magazine cover shoots – Soldiers Rd, which Taaniko owns and operates with her business partner and sister-in-law Vienna Nordstrom, has been creating stunning colonial-inspired portraiture of Māori men in prisons for five years. Through their work, they hope to help these men reconnect with their cultural identity.
Taaniko, 34, hails from Ngāti Hine, Ngāti Kahungunu ki Wairoa, Rongomaiwhahine and Waikato-Tainui, and Vienna, 35, has whakapapa links to Ngāti Porou and Samoa. The pair met as 15-year-old high school students and later became family when Vienna married Taaniko's brother, Ezra, before starting Soldiers Rd in 2013, initially as "a bit of a market side hustle".
They started small, commandeering Taaniko's mum's stall at the Kawhia Kai Festival and doing portraits with an op-shop duvet cover backdrop (which they still use today – "that's how you know it's a real Soldiers Rd portrait!") and charging $10 a pop.
Their first two markets saw them shoot 40-50 portraits a day and garner a lot of interest on Facebook. Within a few months, they embarked on a four-city tour of Australia, shooting up to 20 groups a day, six days a week for two weeks – all while Vienna, now a mum of five tamariki aged three to 12, was four months pregnant.
It was across the Tasman where they realised the true power of what they were doing. It wasn't just a matter of snapping some fun, quirky photos as a market novelty; they were establishing connections to a culture.
"We really learnt that if you're Māori and you're doing anything in the realm of te ao Māori, there's going to be an impact. It's never just an exchange of money, there's much more meaning to it – whether we meant for that or not. I'll be honest, we didn't set out to create this, it just came with the territory as we went. We learned that there's a responsibility here – a responsibility to te ao Māori, to our people and the people connected to our people," explains Taaniko, who says they met Māori at various stages of their journeys, from those who were fluent in reo and tikanga right through to those who had never even been to New Zealand before.
We really learnt that if you're Māori and you're doing anything in the realm of te ao Māori, there's going to be an impact
"So it really became all about the cultural side of things and making sure that they understood why they even liked the photos. It was like, 'The reason why you think they're really cool is because you're wanting to reconnect and have an avenue where you can be proud of your culture.'"
Vienna adds, "That really made us realise that it wasn't just a photo, it was an experience."
That experience starts, first and foremost, with whakawhanaungatanga – finding common ground based on each person's whakapapa, their connections to the land and people.
It establishes a relationship, builds trust and allows the subjects to feel more at ease, but it's also about getting them to start thinking in the realm of whakapapa and tūpuna, because that's what Soldiers' Rd's mahi is steeped in.
Not only does their work draw from the colonial aesthetic style of portraiture our tūpuna experienced, it's designed to contradict that period of time by way of reclaiming it.
"The images we take inspiration from come from a period in history when it was a really horrible time to be Māori. We were losing our culture, our land. It was really oppressive," says staunch tino rangatiratanga advocate Taaniko. "So what we've tried to do is flip that experience and make it something that's encouraging, empowering and positive, that they're involved with and have control over."
It was a similar idea that led to their mahi in New Zealand prisons, working with mauhere (prisoners) to create stunning and empowering portraits as part of their rehabilitation.
It was also a way for them to give back to their people. They were always aware that they were taking so much from the culture – using moko, korowai, old portraiture of their tūpuna – for their own financial gain, and they wanted to restore the balance somehow. So they thought about who was least able or likely to access their mahi and landed on prisoners who, even once they were released, wouldn't usually have a photo shoot at the top of their priority list.
Taaniko and Vienna set out to work only with mauhere who were already working with Māori Focus Units to reconnect with te ao Māori, so that their portraiture would add to that inner work, "because without that, it's just a fun photo shoot".
"[The first time] we walked in, we were just overcome with emotion. It was like this feeling of, 'Yes, this is where we need to be'. You can see pain, history, trauma in all their eyes, and we were just like, 'We want to make these people feel good, we want to create images where they can be proud of themselves.'"
The pair will hold their first public exhibition – astoundingly, after eight years in business – later this year, showcasing prisoners' portraits and stories, including before and after photos, as well as audio of the prisoners reading letters to their tūpuna. It's mahi they feel so strongly about that they did it pro bono for years before recently, a private sponsor came on board to support the initiative and ensure they could sustain it. Importantly, that sponsor is Pākehā.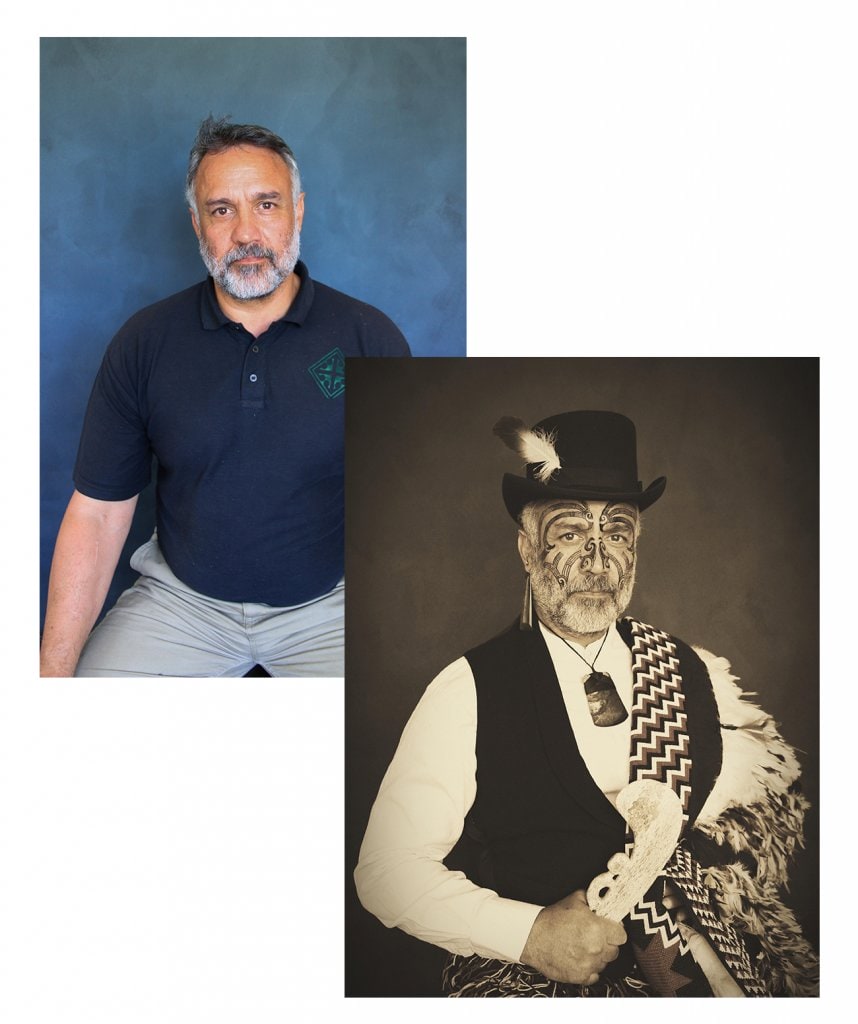 That was what Taaniko and Vienna had secretly been hoping for, "to undo the injustice that was caused when Māori prisoners were made".
Taaniko reflects on how the first prisoners in New Zealand were Māori men arrested for resisting land confiscations at Parihaka, and says, "So for a Pākehā man to be helping us inspire and support Māori prisoners, we get to rewrite that a little bit. We knew that if we could get a Pākehā to hear our plea, then the cultural balance that we know Aotearoa is capable of and that is going to heal us, is happening. Or at least, it's happening for us in our world."
Every business decision they make harks back to that innate need to restore either mana, connection, or balance. It's what makes their mahi so special and what continues to feed their wairua and why they do what they do every day.
"A lot of Māori will come and they'll apologise to us, I guess because it's a situation or a setting where they feel like they don't know enough. So what I love doing is having Māori leave us as people who aren't going to apologise anymore for things like that, and who know that it doesn't matter what they do or don't know, that whakapapa is what's most important," says Taaniko.
"I just want to soak everyone in some pride in the hope that the feeling they get when they leave is one of not only, 'Far, that was mean', but also, 'I deserve to have that, I deserve to feel connected, I do have a place in te ao Māori'. We want them to think, 'I'm exactly where I'm meant to be and wanting to know who I am is the biggest step, and the seed that I've planted will grow the tree.'"
"It's all a journey for everyone," Vienna adds. "Everyone's at different stages, but we're all in the same waka and it's never too late to start."