A former florist brings a talent for composition and flair into her home.
Is there a word for someone who has such a good eye that they're able to create striking vignettes from odds and ends such as second- hand vases and discarded feathers? If there isn't, there should be – and Angela Heys would definitely be one of them.
Wander around her Auckland home and everywhere you look there are artfully curated items that most of us wouldn't think to put together. Angela, who worked in corporate HR before retraining as a trauma resolution therapist, puts her creativity down to not only being a second-hand shopping queen but also to her training as a florist.
"I worked as a florist for seven years before going to university," says Angela. "That taught me things such as using different heights, forms and colours to create a cohesive collection of objects."
It's also why Angela is a firm believer in catering to all the senses in her home. "To me, a home is where you use sight, touch and smell to create a harmonious environment. That's why I like using lots of natural colours, textures and scented candles."
It's a similarly personal story that drew Angela to this house in Bayswater, on the North Shore. "I came back from London in 2005 and lived in my grandfather's house at Cheltenham Beach for two years. During that time I fell in love with the area."
Something else on her wishlist was being close to nature. "I'd never previously wanted to live on the North Shore because I thought it was too far from the city. But after living in London for a year, I knew I wanted to be near nature and the beach because I find it nourishing."
It was a hard road finding the perfect house, though – Angela looked for about a year before this house came on the market. Built in 1912, the transitional bungalow was originally a worker's cottage for a former large estate next door. It was added to in the 1960s, expanding its footprint to 140sqm.
From the outside, the house didn't look like much, but inside was a different matter. "Friends often walk in and are surprised at how open and airy it is." Previous owners had undertaken structural changes such as knocking down walls to create an open-plan living area. They had also polished – and painted – some of the original rimu floorboards, installed a study and laundry, and painted the pressed metal ceilings Angela fell in love with. "But there was very little storage, so after the laundry flooded during the first lockdown, I redid it and added large linen cupboards."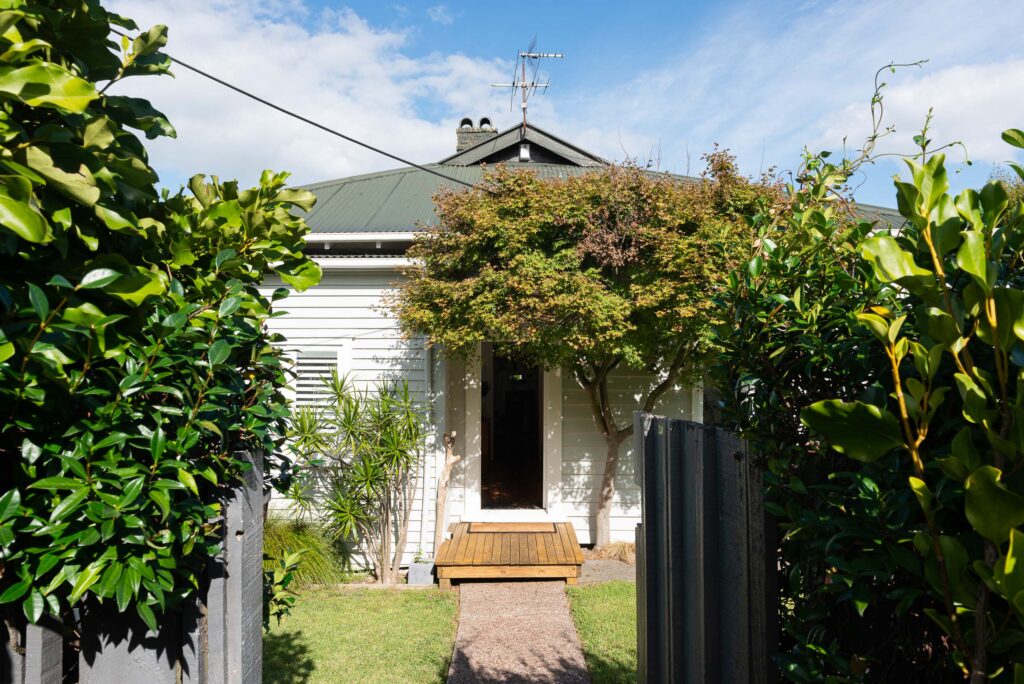 Angela has filled the home with items that reflect her curator's vision, starting at the entrance, where a vintage wooden cupboard serves as a table. It was bought from one of the many local second-hand stores Angela regularly visits, and it's home to some of the houseplants she likes to collect. Above the hall table is a photo she took near Milford Sound, which she had framed.
Next door is the office, where Angela does most of her work as a somatic experiencing practitioner, working with clients to support their body, mind and nervous system to resolve past trauma. It's also where she relaxes by painting – her oil paintings are scattered throughout the house. A wooden filing cabinet that stores her paint was another second-hand find.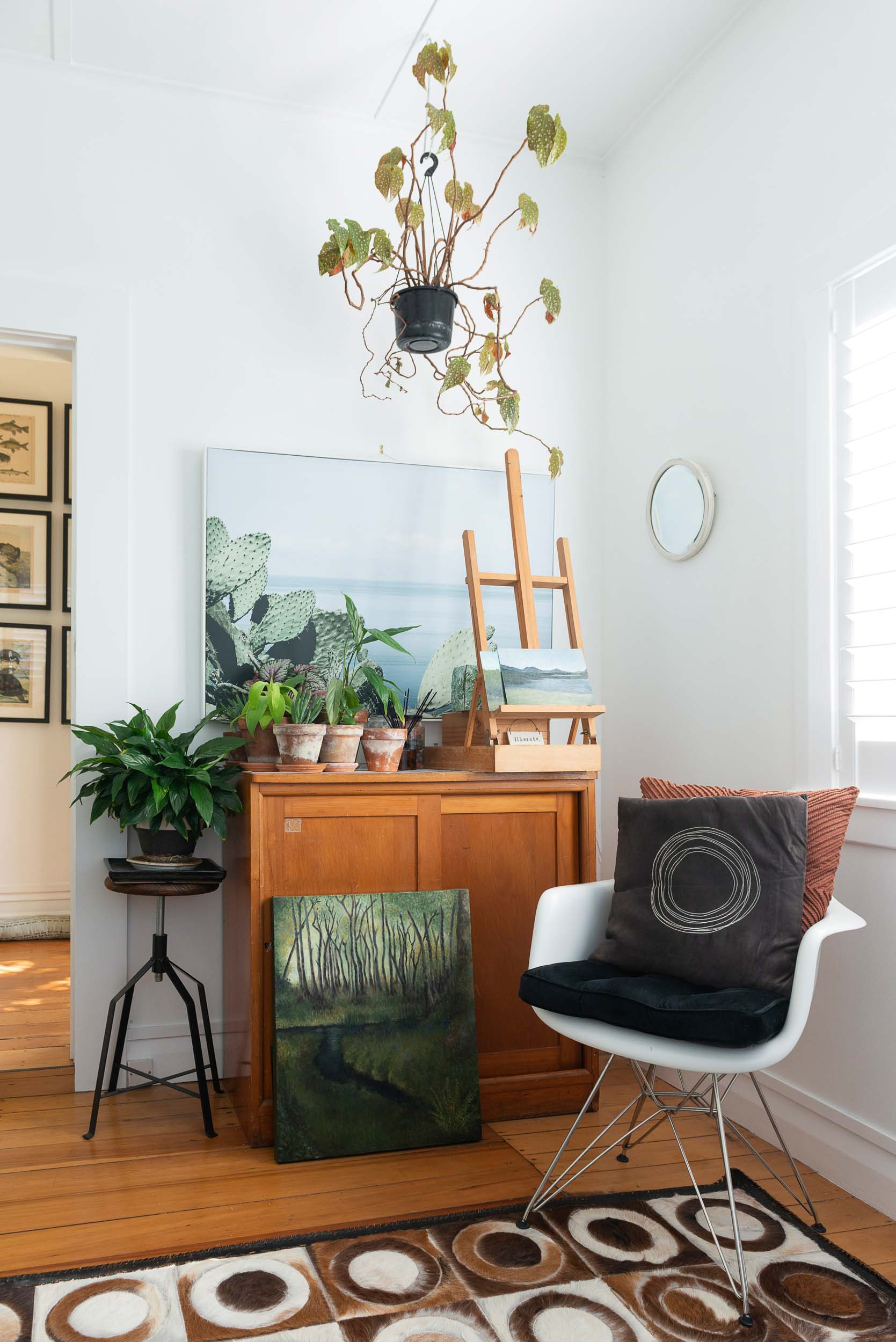 Another of Angela's artworks adorns the walls in the guest bedroom. It's of a beach north of Seattle she visited a few years ago. Wooden boxes propping up plants and on the shelving unit here were once used to ship milk products to Europe. "I found 10 of them at a second-hand store and had to have them. They date back to the 1970s."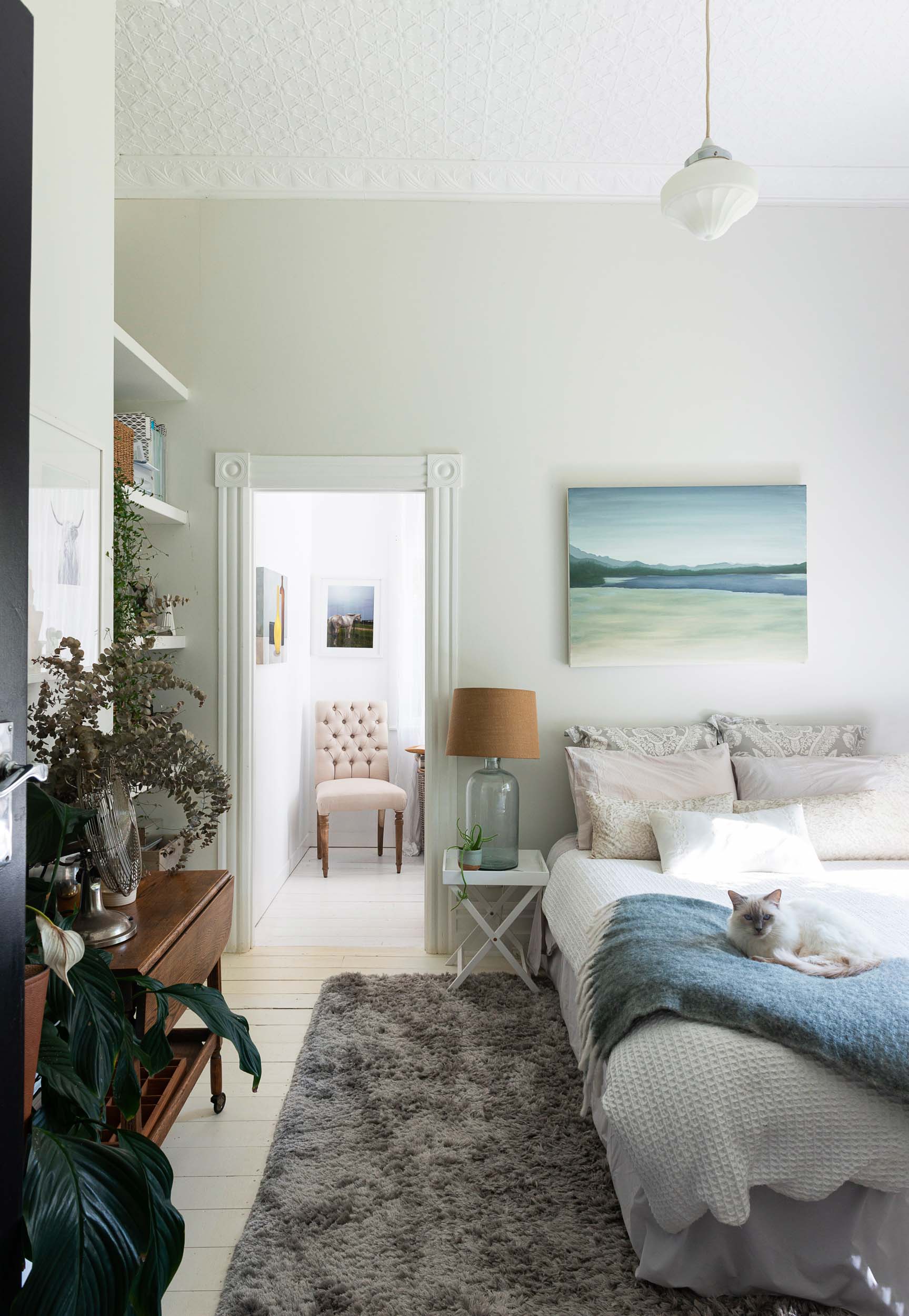 Although Angela brought most of the furniture with her from her previous rental, the sofa was bought specifically for the living space. "It's so large that the movers couldn't get it into the house, so they had to remove a door so they could wedge it in. I don't think it's ever leaving here!"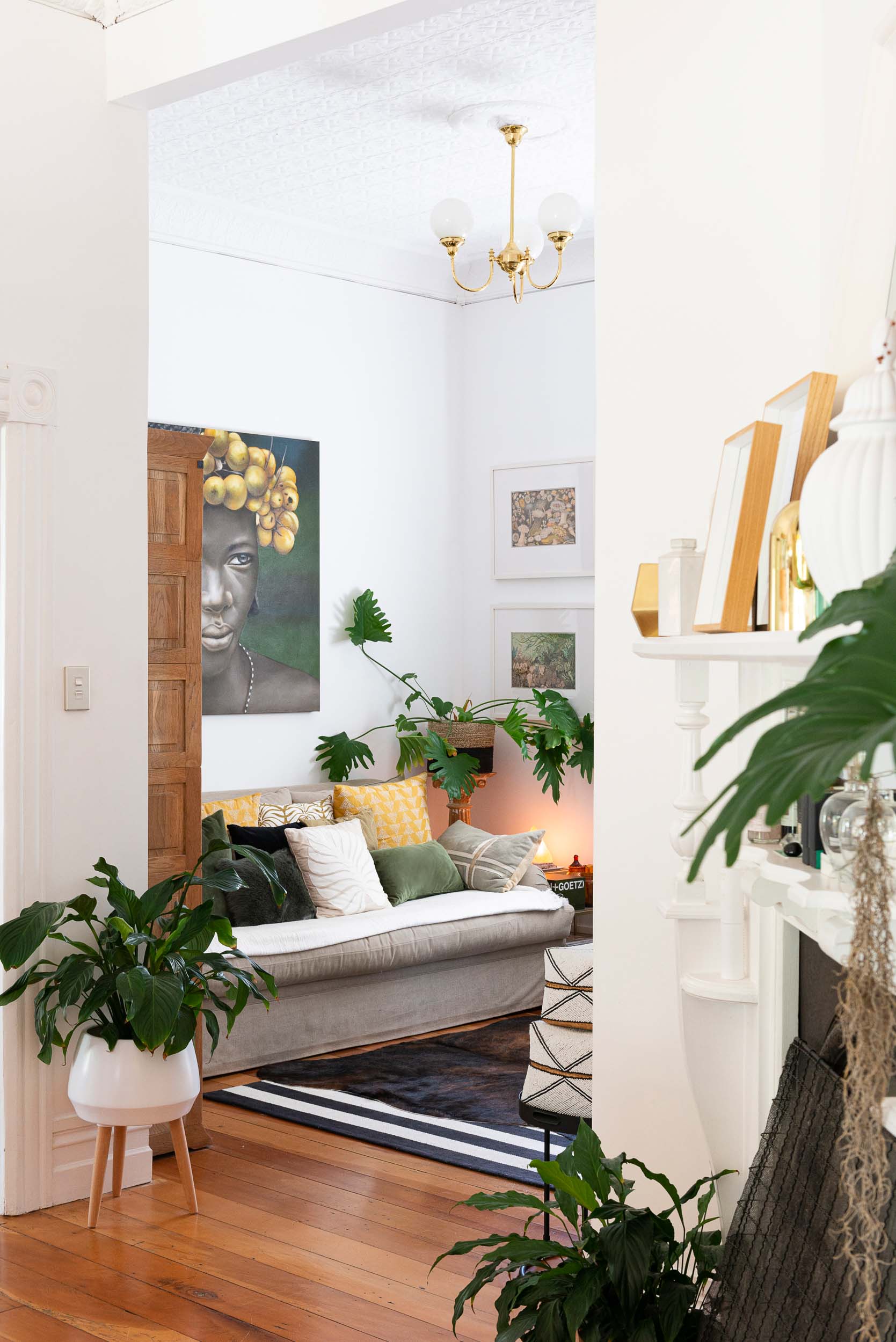 Angela found the artwork above it in Bali, along with an animal-skin rug in the office. "I love natural textures such as cotton, linen and hides, and layering textures, such as using two rugs in the living space."
One of the areas Angela did change was the kitchen, adding cabinetry and natural stone benchtops. She's thankful the previous owners left the kitchen island – a former shop fitting which has ample drawers and a shelf for platters and bowls.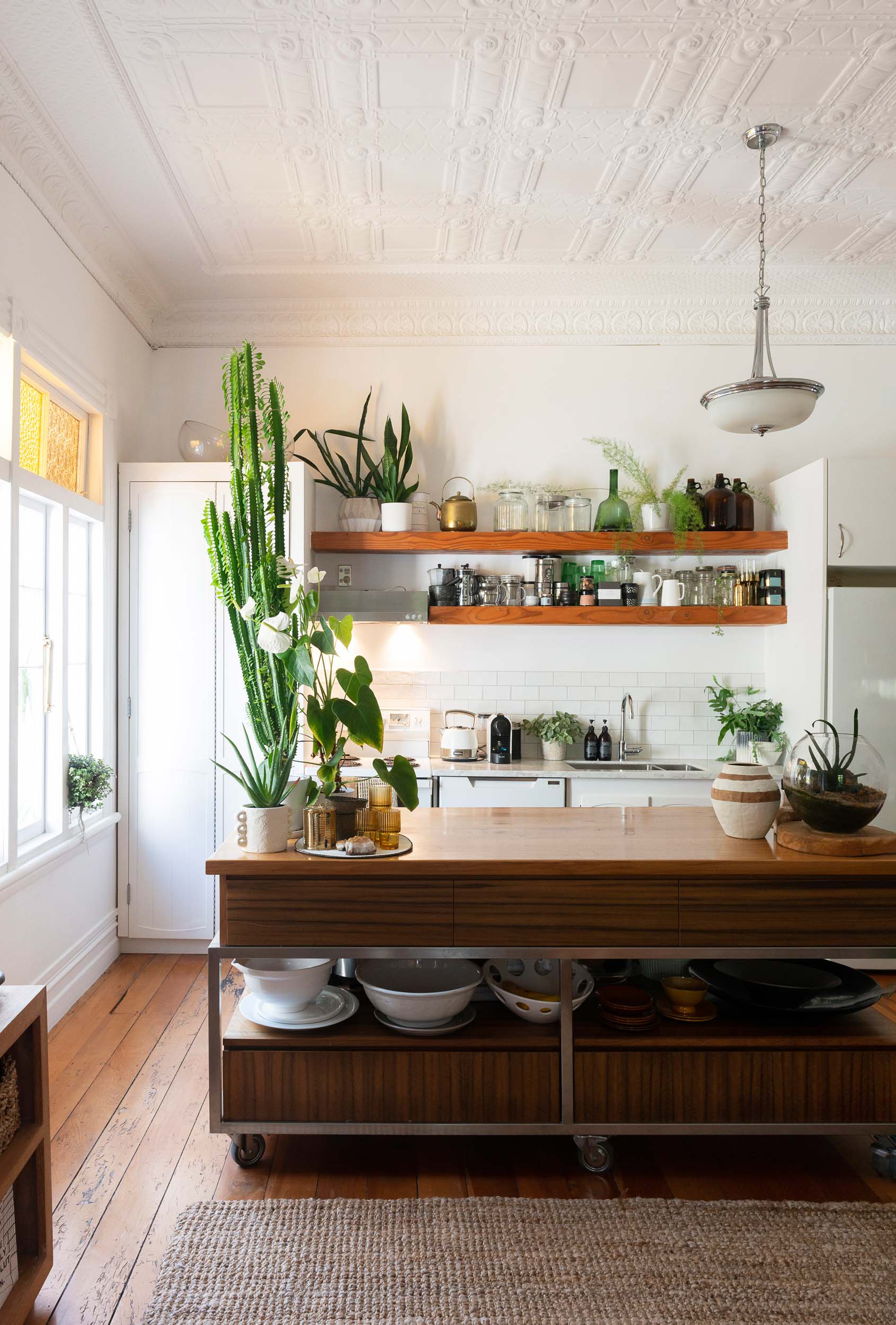 Angela has owned the old sofa in the dining room since she was flatting, though these days she covers it with a waffle blanket to make it look a little more modern.
Her dining table was a second-hand find, which she sent away to be painted white, while clear Ghost dining chairs were chosen for their transparency. "The space is so small that having see-through chairs means that visually there are fewer distractions."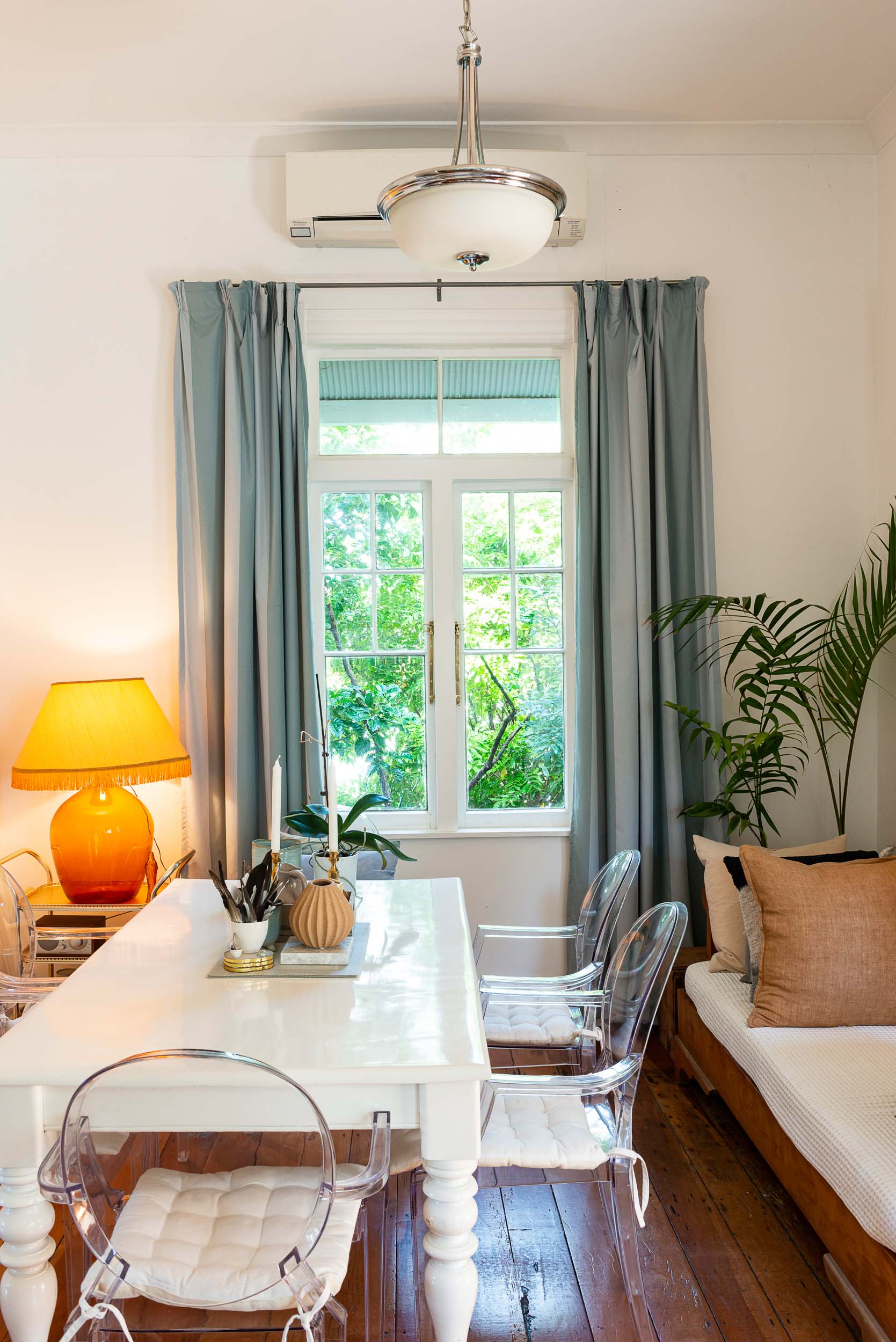 Angela bought a French linen tablecloth locally with the intention of showcasing it as a piece of art. She hung it on the dining room wall with string and pegs for a statement look that guests love.
The main bedroom at the rear of the house, however, took a bit of getting right. "I bought the bedhead when I moved in but the colours didn't quite work. I've since focused on natural tones, which I finally like."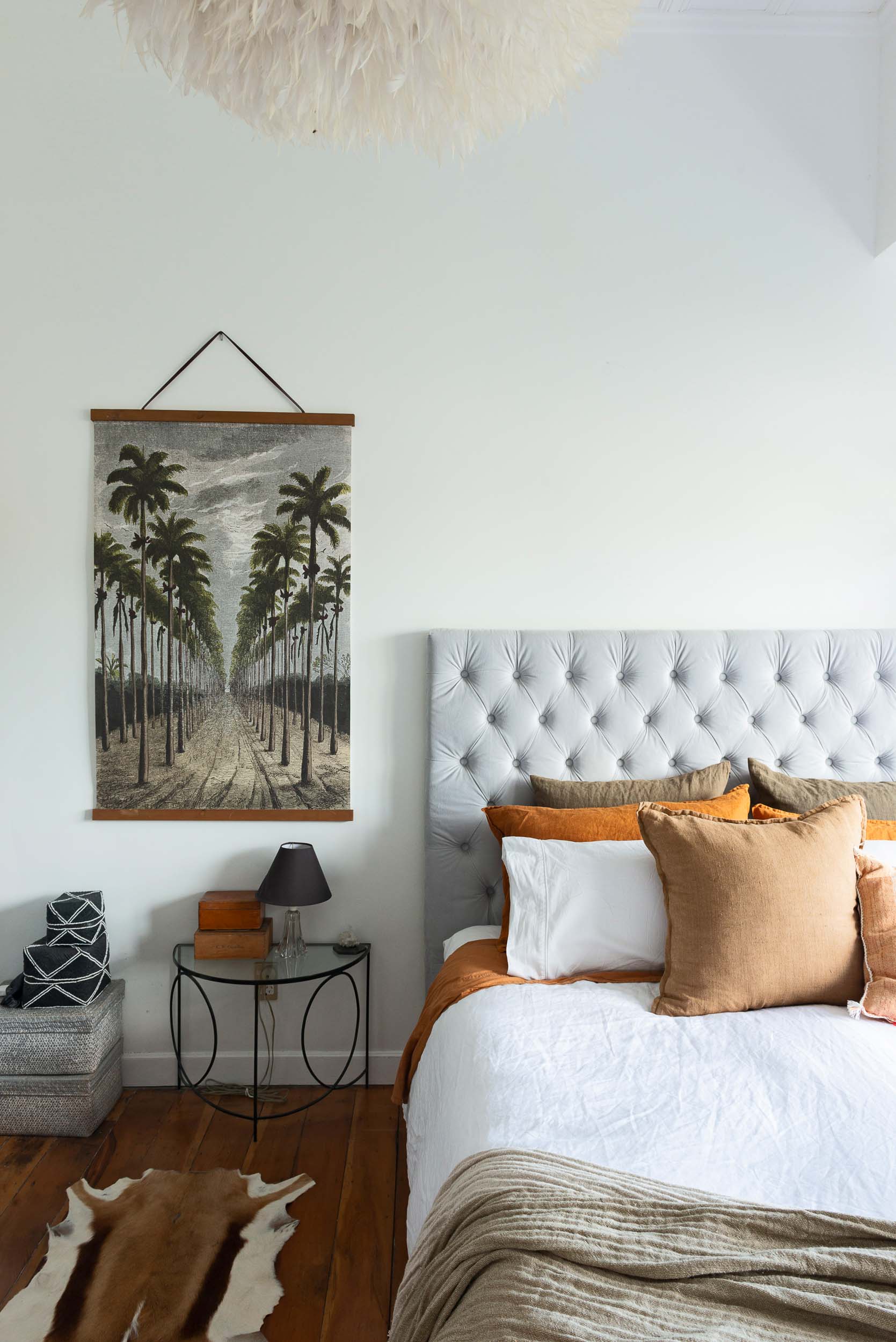 A white antler coat rack above the fireplace – one of two working fireplaces – corrals Angela's jewellery while the monstera plant here is one of her favourites.
Angela has just celebrated 10 years in the house and she loves it, though she is planning to push out a wall in the living area to give her more room. "This space is an extension of me and who I am. I've got no plans to move anytime soon."
IMAGES VIA HELEN BANKERS