This laidback beach town in Auckland's north is home to Emily Pouwhare's compact bush studio and her cool and quirky vintage shop.
What do you love about Ōrewa?
The strong connection it has with my family, the beautiful beach and the accessibility to most things by foot!
How long have you lived there?
My husband Stefan and I have only recently left nearby Stanmore Bay and moved into a little studio here. We're lucky enough to have found a spot nestled away in the native bush.
Tell us about your shop.
I have been running The Guru Knows for nearly eight years, frolicking around markets and festivals selling vintage and handmade treasures. I was raised by two incredibly creative parents. They've always made beautiful things out of nothing, or fixed things that were broken. The house was always full of unique treasures they'd found in op shops or markets. This influenced my obsession with second-hand shopping from a young age, so starting a business like The Guru Knows came naturally. Stefan is a builder but he also helps out with the business. He's so crafty and has such a huge input. We decided to take the plunge last year and open our first store. This part of our journey has been incredible so far, connecting with like-minded people in our community.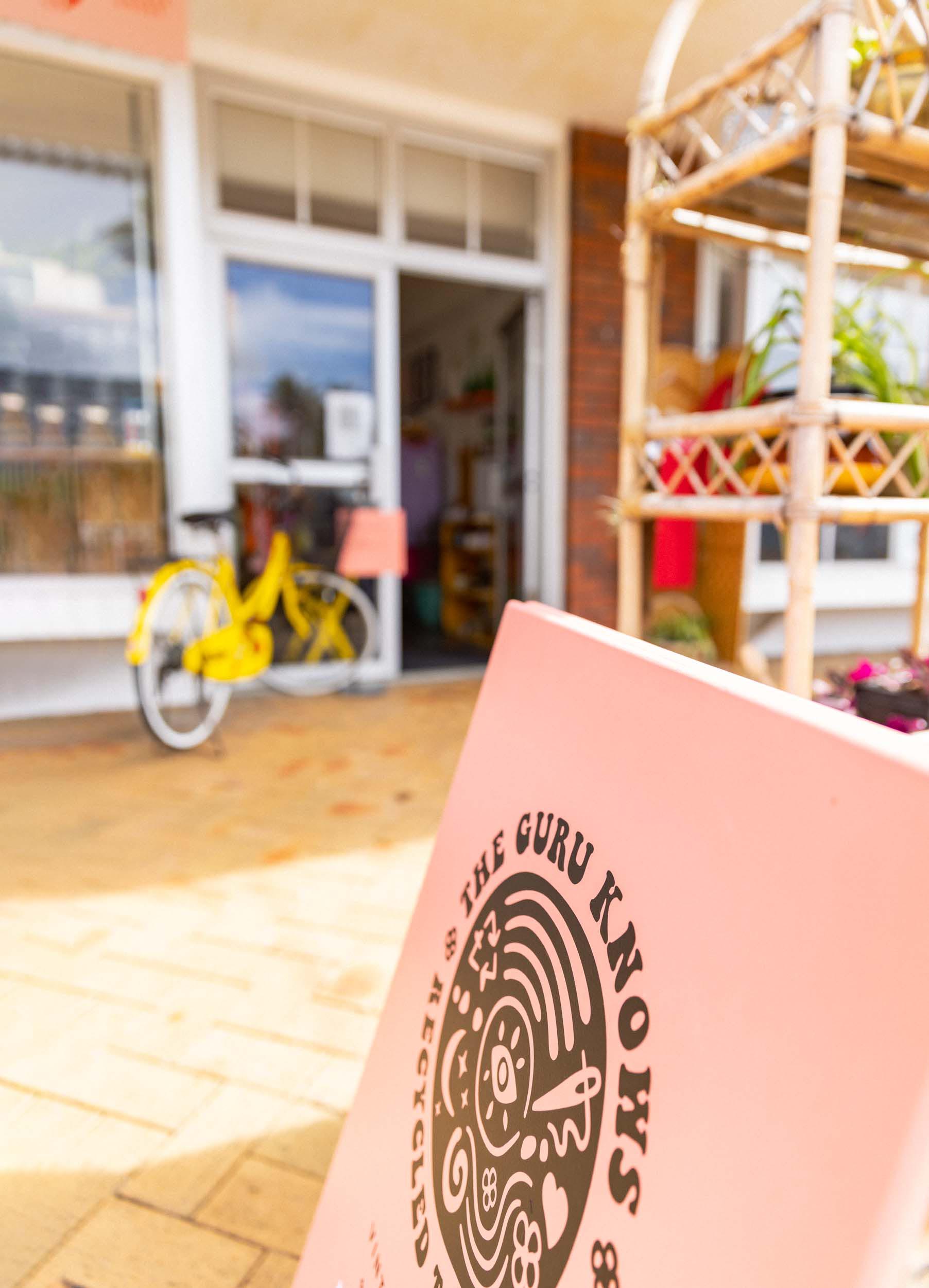 Any other favourite shops in the area?
I'll always head straight to the op shops first. We've got such a great selection – on the same stretch of road as our shop there's a Red Cross Shop, a Hospice Shop and two little church shops. It's always so rewarding knowing you're supporting these incredible charities and services. Underground Skate & Surf is another shop I've been behind for years. The owner, Nick Humphreys, is a long-time local and has a huge focus on bringing the community together – holding events, encouraging all ages and levels of skill into the skating and surfing world… He's been a huge inspiration to watch while I was growing up.
Tell us about your house.
Tucked away in the back of Ōrewa, you wouldn't know this slice of paradise is even here. It's a little studio hidden in the middle of native bush. We can happily spend hours on our deck, sitting in the sunshine, listening to and watching the birds. Then by night we can gaze at the stars from our outdoor bath – it feels like we are on holiday. We are incredibly lucky.
How have you added personality to your rental?
We've filled it with mostly second-hand or handmade artwork, trinkets and furniture. One of the first things we built was a vege garden – no matter where we've lived, this has always been a huge priority.
Tell us about your family connection with Ōrewa.
My grandparents lived at the top of Eaves Bush [officially known as Alice Eaves Scenic Reserve] – that's where my mother and her brothers grew up. My grandparents were both so passionate about the community. They were founding members of the Ōrewa Lions Club, through which they helped organise countless projects around the area. My grandfather owned the first pharmacy in Ōrewa in the 1960s. It was located in Hillary Square, across the road from our shop, which makes our journey just that little more special. Our changing room has a collage of photos of his pharmacy, the staff in their groovy uniforms and the Hillary Square area – oh, how much it has changed!
Where did you grow up?
I grew up in Stanmore Bay, so only up the road! Ōrewa has always been a part of our narrative. Stefan grew up in Haumoana, in Hawke's Bay – we're lucky to be able to visit his family in another coastal town.
What does a typical week look like for you?
I'll go to the gym or walk the beach most days. Mondays I go sourcing for new stock as the shop is shut. We catch up with our friends and family every weekend – we're social butterflies and the people in our lives are incredibly important to us. Most Sundays are still spent at markets. It's a great form of advertising for the shop and we enjoy the atmosphere of markets so much!
Where do you go for coffee?
Drifter Coffee NZ has the most inviting, warm space, not to mention the best crew. It's the kind of place you'll walk into not knowing anyone but you'll end up staying longer than planned, chatting away with a stranger.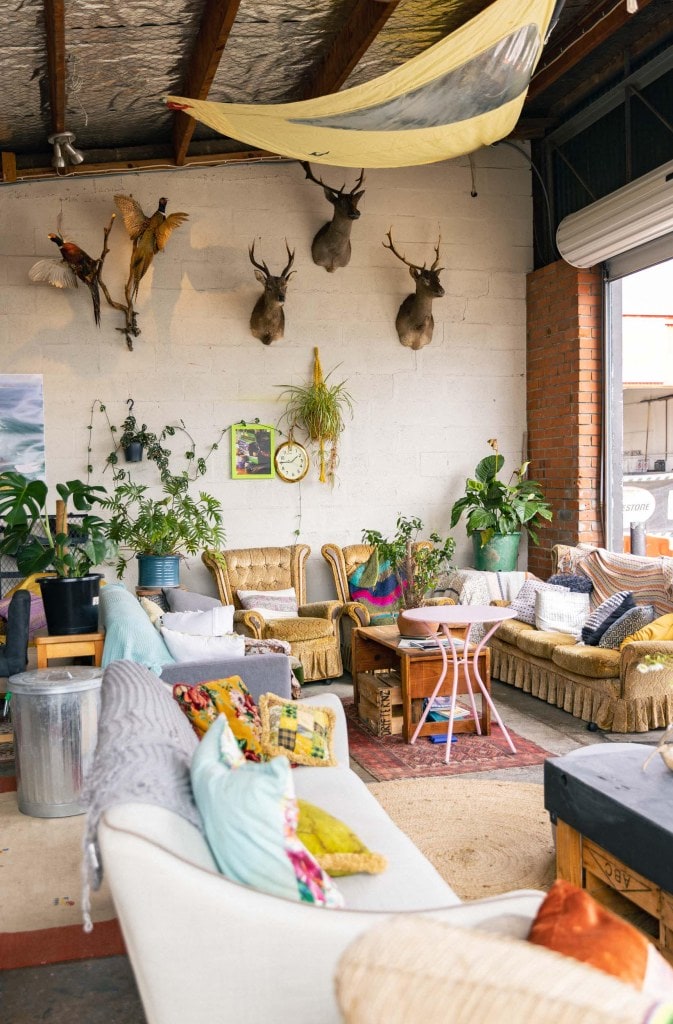 And for a meal or drink?
The Ōrewa Surf Club has the best views in town – it's the perfect spot for an arvo bevvy. Cheek and Chong and Niko's Pizza never disappoint either. We're lucky to be spoilt for choice along the boulevard.
What about when you need a dose of nature?
We often walk the beach, bike around the Te Ara Tahuna Estuary track or head into the Eaves Bush track.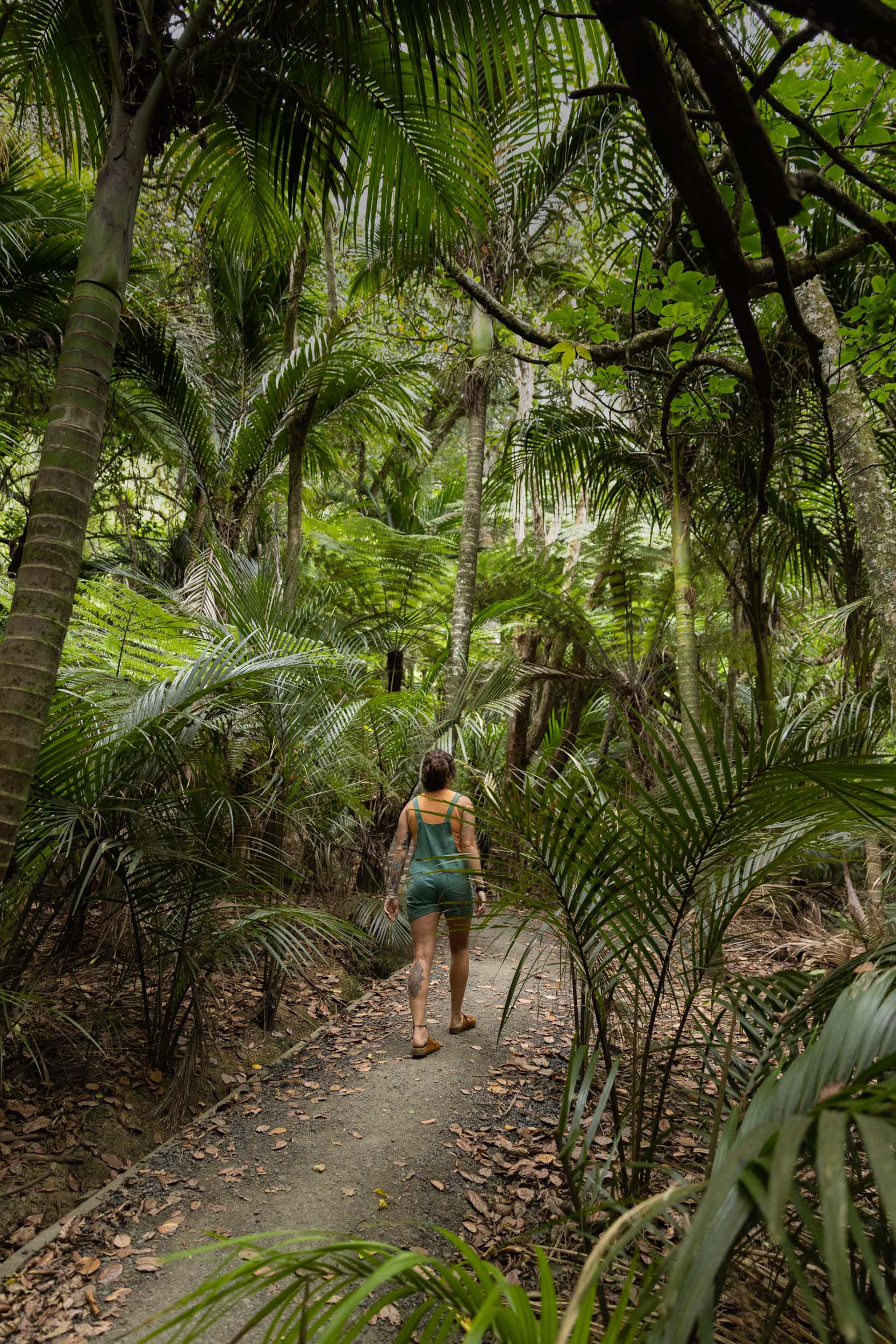 What do you love about vintage selling and shopping?
The unknown of what you might find – it's a constant treasure hunt! I always wonder about the previous owner and the life they've lived. Each piece can tell so many stories. And being able to share that same inquisitiveness with my customers, knowing they've found something unique that gives them the same satisfaction.
Browse Emily's eclectic collection of vintage treasures at theguruknows.co.nz.