A Tauranga chef and condiments queen has built a cosy family home where there's always room at the inn.
It's no surprise that Cherie Metcalfe had a certain kitchen in mind for her first home. The Rotorua-born chef has cooked all over the world, including for such illustrious diners as Mick Jagger.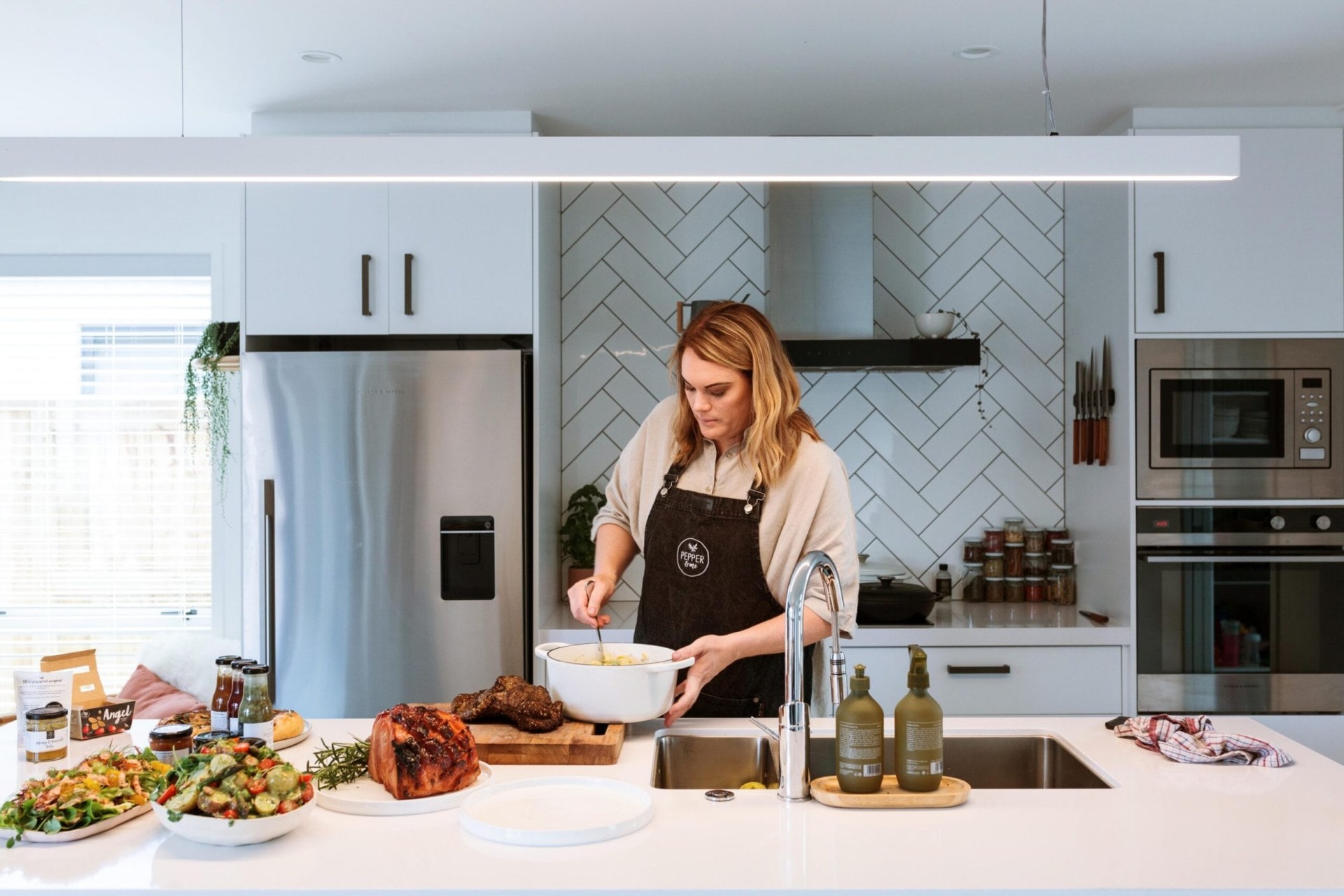 "Mick was a guest on the super yacht I was working on," says Cherie. "He asked for a Sunday roast, so that's what I made."
Cherie returned to New Zealand in 2012, and after a stint working for a catering company in Auckland, she relocated to Tauranga with her former partner.
That was a busy six years ago, in which she's had two children – daughter Pepper, now five, and son Kit, three – and started the business Pepper & Me, which makes shelf-stable condiments such as relishes, aioli, rubs and spice mixes, sold from her Tauranga shop and in delis and New World stores.
She also found the time to build a house in the suburb of Tauriko, a three-minute walk from Pepper & Me's HQ.
"We moved from Auckland to be closer to family, but also because it was more affordable to buy a house here," she says.
After crunching the numbers, the couple decided to build rather than buy an existing home, and in 2019 they found a 550sqm section. "It was one of the last sections in this development and it was an odd triangle shape, so we had to adapt the house plan slightly to fit it."
Cherie also tweaked the plans to include another bedroom. "We've ended up with four bedrooms and an office, which I've also turned into a bedroom. Initially, it was our nanny's bedroom, but this is a really sociable house and someone is always turning up needing a bed."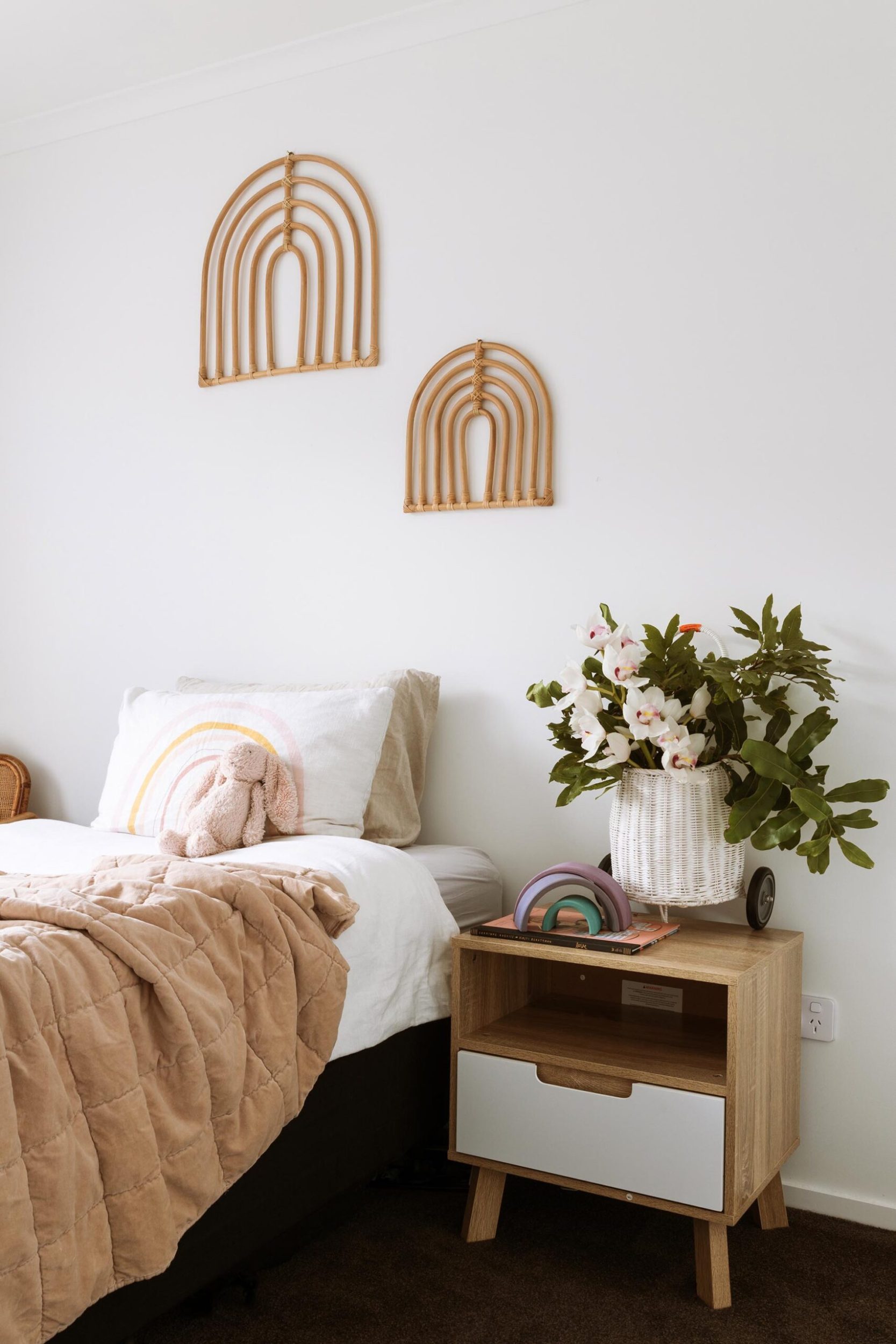 Her other non-negotiable was a spacious kitchen with a large benchtop and oodles of preparation and storage space, including a scullery.
"My only regret is that I couldn't have a gas cooktop. But this kitchen is incredibly functional and I've cooked for 30 people in it."
Cherie won't be feeding quite so many guests this Christmas Day but she estimates there will be around 14 hungry mouths, including her brother and his family, her parents and a few friends.
"We always do a ham, plus lamb on the barbecue and lots of lovely salads, including a caprese salad I make with fresh mozzarella balls from my shop."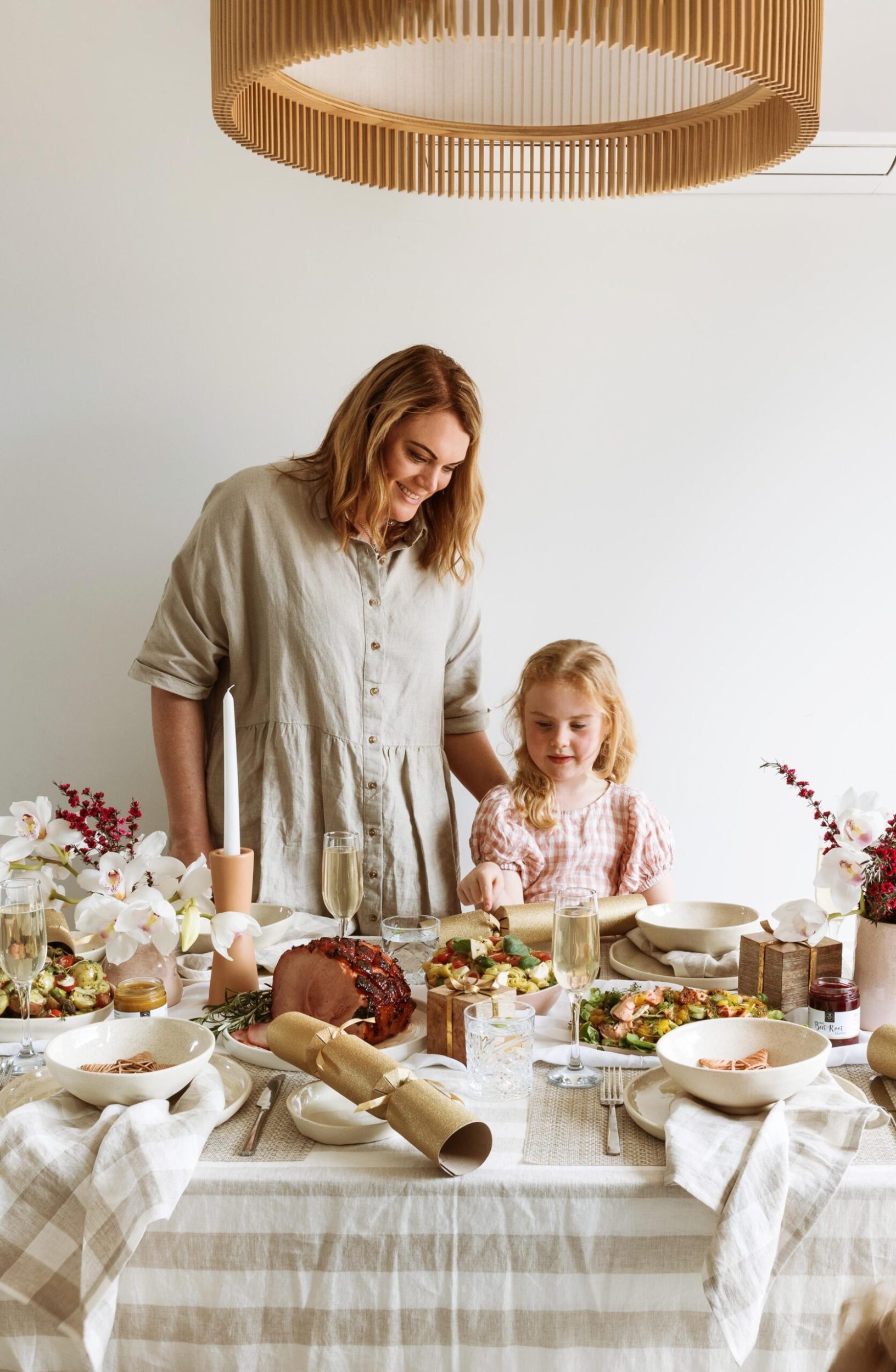 They'll also start the day with champagne and the brunch boards that Cherie is currently a fan of – such as bagel boards or pancake boards, which feature a stack of pancakes or bagels and plenty of different help- yourself toppings.
One of Cherie's family traditions is to exchange homemade gifts. "We started making our own gifts a few years ago. I usually make candles and body butter."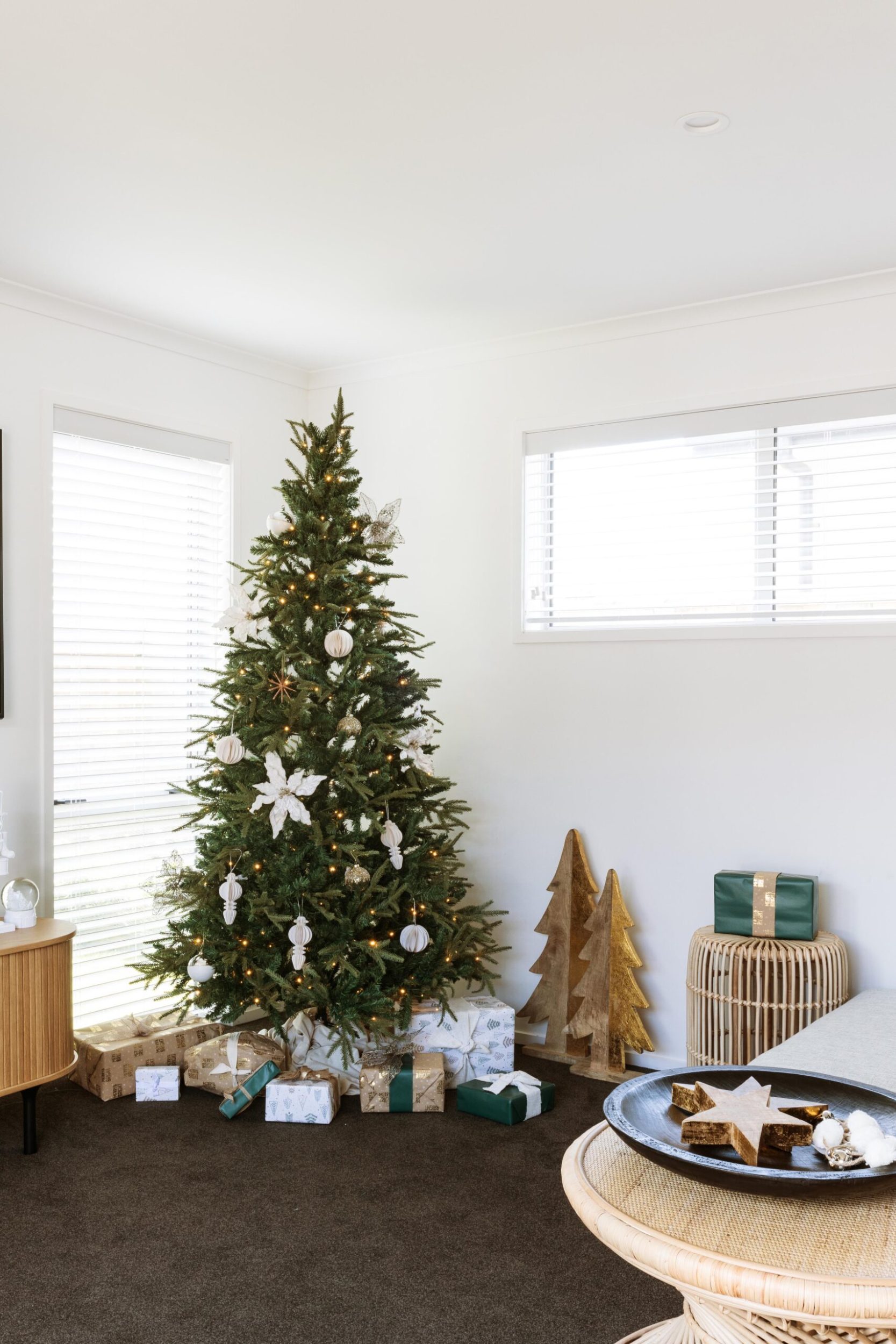 Having an open-plan living space and two lounges is also conducive to Cherie's open-door policy. "People are always popping in for a drink or dinner, so it makes it easy for them to sit on the sofa or at the dining table while I cook."
She opted for streamlined white walls throughout, but wanted to make them pop. Enter a spruce green feature wall in the living room (Resene Tiki Tour), which adds a touch of drama. The same colour is used in the family living room next door. "This is where I snuggle with the kids to watch movies, so we've made it into our cosy space."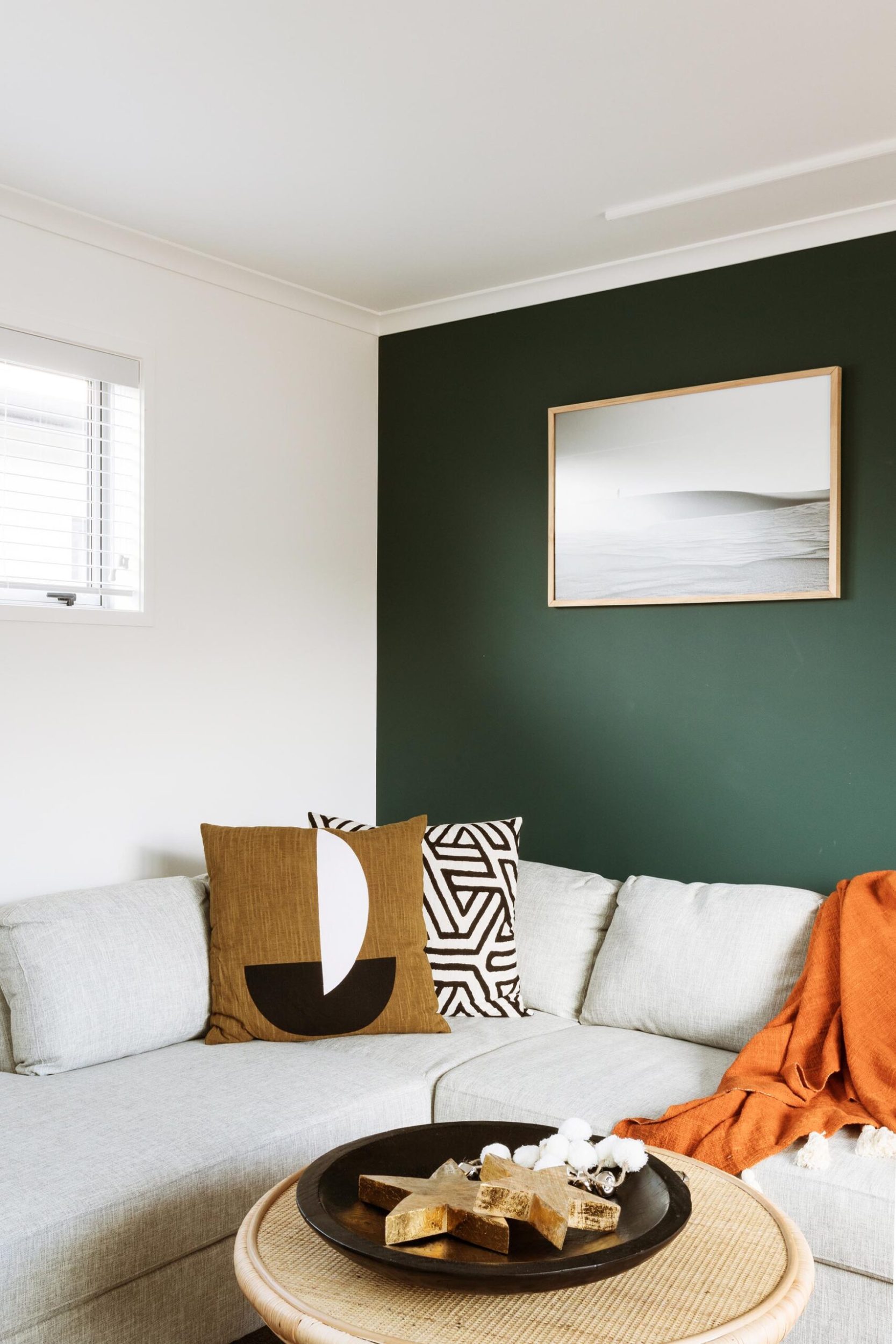 A few carefully selected pieces of new furniture enhance the feeling of laidback comfort, including the leather sofa, which is from Farmers, and a coffee table from Città, complemented by abstract wall art Cherie found on Instagram.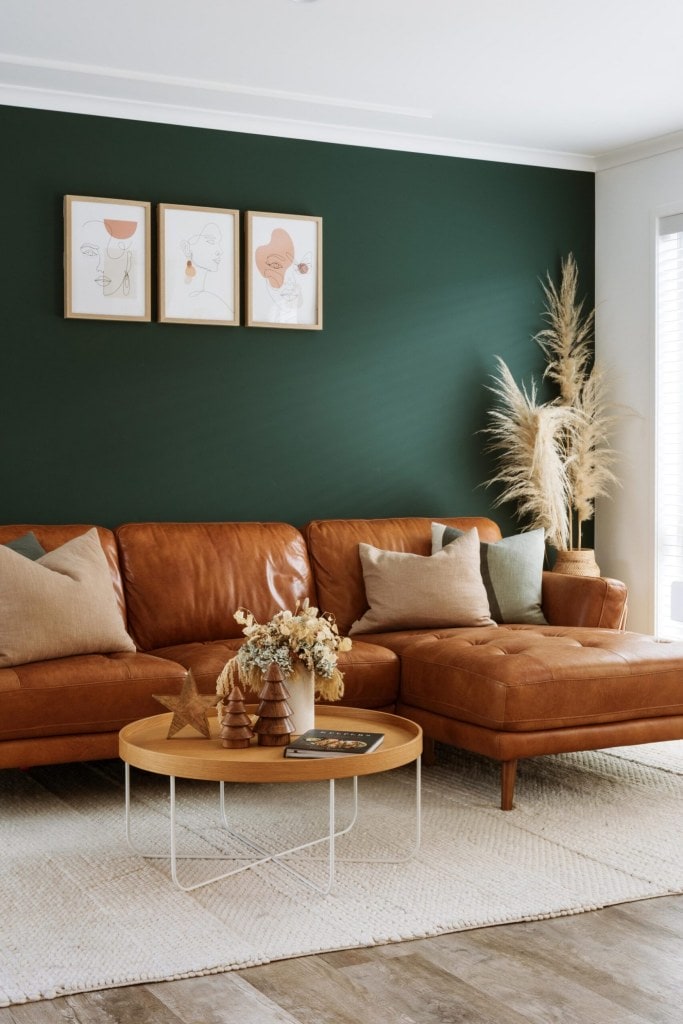 A great believer in good lighting, Cherie found the pendant above the dining table locally and added track lighting above the leather couch to highlight the art.
Many of her pieces come from Kayu Studio, a newish homewares store in Mount Maunganui that sells items made ethically in Bali. "The owners, Matt Bell and James Mitchell, were doing some design work for me so they suggested bringing over a truckload of furnishings to see what worked in this space. I ended up buying quite a lot of it!"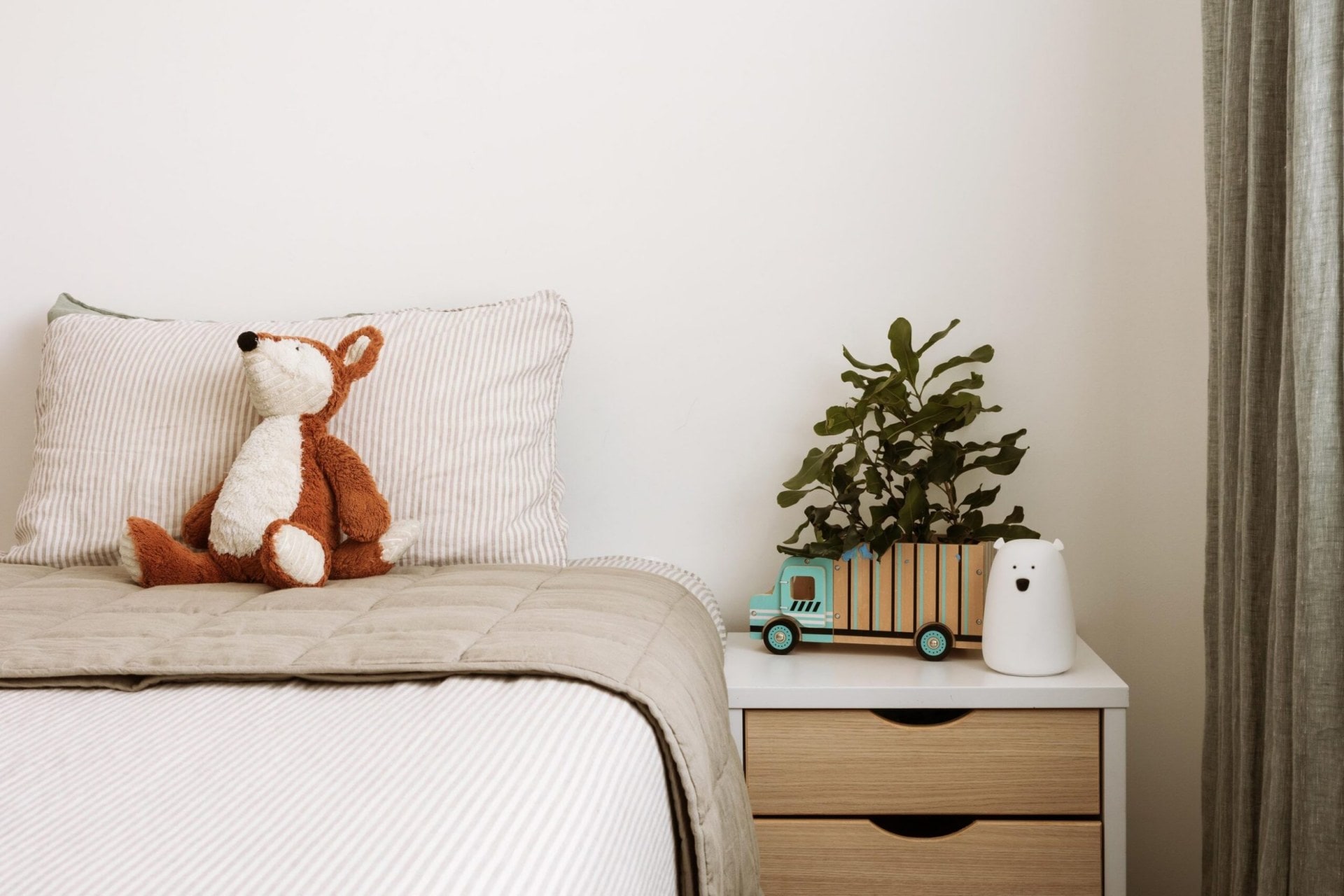 That included a rattan headboard for the main bedroom and a coffee table for the family living room, as well as various baskets and black-and- white prints.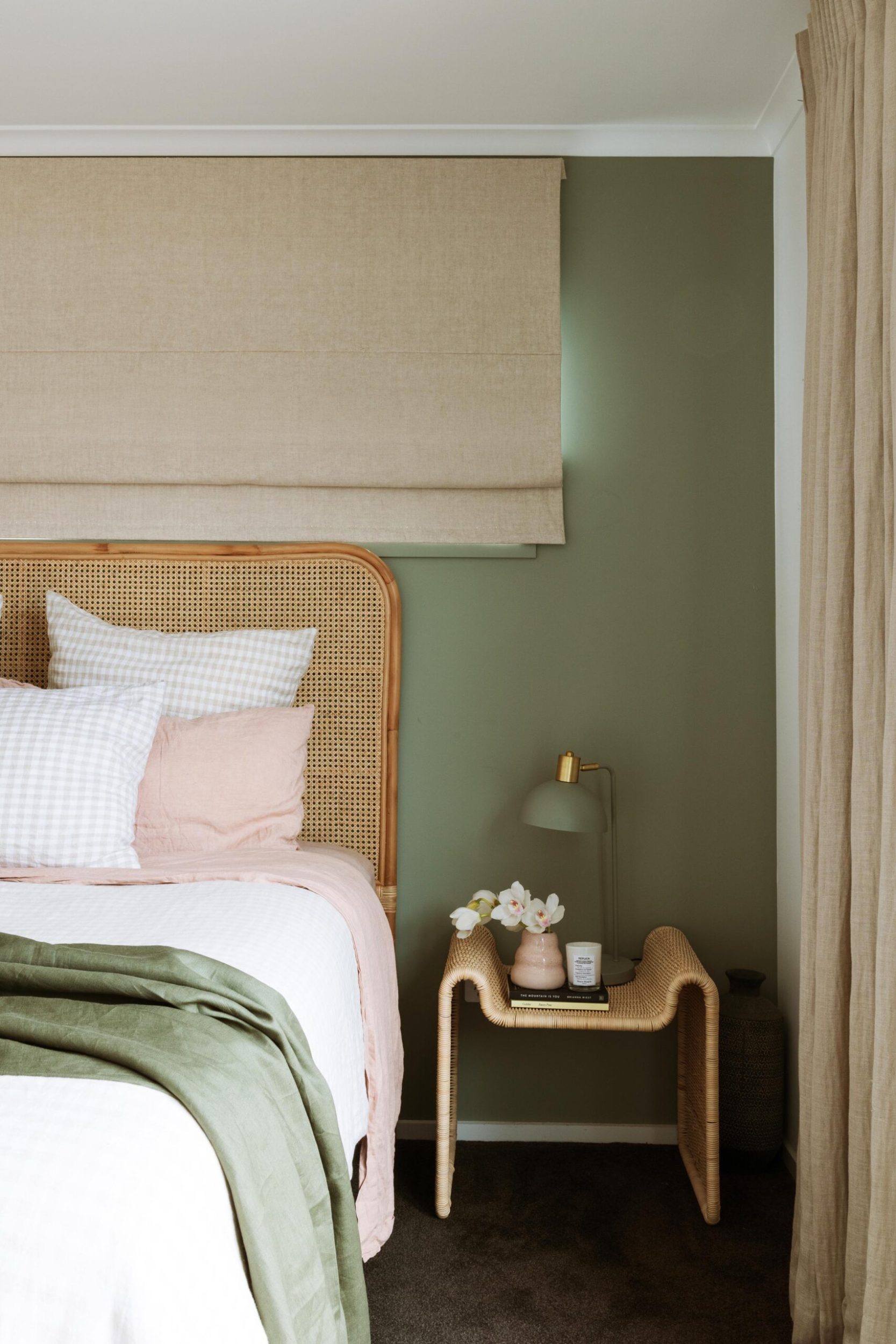 But Cherie's favourite piece is a wooden TV cabinet she found online and had trucked up from Wellington. "I love its clean lines and classic shape."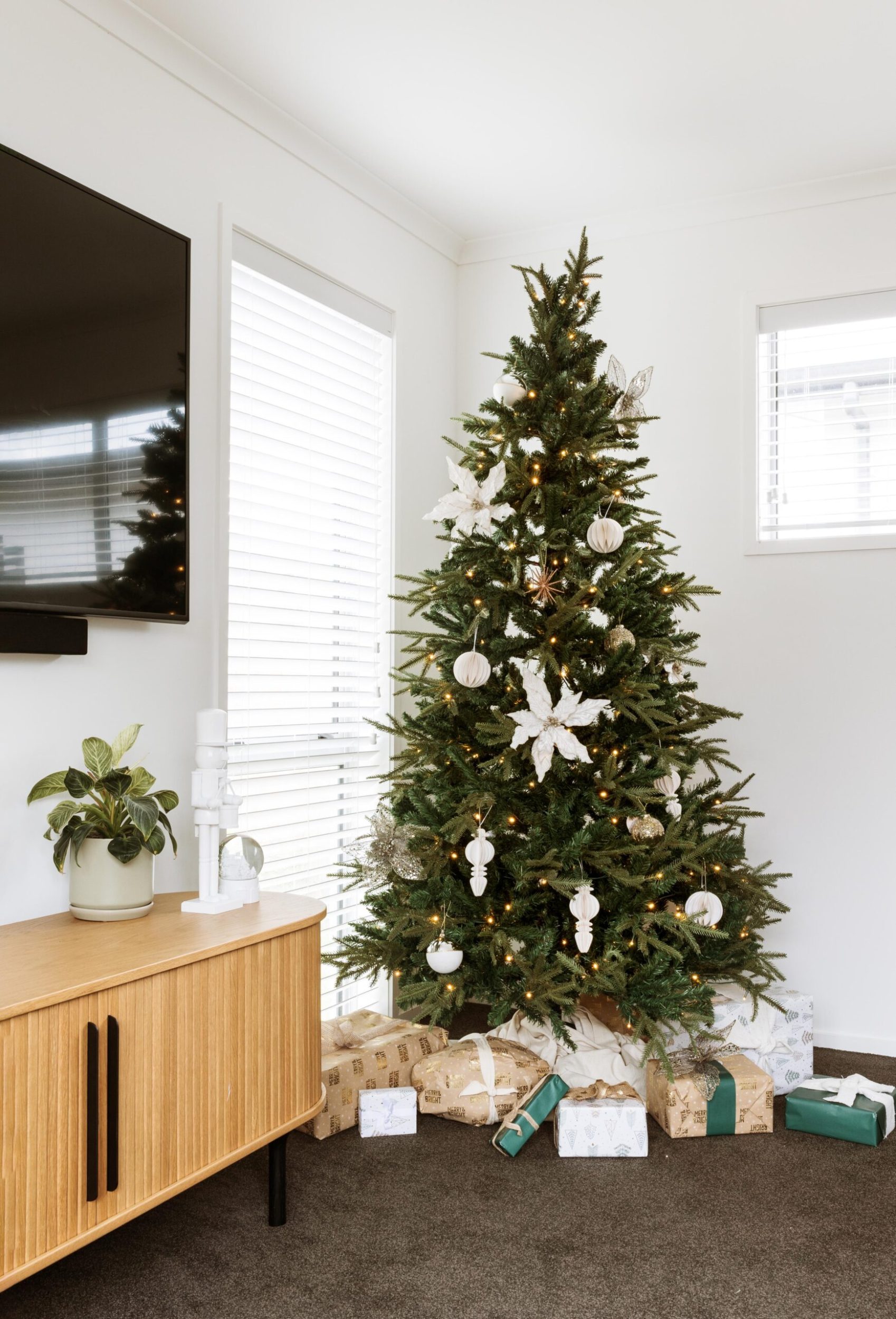 She didn't have to look far to find the window treatments. It turned out a woman Cherie worked with when she was 16 was now making curtains.
"It was my first kitchen job and she was in front-of-house, so it was great to reconnect. I've gone for linen blackout curtains, mostly neutral, but the kids got to pick their colours and Pepper chose a dusky pink while Kit has a pretty sage."
Although the 215sqm house takes up most of the section, Cherie managed to carve off a sizeable decked entertaining area. She's filled it with two barbecues – one charcoal, one gas – as well as a pizza oven. "I've always loved pizza ovens and found a local company who make them. I ordered one with an extra long bench for prep, but it turned out to be so heavy that they had to crane it into place!"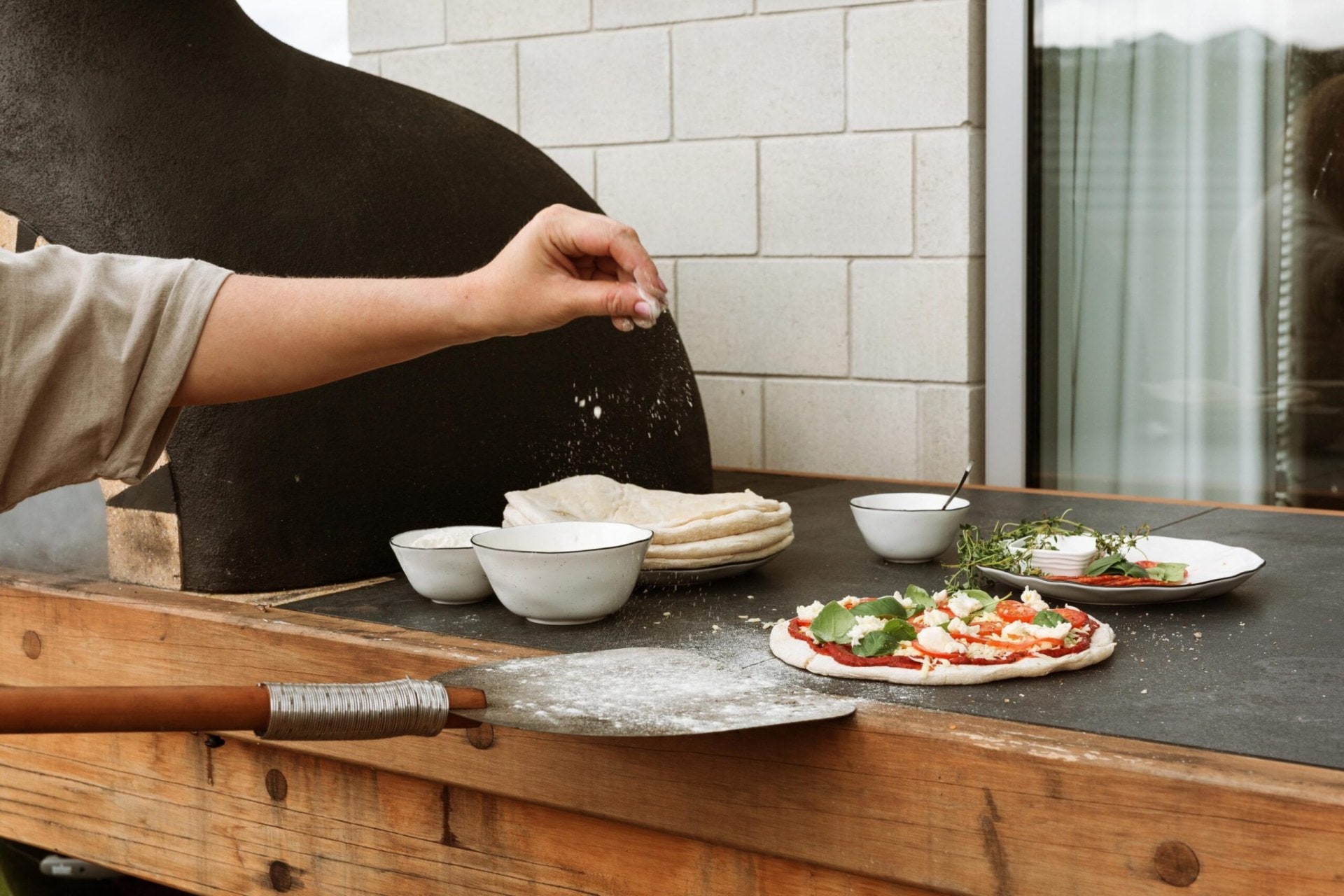 Now that Cherie has completed the house she has more time to focus on her business. It's allowed her to open two more businesses that complement her existing offering – one selling imported cast-iron cookware and another selling carbon steel knives from Vietnam.
It all adds up to a busy life. "Being a single mother and running the businesses doesn't leave a lot of extra time. But whenever I do have a minute, you'll find me cooking up a storm for family and friends, because I love entertaining."