A convivial contemporary outdoor lounging area is an irresistible asset – not least because both resident family and visiting friends always seem to gravitate towards them. Here are eight enviable alfresco lounges to inspire you.
Summer heat
This covered patio area is the epitome of cool and relaxed due to its neutral colour theme. Key to its success is the dappled shade provided by the slatted wooden pergola, and the wide variety of appealing lounge-seating options, which range in style from the built-in banquette to rattan hanging pods and a pair of canvas butterfly chairs.


Get the look
Create a laidback seating nook by layering cushions of varying sizes on an outdoor couch. Recreate this style by choosing an all-white colour palette with a smattering of blue accents.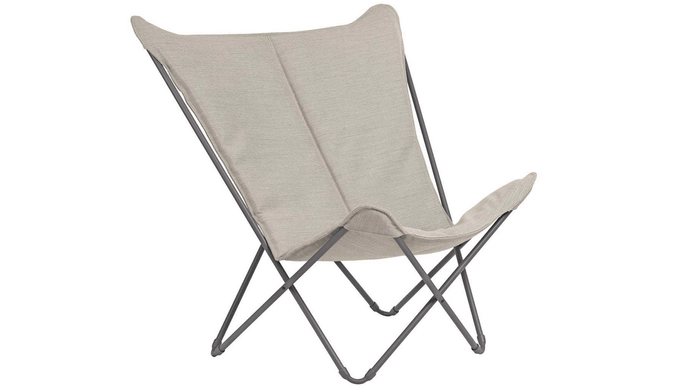 Lafuma Sphinx lounge chair, $495 from Jardin
.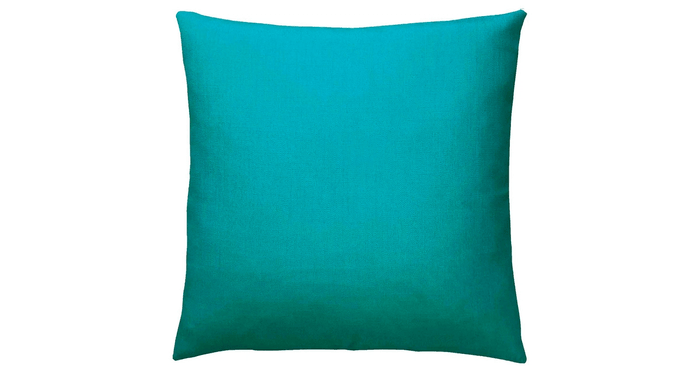 Nouveau outdoor cushion, $24.99 from Mitre 10.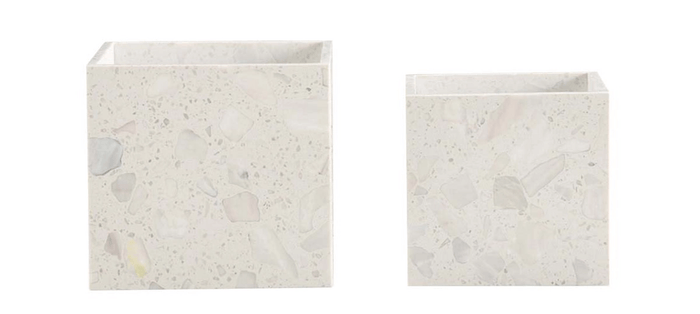 Palm Springs square plant holders, $599 for set of two from Hunter Home.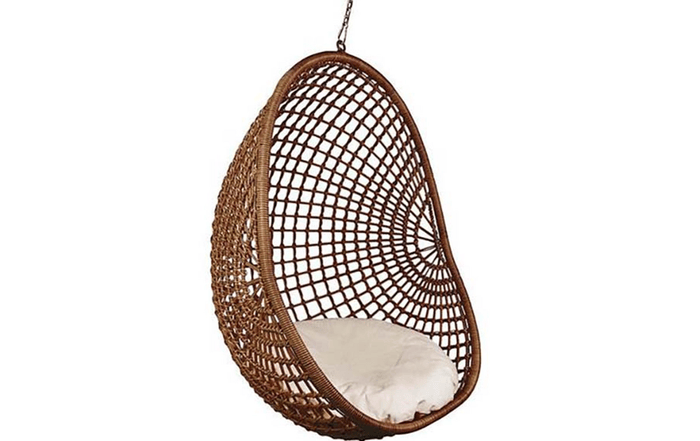 Synthetic rattan pod chair, $900 from Tee Pea Home.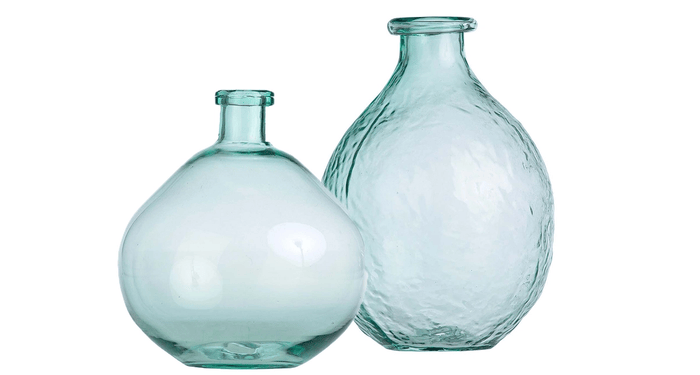 Embry vases, $59.90-$69.90 from Bed Bath & Beyond.
Top Tip: Offsetting the prevailing use of wood and concrete with canvas and rattan accents means there's visual interest here as well as a variety of seating styles. The latter facilitates almost any holiday past-time, from an afternoon chat to solitary reading.
White out
Gathering around an open fire will always be one of the best ways to enjoy spending time outdoors with friends and family. This fire bowl is situated in an intimate outdoor conversation pit that is dropped below ground level and surrounded by built-in planters. The plants and the change in level reinforce the feeling of privacy, with the white painted bricks giving some serious Mediterranean vibes.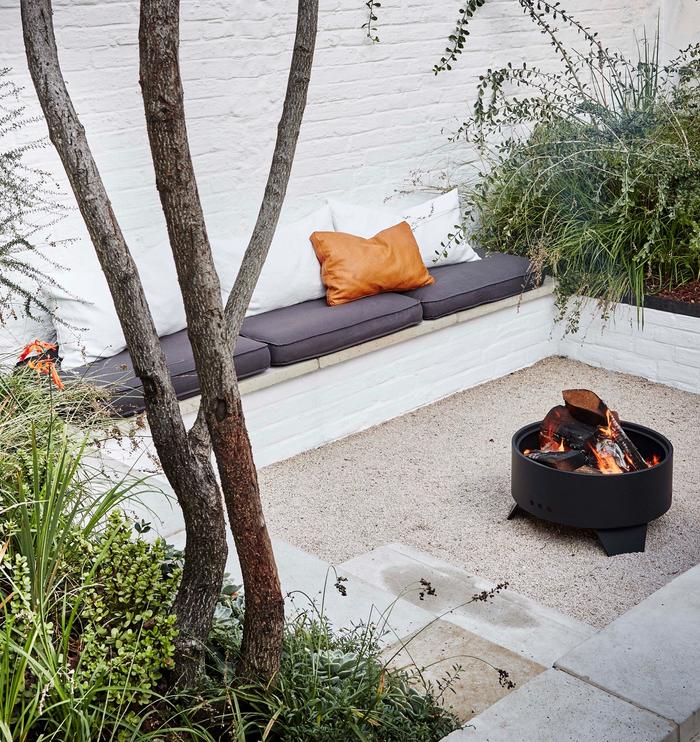 How to get this look
Planter boxes positioned alongside a low couch can emulate the feeling of being at different levels if you don't have the space to build a conversation pit.
Fire Pits
Noveau fire pit bowl and poker set, $149 from Mitre 10.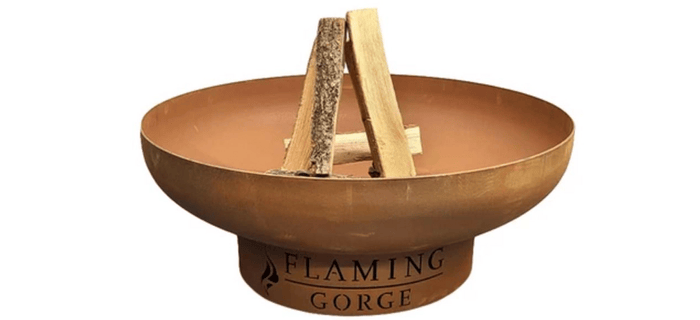 Acadia corten Gobi fire pit, $1499 from Outdoor Concepts.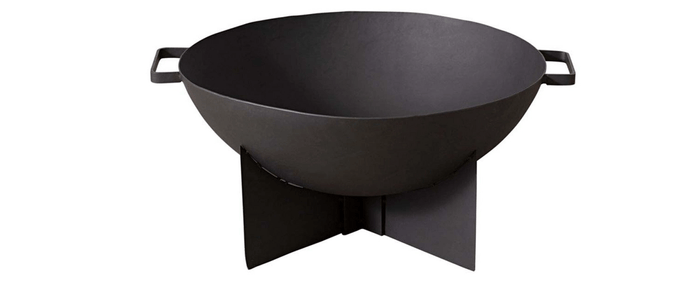 Macedon fire pit, $399 from Early Settler.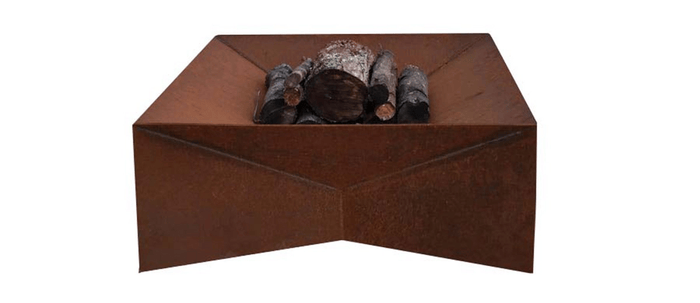 Wanaka corten fire pit, $680 from Bray Design.
Barn is beautiful
One side of this contemporary barn-style holiday home in the country opens up completely to an outdoor living area.
Positioned to take in views over a dam, orchard and forested surrounds, the decked entertainment area features separate zones for outdoor cooking and eating, and this pared-back yet luxurious seating space.
Clean lines are a prerequisite for an elegant outdoor setting like this one. Choose armless couches, chairs and stools for an uncluttered look, and stick to elements of steel, wood and concrete.
Top tip: For the ultimate indoor-outdoor flow, match your exterior to your interior by repeating colours used inside your home on furnishings in outdoor areas.
Mixing deck
This front deck is much more like an outdoor room than a conventional verandah. It has sliding wooden shutters that can be used to partially screen it from the elements – such as strong winds or harsh sunlight – or to fully and securely enclose it.
Get the look
Soften wooden outdoor furniture with padded cushions in terracotta tones. Add exterior wall art in metal or painted wood to add artistic interest.
Casual elegance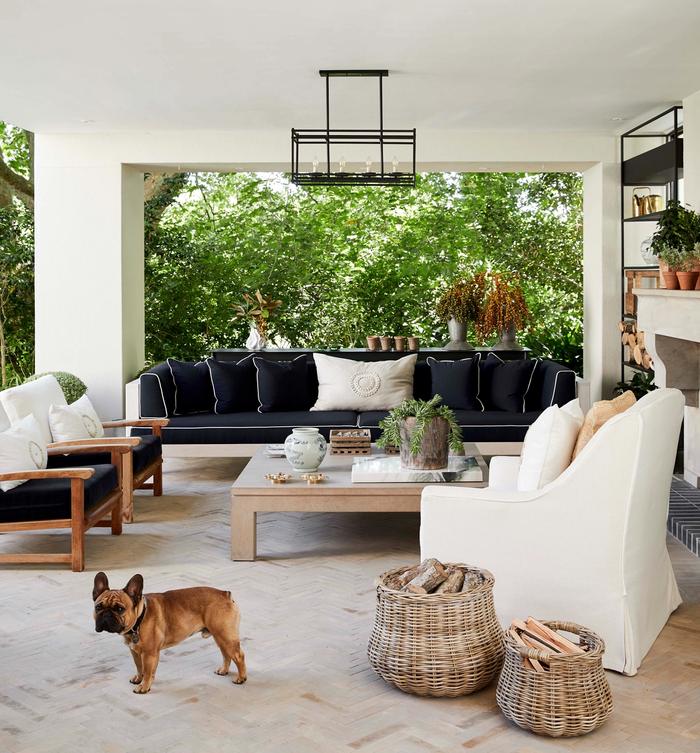 This sophisticated, modern verandah is situated in the new wing of a family home, and leads onto a verdant garden and dining area. The restrained colour palette, styled shelving unit and elegant lighting give the space the sort of sophisticated flair that is usually only seen in interior living rooms, while the relaxed outdoor-style seating options convey a more casual feel. The result is a space that's perfect for entertaining.
Get the look
Invest in good-quality outdoor cushions, rugs and baskets so your furniture and accessories can weather the elements. Cute dog optional!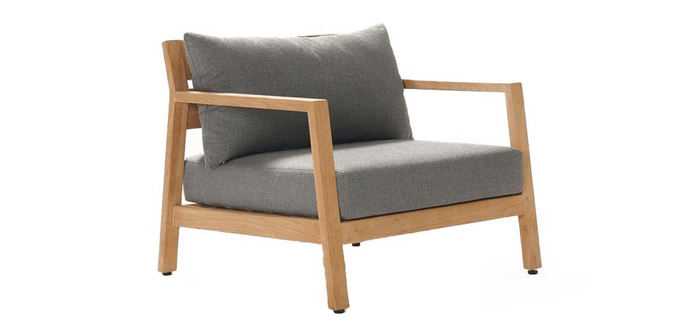 Kisbee lounge single seat, $2098 from Devon.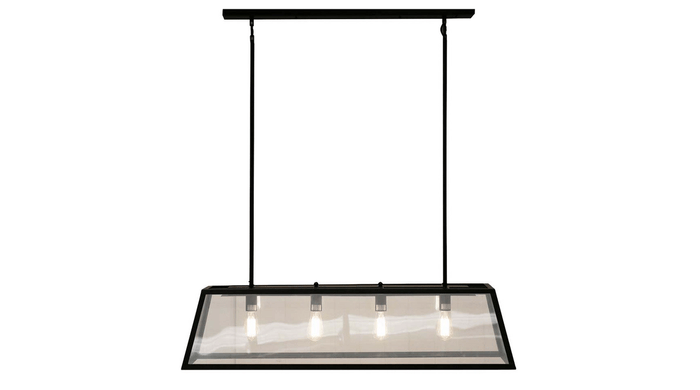 Black glass trapeze hanging light, $1217 from Leopold Hall.

Kuba teak outdoor coffee table, $995 from Design Warehouse.
African handmade palm basket, $85 from Artisans Bloom.
Keep it country
When asked about the charming mix of vintage and reclaimed pieces that characterise their home – including this romantic verandah – the homeowners say: "We don't find them; they find us. They are mostly passed-on heirlooms and junk-shop or reclamation-yard finds."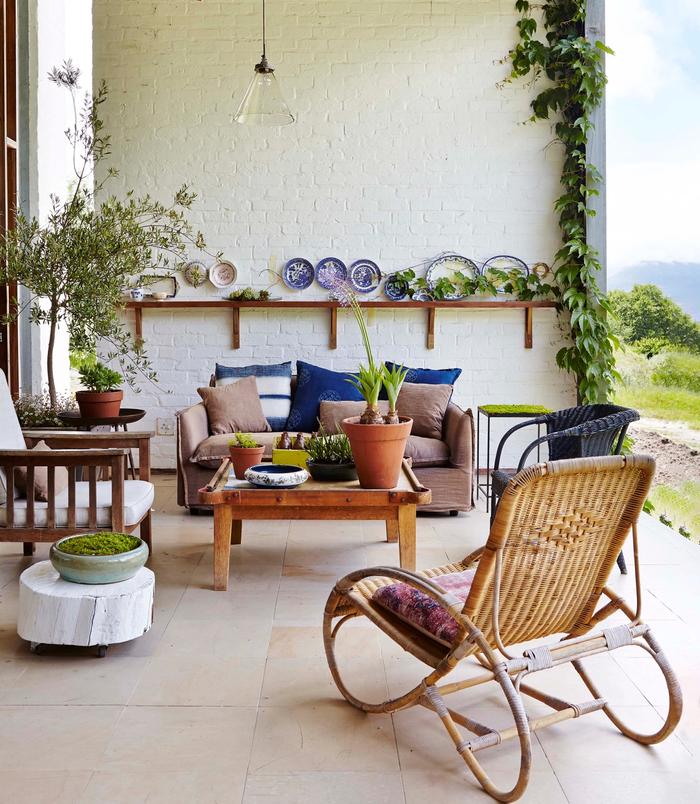 Get the look
This is a look that can't be forced, and takes some skill to put together to create a dreamy and effortless feel. Start with key pieces – an eye-catching vintage rattan chair or a collection of vintage china – and build the rest of the look around them.
Top tip: When buying vintage or second-hand wicker or rattan furniture, inspect it carefully for any breaks or brittle pieces of cane. Check to see if it's sturdy or has any sun damage, and it's always a good idea to give it the "seat" test. Try before you buy!
Classic chic
This patio, with its pergola and a river-stone floor, is pure holiday goals. The pergola itself is supported by plastered masonry pillars, and has a forged iron top frame and cross wires covered with bamboo and a salvaged mature grapevine. The built-in seating was added during the home's recent renovation because small spaces generally feel bigger with inbuilt seating arrangements.
Get the look
Tinted glass vases in ocean blues add a Mediterranean vibe to an outdoor area. Add striped cushions, oversized lanterns and, if you're lucky, a view of the sea or a grapevine-covered hillside.
Get Comfy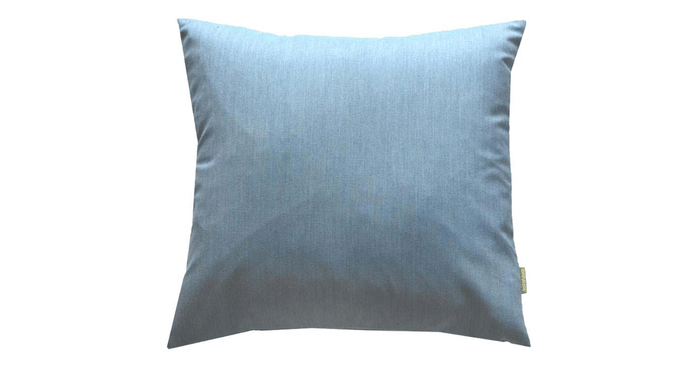 Outdoor canvas cushion cover in horizon, $49 from Bolt of Cloth.
Midori Indigo Sunbrella outdoor cushion, starting at $180 from Coast New Zealand.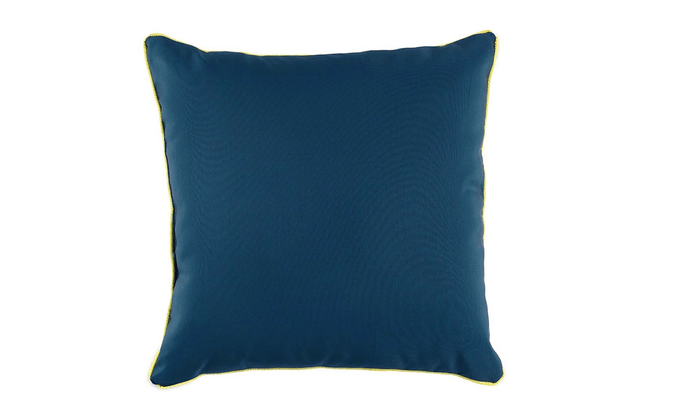 KAS Limona plain outdoor cushion, $34.99 from Briscoes.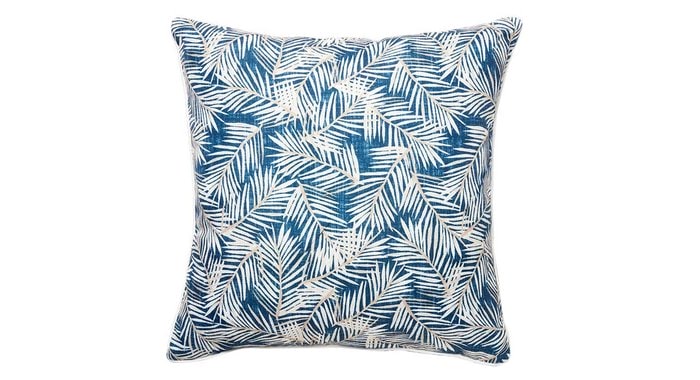 Panama outdoor cushion, $36.95 from Bed Bath N' Table.
Green room
In a family home that's all about seamless indoor-outdoor living, spaces suitable for enjoying family time and entertaining friends are essential. This patio runs the full length of the house, and all the doors can be flung open to connect inside and out.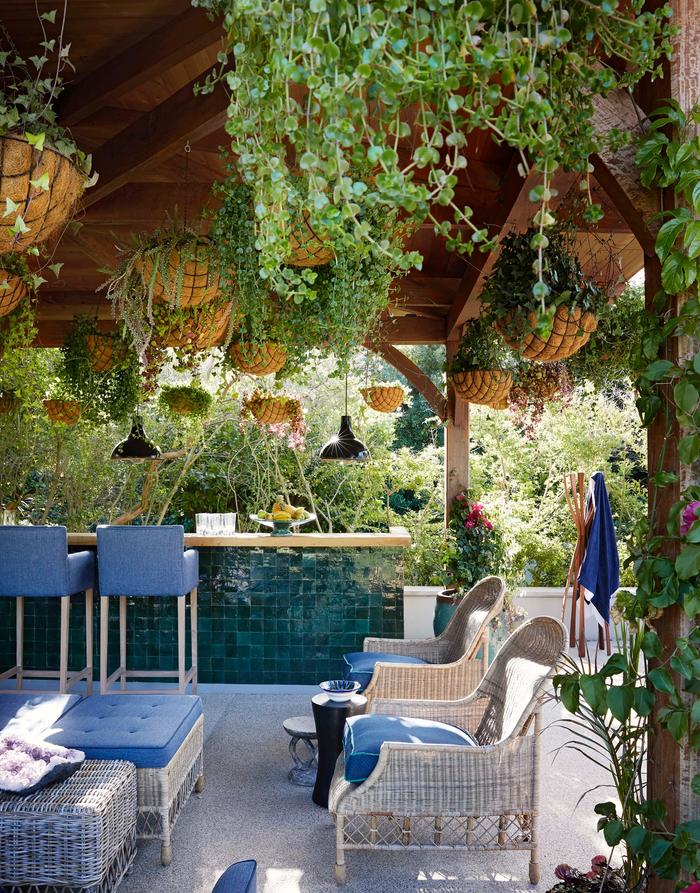 Choose bright blue outdoor upholstery fabric, and combine it with the natural textures of plants, rattan furniture, grass matting and side tables in stone and ceramic to make a vibrant space that also delivers warmth and understated luxury.
Top tip: Create a genuinely romantic space that includes a comfortable lounge area by adding dozens of overhead hanging plants and plenty of greenery.