An ambitious 1920s bungalow renovation created a spacious sanctuary in the city for an Auckland family of five.
From the moment Philippa Newbald first stepped into her Auckland home, she knew it was something special.
Not because of the layout, which was cramped and not overly family friendly. Nor because of the monster garage that took up most of the back garden.
Rather, it was the central Mt Eden location and light-filled rooms that won over Philippa and her commodity trader husband David McGowan when they returned to New Zealand in 2005 after four years living in Australia.
"We wanted to live in Mt Eden because it's close to the city for David's job," says Philippa, an office administrator. "We couldn't find anything suitable, and while this definitely wasn't my dream house, it ticked a few boxes."
Initially, the couple thought they'd do a small renovation to make the 1920s bungalow more liveable, then move on after five years. "A real estate agent told us not to spend too much on it because it wouldn't get much sun. But we actually get great all-day sun."
They repainted and re-carpeted, which worked for a while. But with a growing family – children Harry, now 18, Anna, 16, and Milly, 14 – the house proved too small, so in 2017 the couple started looking for another house, a search that again didn't turn up anything suitable. A fruitless year later, they decided to embark upon a major renovation, taking the house from 140sqm to 217sqm.
They shoulder-tapped local architect Stephen Jones, who responded to their request for a design that wasn't overly modern and respected the home's classic silhouette.
That included moving the kitchen from its formerly cramped space in the middle of the house to an open- plan extension. Philippa loves to cook, so she wanted a large fridge, lots of storage and generous worktops. Plenty of cupboards – including floor-to-ceiling cabinetry that conceals a breakfast bar, and a compact butler's pantry across the hallway for bulkier appliances – create a serene, streamlined appearance.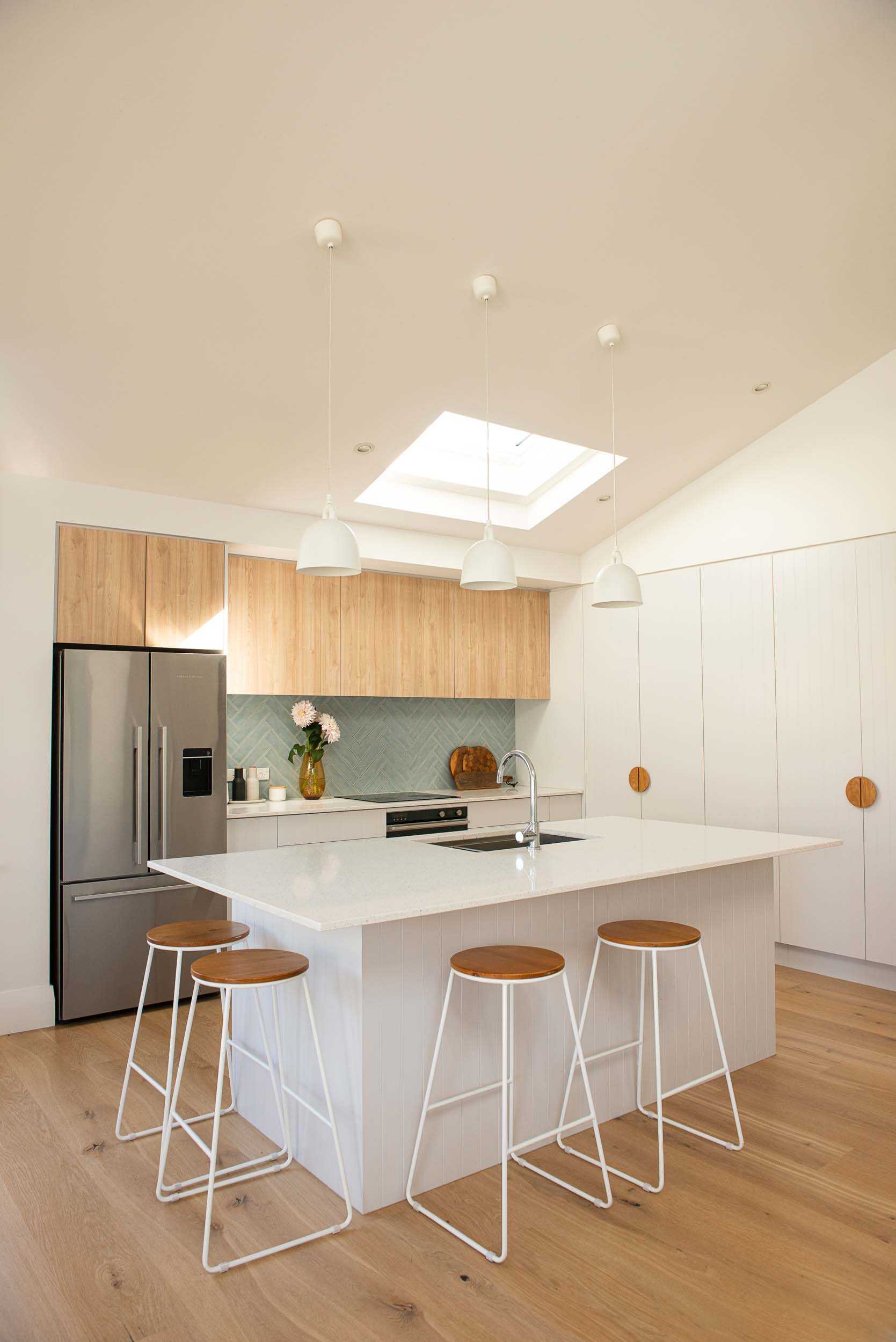 Built-in cabinetry is now one of the home's biggest hidden assets, not only in the kitchen, but also in the living room and the TV room/home office, which was in heavy demand during lockdown.
The previous dining room was as poky as the original kitchen, so Philippa was glad to be able to incorporate a more generous space to entertain.
She called on interior designer Mary-Ellen Hinton of Hello Saturday to help decorate the house, and the oak dining table was one of Mary-Ellen's finds, from Auckland furniture store Soren Liv.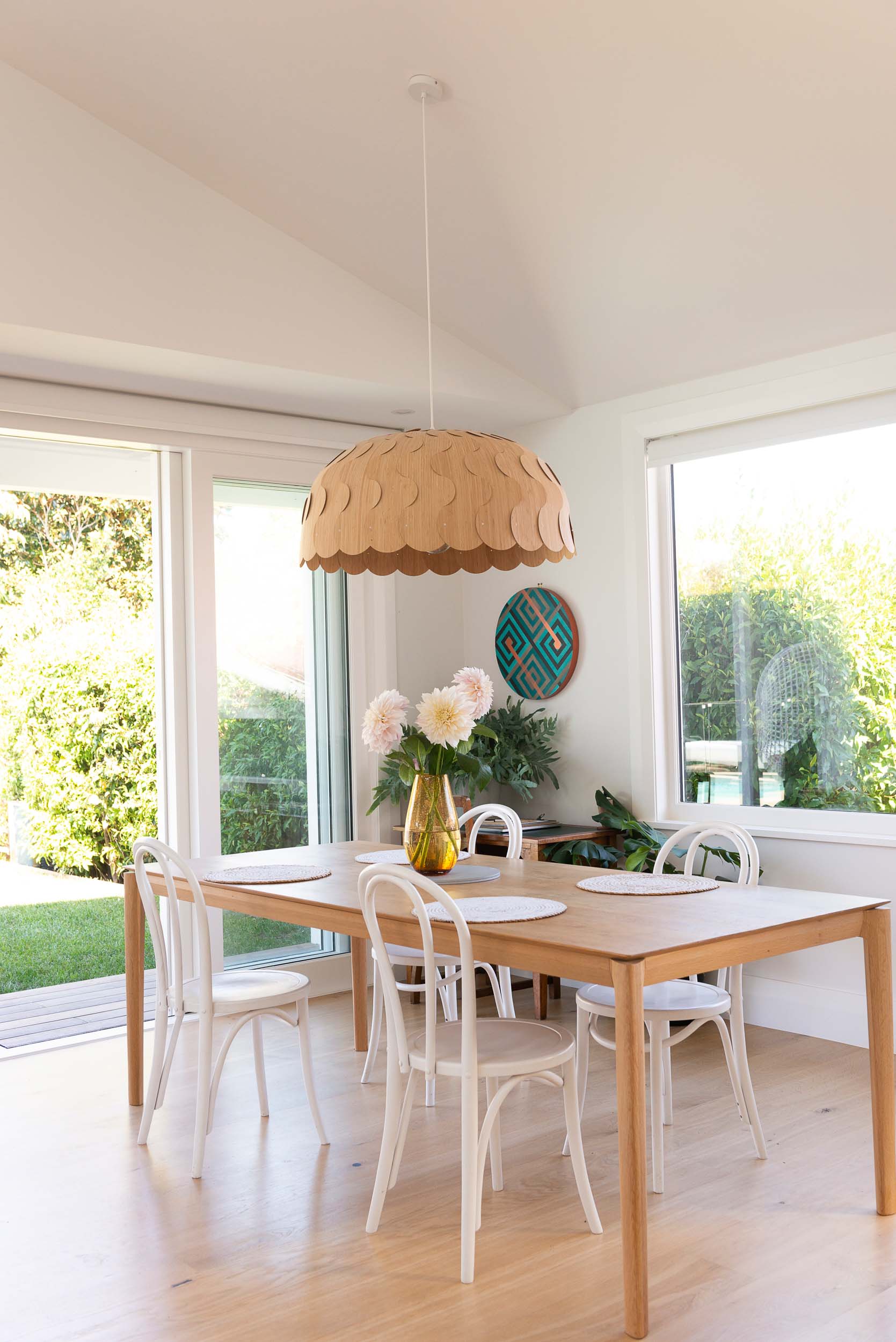 "I still can't find the perfect dining chairs," Philippa says, "so until I do we're making do with these wooden ones we brought back from Australia."
An antique desk tucked into a corner of the dining room was also found in Australia, and an eye-catching light above the dining table is by iconic Kiwi designer David Trubridge.
A cathedral ceiling wasn't in the original design but became necessary thanks to council regulations, which had the benefit of giving the room a sense of height, while skylights brighten the space.
The large proportions of the living room meant Philippa had to get sofas custom-made to fit the space. Mary-Ellen steered her towards local company Lounge Design, which made the four-seater and three-seater couches in a light grey fabric.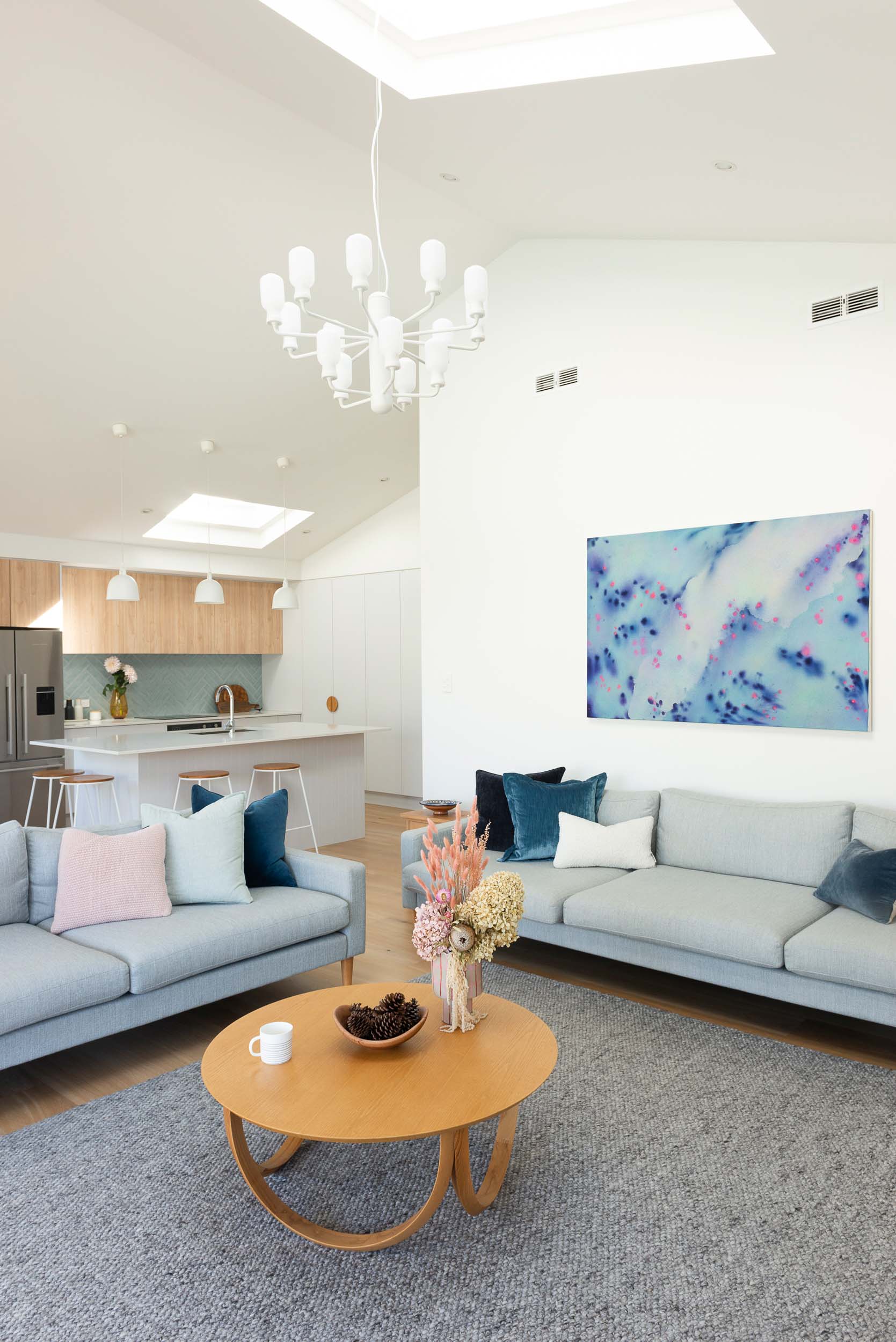 Mary-Ellen also sourced a striking white chandelier from Denmark, but when it arrived, the individual lights didn't fit properly. "We had to send it back and wait for a replacement, which took a few months," says Philippa.
The house's mātai floorboards were originally stained with a dark orange-hued glaze, which didn't suit the pale, Scandi-style vibe Philippa was going for, so she had them sanded back and whitewashed by the same company who added the American Oak floorboards to the extension. "It meant the transition from old to new floorboards was able to be as seamless as possible."
At the front of the house, the former kitchen and dining area was transformed into Harry's bedroom, while the former living room became the main bedroom. That included borrowing space from daughter Anna's bedroom.
An old wood burner was ripped out and replaced with a compact en-suite bathroom, and a wall of cupboards was added. Mary-Ellen picked out a dramatic Swedish Boråstapeter wallpaper in a botanical design for behind the bed.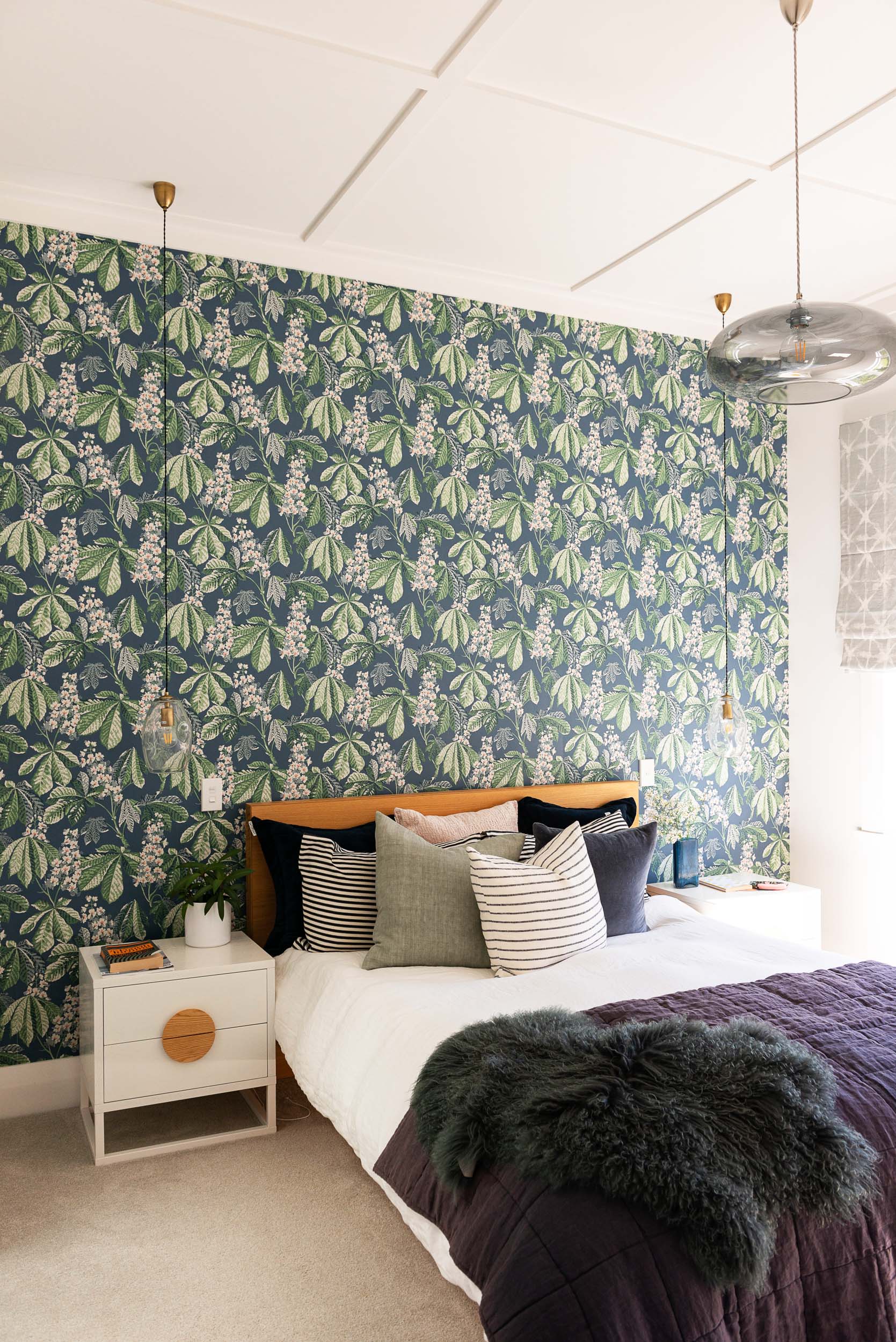 One of the couple's biggest wishes was to reclaim the backyard, which was previously dominated by a three-car garage. They demolished that and attached a double garage to the house, which gave them ample room to add a pool.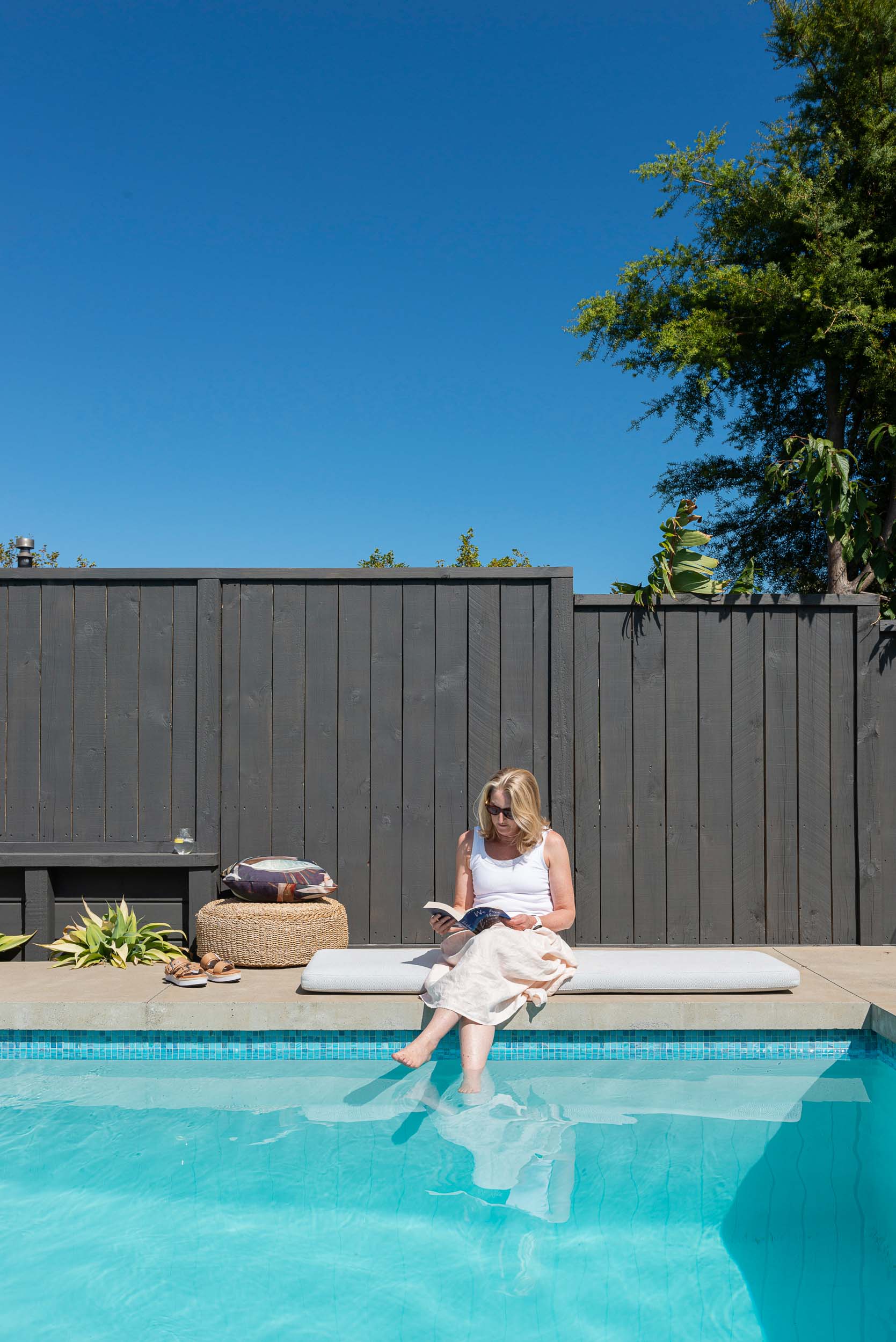 "It also meant we were able to add vege and herb gardens," Philippa says.
Keen to flex their green fingers further, the couple landscaped the front garden, adding citrus, feijoa and plum trees as well as blueberry vines.
It took around a year for Philippa and David to achieve their vision but Philippa says the family are thrilled with the result. "We reconfigured the space so that it could change as our needs do. This is definitely our forever home."