Social media influencer Fatima Savea and her rugby player husband Julian made a former show home on Auckland's North Shore their own.
ew of us would have the mental bandwidth to criss-cross Auckland for weeks looking for a house, especially after escaping France in the middle of a pandemic.
But Fatima Savea is no ordinary woman. Not only is she married to Hurricanes winger and former All Black Julian Savea, but she's also a mum (daughter Jude is three), a social media influencer, and runs two businesses – a nail salon and a luxury handbag rental company.
Thanks to Julian's contract with a French rugby club, the trio had been living in Toulon for two years. But when Covid hit last year and Julian's contract ended, they moved back to Auckland.
"Fortunately, my parents owned a house in Hauraki, so we rented that while we frantically looked for a house to buy," says Fatima.
The couple didn't mind what style of house it was, having previously owned a contemporary home with sweeping views of Wellington Harbour and renovated a villa. "What mattered to us was a location in a good school zone, being close to my family and the beach, and for it to be large enough for a growing family."
The couple's search took them across the isthmus, but ironically they ended up buying this 2018 home across the road from the North Shore house they'd been renting. "Even before I walked in, I knew it was the one," Fatima recalls. "It felt like a family home."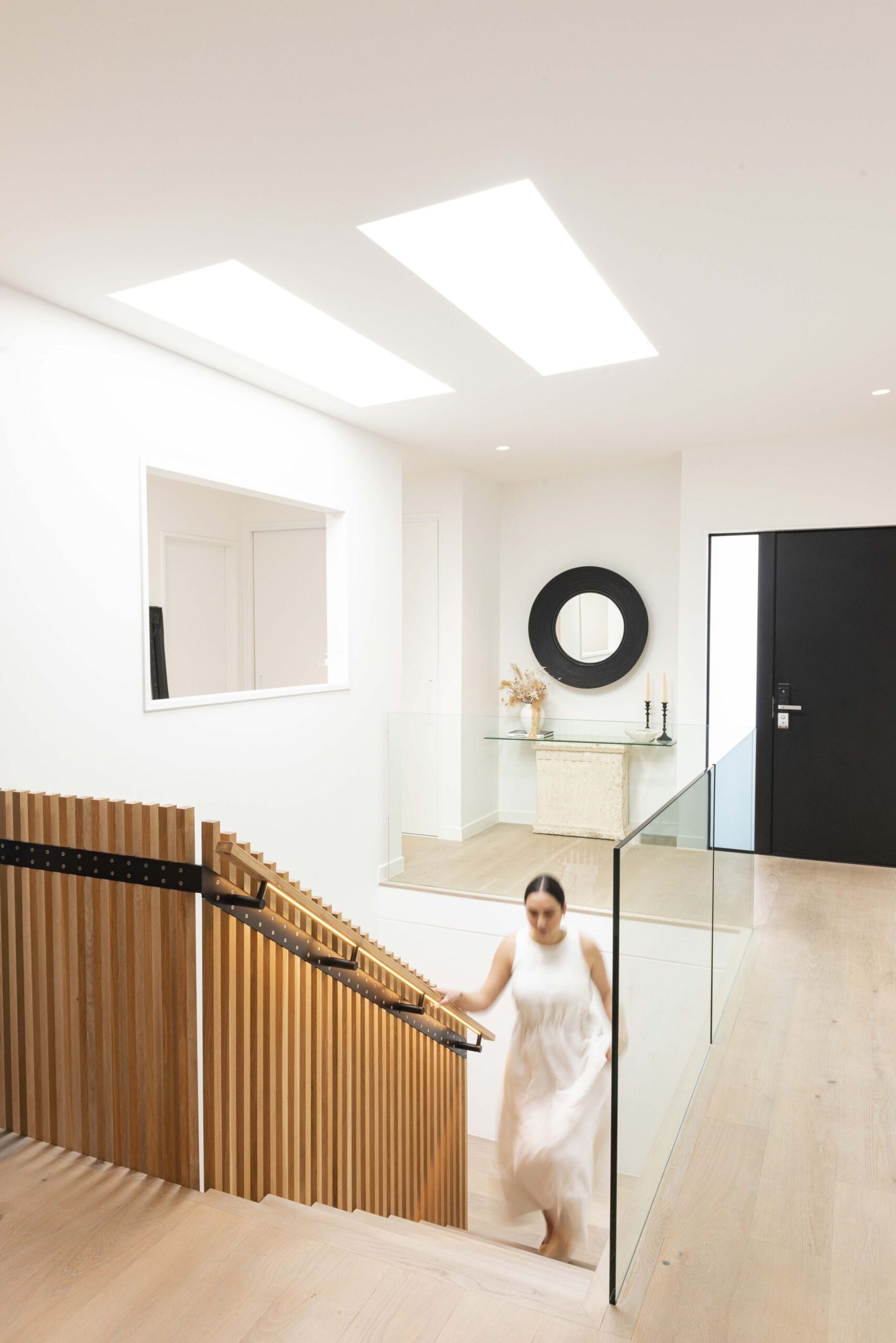 The 302sqm house had been a show home and no one had ever lived in it, which meant it was in pristine condition and needed no renovations.
The couple shipped some of their old furniture from storage in Wellington, and Fatima spent three months driving around Auckland filling in the gaps. That includes a fossil stone entrance table she found on Instagram. "I'd been looking for something like it when I spotted this one on the PS Accessories Instagram page four minutes after it was listed. I jumped in the car and drove across Auckland to get it before someone else did! Luckily, Julian was with me, because it was pretty heavy."
Next to the entrance, on the top level, is a spare room that Fatima has turned into her nail salon. The couple have decorated the hallway with black and white family photos that include Julian's nine-year-old daughter Cora, who lives in Melbourne but spends school holidays with them.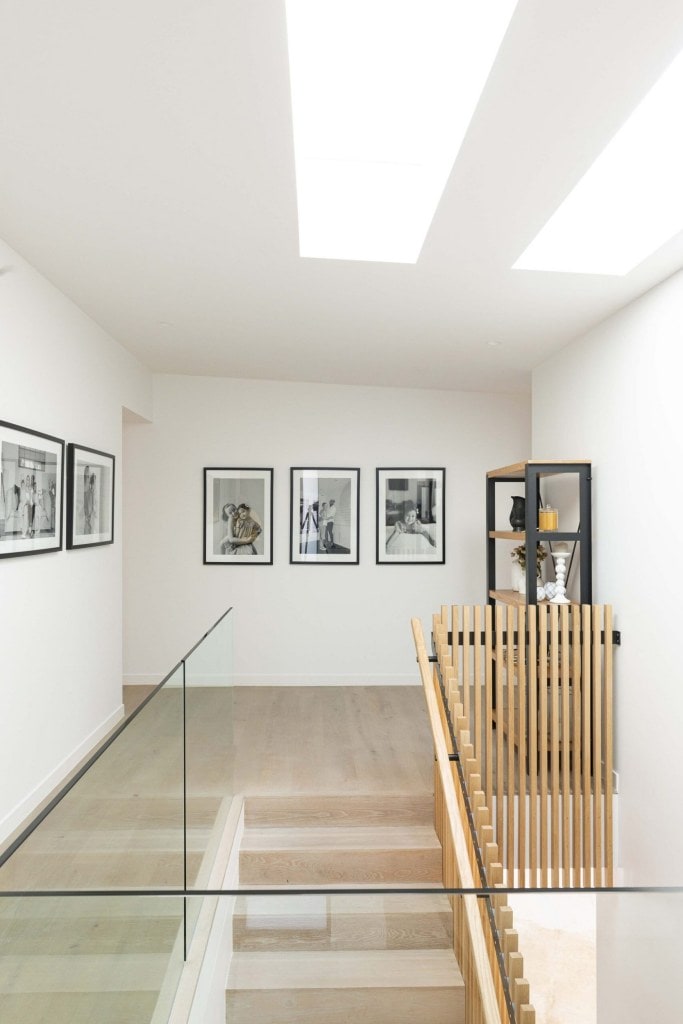 Across the hallway is Jude's room, where a bright floral decal from local business Your Decal Shop adds a pop of pink, as does a stool that's been repurposed as a bedside table.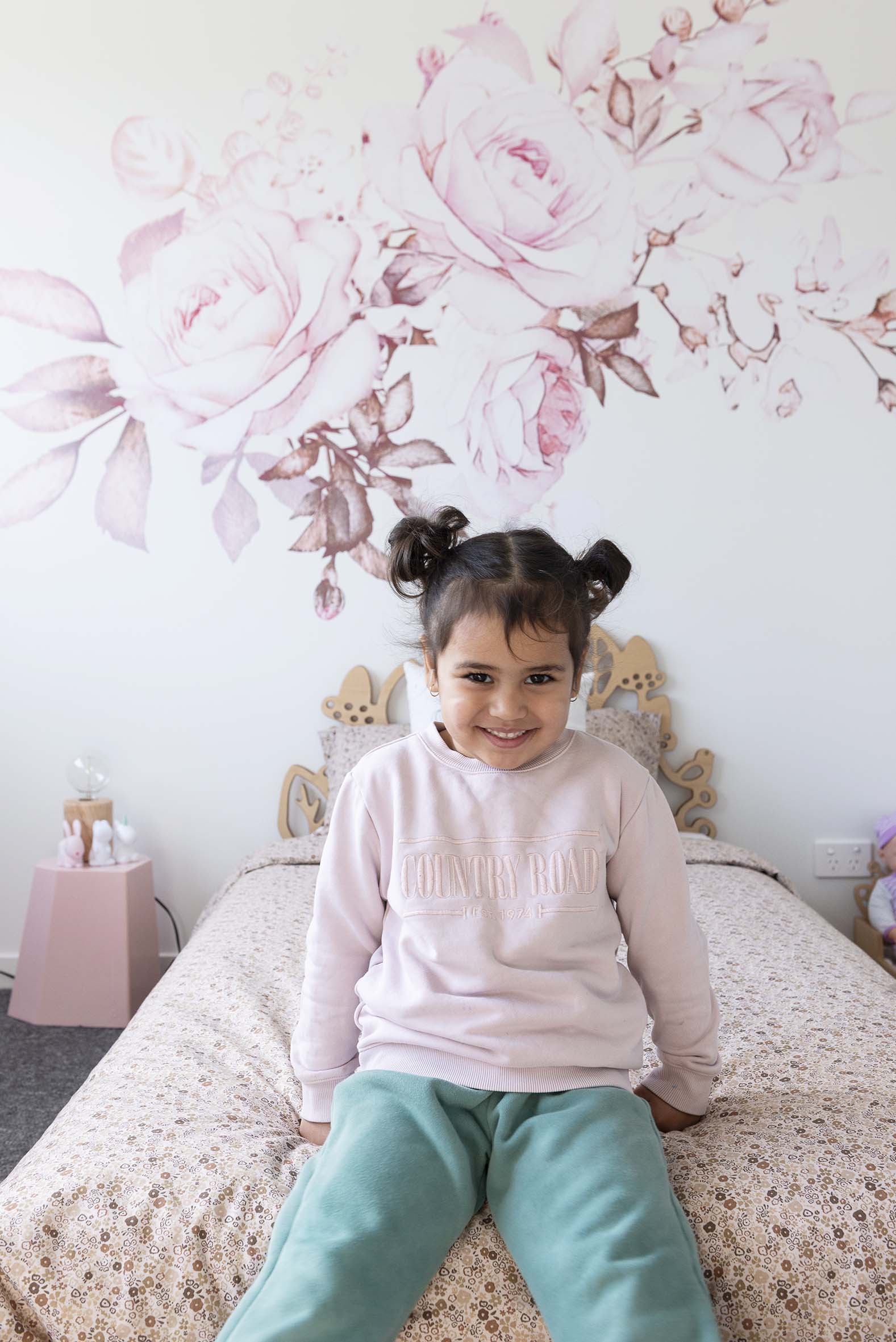 The couple's bedroom is a study in cosiness, with navy walls and contrasting white plantation-style shutters. The headboard and side tables came from Nood while Fatima bought the chairs from Early Settler. "They were the last two left in the country, so I drove from Wairau Park to the Ponsonby store to collect them."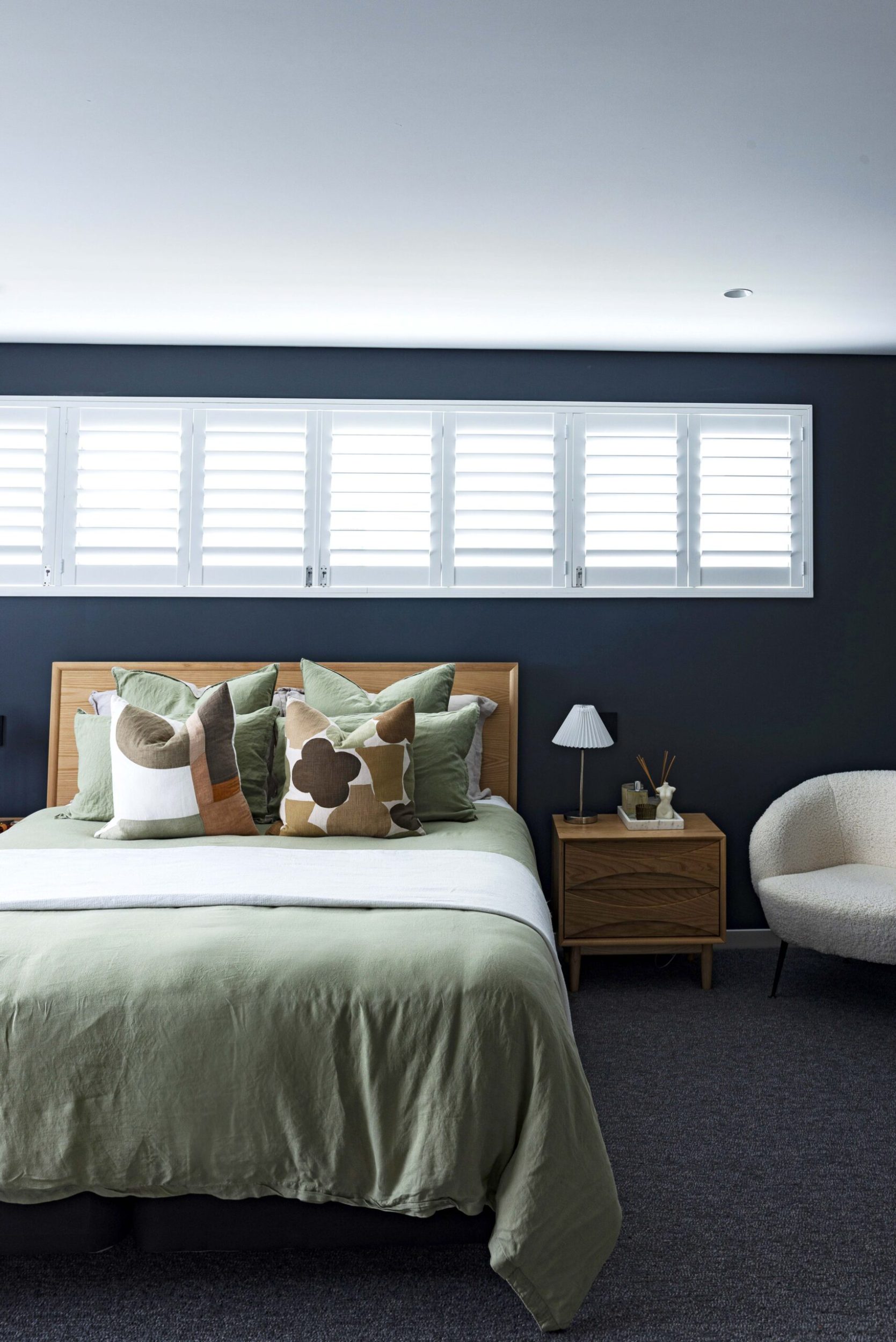 Fatima loves clothes, so she's taken over the main suite's walk-in wardrobe, delegating Julian's clothes to the spare bedroom closet. "My only wish is that my wardrobe was bigger!"
The en-suite bathroom is almost a replica of the family bathroom, where the oversized bathtub was a non-negotiable. "Julian is 192cm, so we needed something he could fit into."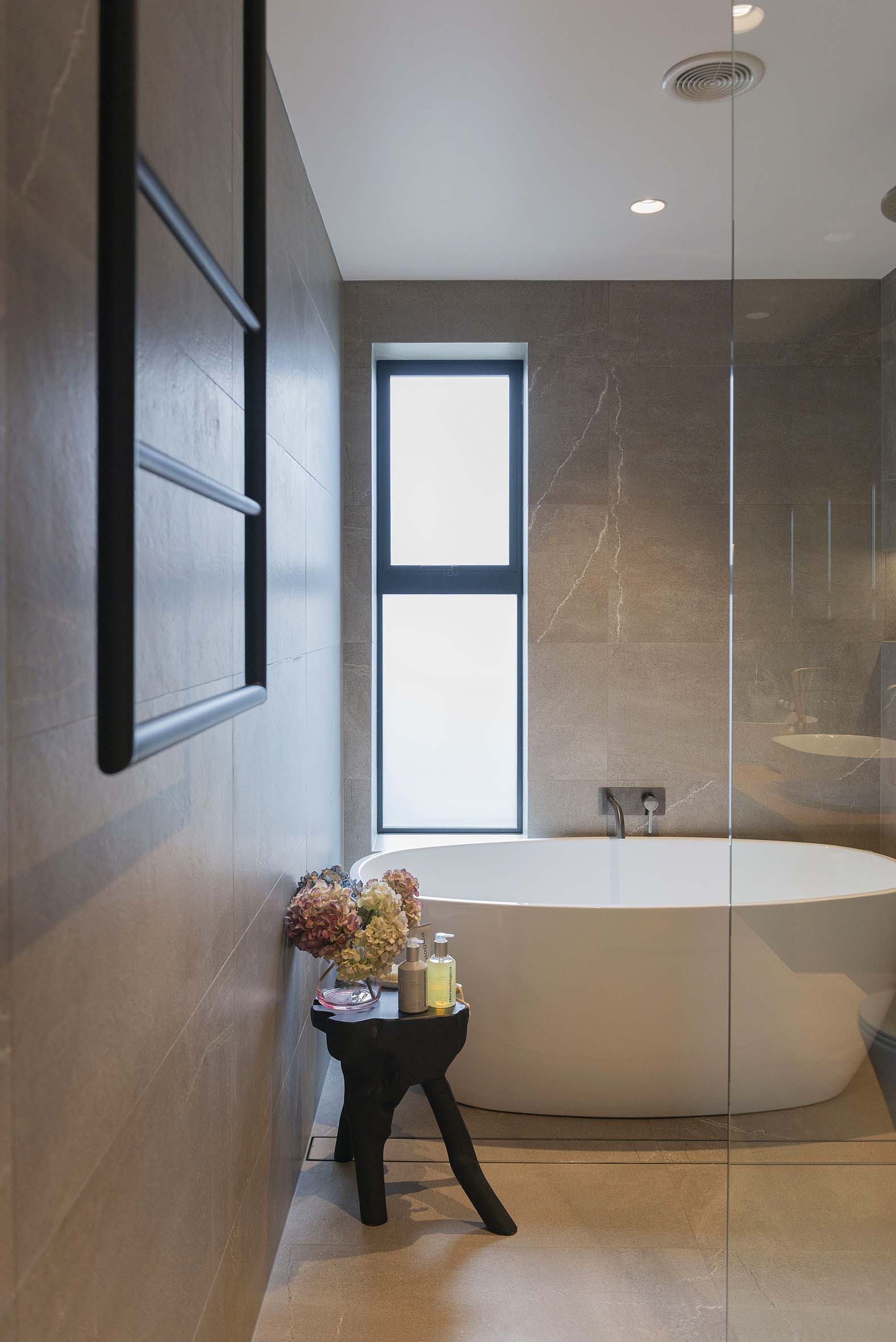 Go down the slat-spindled wooden staircase and you'll come to the open-plan living room. Fatima says it was this space that really sold her on the house.
"We entertain a lot, so it's great to be able to have everyone in one space."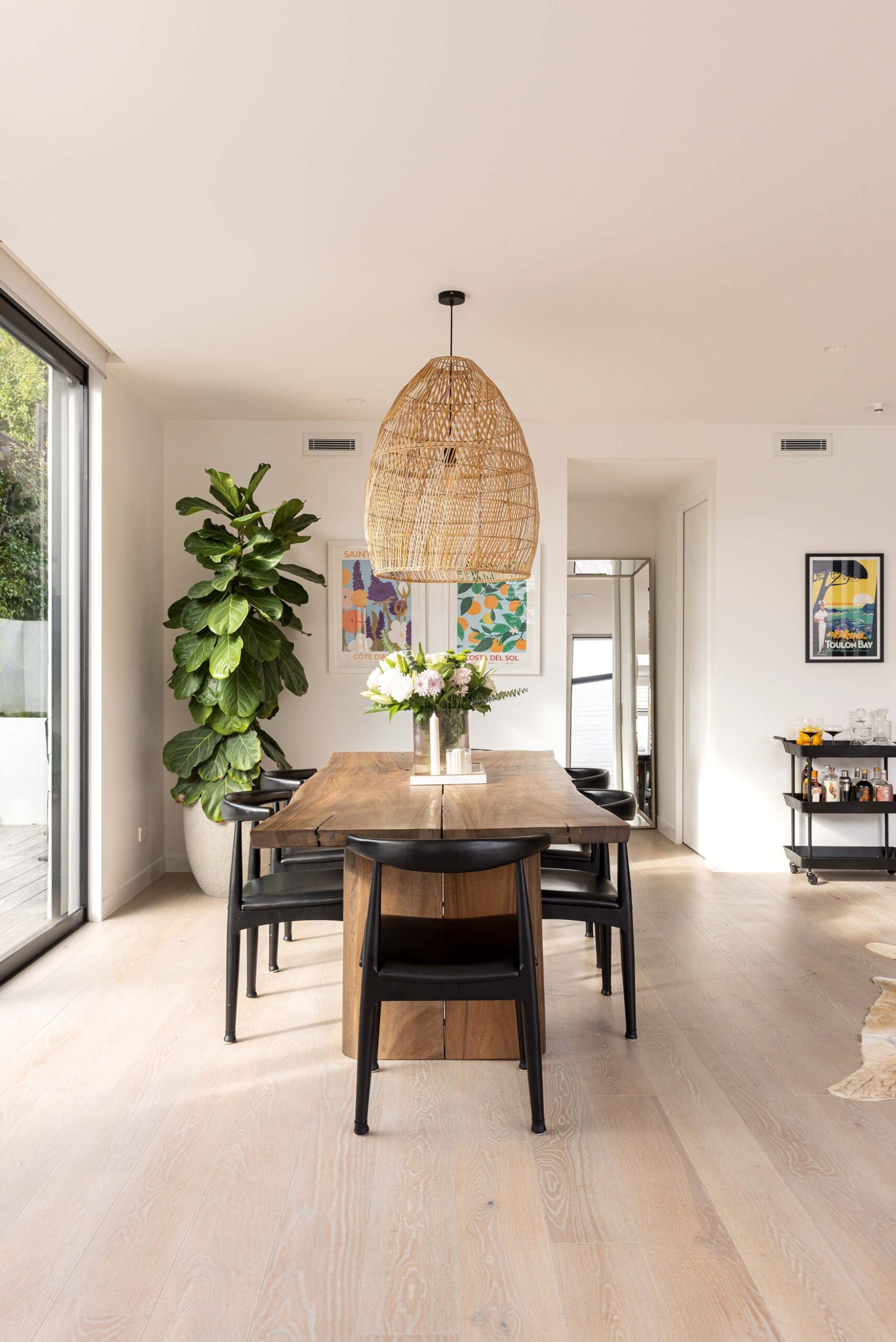 It's also why she fell in love with the large kitchen island with its ample storage. So too the scullery, which is quite possibly the tidiest you've ever seen. "I bought some glass containers from local organisers Simplify My Home. I got to know them, so asked them to organise the scullery for me. I'm a bit of a neat freak, so it works for me."
Fatima loves to cook – her signature dish is chicken tagine with couscous – so she's a fan of the stylish kitchen. "The stone splashback is really easy to keep clean but the same can't be said of the black cabinets! A black kitchen looks great but marks really easily."
She had fun decorating the living room, finding a trio of iconic Marilyn Monroe prints on Etsy, which she had framed. A bright Hermès throw rug and cushions were also found online and add a pop of colour to white chairs from local company St Clements. A wooden sideboard was bought in Wellington six years ago for the couple's first home, and is a piece Fatima says she'll never let go of.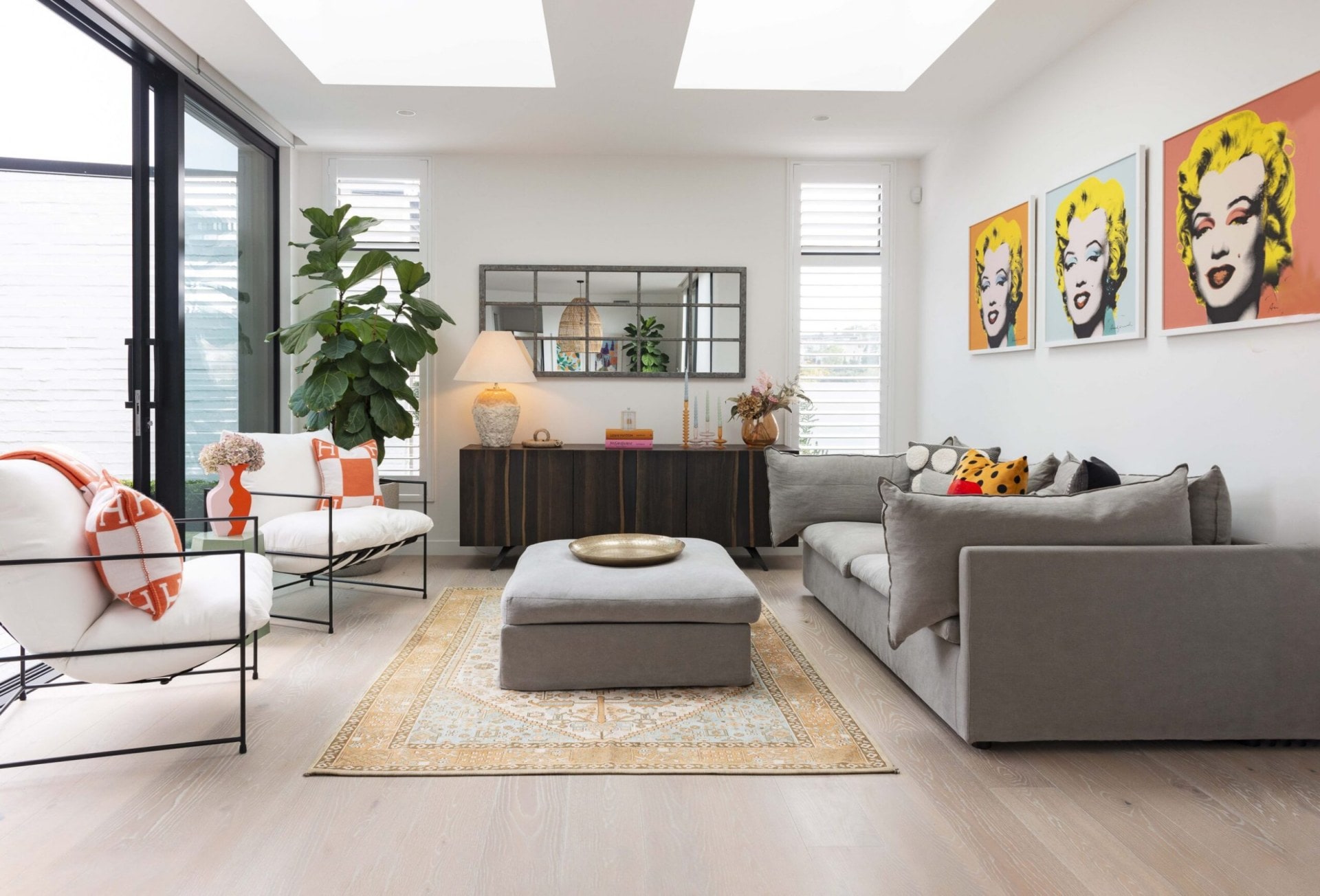 Other items remind the family of time spent overseas. A framed print from Toulon was a leaving gift from friends, then Fatima found a similar St Tropez print online. "St Tropez was one of our favourite places when we lived in France, so the print brings back happy memories."
The adjacent family room is where they spend much of their time, watching movies and relaxing with friends. Fatima reckons the long grey couch, found at Nick Scali, is the most comfortable piece of furniture they've ever owned. "It's so large it can fit lots of people. We love spending time in this room."
The room has also become the repository for Julian's rugby memorabilia, including the framed All Blacks jersey he wore for his 50th test – in Chicago in 2016 – and his cap from the 2015 Rugby World Cup.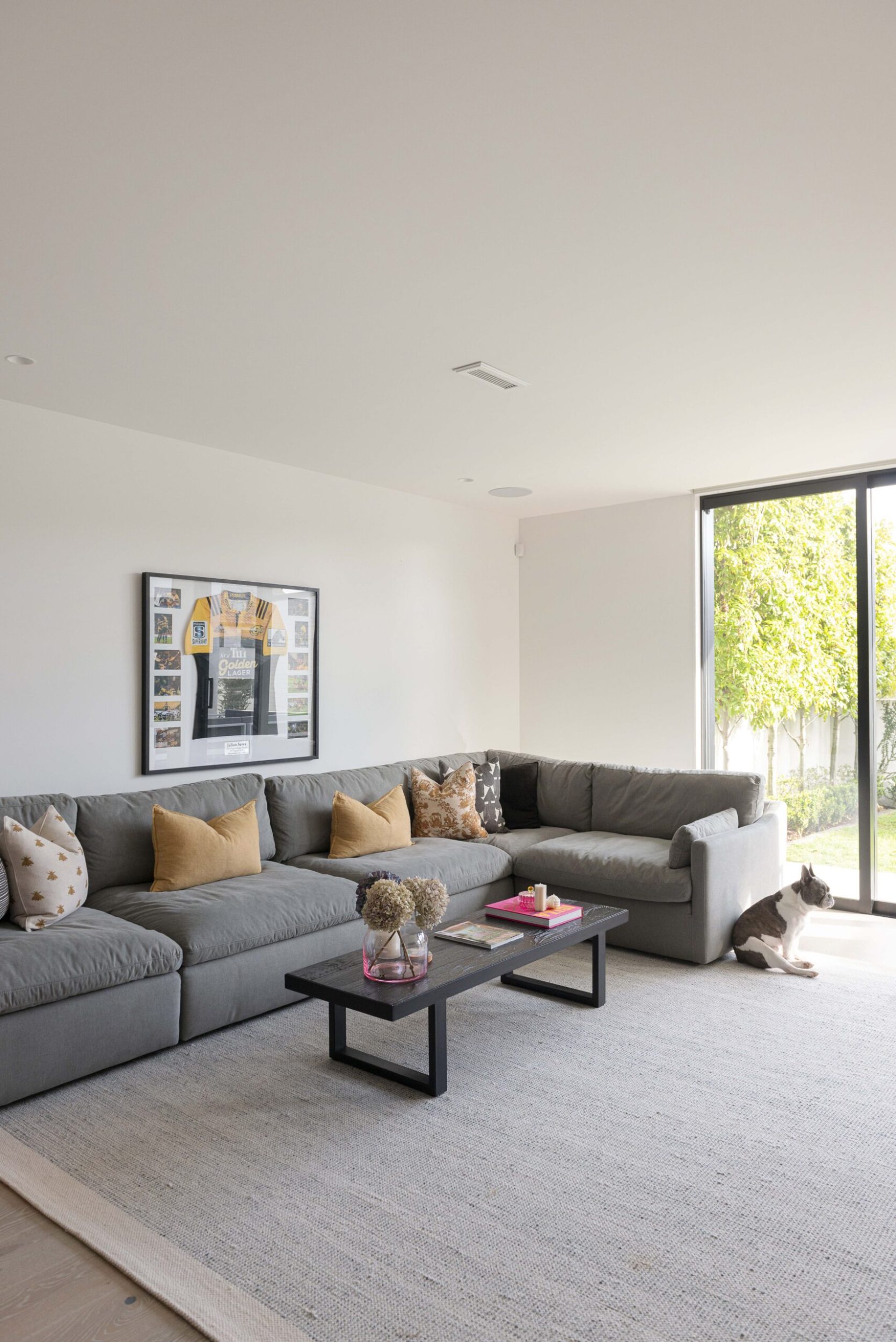 The garden, accessed through large sliding doors, is compact but private and sun drenched. Fatima offered to buy the previous owner's outdoor furniture but they kindly threw it in for free.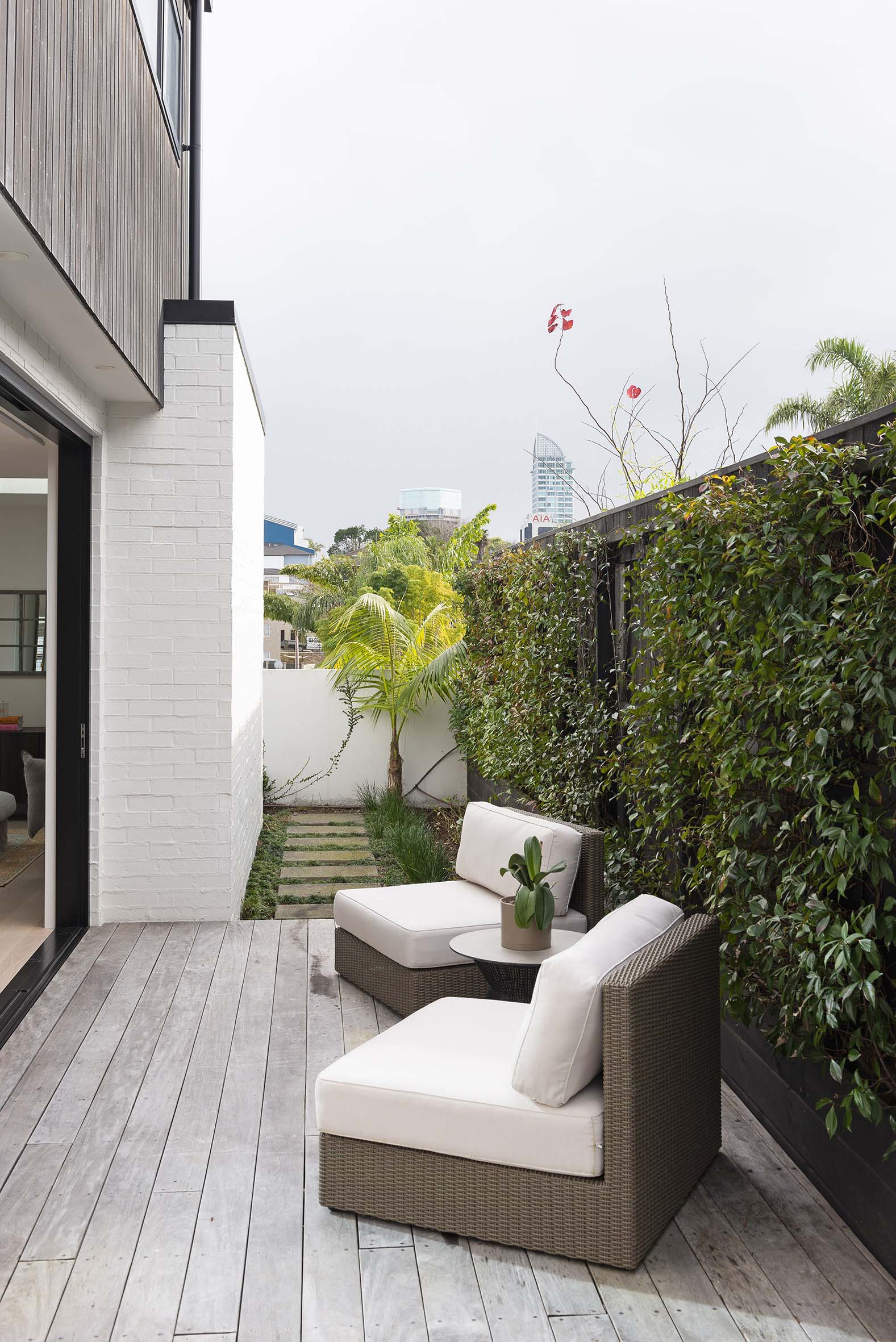 Although the couple are happy here, one day they'd like to build their own home. "You never know where you'll be with rugby, so we might end up in Japan at some stage," Fatima says. "But we're currently looking for some rural land near Coatesville so we can build our dream home. It will be modern with a hint of country, with cathedral ceilings and a pool. And Julian wants a basketball court!"