A love affair between dynamic patterns and classic pieces has redefined a Wellington home.
Anyone who knows Karen Delehanty knows she doesn't do things by halves. Run a successful Wellington interior design business for 26 years? Tick. Raise three sons largely on her own? Buy a Wairarapa vineyard with her second husband, Pete Mason, then open The Petit Tasting Room in Martinborough to sell the couple's wine? Tick, tick and a big fat tick.
When she's not doing that, this pint-sized powerhouse looks after her youngest son Reid, who's in a wheelchair, and his one-year-old daughter Sage. With so many moving parts to their lives, Karen and Pete needed a place to regroup and chill out. That turned out to be a 1920s double bay villa in Wellington's Lyall Bay.
When Karen bought the property in 2004, it was a three-bedroom, 110sqm former rental with an outdoor laundry and, curiously, an enormous horse stable. "Sadly, the stable was too dilapidated to restore, so we had to demolish it," says Karen. "But that meant the neighbours could look into our backyard, so we planted lots of trees to give us privacy." She also pulled up the old vinyl flooring and had the floorboards whitewashed. "That raised a few eyebrows from the floor sander because no one was really doing that back then."
She married Pete in 2015, and shortly afterwards the couple realised their house was bursting at the seams. "We really needed another bedroom and a large living space," says Karen.
As a trained interior designer, not only was Karen clear about her renovation vision, but she also had lots of contacts to call upon. The couple hired Wellington architect Ron Partington, with a brief of opening up the back of the house to include an internal laundry, a new kitchen and living space, and a generous deck to take advantage of the all-day sun. "We also wanted the space to be totally accessible from the front of the house through to the back deck, to accommodate Reid's wheelchair."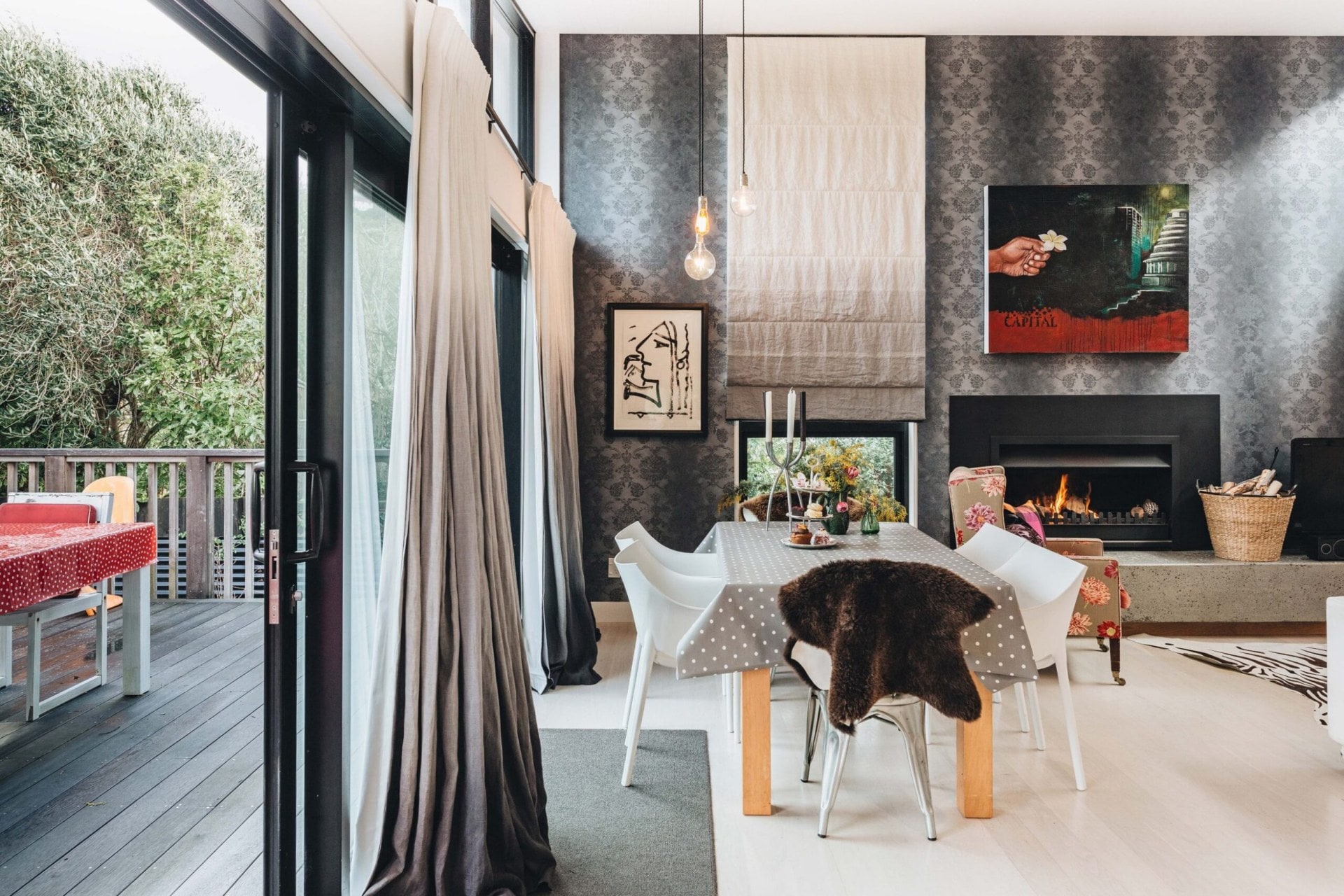 Another item on their wishlist was a main bedroom with an en suite and walk-in wardrobe. They achieved this by converting the former kitchen and family room into their bedroom suite.
The result is a light-filled home that flows seamlessly from the smart black front door, inlaid with glass panels that Karen designed, to the rear deck. Karen isn't afraid of wallpaper, as evidenced by a striking black and white Cole & Son wallpaper in the entrance.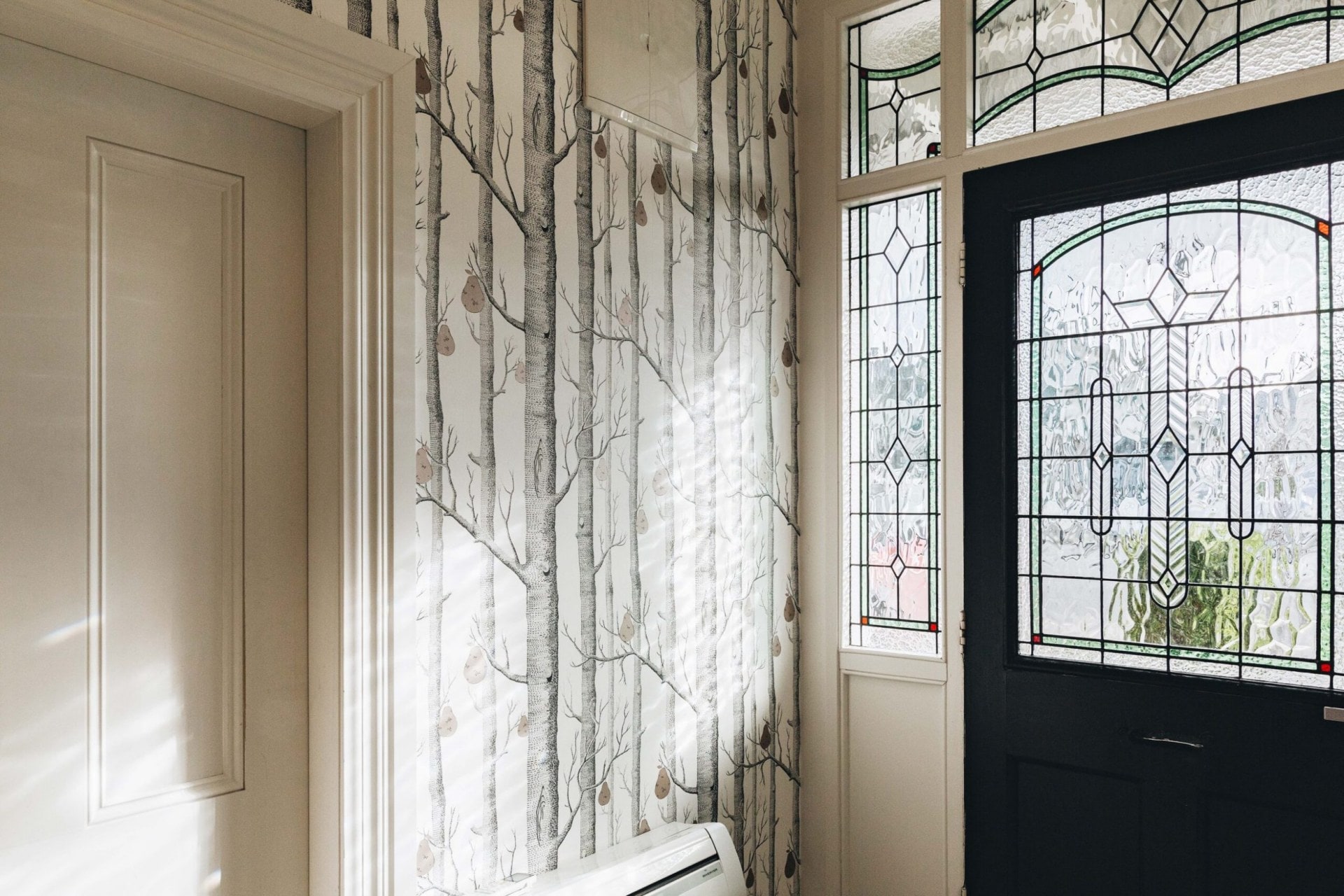 Needing to be accessible to clients, Karen co-opted the front room as the HQ for Delehanty Interior Design. The former living room is also large enough to house her many fabric and paint samples, while a mural of wallpaper samples provides a colourful backdrop. Completing the aesthetic here is an antique wooden workbench repurposed as a desk, which was sourced from Country Trader in Greytown.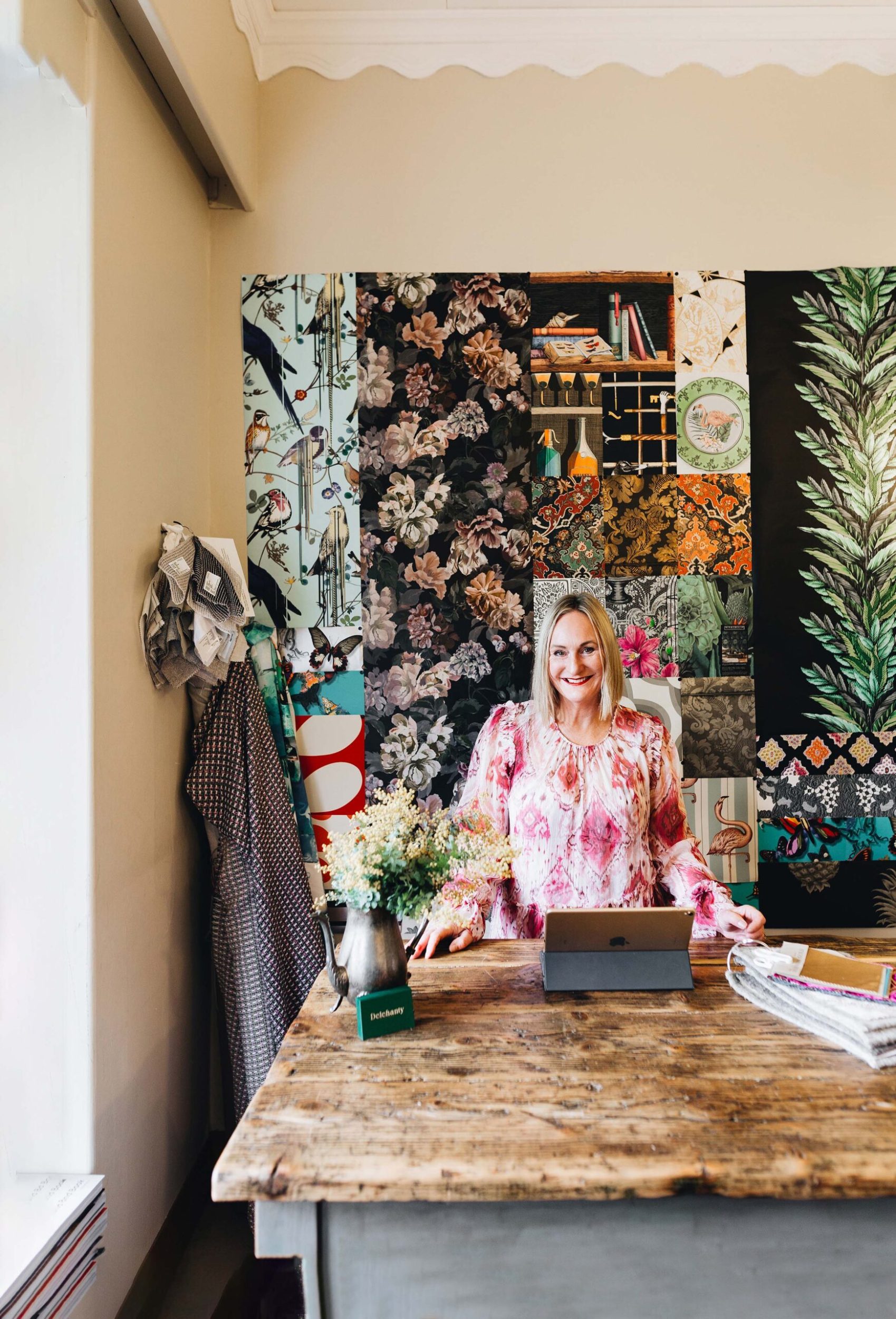 Karen is a dab hand at mixing old and new, such as the chandelier in the hallway, the bones of which once belonged to her grandmother. "I found it in my parent's shed and sanded and spray-painted it, had it rewired and added new lampshades made from Designers Guild fabric and trims."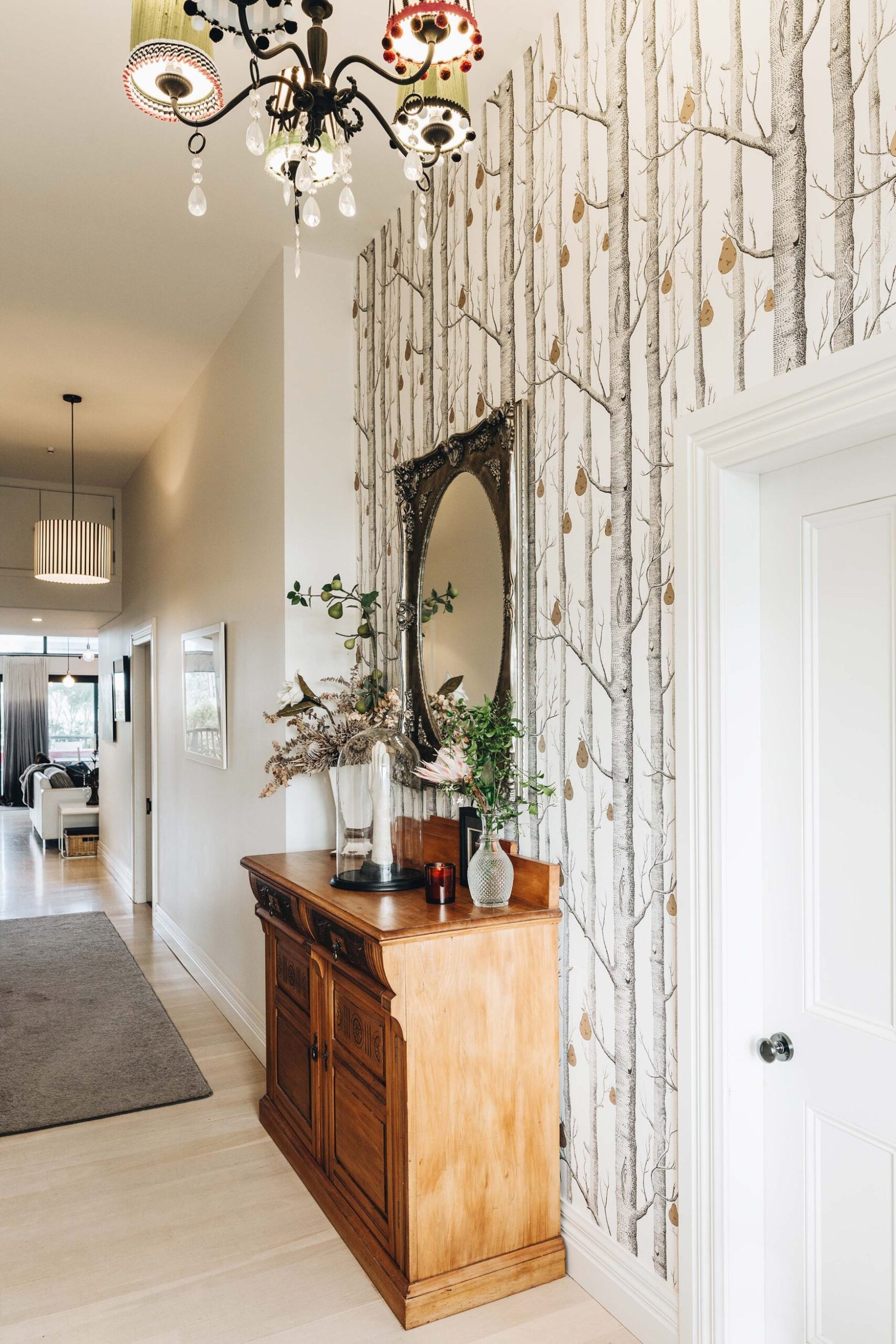 Across the hallway is granddaughter Sage's bedroom, a vision in blue thanks to the Follete Bleu De Roi wallpaper from Christian Lacroix. "I love how quirky his wallpapers are," says Karen.
The French designer also makes an appearance in the couple's bedroom, in the form of patterned curtains. Karen had one of her suppliers make up a headboard in charcoal velvet, using large dimensions to enhance a sense of luxury, while floral Marimekko bedlinen was bought on a trip to New York.
"I designed the bedside lights using black braided telephone flex with vintage metal lamp holders and large dolly bulbs, which are looped over tie-back holders. It's simple but effective."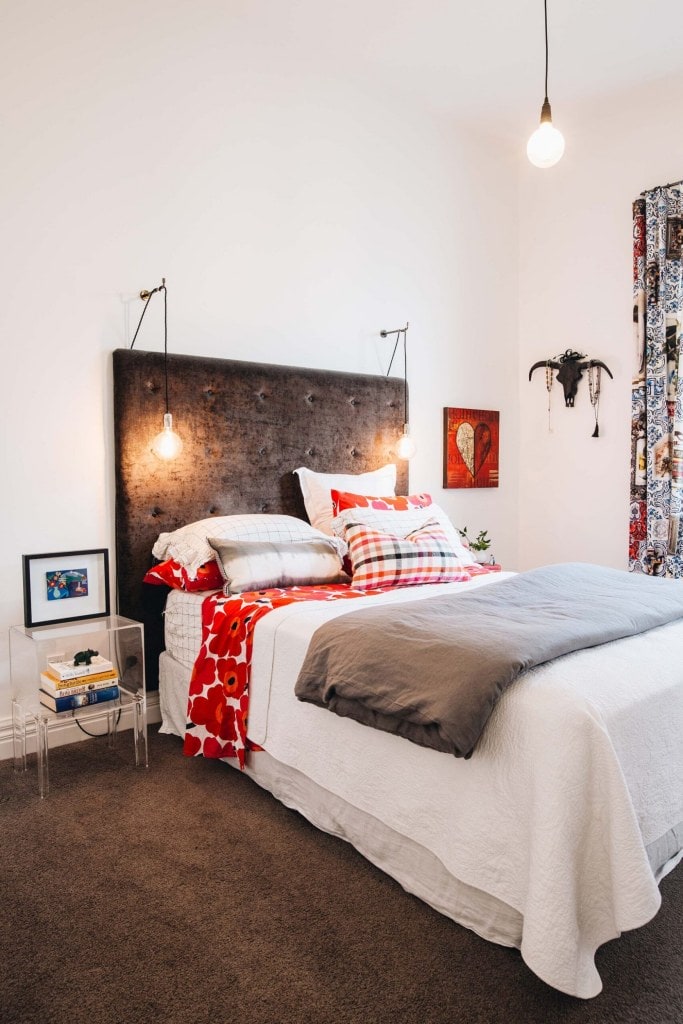 Karen and Pete love to entertain, both at their Wairarapa vineyard and when they're in Wellington, so having a large, practical kitchen was important. Karen opted for a 2.5m-long island topped with Venaro White Corian, while the cabinetry is a mix of plywood and hard-wearing laminate. "The cabinets can get a bit of wear and tear from the wheelchair so we needed something durable," she says.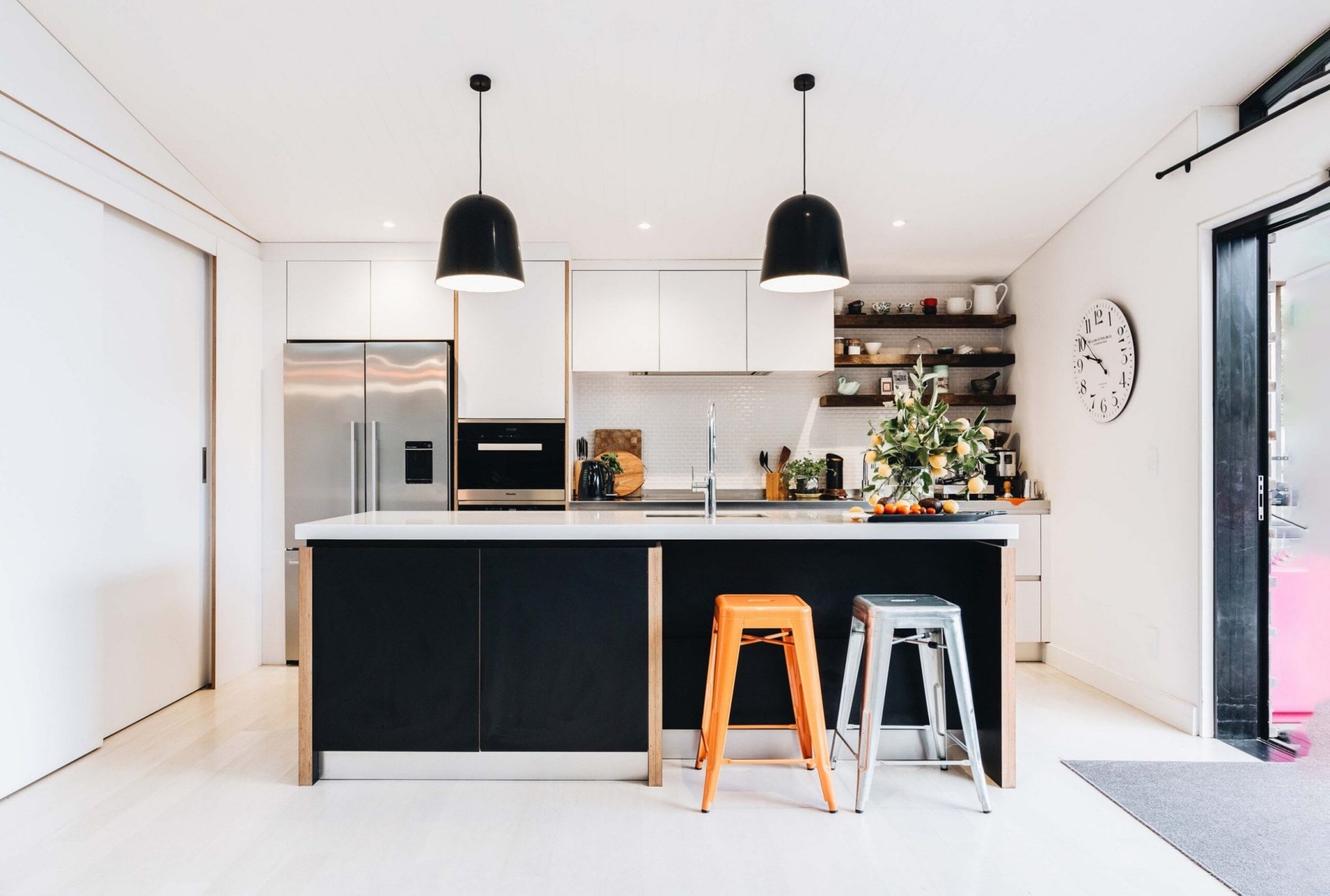 As a diehard coffee drinker, Karen was keen on a dedicated coffee station. She's ended up with a generous space at the far end of the kitchen. The Rocket Espresso machine was a present from Pete, a more recent coffee convert, and the shelving was made from old railway sleepers, for a rustic element.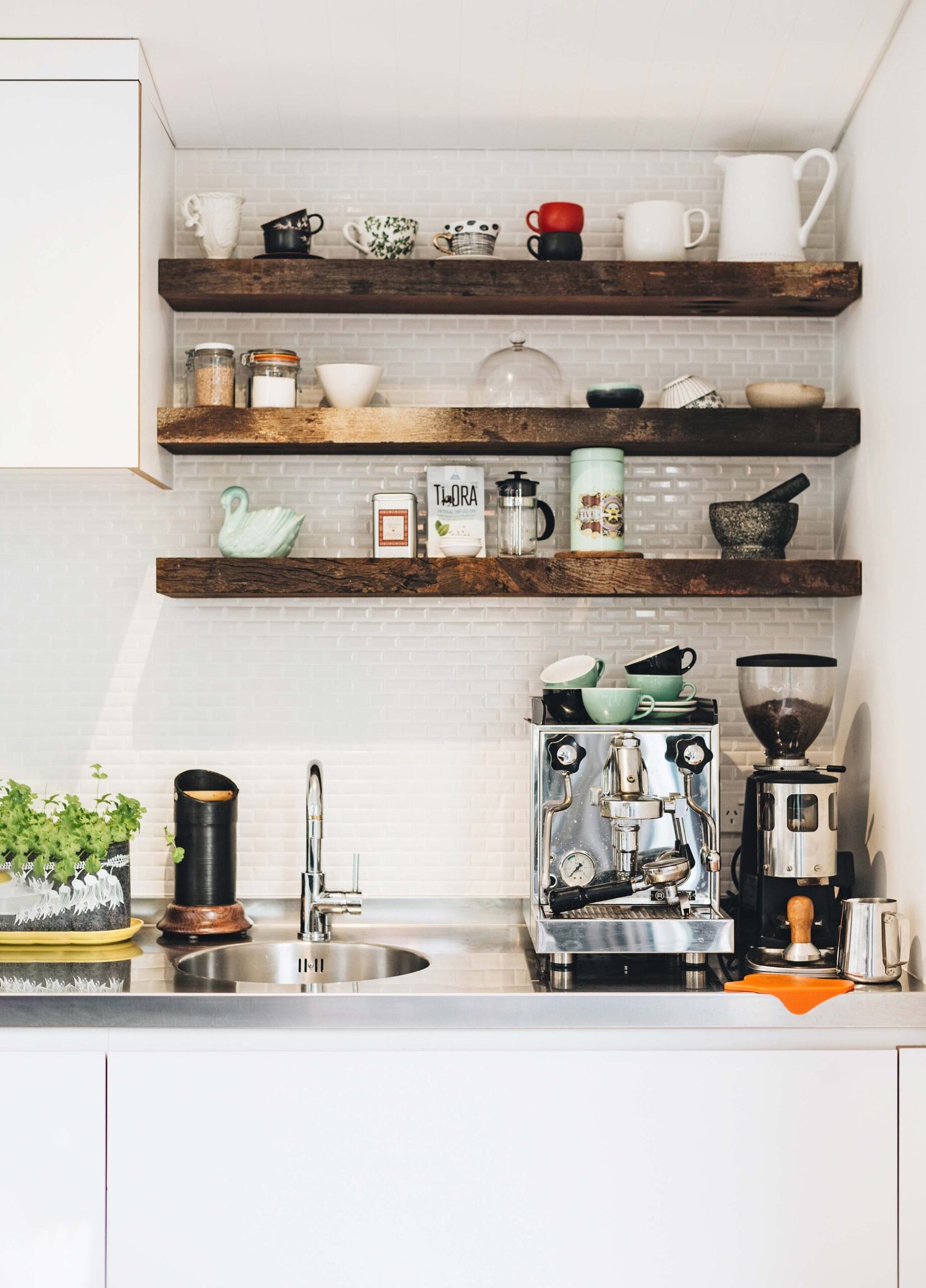 This is a couple that loves New Zealand art and has been collecting it for years. Pieces in the hallway include a block print by local artist Basia Smolnicki and quirky works picked up at affordable-art auctions. A large painting above the fire is by David Teata and depicts the Beehive and a Polynesian-style flower. "Pete bought it from a gallery in Petone and we both love it. It reminds us of this amazing city we live in."
And while the couple will never turn their backs on the capital, one day they plan to base themselves at Ngā Pari, their Gladstone vineyard, which will allow Karen to spend more time at the tasting room she opened earlier this year in Martinborough's main street. "Our winery is a bit off the beaten track, so the tasting room is a way to bring Ngā Pari wine, and wine from our neighbours, Fairmont Estate, to customers. Plus it gave me the chance to renovate the former bakery, which was fun."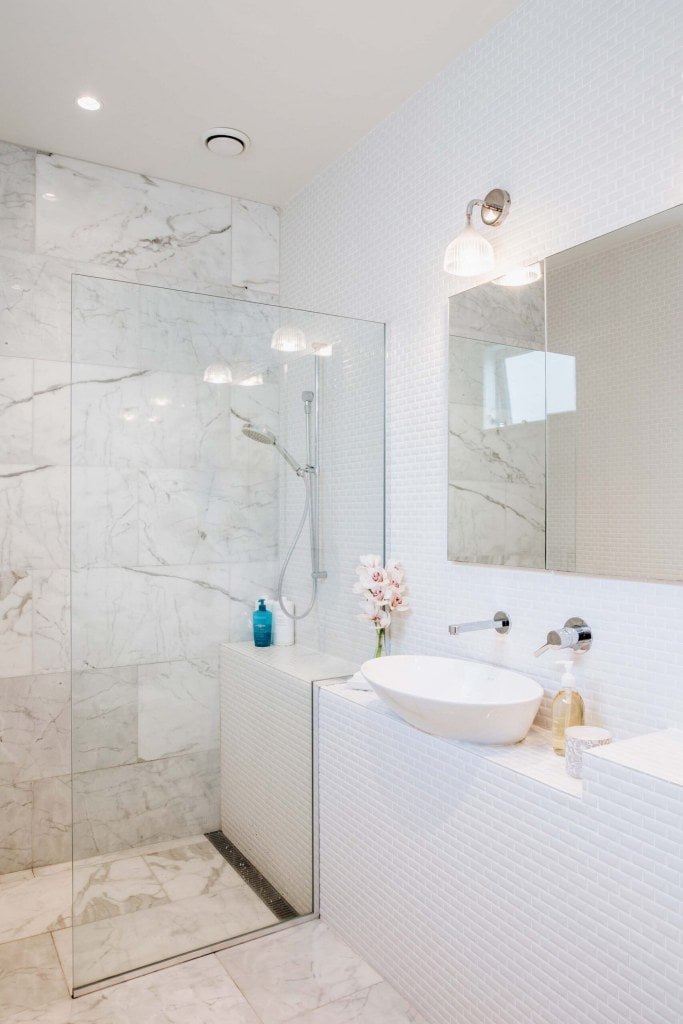 How to mix vintage and modern
When mixing design styles, keep one more dominant. Go modern in your base furniture to keep lines clean. Traditional pieces tend to have more personality, so sprinkle them in as accents.
Try contemporary twists on classic shapes. Kartell's Bourgie lamp is a great example of a traditional styled piece constructed in a modern material.
Use colour to set the tone. Traditional spaces lean towards a warm, saturated palette whereas a modern palette is more monochromatic and on the cool spectrum. Cool white walls bring out the rich, warm tones of traditional furniture.
Mix materials and finishes. Karen has taken an heirloom brass chandelier, spray-painted it black and added different fabric shades for an eclectic twist.
Balance out traditional architecture by painting trims and mouldings the same colour as the walls.