Photography: Helen Bankers
Where do you live? We live in Titirangi on a ridge overlooking the bush sharing the streets with a zillion kererū, ducks, chooks, kingfishers and tui, and one peacock.
What is your house like? It's very sunny! We face north-west up above the trees overlooking a beautiful valley surrounded by nikau, pōhutukawa, and kahikatea. Our house was built in the 1950s and majorly extended in the 70/80s so now it is a three-story wedding cake! It had so many dated features when we purchased, but we are slowly refurbishing.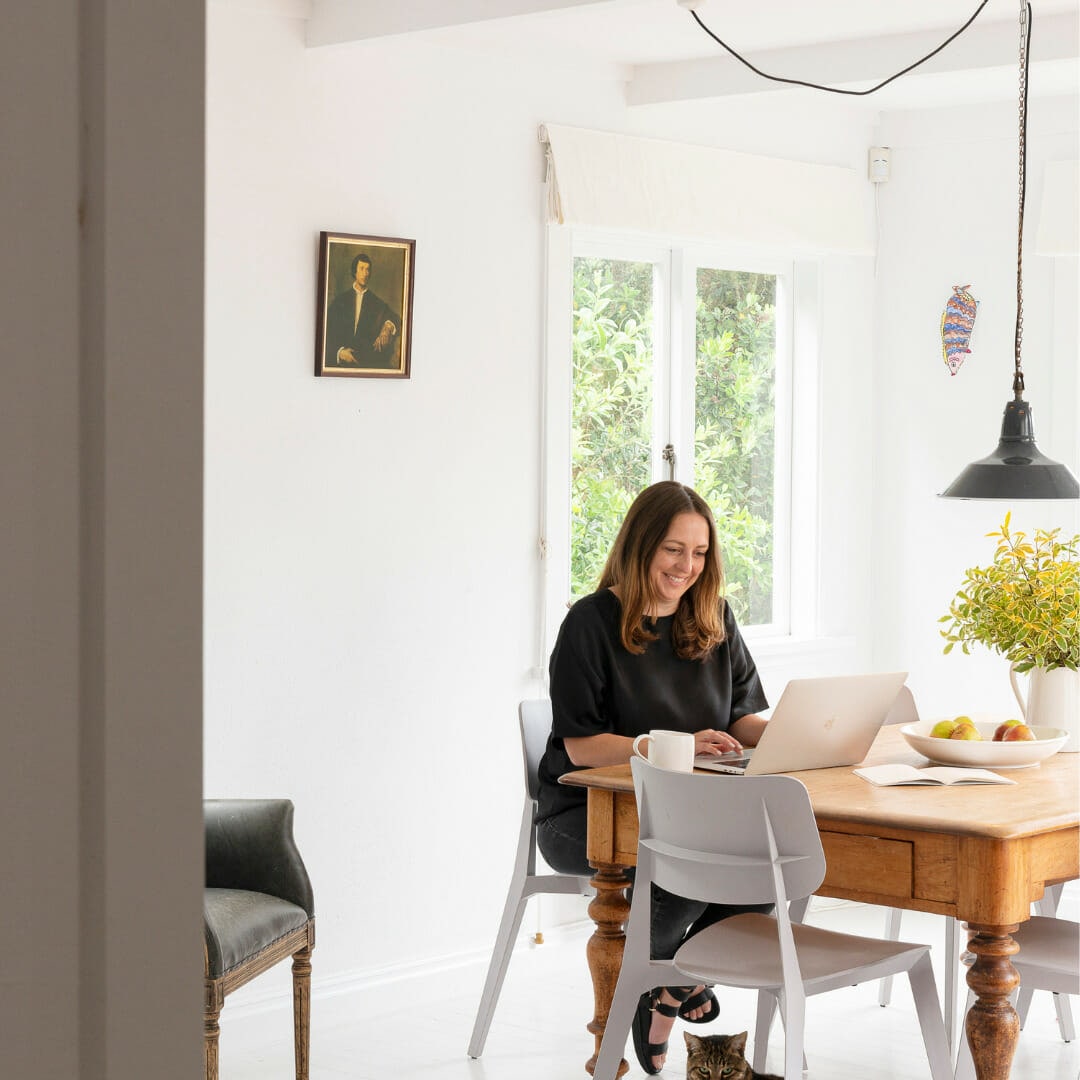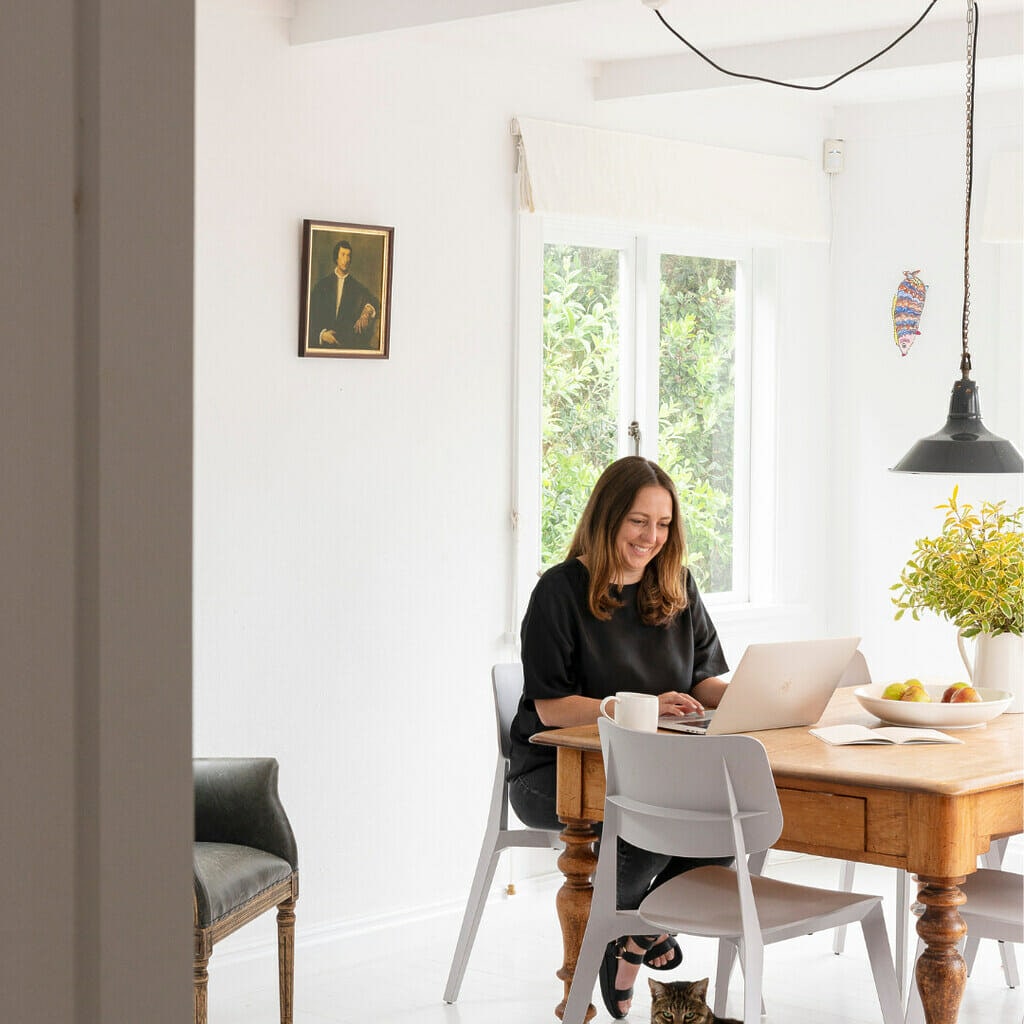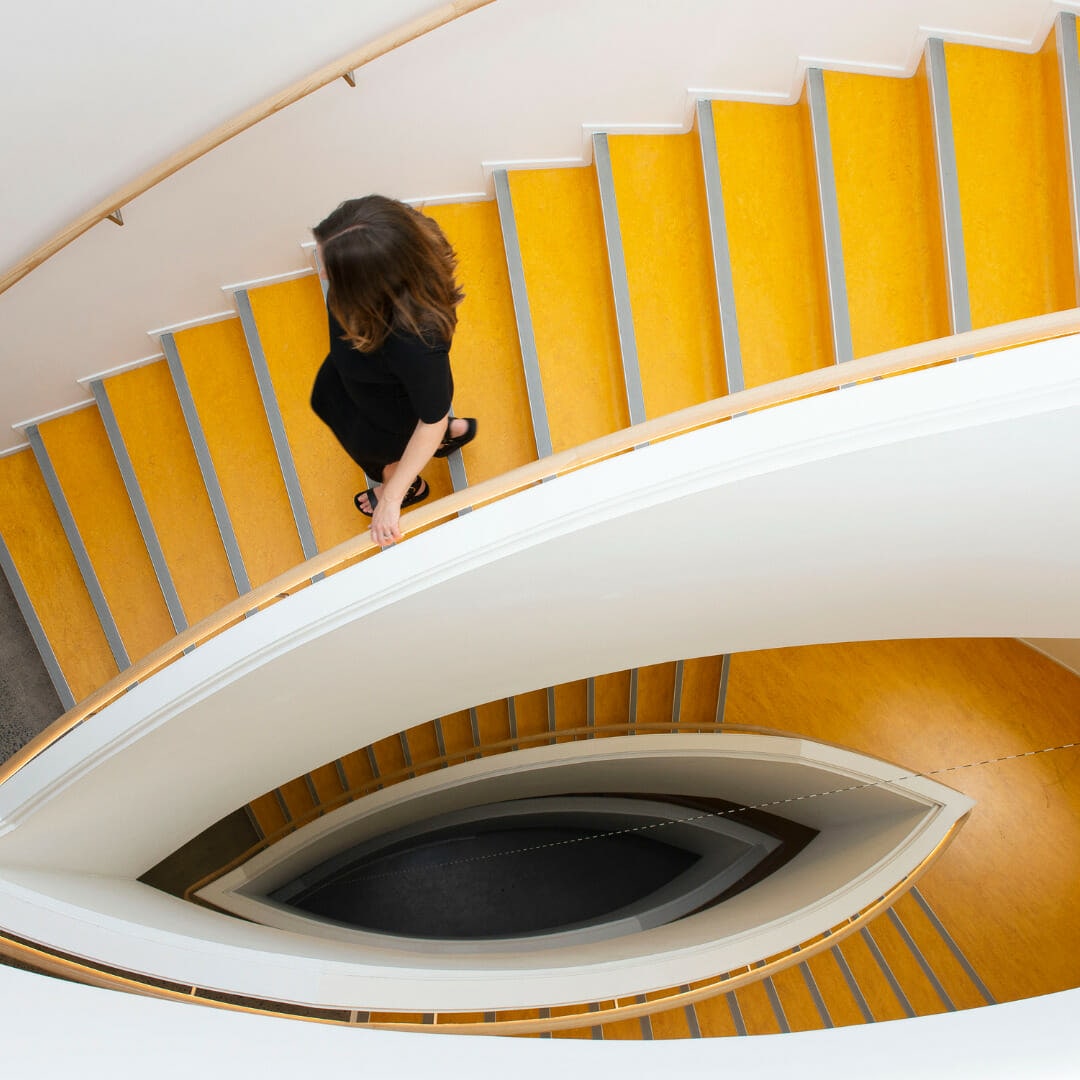 Who lives here? Nick [Hutchinson] and I live here with our two children Tony (11) and Michaela (7) plus our lovely cat Puss Puss.
How important is texture and colour for the interior design of your home? I used to be a professional colour consultant at Aalto Colour and when I was running my interior design practice in Wellington. So colour is extremely important to me. I notice all the shades of white and love unusual colour combinations. We have painted our home white as it's a fussy home with lots of inconsistent details but I bring colour through books, art, cushions and fabrics. Texture is important – it is something I have to remind myself to think about… My first thoughts are always around colour. I love seeing monochromatic schemes that are brought to life with different textures.
Tell us about your neighbourhood. Titirangi is quite an unusual suburb compared to the rest of Auckland. We are surrounded by the bush and we are in between the city and west coast beaches. We feel very lucky to be living in a healthy forest environment. Titirangi has lots of nearby beaches and bush walks. We have market days, an amazing art gallery and lots of places to get a great view of the city and Manukau Harbour. It's so easy to whip over to Cornwallis Beach to kick a ball and also close to Piha so we can get our Murray's taco fix.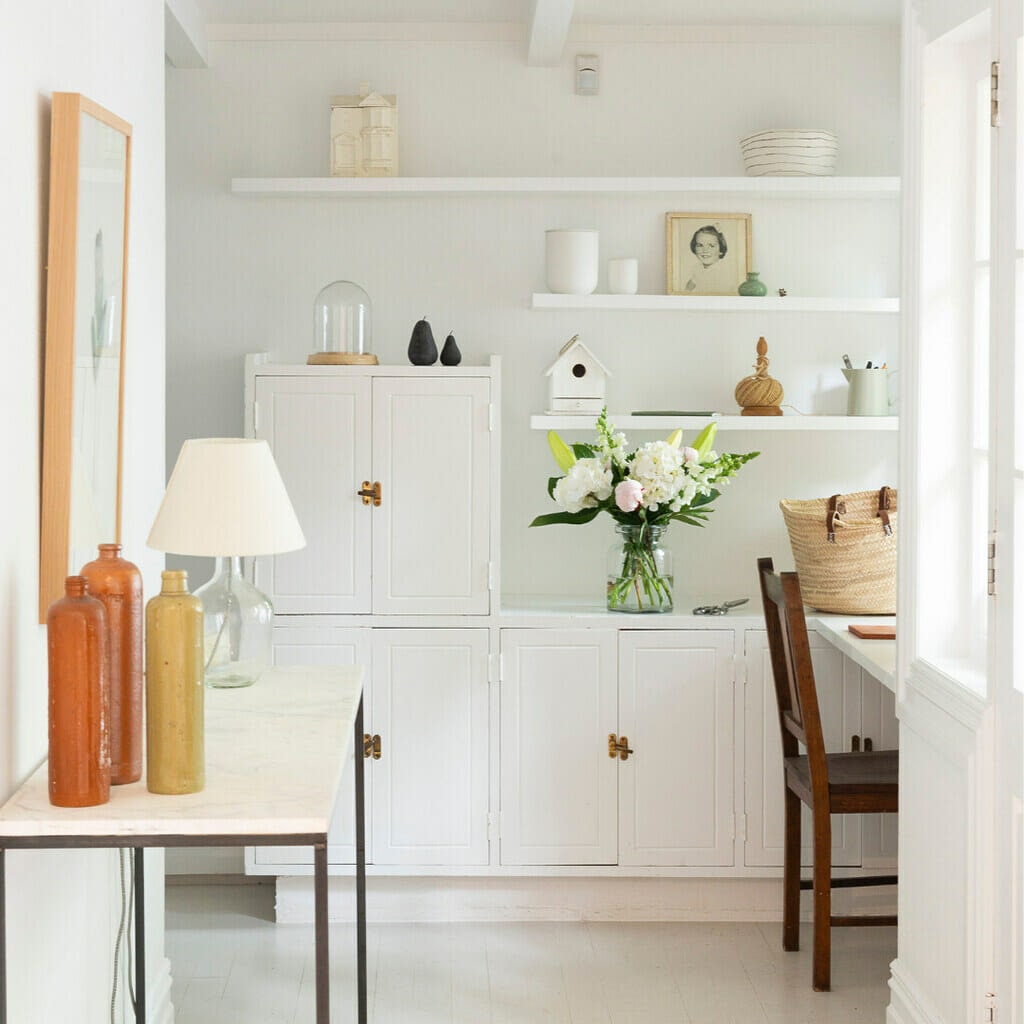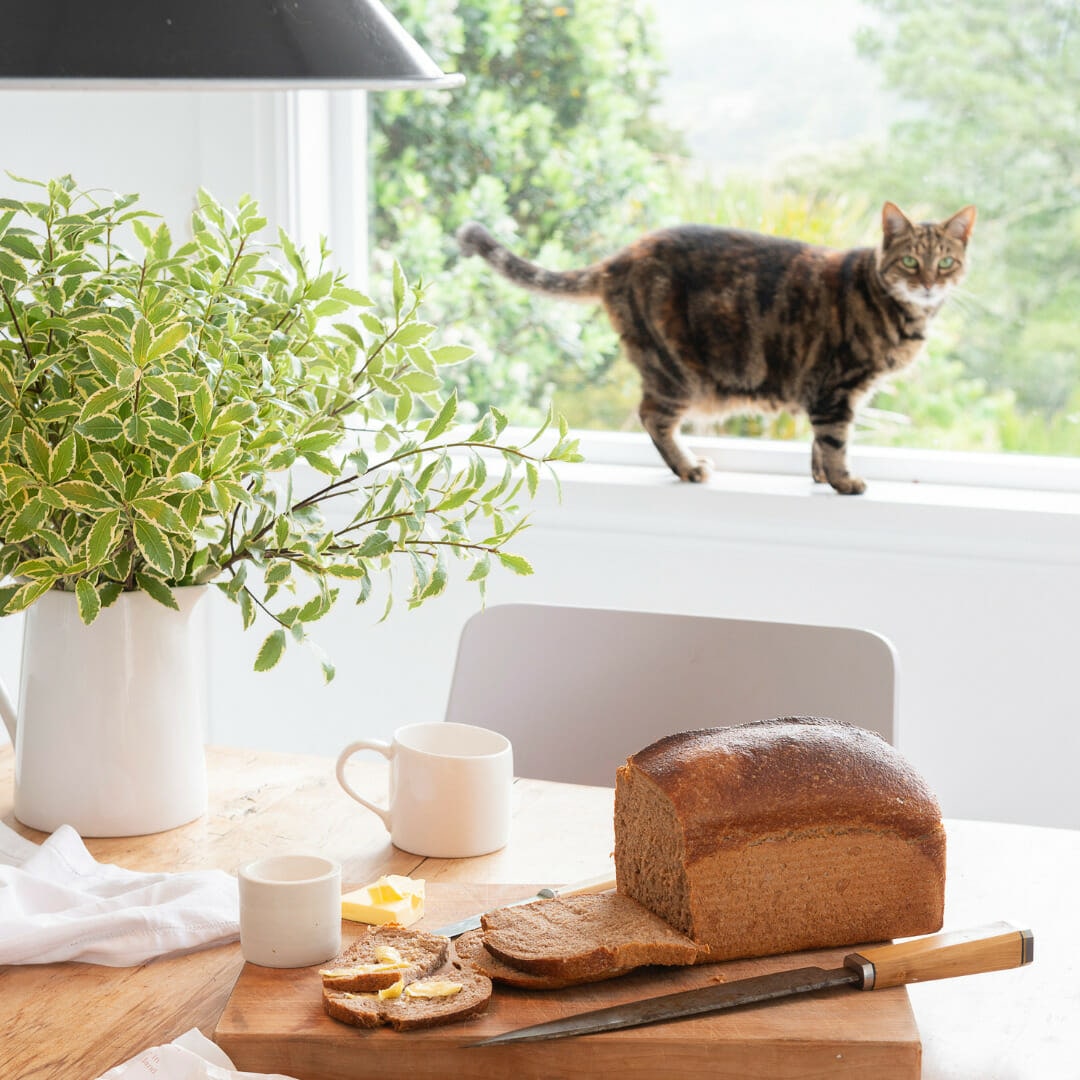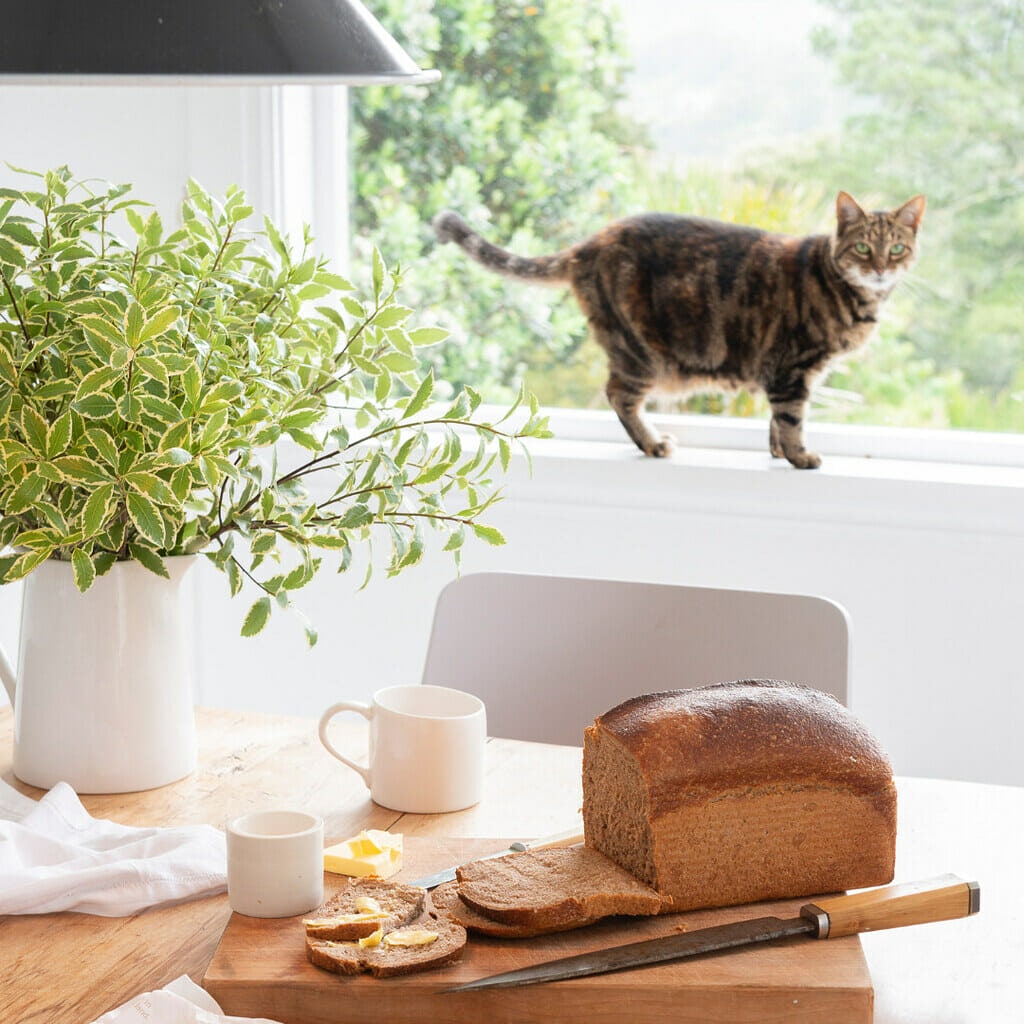 How long have you lived here? We moved from Grey Lynn in 2013 just before my son Tony started school – so seven years now.
What do you love about your neighbourhood? I love that it is very low-fi and easy going. I enjoy the feeling of leaving the city on the way back from work, it feels like you are escaping on holiday. Going for a walk here really feels different. Walking through the forest gives you an uplifting oxygen saturation, it's like the energised feeling you get from an ocean swim.
What cafes and restaurants do you enjoy nearby? We often pop down to Settebello and Musashi Japanese in New Lynn. Kampung Style Malaysian in Glen Eden, and closer to home Soy & Ginger for takeaways.
Favourite spot for a coffee or drink? Like when we are waiting for the school disco to finish?… We all pop up to Deco Eatery for a drink!
Any natural wonders nearby? Other than the beautiful walks and stunning beaches, we love taking the kids to Arataki Visitor Centre to learn all about the natural wonders around us and it's perfect to kill an hour on a rainy day. We love walking on Exhibition Drive and up around the Huia Dam.
Best place to soak up the sun this summer? French Bay!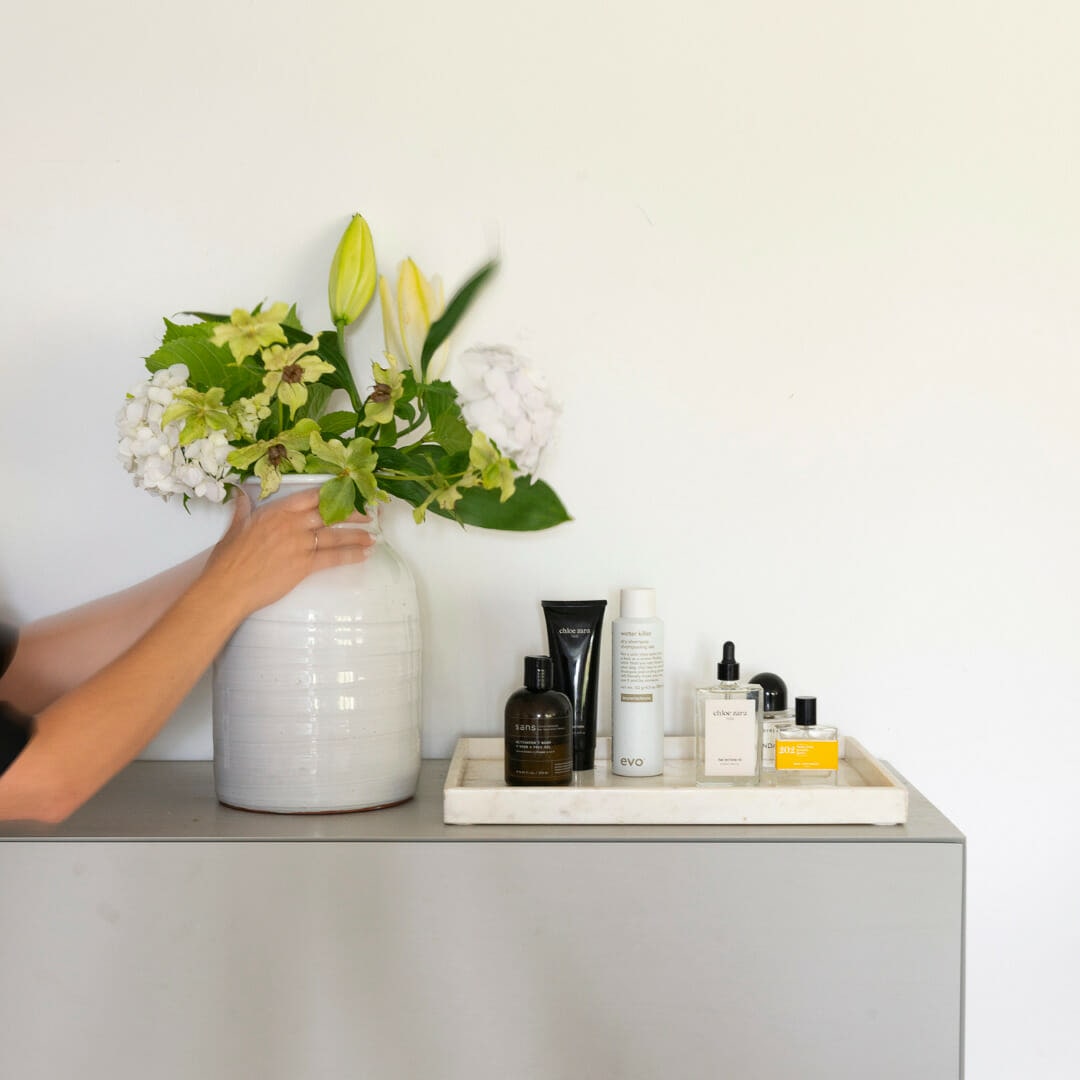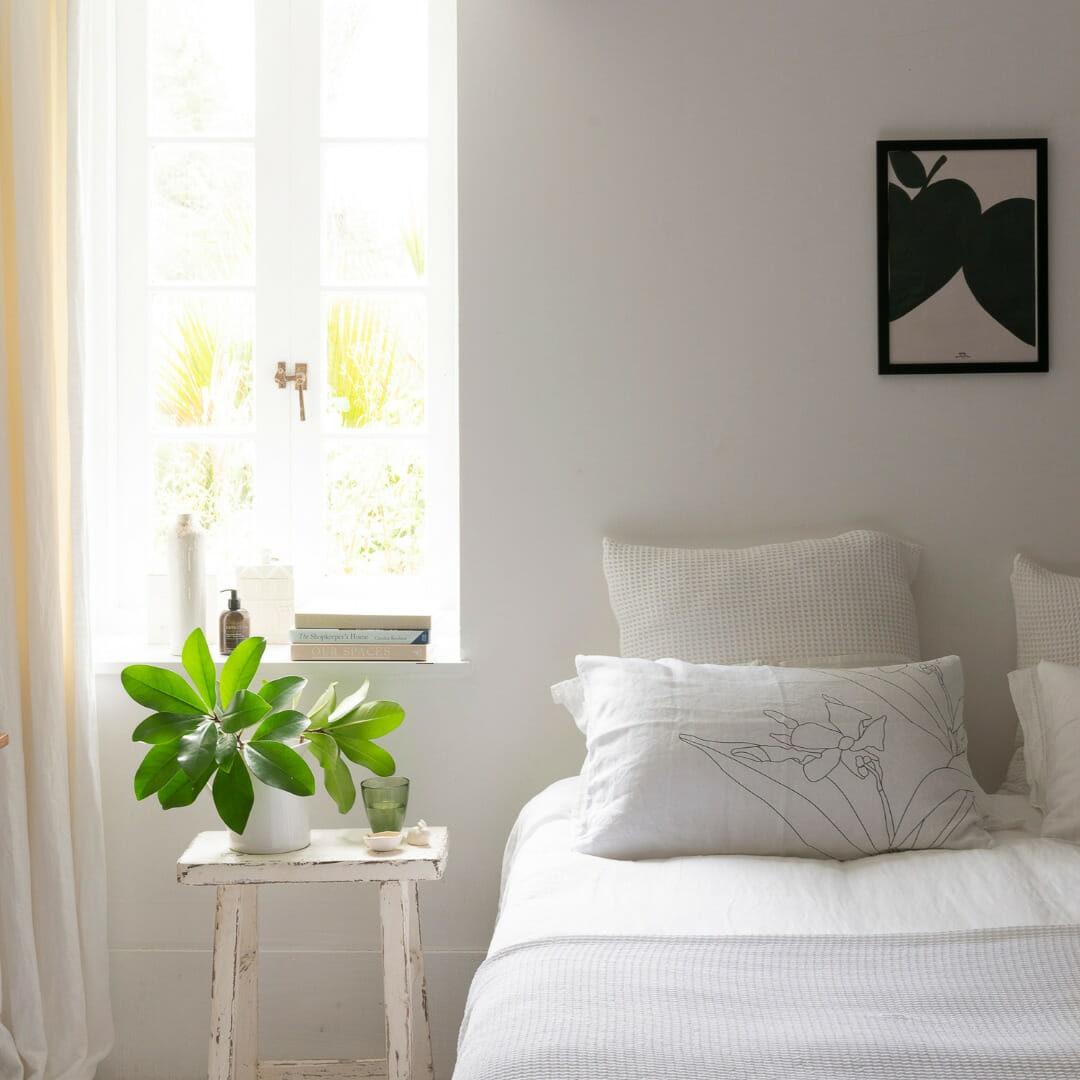 Favourite places to shop? If I'm not shopping at our store, my favourite stores are Blush for flowers, Tessuti for treasures, and Madder & Rouge for those unique interior pieces. 
Where do you take visitors when they come to stay? We often head down to French Bay. There are regular evening food truck markets on the weekend with so many delicious vendors, licensed and amazing gelato and it feels so unique. French Bay is stunning at high tide. My son Tony is down there on Saturdays learning to sail.
What is your favourite memory from living here? Not so great for the poor kererū, but we rescued one from the side of the road and looked after him for the night. They are just absolutely gorgeous. We took him to the nearby bird rescue sanctuary in the morning.
Any top tips or secret hidden spots to check out in Titirangi? Kōpiko Bread bakery offers West-Auckland deliveries – that in itself, is a reason to move here. Also, there is a beach that I discovered in lockdown (probably everyone else knows about it) called Davies Bay. It's a lovely short walk and so peaceful.
How do you balance work and play? When [Nick and I] first began Father Rabbit, we used to compete about who would get to stop looking after the kids and do "work" in the evenings. Now the novelty has worn off and I try to treat it like normal employment. When I'm at home, I'm at home. There is the odd night that I have to do an urgent thing but generally, our goal is to stick to the 9-5, Monday to Friday. We also don't have an office set up at home so we have to go to work which helps with the work/life balance.
Where is your office, and what does it look like? Our office is in Morningside. It's an old industrial warehouse that we have painted it all white as again it's not perfect at all, so painting it all white hides a lot of blemishes! It is very light filled. We have our desks, photography area and online packing all in the one area! It's an open-plan space and very busy!
You must always be looking at beautiful things for your Father Rabbit stores, what do you look for when deciding what to stock? I look for a good brand story or a sense of nostalgia. So many timeless products have been around for generations. I want them to be well made, practical and provide solutions to our customers. With clothing or footwear, I look for items that are beyond one fashion cycle. You could wear them time and time again, year after year. A lot of Father Rabbit products end up at home but not everything! I do like a layered interior with finds from lots of different places. So I interweave our products with art and interior pieces from other stores. I don't want it to look like I live in a showroom.