A Canterbury couple have worked miracles on a rundown parish hall to create a divine light-filled retreat for two.
Not many people would have driven past the old Anglican church and parish hall, seen its rotten walls and forlorn air and thought, "That could be a modern, New York-style loft."
But Caleb and Natalie Paterson aren't most people. That's why the Canterbury couple took a deep breath and ploughed their life savings into the project, buying the Hawarden church and adjacent hall in early 2019, two years after the church was deconsecrated.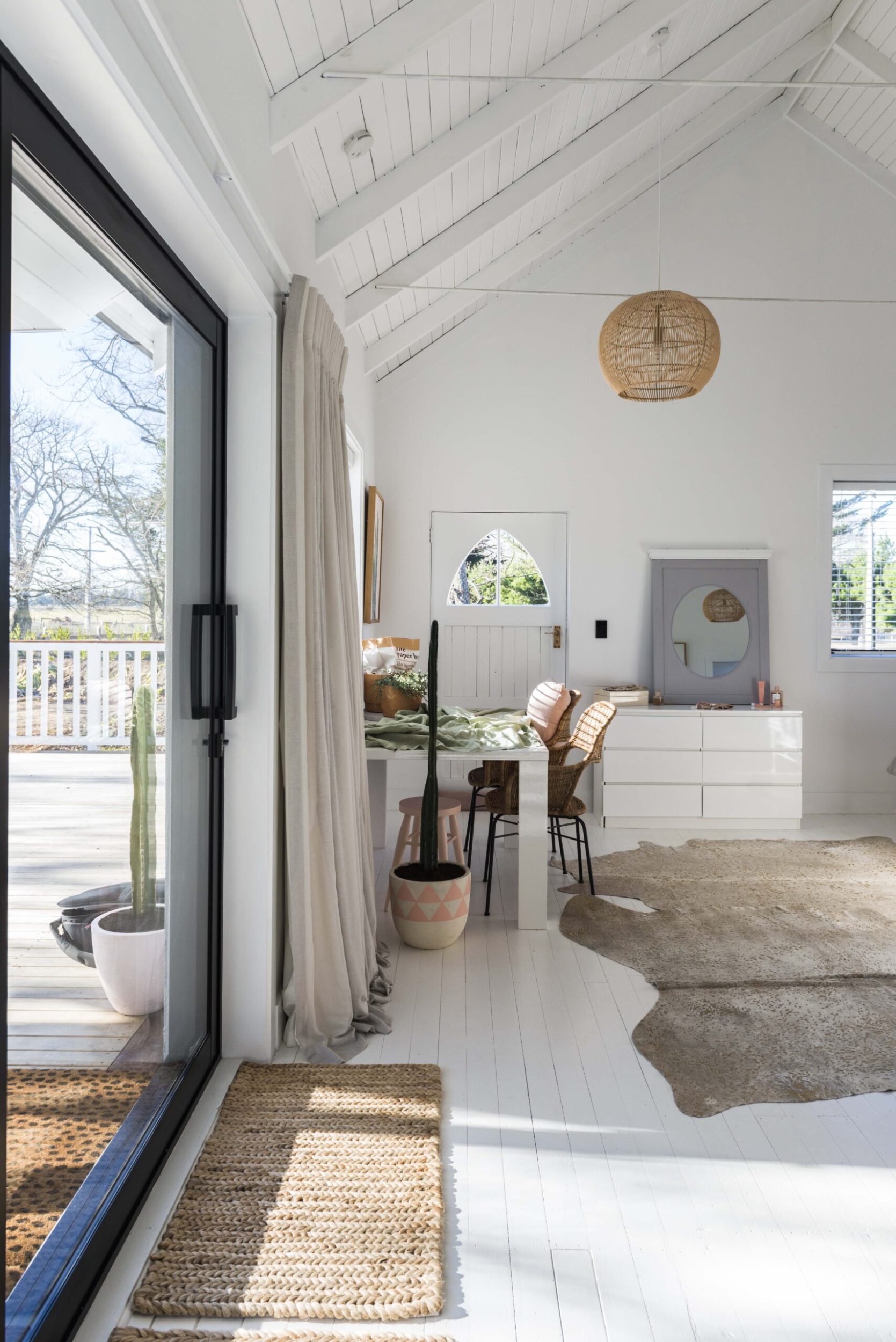 They weren't totally crazy – Caleb is a carpenter and knew he could do most of the renovation work himself, and Natalie works part-time, as a community-development facilitator, so also had capacity to roll up her sleeves.
The couple had also spent five years renovating their previous house, a bach at Woodend Beach in Kaiapoi, so they knew what they were doing.
They weren't actively looking for a new home on the fateful day they drove past the former St Columba Church and hall in the small settlement at the foot of the Southern Alps, about a hour's drive from Christchurch.
"But we saw the buildings and the 3000sqm rural section and realised it could be a great home and Airbnb," says Natalie. "It's on the road to Lake Sumner and there isn't much accommodation out here."
After selling their previous home to finance the purchase, they moved in with Natalie's parents on their sheep farm for two years while they tackled the project. Despite their level of experience, they certainly had their work cut out for them, and the renovation caused a few sleepless nights – for starters, there was no running water or septic system. "There were two long drops on the property that churchgoers must have used," says Caleb, with a laugh.
"We decided to tackle the 70sqm parish hall first," says Caleb. "But it was in such a bad state that everything had to be rebuilt. The floor, the cathedral ceiling and the back door are the only original features."
Natalie had spied Christchurch architectural designer Barry Connor's work on Instagram, and he jumped at the chance to rework the parish hall.
"We do a vast range of projects but how often does something like this come along?" says Barry, whose work on the home was commended in the ADNZ Resene Architectural Design Awards. "Breathing life into a 1955 building was an exciting challenge." His brief was to preserve as much of the historic charm and notable original features as possible, including the 4m-high cathedral roof and Gothic arched door, and to retain the open-plan format.
"I love clean lines and open spaces, so the brief was to keep the living, sleeping and dining areas as one big uninterrupted space," says Natalie.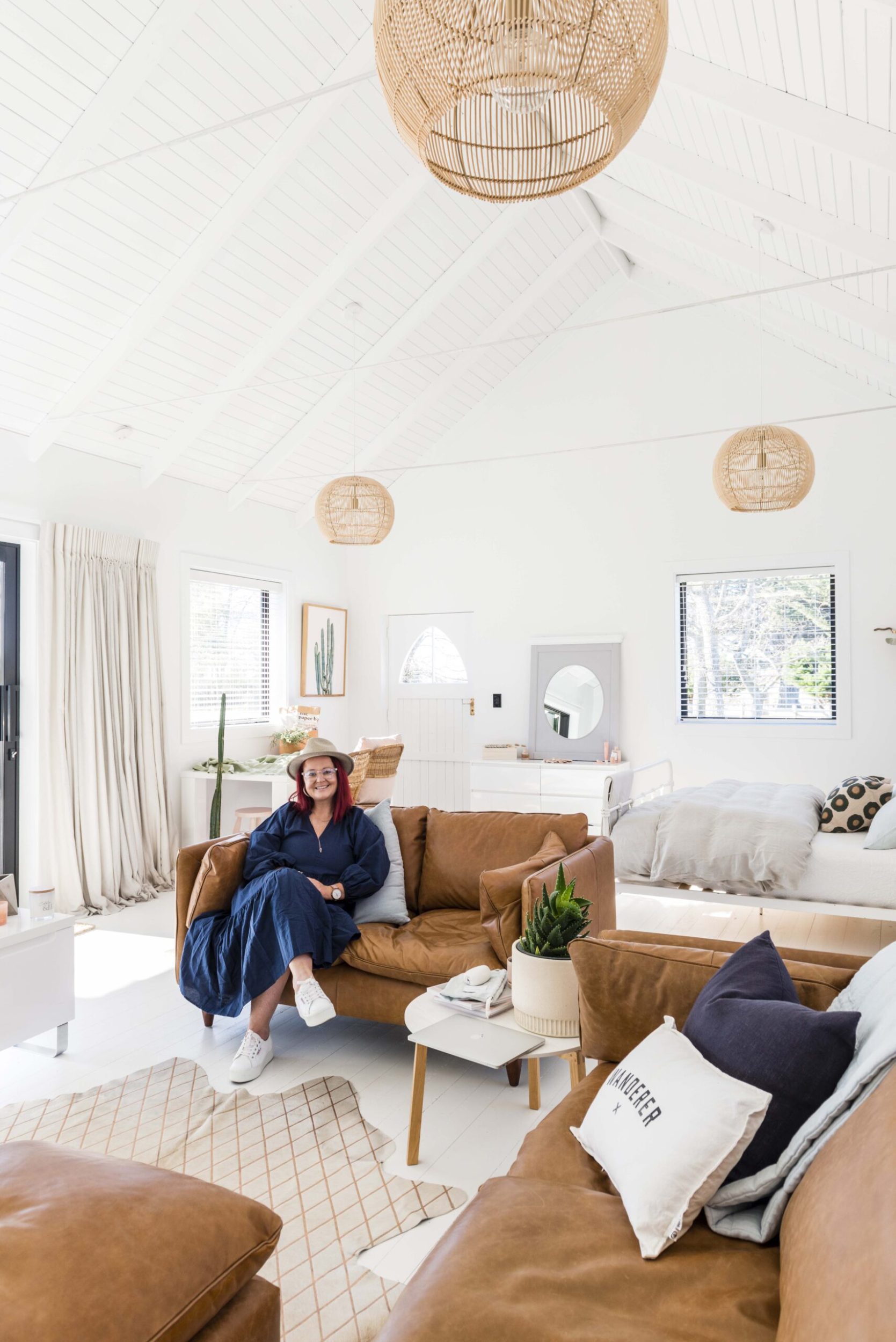 That meant having no walls around their bedroom. "Caleb was keen to create a conventional bedroom but I thought it would block off the space. I won that fight but he's since come round to the idea."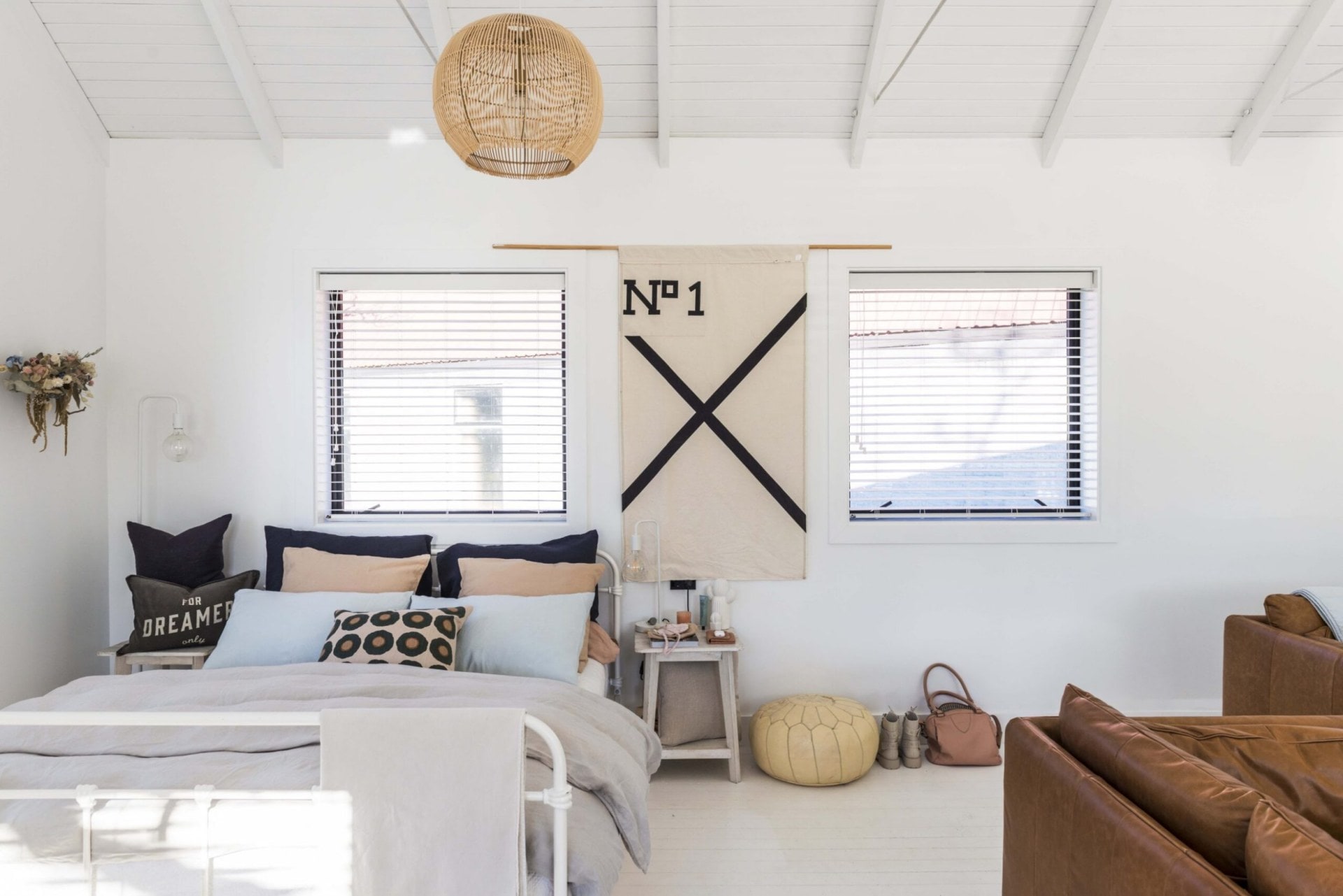 While last year's nationwide lockdown wasn't kind to everyone, the couple used the five weeks to complete the bulk of the renovation work. That included Caleb spending 10 days up a scaffold laboriously painting the formerly dark rimu ceiling in four coats of white paint. They also painted the rimu floors white to create the light, bright canvas Natalie was after.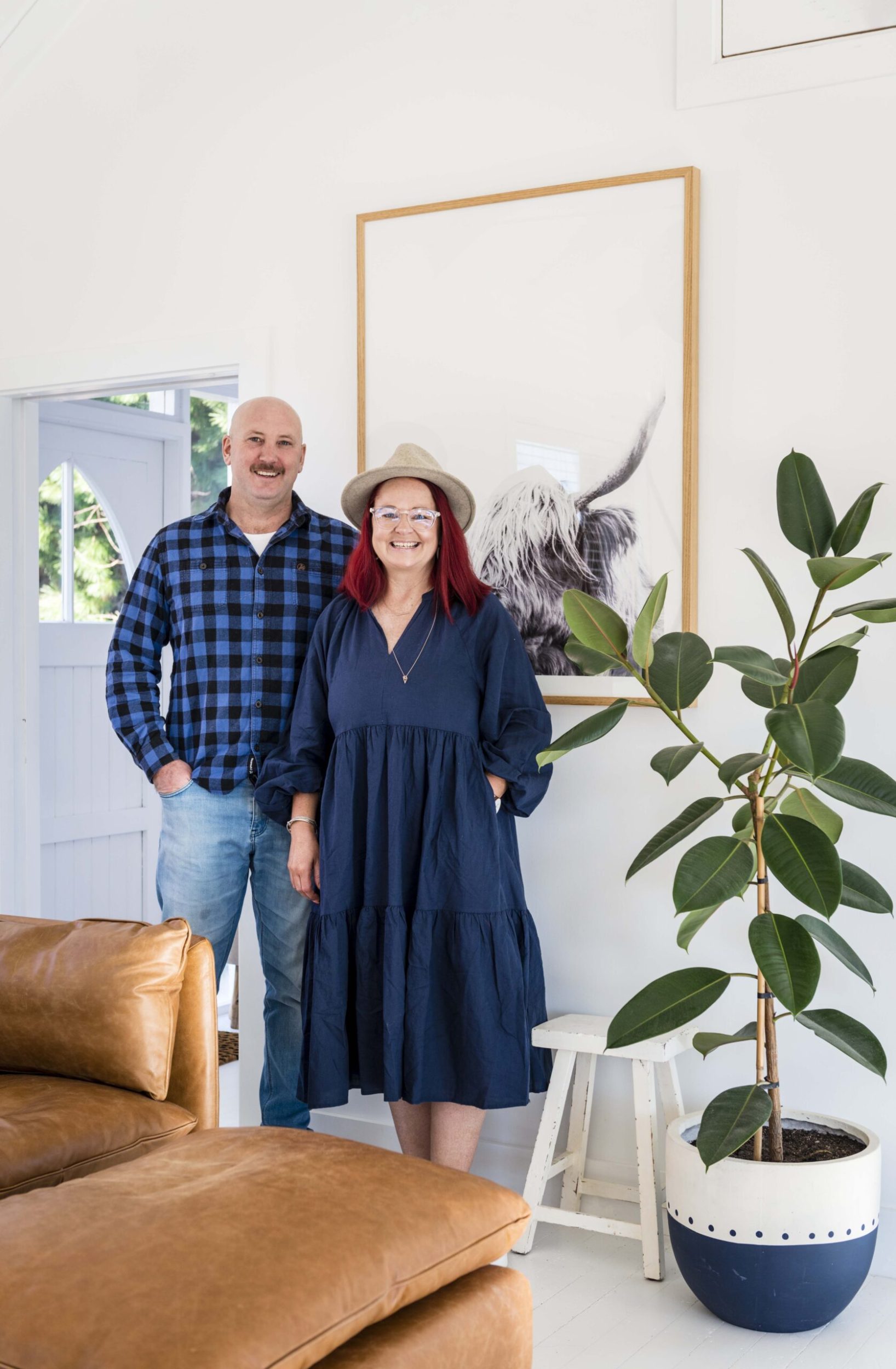 The biggest change to the space happened at the western end of the building – the large parish hall kitchen was carved up into a separate bathroom, mudroom and kitchen.
An interior wall with an old servery hatch was demolished to create a surprisingly spacious kitchen. "Our previous kitchen was tiny and I love baking, so I wanted lots of storage and bench space," says Natalie.
She called in the experts from Millbrook Kitchens in Rangiora, who met her brief with glossy white cabinetry, a stone benchtop and copper accents such as tapware and the trim around the tiling. They also created space for a washing machine as the home doesn't have a dedicated laundry.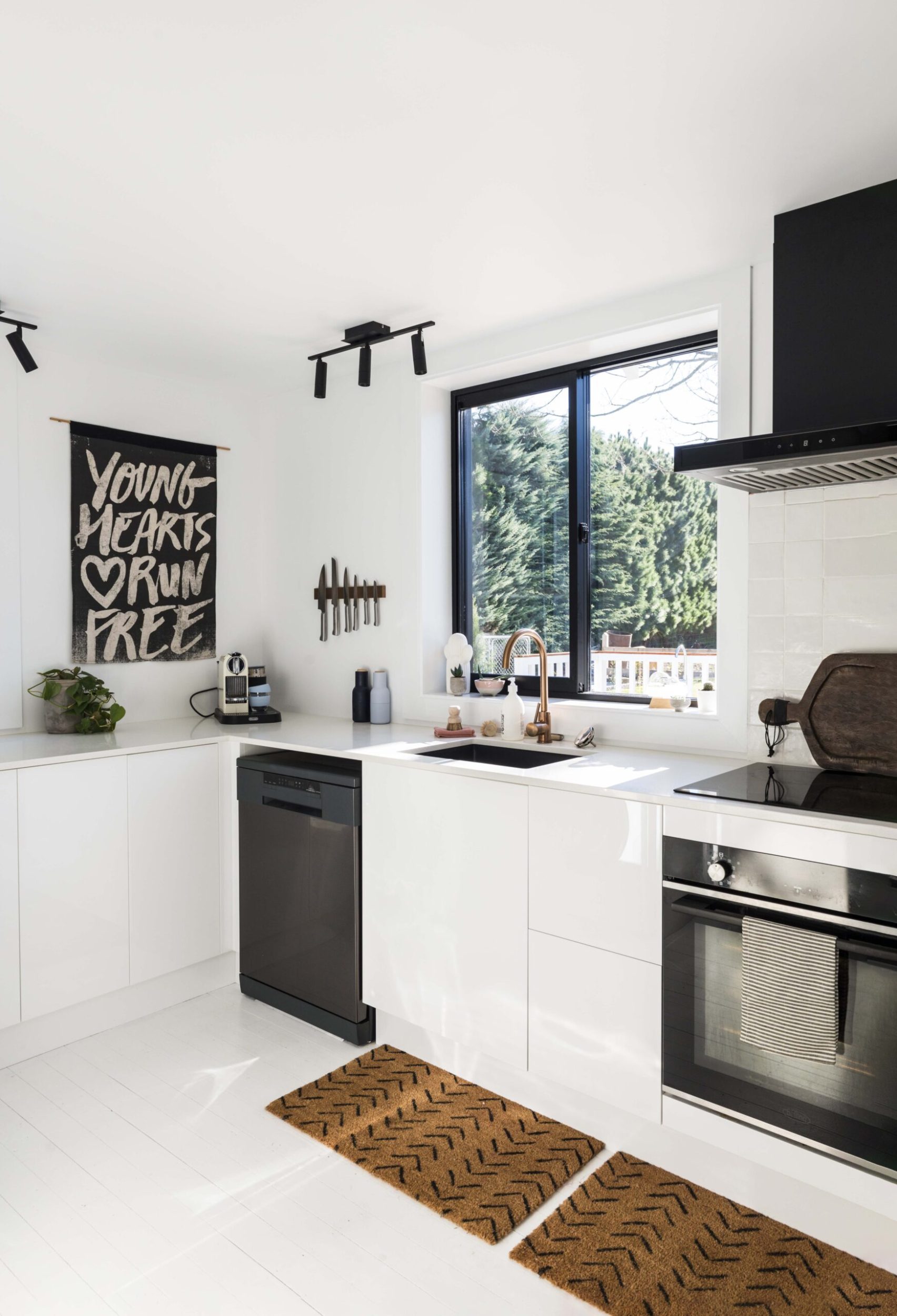 Around the corner is the entrance/mudroom, where a bank of cupboards houses coats and shoes. Turn left and you're in the compact black and white bathroom, where large concrete tiles give the impression of a funky concrete floor.
When it came to furnishing the space, the couple realised that while most of their previous furniture would fit, they needed larger couches for the living area. They also had to go big on the artwork. "The scale of the walls and ceiling is so large, it needed statement pieces," says Natalie.
That includes a wall hanging from Australian homeware and art company Pony Rider above the bed and a framed Highland cow photo by Canterbury artist Amanda King.
Outside, the couple cleared the overgrown garden to create a large decked area. Much of Caleb's work as a self-employed carpenter focuses on outdoor building, so he was in his element designing and constructing the 15m x 15m decking that leads from the living room. A tongue-and- groove ceiling was added to the covered deck
to echo the parish hall's ceiling, and Caleb also installed an outdoor bath.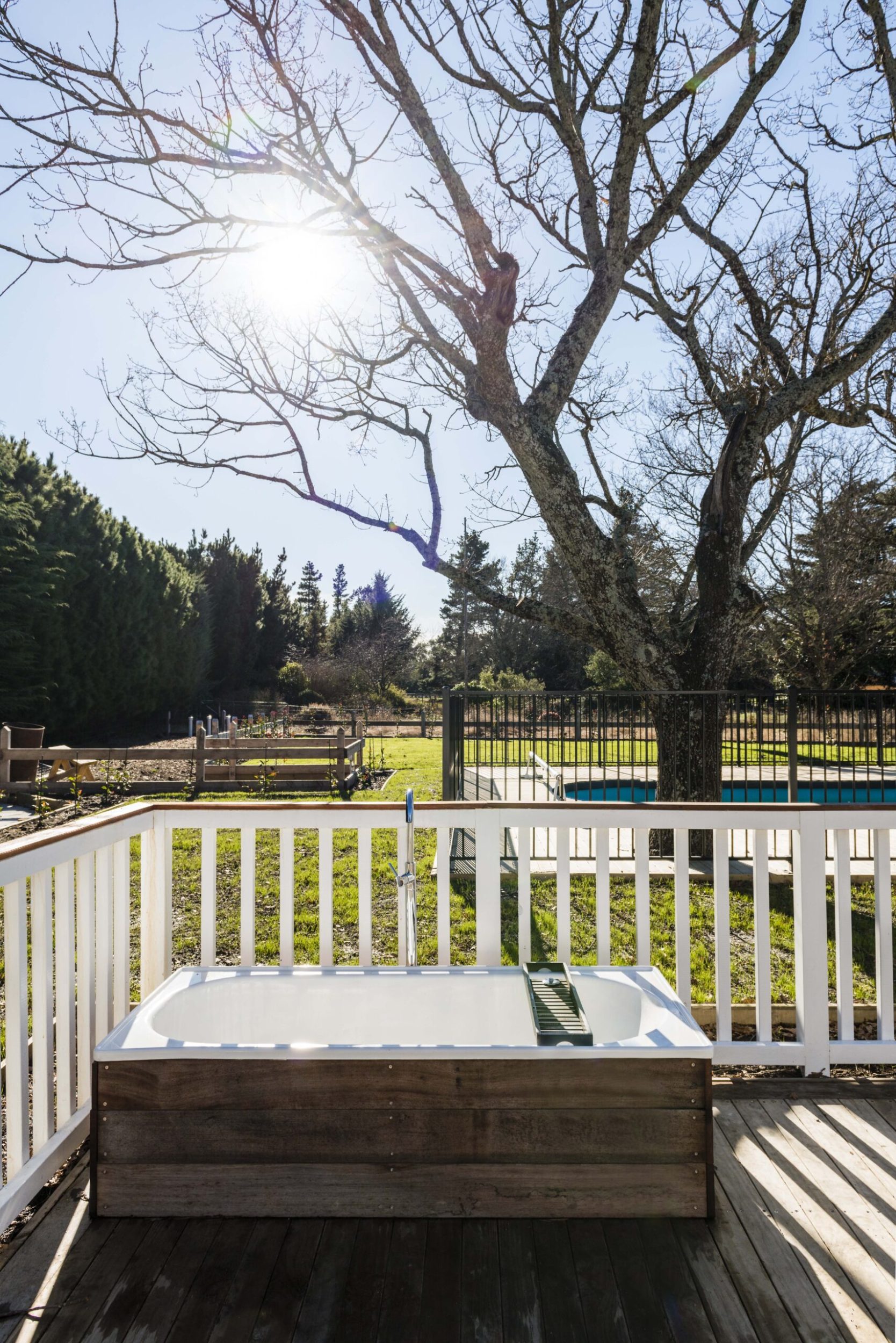 Although they hadn't planned on having a pool, council requirements meant they had to have a source of water in case of fires. "We could have added ugly water tanks but instead we decided to install a pool, which we can enjoy but can also be used to pump water from in case of fire."
The couple are currently adding the final touches by landscaping the property. "The aim is to create an English-style garden in keeping with the Anglican church, so we're planting roses, lavender and agapanthus," says Natalie.
But their hard work isn't over yet. Future projects include turning the mezzanine level (currently accessible by a trapdoor above the kitchen) into a bedroom or study, and next year they plan to tackle the church.
Originally built in 1904, the 220sqm church was rebuilt in 1963 after a storm blew it over. The couple want to apply their magic touch to it, turning it into a three-bedroom home they plan to rent out as holiday accommodation.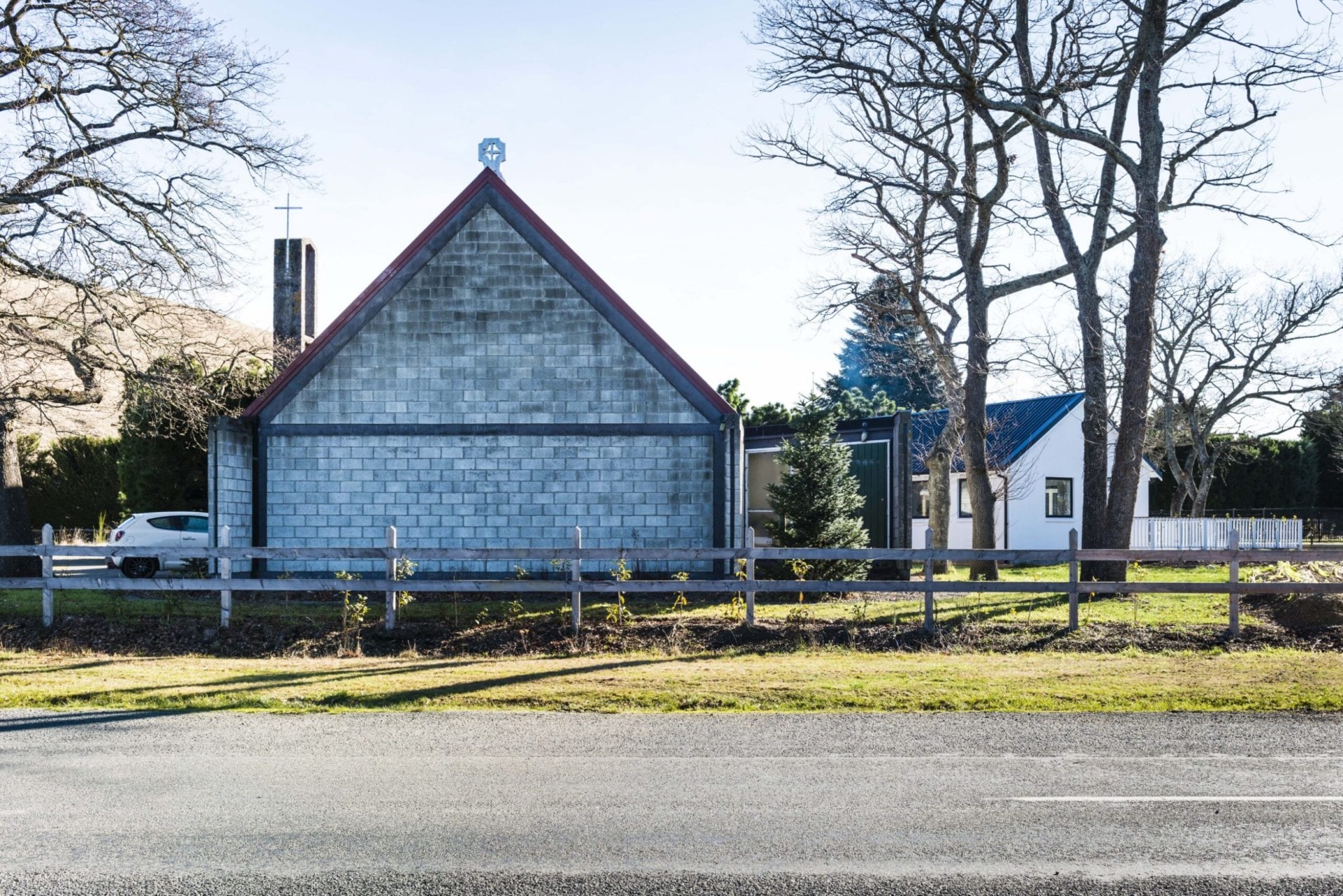 "This was a bigger challenge than we thought it would be but we're excited to start the next phase of turning the church into a lovely home," says Natalie.