Life in a former bach at Papamoa Beach offers ceramicist Suzy Granger a relaxed blend of creativity, community and natural beauty.
Who lives with you?
Four whānau. Husband Warren and I share our home with daughter Poppy and her husband Jake. Poppy is a designer and Jake is an art handler and picture frame maker. Our eldest daughter Zhoe is an artist living in New York City but she loves Papamoa too. Yoshi the mini foxy also lives with us and enjoys having people around to give him love and take him for beach walks.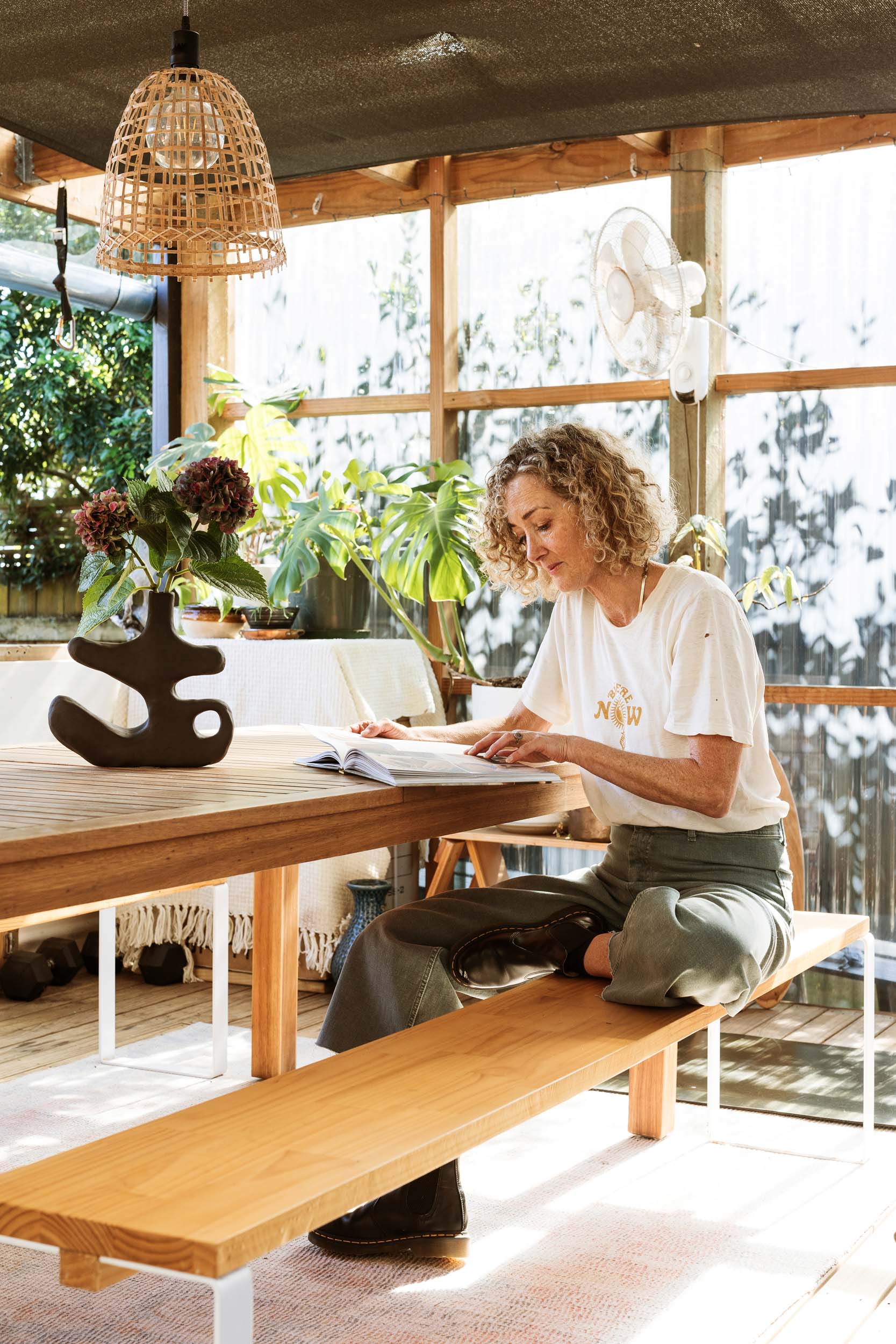 What's the home's history?
It began as one room with a bathroom in the 1970s and has been added to along the way. When we bought it 10 years ago, we loved its small size and humble Kiwi beach bach feel. Each time we make changes to it, we prefer to do much of the work ourselves or ask Colin, our neighbour, for help. So everything, including renovations, furniture, ceramics and artworks, has been made by friends or family. Warren has just built a covered deck, with French doors leading from a cosy nook out to what is our go-to hub at the moment. We all gather there for meals and it's Yoshi's favourite morning sun spot.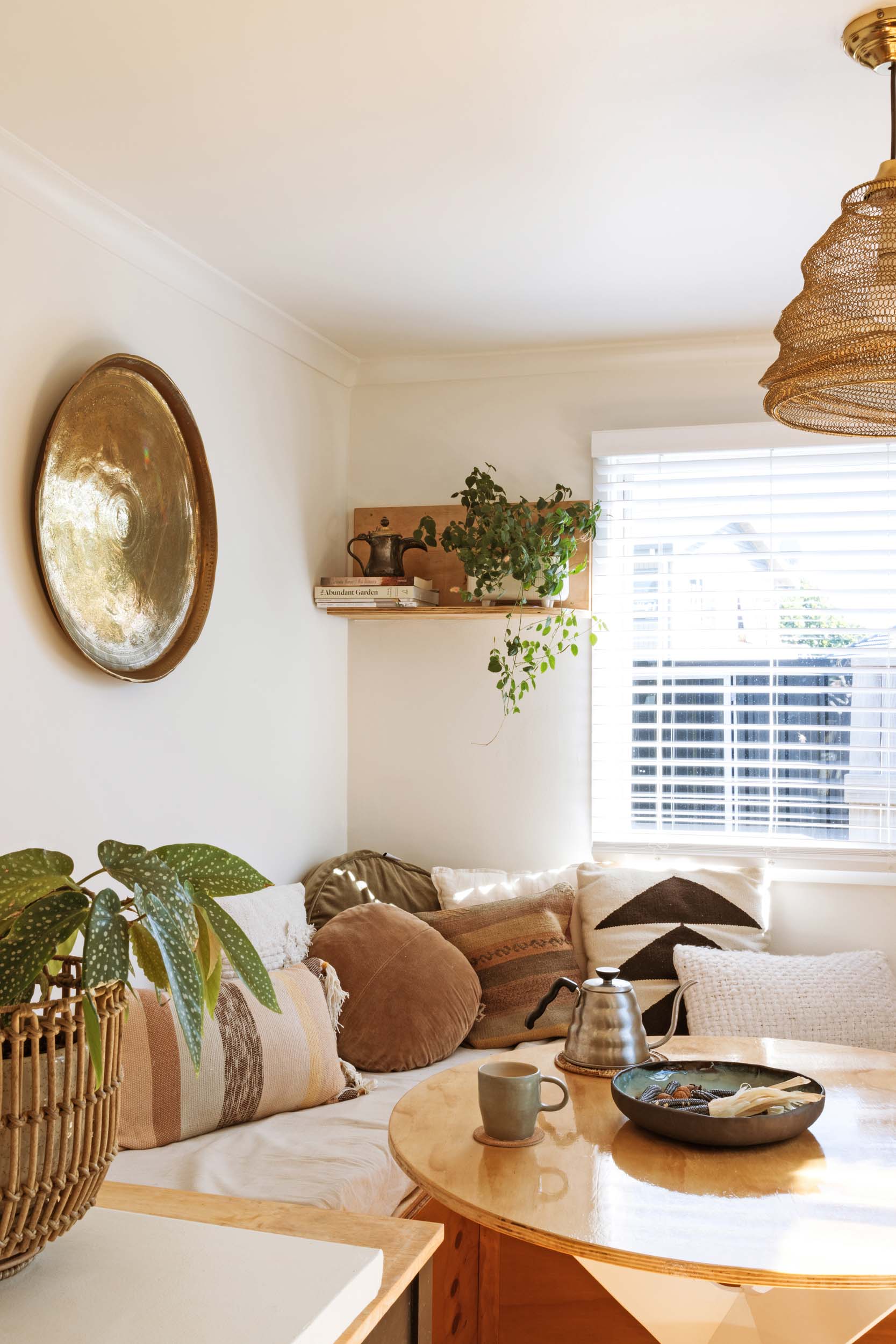 How have you furnished it?
With lots of handmade pieces and thrift store gems. There are some new pieces thrown in too, such as the Hans Wegner Shell Chair and the Sori Yanagi stool. My favourite treasures include antique heirlooms from my mum and dad's travels, such as the brass bed warmer, the Turkish coffee pot and the antique ostrich feather fan that Jake framed.
What about the garden?
I love our garden because it is so connected to the house. It is small but functional and feels very integrated with the way we live. We have compact fruit and vegetable gardens and I love the wild flowers that have gotten slightly too wild this summer. Our outdoor bath is used regularly in the cooler months – there is nothing better than watching the stars from a bathtub.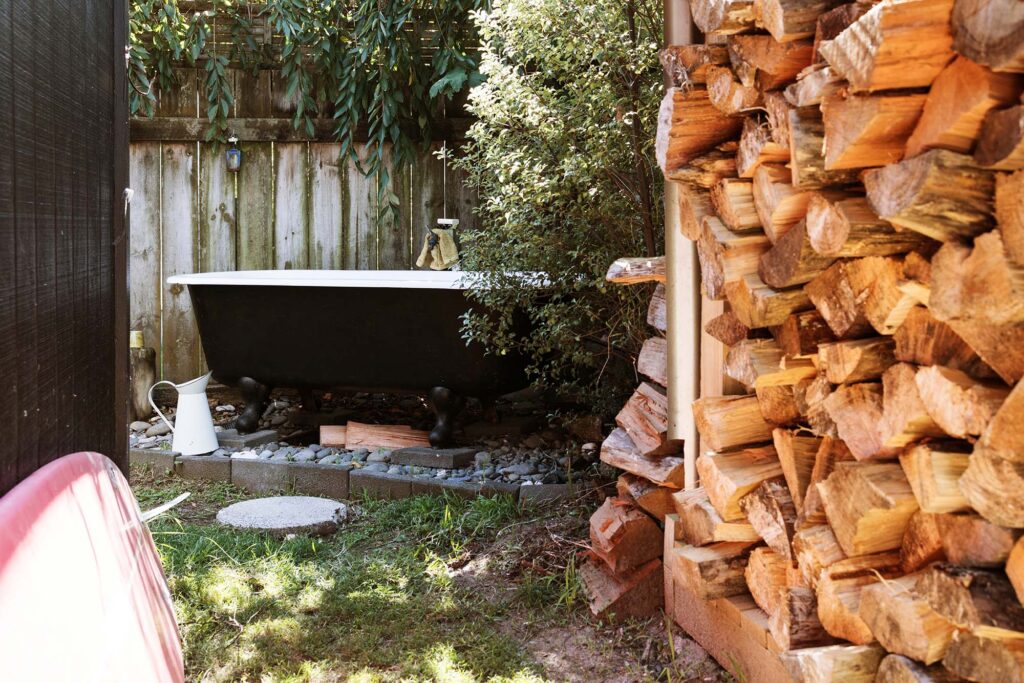 What's the best thing about living here?
Proximity to the beach. It is so precious to us. We all spend tons of time using it, either surfing, walking, swimming, kayaking or just sitting and watching the sea. Early evening or late afternoon is best. It's the golden hour. But every one of its moods is stunning, whether it's sunny or cloudy or stormy. Last night, we sat in the domain and had fish and chips, overlooking the ocean.
How does working from home work?
My studio, in a converted lean-to next to the house, is where I make all my ceramic work. It has clear café blinds on two walls so I can have fresh air circulating during summer. When it rains, I just roll the blinds down and it is like being in a bubble. I have my wheel set up there and a workbench for hand-building larger vessels. My kiln is housed next to the house, in a shed. Working here means there's always creative input from the family – they all help in various ways. It's also soothing to look out on the garden and see the bees buzzing around.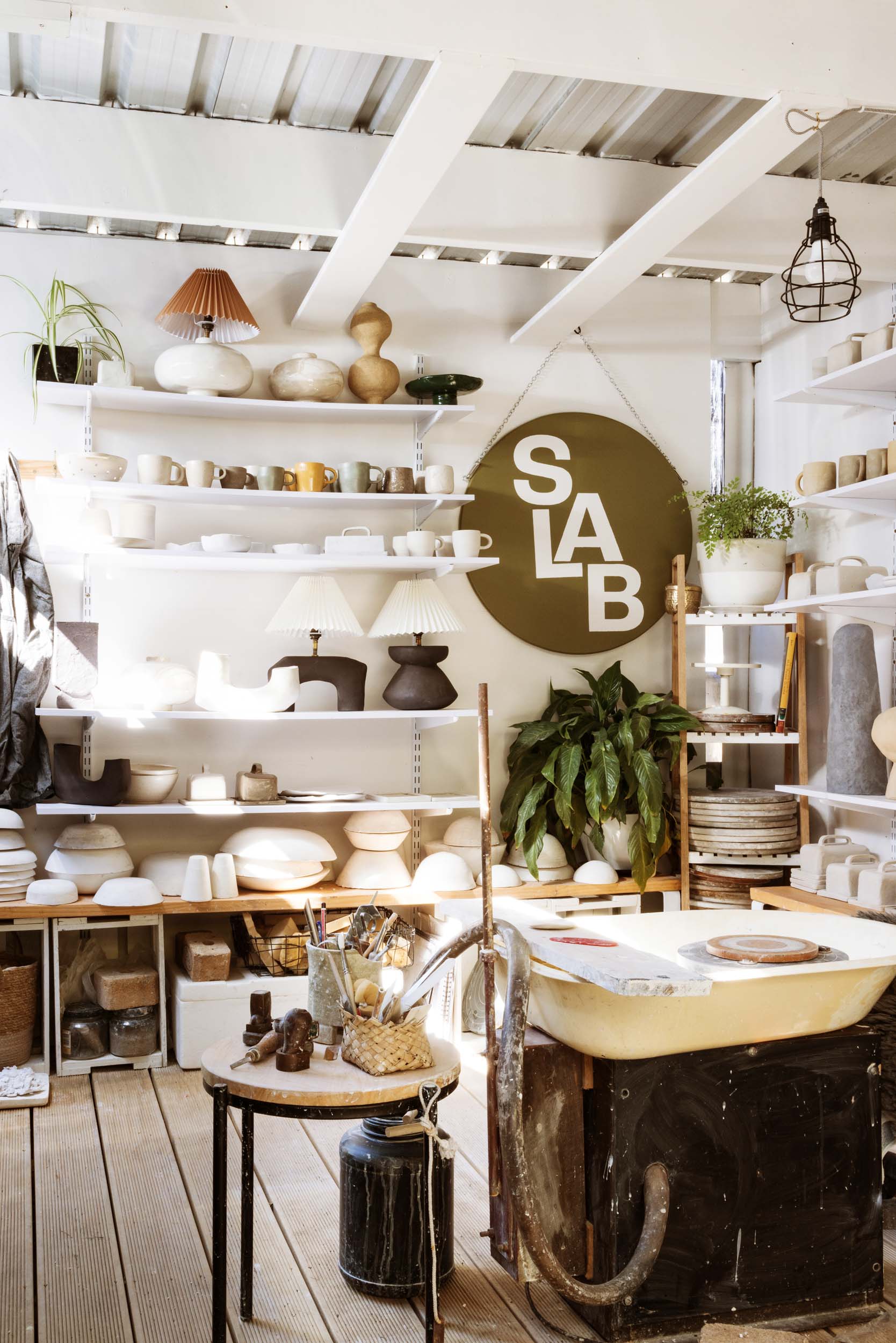 Do you keep and use your own work?
Much of the kitchenware we have in our home has been made by me or Zhoe, who is a very clever ceramic artist. But most of the pieces I keep are the slightly wonky ones that might have warped a little or a handle may have fallen off. Occasionally, I keep something because I just don't want to part with it.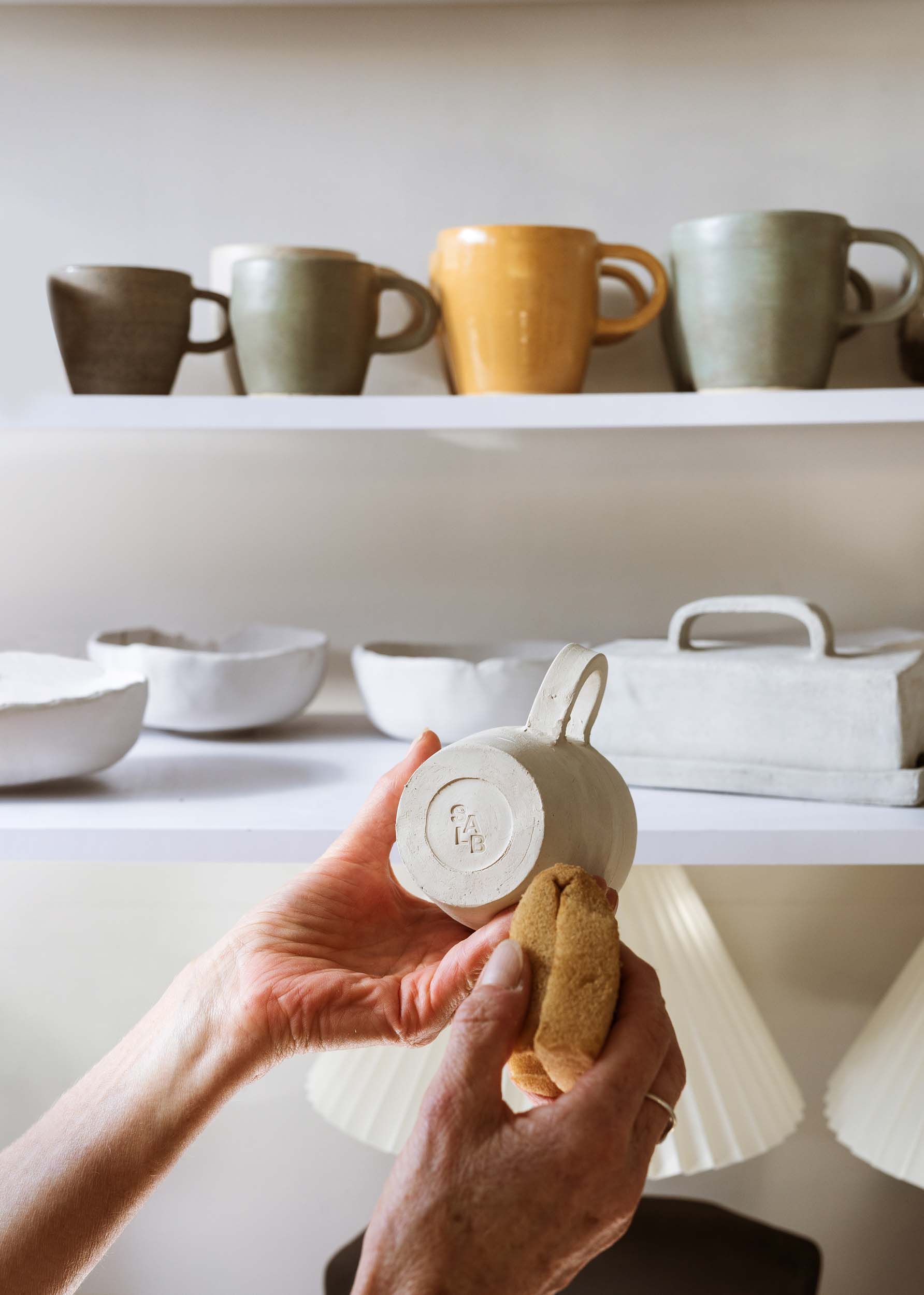 What's life like in Papamoa?
Originally, this was our beach house. Since moving here permanently, we feel like we've come home. Aside from the beach, I have been amazed by the support I've received as a small business. Around here, I've noticed residents and businesses really seem to support each other and buy locally.
Favourite local café?
Gather. It's very close and we love their cabinet food – lots of healthy wraps, falafel, amazing scones. Everyone in my family loves their coffee, though I'm a tea drinker so usually get a herbal tea or a smoothie. We do really like the low-key decor and the service but often we'll just grab something and head across the road to the beach with it.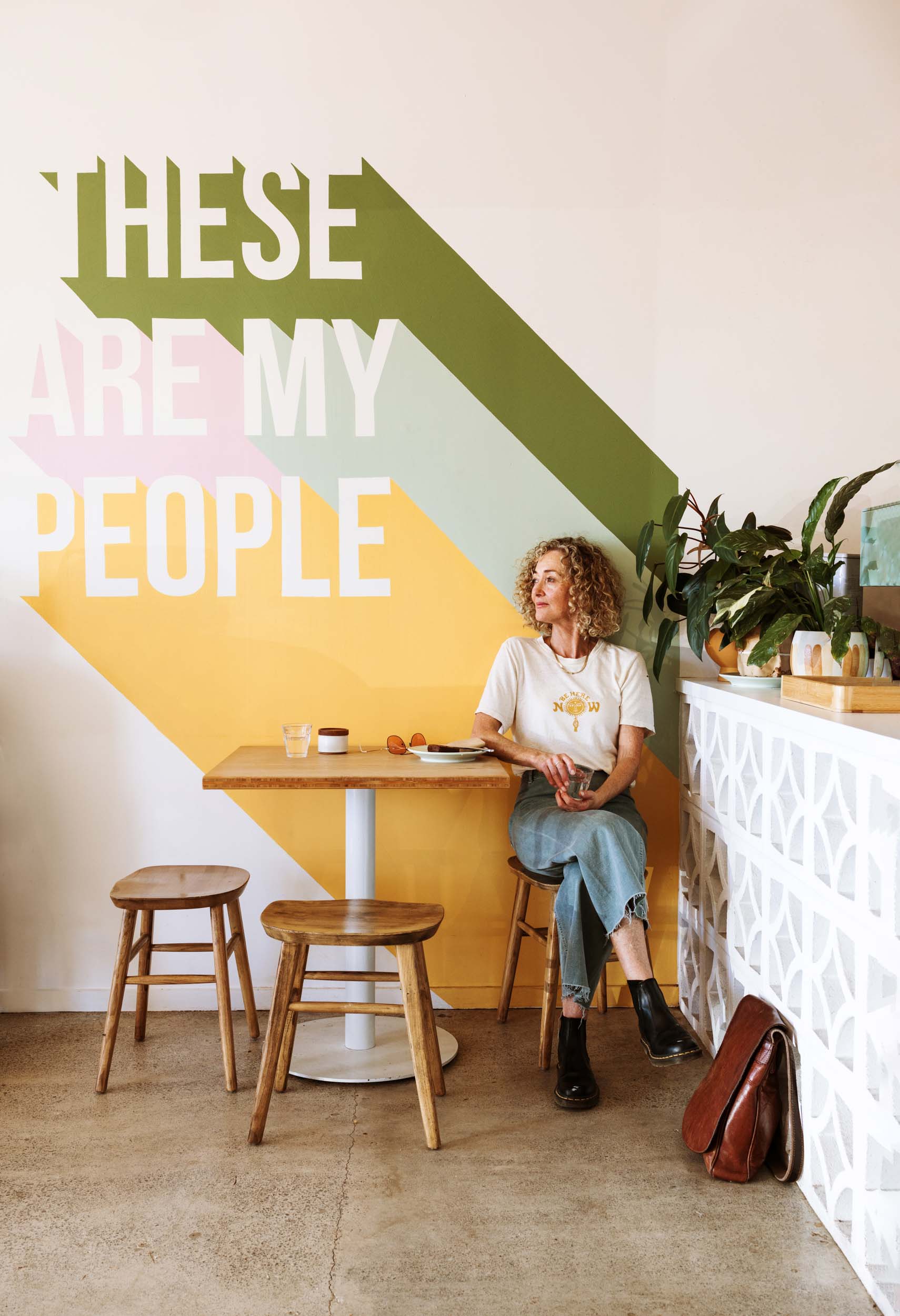 Best local spots, aside from the beach?
Our little local Tivoli Cinema is a bit of a gem. It's quite boutique, independent and locally owned, with comfortable seats and more interesting, less mainstream film releases. They do platters and drinks you can take in with you. We can bike all the way there off-road, alongside the waterways, and there's another great café nearby called Henry & Ted. Papamoa Hills Regional Park is the best place to get a view right up and down the coast.
Any other hidden gems?
We're always calling into The Dovecote, our favourite op shop. It's where we donate our things, and we always come away with a great find – beautiful cut-glass wine glasses or moulds for my studio. Zhoe found crocheted coasters and New Zealand wool fabric she uses in her work, as well as aprons we need when working with clay. The girls also found me a pair of cherry red English-made original Doc Martens. Five bucks.