Amy Prebble swaps high heels for hiking boots and falls for the wonders of one of New Zealand's great walks. The Routeburn Track Guided Walk with Ultimate Hikes is a three-day, two-night walk through Fiordland and Mount Aspiring National Parks
"You want to walk the Routeburn Track?" my husband exclaims. "I would have thought you were too much of a princess for that!"
Walter's not the only one who thinks I'm pampered – my nickname at a previous job was "Princess Amy" – but what he doesn't realise is that I've been offered the chance to soak up the spectacular sights of the world-famous Routeburn in (relative) comfort, on a guided walk with Ultimate Hikes. So, rather than stuffing my pack with pots and sleeping bags and whatever else outdoorsy types cram in there, I only need to carry my clothes, because I'll be sleeping in a luxury lodge and stuffing my face with a three-course meal each night. How could even a princess possibly resist?
I don't own any Great Walks-appropriate clothing, so I buy a pair of hiking boots and some quick-drying but not necessarily flattering garments. Naturally, I wear the boots prior to the walk to break them in. (Once up One Tree Hill and once around the office).
The day before the walk starts, Walt and I fly into Queenstown, and Ultimate Hikes gives us a briefing about what to expect, in a room that looks a bit like a compact lecture theatre. The company started offering multi-day guided walks on the Routeburn in 1989 (and the Milford Track in 1992), so this is a slick operation. They can lend you a backpack and a one size fits most rain jacket, which is perfect for people like us, who may never use such things again.
The team show us some snaps of the magnificent sights along the 32km walk, which goes from The Divide in Fiordland National Park to Route Burn near Glenorchy (burn being a Scottish word for stream).
They stress many times that the temperature can swiftly go from scorching to bone-chilling, so layers of clothing (that aren't cotton) are essential. I stock up on an extra pair of merino leggings, just to be safe.
"Give a girl the correct footwear and she can conquer the world".

Day one: We arrive at the depot at 6.30am and hand over our (mostly identical) backpacks. Our guides, Sophie, Josh, John and Kana all look very fi t. Our group of 36 is a mixed bag of athletic ability and hiking experience, aged from 10 to 70. Most of us are Kiwis and we're all pretty chuffed to be on a walk that would have been booked out months in advance pre-Covid.
At The Divide, we pick up packed lunches (that later prove to be delicious) and get going. There's always one guide at the front, two social butterflies in the middle and a tail-end Charlie, making sure no walker is left behind. I start off talking to Josh, who is on his second season as a guide although he didn't get much of a chance last season.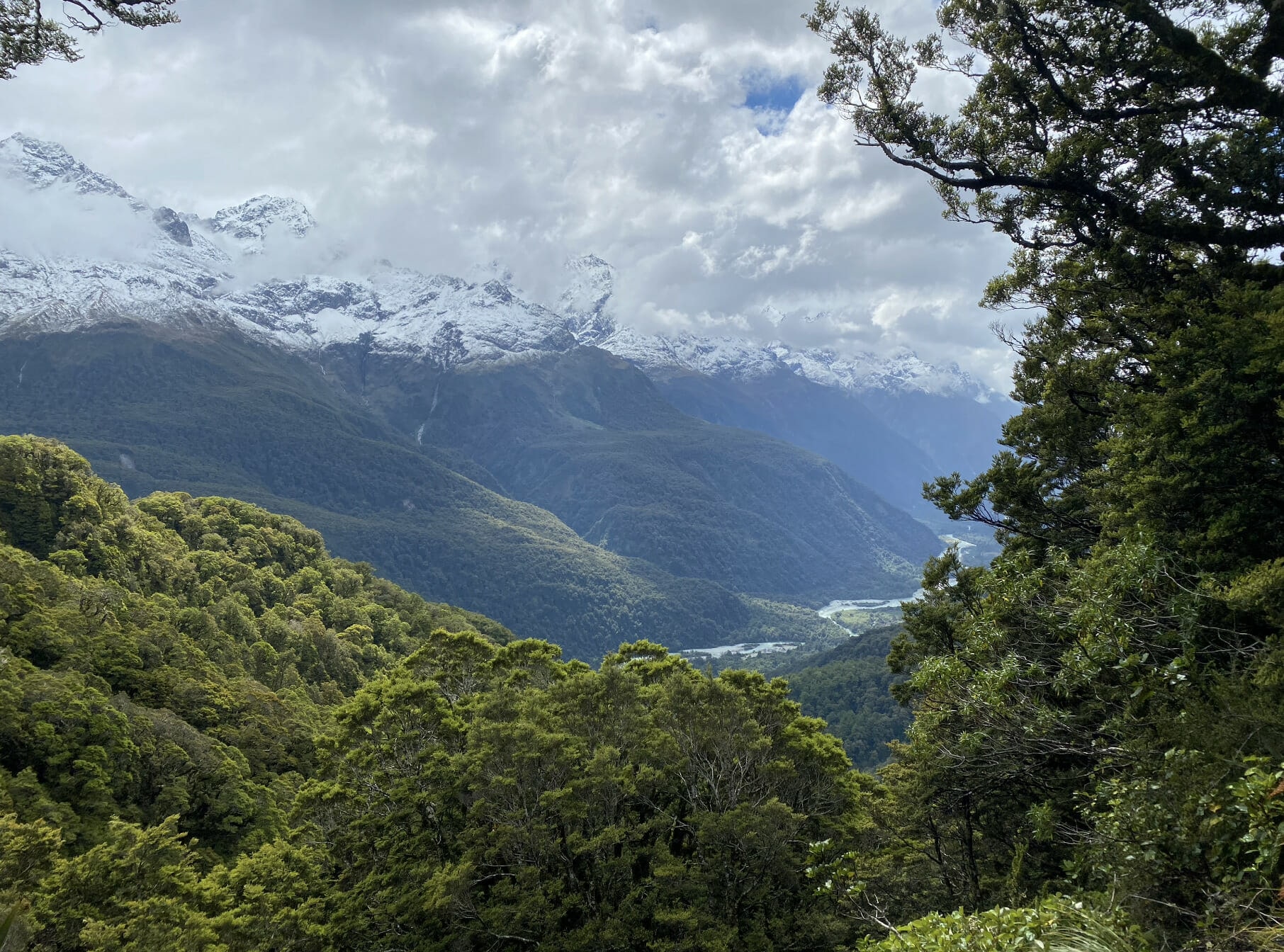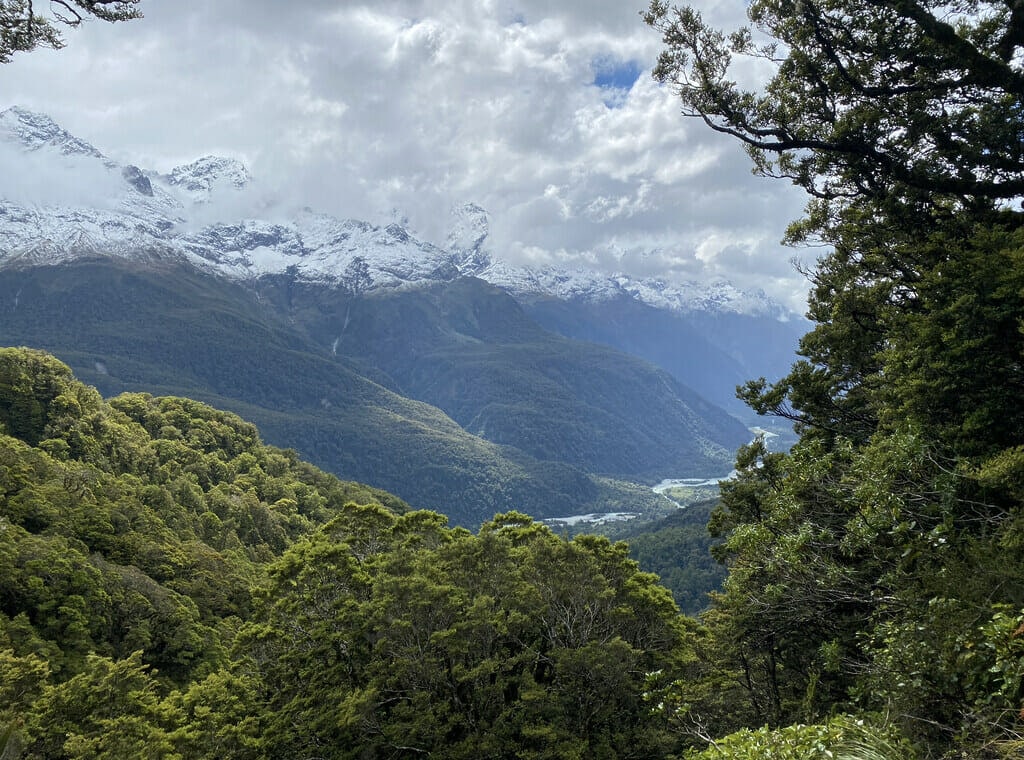 Be bold, start cold.
First, there was a devastating storm in February 2020, causing major flooding and landslides that closed both the Milford and Routeburn tracks, and then, of course, came Covid. He's evidently delighted to get another opportunity this season, though there are fewer trips without the international visitors.
From the carpark, it's a lovely, well-formed track through alpine plants, but I have other things on my mind. This is my first time with a big-ish backpack, and I'm like a baby tortoise. Even though I can teeter on stilettos while clutching a Champagne flute without incident, put me in flats with a backpack and it's impossible to maintain my dignity. I fall over a total of three times on day one as I get used to the weight pitching me forward when I lean over (or back as I'm wading through a river).
Everyone is very kind, and some people even offer me their walking poles, which are recommended accessories on this track – and I'm sure that's all very sensible but I'm clumsy and I worry I'll stab myself in the foot with one, so I make do without. Slowly, but not particularly surely, I reach Key Summit.
Here, I'm treated to views down three valleys, with water flowing to three different coasts. How to describe this outlook adequately?
Glorious, stunning and mind-blowing are adjectives that spring to mind. We then head down to Lake Howden Hut for a hot drink (Kana carried four flasks in her backpack to make that happen!) and picnic lunch, before gradually climbing through ethereal silver beech forest to Earland Falls. From there, the descent to Mackenzie Lodge is very steep, rocky and treacherous. After three knocks already, I don't need any encouragement to take it slowly, and if I do say so myself, I get to the bottom like a champion mature tortoise.
Walt and I hadn't known what to expect from the lodges and had anticipated lining up to wait for a hot shower. Imagine our joy when we walked into our cosy little room and spotted the en suite! Once freshly showered, we wash our clothes, put them through the wringer and bung them in the drying room.
The facilities are so good, you could totally get away with just a couple of outfitts.
Also, for those who sniggered about how casually I wore in my boots they were supremely comfortable and I made it through day one blister-free. Walt's elderly boots fell apart though   luckily, John fixed them for him, MacGyver-style, with a few ties.
There is wine and cheese laid out for everyone to enjoy pre-dinner, then we tuck in to our meal (Ultimate Hikes has had the food helicoptered in!) before heading to bed to sleep the blissful slumber of the well-fed and totally exhausted.
Day two: It's brisk at 9am when we gather, ready for our next walk, so I'm grateful for the jacket and woollen beanie with which I expanded my outdoor wardrobe (thanks, Rebel Sport!). Despite the chill, I'm wearing shorts (and I never wear shorts), because John recommends beginning the day cold, as you quickly warm up on the steep climb from MacKenzie Hut to Ocean Peak Corner.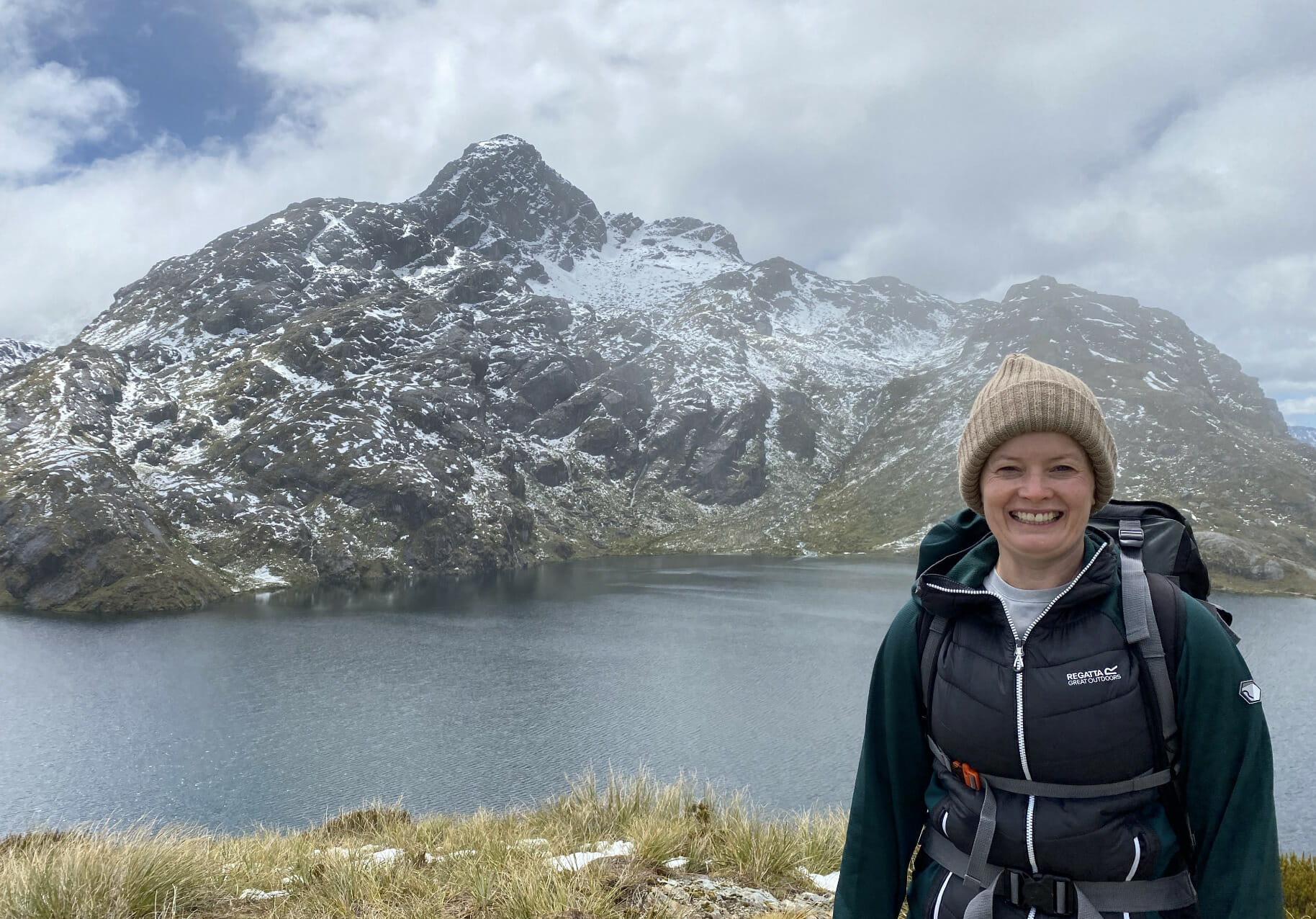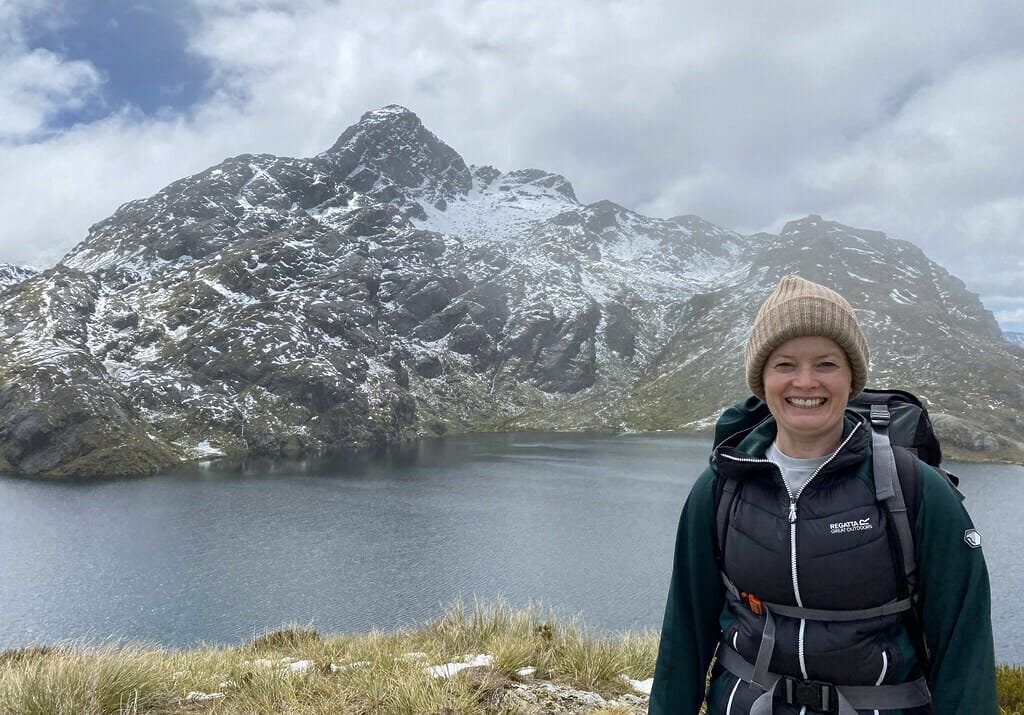 Everything else he's said has been correct ("You should use walking poles"; "Put a raincoat on before going past Earland Falls") so I'm learning to listen to him. Sure enough, 10 minutes into the climb through breathtaking ancient forest, I'm as warm as toast.
It's uneven and steep in places, but the hard slog is worth it when you take in the view of the Darran Mountains. We stop for lunch at the Harris Saddle, where I get chatting to Alastair and Diana Dunbar, who own a deer farm in Hanmer Springs. This is their second outing with Ultimate Hikes. They did the Milford Track the previous year when there was a cyclone and heavy rain.
"It was touch and go whether we could go over Mackinnon Pass," says Alastair. "We had to go over huddled like sheep in groups of about 10!"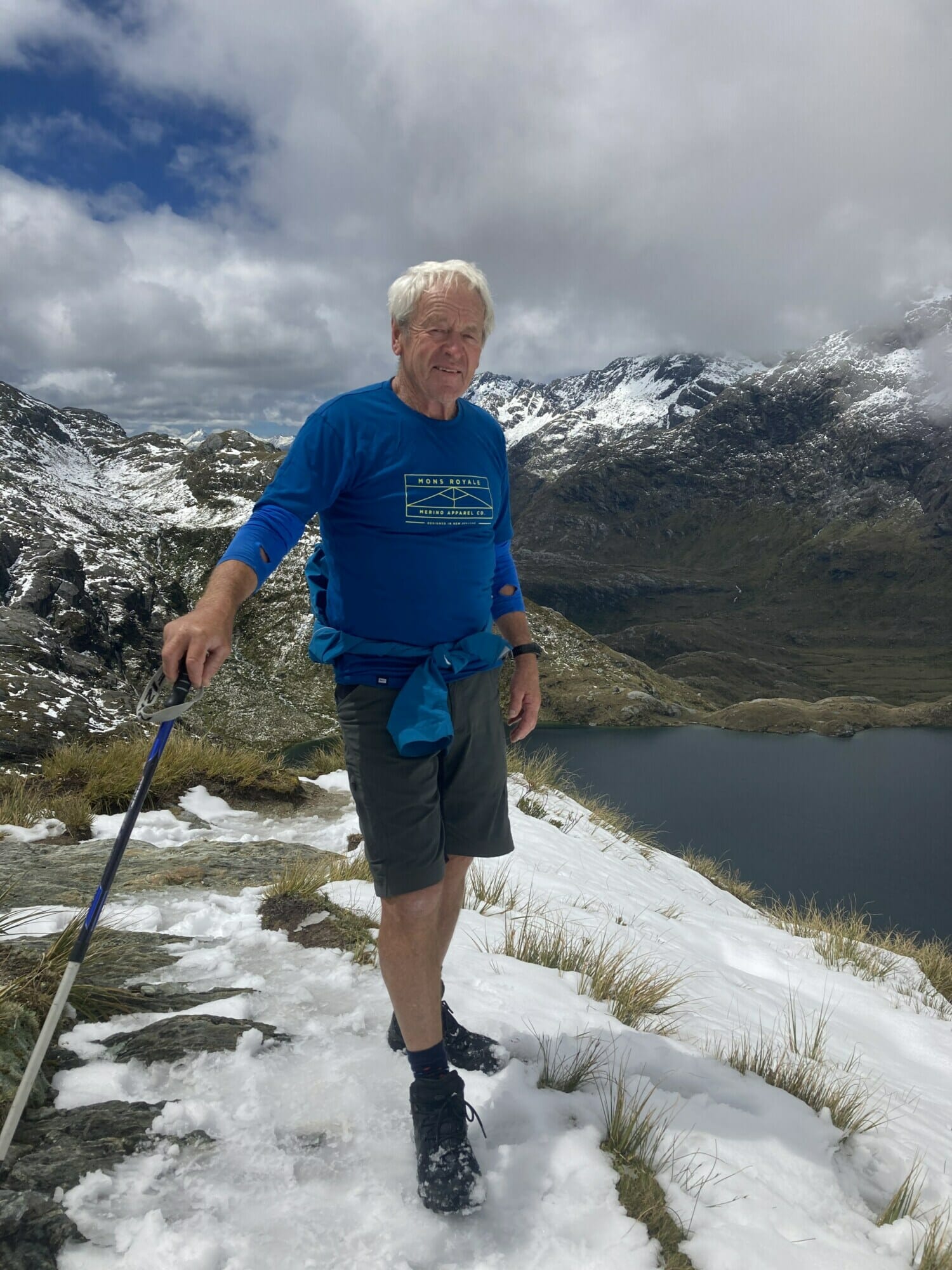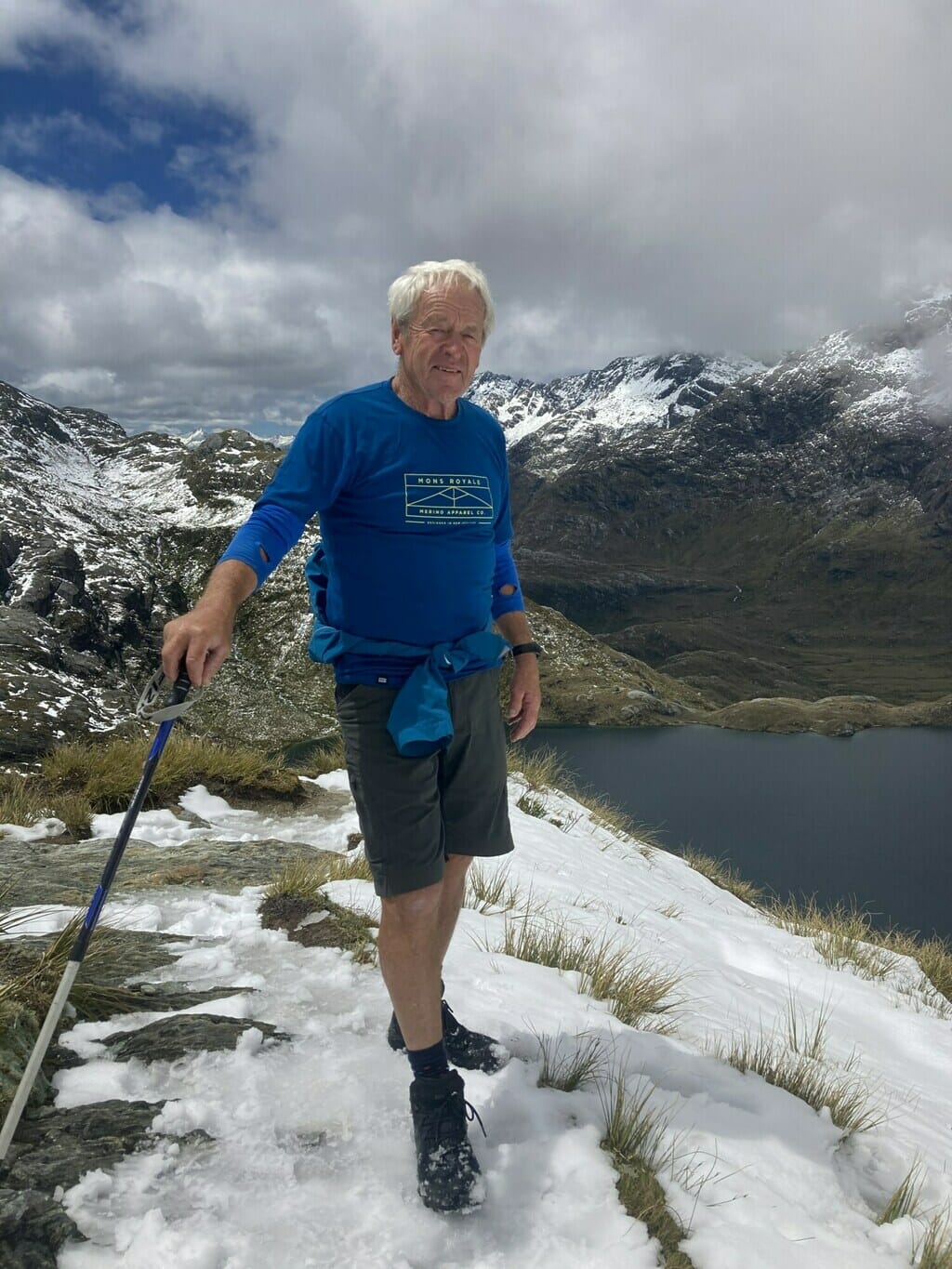 "And that didn't put you off doing other walks?" I ask.

"Oh no! It sort of added to the adventure, really," he says with a laugh.
At 68, Alastair is super fit (through a combo of biking and farming) and leaves pen-pushers like Walt and me for dead up the hills. After lunch, you're given the option to tackle Conical Hill for a panoramic view of the surrounding peaks. There's a lot of snow when we're there and my ears prick up when Kana describes this part as "challenging". Alastair's among the first to head up, but Walt and I opt to go straight to Routeburn Falls Lodge rather than take the detour. So does Diana. As I'm following her, I notice that her backpack is basically the size of a school bag.
"Gosh, you travel light," I say. She smiles. "Alastair carries most of our gear." This is absolutely the most romantic thing I've ever heard.
Don't even think about it,  whispers Walt. Even without scaling Conical Hill, we get an incredible vista of Lake Harris as we descend into the upper basins of the Routeburn Valley. Routeburn Falls Lodge is like something on a postcard, and I'm very taken with the mountain views from our room. I'm also pleased I made it through without a single fall
Day three: It's pouring with rain. I'm secretly pleased, because I have brand-new rain pants that I spent a fortune on. John begins with a cheery quote from Dr Seuss and we set off. This is much easier than the walks of the previous two days. It's basically all downhill, so you can relax and enjoy the dramatic landscape around the Routeburn Falls as you make your way to Forge Flat for the last lunch stop.
This is the first time I'm bothered by the sandflies that everyone mutters about in this area. But even the little bloodsuckers can't get me down, because from here it's just a gentle stroll through the forest to the road.
The sense of accomplishment at finishing this magnificent hike is enormous. I'm so pleased with myself, I could do a little jig if I wasn't wearing a heavy pack and my legs weren't so tired.
The first person to congratulate me is the youngest member of the group, Bodhi Griffiths, who has impeccable manners, especially for a 10-year-old.
Well done! You made it, he says, smiling.
He was right beside me when I fell (quite dramatically) the first time, so he may have doubted my capability.
I ask if he's tired, and he replies matter of-factly,  I cannot walk another step. But it was worth it to see all this. Like, 'Wow.' 
I couldn't have said it better myself.