Local resident Susanna Andrew plays visitor in her own hometown.
I've always wondered whether Londoners visit Covent Garden or ride the open-air bus or walk the endless pilgrimage to Buckingham Palace. We see tourists in our own cities (well, used to): they're the ones with the daypack and a map in their hands. But what are they trying to find? What would a tourist settling into a hotel room in Auckland do with only 48 hours before they're onto the next destination? With that in mind, I agreed to play visitor in my own hometown.
I packed strategically, never mind that I could practically run home if I forgot something. I took sensible walking shoes, something chic for the evening, and an umbrella. I also took a book, my laptop, and my togs, asked the neighbour to feed my cat, locked my front door and drove five minutes down the motorway.
Checking into a hotel always takes longer than you think. Once you get across the deep foyers and lobbies, there are the lift numbers to memorise and the critical left and right turns along identical carpeted corridors to navigate to finally arrive at your room. My sense of direction at these times is deeply challenged, so when I unlocked my door, I was grateful to discover I was facing north-east with the sun was streaming through the windows, 12 storeys up. I felt suspended in the air among a jostle of towers with a glimpse of Rangitoto. I inspected my fabulous lodgings, noted the marble bathroom with the view from the bath and the wall-mounted telly for later, then took out my planned itinerary and began my day as a visitor to Auckland.
Walk from Cordis Hotel to The Civic Theatre (duration 10-15 minute walk). Note: sensible walking shoes.
Behind The Scenes Civic Tour (duration 60-90 minutes).
Lean into Auckland's past as you wander the turrets and green rooms of Auckland's Civic Theatre. This magnificent building hides a fantastic stash of stories from its beginnings in 1929 through all the different shows and plays of the last 90 years. Oh, if these walls could talk! Luckily, the delightful tour guides can – telling stories of the past while taking in the interior design trends of the 1920s (Oriental meets Middle East) plus 499 elephants!
12.10pm: Walk to Auckland Art Gallery Toi o Tāmaki. It was indeed a five-minute walk and there were no crowds.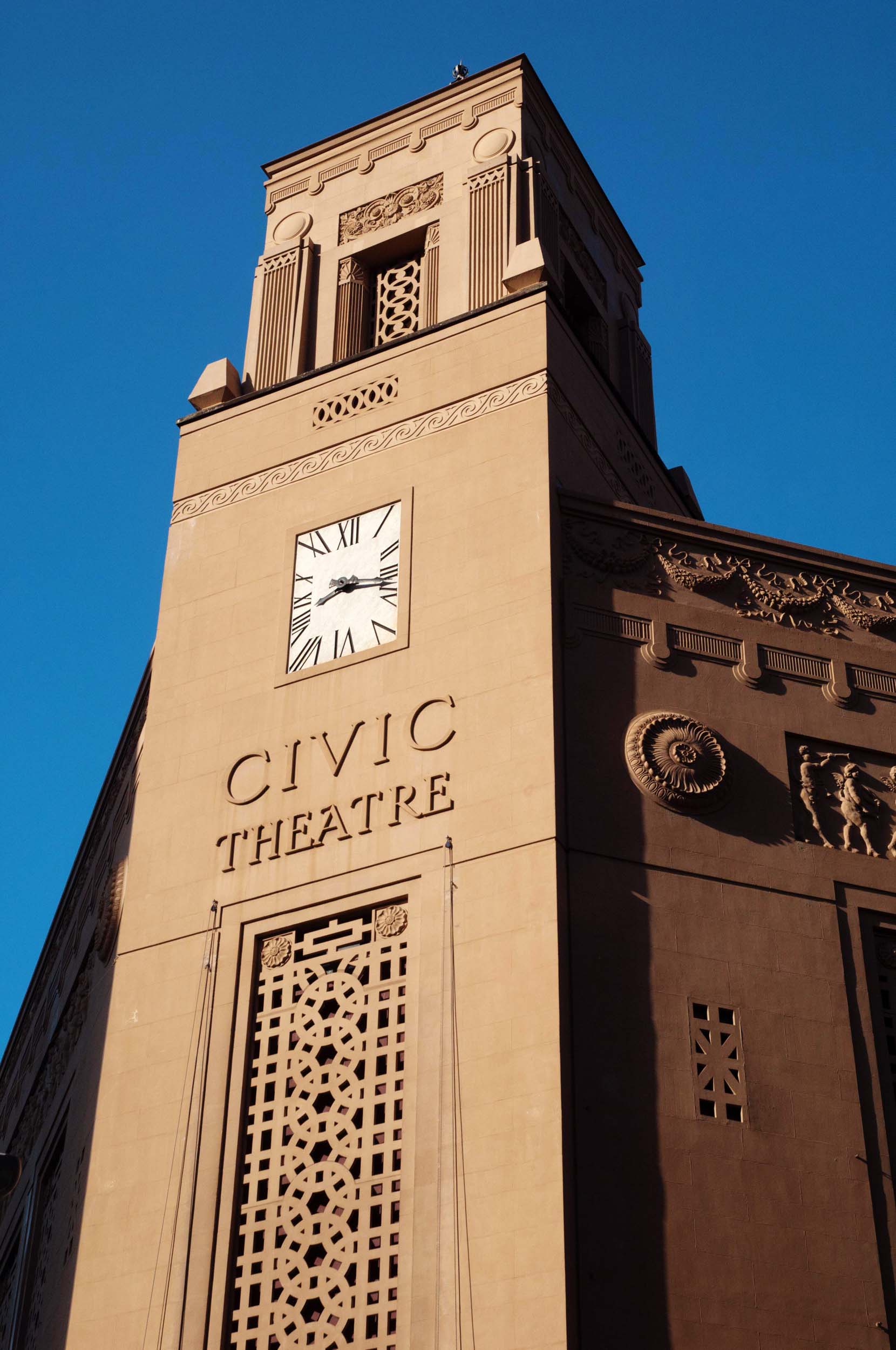 12.15pm: Hikoi to Britomart (duration 60 minutes). This was a terrific thing to do, like going on a treasure hunt. The perfect follow-up to the Civic. Stop at each art installation and listen to your guide. There are excellent headphones to use should you need them. All the public artworks are hiding in plain sight. How could I have missed Fred Graham's beautiful waka on Queen Street or never known that Lisa Reihana's first piece of public art was hanging off the side of the Ellen Melville Centre. I'll never eat my sandwiches on the steps of Freyberg Place without thanking artist John Reynolds. A visitor to Auckland would be impressed by this initiative and think Auckland needs a new walkability rating. Make sure to take sunblock and an umbrella, as Tāmaki Makaurau's weather can be fickle sometimes.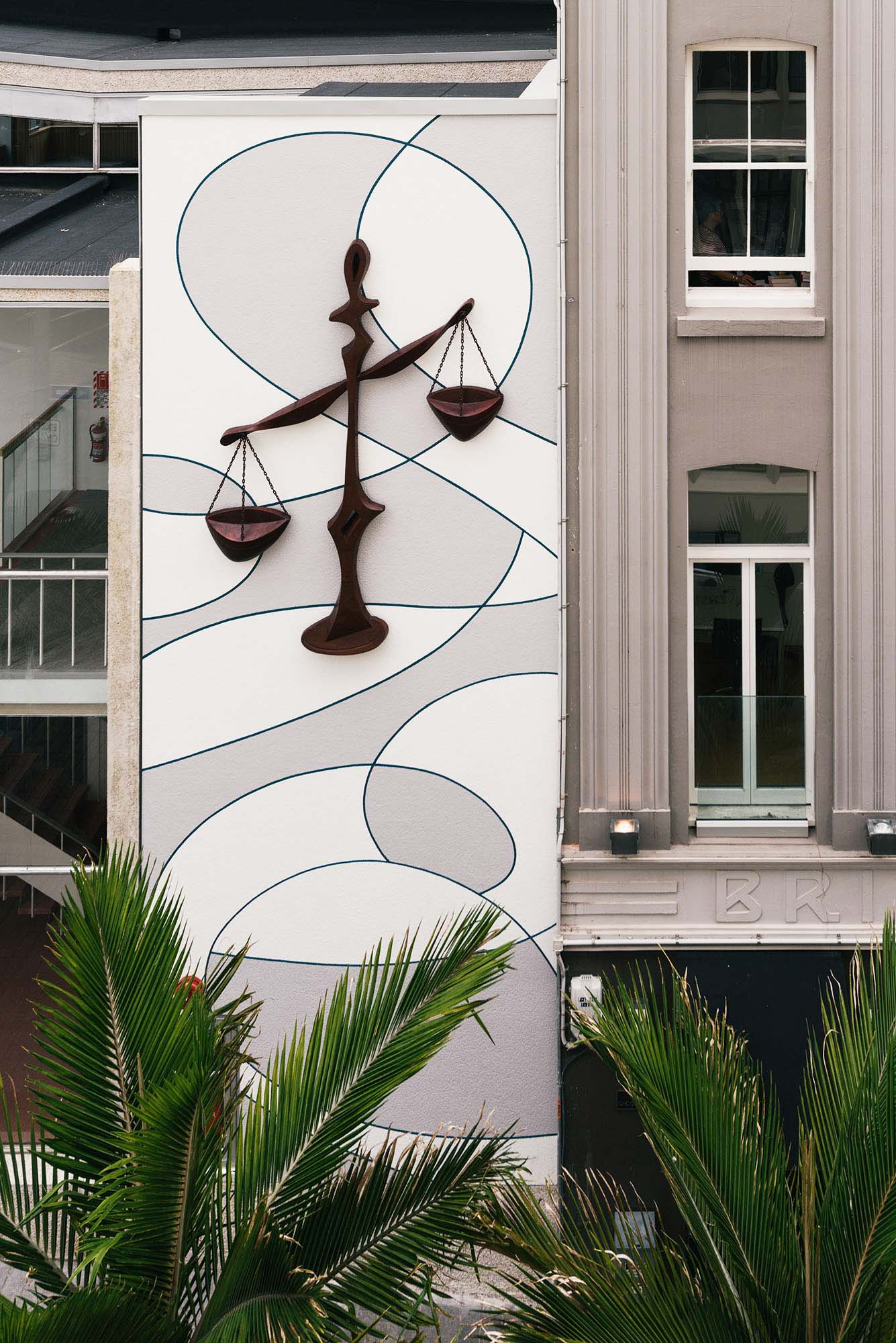 1.30pm: Lunch at Kingi. I sat under the covered atrium outside and ordered a bowl of delicious mussels and nduja, which I greedily ate with wood-fired grilled bread and a glass of chilled gamay noir from Hawke's Bay. The service was excellent. The menu has the most extensive and sustainably sourced selection of kaimoana you'll ever read about and a dreamy selection of ice cream.
A visitor to Auckland would think Britomart brings this city slam-dunk into the 21st century. Green open spaces, the best designer shops and a stunning integration of old and new buildings.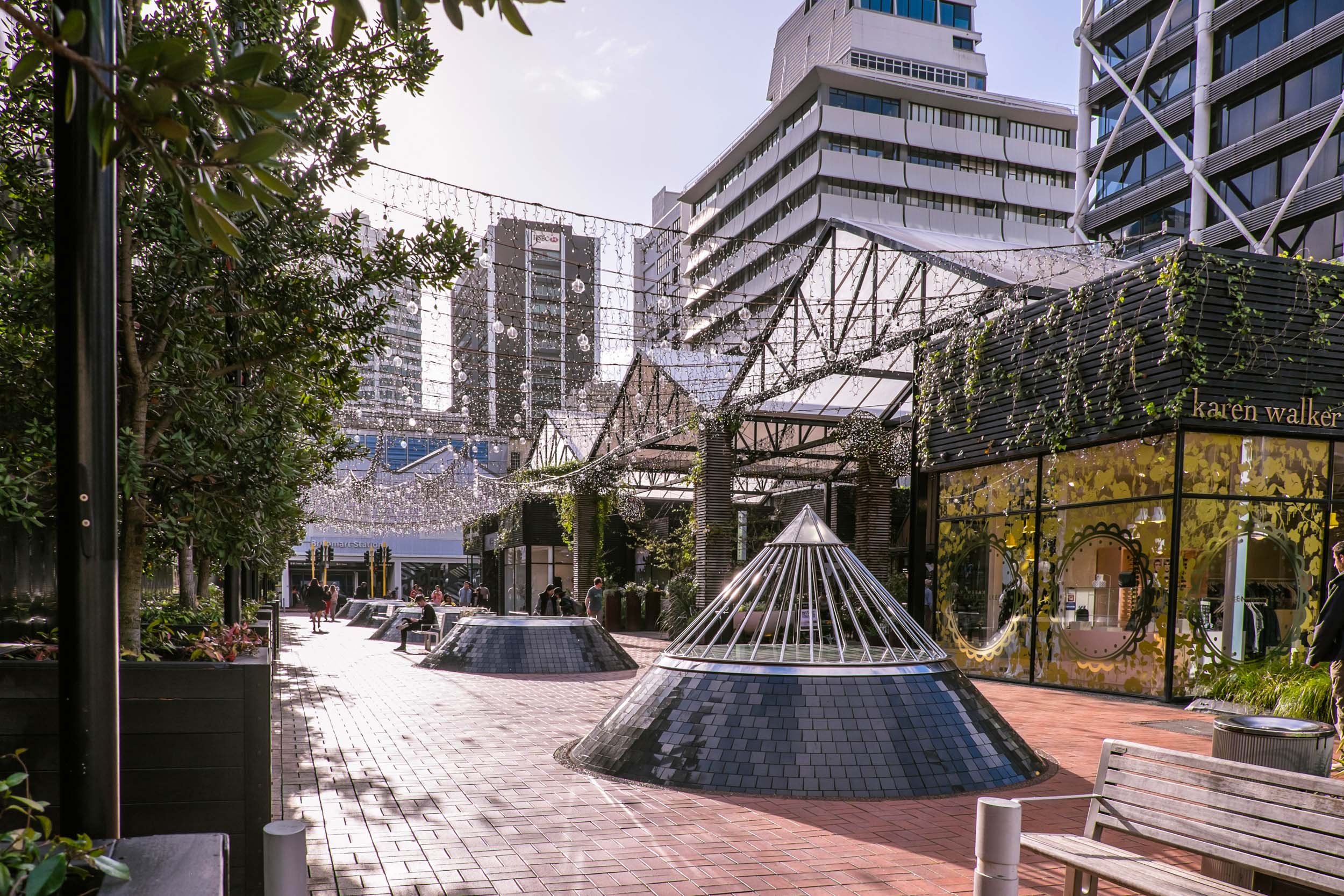 3pm: Check in at the Cordis Hotel. Jump on an electric bike to get back up the hill. There is little value in staying in a hotel if all you do is sleep there!
I had the Heart of Dreams Package, which accounted for my deluxe room and came with a Sleep Well Kit including bubble bath, bath bombs and body oils from Linden Leaves. Did I already mention I had a bath with a view? The Cordis resort schedule meant I could not only have a massage but also learn the techniques.
Using the essential oils of my choice, I was treated to the most divine massage, which left me floating. There are also state of the art fitness and health club facilities which truly take this hotel into the resort category.
7pm: Dinner at Homeland. The inspiration of chef Peter Gordon, Homeland combines a community-based kitchen, socially conscious dining and a cooking school. The latter was holding a class when we arrived, which created a buzzing vibe. This is fine dining divorced from its starched heritage. The restaurant's kaupapa is to use only produce sourced from sustainable suppliers, and the menu lets you know you eat by the grace of nature. We spread earthy mushroom pate on toast, tasted wood-roasted, lemon-spiced cauliflower, and my scotch fillet was charred, salty and the juiciest I've ever eaten. If being indulged can ever feel honourable, this somehow managed to do that. Eating here was truly like saying grace.
Note: Any visitor to Auckland should also make an excuse to use the bathroom – the art on the walls deserves its own guided tour.
Day 2
9am: Drive from the hotel to West Auckland (duration 45-60 minutes). Auckland's west is the tūrangawaewae of some of our heavyweight cultural heroes, such as artist Colin McCahon, and it's easy to see why. Forget the concrete pavements and tank up on the light pouring from the sky. The Muriwai Deli is a must for coffee and doughnuts. A visitor to Auckland will want to see the gannet colony, walk on the black sand, and watch the surf roll in.
10am: Half-day hike along one of Auckland's famous tracks. There are so many walks to do in Auckland in whichever direction you're heading at any level of fitness. Wide, well-maintained walks will take you into the bush and open up photo-worthy vistas. We did the Muriwai Loop track – a 5.3km loop trail near Waimauku. It took us only 45 minutes and my city walking shoes were fine. A visitor to Auckland should be used to greeting everyone with a beaming smile by now.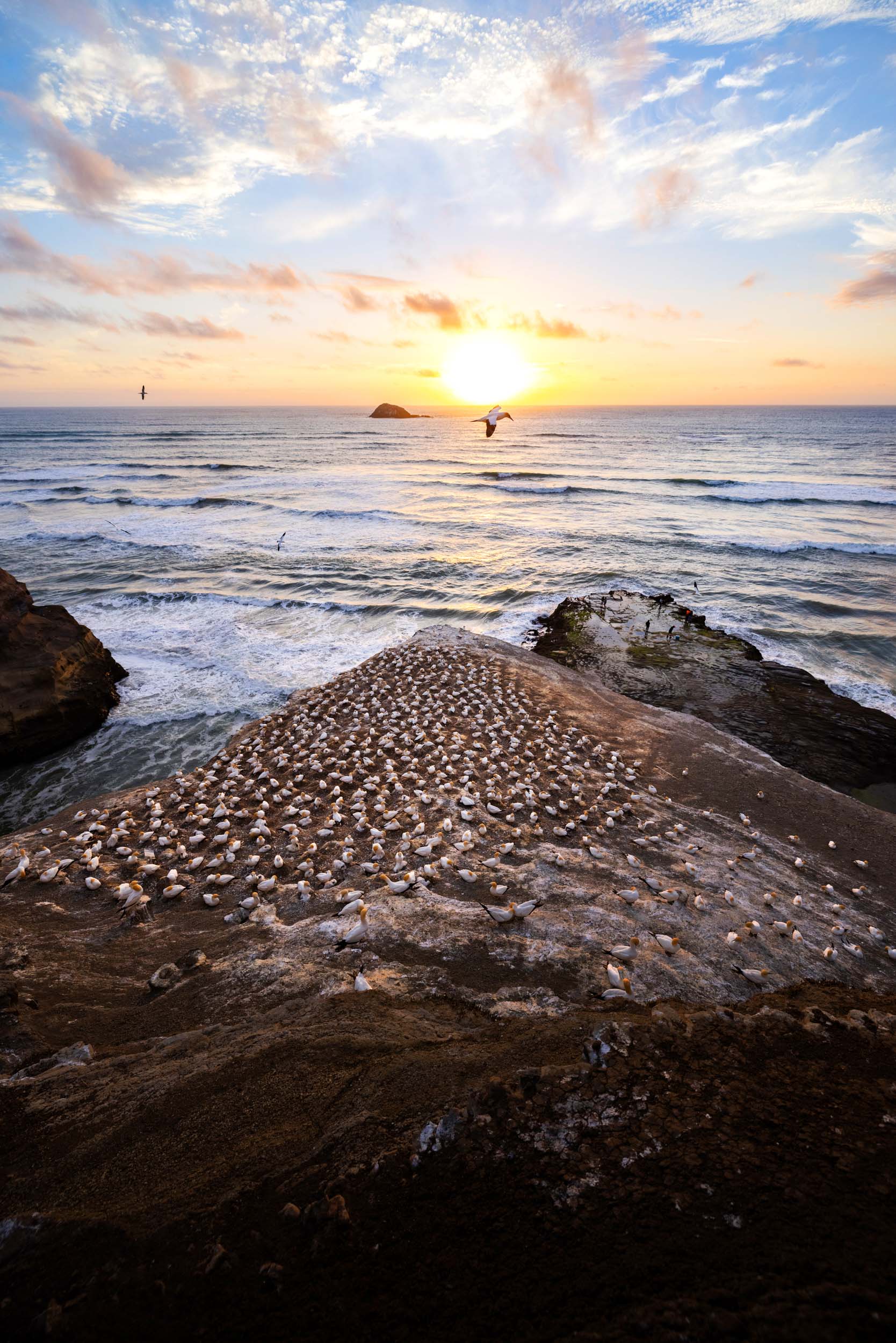 1pm: Lunch at the Hunting Lodge. Situated on a hill only six minutes' drive from the track's end, the Hunting Lodge is also a winery and events venue. (Fun fact: it was the original lodge of the owner of Alberton, a heritage house open to the public in Auckland.) I met a friend there and we had a fine lunch, ordering the "Trust the Chef" menu, which meant delicious courses arrived at the table unbidden. A visitor to Tāmaki Makaurau will start making plans to return.