Hand-carved furniture and meaningful mementos bring a sense of warmth to this bachy Mt Maunganui home.
From his Mt Maunganui home, it takes Thorley Robbins 54 seconds to get his feet in the water at the beach. He knows this because he's timed it.
The modernised bach Thorley shares with his partner Renée Reichmuth, baby Walter and golden retriever Prince, is ideally perched on a small section by one of the country's most popular beaches, but it needed a whole lot of love when he bought it in 2015.
The Lockwood home was built in 1981 and was subsequently picked up and placed on six posts to create a two-level home, with the living area upstairs and two bedrooms, a bathroom and a garage downstairs.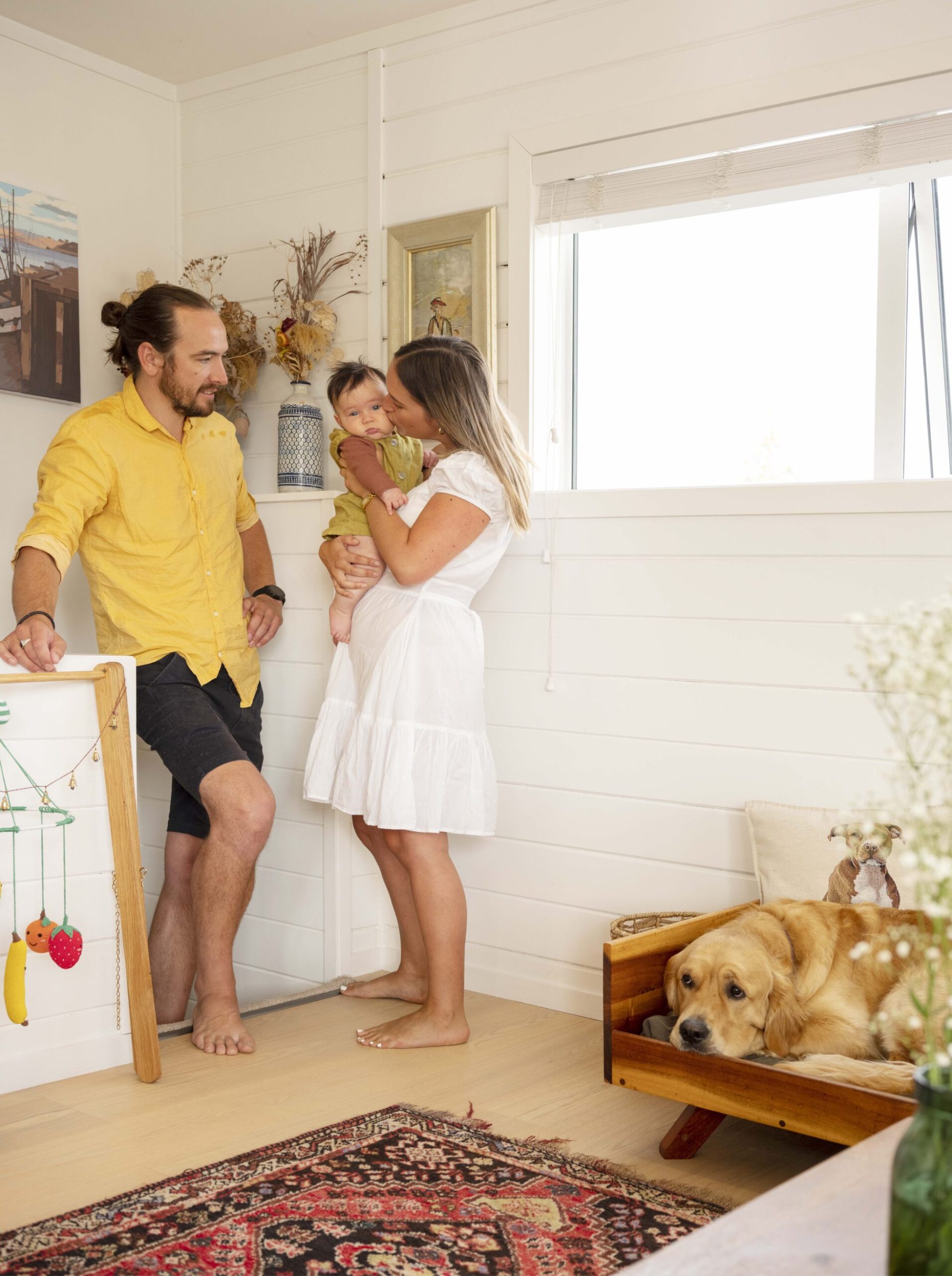 It was a run-down rental when Thorley, the founder of avocado home-delivery service The Avo Tree, bought it for an affordable price during a property boom.
"It wasn't cared about," he says, though he could see both position and potential. "I didn't necessarily want a two-storey house but it utilises the space. I knew that I could do a full renovation and it wasn't going to break the bank completely."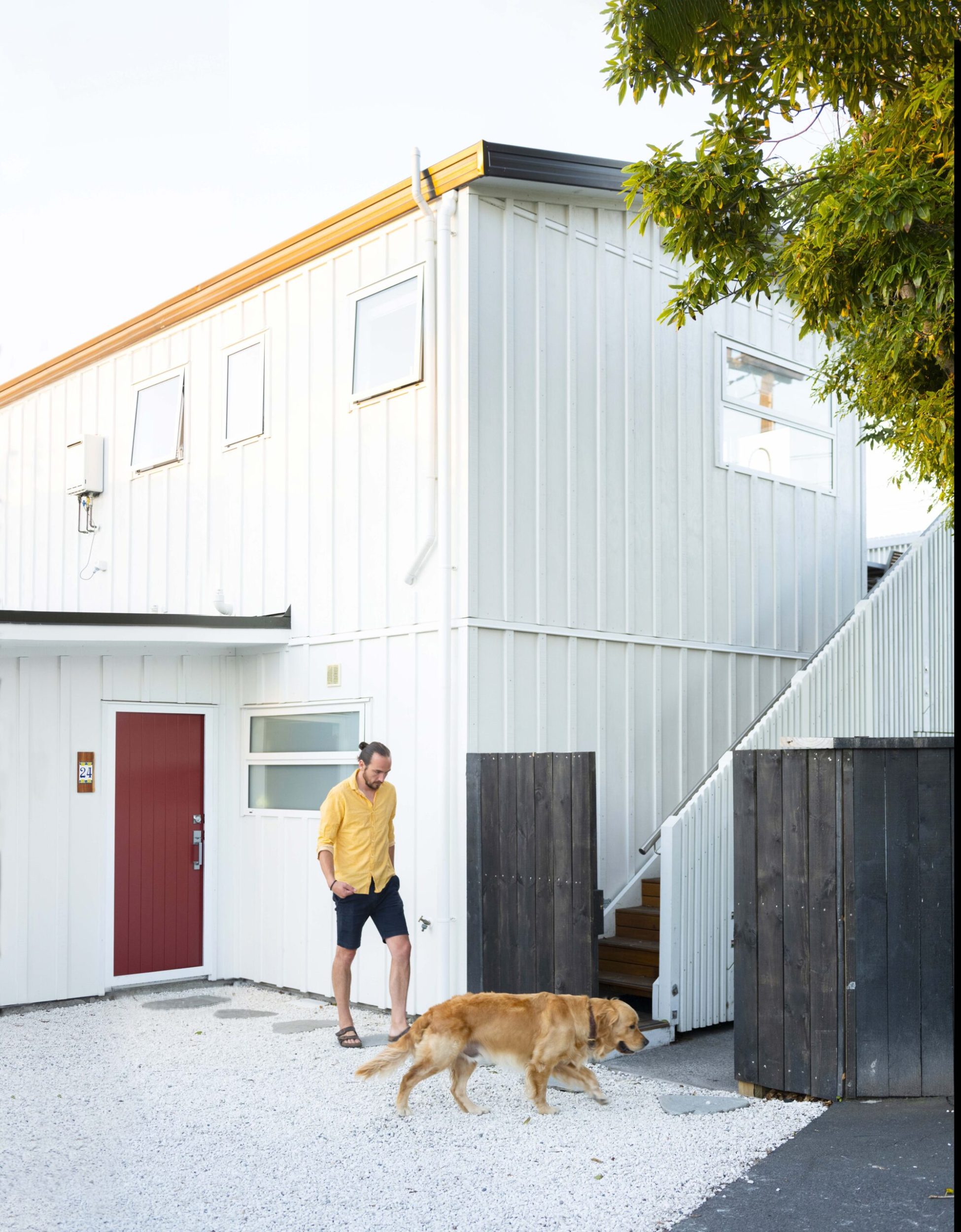 The renovation included recladding the home's exterior, double-glazed joinery, a new roof, and converting the garage into a third bedroom. "It's a real sun box, so it's constantly warm and cosy," says Renée.
The downstairs bedrooms now open out to the lawn via smooth-sailing glass doors. "It's a pretty small section of lawn but enough for our golden retriever to have a bit of a blat," says Thorley.
The most expensive addition, due to the cost of obtaining building consent, was a north-east-facing balcony. But with a handful of friends living along their street, it seems to be paying off in enjoyment.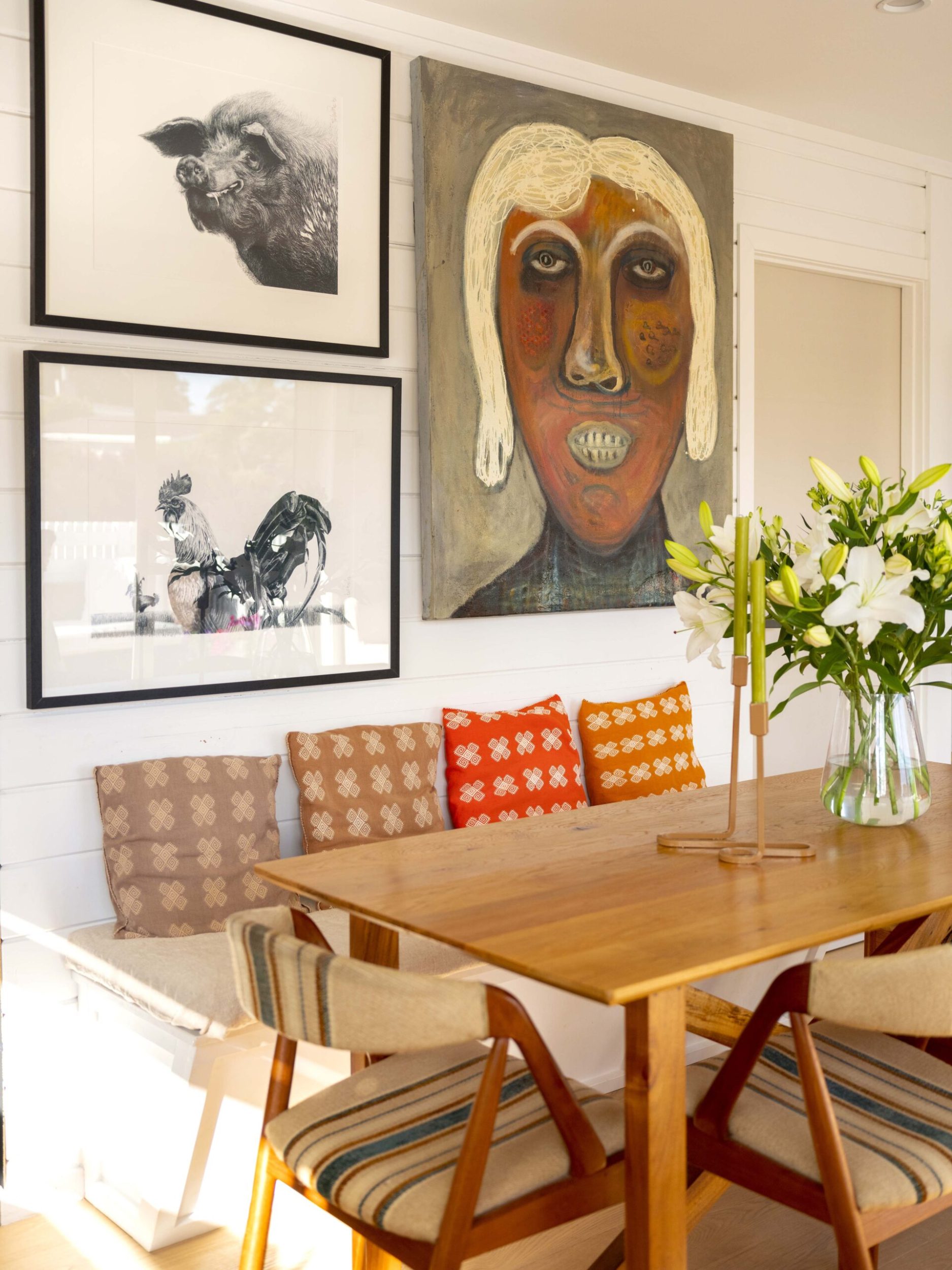 "Everyone kind of drives past and they see us on the balcony, so they'll stop and have a drink or a cheese platter," says Renée. "It's quite a good social spot."
Inside, most of their living unfolds upstairs in about 40sqm of open-plan kitchen, dining and lounge space, which is delineated by clever furniture choices. The flow of the area becomes a timeline for the couple's evenings – they cook together in the kitchen before moving along to the dining table, and then to the cosy L-shaped couch in the far corner.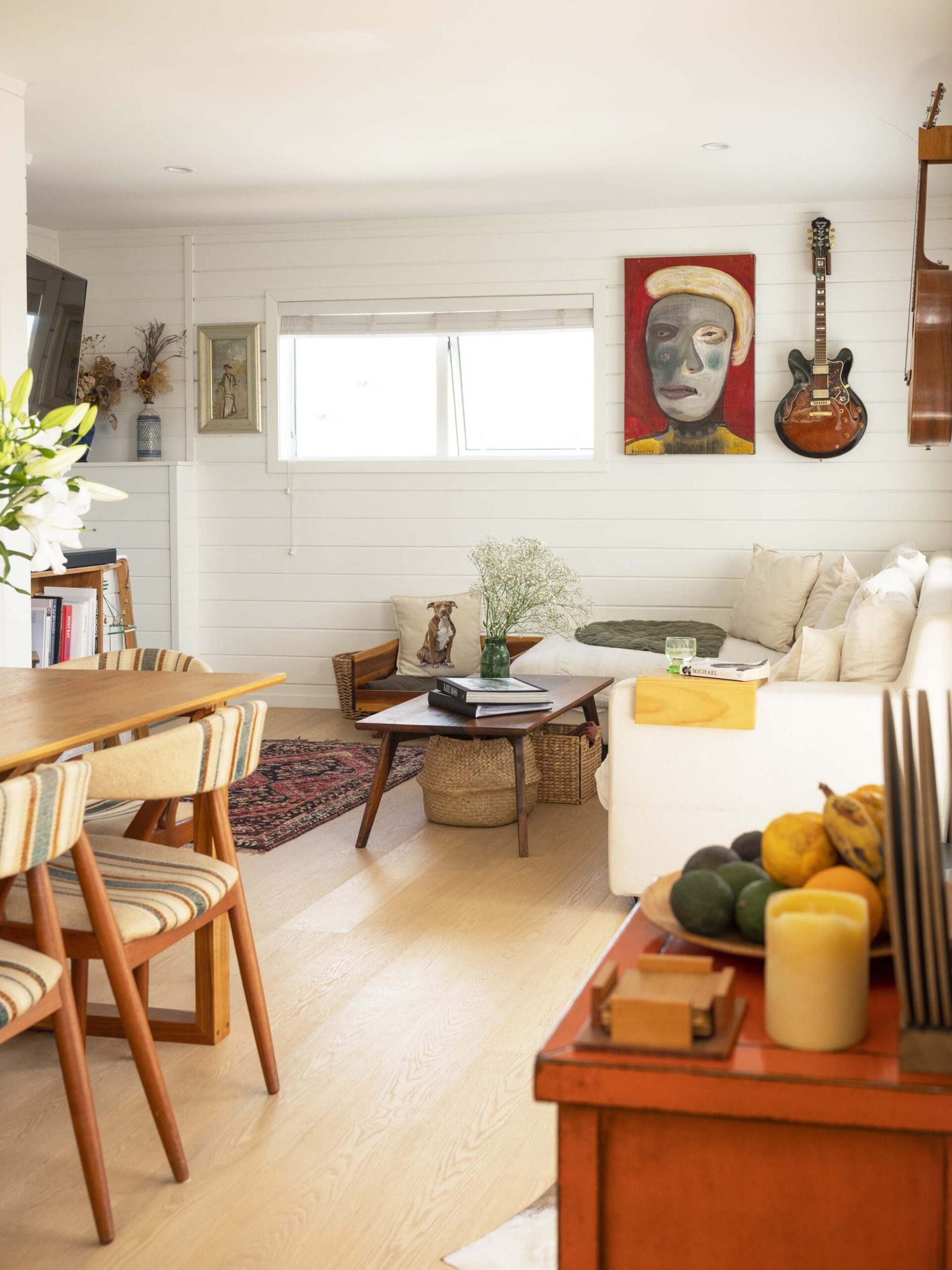 Much of the furniture was handcrafted by Thorley's semi-retired father, Kit, who is enjoying a second career as his son's personal carpenter. Their large dining room table was made by Kit, as well as bookshelves and coffee tables in the living area and a rocking horse and mobile in Walter's nursery.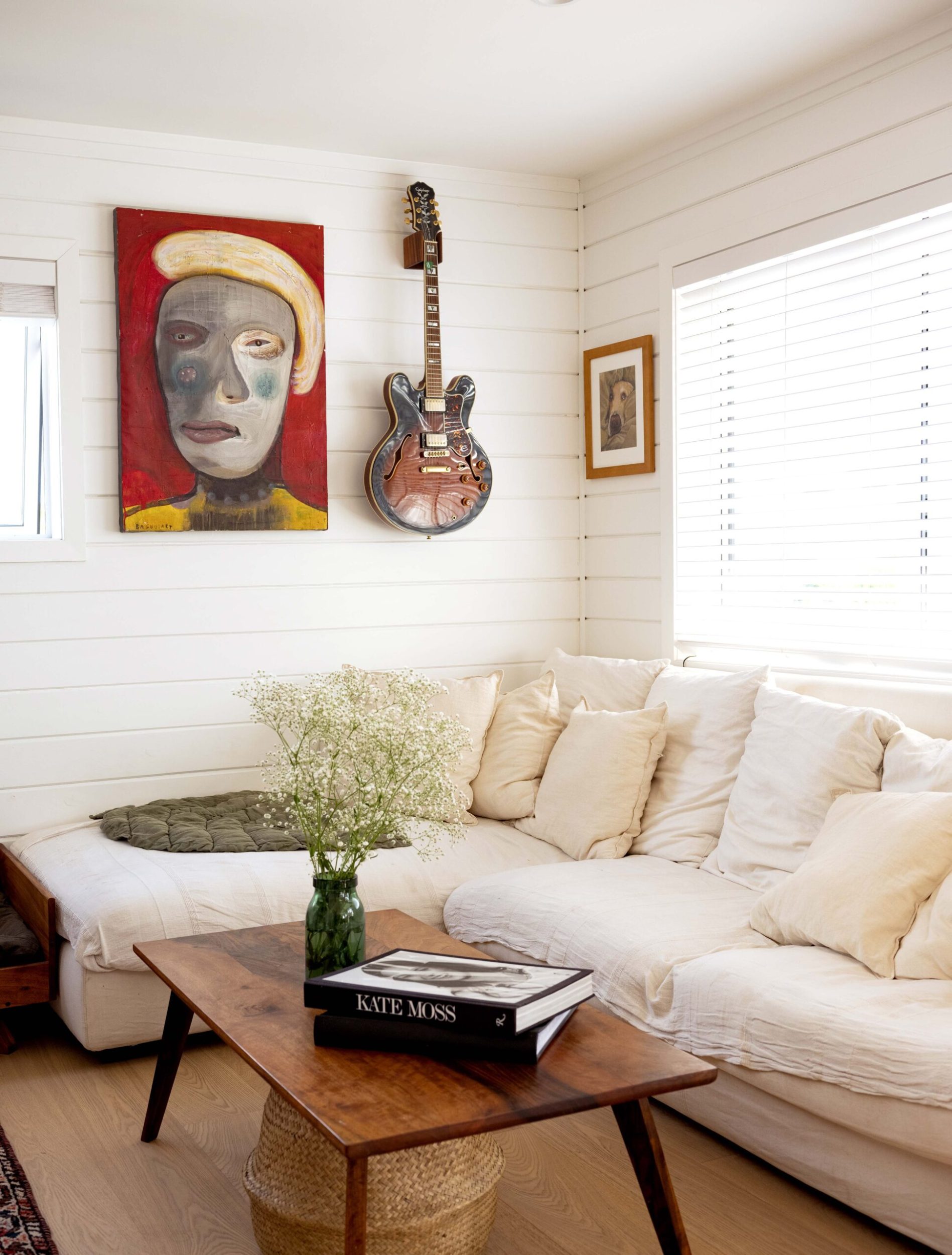 Thorley plays guitar, and his instruments double as decor on the walls. One of them was built from scratch by Kit at a fine-woodworking course. "Nearly everything in the house is made by him," says Thorley. "I think because they're all custom-made, it gives the house that kind of warmth."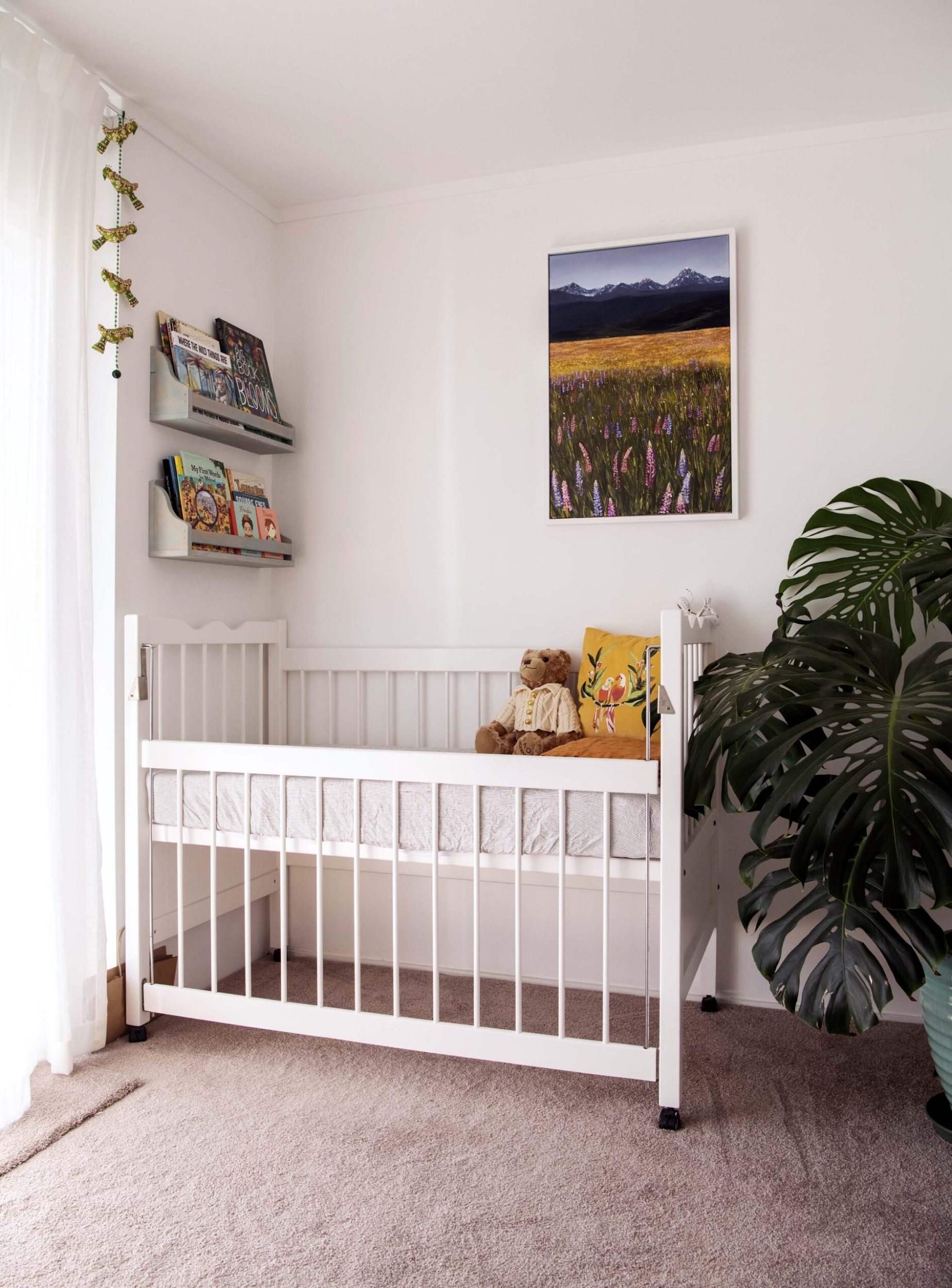 Because the house is small, Thorley and Renée went for white walls, which are warmed up with the carefully chosen furnishings. "A house kind of tells you the direction it will go or what it needs to feel nice," says Thorley.
The couple don't intentionally go shopping for homewares, but if they see something they like on their travels, whether that's at a second-hand shop or overseas, they'll make a quick acquisition. To go with their one-of-a-kind dining table, they found mid-century Kai Kristiansen dining chairs at The Vintage Shop in Auckland.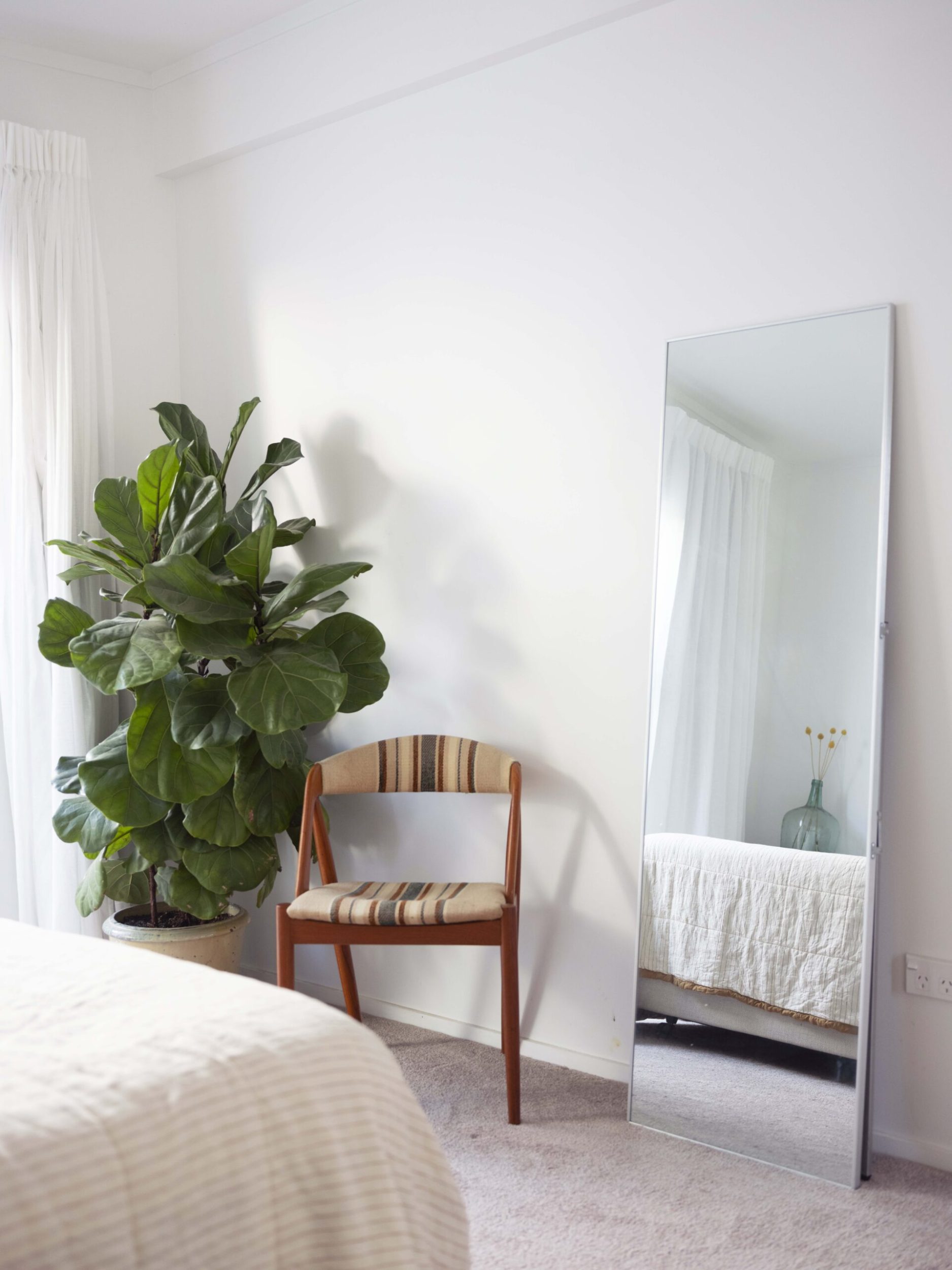 Of the many original artworks, including some by Renée, a pair of painted faces attract attention. Thorley spotted them while flying by on a scooter off the beaten track in Bali, and made an offer. They were duly peeled off their wooden surrounds and sent off with their new owner. "I think that's how you get the nicest gems," he says. "They're so much nicer when they've got a story, when you can look at something and think, 'I remember the place I got that.'"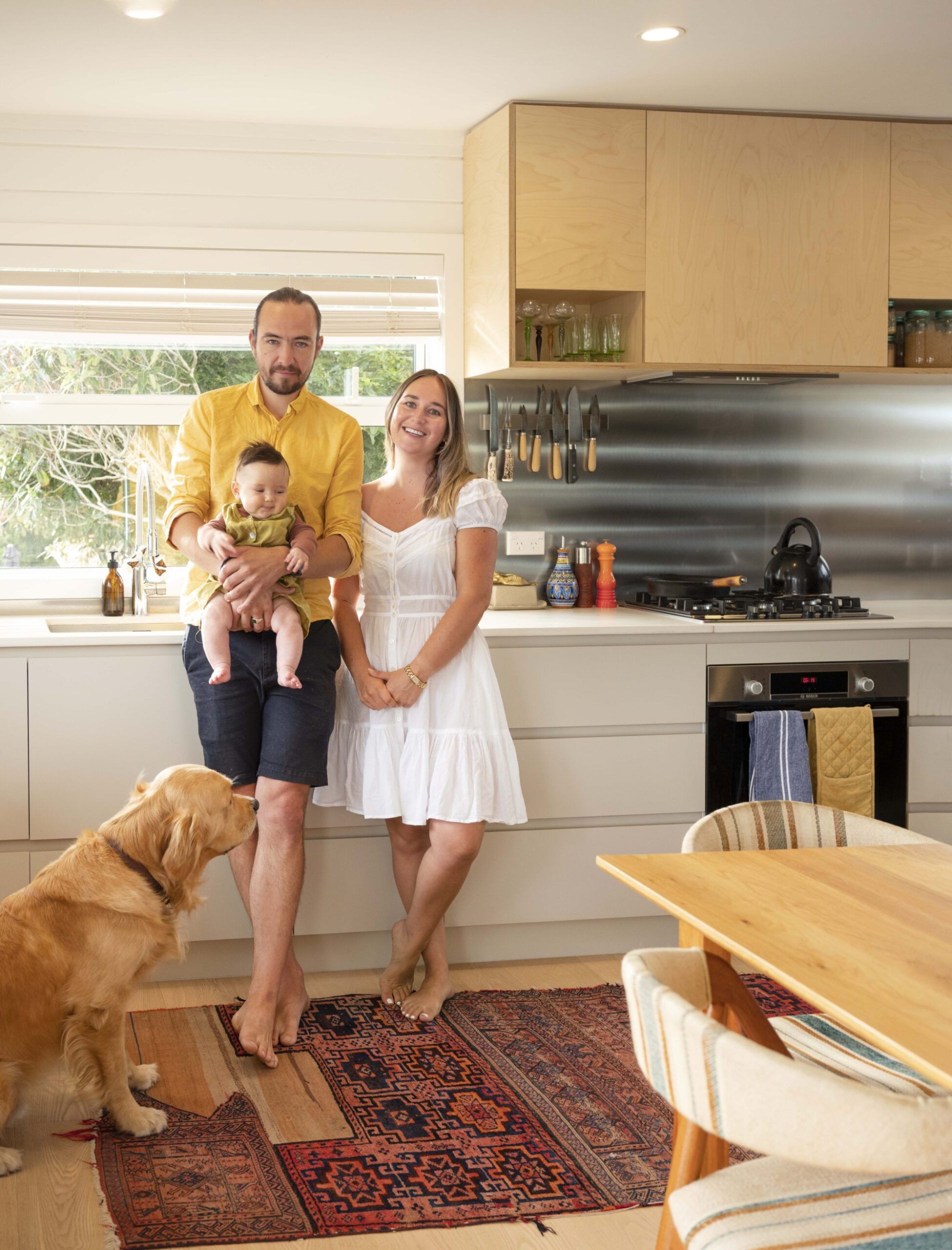 The most recent update in the home is the kitchen. Thorley did a quick-fix Bunnings makeover on it when they first moved in, but although the plywood felt nice on the outside, the old cabinetry was falling apart on the inside. The new space-saving configuration includes a sliding window to pass barbecue paraphernalia out onto the balcony.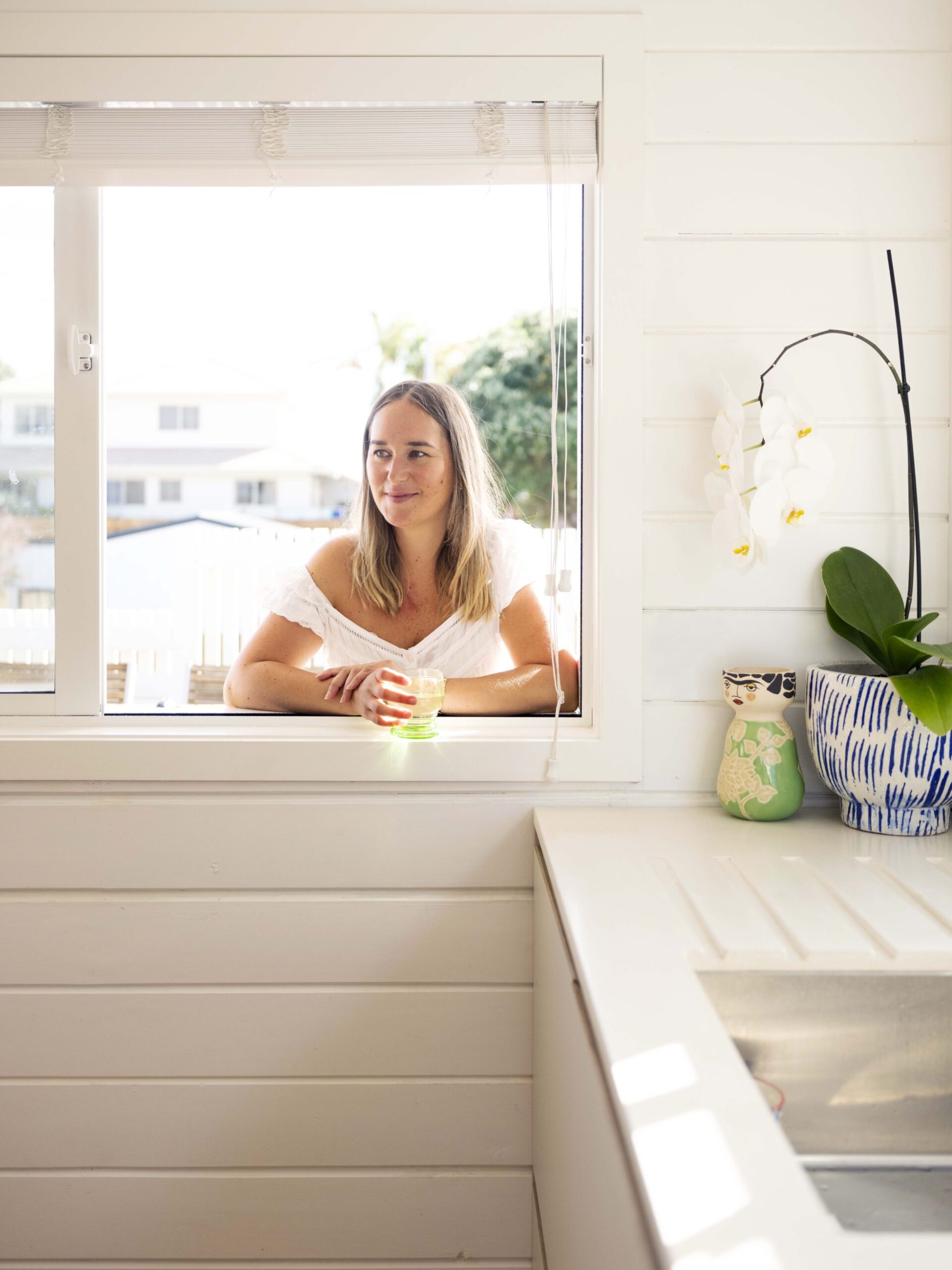 The kitchen's thin concrete benchtop was made by a friend who owns Tomorrow's Concrete. You'd be correct in envisioning bowls of avocados spilling over and onto the bench and, just like all of Thorley's customers, the family gets them delivered. "The owner of The Avo Tree is too busy, too forgetful to grab avocados," he says, laughing. "So his partner had to start a subscription for his own house."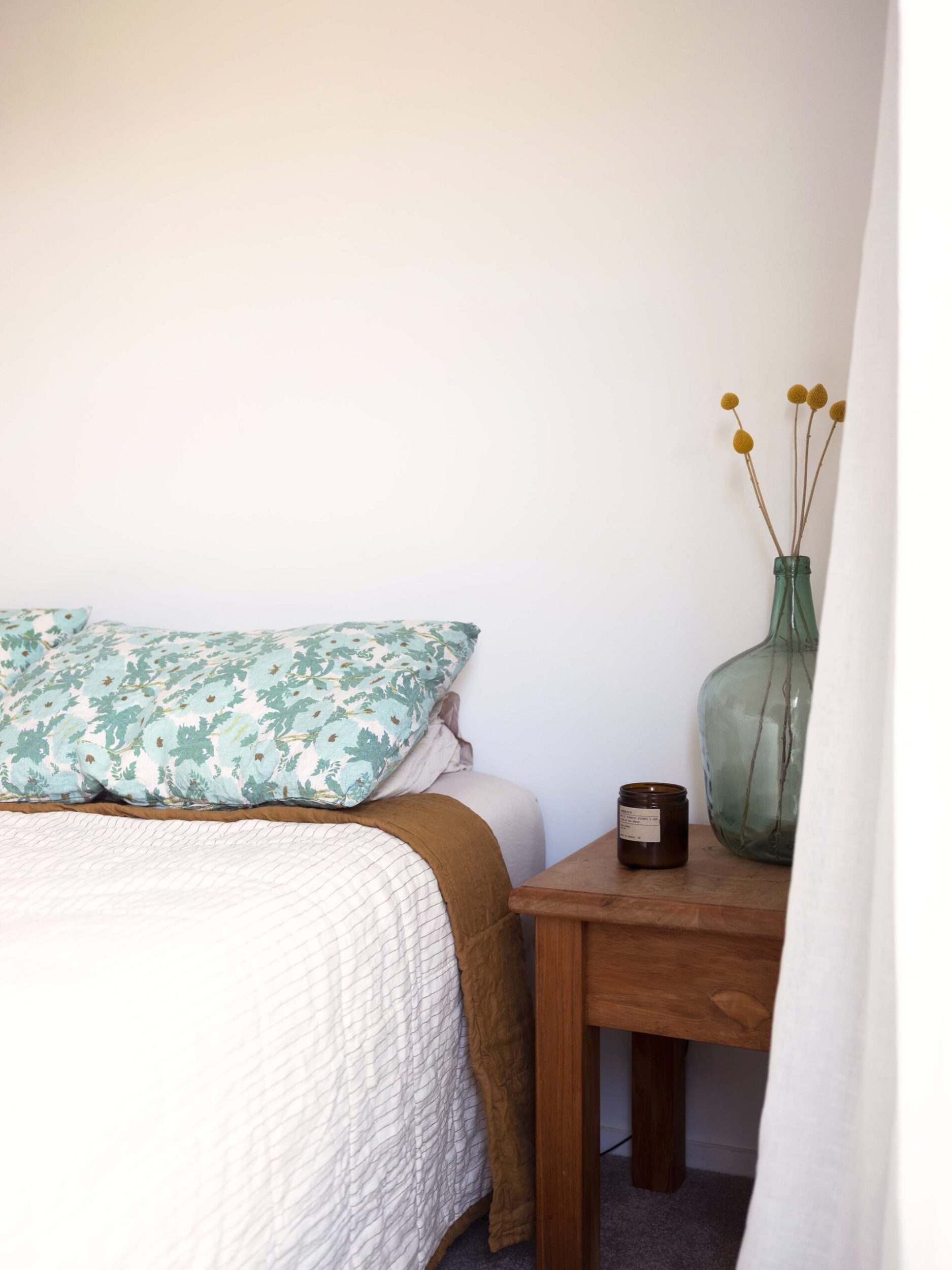 Inspired by his parent's avocado orchard in Katikati, Thorley started the business in 2015 after returning home from years of study and exploring overseas. The Avo Tree delivers avocados from small producers directly to consumers around the country, taking out costly intermediaries and ensuring quality. The subscription service took off, and within a year Thorley was in a position to purchase the Mt Maunganui house – his first home.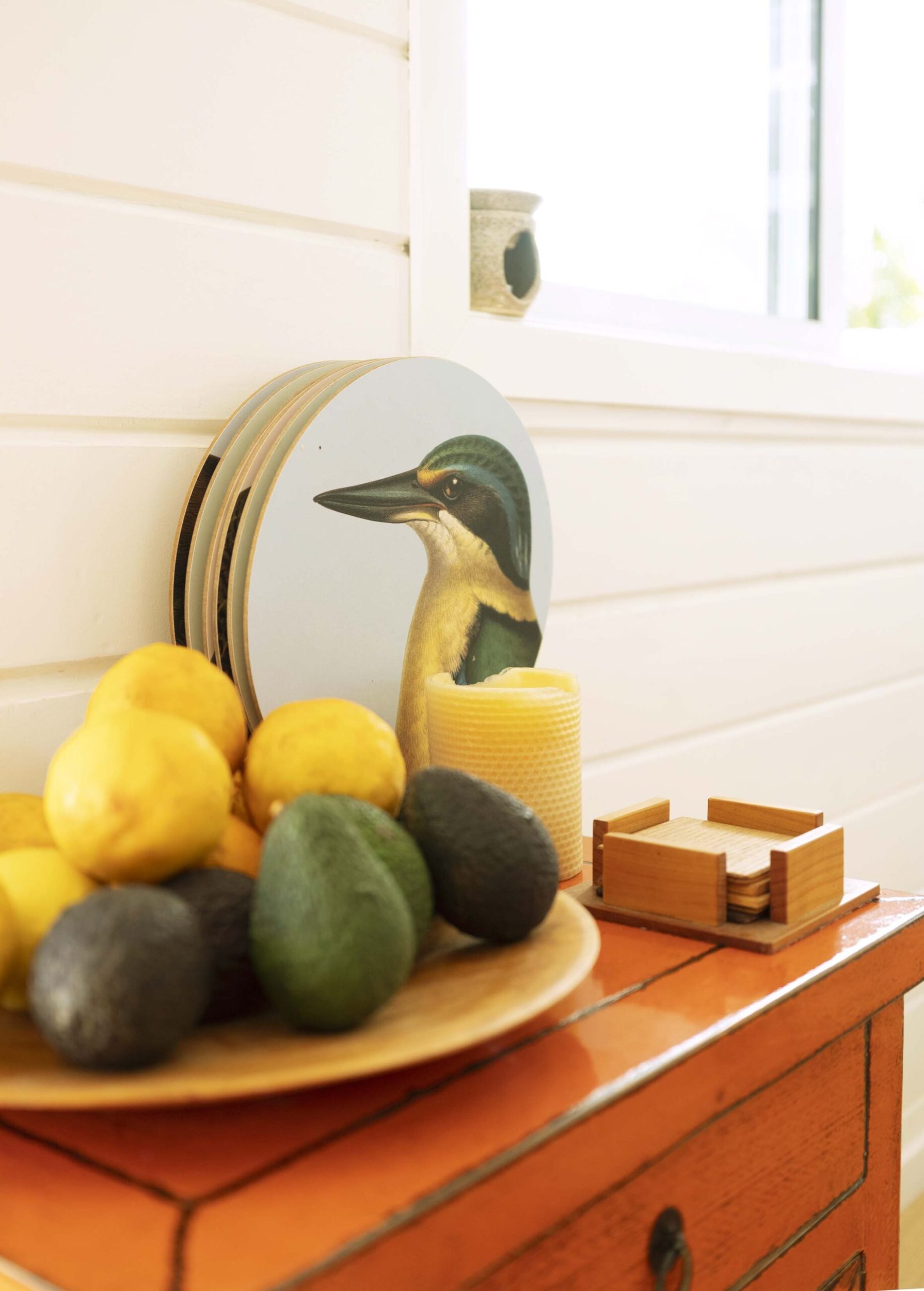 The business continues to grow, and now includes a nourishing avocado-oil skincare range, with plans also underway to launch New Zealand's first avocado-leaf tea.
On the to-do list back at home is to spruce up the main bathroom, which, like the kitchen, was given a quick-fix temporary solution after they moved in. The green painted floor will be covered in tiles to create a wet room.
In the future, the eclectic seaside home may become a bach for the family as they outgrow it as a full-time dwelling – but it's a place Thorley never wants to part with. "We love this spot," he says. "It's got a real warmth to it. It's home."
Swipe the style