As we see the end of the trend of all-white kitchens, we're becoming braver with our choices, embracing colour, texture and interesting forms.
Maximum impact in the kitchen is hot right now! Using colour in your kitchen can create the mood for the entire home. If you want a neutral palette, stick with soft greens and earthy tones. If you want to embrace pastels, you can look towards a soft blue, mint green, or even pale pink.
Or if you're looking for a more sophisticated mood, black or dark blue are the colours for you. We're seeing a lot of timber elements in kitchens, which give a Scandinavian design feel, a strong trend that doesn't seem to be easing.
As designers, we love things to line up, so straight lines are the dream, but we're seeing an ever-increasing number of beautiful kitchens with curves, from islands to cabinets.
1 Splashbacks
A trend we love is running the benchtop up the wall as a seamless splashback. But if you prefer a tile splashback, we're seeing a lot of amazing smaller tiles, called "kit kat" or "finger" tiles. Subway tiles may not have done their dash just yet, with so many colours, styles and configurations available. My current favourites are basket weave and herringbone.
2 Benchtops
Stone continues to be the strongest trend in benchtops, and for good reason. The range of colours and textures available is overwhelming. Budget will probably play a big part in your decision, followed a close second by how much care you want to give your benchtop. Natural stone comes in an amazing range of colours and textures and is a statement and natural work of art rolled into one. However, because natural stone is more delicate and more porous, it requires more care. That means no leaving red wine rings on the bench overnight, as they may never come out.
Engineered stone, a mixture of natural and man-made products, is stronger and tougher, so is easier to maintain. A new product on the market is porcelain stoneware, made of a mixture of natural materials that have been pressed and taken through a firing process at temperatures of more than 1200°C. The result is a benchtop that's more resistant to wear and can withstand direct heat from even the hottest pans.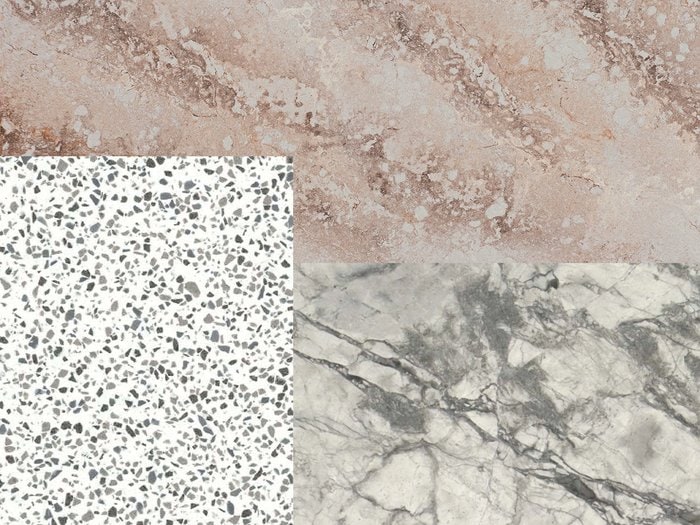 Excava by Caesarstone (top), Domino Terrazzo by Croian (left) and Colomite by SlabCo bottom.
3 Lighting
The kitchen is the hub of the home, so it's important you have the lighting just right. In my opinion, lighting is one of the most important elements of a kitchen, and I always encourage clients to spend their money on amazing feature lighting. Wall lights in the kitchen add warmth and style – when you're next at a cool café, check out their wall lights for inspiration. A single large pendant over one end of the bench makes for a striking touch.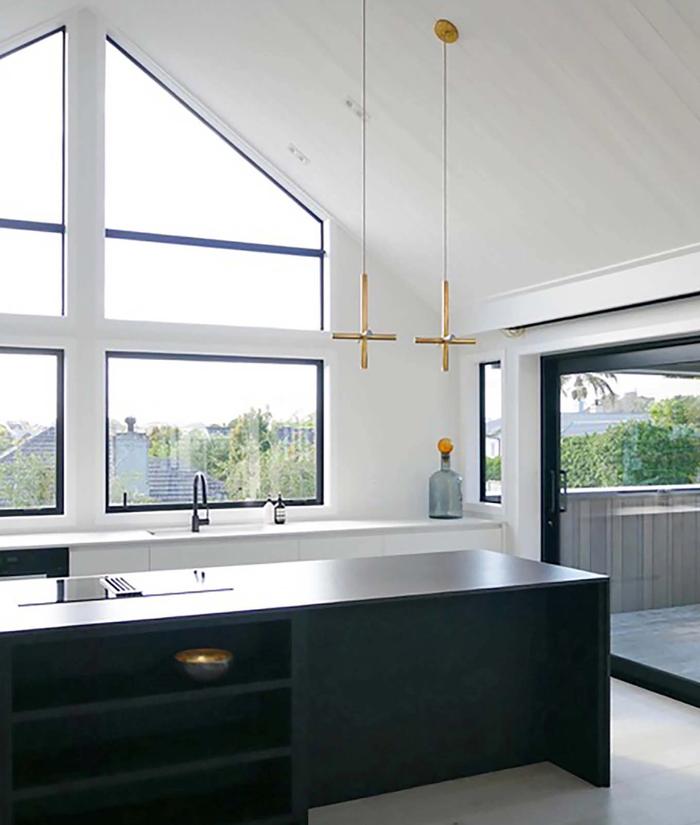 Make sure your light is in the correct proportions for your home – if you have large ceilings, your light will need to fill the void, as in the kitchen above by Design Council Interiors, which uses two Petrine pendants from Nightworks Studio.
4 Cabinetry options
There are four main options when it comes to cabinetry materials, and they offer different benefits:
Thermoform panels (available from Dezignatek) are made by wrapping vinyl film around the face and edges of a drawer, door or panel to provide a seamless, durable and moisture- resistant finish. Thermoform comes in a variety of colours, finishes and door profiles, so you can easily create a simple, traditional Shaker-style kitchen.
Low-pressure laminate (such as melamine and Melteca) is a tough surface that is pressed onto wood-based panels to produce attractive, highly durable cabinetry or wall coverings. You can choose double or single-sided, and select from a range of thicknesses, textures and designs, from solid colours to wood grains. This is the most cost-effective option.
Veneer is made when a thin layer of real wood is applied to wood-based panels. It can be used for interior cabinetry, furniture or wall panelling, and a wide range of wood types and designs are available. Veneer can be a much more sustainable option than solid timber – for one cubic metre of solid wood you'll get more than 900sqm of usable veneer.
Two-pot lacquer is a hardened paint finish that can be applied to cupboard doors and drawers. Made from a mixture of resin (acrylic paint and melamine) and hardener, it leaves a thick, smooth, hard finish. The benefit of two-pot is that you don't need edging tape, you can choose any colour from the Resene range, and you can have any edge profile you wish.
5 Style of kitchen
When deciding on the finish, think about the style of kitchen you want to achieve. If you like a plain cabinet front, you can use a laminate finish, but if you're looking for a moulded, tongue and groove or Shaker-style kitchen, you'll want to use either thermoform or a two-pot lacquer finish.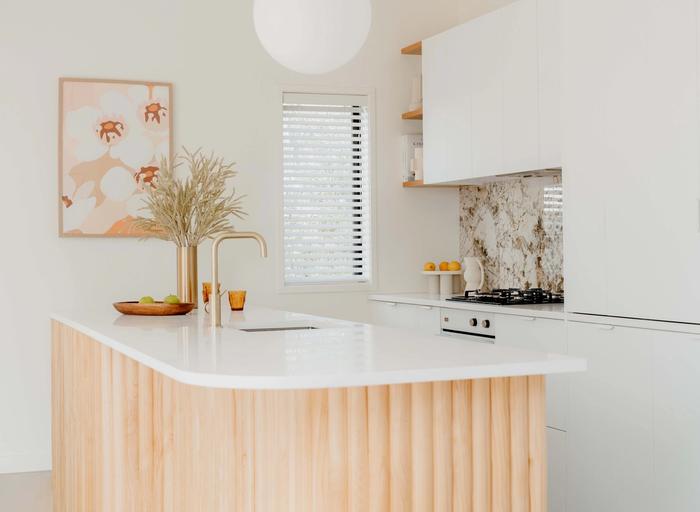 Kitchen islands are getting more exciting these days, with the fronts becoming a place to play with materials. We're seeing tiling on the front of the island, or architectural mouldings, as seen in this kitchen by Kiwi designer Maiko Nagao, which create an interesting feature that ties in with the style of the wider kitchen.
6 Handles
Over recent years there's been a strong trend away from handles in kitchens. Though I'm a fan of keeping some cupboards clear of handles (especially overhead cupboards or small under-bench units, where handles can look cumbersome), I think handles on some cabinets and drawers look amazing. Choose the right handles and they're like the jewellery of the kitchen, adding that little bit of wow factor.
If you want to use handles sparingly, try a few larger, longer handles on tall pantries or integrated fridges. Or, if large handles aren't your thing, consider brass or timber knobs.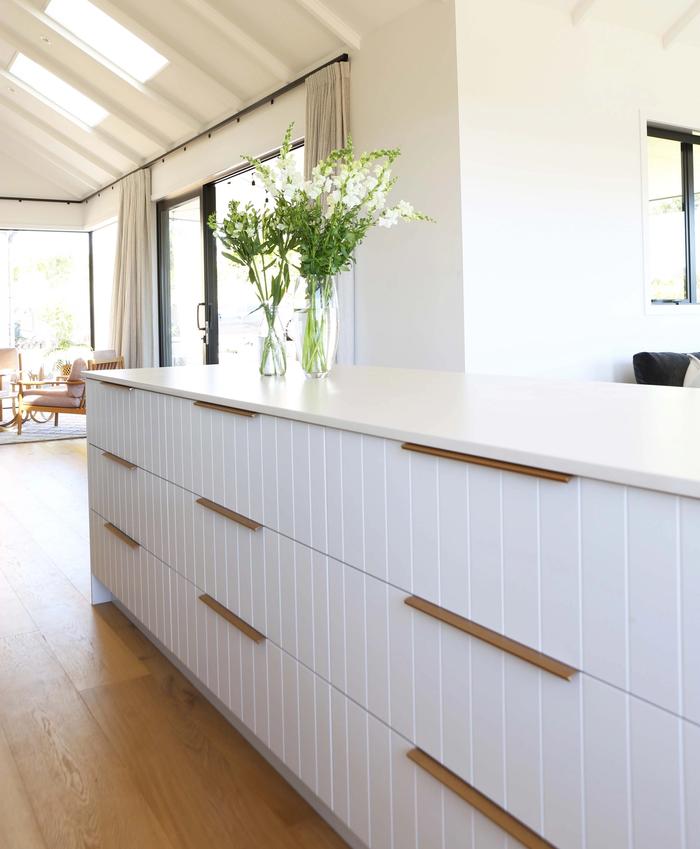 Going without handles won't save you money, as you'll pay more for push-to-open cupboards and drawers.
7 Sinks
Sinks are one thing I probably get the most questions about! Stainless steel is still the most popular and easy-care option, but if you're looking for something that stands out, sinks come in a huge range of eye-catching colours.
If you have a black benchtop, I'd suggest going with a black sink. If you have a white benchtop, an integrated white sink looks amazing, but unfortunately isn't very practical. If wine or coffee is left in the sink, it can stain, so if you have kids or simply don't want the stress of maintenance, I'd say they're best to avoid.
Mary-Ellen Hinton is the Founder and Lead Designer of Hello Saturday Design. To find out more about their work, visit their website here.