Ten ways to make a small space feel bigger.
Our homes are shrinking. Data from Stats NZ shows that footprints of new builds have fallen in the last decade, down from a record 191sqm in 2012 to 144sqm at last count (though that's still far bigger than the average house in 1975, which measured 107sqm). These simple tips and tricks will help you embrace your small space.
1 Don't be a clutter bug
Yeah, yeah, we all know that most of us have way too much stuff. British interior designer Terence Conran's advice was to move everything out onto your lawn and only bring back in what you need. If you're not ready for that level of ruthlessness, or you're wavering over items you intend to use again, experts suggest putting them in a box for three months (if you have space!). If you don't use it during that time, it's ready for a new home elsewhere.
2 Big is beautiful
It might seem counter-intuitive, but petite dwellings don't require miniature furnishings – your home is not a doll's house. Lots of little groups of objects can make a room feel cluttered and confused, whereas by playing with scale and having fewer, larger objects you create a focal point in the room, amplifying space. Instead of grouping together loads of small pot plants, replace them with one large palm or fiddle-leaf fig, for more impact. Adopt this generous "less is more" mentality with your art and furniture as well.
3 Knock down a wall
Poky rooms become larger and airier when you remove walls. Kitchen and living areas are commonly unified in this way, often creating a more family-friendly vibe. Many 20th century Kiwi houses have separate laundries off the kitchen – knock out the wall and you may be able to create a bigger living area. Washing machines and dryers can be disguised inside custom-built cupboards instead. Use the same flooring in open-plan areas to make them feel cohesive and thus larger, and then define separate areas such as the kitchen and dining room with furniture, shelving or rugs.
4 Mirror, mirror on the wall
It's merely an optical illusion but one of the easiest ways to create the perception of space is by adding a large mirror. The reflection not only makes the room brighter but it also creates a sense of depth. It's usually best to opt for one large mirror but you can achieve a unified effect by displaying a collection of identically sized mirrors in a row or grid pattern along a wall. You can also bring attractive outside views into your home by hanging mirrors at right angles to windows.
5 Nifty storage solutions
Adopt a caravan state of mind and install dual- purpose furniture and cabinetry. Free-standing dining chairs can be replaced by bench seating with built-in storage, and a floor-to-ceiling shelving unit can double as a bedside table if placed beside a bed. Beds with built-in storage underneath can eliminate the need for free- standing drawers. And don't forget about all that room under your roof. A pull-down attic ladder can provide space for infrequently used items.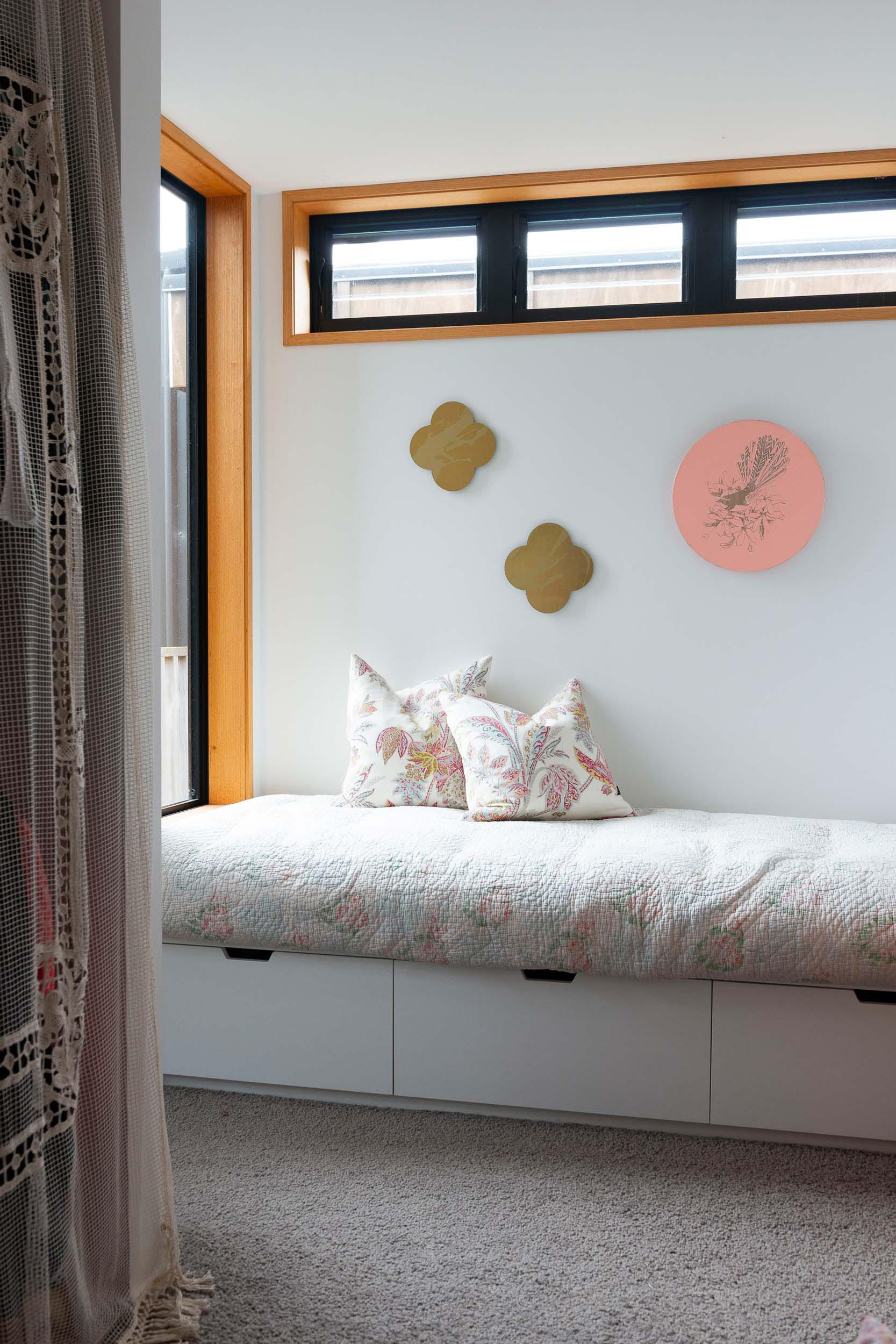 6 Lift up thine eyes
Rather than displaying everything at eye level, install shelving, art and other objects at higher levels to lead the eye upwards, creating an illusion of height. Aim for gradual elevation though, to ensure that there isn't a big gap between items at lower points and those higher up. Cupboards that extend right up to the ceiling also boost height, and – added bonus – you'll never have to dust the tops! Floor-to-ceiling curtains and mirrors will also elongate rooms.
7 Into the pale
Lighter colours tend to recede when we look at them, so painting walls white is a well-known trick for creating an airy space, and it also provides a blank canvas to allow furnishings to stand out. But this doesn't mean you can never use dark shades on your walls. Because they reflect less light, moody tones can play with our perception of depth, blurring edges and becoming more intense as the light changes throughout the day. Turn a dark wall into a backdrop by teaming it with pale furnishings or by adding bright accents with colourful cushions or rugs.
8 My dance space, your dance space
Rugs and mats define areas within diminutive homes, and there are some beautiful options that double as fine pieces of art, such as the Dilana Rugs' Artists' Collection of woollen rugs featuring works by Kiwi artists. (One of the benefits of less space is that you can choose quality over quantity.) When it comes to rug size, interior designers say that there should be space between the edges of your rug and the surrounding furniture, so aim to get your proportions right to avoid making your furniture look swamped.
9 Show some leg or disappear altogether
To reduce mass, choose furniture with slim legs, keeping the view clear underneath. Mid-century enthusiasts, this one is for you, because tapered legs are a defining feature of 1950s and 60s designs. You can even go invisible with transparent furniture, such as Philippe Starck's iconic Ghost chair, which has spawned many replicas. Another way to capitalise on floor area is to maximise your use of vertical space. Bench seats, toilets and basins can all be hung off walls, and floating shelves without brackets are a wonderful minimalist option – just make sure you install shelves on wall studs so they're secure.
10 Let there be light
In the same way mirrors increase our sense of space, well-placed lighting can also open up a room, delineating areas and creating cosy nooks. The trick is to have a range of different lights, not one single light source. Use floor lamps in corners, table lamps on sideboards and wall lights in awkward spots. Pendant lighting can define spaces such as dining areas.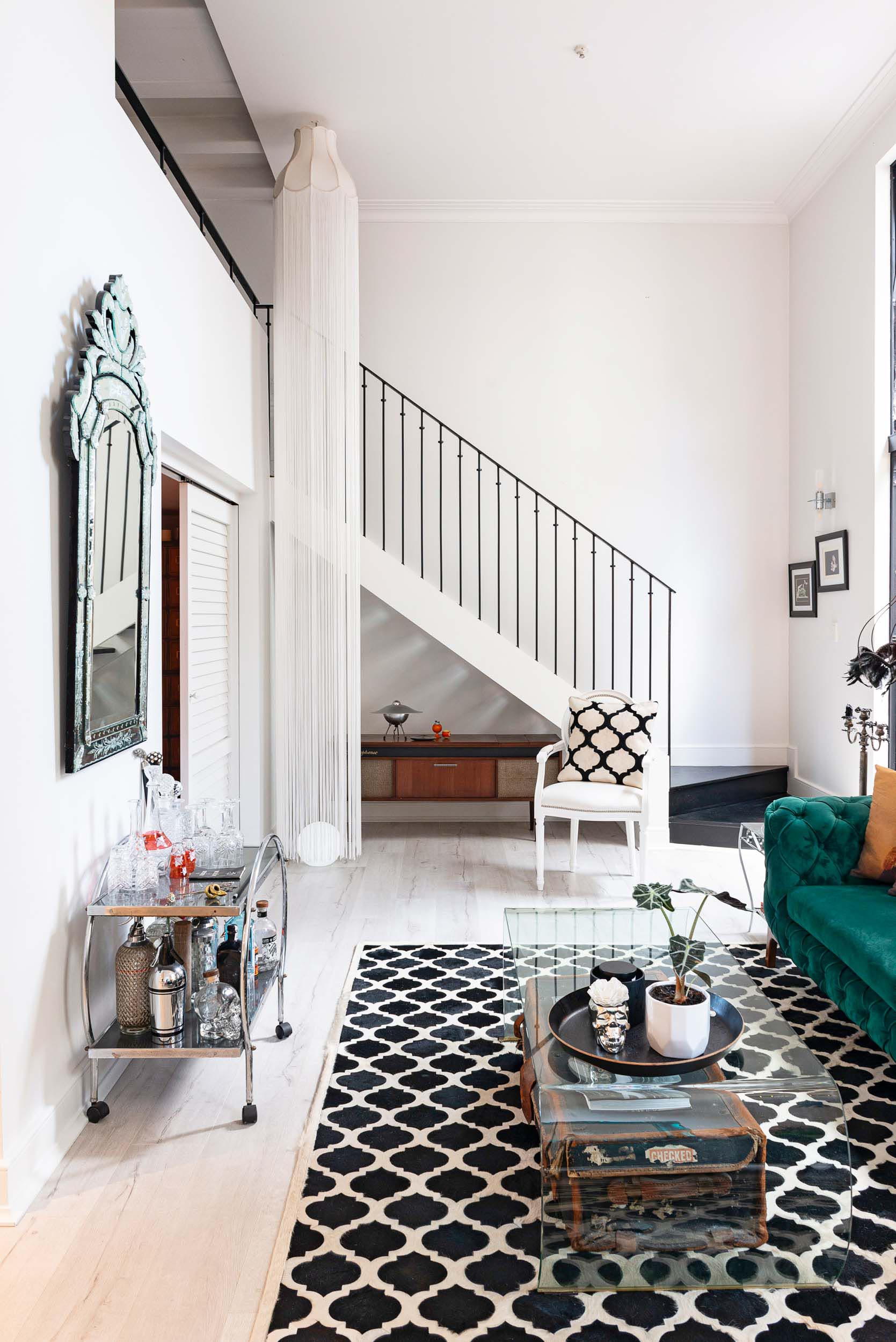 IMAGES: BONNY BEATTIE, FLORENCE CHARVIN, HELEN BANKERS