Choosing Athena and Clearlite products guarantees you a beautiful bathroom that's made to last, plus you're supporting a Kiwi company that's committed to local manufacturing and has sustainability at its heart.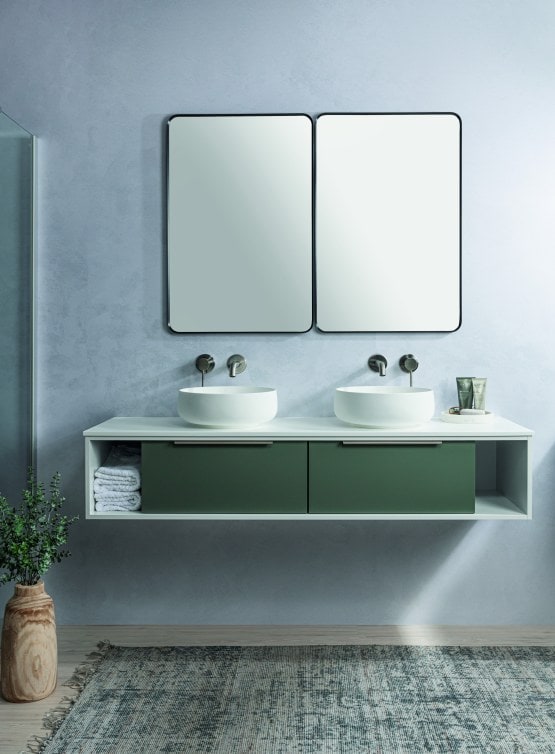 The Athena Fleet Modular Vanity, pictured above, offers the chance to customise your vanity to suit your home. Select a Fleet frame and drawers and mix and match from eight nature-inspired colour finishes. Customise with your choice of handles, basins and a bench top to complete the look.
First impressions count, so when you go looking for new bathroomware you'll be after smart, stylish design that has the wow factor. Just as importantly, you'll have an eye to the future. You'll want to know that the products you choose will last. And with the future of the planet in mind, sustainability will be high on your list of desirable attributes as well.

With their complementary ranges, Athena Bathrooms and Clearlite Bathrooms deliver handsomely on all three fronts – style, durability and sustainability – and they're a New Zealand owned and operated bathroomware company to boot. Athena and Clearlite pride themselves on the quality of their products – which include showers, baths and vanities, plus mirrors and storage towers.

There's nothing quite so frustrating as picking out your new bathroom items only to be told there'll be a long wait before they appear on your doorstep or building site. But the fact that more than 70 per cent of Athena and Clearlite products are manufactured here in New Zealand means you won't have to wait… and wait… and wait for delivery.

Products are made to order and readily available, avoiding the annoying brake of long delays that have bedevilled so many building and renovation plans as global supply-chains have been disrupted over the past few years. Overall, the company is dedicated to being a responsible
manufacturer with a deep understanding of their customer – the New Zealand consumer. And it's something they've been doing for 40 years. Since 1982, Athena Bathrooms have been a trusted manufacturer and supplier to the New Zealand building industry, using quality materials that ensure their products are made to last.

Athena and Clearlite also know environmental responsibility means more than just lofty words and strive in all areas of their business to walk the talk: l They use only low-emission E1 standard, New Zealand grown, environmentally sustainable board from FSC-certified radiata pine plantations for their furniture manufacture. They work with supply-chain partners to identify opportunities and develop and promote sustainability-led solutions. Their commitment to reducing the company's impact on the environment goes much further than the practices within their manufacturing facility. They are also dedicated to the health and wellbeing of their staff in and around their manufacturing/
distribution facilities and offices.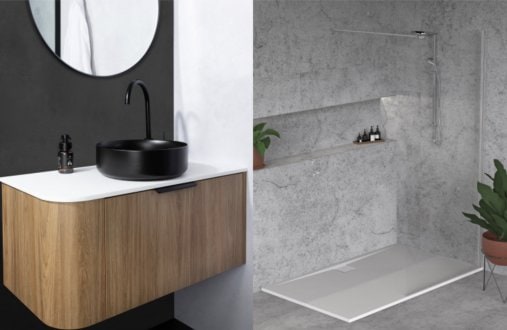 The Athena Swift Curved Vanity, above left, works beautifully in both mid-century or modern interiors. It's sweeping curves add style and personality. Plus the soft corners are easy to move around if space is limited. Check out the Athena SlateForma Shower Tray, above right, an easy-clean, grout-free alternative to a tiled shower, with the texture of natural slate stone. Available in three nature-inspired colours to complement any bathroom.

The company is also very alert to any pollution arising from its operations that might affect the air and water in the local vicinity – with noise an important consideration as well. All the while, the team at Athena and Clearlite never lose sight of their focus on serving their customers to the very best of their ability and maintaining their decades-long reputation for high standards in everything they do. The key objective of the company is to always provide superior solutions to the building industry and homeowners, that not only focus on top quality design and offer a wide range of choices, but are also safe and of the highest quality. With their track record of style, durability and sustainability, Athena and Clearlite are able to personally design and create premium bathroom products that will work best in New Zealand homes – now and in the future.

See more at athena.co.nz and clearlite.co.nz.