A personal passion for living a chemical-free life is behind Loveblock wine, which is made using principles that care for the land, and results in delicious organic wines that allow the grapes to shine.
Making wine has taught Erica Crawford a lot of things, including the importance of tenacity, resilience and strong relationships. Most of all though, it's taught her patience. "I've learned to follow the rhythm of the vines, to observe and listen, and not to impose my will upon them," she says. "Patience is not something that was inherent in me, but I've learned to be patient." Erica, who describes herself as a "lapsed scientist" came to wine after starting out in medical research in her native South Africa. Moving into the pharmaceutical industry helped her hone skills that stood her in good stead when she moved into winemaking and helped grow Kim Crawford into one of Aotearoa's most successful brands.
Now, as the co-owner of Loveblock Wine, she's on a mission to help people drink smarter and explore the world of organic wine. "With organic wine, it's more about what you DON'T put in that matters: no chemical pesticides or herbicides, less winery inputs and a lot of blood, sweat and love."
A wild, untamed place
The Loveblock vineyards, which overlook Marlborough's rugged Awatere Valley, are Erica's happy place. It was love at first sight when she and winemaker husband Kim bought the 70-hectare block in 2004. It was just a bare paddock, but they could see its potential. "This was a wild piece of land, untamed and hidden from the world," Erica says. "At first I fell in love with the view, but it is the 'quiet' and the feeling of space and air filling your lungs I fully love. "We never thought at the time that it would become the winery's name; we just poured so much effort into it – it really was a labour of love. When it came time to decide on the labels as well as the name, nothing else seemed as right as Loveblock.
It was the perfect place to dip their toes into making organic wine; the northerly aspect equals excellent sun, while the intense winds keep bugs and disease at bay. Erica and her team see themselves as custodians of the land; taking care to farm it and grow grapes in accordance with BioGro Organic Certification standards, Sustainable Winegrowing New Zealand principles and low chemical intervention farming. This means incorporating both centuries-old methods, such as composting to promote biodiversity and build soil, and drawing from modern technology and equipment to make the vineyards more carbon-efficient.
"It takes more than just growing grapes organically… it's a whole system of biodiversity," Erica says. "There is a whole universe below our feet – billions of microbes, worms, micro-organisms and other things that create an environment for plants to thrive in without leaning on chemicals to make their lives easy. "In the winery, we try not to tinker too much with the process, the grapes talk about their place in the bottle. It's more what you don't get that counts."
'Wine has taught me that there's a place in the world for everybody's opinions, everybody's taste and perception of flavour, and everybody's enjoyment.'

Erica Crawford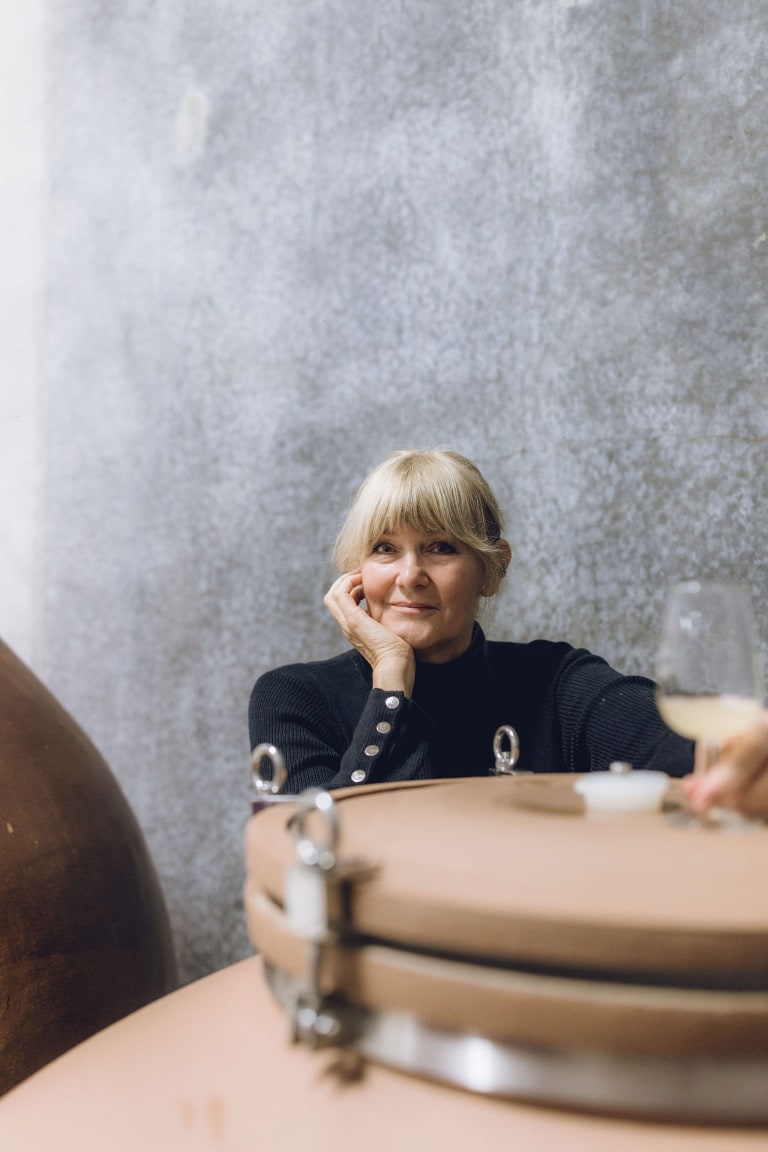 A Change For Good
Erica's initial interest in organics came from an unlikely source. After being involved in a car accident in 2002, she was told her health was equal to that of a stressed-out corporate man 20 years older. She immediately started making changes to her lifestyle, eliminating artificial additives from what she ate, and opting for natural skincare and household products. Moving to organic winemaking in 2013 was a no-brainer, she says.
"If you're interested in making a change, going organic doesn't mean giving up the things you love, it's simply exchanged for something simpler," she says. "Organic winegrowers do not use chemical herbicides or pesticides, we instead use biological means to create a healthy environment for vines to thrive. When the grapes are this full of life and character, it's only right to let them shine, unadulterated and unadorned."