Ten of the best styling ideas for a nature-inspired Christmas.
1 Branch out
Combining eco-friendly appeal with handmade charm, this Christmas "tree" is ideal for petite homes and apartments. Hung on just about any wall – indoors or out – it can function as a gifting centrepiece (with piles of tempting presents at its foot) or, in larger spaces, as an additional piece of decoration within a wider festive scheme.
How to get this look
Create a similar tree by collecting twigs of varying lengths, keeping their girth as uniform as possible. Lay out on the floor in a Christmas tree formation and join the twigs together using thin florist wire or string. Hang with baubles interspersed with posies of fragrant woody herbs tied together with raffia and string.
2 Plant based
Approach an all-natural festive decor scheme like a textile designer: focus on layering and texture within a restricted palette of chalk, grey, charcoal and bone. Centre the look on tactile, all-natural elements – including textured papers, twine, raffia and plant sprigs – for a romantic, organic feel. And add as many candles as you can, to enhance the celebratory mood.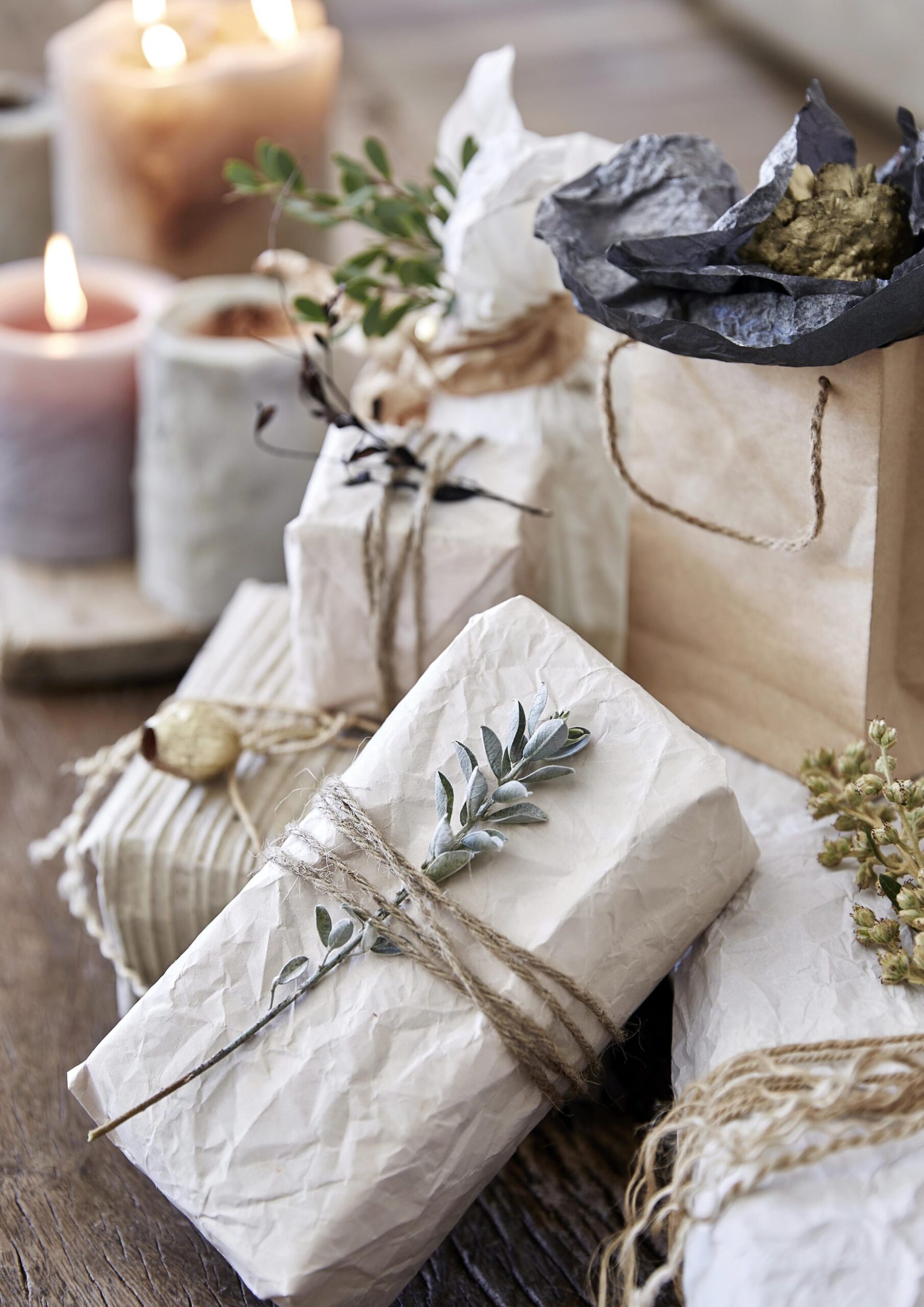 Top tip
Wrap gifts in brown Kraft paper and plain white newsprint that has been crinkled into tight balls, then flattened out again to mimic the appearance of crushed linen. Complete this charmingly rustic look with loosely wrapped twine, plus an assortment of herb sprigs and seed pods spray painted in gold.
3 So welcome
For centuries, evergreen wreaths have symbolised both the hope of rebirth and a spiritual belief in everlasting life. They are also often placed on the front door, serving to welcome guests to your home at Christmastime. This year, why not eschew the regular circular shape for a more rustic decoration? A door garland feels more contemporary, while still imparting the natural feel so essential to this form of seasonal adornment.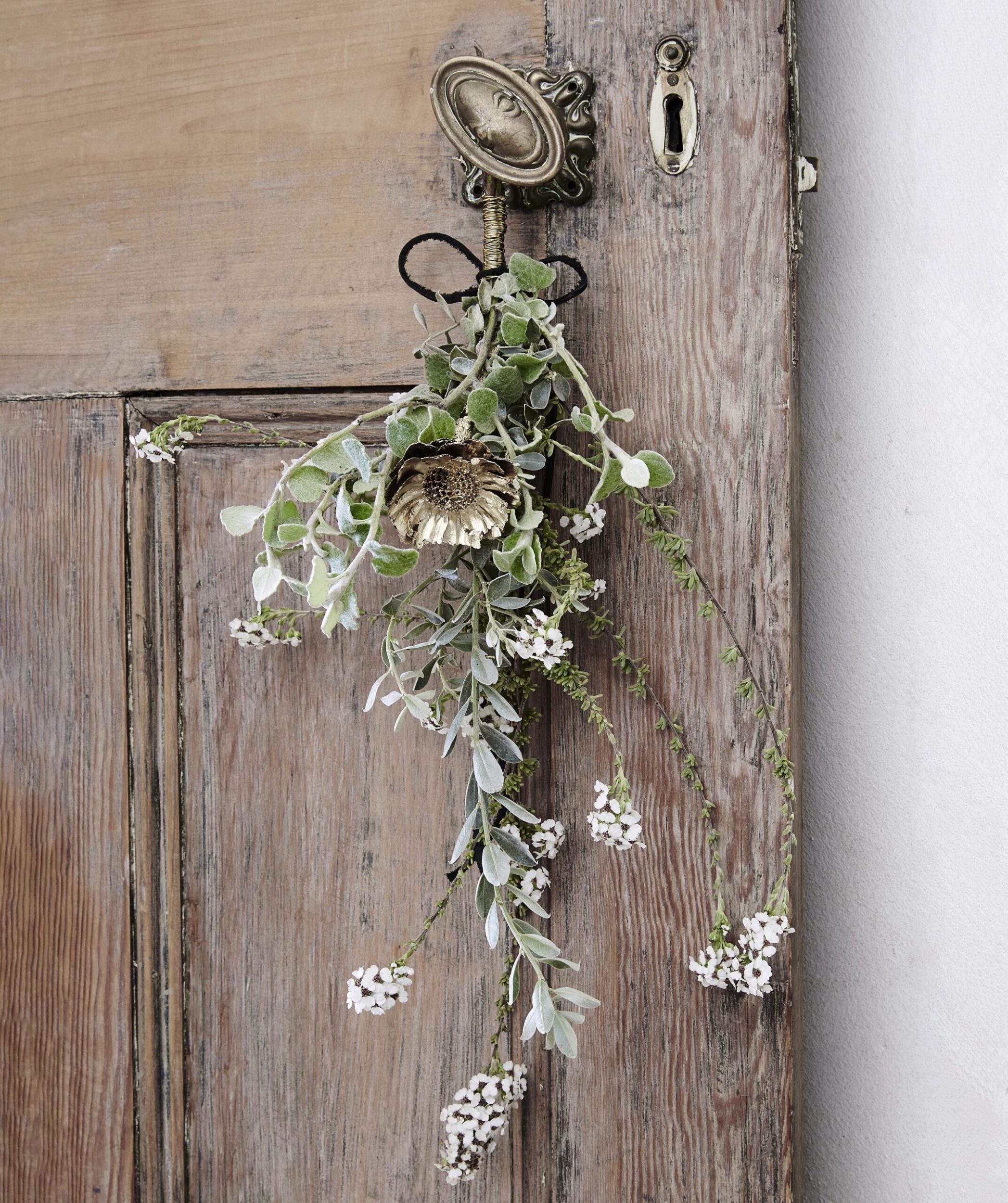 How to get this look
Our garland was made using evergreens and a dried flower spray painted in antique gold. Use black leather cord and gold craft wire to hold the casual composition together while also imparting shine and a touch of contrast to the natural shades and textures.
4 All is light
Consider every area of your home, from hallway tables to windowsills, as potential places to add festive touches. And remember that your own informal, homemade displays are invariably the most appealing elements of your Christmas decor – as well as usually being both budget-saving and eco-friendly to boot. Christmas calls for luxury, but there's no right or wrong interpretation of what that means. It can be faded and evocative or full-on and festive, as long as what you see makes you happy.
How to get this look
This irresistibly pretty and scene-setting display is supremely easy to achieve. Simply fill various wine and cordial bottles with water and evergreen leaf springs, then use them to hold white taper candles. Always use boiled or distilled water, as it will take longer to go cloudy.
5 We three rings
Classic Christmas wreaths become instantly modern when spray painted white and hung in a charming trio. Plus, the rule that wreaths should be confined to front doors has had its day – instead, hang them in multiples anywhere you please, from hallways to living spaces or even bedrooms, using thick ribbons or lengths of linen to add yet another textural dimension to the display.
How to get this look
Craft a wreath from bendy twigs (willow or birch work well), using secateurs to cut lengths, scissors for trimming and natural twine for binding into shape. Spray paint garlands white and allow to dry. Optional extras include strands of jewellery wire for a hint of shine, or even a string of battery-operated fairy lights.
6 Let it snow
Create a sense of drama and occasion with a centrepiece that conjures up romantic notions of overgrown gardens and forest thickets dusted in snow. The ideal foundation is a soft washed linen tablecloth. Top it with handmade tableware and drinking vessels to add tactility and organic charm. Plus, if the design of your chairs allows for it, tie individual posies onto their backs as simple take-home gifts for guests.
Top tip
To make a centrepiece like this one, place scrubby evergreens and woody plants into a linear arrangement the length of your table, and loosely secure with raffia or florist wire to hold in place. Enhance with a light spray of white paint and a dusting of gold powder paint. Finally, tuck Christmas baubles and gold-painted seed pods among the leaves
and twigs.
7 White Christmas
This is a pared-back, textural and non-traditional aesthetic for Christmas that will form the backdrop of a very contemporary celebration. Painting foliage and dead branches white makes for a bold, graphic effect, and anchors the striking black, white and natural palette used for the decorations and gift-wrapping. There is so much readily available in our homes and gardens to incorporate into our decorating. It just takes a bit of imagination, and some thoughtful editing.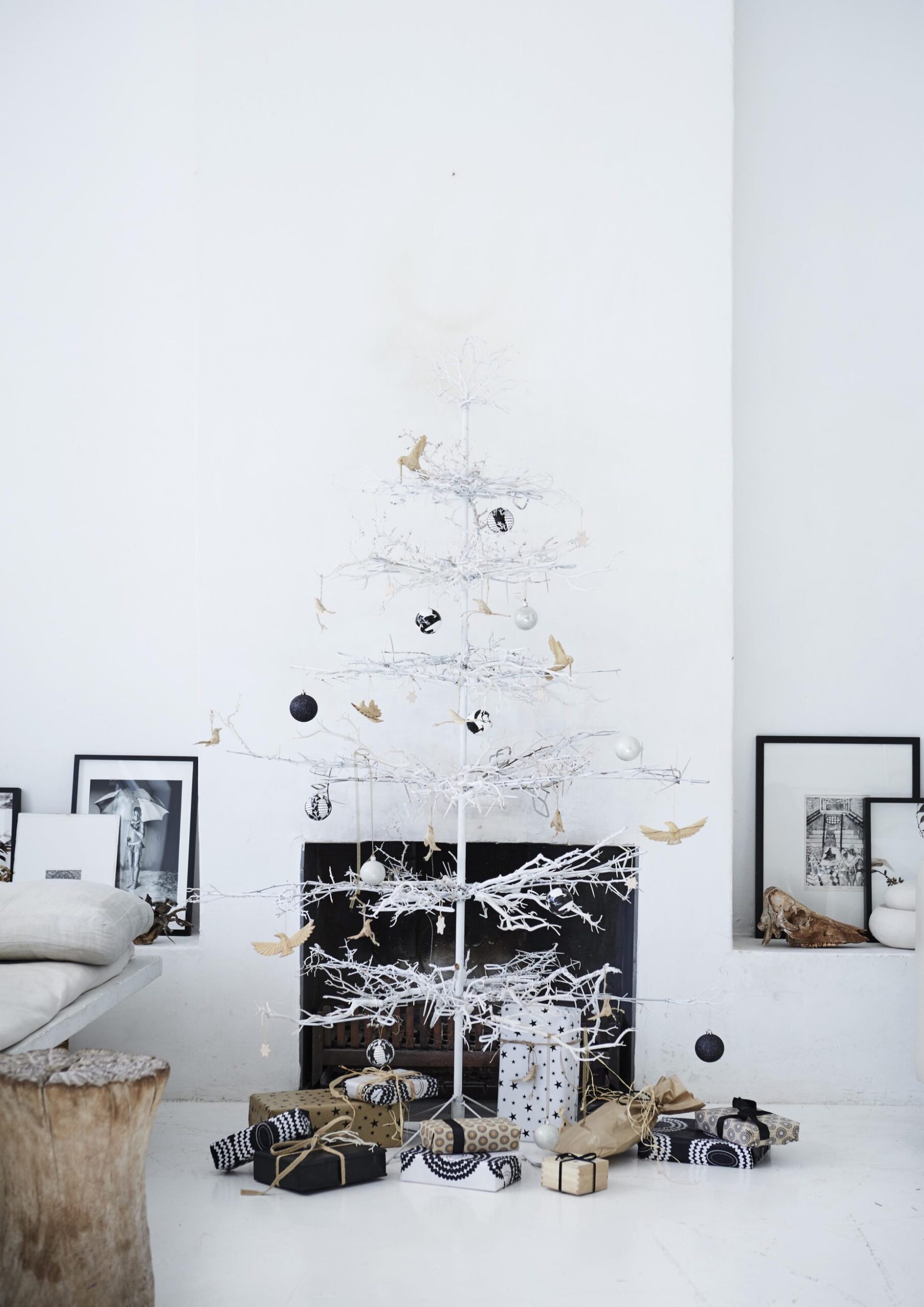 How to get this look
This small thorny tree had recently died in our stylist's garden. She simply mounted it on an old wire stand and painted the entire piece pure white. The delightful hand-carved wooden birds on the tree make it feel more like an art installation than mere decoration.
8 Monochrome magic
Christmas decor does not need to be colourful to feel festive and celebratory. Here, a striking monochromatic palette has been fashioned for gift-wrapping by incorporating cool local crafts with organic elements. For a similar eco-friendly nod to the Japanese practice of furoshiki – wrapping presents in textiles rather than paper – check your craft cupboard for offcuts and scraps, as this is a great way to make use of them.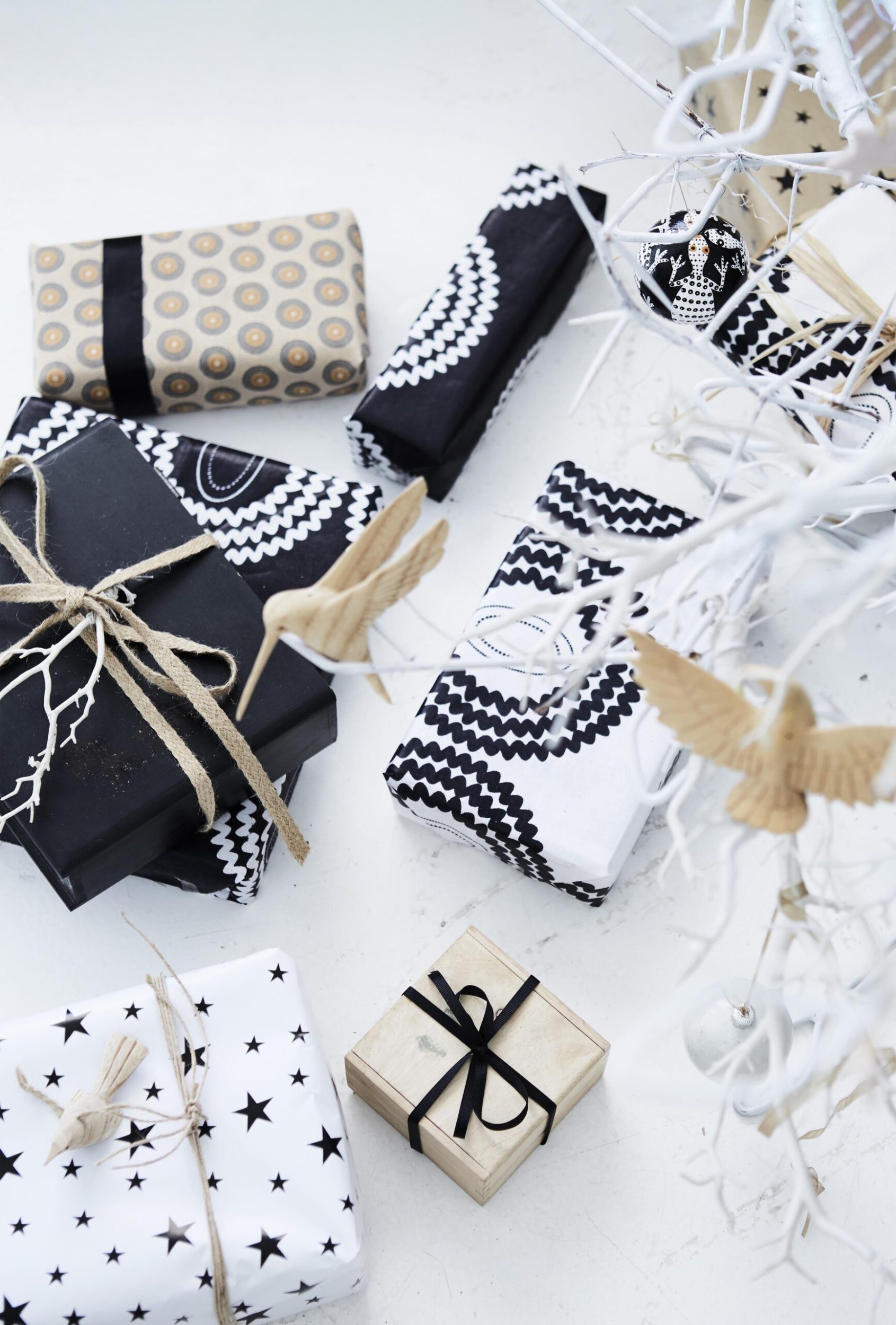 Top tip
Looking almost too good to open, these gifts have been wrapped in a mix of simple brown Kraft paper, graphic store-bought wrapping papers, and simple, patterned fabrics, then finished with contrasting ribbons and raffia.
9 Rustic noel
Anchored by an oversized linen cloth, this ethereal table setting is a study in serene greens, greys and whites, punctuated by textured black elements and barely there flashes of gold. The whimsical garland on the wall was crafted from local flora lashed together with twine and gold craft wire. And an idea we love: placing a small wrapped gift at each setting to emphasise the festive nature of the gathering.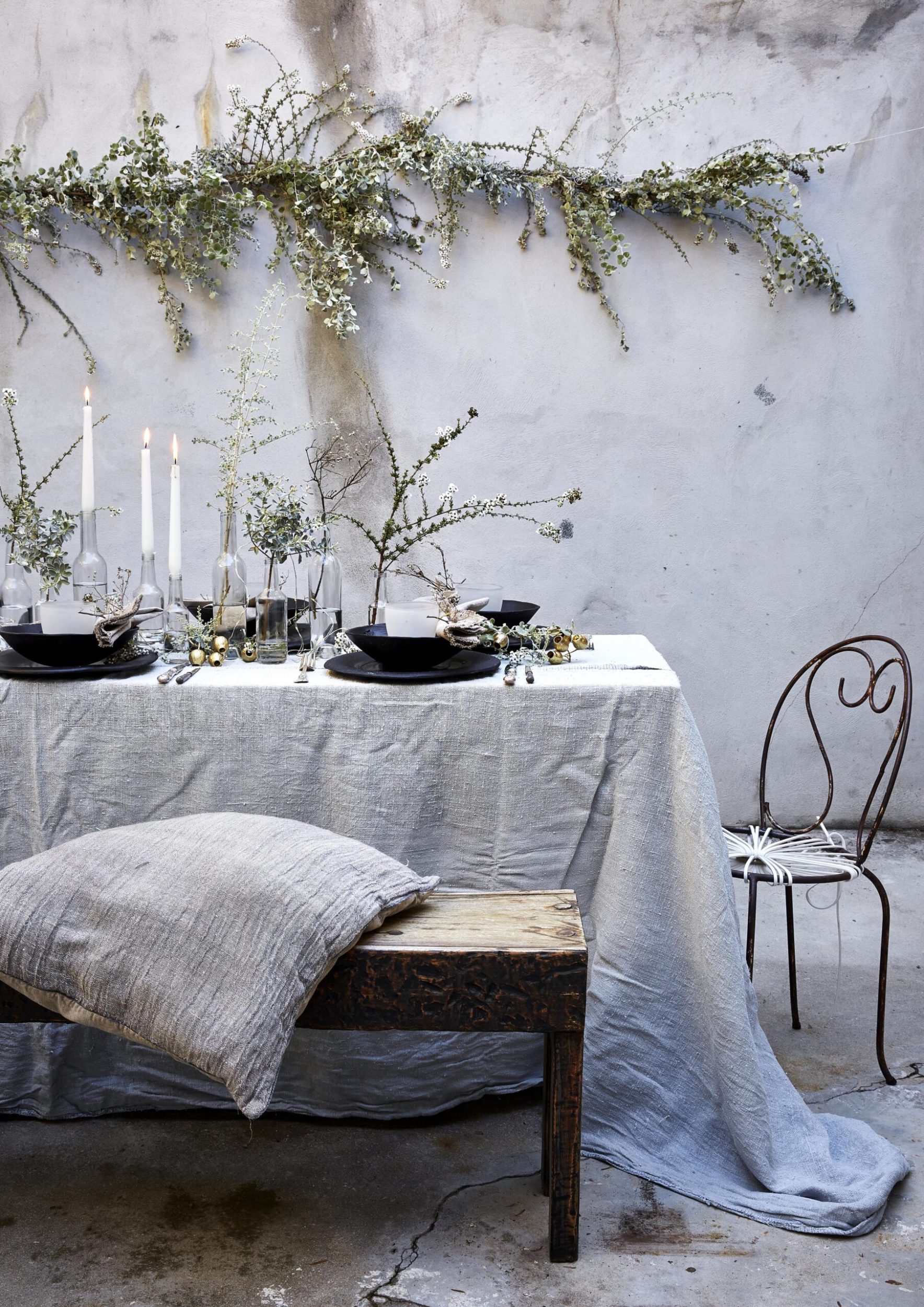 Top tip
There is no big centrepiece here. Rather, clear glass bottles of varying sizes have been filled with water, some to hold candles and others to display evergreen sprigs. Black crockery and recycled-glass drinking glasses add textural appeal, as do rough-edged linen napkins, which have been tied with twine.
10 Take the mantle
Replace traditional Christmas stockings with simple linen pieces in refined neutrals for a modern and muted aesthetic. Depending on how many stockings are needed, vary the colours by a shade or two, from white to cream to dove grey, to create subtle visual interest. And on the mantelpiece, replace a standard formal arrangement of flowers in a vase with a posy of foraged flowers and foliage, placed off-centre as an eye-catching accent.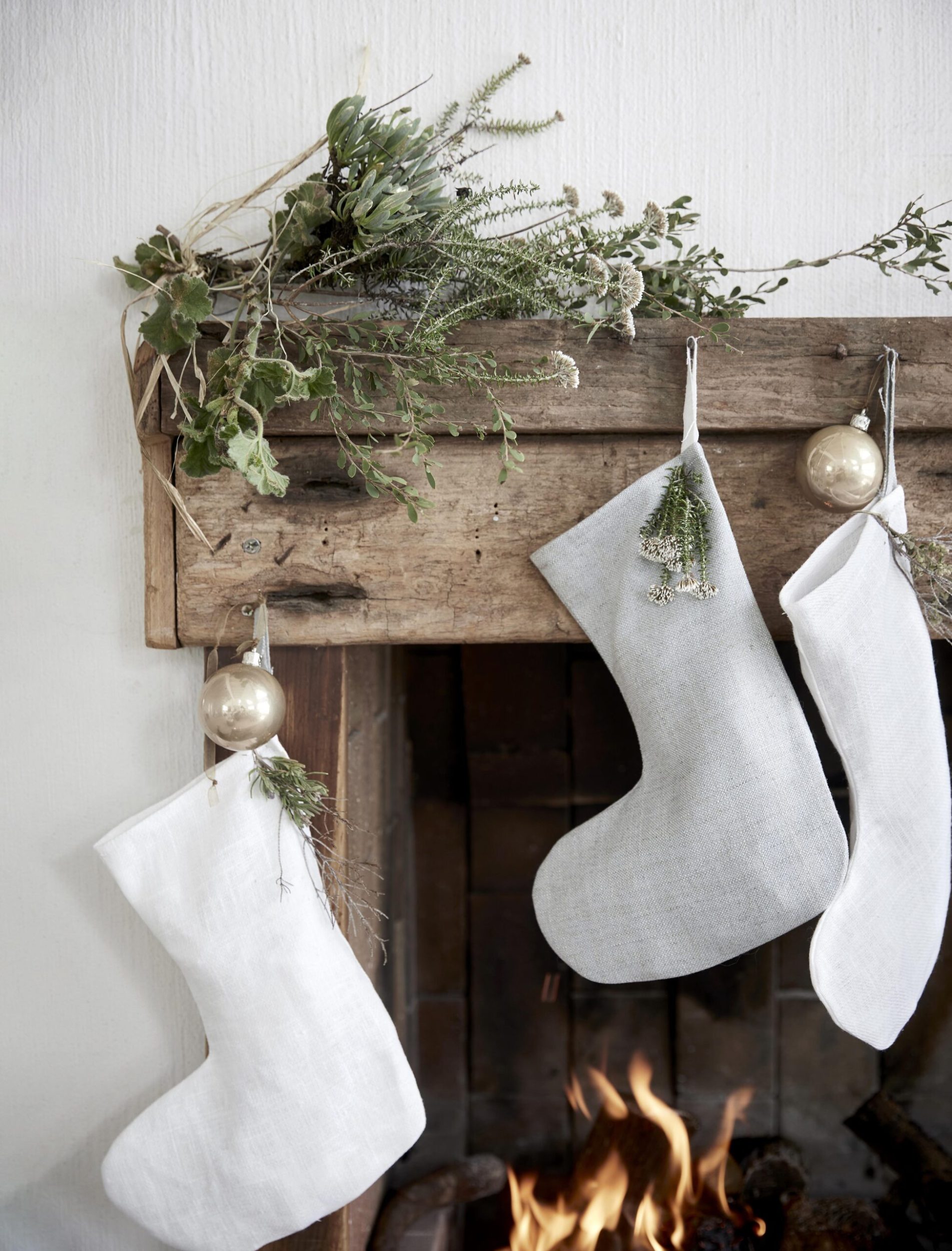 Top tip
Only the most basic sewing skills are required to make your own linen stockings, either by hand or machine, and if you need one, it's easy to find a pattern via Pinterest. Pin sprigs of flora onto each stocking and introduce a dash of shine in the form of gold Christmas baubles. It is the most wonderful time of the year, after all.