As the late great George Michael once said, "Turn a different corner and we never would have met'," which is exactly how I feel about Kaikoura.

How To Get Here
The best way by far to arrive in Kaikoura is by train. The Coastal Pacific goes between Picton and Christchurch, sadly only three days a week now. But when you arrive at the Whale Way Station (cracks me up every time), you're right on the beach. Otherwise it's a drive from the closest airport, Blenheim, or Christchurch, or get the ferry to Picton from Wellington.
How to pronounce "Kaikōura"
It's not Kai-kura or Kai-cawra, it's Kaikōura – just the way it's spelled with a long "o" which is what the "ō" means. Although as Brett Cowan says: "Hey, I'm not about to correct anyone – although the local primary school kids might correct me!"

The corner in question is under the rail bridge on your left if you're driving State Highway 1 south from Picton and for years I hurtled past it on my way to or from other places.
Until a pal visiting from England (remember when that happened?) came to stay, regaling me with stories from her Kaikōura stopover.
"And then the bus driver said, 'Climb aboard, my little mermaids'," she laughed. "Me and my 86-year-old cousin in wetsuits after swimming with the dolphins! Can you imagine?"
Swimming with dolphins? Yes, I had imagined it. Many times. I just didn't know you could do it in Kaikōura.
But turn that different corner off the highway and it's a whole new world. First there's the compact main street with its shops and cafés and council building shaped like a cray pot.
Follow the road past the curving beach and stick with it for a few minutes as you pass a historic pink cottage, the remnants of old whaling stations and finally come to a car park overlooking a seal colony at the tip of the Kaikōura peninsula. Yes, it's a peninsula. I mean, who knew?
Not me, until 2017 when I made my first dedicated trip to this precious gem of a coastal town (population 2,400) and discovered that Māori legend has Maui using the peninsula as a foothold to brace himself as he pulled the North Island out of the ocean.
So without Kaikōura, Auckland could be just another suburb of Hobart. In which case, it's a big old ngā mihi, Maui. Or kā mihi as they say down here.
On that first trip, I quickly found myself doing my own unlikely mermaid impression with Dolphin Encounter. And boy, did we encounter dolphins. Not one or two, or a dozen, but hundreds. I'd been reluctant for aesthetic reasons to don a wetsuit but I could not get into the water quickly enough to swim with these magnificent creatures. At one point I looked down, making the recommended nonsense noises through my snorkel, and there were seven of them circling playfully in layers below me.
Naturally, I cried. Misty mask aside, who wouldn't? It remains one of the most beautiful experiences I've ever had. And I went back last year and had it all over again.
But 2020's been a different beast and, worried about how this beautiful place was faring without all those lovely international dollars (thank you COVID), back I went.
"Yes, we've taken a hit," says Lisa Bond who's been with iconic tourism business Whale Watch for 25 years. "But people love this place and we're actually doing okay with domestic."
Yes, the Kiwis are coming.
Well, we can't go anywhere else but even so, where else can you go where you stand on an empty beach with waves lapping at your ankles and snow-capped mountains so close it feels like you could reach out and scoop the icing off the top of them with your finger?
"That's exactly what I was just saying to my wife," said one young Wellington father of two whom I met outside BeeBox Café where I had just decided against buying a cheese scone because it was gluten-free and I'm not.
It was this Wellingtonian family's first time in Kaikōura and he was amazed. "I had no idea. I guess you have to come here to really appreciate it."
Dan Stevenson from South Pacific Helicopters, which offers fixed wing and helicopter fights for whale watching and sightseeing, says the Kiwis are doing more than just opening their wallets. "Well, they get my weird jokes," he says. "But also, if they can't do something right now, they might come back and do it next time."
The optimism in this town seriously warms the cockles. Dan says the pandemic's actually given him precious time to think about how to do things differently and Lisa's the same. She started as a guide at Whale Watch, then became a boat captain and is now marketing manager – but "post Covid we've all had to wear many hats, go back to doing whatever. And I think we appreciate each other a lot more now."
But enough standing around chatting with the locals (although that's one of my favourite things to do), it's time to do some actual Whale Watch-ing.
Kaikōura's sperm whales are not migratory but permanent residents and half an hour out of the marina, we spot Zeus, who gives us the pleasure of his company on the surface of the water, blowing his spray, for a good 20 minutes before rewarding us with an elegant flick of his tail – and he's gone.
On the way back to shore, fur seals dived [subs: dove?] gracefully in and out of the water – porpoising as it's called – startling because they look like such lumps when they're basking on land. And then there's those dolphins. (Oh, and did I mention the albatross?)
The reason for this embarrassment of riches is the Hikurangi Trench which comes closer to shore than any other trench in the world forming the Kaikōura Canyon, a year-round food source that fuels this natural wonderland.
Speaking of fuel sources, I could not get that cheese scone out of my head (don't judge) so after our Zeus experience I got Lisa to drive me back to BeeBox to buy one but – sold out. Lesson learned. If the corner George Michael wants you to turn is a gluten-free one, take it.
And you should also venture off SH1 to the glorious Hapuku Lodge. If you can't stretch to staying in their amazing treehouses, you can always feast in front of the roaring fire in their restaurant. This is a very special spot. Oh, and get the crayfish. Kaikōura is famous for them although none of the locals I asked really cared for it.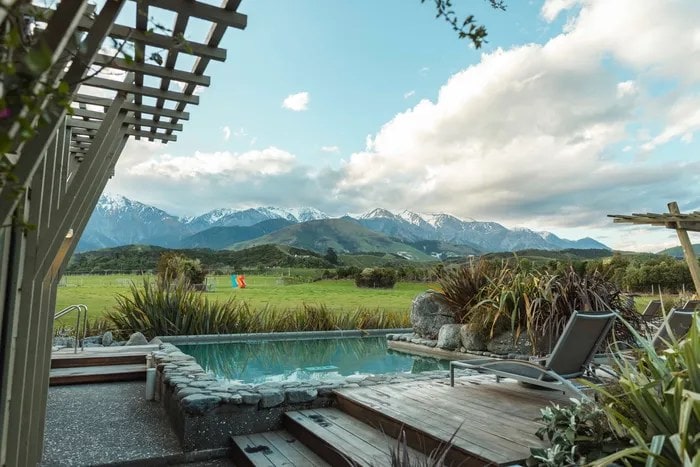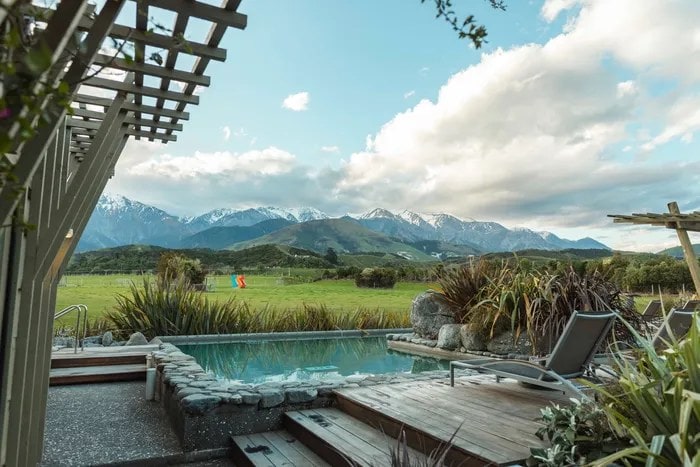 Including Brett Cowan, Cultural Facilitator with the Kaikōura District Council. A member of the local iwi, Brett's mother was born in Kaikōura but he grew up in Christchurch, moving "home" in 2000, and now bursting with pride in the area and its people.
"It's a one-stop shop," he says. "If you want a lonely beach to read a book on, you're there. If you want a mountain bike, we've got them. You can go snowboarding and surfing in the same day. Do something different every day for two weeks. I think we've got it all."
Including resilience. If locals are stoic in the face of the pandemic it's because they survived the massive earthquake which hit in December, 2016.
"Two minutes."
Those who were there that night all say the same thing with the same look on their faces. Two minutes is a very long time for an earthquake.
But when I ask one operator whose family home was destroyed if he considered moving away afterwards, he looked at me as if I'd just shot his favourite horse. No way. He rebuilt the house, only stronger. "Next time, we'll be ready for it."
In fact, you're more likely to meet people who've moved to Kaikoura since the earthquake.
Rob Cullen runs the Old Kaikoura Winery restaurant on the cliffs above SH1 just south of the town- and it's an absolute must. The view is sensational – that comes with the territory – but the food is next level. Stewart Island salmon with locally-picked kawakawa? A chocolate mousse with a chilli bite that blows your socks off in a good way?
There's a reason the standard's as high as those snow-capped ranges up behind us. Rob spent years feeding the Jordanian royal family before bringing his wife and five children back here. There came a day, he says, when he looked around at all that flamboyance and thought: "This is not us. So, now we're back to basics. This is reality! And if you want a safe place to bring up families, it's Kaikōura."
Similarly, I bump into Johnny De Zen, an Australian doing the electrical work on the stunning rebuild of Kaikoura's Art Deco cinema, the Mayfair. Red-stickered the last two times I was here, he was just putting the finishing touches to this re-born community asset. His pride in the place was infectious and his delight obvious as he talked about swapping his stressful Sydney commute for life here.
"There's something about Kaikōura that draws people in," agrees Moira Howard, another import who moved here many years ago after meeting her husband, local farmer Richard.
I'm lucky enough to be staying in one of the uber-stylish self-contained cottages Richard and Moira have built on the family property, Glenburn. It has that magical Kaikōura combo: wake up looking at the Pacific, turn around and see the sun rising on the mountains. All that and you can cook and do your own laundry.
I tell them about a woman I met earlier on the beach who'd moved to Kaikōura from the UK two years ago but lost her husband after just a year yet had no thoughts of leaving.
"The ocean," she told me. "And the ruggedness of it all. It's an ever-changing world."
Richard agrees. "I've lived here all my life but sometimes I look out the window and go 'Wow. I've never seen THAT before'."
At Karaka Lobster, north of Kaikōura (spot the stunning cultural art installations along the way), I meet yet another Australian. Zali Thomas moved here with her partner at the beginning of the year. He catches the crays and she serves them from their shoreside café with stunning ocean views. They're a brand new business and once more that incredible optimism bursts through the COVID bubble.
"We don't have anything to compare it to but it's the Kiwis who talk and spread the news," says Zali, "so we've been thinking maybe it's a good thing we don't have the foreign tourists because they won't come back but the Kiwis tell their friends who will. And locals keep coming in to grab a coffee and say: 'We want to keep you guys on your feet'."
On a bad day Zali is shifting 10 crays and on a good day 30 but no matter how often – or not – the cash register rings: "We're just so lucky to have such a beautiful landscape."
10 Things To Do in Kaikōura
Watch the whales
Swim with dolphins
Spot the seals
Walk the peninsula
Chat with the locals
Get up for the sunset
Grab a mountain bike
Visit The Mayfair
Read a book on the beach
Eat crayfish


Where to Stay
Where to Eat