Elisabeth Easther takes a mother-and-son road trip around the windswept wonderland of the East Cape of New Zealand.

Having previously flown to Gisborne and loved the place, my son Theo decided we should make a return journey. To add a twist, however, (indeed, quite a few twists) he suggested we tackle the entire East Cape of New Zealand by road.
I took Theo's temperature to ensure he wasn't feverish – what 15-year-old wants to spend that much time in a car with his mother? – but it turned out he was sound of mind so, during the school holidays, we drove the 334km stretch of State Highway 35 that connects Ōpōtiki to Gisborne.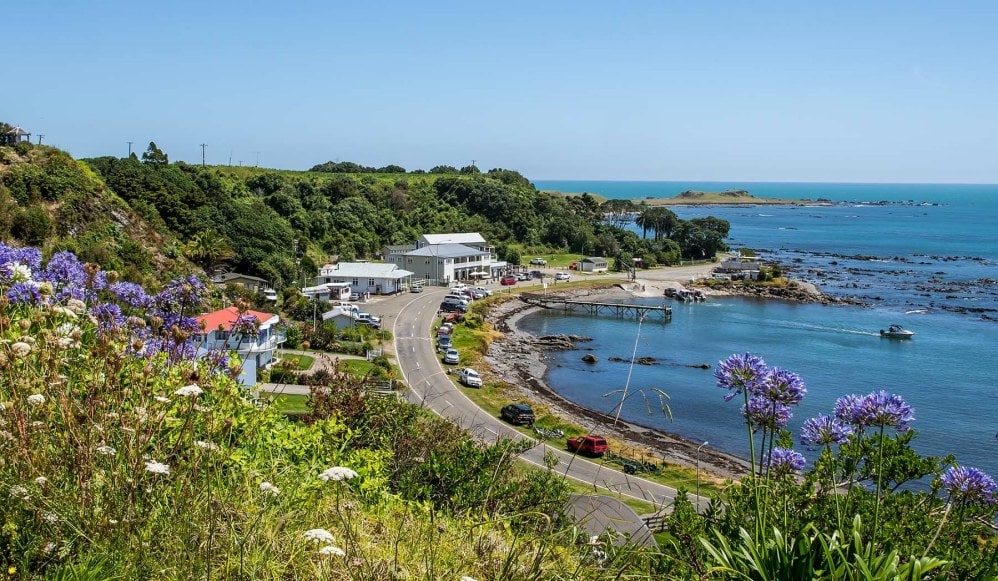 Once the built-up Bay of Plenty was behind us, we entered another world, the sort of place where a single roadside hoarding advertises "Pig Dog Training School and Book Binder".
With no website or number to call, it was tempting to turn down the driveway to meet whoever offered those disparate services, but with no pig dog to train nor book to bind, we pressed on.
Making a quick stop at the tiny settlement of Omaio for refreshments, we discovered Highway 35, and it is no ordinary roadside café because, alongside coffee and pies, they also sell high heels and swimsuits, crown pumpkins, walking sticks, denim miniskirts and frypans. I was charmed by a hand-tooled leather saddle bag, only I don't have a horse. Not to worry, said Lena Nepson from behind the counter, she could sell me one of those too.
Beyond Omaio, the road curved pleasantly as pheasants emerged from the undergrowth. Here and there, giant pōhutukawa reached across the road, forming glades of honour. This is also orchard country, and small holdings were abundant – botanical gold mines of limes and kiwifruit. On from pretty little Te Kaha towards Waihau there was a lot of driving, so we were delighted to reach our lodgings at Lottin Point, an unpretentious 1950s motel found at the bottom of a steep unsealed road.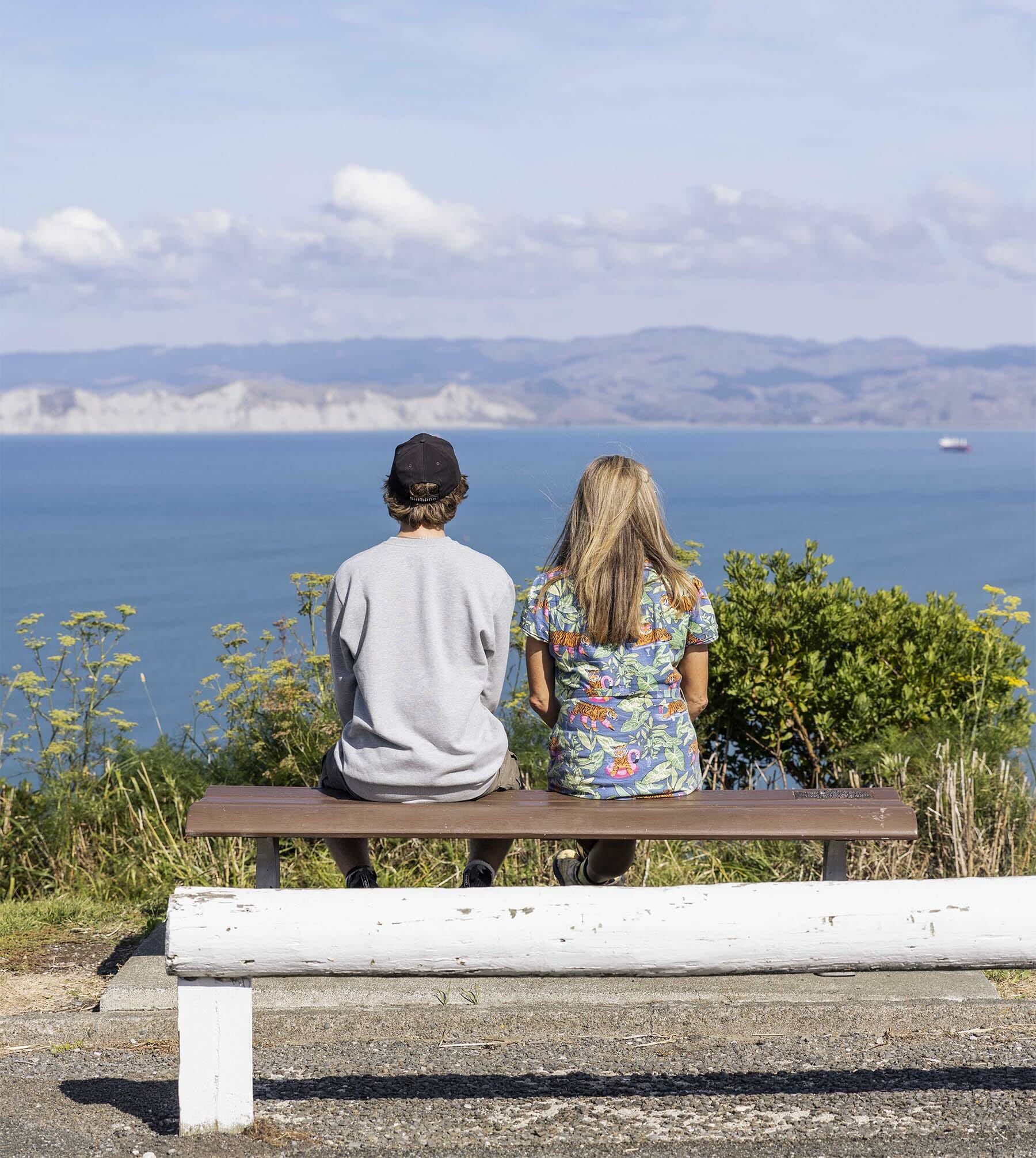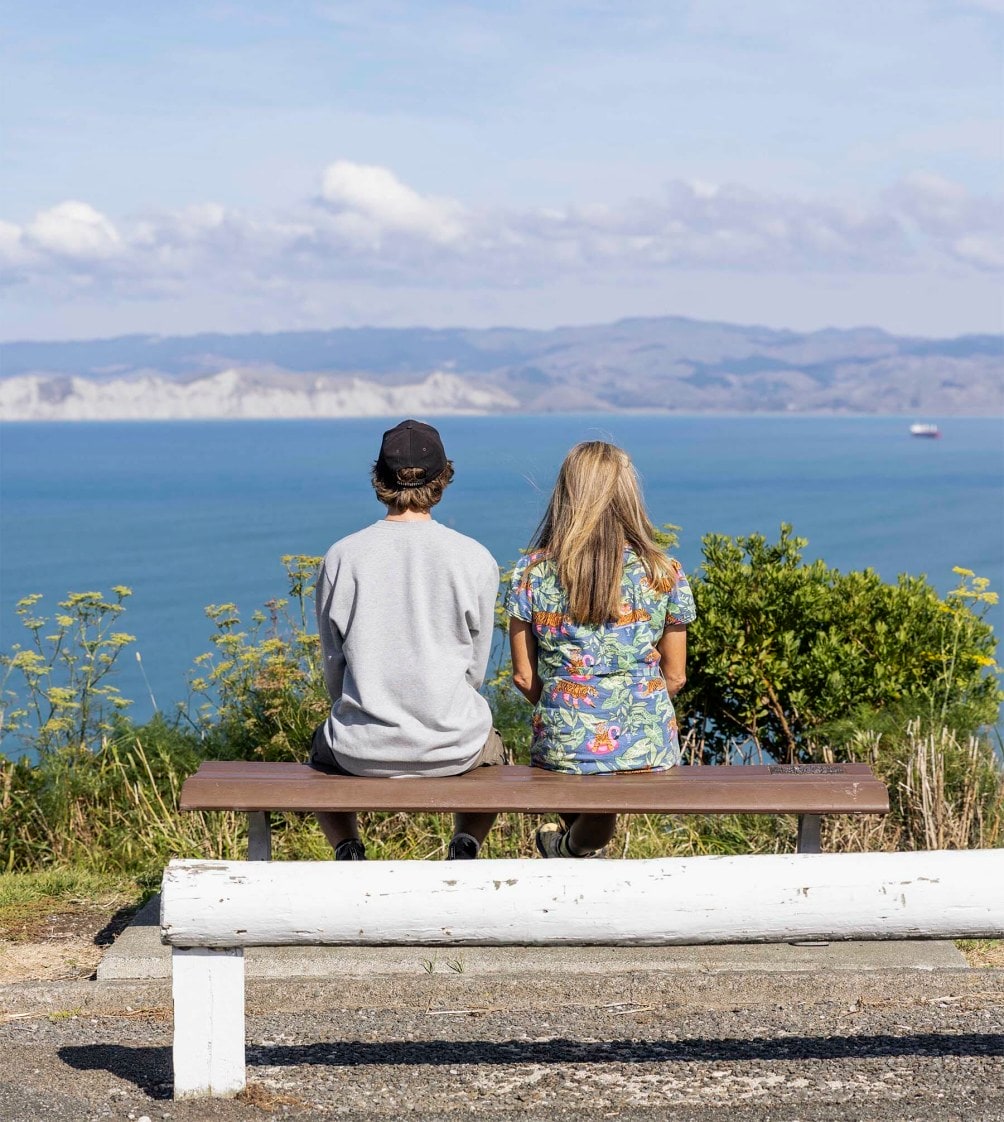 Greeted by thundering surf, churning seas and glowering skies, we deserved a good stretch of the legs, and we followed a farm track to a rocky cove. There was no hiding the fact that Theo and I were two townies, fresh from the city, because we hailed every animal we saw – cattle, deer, sheep, chooks and a pig – who were unanimously unmoved by our presence.
Overnight it rained nonstop, and the next day drizzle accompanied us to Te Araroa, where we admired the world's largest pōhutukawa, before driving to the world's easternmost lighthouse. Grateful to my partner for the loan of his sturdy four-wheel drive, my knuckles whitened as we covered the last 22km of rutted road. Careful to avoid the menacing slips to the sea, we kept our eyes peeled for seals on the unsealed road.
My heart in my mouth, this track didn't feel quite wide enough for one vehicle, let alone the campervans intent on tackling it, so it was a relief to park at the lighthouse base. Then, miracle of miracles, the rain kindly stopped as we climbed the 700 steps to the tower.
Being lighthouse geeks – can you imagine the windswept lives the keepers and their families endured? – we could've stayed longer, but Gisborne was still a windy 190km away, so Tokomaru Bay's wonderful old wharf and pub got little more than a fleeting glance. Instead, we had our hearts set on doing Cook's Cove Walkway, a short hike from the southern end of Tolaga Bay.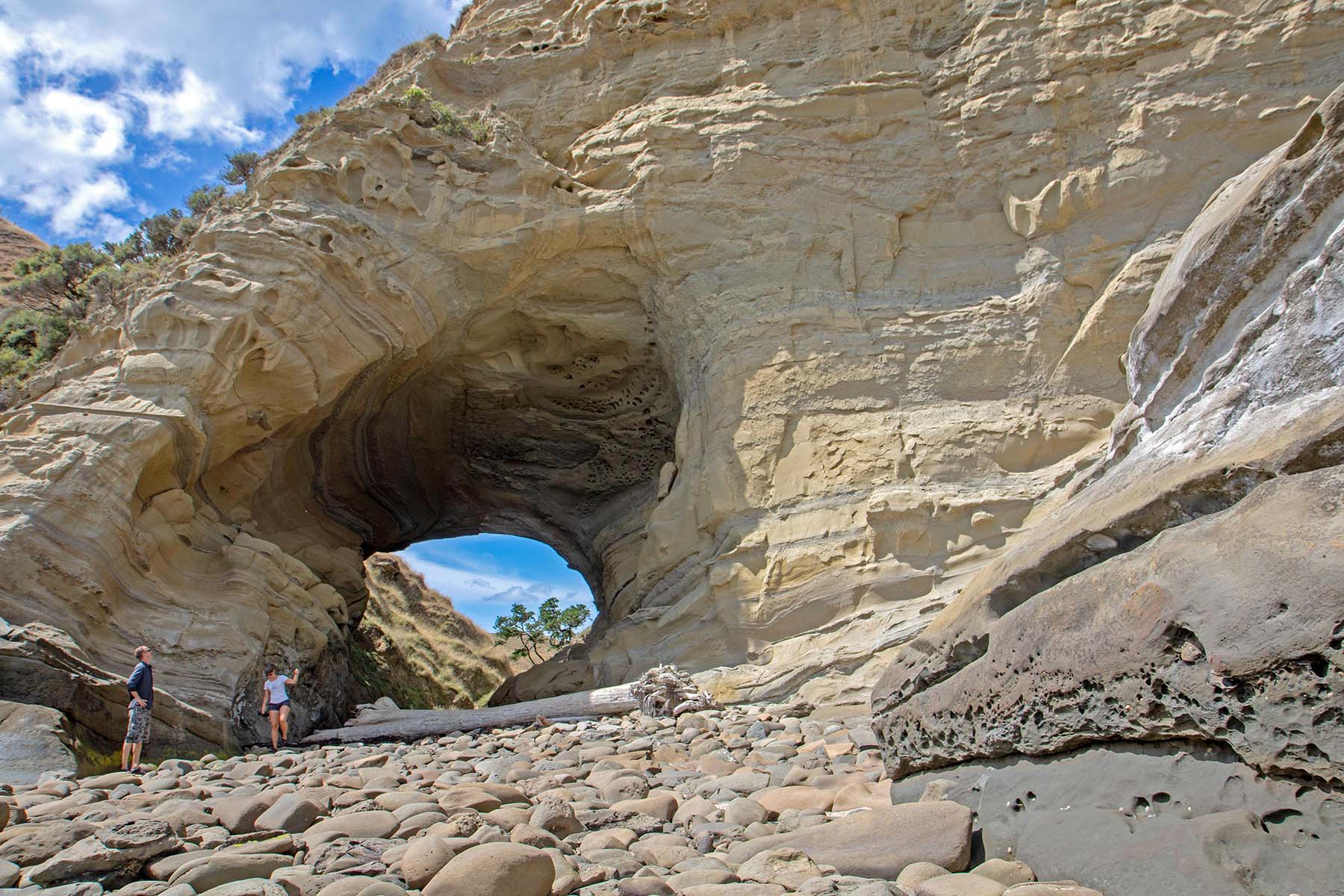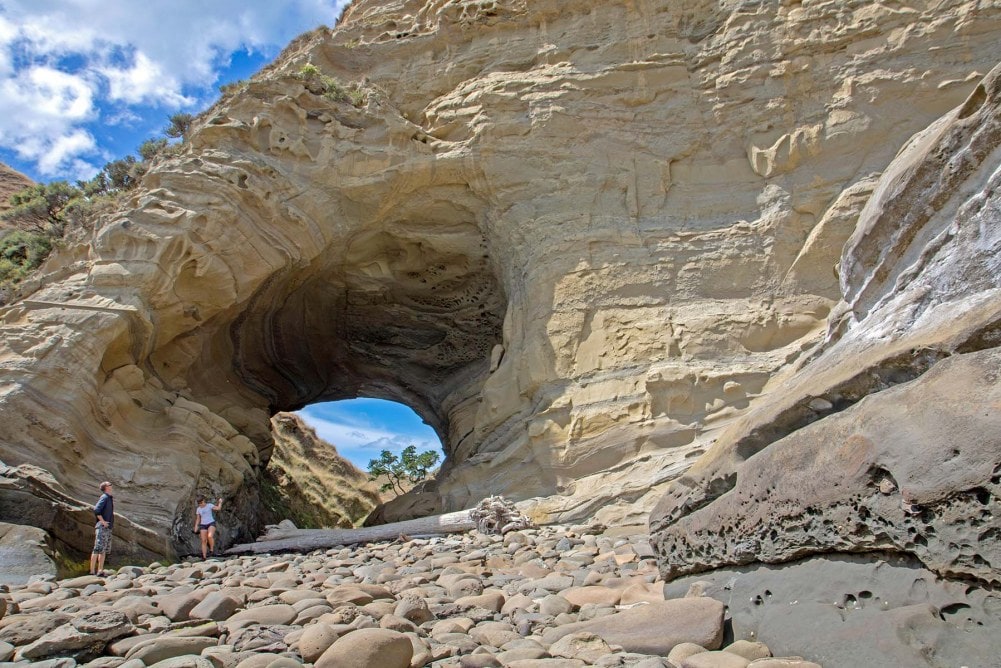 Featuring fertile farmland and ocean views, it's 5.8km return to Te Kotere o te Whenua, a natural archway known locally as "The Hole in the Wall" and perfect for clearing the cobwebs. If you've even less time to spare, 30 minutes will get you to the lookout 120 metres above sea level, where ravishing views of Mitre Rocks and Pourewa Island are on display.
Once we finally reach Gisborne, a visit to Eastwoodhill, the National Arboretum of New Zealand, was at the top of our to-do list, because not only are we lighthouse geeks, we're also fanatical tree huggers, and Eastwoodhill is heaven for dendrophiles.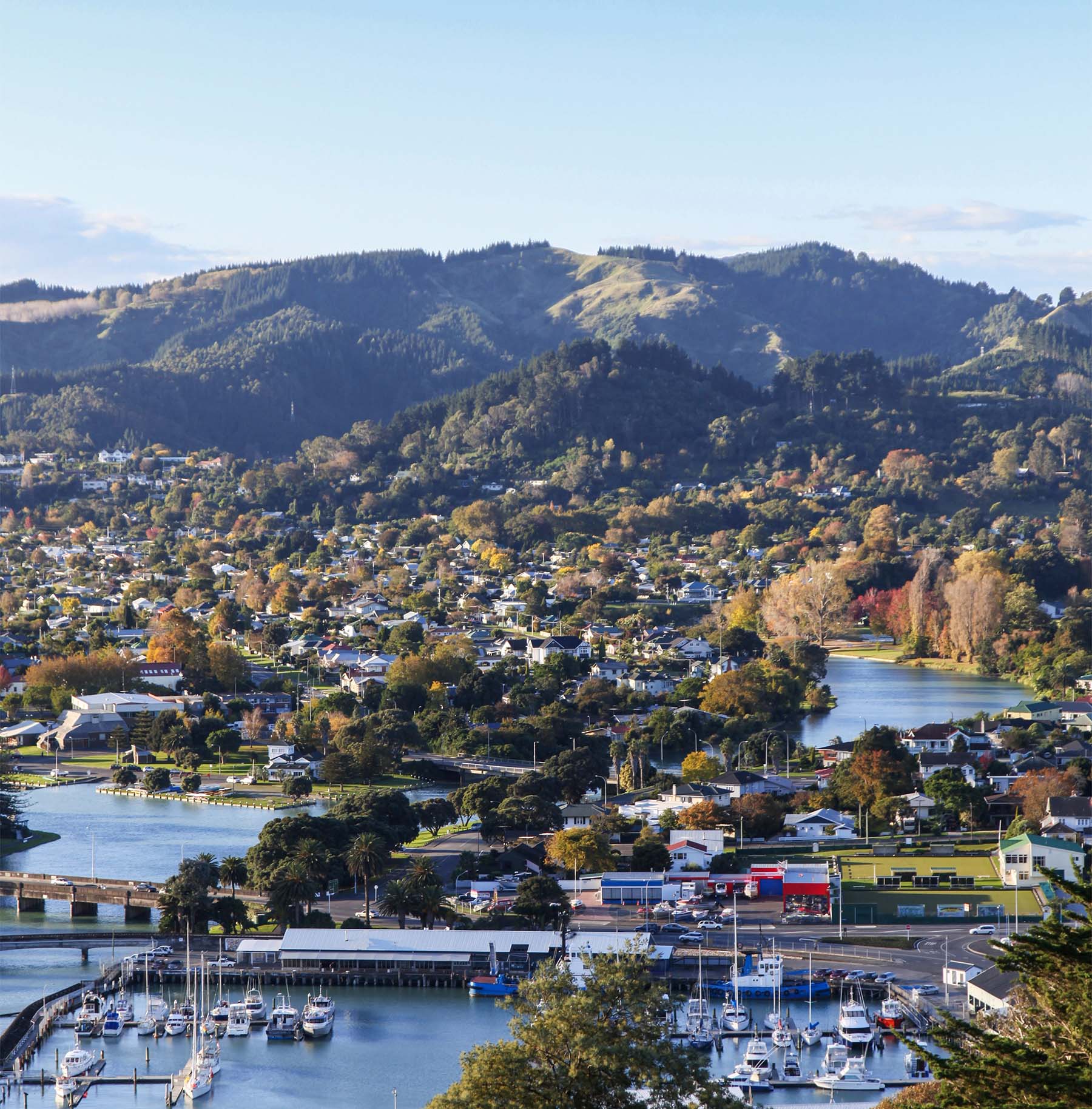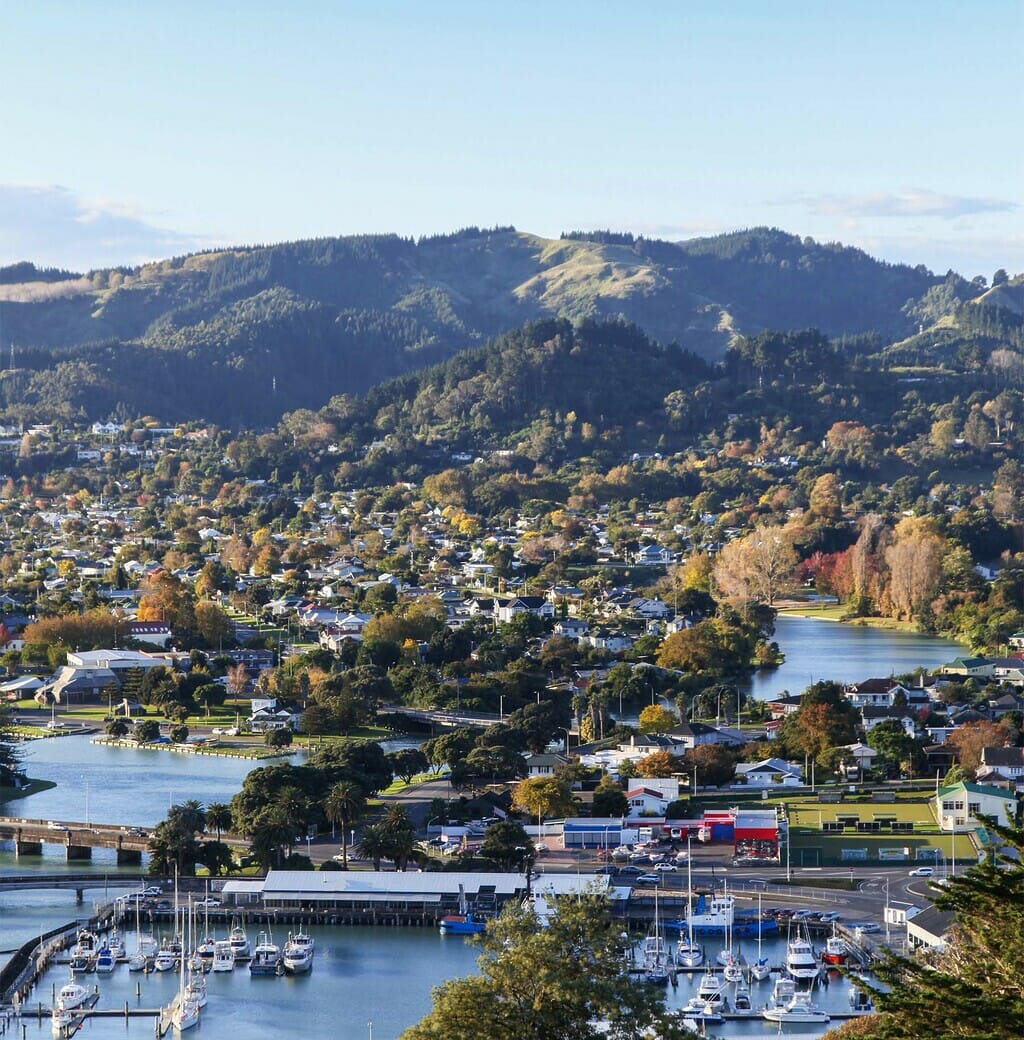 This place of peace was returned serviceman Douglas Cook's response to the horrors of World War I. Injured in France, Douglas lost sight in his right eye and was sent to a stately English home to recuperate. While there, he resolved to plant a tree library to help humanity heal.
The result is a 131ha arboreal oasis 34km inland of Gisborne. Today, Eastwoodhill is home to more than 15,000 trees, including at least 7000 species from 67 countries. The arboretum's manifesto of "maintain, improve and educate" is kept alive by the efforts of a small staff and dedicated volunteers.
Wishing the forest a fond farewell, we mounted e-bikes with Cycle Gisborne and pedalled 28 pleasant kilometres to Bushmere Estate for lunch. Riding through countryside bursting with redolent rural aromas – you won't get that full sensory experience in a car – we rode past fields of fruit and vegetables, as our guide Katrina Duncan shared snippets of history.
Once at Bushmere we were surrounded by 17ha of vines, boasting views to distant mountains, and the adults enjoyed a wine tasting with charismatic sommelier David Egan. As for the food, we enjoyed our meals so much that Theo and I returned the next day to order the dishes we didn't have room for the first time.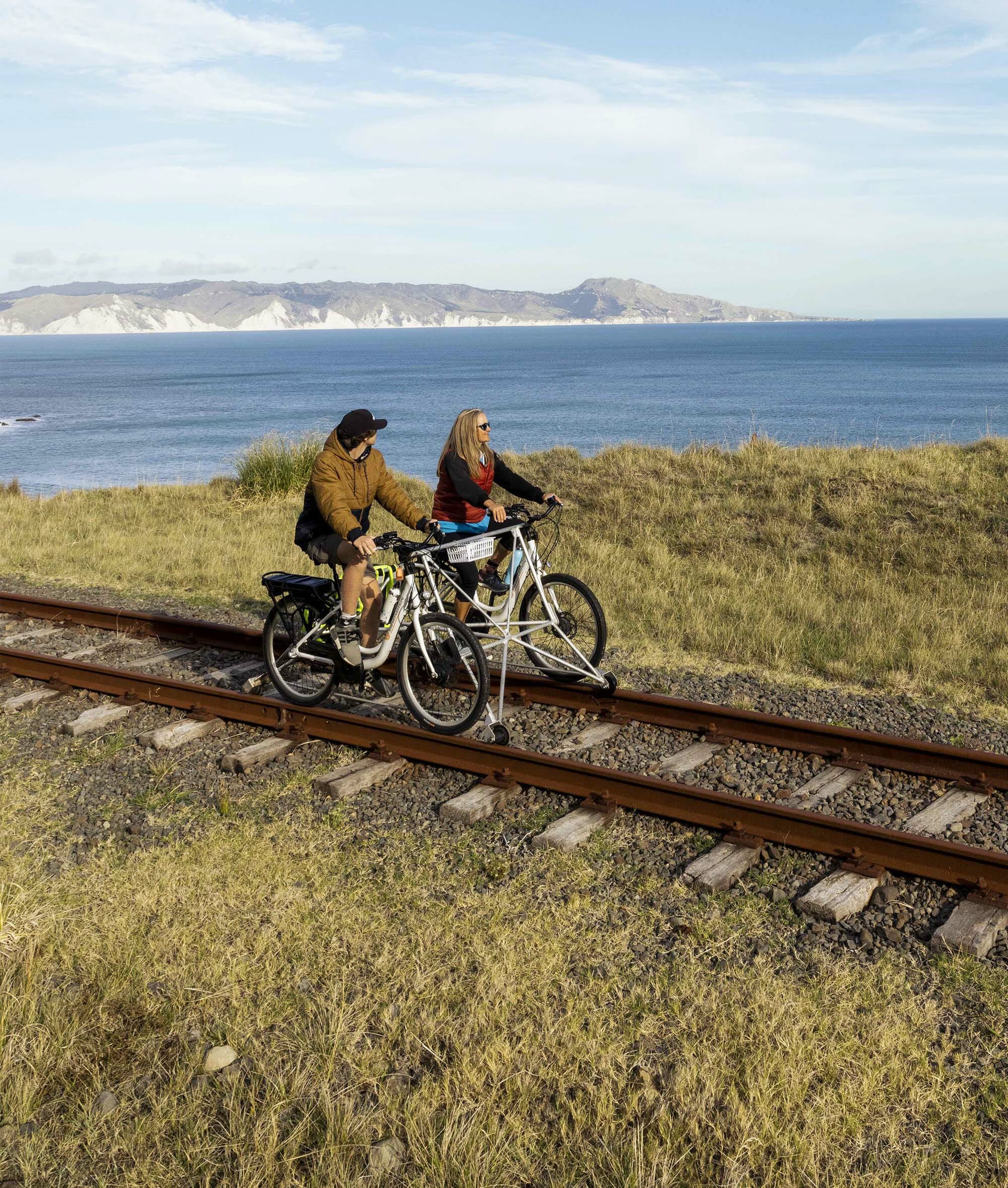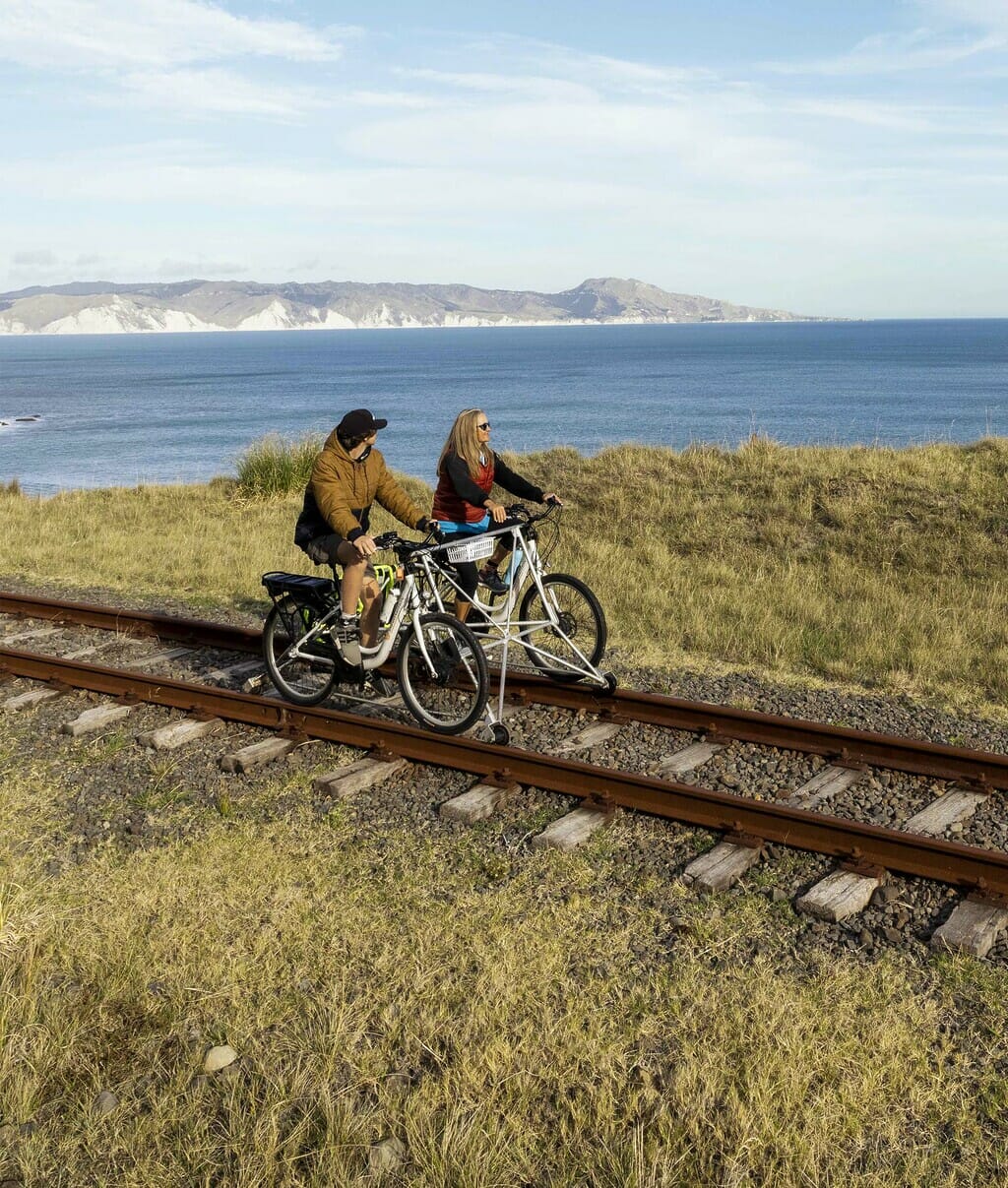 We were also eager to enjoy a second helping of the treat that is the Gisborne Railbike Adventure. This imaginative tourist offering makes use of decommissioned railway lines, but instead of sitting in carriages, you pedal along the tracks on cleverly engineered tandem e-bikes.
We did the 32km beach loop two years prior, so this time we tackled the new Mahia coastal route. Starting at the magnificent Mahia Peninsula, we saddled up and rolled out along the rails. We pedalled over bridges and alongside a lagoon, past a smash palace of dilapidated caravans and boats, tractors, buses and farm machinery rusting into history.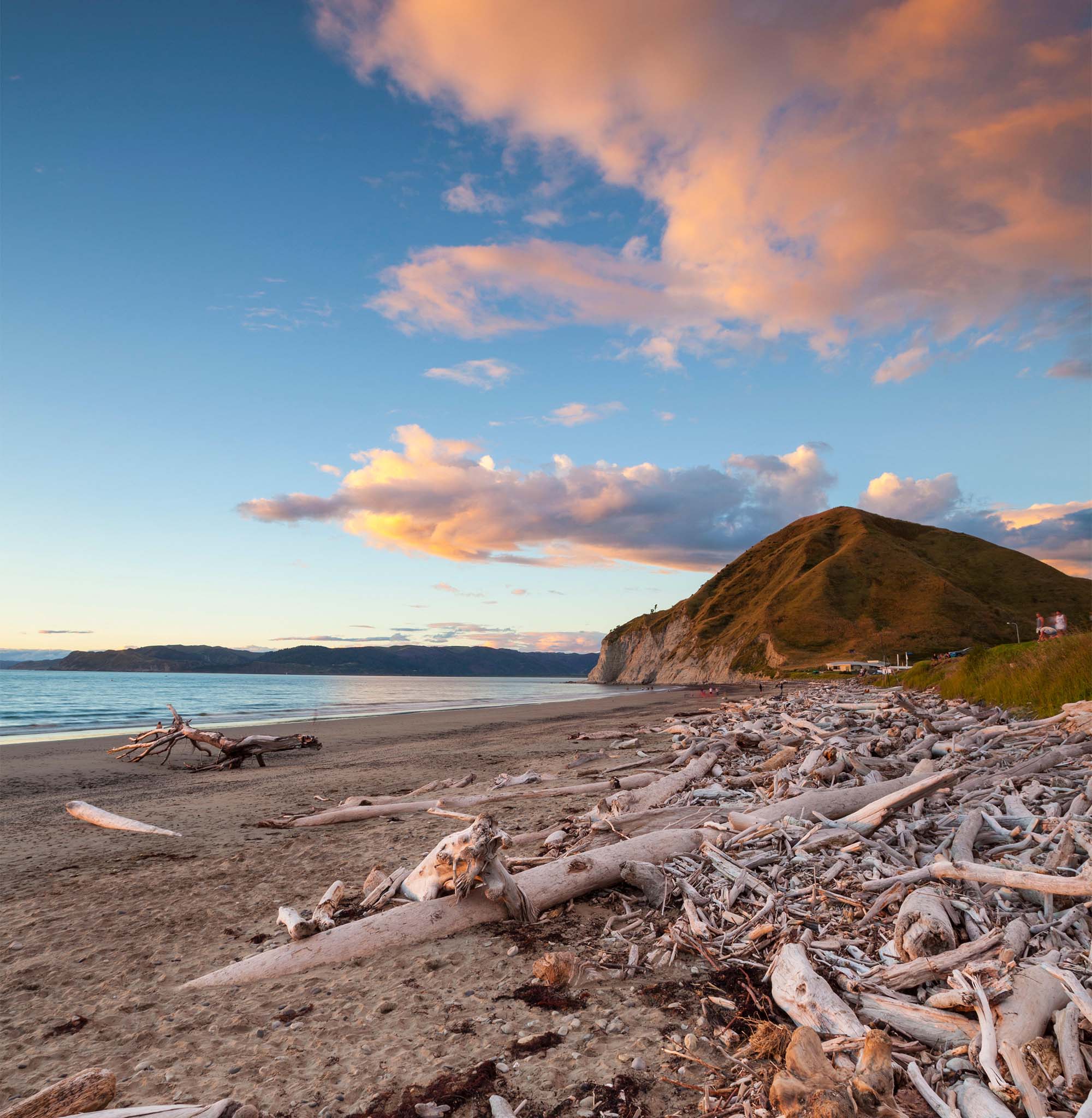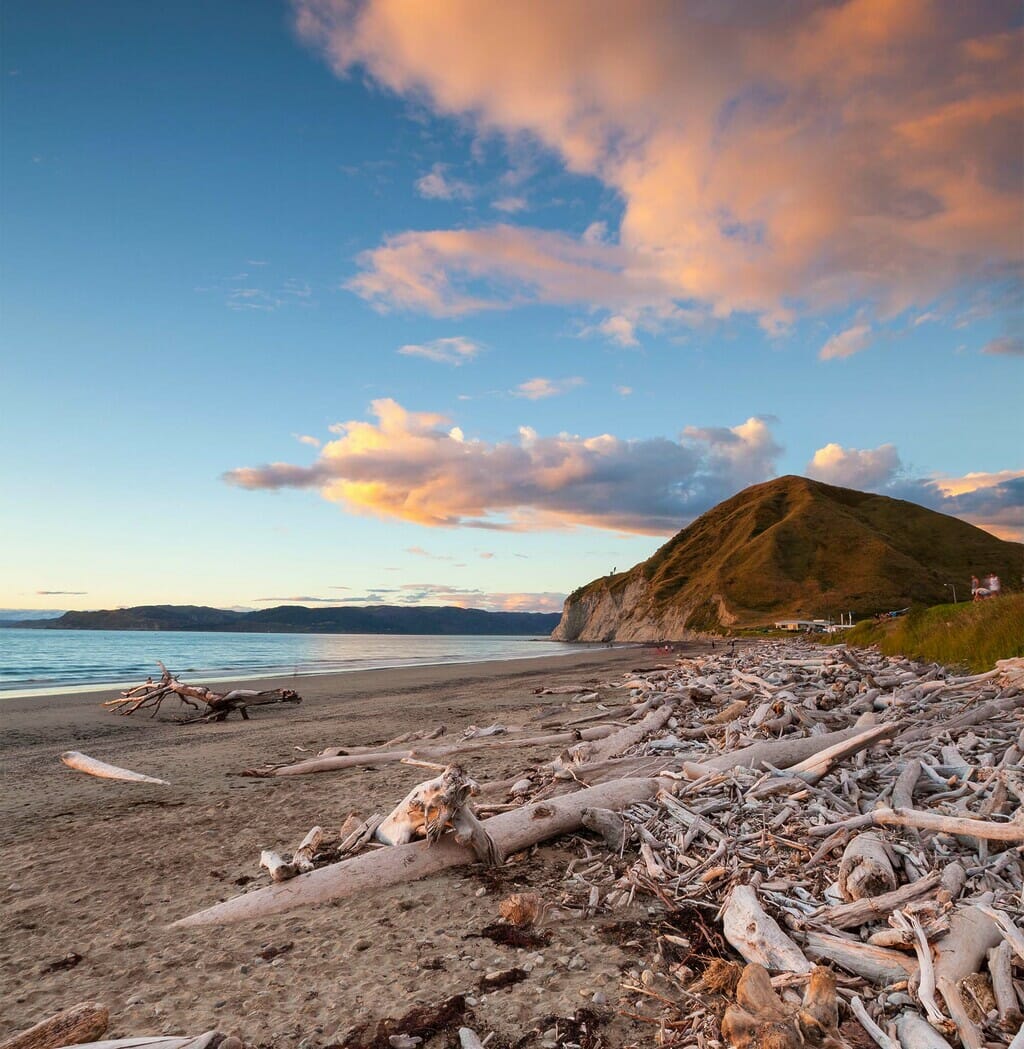 In no time at all, we were in the back of beyond, a world of defunct docks and half-submerged boats, until it was just us, the rails, the rugged coast and the perfectly peeling waves, where two lucky surfers had the ocean all to themselves. At 22km in total, this is a winning combination of coastal countryside, breathtaking views and elegant bridges. Theo declared that if he lived in Gisborne he would want to work for the bike company so he could ride this way every day.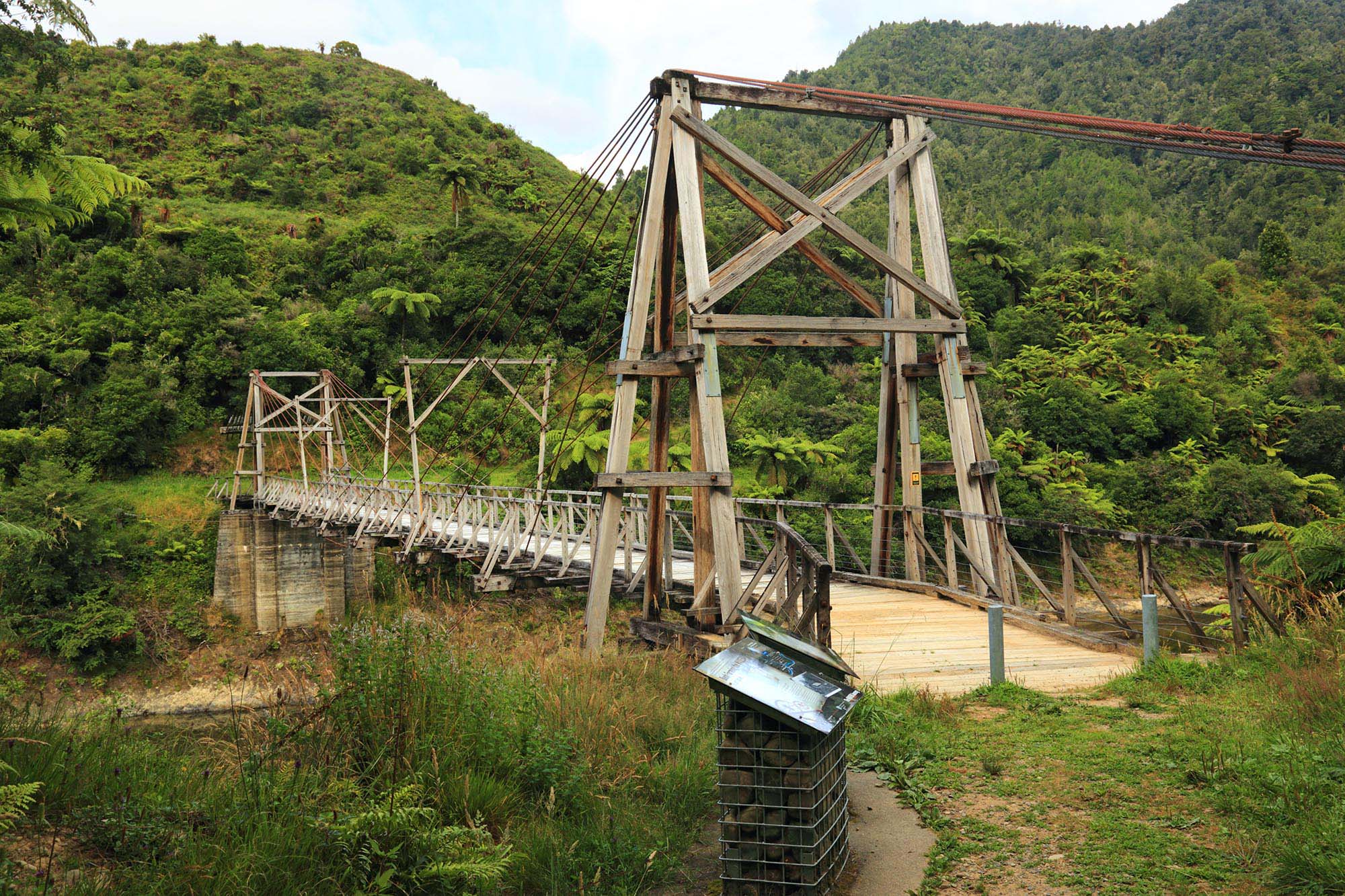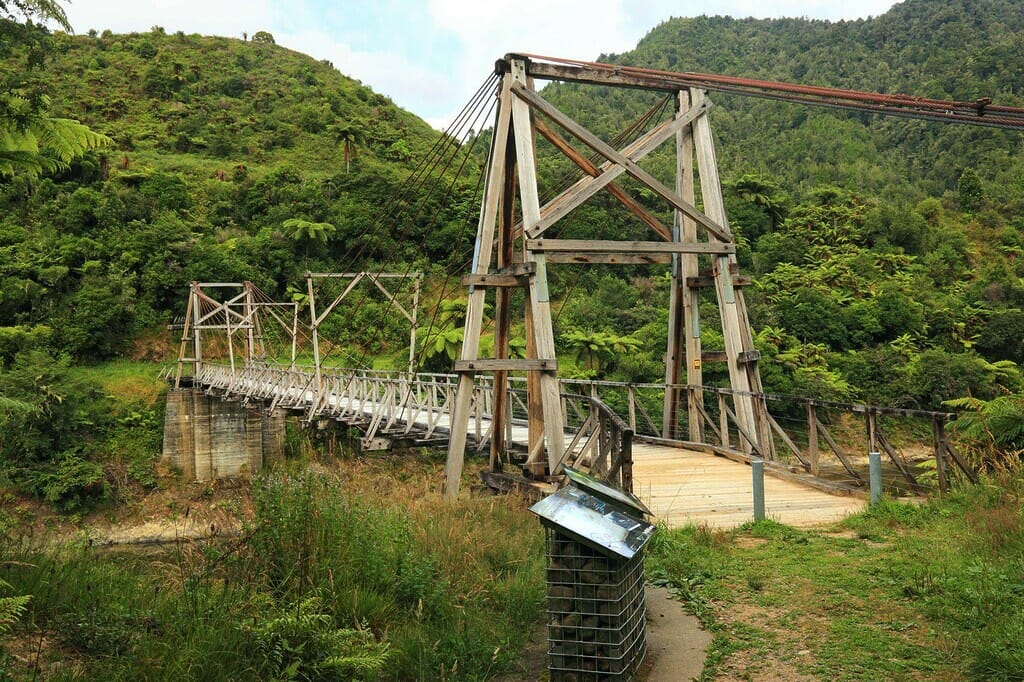 All too soon it was time to say ka kite Tairāwhiti, and home we drove via the inland road, through Waioeka Gorge with its many walks and lookouts, back to the big smoke, confident we'd be back.
"Do you know how I think we should travel next time?" Theo asked with a grin. I looked back at him. We'd flown. We'd driven. What other options were there? "Remember how Lena at Omaio offered to sell us a horse?"
Hmm, yes, well, we shall see.
The lowdown of the East Cape of New Zealand


WHAT TO DO
East Cape Lighthouse
Cook's Cove Walkway
East Woodhill, the National Arboretum of New Zealand
Nīkau Loop Walk


WHERE TO STAY

WHERE TO EAT AND DRINK