She wanted Paris. Or New York. Or Rome. But it was love at first bite when Peta Mathias discovered the bountiful beauty of a Coromandel corker much closer to home.
"Go east," they said. "Go write a story about a beach." I threw on some Issey Miyake Pleats Please clothes (comfort, you understand) and bought a flash dusky-pink suitcase specially for the trip. My friend, photographer Sally Tagg, and I jumped into her car in Auckland and only two-and-a-half hours later, we were in, well, paradise actually.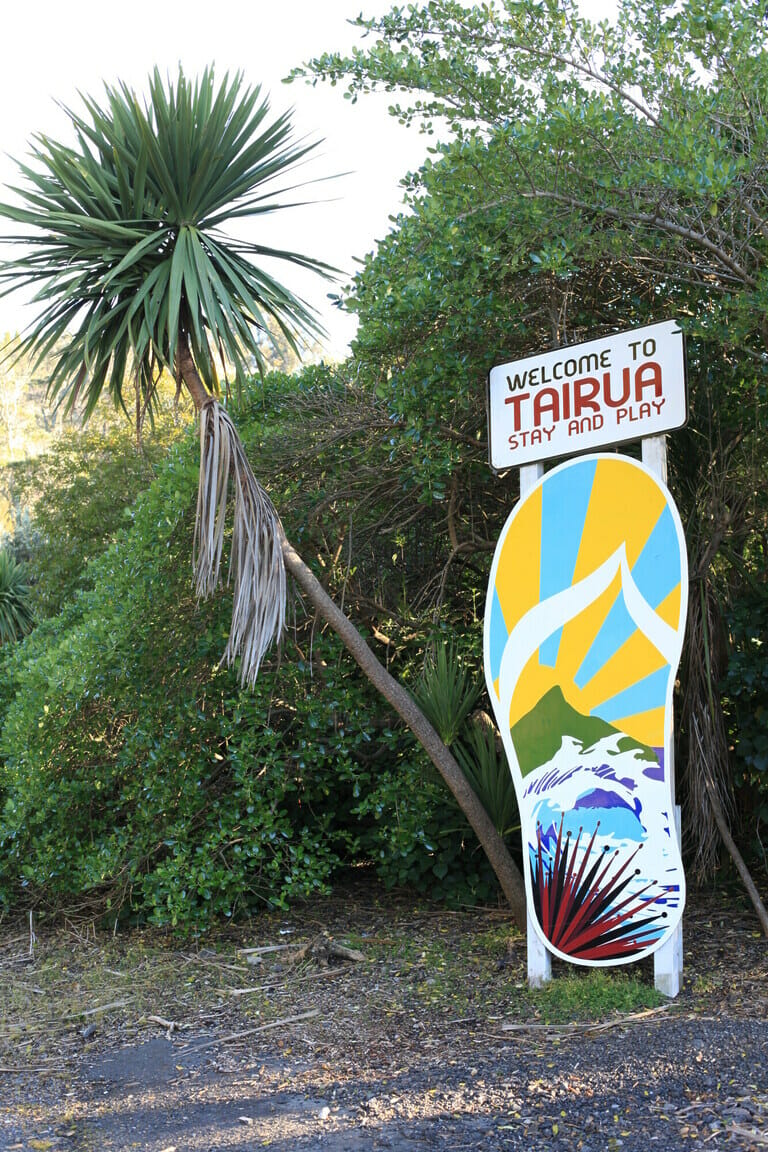 "Go east," they said. "Go write a story about a beach." I threw on some Issey Miyake Pleats Please clothes (comfort, you understand) and bought a flash dusky-pink suitcase specially for the trip. My friend, photographer Sally Tagg, and I jumped into her car in Auckland and only two-and-a-half hours later, we were in, well, paradise actually.
The Coromandel Peninsula used to be tricky to get to if the winds were high or there was flooding, but with the construction of the Kopu-Hikuai Road and a few adorable one-way bridges, it was a breeze to arrive at our destination, Tairua (translation: "two tides"). First stop was the much-loved Old Mill Café, right next to the marina. Here, we were greeted with smoked-fish pie, a giant fruit strudel, smiles and hugs from owners Linda and Jimmy Crozier. Nothing was too much trouble – in fact, by the end of our stay in Tairua, we came to realise that nothing is ever too much trouble in this area.
The next person to walk in, with a big smile, blue eyes and bare feet, was a fisherman. Every single person in Tairua knows every single other person, so it was hellos all round and off we traipsed to the marina and his 77m charter boat, Provider, to hit the beautiful clear water off the volcanic coastline.
If you do one thing when you're in Tairua, you've got to go fishing with Carl Muir – there's nothing he doesn't know about landing kingfish, marlin, bass, snapper, crayfish, tuna, scallops… and he can talk and he can cook and he cares about sustainability, organic food, permaculture gardening and having a happy and balanced life. He pointed to the padded gunnels, top-of-the line jigging gear, game-fishing rods, reels and tackle, but emphasised that the real way to catch a fish was to send good vibes down the line. Sally and I looked at each other and asked when the chardy would be opened.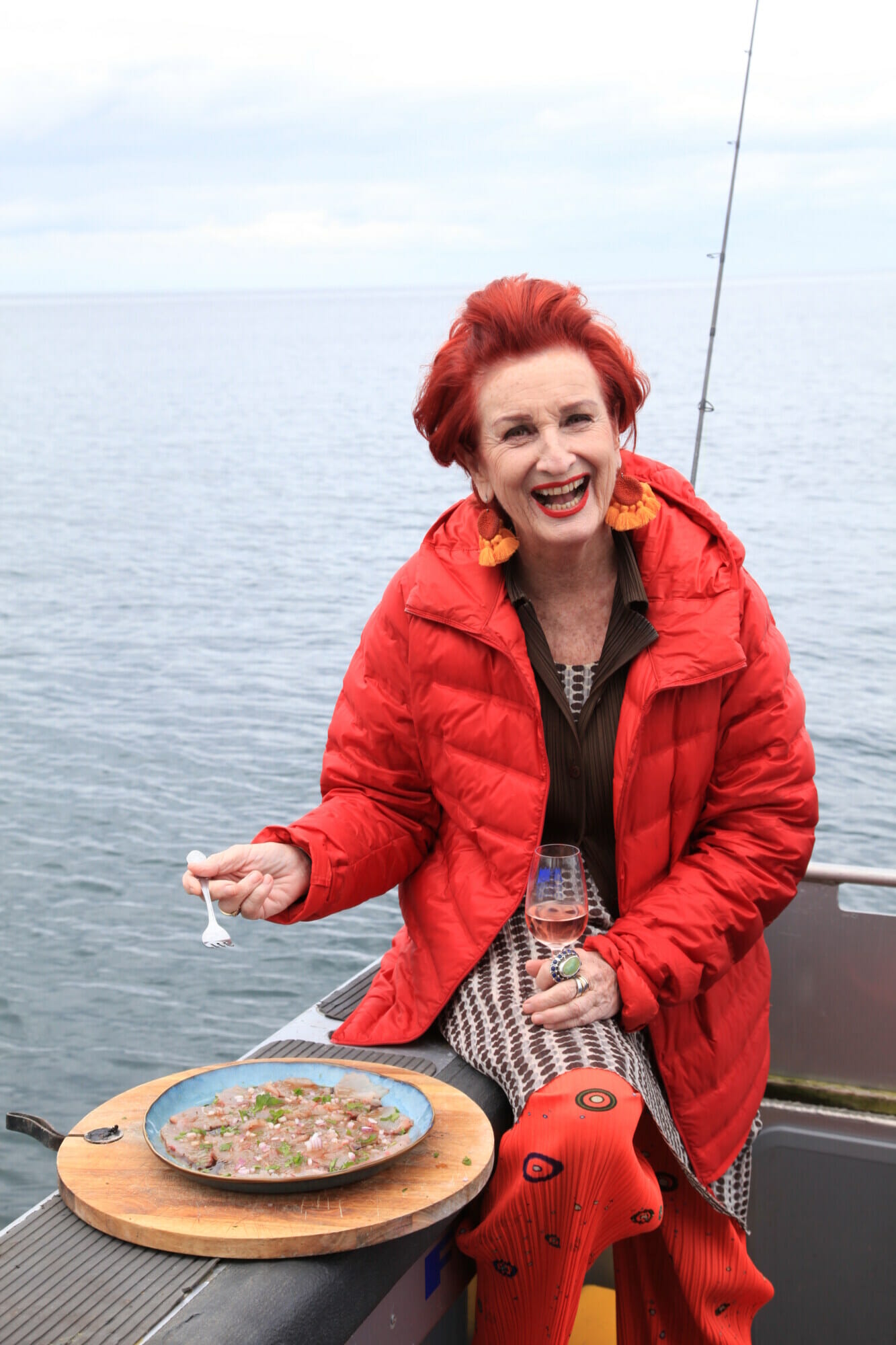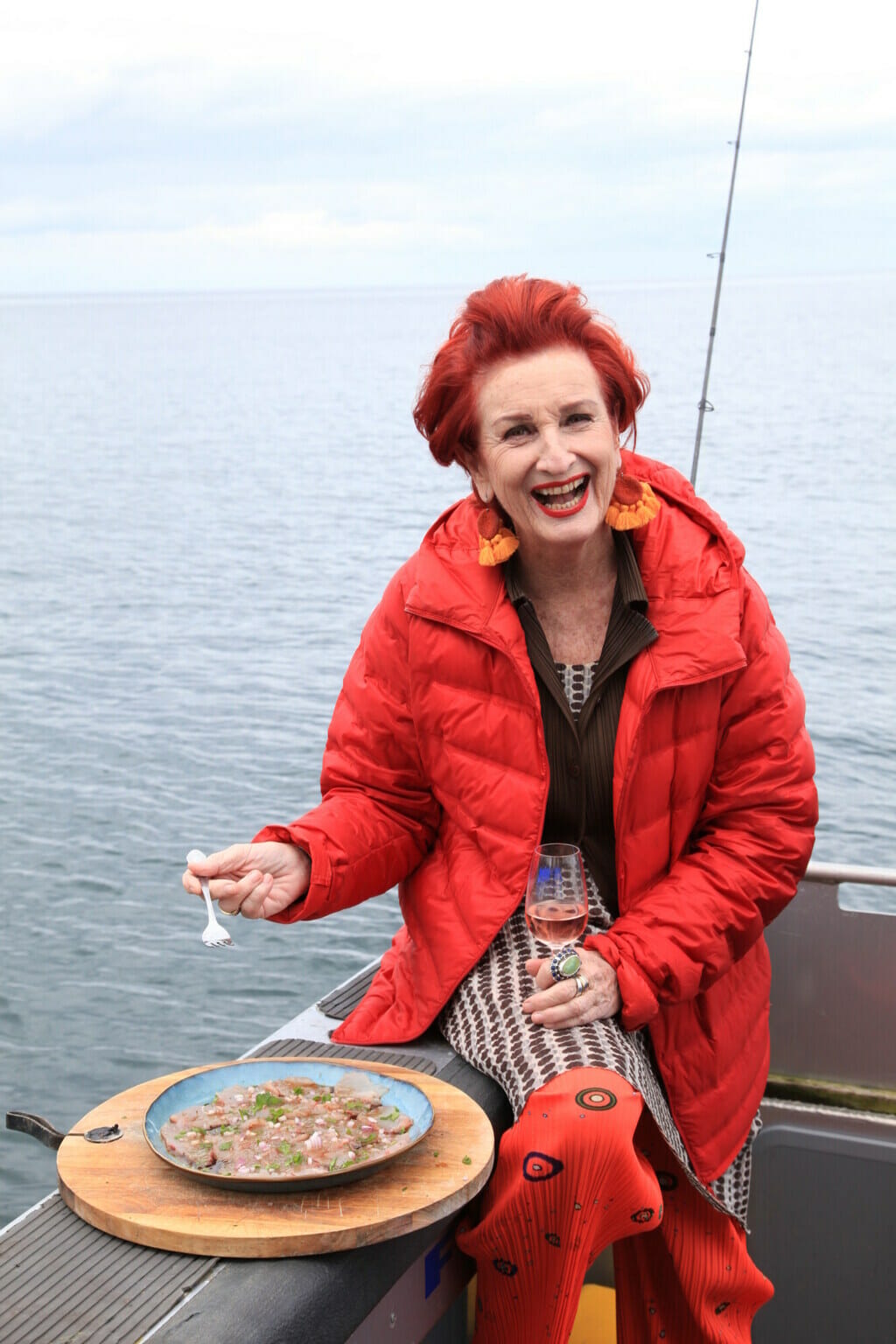 We got talking and I asked him why he loves the area. He smiled. "Tairua is a place where you can get away from it all, hear yourself think and nourish your soul," he said. "We call it 'Wairua Tairua' ['spiritual Tairua']. Every village in the Coromandel has kept
its individuality, and here we are, laid-back, we know everyone, and we take the time to do things that are meaningful to us, like fishing, gardening, hunting, surfing, bush walking, hiking, talking."
"So why would a city slicker like me come here?" I asked.
"Easy. Visitors come to rejuvenate, reset, feel good in themselves. We show them how to forage, eat fresh paleo food and walk on quiet beaches."
"Could I cook a butterfish in the sand at Hot Water Beach?"
"Yep."
Okay, so I didn't catch a fish ("Couldn't catch a cold" was how my efforts were described), but I completely regained focus when Carl started preparing our kai by mixing up a secret dressing in a coffee cup. Somewhere near Hot Water Beach (or was it Cathedral Cove?), he started feeding us with truly delicious fish dishes off the back of the boat. Kingfish sashimi with wasabi, soy sauce, shallots and sesame oil. Crayfish split and grilled shell-side first, with butter, parmesan cheese and garlic. Crayfish claws poached in seawater. How can that be wrong?
Our accommodation was the entirely wonderful and luxurious B&B Sunlover Retreat, which gets rave reviews on Tripadvisor. Donna and Chris Brooke believe in treating all their guests like friends, and that's exactly how we felt the whole time we were there. Every time I went upstairs to see them, they were sitting next to each other – reading, drinking coffee, watching TV – not on either side of their huge living area but right next to each other, like two doves.
This harmoniousness is felt throughout the whole house, even downstairs in the two sumptuous guest suites. The décor is full of colour and eclectic New Zealand art and decoration, and the bedrooms appear to be made only of glass. When you wake up, it's as if you've been sleeping in a rainforest.
You open your eyes to a ravishing view of the mountains and sea, and if you wake up early enough you can do your sun salutation to the sunrise over Mt Paku, accompanied by bellbirds and tui. There's a candlelit outdoor bathtub on the terrace which, with the help of Chris's giant G&Ts, is relaxing to the point of disintegration.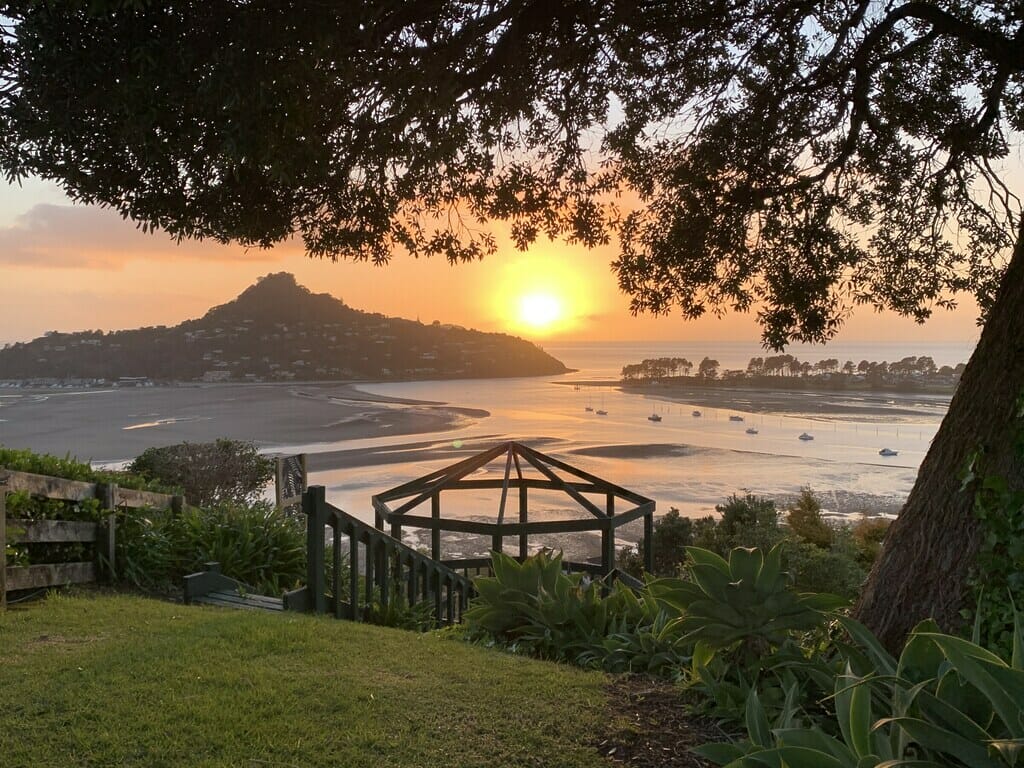 Decked out in a hot-pink outfit and radiating gentle self-confidence, Donna's the sort of woman who makes you want to just sell up and change your life. It was her birthday and she planned to jump off the Tairua Bridge to celebrate. "You know," she said, "Tairua really is a hidden gem, unfairly passed-by, a beautiful unpretentious hamlet with strong community. You can have the beach almost to yourself even in midsummer. It's old-style New Zealand – a fish-and-chips, barbecue-and-beer kind of place where rush-hour traffic is kids cycling home from school."
Who knew there was a spa in Whitianga? Thrilled with the anticipation that only a road trip can bring, Sally and I flung ourselves into the car in the morning and headed off to The Lost Spring, togs and cameras over our shoulders. Half an hour later, I was decked out in nothing but a red bathrobe and a flower in my hair, telling my life story to the lovely massage therapist. I slid into the hottest part of the 16,000- year-old geothermal pools. When I'd finished groaning in ecstasy, I allowed the other soaking people to share their feelings with me while sipping on their pina coladas.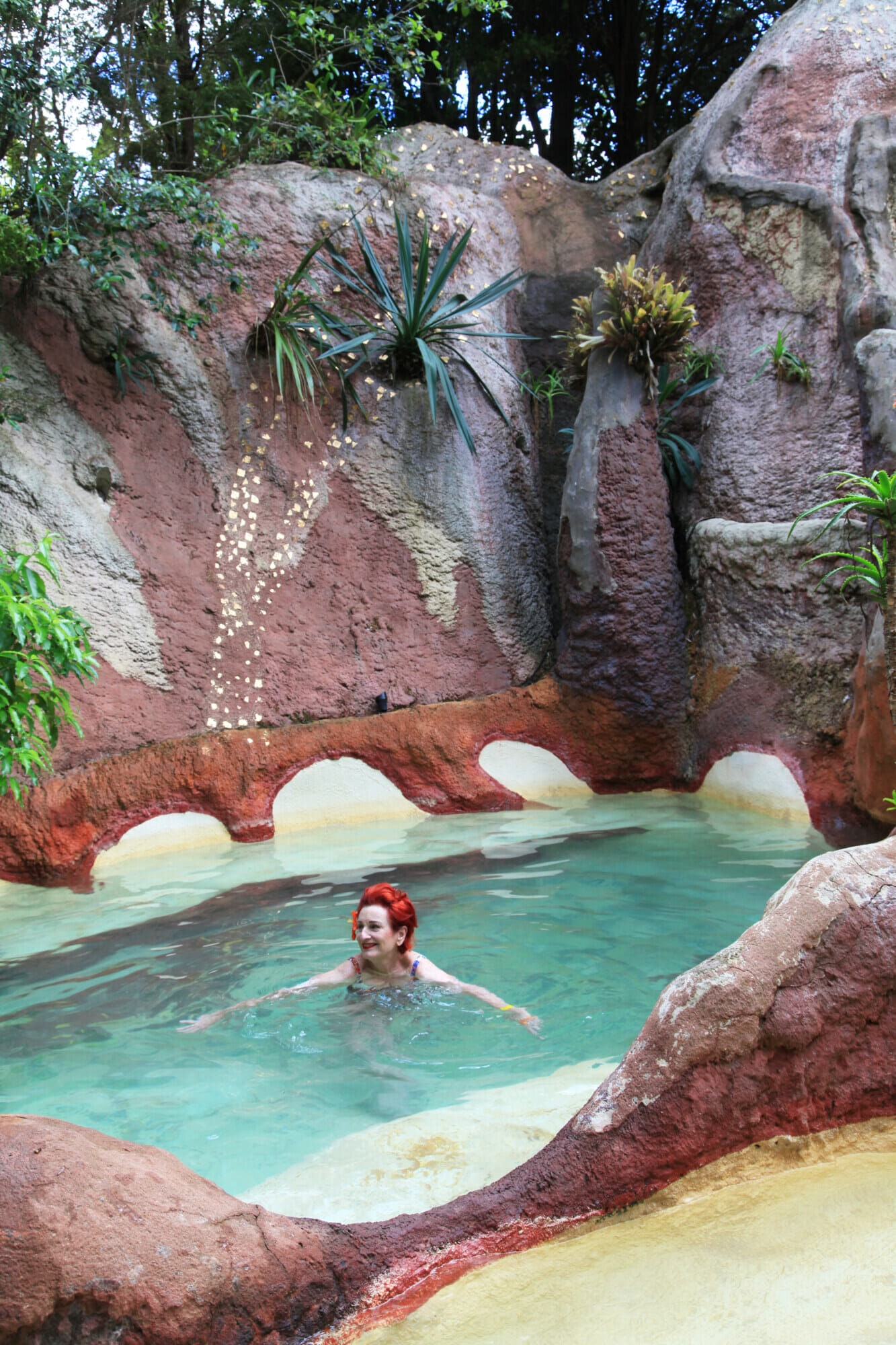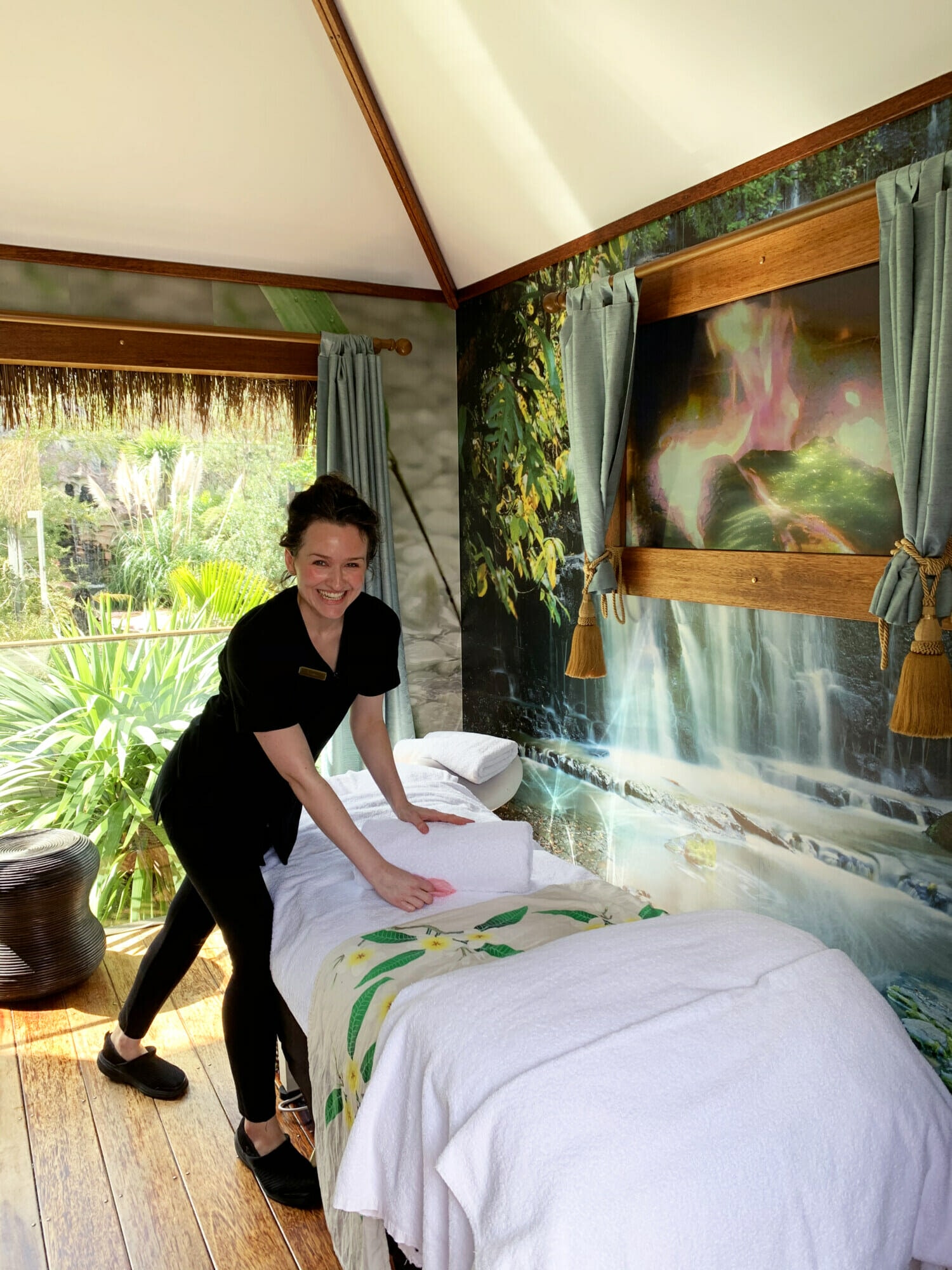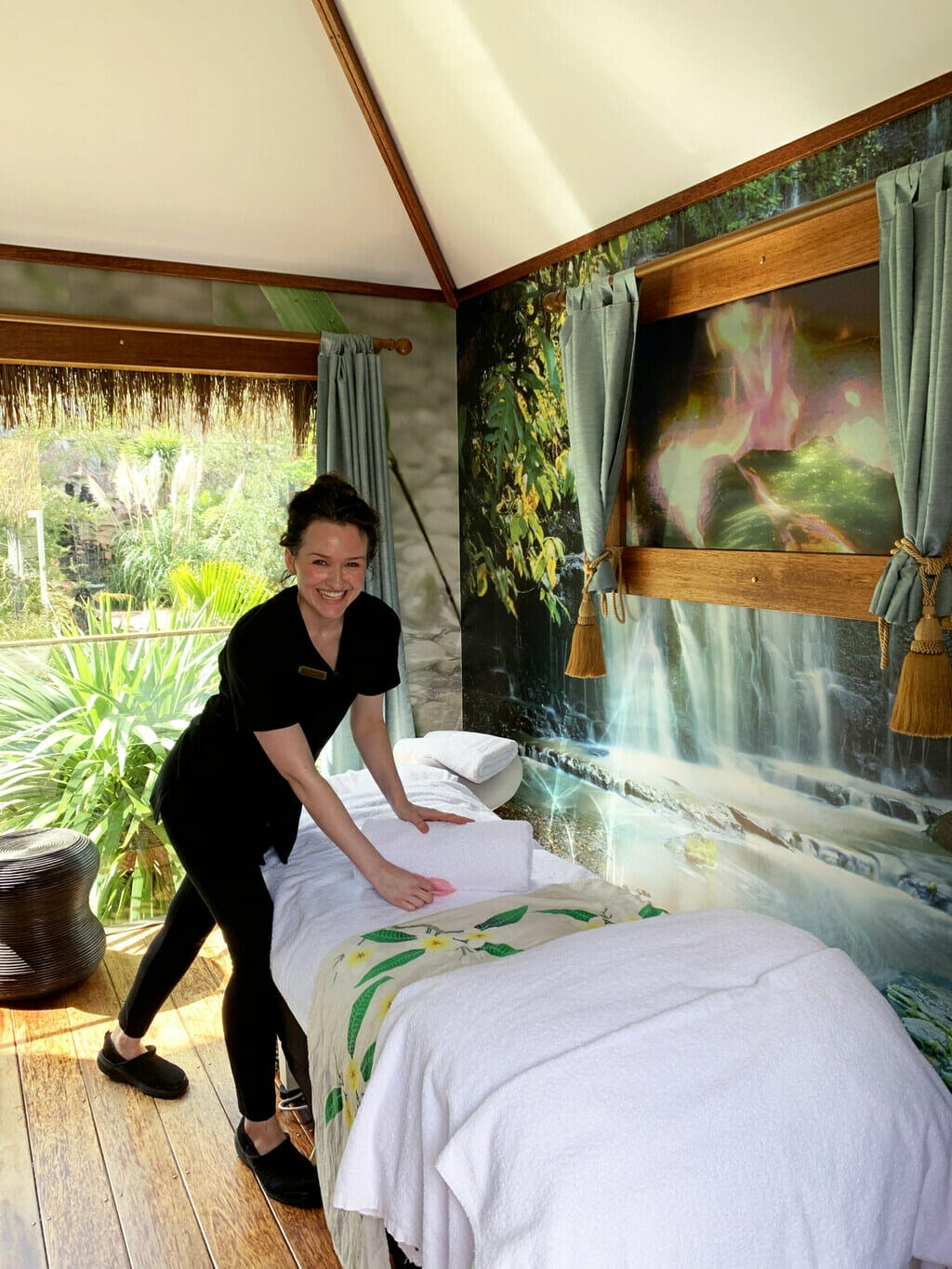 All around us were towering nīkau trees, lush native bush, secret paths, waterfalls, and truly wild and crazy sculpted fake scenery and grottos that everyone goes mad for. The place was crowded with happy soakers, snacking in the restaurant, becoming at one with the universe and marvelling at their newly soft skin. Everyone told me the same story, which went like this: "We came to this area for a holiday because our overseas plans were cancelled. We love The Lost Spring and our only regret is we didn't plan to stay longer. We don't want to leave and we would come back in the blink of an eye."
Because food is my life and always a big part of any successful holiday, Sally and I decided we'd try two of the restaurants we had heard about. Colenso Café on the Tairua Whitianga Road has a really good cook.
A few bites of Emily Thomas's cooking and I knew she had form. Her food is fresh, local and seasonal, with layers of delicious flavour. Her mother and stepfather, Judy and Gary Inglis, own the lovely property, with its garden, mandarin orchid and shop.
Before we headed for home, we went back to Manaia Kitchen & Bar in Tairua, owned by Andrea Johnson, who has the biggest, most beautiful smile this side of the Pacific Ocean. Manaia is pumping all the time, cheerfully serving the cuisine people around here love. It's the sort of place where, once you get talking to people, the husband gives you some wild pig he hunted, the son gives you some fresh pāua, and the lady of the house gets her chef to whip up snapper with pea purée, fried seaweed and polenta chips.
And so we left the secret coastal land of Tairua – the land of two tides and twin mountain peaks, the land where the air is clean, the swimming safe and the friendliness endemic.
Related article: Waiheke Island, More than just wining and dining