These blissful spaces prove that bathrooms don't have to be a bore. Look at it as an extension of your personal style and create a bathroom with serious chemistry.
Back To Basics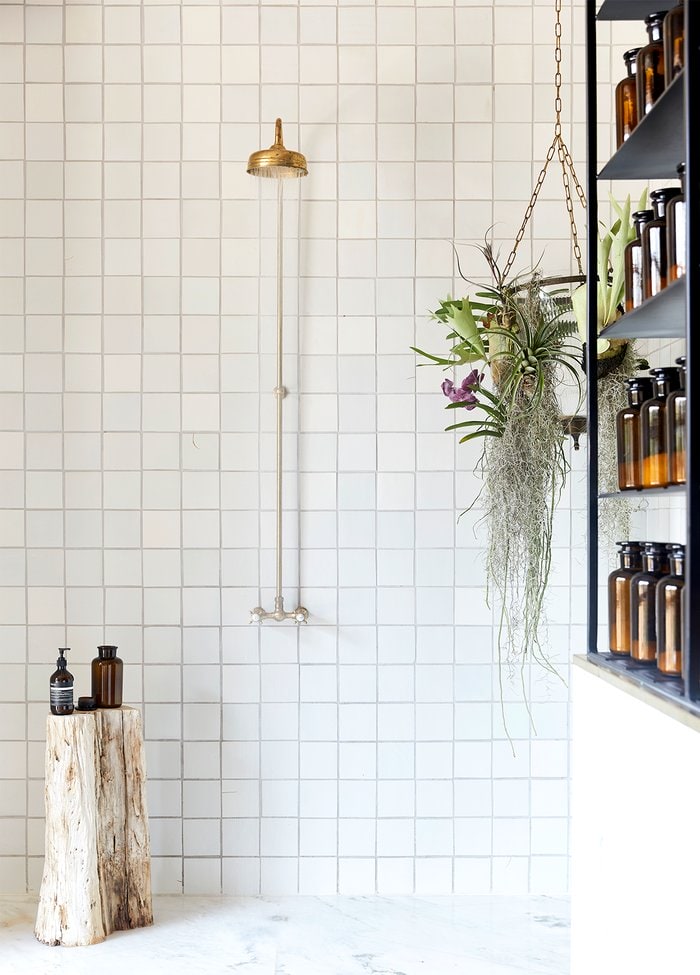 If ever there was a perfect marriage of restrained industrial cool and free-form organic spirit then this bathroom is it. Every element is perfectly curated for functionality as well as aesthetic balance, from the precise lines of the bespoke black galvanised-steel shelves set against creamy white, artfully imperfect Zellige tiles, to the collection of apothecary bottles filled with scented bath salts and the untamed arrangement of air plants hung from a metal chandelier frame. Large white marble floor tiles and a tree-stump table further enhance this union of nature and machine-made, rustic and modern.
Tips for this look
Air plants are ideally suited to the steamy bathroom environment, not to mention people who need their living decor to be low-maintenance.
Beware of overcrowding. Decorative restraint allows the balance to be maintained and the beauty of the features – the tiles, bespoke shower fixture and shelving – to stand out.
An all-white palette is grounded and modernised by interjections of black and living greenery as well as coloured glass (in this instance the warm amber of apothecary-style bottles).

White Haute


Why be basic when you can be extra? This bathroom elevates traditional elements such as vanity mirrors, old-school basins and the classic combination of white and brass by combining them with showstopping features that include a custom-designed XXL round mirror, contemporary hexagonal tiles, and bare bulbs hung from cord cables that have been creatively positioned on the wall with bespoke brass supports rather than being suspended more conventionally from the ceiling.

Tips for this look
Strategically positioned mirrors will make the space feel bigger and lighter.
A recessed wall niche fitted with floating shelves is a space saver as well as an eye-catching feature.
Maximise storage. Here, open brass shelves under the basins provide space for bath and hand towels.


Baroque And Roll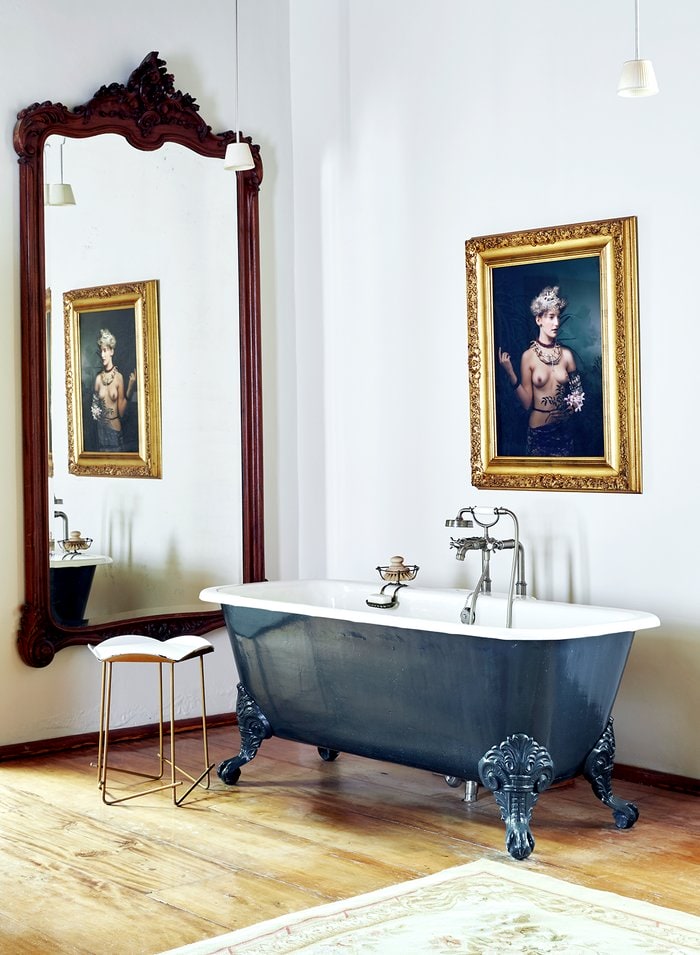 What at first seems to be a traditional bathroom space reveals a modern edge with contemporary drop-pendant lighting, a beautiful gold side table with a delicate profile and a deep Victorian-style claw-foot bathtub that has been updated with a coat of glossy graphite-hued paint. The carved-frame mirror – an antiques-shop find – is a dramatic focal piece and connects visually with the ornately framed portrait.

Tips for this look
Indulgence and functionality can co-exist. Beautiful lighting, a feature rug, or a striking piece of furniture can look right at home.
As long as a bathroom is light and well-ventilated, it's fine to introduce artworks. Just make sure they are not in the direct line of bathtub or basin steam.
Engineered hardwood can work well in a properly ventilated bathroom that's not overly humid or prone to frequent flooding. (Kids, we're looking at you!)

Pretty In Pink

Don't shy away from all-over colour in a small bathroom. As well as enlivening the space, colourful walls will deflect attention from any design shortfalls. Pink, a shade that has crossed the line from accent colour to full-on classic, is a fun, lively and fresh choice.

Tips for this look
Repurpose an office drawer by painting it a fashionable shade to use as a quirky bathroom storage unit.
When not in use, leave the bathroom door open – a pop of bright colour adds joy to a home when it catches the eye, especially in a small space.
Take your passion for colour to the next level and extend the wall colour onto the bathroom door, both inside and out.
Industrial Luxe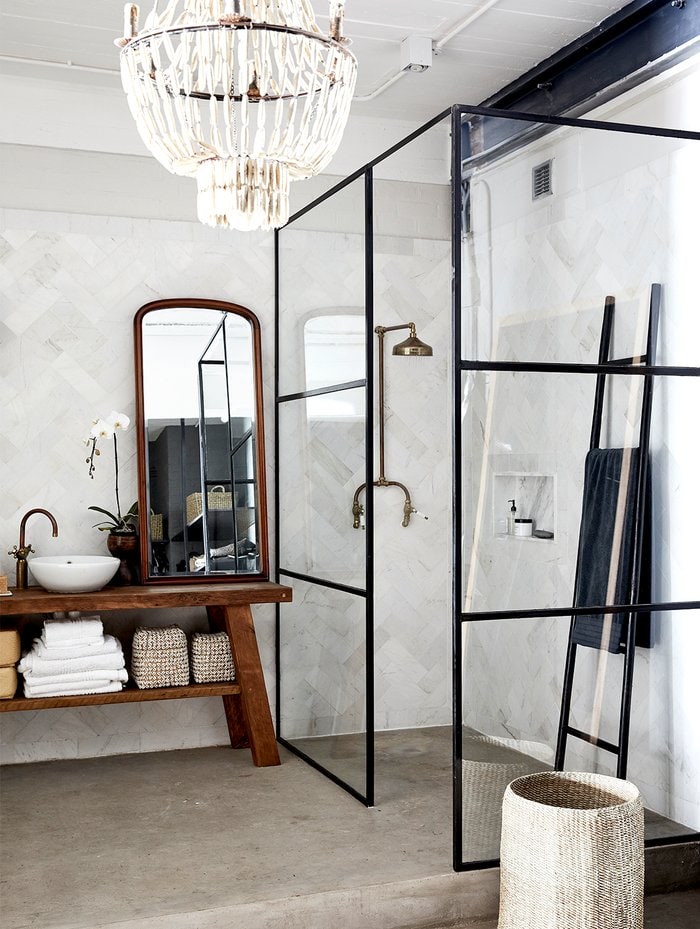 In this open-plan bedroom, the en-suite bathroom has been defined by a raised concrete platform. The industrial-style glass and steel shower cube is a showstopper, and the restrained glamour of the space is enhanced by elegant details such as tessellated tiles, an oak vanity, a chandelier, a large framed mirror and a decorative ladder for towels. The limited colour palette gives the area a clean and fresh look.

Tips for this look
Lean items such as mirrors, artworks and ladders instead of affixing them to the wall – it's called casual chic, darling!
You can never have enough baskets in the bathroom (or your home, for that matter). Larger ones will work as a laundry basket while smaller ones can store everything from cotton wool and plasters to toiletries, make-up and hair accessories.

Pale And Interesting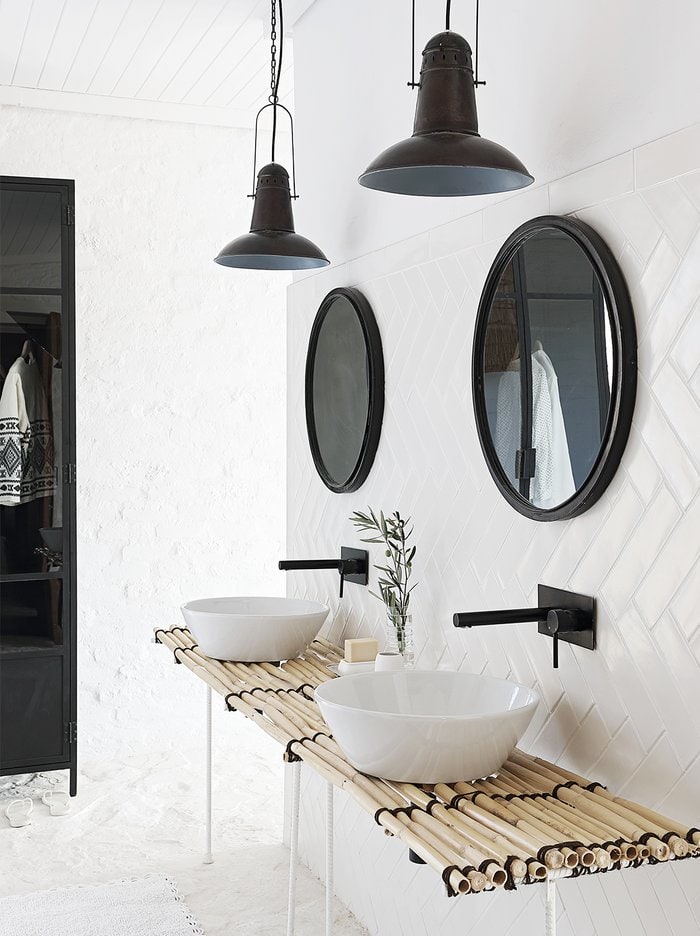 A monochromatic scheme makes this bathroom feel poised and contemporary. While simplicity reigns, there is still plenty of interest, from the contrast of the shiny tiles with the matt finish of the stone floor and main walls, to the play of angular shapes (the taps and black metal cupboard) versus round (the mirrors, basins and pendant lights). The simple basin stand made from reeds gives texture and warmth.

Tips for this look
Play with shapes such as circular elements in rectangular rooms. Round mirrors and curvy vessels are a good starting point.
When limiting colour it's still possible to create interest with contrast – think matt versus glossy, and sleek versus tactile.
To keep a monochromatic palette fresh and modern, stick with blacks and whites that have the same tonal depth.

Shades Of Grey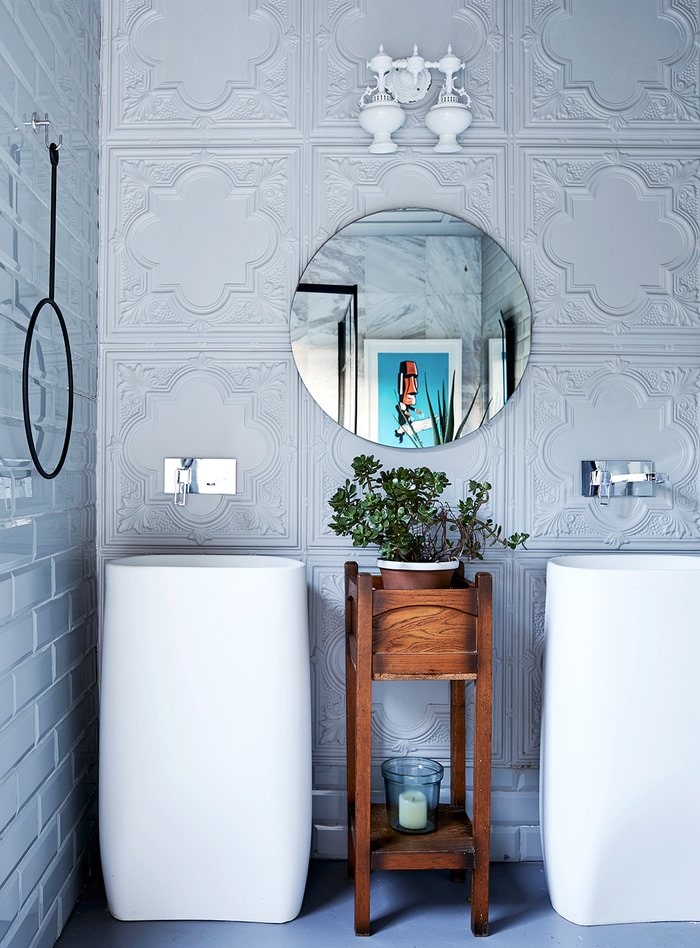 Old meets contemporary meets futuristic in this striking bathroom that boldly places grey on grey on grey. Glossy subway tiles and a painted concrete floor look unexpected and fresh in combination with vintage-style ceiling panels (on the wall) that lend texture and pattern. An antique walnut plant stand, ornate period lights (given an update with white paint) and the nostalgic pressed panels act as a counterpoint to the curves and modernity.

Tips for this look
Gloss and matt surfaces create a mood that's very of-the-moment. This nifty style trick also creates a sense of layering and energy in a space where colour is muted.
Pops of colour – in the form of an art print and indoor plants – as well as natural wood lend warmth and personality.

Jewel Room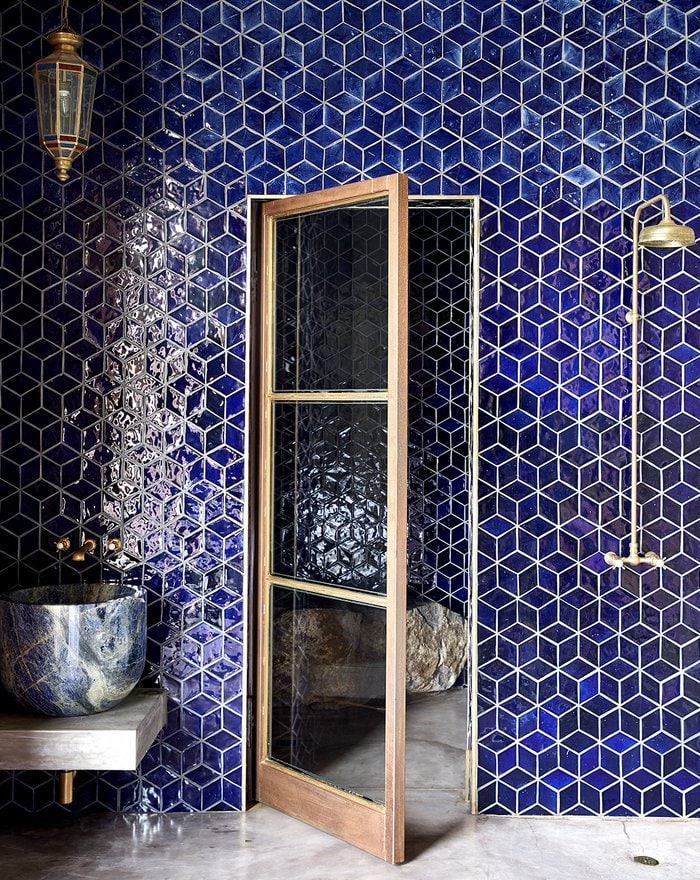 The North African influence is a magic formula for statement bathrooms. In this steam and shower room, the main event is, of course, the wall-to-wall, floor-to-ceiling tessellated tiles in lapis blue with their subtle variations in texture and tone. Restraint in the fixtures – a simple door, brass fittings and a solid marble basin and stone shelf give a classic look that's never gimmicky.

Tips for this look
On a budget? Invest in one "wow" piece – a beautiful light, a show-stopping basin, or a tiled or wallpapered feature wall – and keep the rest of your fittings and decorations simple, minimalist and timeless.
Photo-real vinyl stickers are effective in cheating the North African-inspired tiled look.

Material World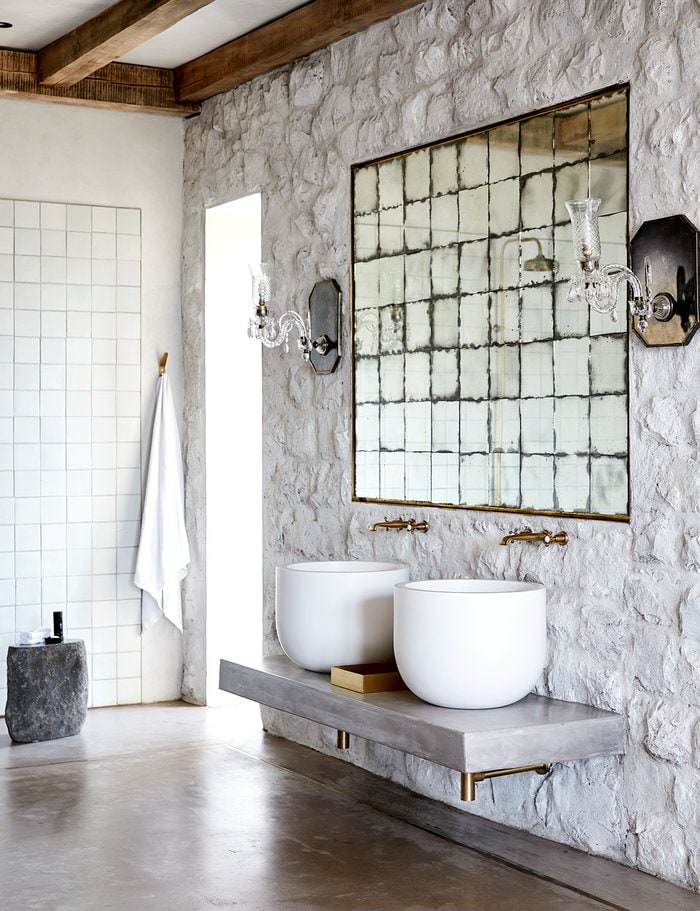 In this bathroom, the juxtaposition of texture and finishes delivers major character and visual interest. A modern, dramatic overall effect is created by polished stone countertops, square tiles, a glossy concrete floor, ornate glass wall-sconce lights and curvaceous, oversized basins. Together, they contrast against a white-painted exposed-stone wall, a distressed, oversized mirror, chunky exposed ceiling beams and smaller details such as a rough-cut stone stand for toiletries in the shower zone.

Tips for this look
A reflective floor can bounce natural light.
It's not always necessary to tile an entire wall, which will save on costs. A large section of tiled wall suffices in the shower zone, framed within the remaining wall.
Think about shape when creating contrast. The tiles in the shower area connect visually with the mirror.


Roughed Up

Unique details, layered textures and a rich, warm palette give this space its inviting character. The ruggedness of the raw-brick wall has been exaggerated by a distressed finish and, while it is the main architectural feature, it harmoniously aligns with the concrete that makes up the rest of the flat surfaces. Vibrant plants with reflective, waxy leaves and the high-sheen copper ball-and-claw tub provide a smooth, glossy contrast to the rustic textures. Furniture, accessories and fittings bring a touch of nostalgia and individuality. The end result is the antithesis of showroom sterility.

Tips for this look
The bathtub has been slightly raised on a tiled platform, drawing the eye and introducing a sense of architectural layering.
Indoor tropical plants thrive in a steamy bathroom environment, but natural light is still important to their wellbeing.
A plumbed enamel basin on a converted dresser makes for a beautiful and unique vanity.