Unable to find the pieces she wanted to liven up her home, a creative Aucklander used her lockdown downtime to learn a new artform.
Photographer and graphic designer Beka Hope spent a lot of time online looking for the perfect plates for her colourful, cosy Mt Eden flat during the first 2020 lockdown. "I scoured every website for plates, but there was nothing like what I imagined," she says. "So I decided I should just make some."
Beka was working as a freelance graphic designer and was keen to try something that would get her hands dirty and stretch her creative skills.
"The first day that I could, I bought a bag of clay and just started making things. I didn't have any tools or anything, so I decided I'd try hand-building. I rolled things out with a wine bottle and used a kitchen knife," she says, laughing.
As it happens, plates are some of the most difficult things for beginner ceramicists to master – they tend to dry unevenly, or warp or crack in the kiln. Beka still hasn't adorned her dinner table with her creations, but she has developed a multicoloured, speckled line of candlestick holders, vases, ramekins and soap dishes.
She says her friend Krystal Opie, whom she met in art school 10 years ago, patiently answered all of her questions about making ceramics and gave her plenty of guidance, but there were a few failures along the way. "I ended up finding a kiln in a studio in Mt Wellington.
A few things have cracked in that kiln! There has been a lot of trial and error. Glazing is pretty fiddly too, but it's worth it when it works."
In the beginning, Beka made her ceramics on her flat's front porch, competing for space with shoes, umbrellas and other typical porch paraphernalia. But in a stroke of luck, one of her neighbours moved out and left behind an empty shed. "I took over the little shed and have been doing my ceramics out there. It's been lovely to have a dedicated space that you don't have to clean up every day!"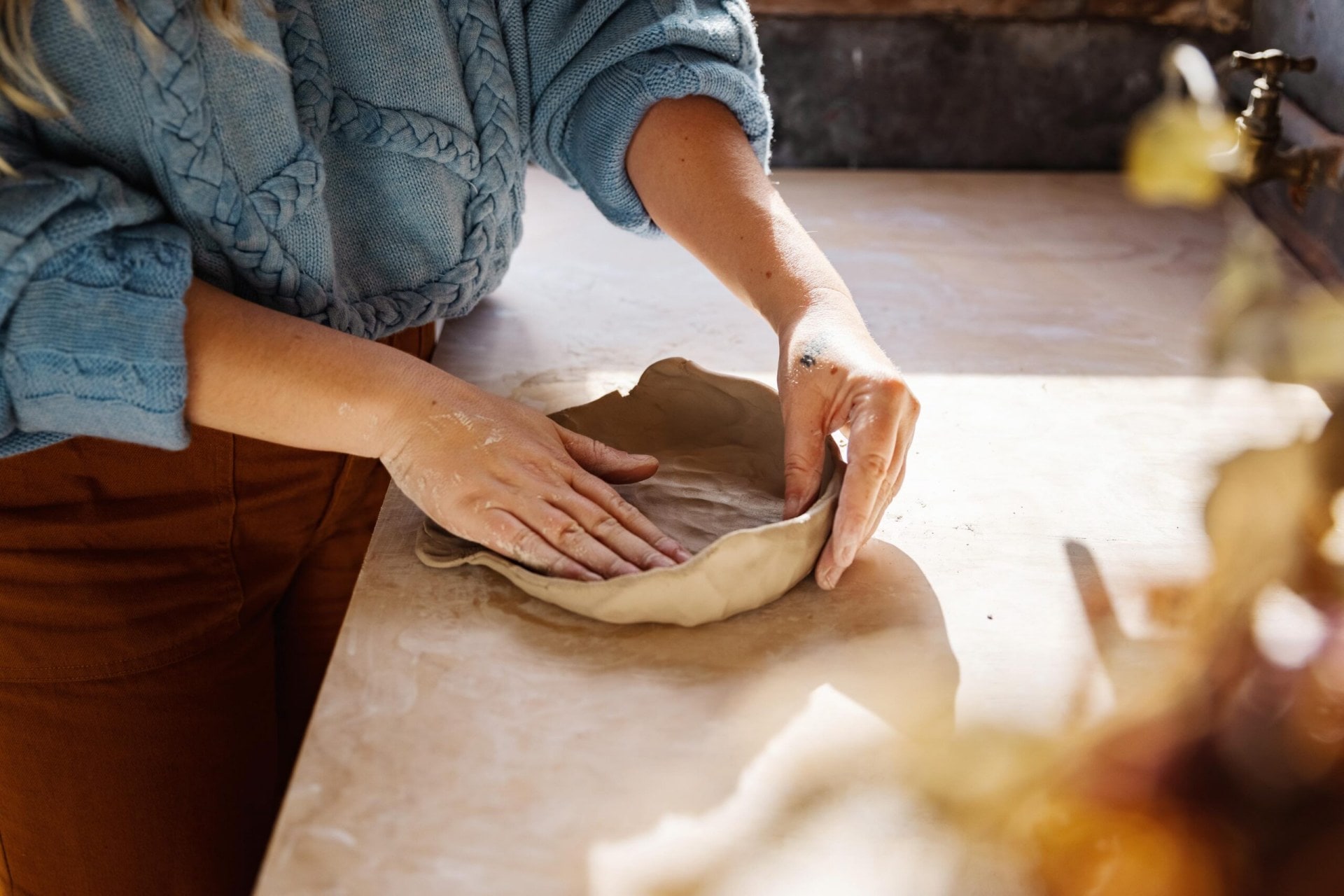 It also gave her the space to create scented candles – she makes ceramic tumblers and pours the wax into them. "My dream candle didn't exist, so I made it – summer peach and vanilla," she says, smiling. Beka's dream candles have proved popular – her collections have all sold out.
She says working with clay wasn't something that came especially easily to her, but she loves that she can make it work and that the clay often does its own thing. "You have this idea in your mind, but it doesn't necessarily come through. You have to be willing to roll with whatever happens. I feel it has made me better in all of my other work as well. I realised the creative process is messy and sometimes it's going to look bad before it looks good. I've learnt to keep going with that, which is something I hadn't really embraced before."
During the most recent lockdown, Beka was based elsewhere and didn't have access to her shed. "I've had a bit of a hiatus but I can't tell you how much I'm looking forward to making some new pieces."
A lot of Beka's ceramics are in use in her flat, but they're not necessarily the works she's most proud of. "I have a whole lot of stuff at home, mostly the duds. I sell the good stuff. I'll have to make some good stuff for myself."
Read more about Beka's projects at bekahope.com.