An Auckland couple replaced everything including the kitchen sink when they added an extension to the rear of their Pt Chev bungalow.
Who lives here?
Cook Grant Allen, his partner, textile agent Jorg Kamerman, and their housemate Leo Yang.
Where is it?
Pt Chevalier, Auckland.
How long have you lived here?
"Jorg bought the house 26 years ago and I moved in five years later," says Grant. "Leo has been here since 2019."
What renovations have you done?
"We extended the back of the house to create an open-plan living area and improve the connection to the garden."
"When Jorg bought the house it had a small kitchen that opened onto a back verandah that stepped down to a lawn with a central path leading to a clothes line. He transformed the garden, adding masses of plants. A lot of them came from the Coromandel, where I was living at the time. When we renovated, the architect extended the home's existing roofline to give the new space good volume."
"This feeling is enhanced because you step down to the extension. We didn't want the new space to feel like an add-on, so we reinstalled the original kitchen windows to give it some character. It looks gorgeous when the morning sun is streaming in through them. Jorg is Dutch and, funnily enough, the yellow stained-glass windows happen to feature tulips!"
What did you learn from doing the reno?
"Don't try to rush things. It took a year after the major extension to sort out the kitchen – I just couldn't decide what to do. The kitchen is a corridor, as well as a working room."
"I knew I wanted wide benches and practical storage. Being a professional cook, I was obsessed with trying to design the perfect kitchen. I went back and forth until one day when a friend came around and said, 'Just do this.' And we did. His suggestions were totally right. Sometimes it takes an outsider's eye to see what needs to be done."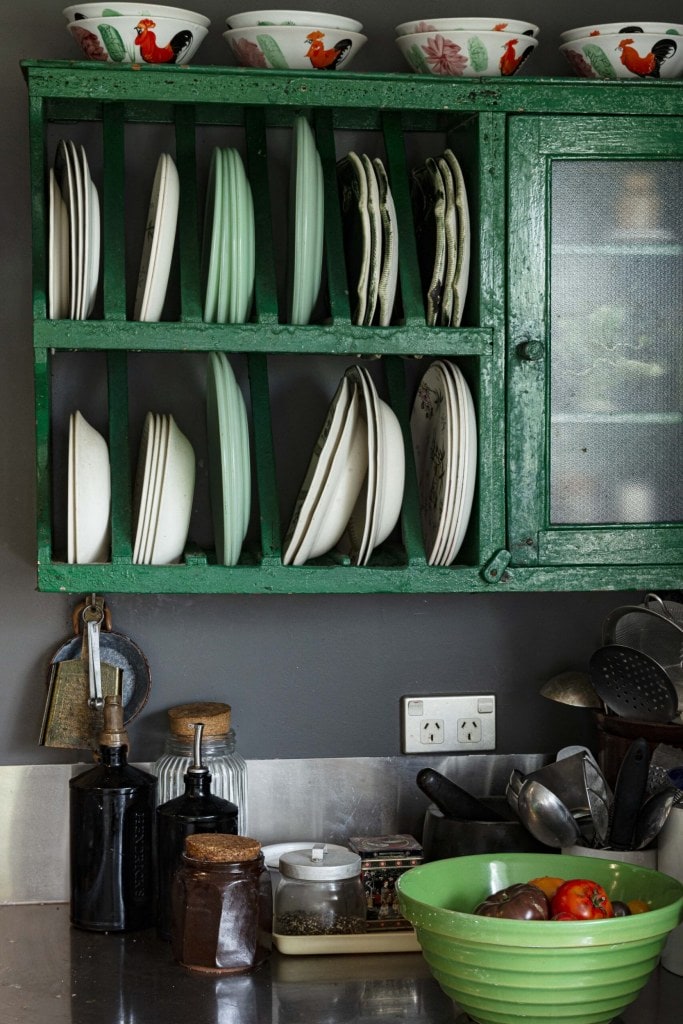 "I did have the benches made wider than usual. They're stainless steel because I love the way they develop a patina and just get better with use. Another must-have was a big sink to wash big pans in. I also wanted a working space that could accommodate two people and I wanted some display space. I got all that and I'm really happy with how it works."
What was the existing flooring and how did you change it?
"The floors in the original house are native mataī, and since it was a challenge to find reclaimed mataī floorboards when we extended the kitchen, for the extension we decided to put down a concrete floor with a large tile shape cut into it. It was an expensive option but worth it. We've repainted the walls in this part of the house since doing the reno but we always choose neutral and natural tones because this space leads to the garden."
Why was creating an indoor-outdoor link an important part of the transformation?
"We both love the garden and feel a strong connection to it. Jorg has beehives, so he spends a lot of time out there, and gardening is my meditation. I also love cooking outside. Our garden extends our space for entertaining and when we have large gatherings we put up a canvas canopy in the courtyard and open the French doors. We can easily host 80 people here for a party."
Who did you work with?
"Our architect was Annette Jones. The kitchen was designed and built by Craft Kitchen Plus and we had a local Pt Chev electrician from Oceans Electrical do the electrical stuff. Peter Fell, a company that specialises in coloured concrete, did the floor in the extension. My friend, stylist Megan Harrison-Turner, helped me choose the colours when we repainted the kitchen and living room recently."
Did you do any of the work yourself?
"Jorg is a perfectionist when it comes to painting, so he does all the interior and exterior painting. His brother-in-law did the majority of the building and Jorg helped him."
Did you have a renovation budget?
"Yes and it was relatively fixed – Jorg believes you should pay as you go."
Do you both go for similar colours and designs?
"Yes and no. I'm much more rustic and eclectic; Jorg has a more Euro aesthetic. He tends to like classic Scandi design and pieces that are built to last. I'm happy to use a battered old box that has a story behind it for a seat or something, whereas he would see it as a piece of junk. Having said that, we both work in creative fields and we both admire and appreciate quality design, materials and craftsmanship."
Do you make interiors decisions together or do you each have your strengths?
"I'm more spontaneous but I do have to get Jorg's buy-in for the big decisions. Fortunately, he is very accommodating and allows me my whims. When it comes to major structural changes, we have a discussion and always come to an agreement."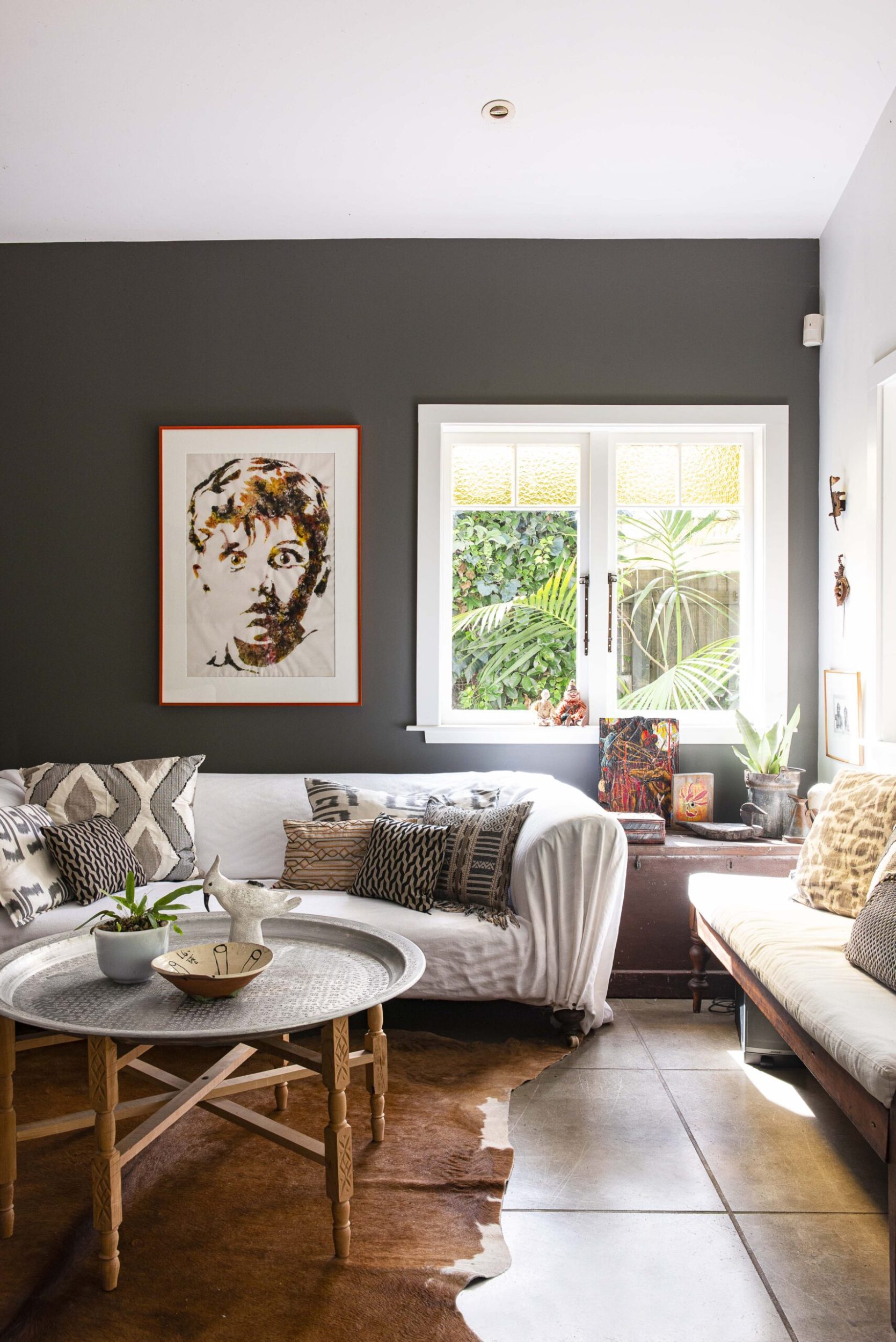 Any disagreements along the way?
"Not really. We talk, and we don't do things quickly, so in the end we are both happy."
Are you planning any future renovations?
"Yes, the bathroom. We never quite got there when we did the big project, so that's on the list for this year. We also want to turn the courtyard into more of an outdoor room. We won't extend the structural roofline but we'll replace the bricks that are currently there with the same concrete flooring we have inside. This will help blur the line between indoors and outdoors."
Did you change anything along the way, or did the renovation end up close to your original concept?
"Our ideas weren't set in stone. We had the basic plan that the architect drew up and we knew what materials we wanted to use but the details evolved as the project progressed. We are pretty happy with the result."
Grant's decor tips
What was the overall feeling you wanted to create?
"A welcoming, comfortable and practical home that reflects our interests: art, gardening and textiles. We both work from home so our house has to be functional, as well as a haven for living and relaxation."
How did you collect the ideas for your renovation?
Did you have some type of mood board? "If only we'd been that organised! I love changing things around – the art, accessories, and colours. I get inspired when I come across something that I love, while Jorg prefers to think about things for longer."
When it comes to home decor, what colours, patterns and textures are you drawn to?
"I love old wood, battered metals, jewel-like glass, naive art, indigenous art, mementos from travels. A relatively neutral colour palette creates a restful environment. Then I like to build the story with shapes, colours and textures. I've got a particular aesthetic when it comes to interiors and I find that the things I'm drawn to tend to fall into that and therefore it all works together."