There's nothing quite like using black in interiors. It adds an element of drama that few other shades can match. Although it's still an unusual choice for a kitchen, this simply adds to the boldness.
Set the Scene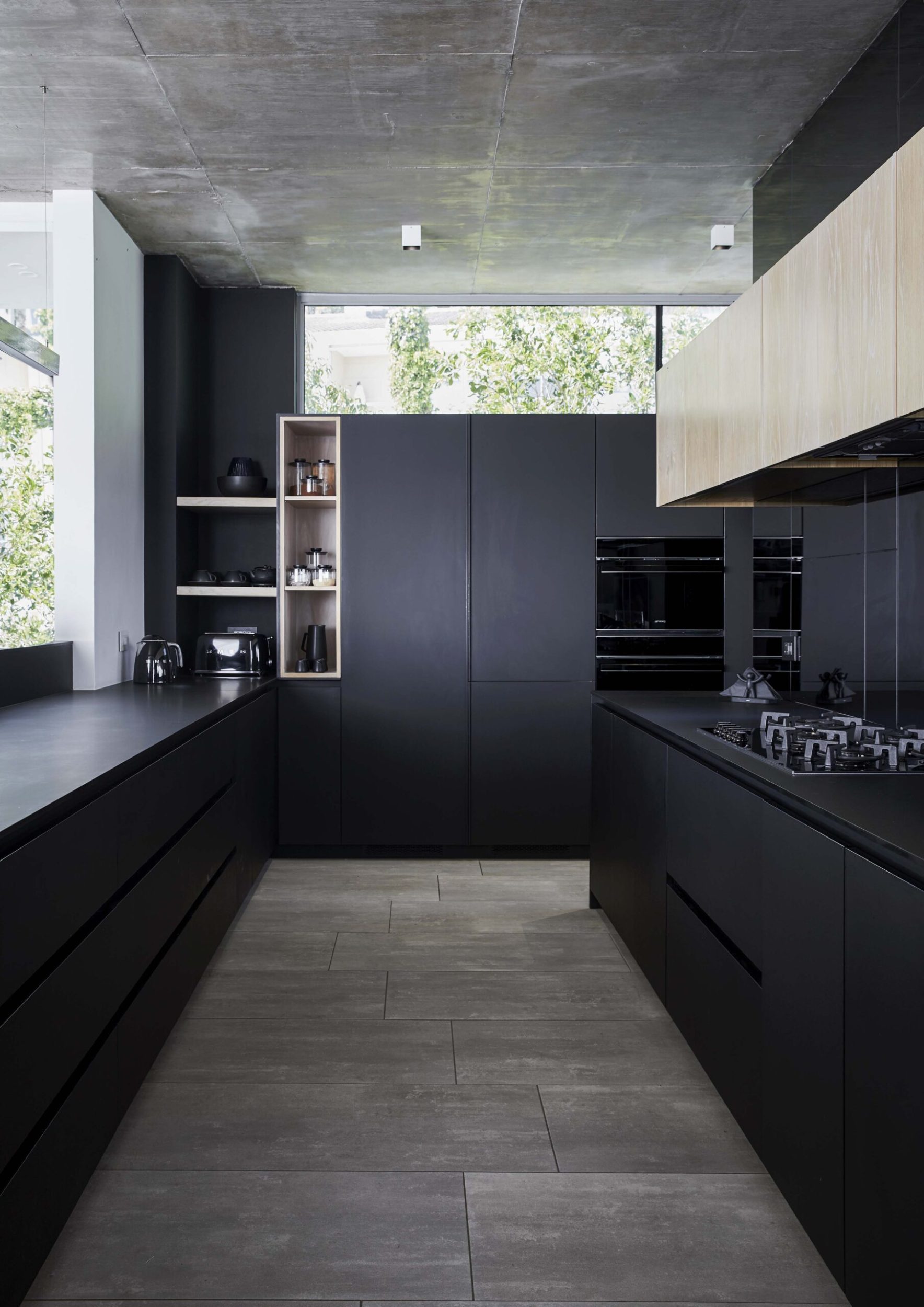 With seaside light pouring in from the picture windows along one side, this spacious galley-style kitchen offsets matt black fixtures and countertops with a concrete ceiling and grey stone floor. Finished with an eye-catching, light-coloured extractor hood above the state-of-the-art SMEG gas hob, this is a very sleek kitchen space, ideal for the sort of entertainer who likes to show off a little.
Tip
Matt black surfaces absorb light, so they work well in a bright space. Nevertheless, as seen here, combining them with lighter shades – grey, cream and white – is useful to prevent black elements from becoming too dominant.
Dark Romance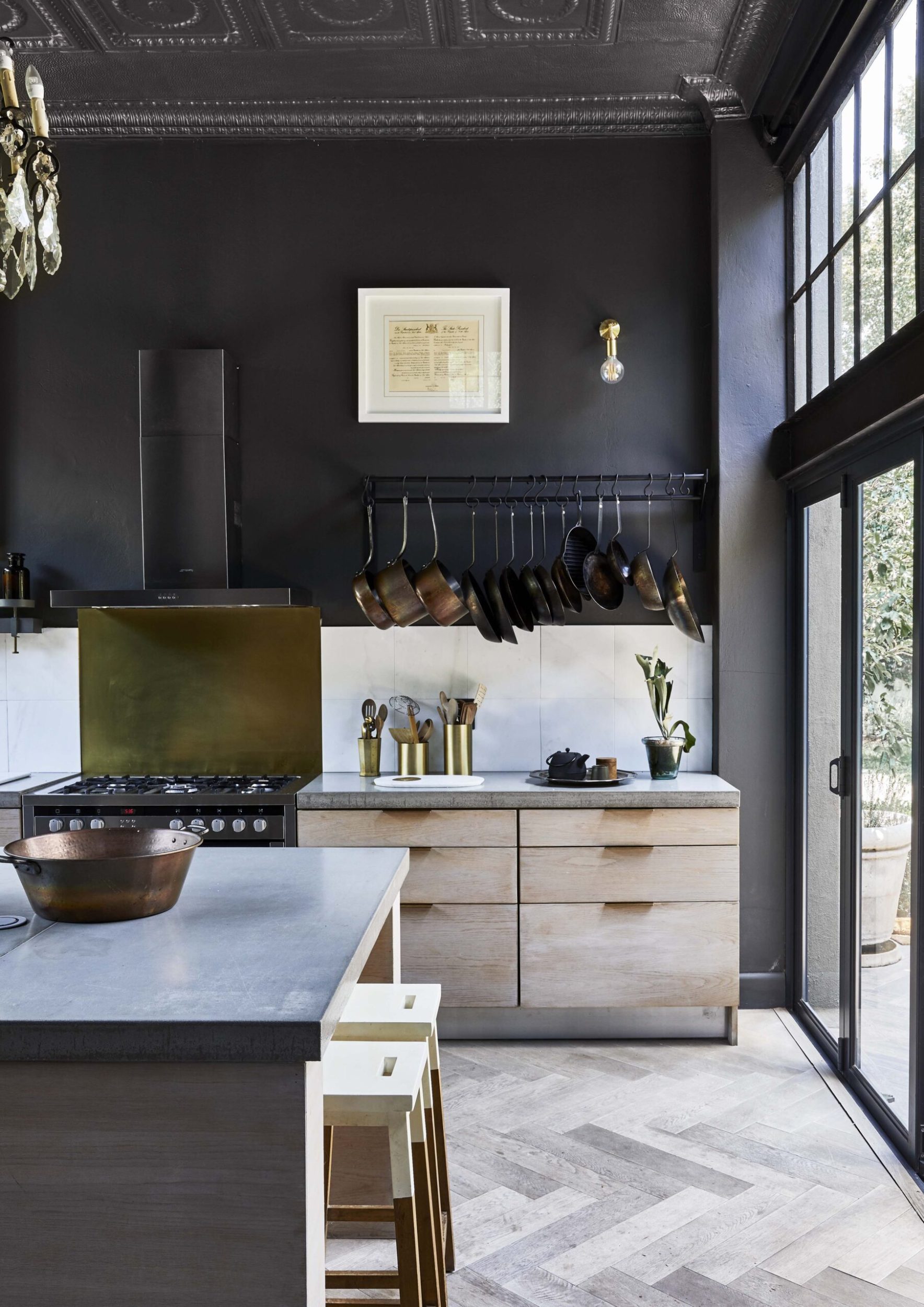 This elegant, romantic kitchen has something of the feel of a Victorian greenhouse or conservatory, with its high pressed-metal ceilings, cottage-pane windows and profusion of orchids. It sets wooden joinery and countertops in a light, cement- based composite finish against bold black walls, which are in turn complemented by the owner's collection of copper pots and pans.
Tip
In a dark space, making the right choice of lighting is key. Here, a central chandelier adds a touch of vintage glamour to the space, while brass wall sconces provide gleaming retro accents against the black walls.
Shine On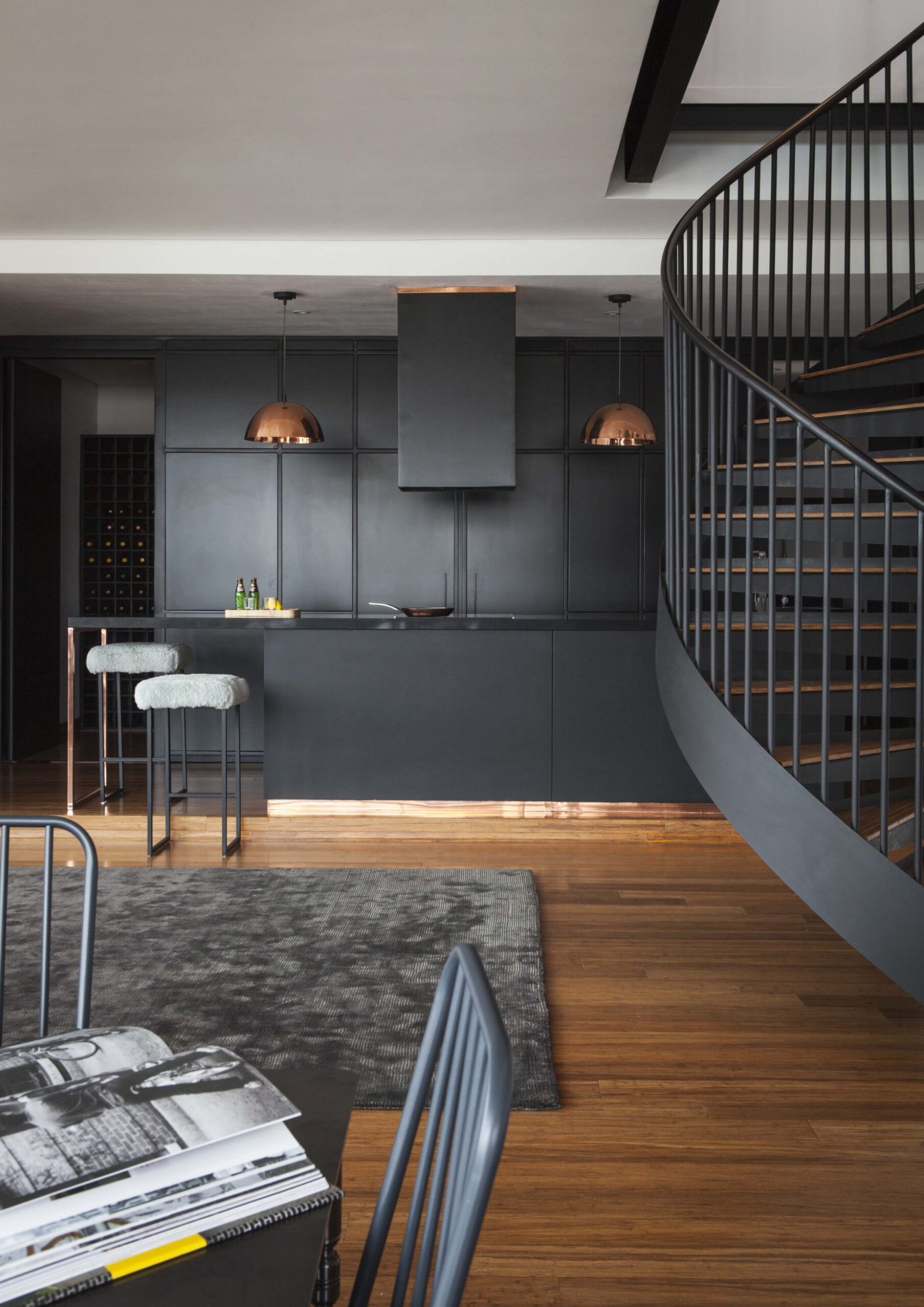 In this urban apartment, slick, glossy and glamorous black surfaces are used throughout the open-plan kitchen, with further shine added in the copper notes of the domed light fittings, and the polished wooden floor. Appliances and kitchenwares are hidden behind a wall of integrated storage, which is finished in a matt black, forming a discreet backdrop to the drama.
Tip
A sleek all-black space can be humanised and grounded by artworks, even when these feature more of the shade.
Hide and Sleek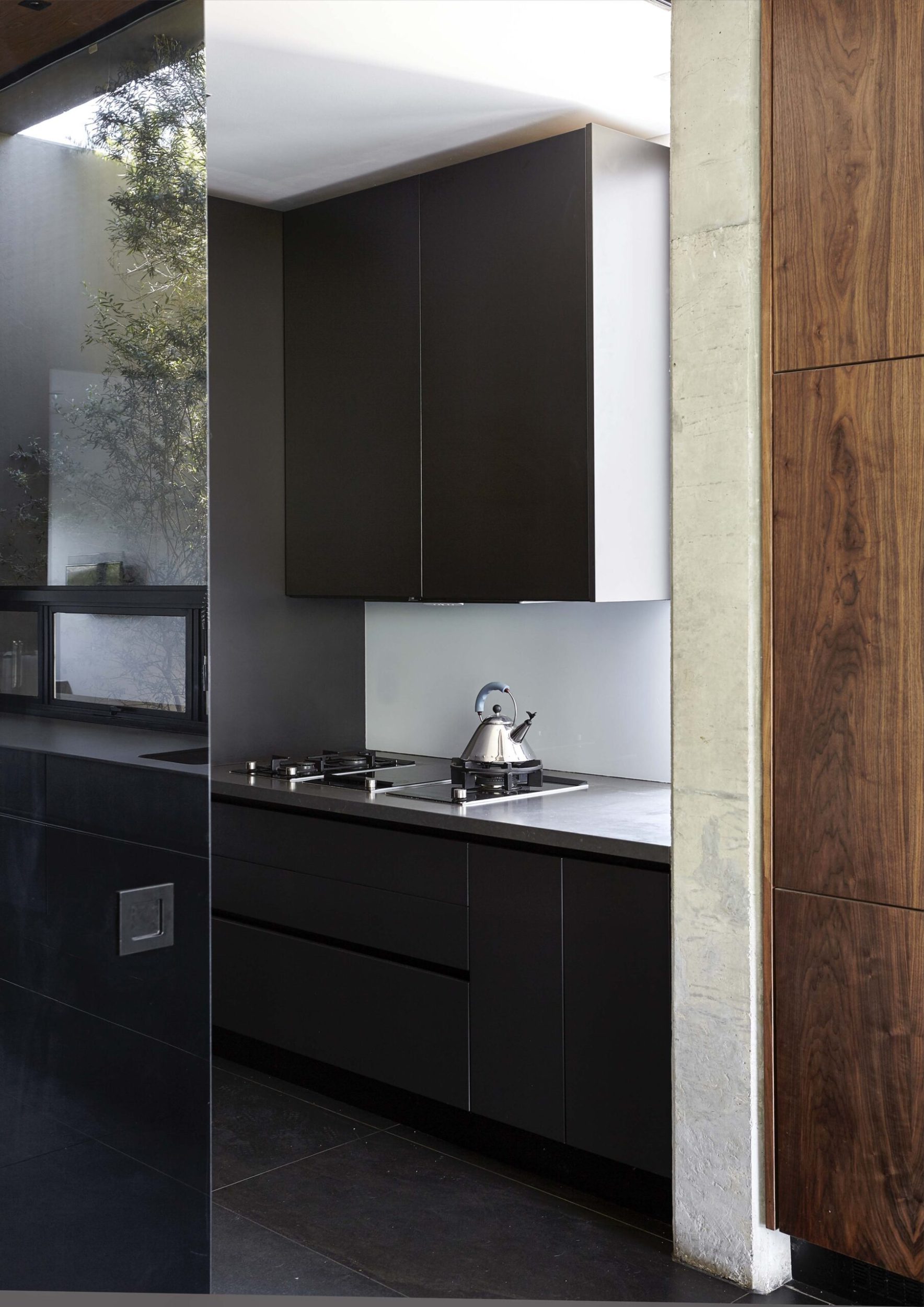 The house in which this kitchen resides is essentially a single large room – hence the concealed, back-of-house kitchen and scullery, which is tucked behind a frameless black glass door. The bulk of the kitchen appliances and storage are discreetly hidden, with black fixtures and fittings reinforcing the theme of privacy.
Tip
Using a variety of finishes – ranging from shiny to matt – for black surfaces adds visual interest without a need for contrasting pieces or other colours.
Material World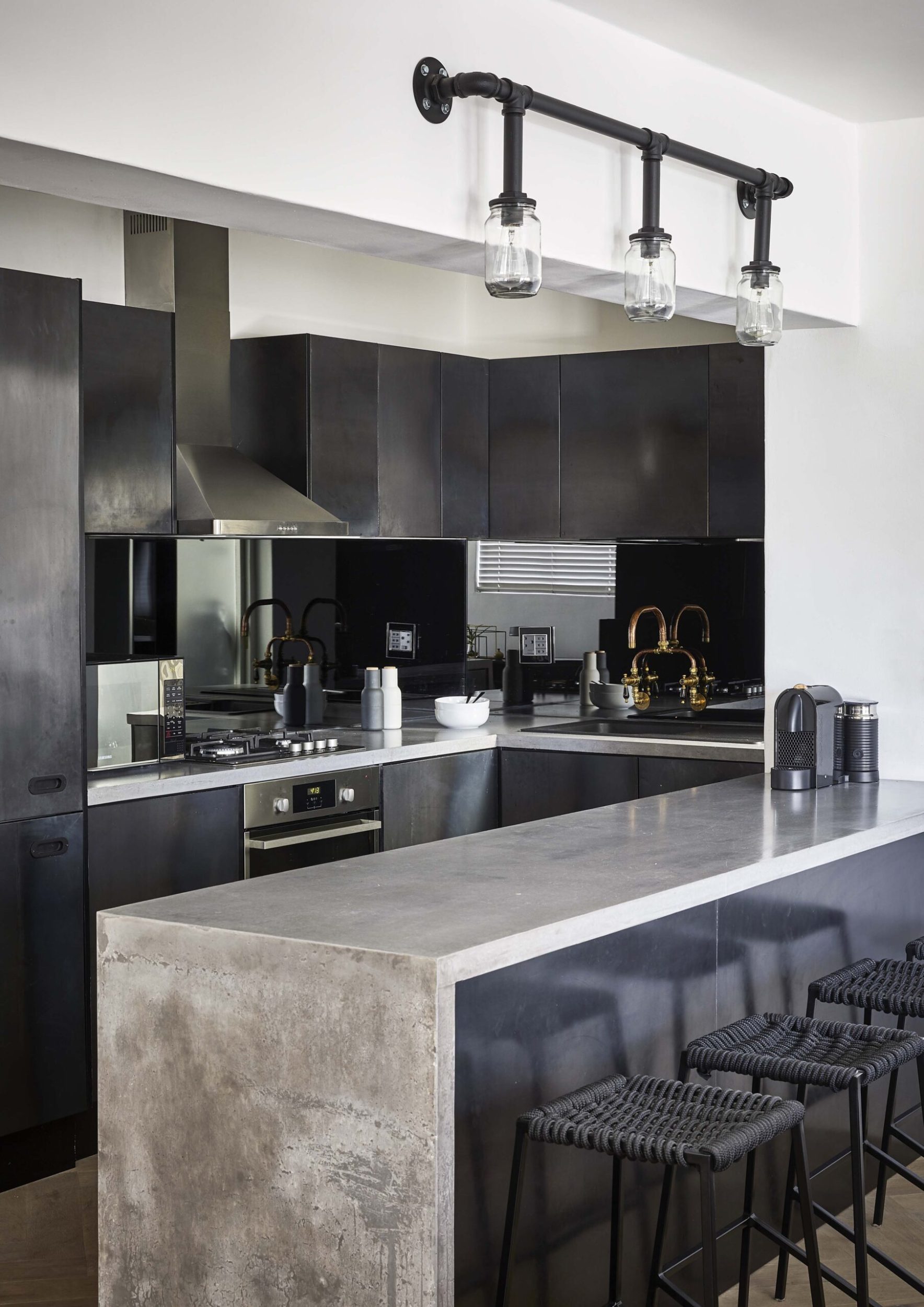 The kitchen cabinetry in this inner-city loft apartment is clad with steel plates, the custom-made light fitting is crafted from plumber's piping, and the "prettiest" things in the space are rope-textured stools and a sleek stainless-steel extractor hood. The interior design is all about celebrating rough edges, but this is also a very practical kitchen – its owner spends loads of time cooking and entertaining here.
Cabin Fever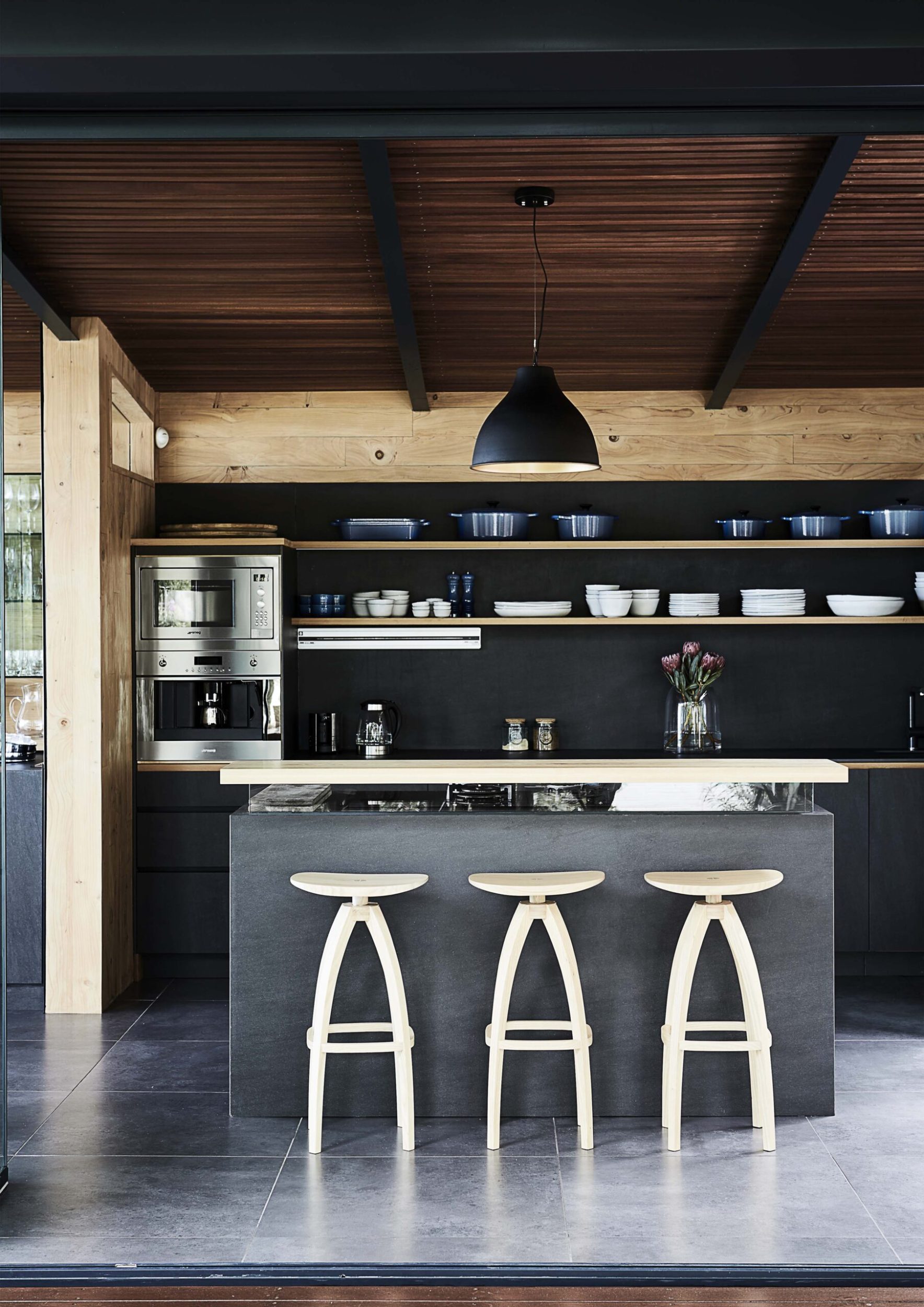 A master woodworker designed the streamlined galley-style kitchen area in this compact surf shack, which is situated in a beachside enclave. Black is used to create a framing backdrop, enabling parts of the decor to recede (and perhaps even disappear completely) so that the open display shelving and tactile wooden countertop stand out all the more clearly.
Chiaroscuro Cool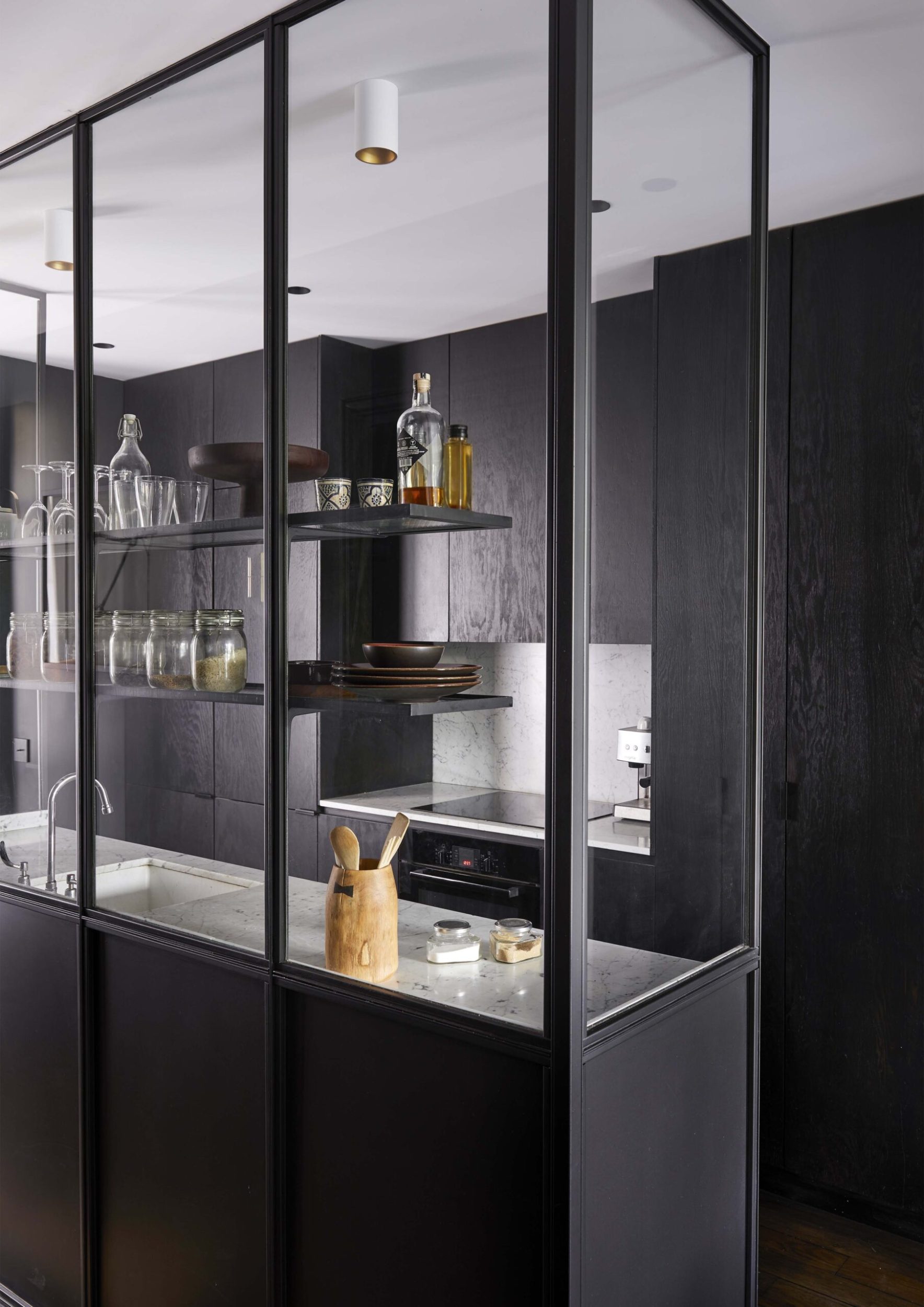 The architect owner of this Parisian-style apartment installed a new kitchen in its centre, with a steel and glass facade dividing it from what's otherwise a light-coloured open-plan living space. To accentuate the separation, the kitchen is gorgeously dark, with matt black joinery, black- painted walls and black-veined Carrara marble countertops.
Tip
This space – and the apartment in which it's situated – is all about exploiting the classic contrast between darkness and light, making it a perfect model for monochrome interiors.
Counter Productive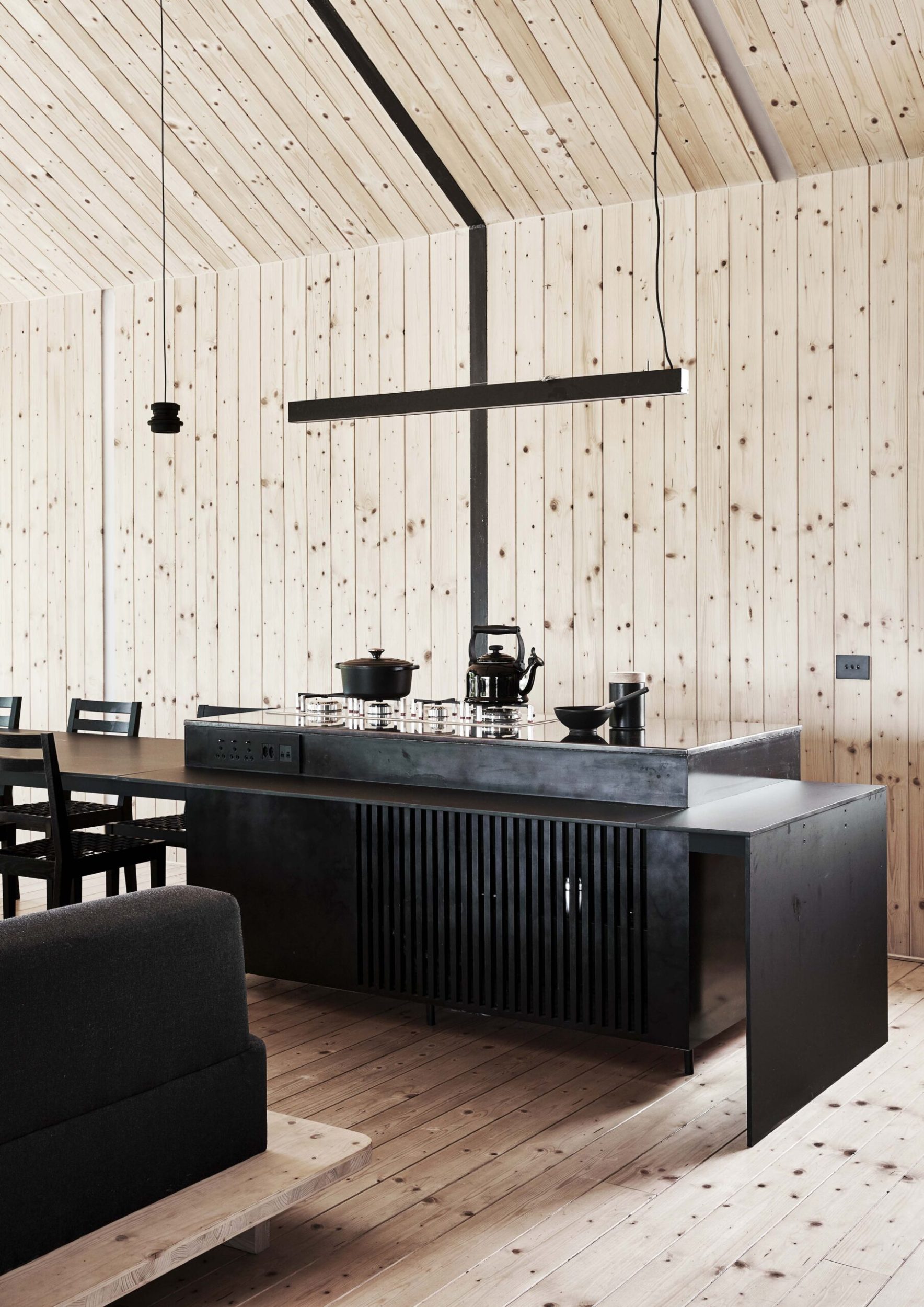 Fittings and fixtures in black are effectively framed against raw wooden walls in this kitchen. The dining table is a seamless extension of the kitchen unit, while the elegant countertop is made from blackened brass that has been heat treated to attain a specific level of blackness. It will oxidise further over time, developing a unique patina.
Tip
Keep the lines of black pieces – such as the countertop and light fixtures seen here – slim and refined, and they will function like visual punctuation in a space rather than overwhelming it.
Home Industry
Although it's all black, the open-plan kitchen in this urban apartment feels multi-dimensional, courtesy of a considered layering of materials. A dramatically veined marble kitchen island combines with matt black cabinets to create a feeling of depth, while finishing touches include copper-coloured pendants, the metallic detailing of which is echoed in the stools.
Tip
When it comes to kitchens in urban locations, especially in old industrial buildings, you can really go for broke with black, as it suits the architecture well. Layer it on, then add warmth with gleams of copper or brass.
Perfectly Formed
Looking for proof that an (almost) all-black kitchen can work well in a suburban family home? That's precisely what's on view here, where the homeowner has cleverly combined the rich caramel tones of restored parquet floors with a kitchen prep unit made from black-stained pine and a countertop of very dark grey granite. The black-painted bricks add a further level of texture to the space.
PHOTOGRAPHY BY GREG COX/BUREAUX, WARREN HEATH/BUREAUX