Beneath the calm and composed surface, world-champion canoeist Lisa Carrington's ambition runs deep. She opens up about becoming our most decorated Olympian of all time and why she's not done yet.
It was a grey and chilly Tuesday morning at the start of October when Lisa Carrington decided today was the day. It had been almost two months since she last picked up a paddle; almost two months since she became New Zealand's most successful Olympian ever. Yet after a long lockdown stuck at home on Auckland's North Shore – not to mention two weeks on her own in an MIQ hotel in Christchurch – the change to Level 3 restrictions meant she was finally able to get back to her happy place.
Being back out on Lake Pupuke, the North Shore waters on which she's trained for over a decade, felt amazing, and even though she'd already decided she wasn't yet done with the sporting career that's cemented her place as an Olympic great, it was in this moment she knew she still had plenty left to give.
"It just felt so right to be back in the kayak," she says, as she settles in to chat over the phone from the Auckland home she shares with her fiancé Michael Buck, who she fondly calls Bucky, and their 18-month-old Cavoodle, Colin. "It was nice being out there with no expectations. I wasn't training, I wasn't aiming for anything, it was just about enjoying the feel of the water. It was relaxing, like going for a walk."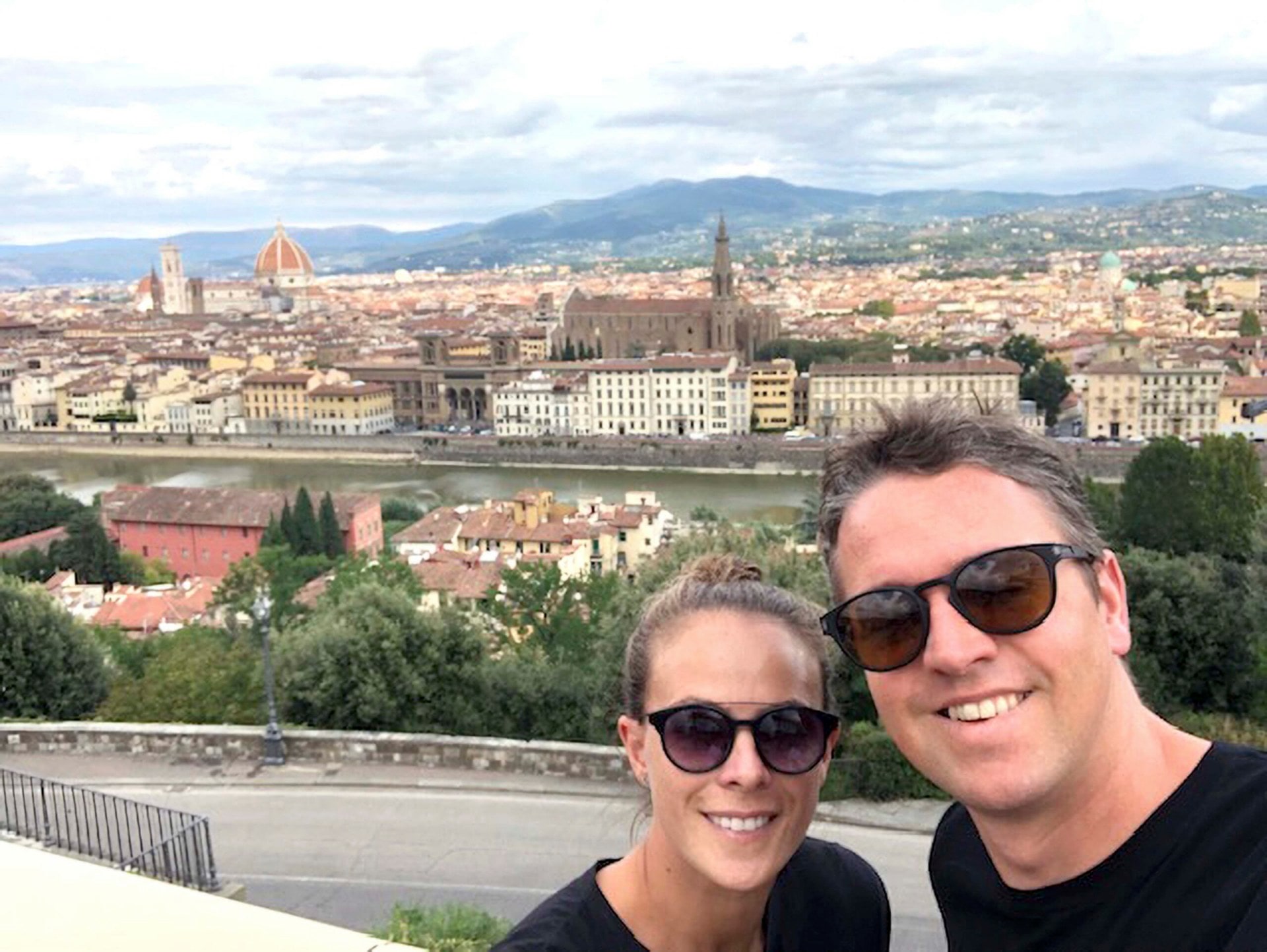 Relaxing isn't something that comes entirely naturally to this high-achiever, but in the past few months she's had no choice but to embrace the downtime. In an ideal world, the 32-year-old – who won an incredible three gold medals at this year's Tokyo Olympics – would've returned triumphant to a Covid-free New Zealand.
There were plans for a big celebration with friends and family, a holiday out of Auckland, and a long stint back home in Ōhope with her parents Glynis and Pat. But with the Delta variant of the Covid-19 virus seemingly settling in for the long haul, Lisa and her banker partner Bucky, 37, have instead battened down the hatches at home and thrown themselves into some serious DIY projects.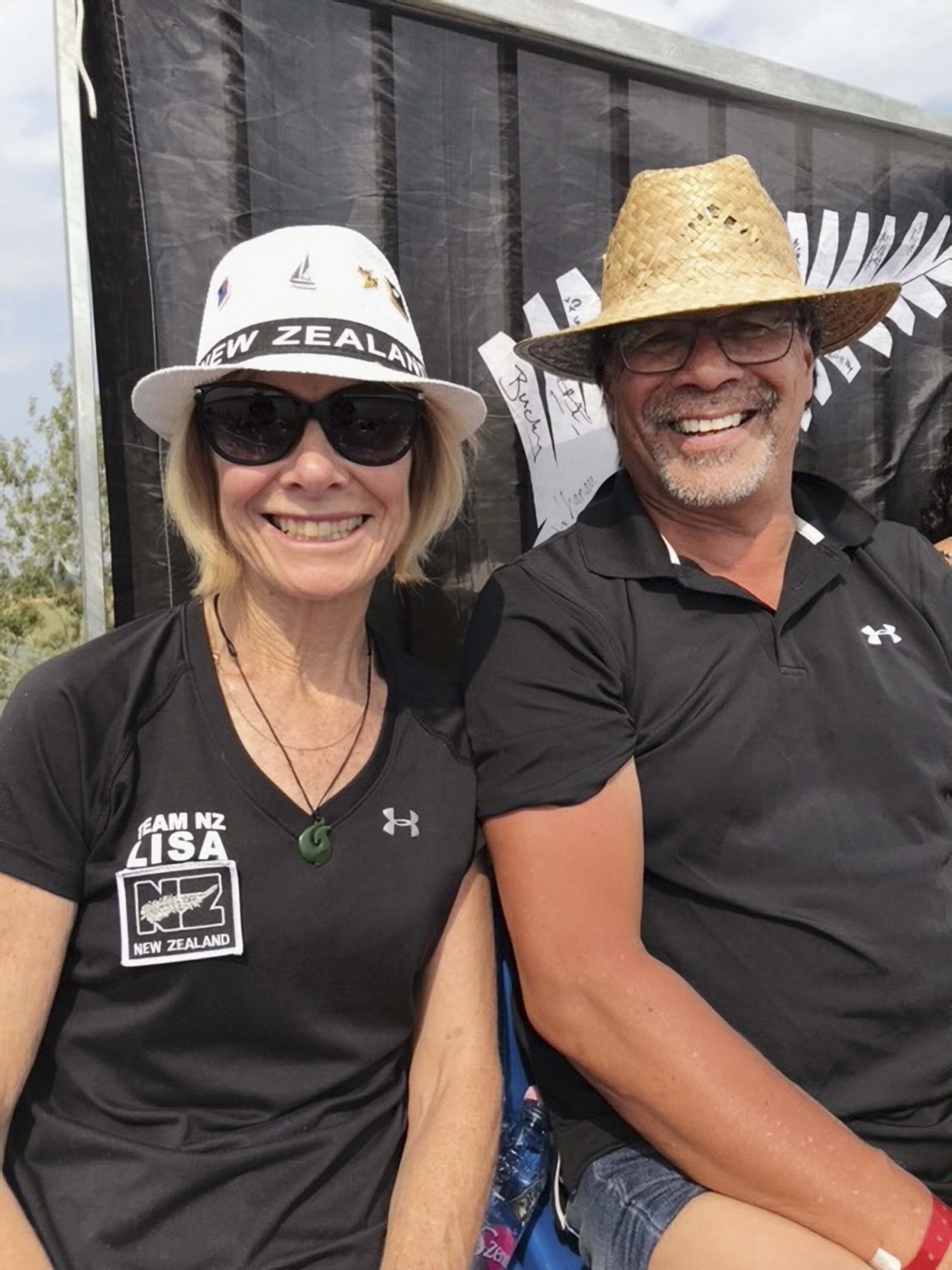 "It wasn't quite the way I planned to be spending this time, but it's meant we've got quite a lot done," she laughs. "We've gutted a whole room and put it back together again, and now we're clearing a paved area outside for garden boxes.
It's good to keep busy!"
The couple – who are due to marry early next year – have also spent many hours talking about their future: a future that Lisa (Te-Aitanga-a-Māhaki and Ngāti Porou) confirmed publicly this month will still involve competitive kayaking.
While many fans and commentators had predicted that she might be ready to hang up her paddle after such a sensational showing in Tokyo, where she came first in the K-1 500m, K-2 500m, and K-1 200m events, Lisa has instead set her sights on the 2024 Olympic Games in Paris.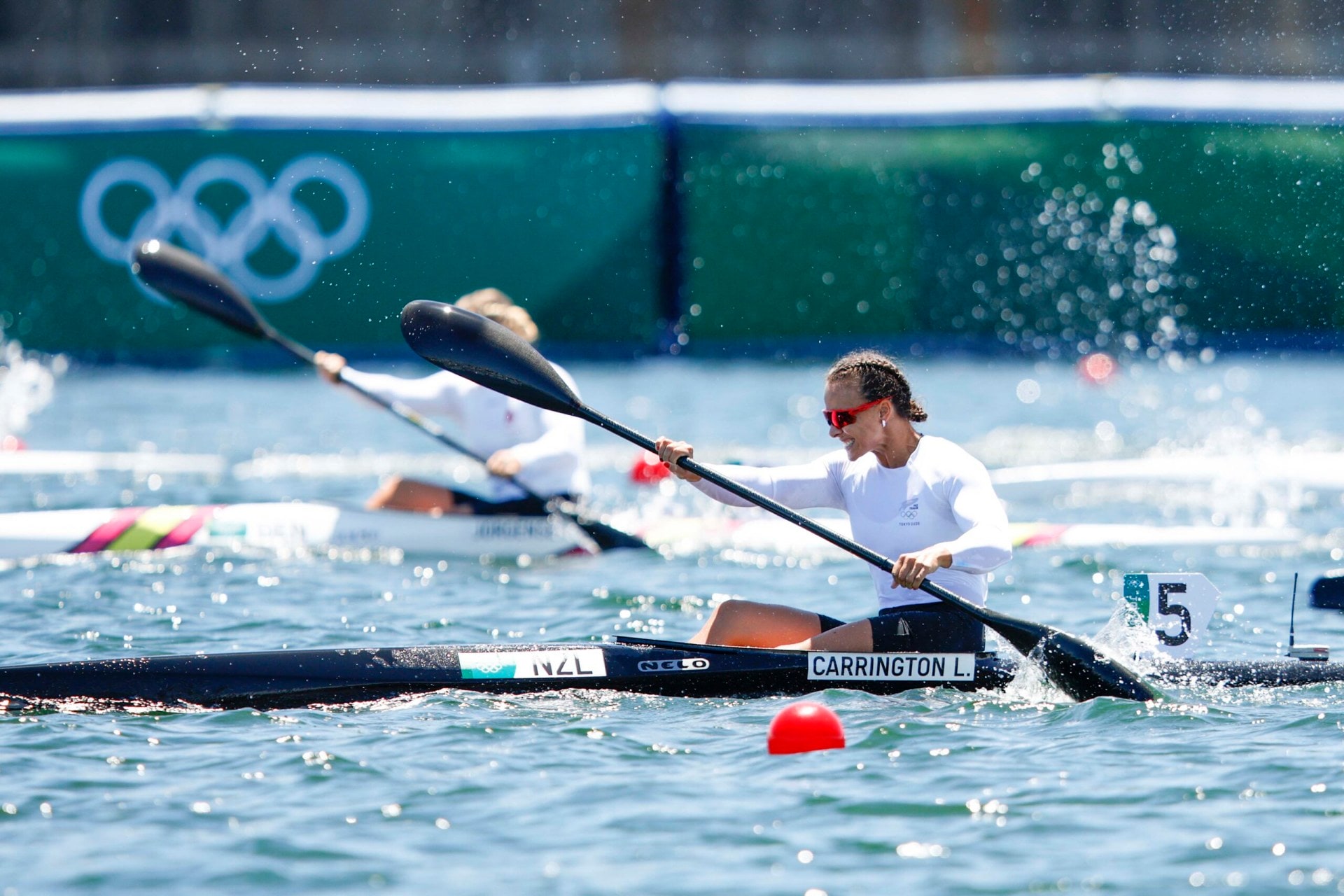 "I think deep down I always knew I was going to continue," says Lisa, as she reflects on the decision to carry on. "It was probably just a matter of admitting it to myself when I finally had time and space to stop and think."
Lisa tells us she never set out to Tokyo with the intention of becoming Aotearoa's most decorated Olympic athlete – in fact, the thought never crossed her mind until it happened. Instead, she focused on each event separately, and it wasn't until the golds began piling up that the enormity of her achievements started to dawn on her. Not having her friends or family in the crowd due to the global pandemic was hard at times, and nine weeks was a long time to go away without Bucky in particular, but it also gave her a steely kind of focus. It was an Olympic campaign with zero distractions. And when she crossed the finish line first each time, as the nation cheered her on back home in New Zealand, Lisa tells us she was hit with a huge sense of pride and achievement.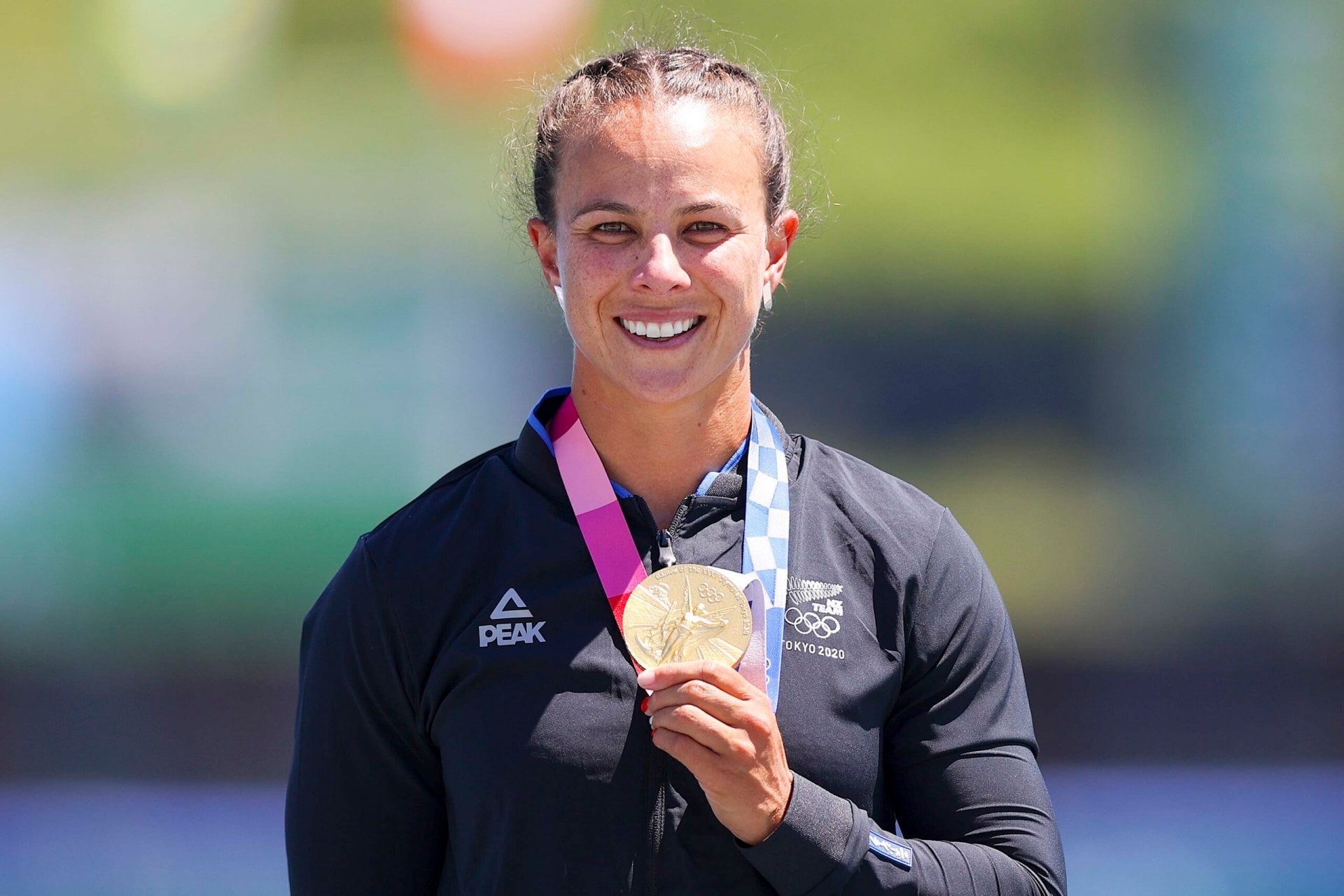 "Doing well at the Olympics means so much because it requires so much of you – I guess it's a bit like how you'd feel at the top of Mt Everest. The training, the mental side of things… it's intense. So to cross that line and to have won, I was like, 'Wow, I did it. This is me, I did it.'"
Typically understated, Lisa's medals are not on display at home, instead they're tucked away safely in a drawer in her bedside table.
"Bucky was mocking me the other day, saying I should frame them and give them to my coach because I've just got them lying in a pile in the drawer," she laughs. "But I'm quite attached to them really, it's nice knowing they're there."
When talking to Lisa – whether by Zoom in MIQ, over the phone at her home, or on the windswept banks of Lake Pupuke, where we meet several weeks later for our (mask-wearing, socially- distanced, of course) photo shoot – she's incredibly humble about her amazing achievements. She knows her victory meant a lot to her fans back home, and she's hugely grateful for the support.
But being in the spotlight doesn't come naturally to Lisa. Fame is just a by-product of her success.
And yet she's one of the most unflappable stars Woman has photographed. There's a cold southerly whipping across the water on the day of our shoot, but she's uncomplaining about stepping out of her warm puffer jacket and cosy Ugg boots into a series of gowns our stylist has selected and into the freezing water. She's also completely unfazed about getting changed next to her car in a public carpark!
"I've got changed in far worse places," she laughs as onlookers stroll past, doing double-takes when they realise it's Lisa Carrington, world-famous Olympian, half-dressed in a flowing red frock.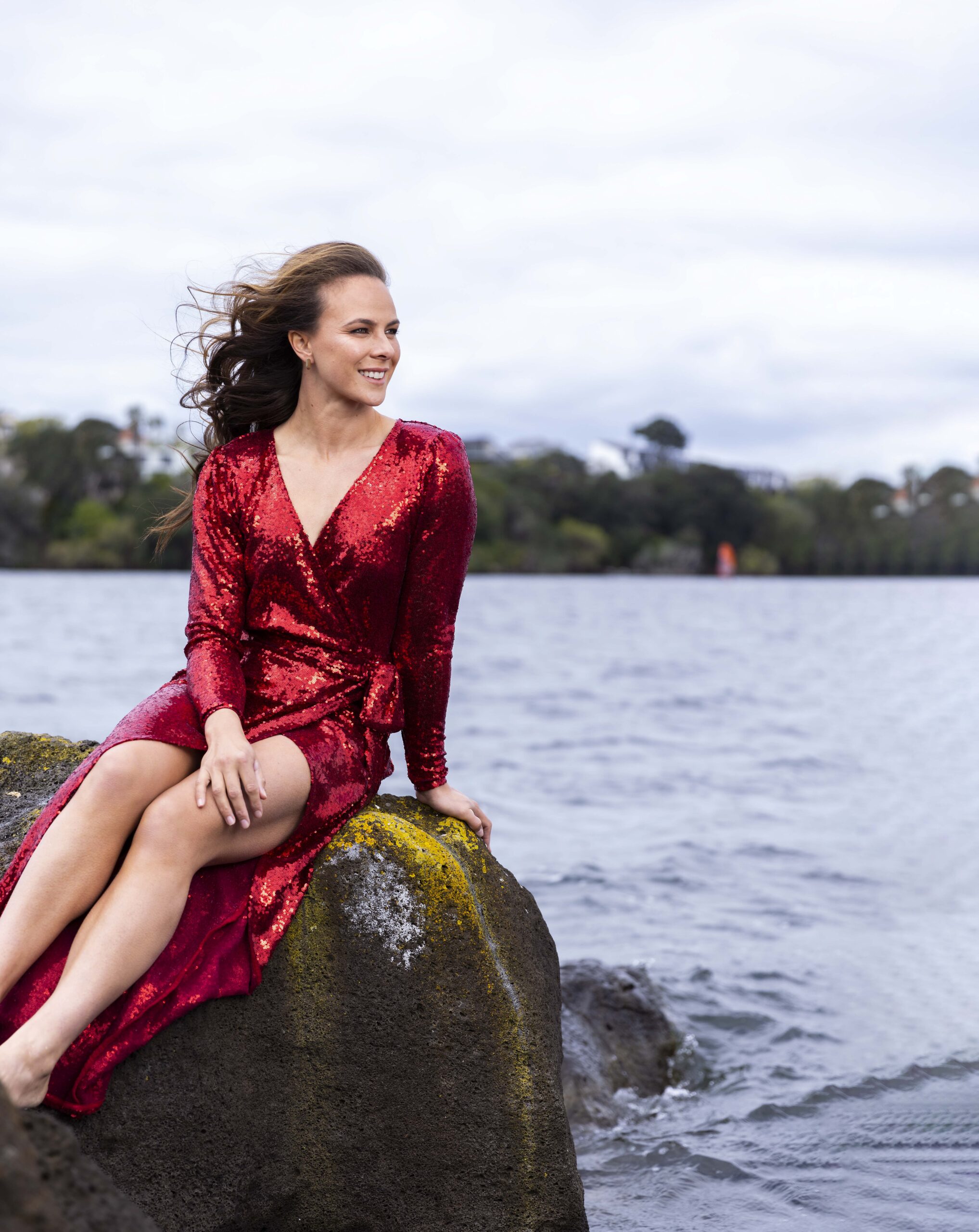 Lisa has brought Colin along for the photo shoot, too. He's a very cute and mostly willing participant, but when it's time for shots of Lisa on her own, the adorable pooch isn't too happy being kept away, whining and barking as he tries to make a run for his mum. Lisa blames his clinginess on lockdown. "I'm not sure it's been great for his separation anxiety," she says. "He follows me around everywhere."
When it comes to her decision to continue with kayaking, Lisa tells us it was a long process that involved asking herself some serious questions about her future.
"It was in MIQ that I really had to think, 'What are you going to do with the rest of your life?' All the opportunities suddenly became apparent. I could stop, I could do all the things that I've missed out on, I could have a family… or I could carry on. It was about reassessing the plan. I guess it's a good thing to reassess every few years – ask yourself, 'Is this the right path?'"
One of the biggest things she and Bucky had to consider was the timing around when to start a family. While she doesn't feel the need to justify something so personal publicly, Lisa has always wanted children, and she's surprisingly open about the subject.
"We first had the conversation about a year ago about what it would mean to wait," she says. "I'll be 35 in Paris, so we had to talk about what it would mean for me having children at 36. Is that too old to be having your first child? I decided that it doesn't have to be… I don't think it is too old.
"What I have been able to achieve in sport, I wouldn't have known I could do that five years ago. So that means reassessing and changing the way you thought your future might look. It's about not being afraid to change the life plan along the way."
She's hugely grateful for her fiancé's support. The pair have been together for 12 years, and engaged since March, and Lisa says he's had many years to adjust to her all-encompassing career.
"Bucky didn't push me either way. Being a partner of a sporting person, you definitely come second to the sport a lot of the time, and he's had a long time to get used to that.
"Being an athlete is such a short period of time in your life, you really can only do it now while you have the physical capabilities. It's not like I can pick it up again in 10 years' time and he really understands that."
While she has huge admiration for female athletes who are able to combine motherhood and competitive sport – stars such as Dame Valerie Adams and Gemma McCaw – Lisa isn't sure she'd be able to pick up where she left off if she took time out to have a baby.
Instead, she's digging deep for another three years for a final crack at glory. This will mean training full-time, six days a week, both on and off the water, and refocusing that extraordinary talent and drive that's seen her land six medals during her Olympic career – not bad for a girl who only discovered the sport at the age of 16.
As the story goes, it was a shy teenage Lisa who stumbled upon kayaking while looking for a winter activity to maintain her fitness for her first love, surf lifesaving. After joining a camp run by Olympic kayaker Ian Ferguson, she was hooked.
Part of the thrill for Lisa comes down to her natural curiosity – she's genuinely intrigued by what her body and mind are capable of when she's out on the water. And it's this curiosity that's been a big part of her decision to keep competing.
"If being the most decorated Olympian or whatever was my one goal, then yeah, I might stop, but for me, it's a sense of, 'What if I keep trying? What if there's more?' It's not about being defined or governed by a result. It's about continually testing myself."
She's open to the possibility that next time might not see the same incredible results. But even the idea of failure is interesting to her.
"Of course I think a lot about what happens if I keep going and I'm not that good anymore… It's constantly testing myself against that, and working out whether I'm OK with that as an outcome, too. I am not sure I'd be OK with it, but I'm working on it," she says with a chuckle. "I guess it's about not being limited by fears and just having a go and learning to be OK with whether you fail or not… that's just a constant life goal that I'll always need to work on and probably never will stop.
"If you keep edging forward, you keep figuring things out and finding out more things… it's exciting, I love that about what I do."
Lisa's calm under pressure is often noted, and on the day we first speak back in August, news is still sinking in after cyclist Olivia Podmore's sudden death following a concerning post on social media, in which she made allegations about her treatment within Cycling NZ's elite sprint programme. Lisa is clearly troubled by what's happened, and she agrees that high-performance sport can be an incredibly difficult world to inhabit.
"That's an incredibly heartbreaking thing and it's not something that you wish upon anybody," she says of the 24-year-old's death. "My thoughts have just been with her loved ones and family and her cycling teammates."
For Lisa, learning to cope with pressure has been a years-long pursuit. Accepting it as a friend, rather than a foe, has helped.
"It's definitely challenging, but for me, I know that I need to be pushed, and then as I get through the other side of that is when I feel that pride and sense of accomplishment. For me, that's the most important thing. I've also had to learn to meet my fear with courage, that's how I've managed to deal with those really tough moments, but it takes a long time. It doesn't just happen overnight, and it certainly doesn't mean that I am really special because I can do it, it's just something I am really committed to and it requires being very honest with myself."
When Woman first spoke to Lisa, she was coming to the end of her two-week stint in MIQ after flying home from Japan. Lisa is a woman who thrives on routine, so after the first few strange days coming down from the post-Olympic high, she managed to find a groove that worked. She would start her day with coffee and do a bit of journaling, where she wrote her thoughts and plans down. This, she says, helps to quiet the "chatter in my brain".
"Writing it all down helps me from overthinking things," she muses.
She spent hours catching up with friends and family over the phone, and attending to all the "life admin" that had been put on hold while she was away. One of the most exciting things she was able to turn her mind to was her and Bucky's summer wedding in her hometown of Ōhope. But with Delta keeping Auckland cut off from the rest of the country, the couple are beginning to get a little nervous.
"It's a crazy thing. Every time you think you're over the hump, something else happens," says Lisa, whose wedding dress is being designed by her fashion designer friend Tanya Carlson. "We're at the point where it's really up in the air. It's definitely a concern, because who knows when mass gatherings will be allowed to happen, but we're still holding out hope. Things are changing all the time, so we'll just stay hopeful."
Whether or not the wedding can go ahead, Lisa is just desperate to get home to Ōhope, the beachside Bay of Plenty town where her teacher parents still live and where she dreams of one day raising her own children. She hasn't seen her mum and dad since June, and her longing to return to her tūrangawaewae is getting stronger by the day.
"When I go to Ōhope, I feel so relaxed and at home – it's where I feel safe and where I'm most at peace. I'm dying to get down there, I miss it heaps."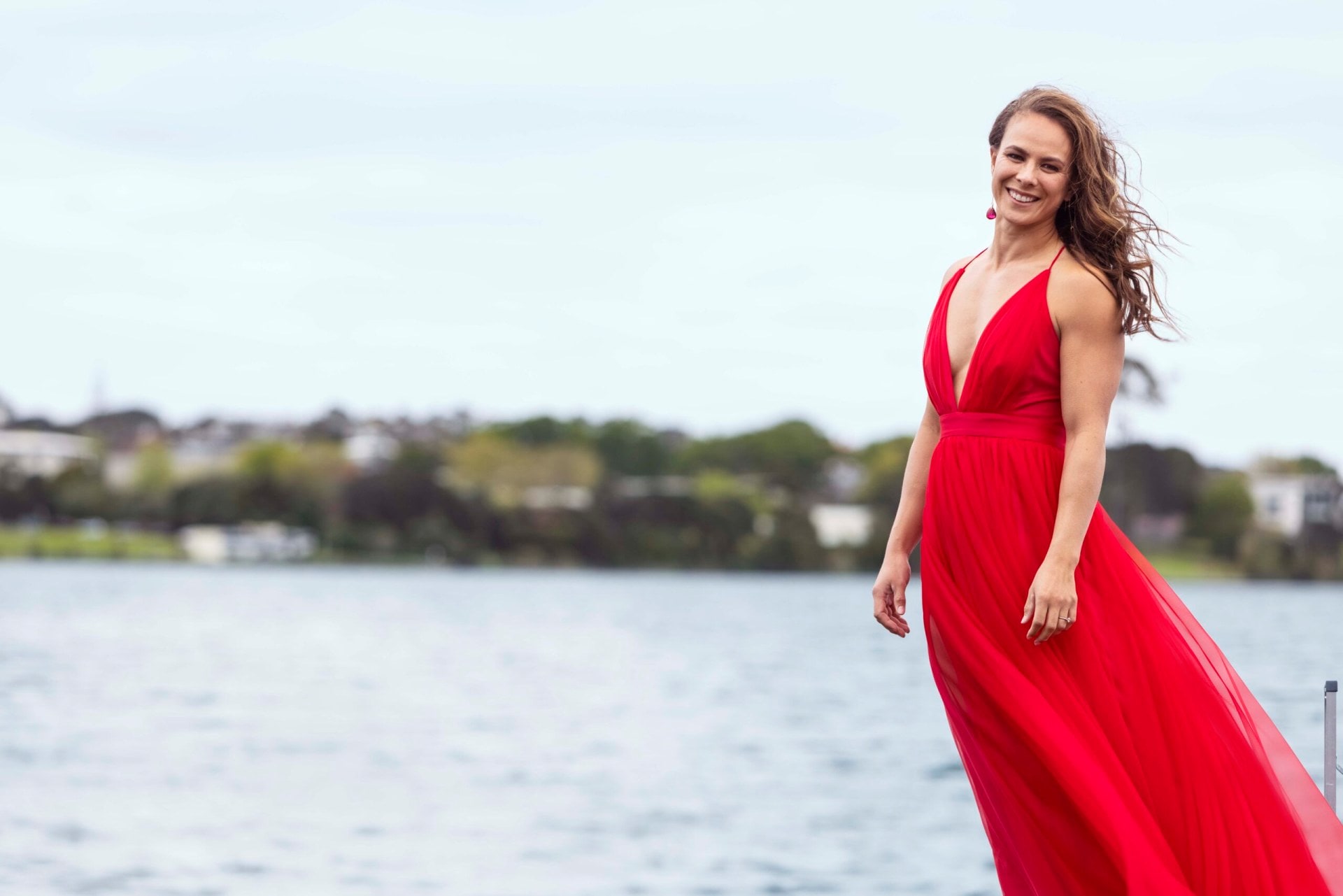 When I go to Ōhope, I feel so relaxed and at home – it's where I feel safe and where I'm most at peace. I'm dying to get down there, I miss it heaps.
In recent years, Lisa has felt a deeper need to connect with her Māori heritage, and she feels she's just at the start of what she hopes will become a lifelong journey of reconnection and learning. She did Māori studies at university, but the next step will be focusing on her reo.
"My general understanding is OK, but I would love to know more and I would love to be a fluent speaker. It's not necessarily just the language, but the depth and the meaning which comes with it as well. It's about getting more equipped culturally, I guess.
"My Māori culture has always been important to me, but I think as I've got older, I've started to understand how I really fit. It's not easy living away from home, because there's that disconnect, but I think as I've got older, I've really understood the importance of my identity and ancestry. I am ready for it, I am open to it and I feel like I'm psychologically in a place where I can start spending a lot more time and energy on that."
For now though, she and Bucky will stay at home in Auckland, enjoying each other's company and continuing their DIY spree. The long break from training and the fact they literally have nowhere else to be has provided them with plenty of chances to make up for lost time.
"It's been so nice having all this time with him. He's the person I can be completely relaxed with and who I feel totally comfortable with," she says with a smile. "Lockdown can be a challenge on relationships, but it's been really good for us."
And in a few weeks, Lisa will return to her training regime, with the countdown to Paris 2024 already on.
"I'm excited," she says. "It feels right to keep charging ahead."