An intrepid Bay of Plenty couple tackle a makeover of their 1980s home – with three young children underfoot.
Who lives here?
Debbra Sweetman, interior designer, Mitchell Sweetman, civil engineering project manager, and sons Archer, seven, Bodin, five, and Vann, three.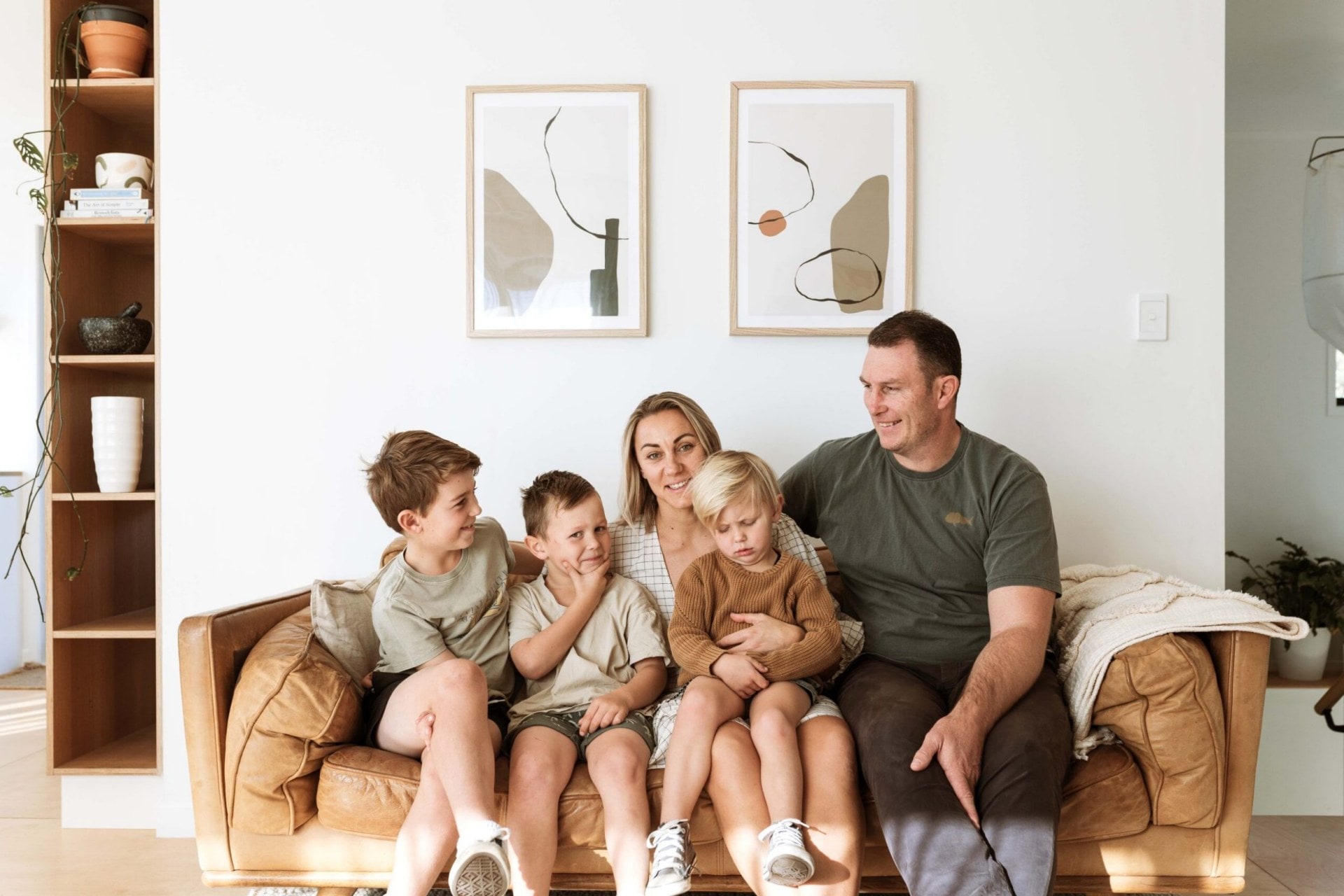 Where is it?
Papamoa Beach, Tauranga.
When did you buy this house and why?
"We bought it three years ago when we moved here with Mitchell's job," Debbra says. "We'd built our previous home on a lifestyle block at Waipipi in South Auckland 18 months earlier, and we were hoping to do something similar in Tauranga but we couldn't find suitable land. So we decided to move to the beach but, again, there was very little available."
What was the house like?
"It was far from my dream home, to be honest! Especially after the modern new build we'd just left. It was a 1980s two-storey bach on a busy road, with an odd layout – two bedrooms upstairs and two downstairs, a large rumpus room, and two bathrooms next to each other upstairs but none downstairs. It was also very dated, with beige everything and bronze aluminium single glazing. On the plus side, it was across the road from the beach, and I could see the potential to turn it into a house that worked for our growing family."
What changes did you make?
"We haven't changed the 176sqm footprint of the house but we've added and taken out a lot of walls. Downstairs, we added another bedroom in the large rumpus room, and a bathroom for the boys by borrowing space from the garage.
That meant extending the garage by 2.4m. And we added a concealed laundry in the boys' bathroom.
"Upstairs, we also changed the layout, expanding the tiny kitchen by extending into what was the dining space and adding a walk-in pantry. We created a recessed wall to house the TV, and barn doors that slide across the space, effectively concealing the TV.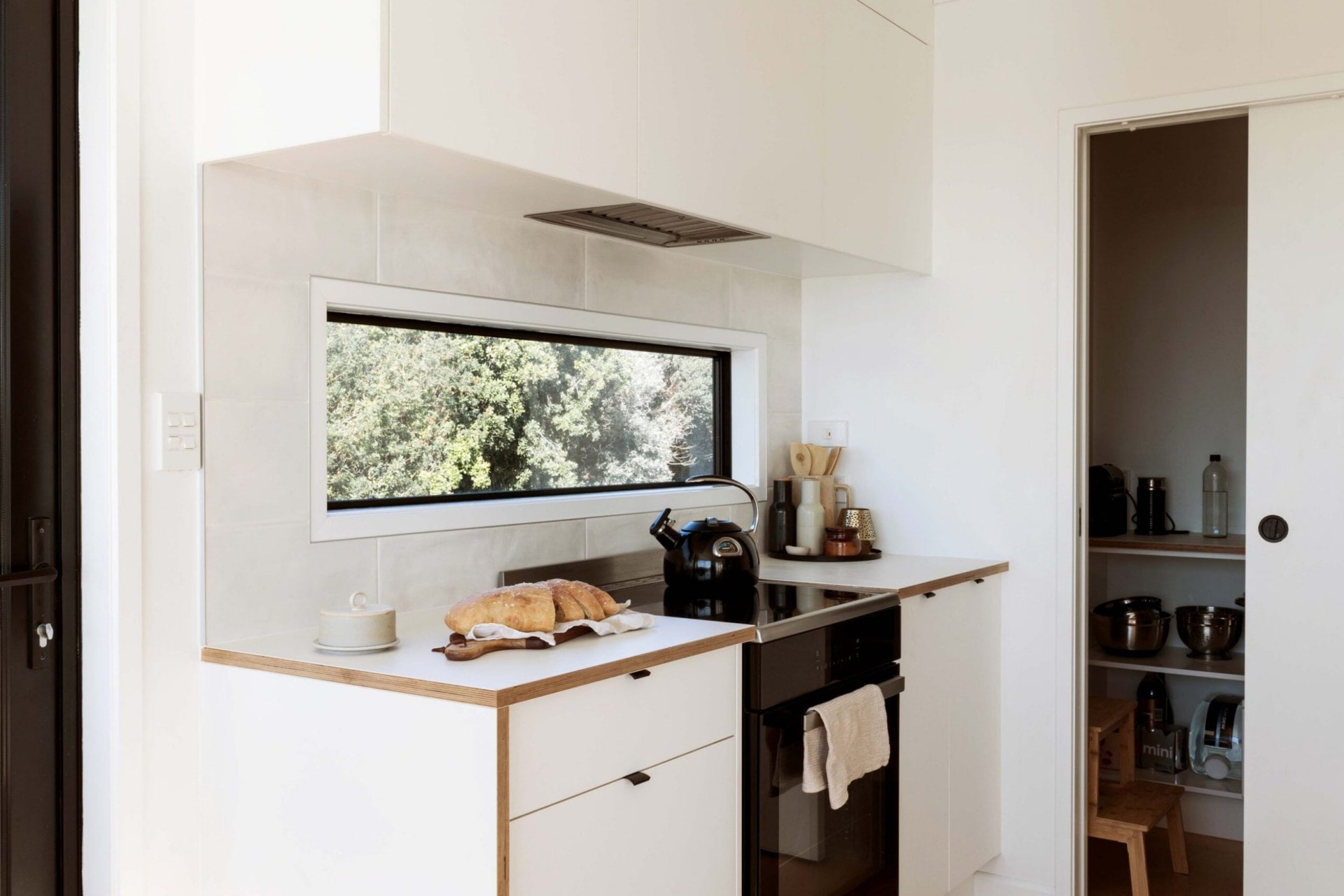 "We turned one of the two bathrooms into our en suite, ripping up the black high-gloss tiles and adding a new shower and vanity. We also turned the second upstairs bathroom into our walk-in wardrobe.
"We added double glazing and we're adding wrap-around decks and a balcony off the living room that will allow us to enjoy the garden year-round.
"The beige carpet throughout the house was ripped up and replaced with birch ply flooring that we laid. We actually did a lot of the work ourselves, working every night and weekend to get it done."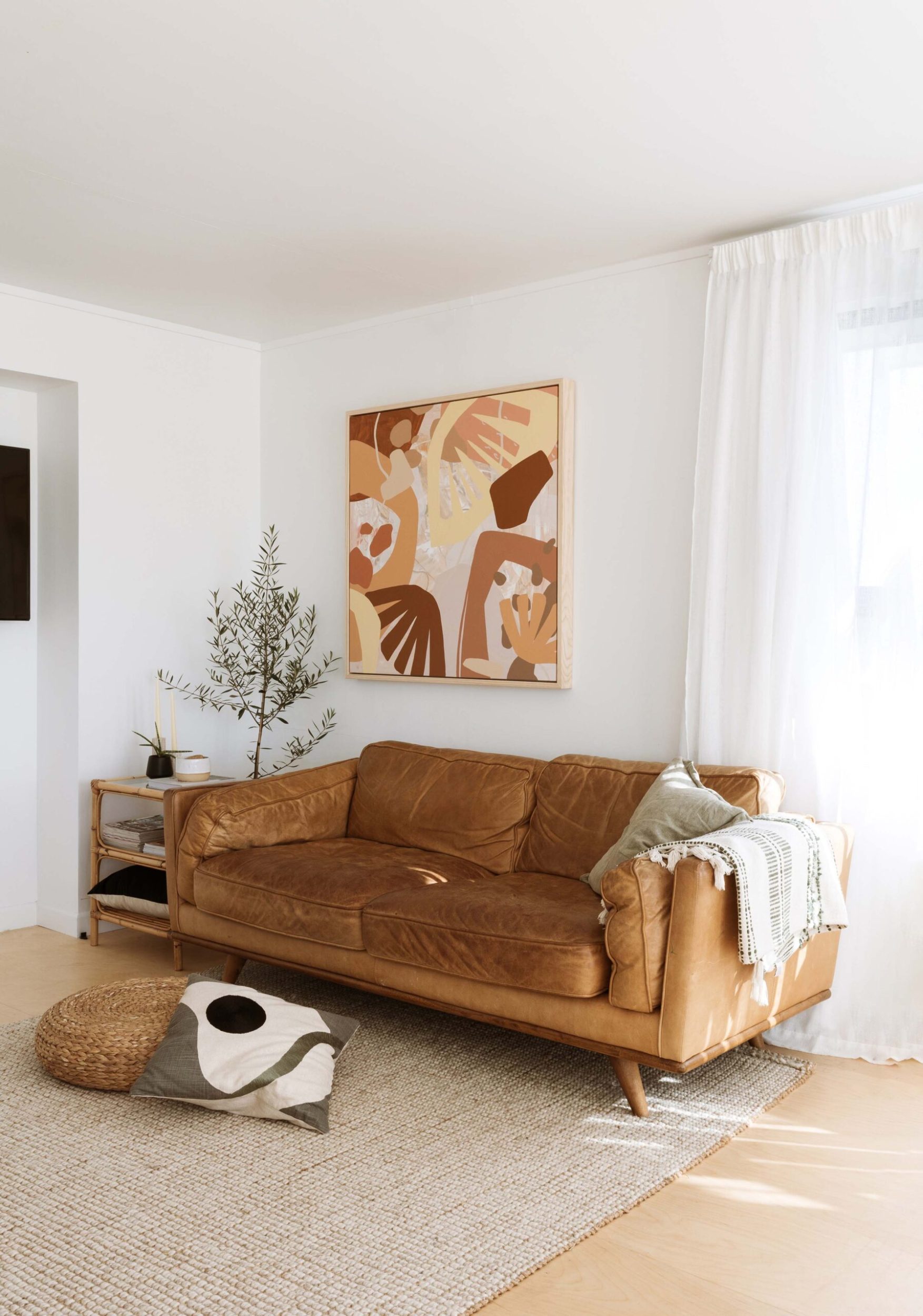 What's your style?
"Modern, minimalist and coastal. I like earth tones and not a lot of colour. But this house is more homely than our previous build in Waipipi, which was very Scandi – all white, black and grey. Being by the beach, we've got more natural light to play with, which has influenced my coastal style."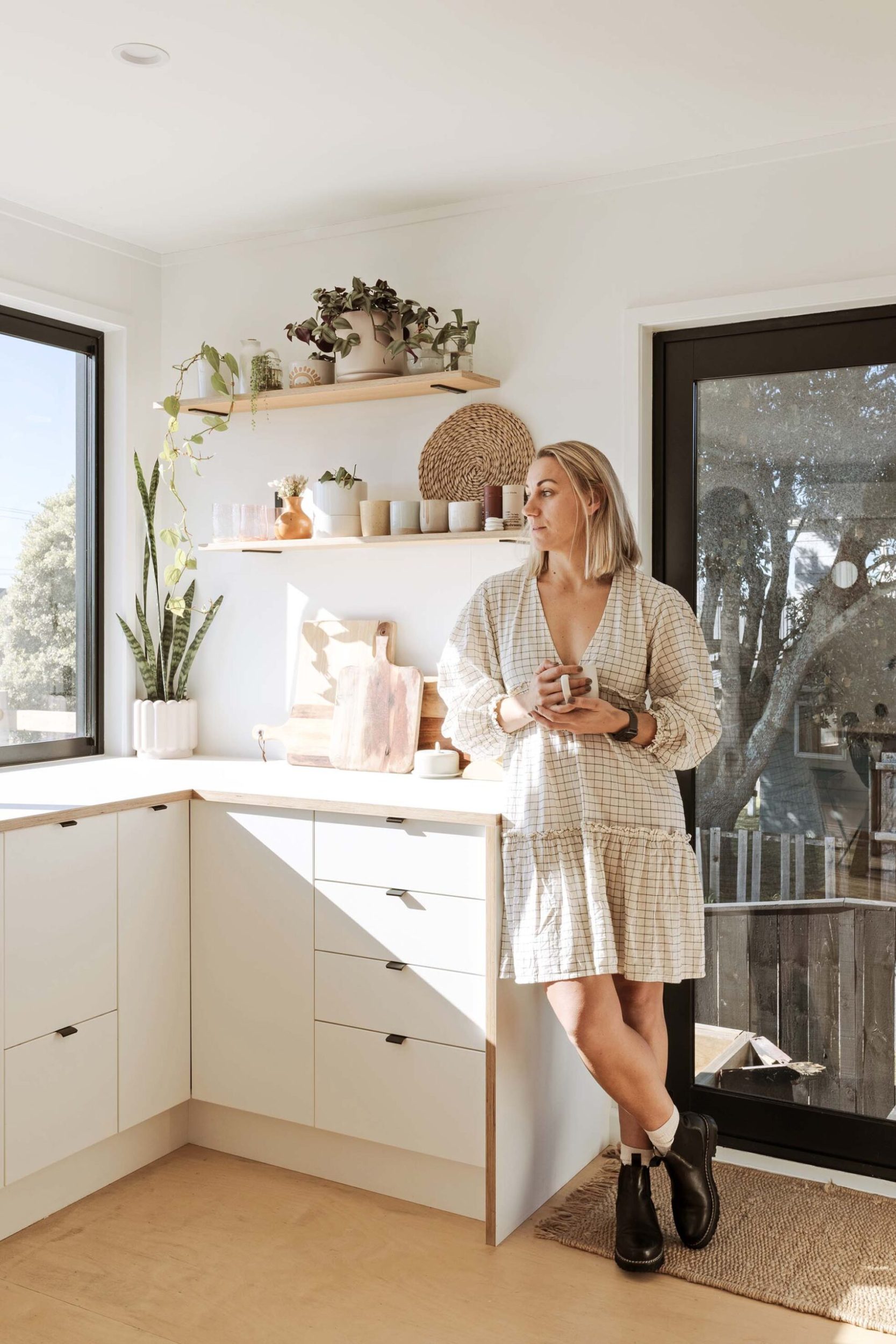 Any renovation disasters?
"Plenty! We were putting the gib up in our downstairs bathroom when we drilled through a water pipe. It was 11pm on a Friday and we got soaked. We also had issues with adding a ranch slider into the rumpus room to give us access to the garden. It was supposed to be a two-day job but ended up taking the builders three weeks because they had to knock out the block walls and add lintels, which of course added to the cost."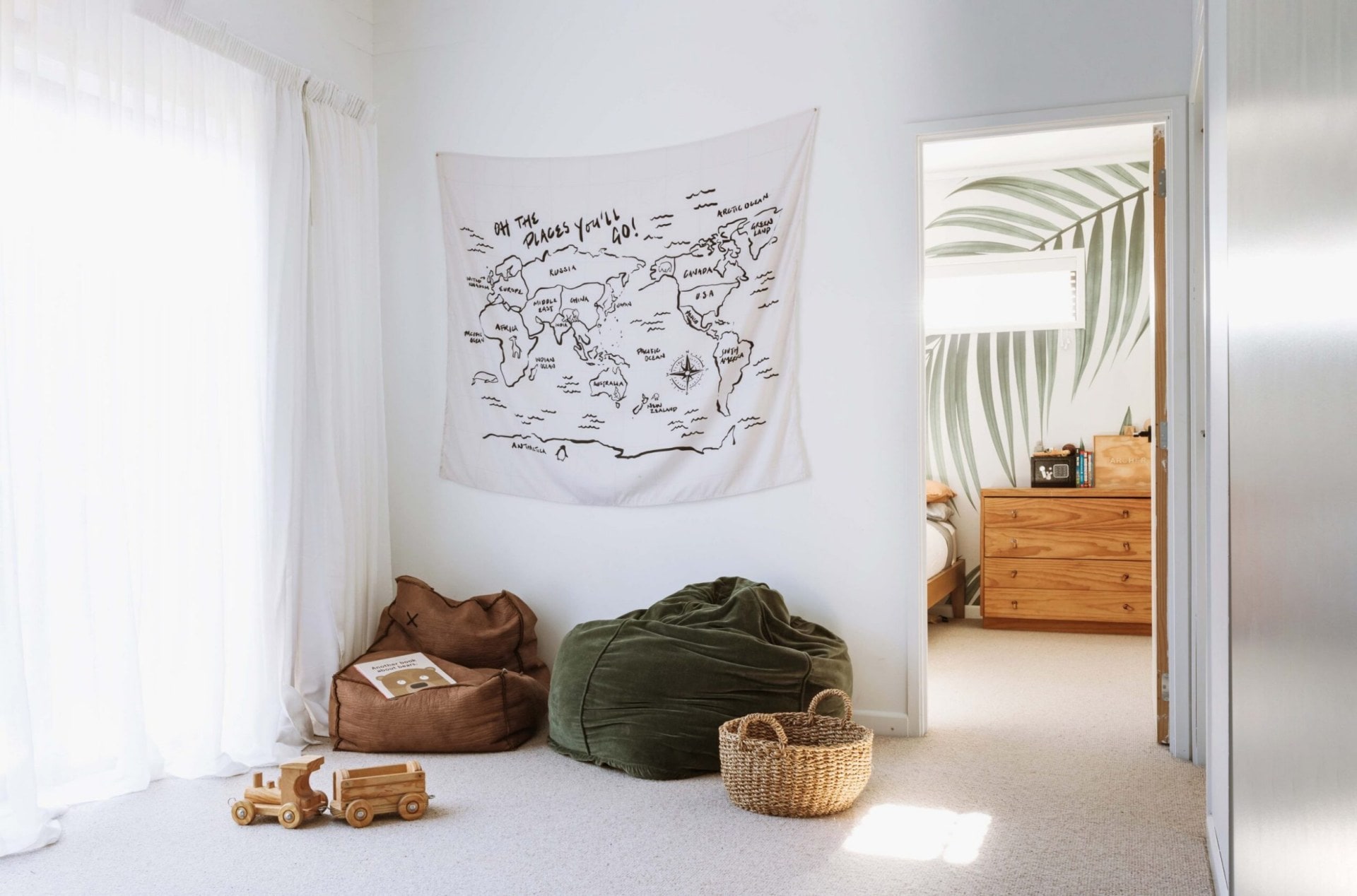 What did you learn?
"Not to overcommit ourselves, especially with a young family. We thought we'd have the renovation done in 12 to 18 months but we got really exhausted. In summertime, we just want to cross the road and go to the beach rather than being stuck inside renovating. Also, we learned to take time making decisions because you have to live with those door handles or taps for a long time."
What do you still have to do?
"Finish the wrap-around decks and paint the house black with white accents."
Did you stay on budget?
"We don't really have a budget as such but do things as we can afford to, which is probably why it's taken longer than intended. For us, it's a case of 'it costs what it costs'. We try to get the best price possible but also get the items we really want, such as the tiles I wanted for the bathroom. I waited until they were on special."
Any renovation tips?
"I know it's a cliché, but live in the house for a while before you do anything because it gives you time to find out how it works for you and your family. Also, work out how your family will live in the new layout before you start planning changes, because it has to be functional for their changing needs. Shop around for quotes and don't be embarrassed to ask for cheaper ones. And know that it will probably cost you more and take longer than you think."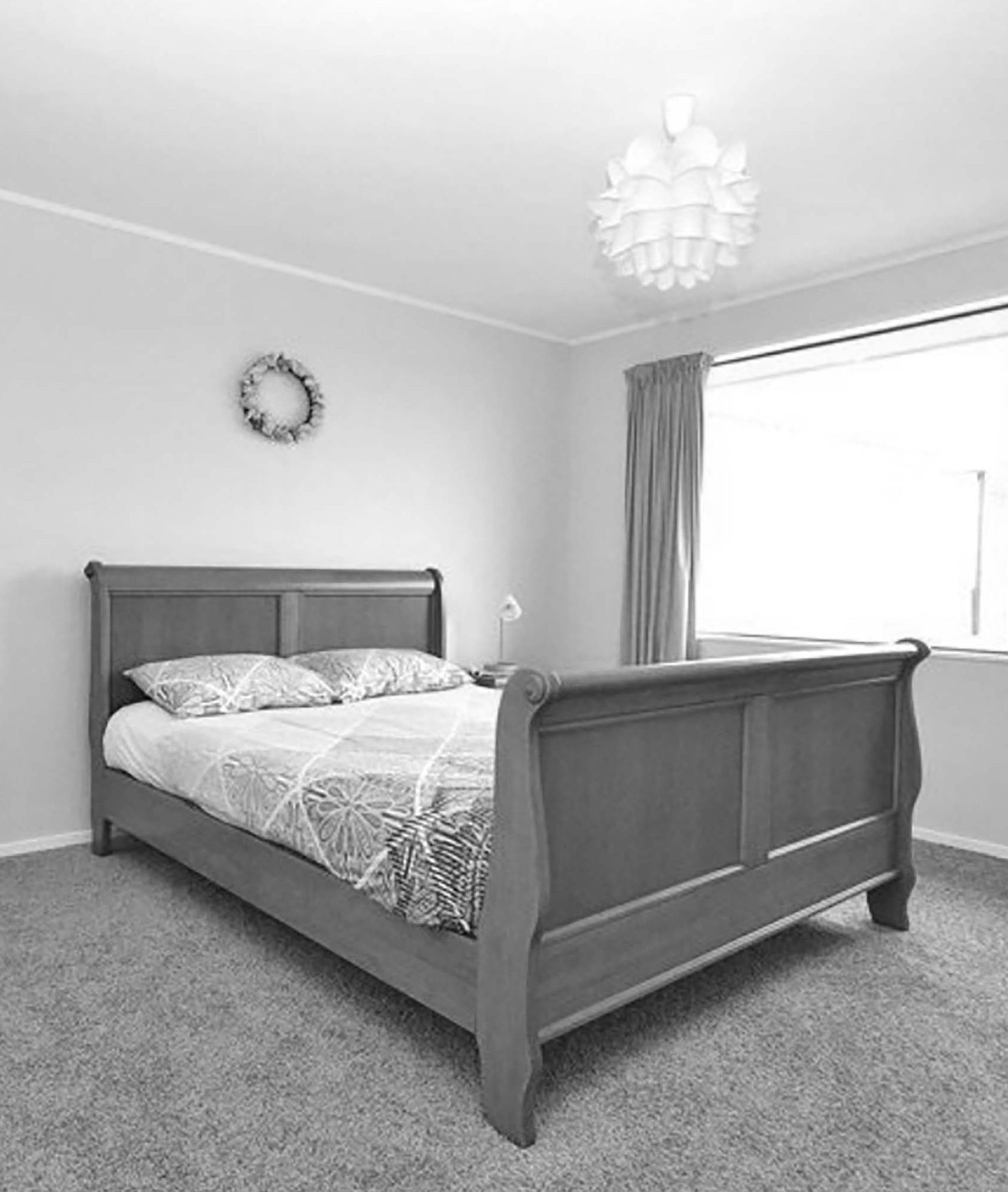 And the future?
"This won't be our forever home, as we're both keen to do another new build, but that won't be for another five years or so. We're keen to stay in the area, as we love the beach and two of our boys are at school. My interior design business is busy and I've just launched The Musing Room, a curated range of homewares and art prints by New Zealand artisans that are available online. I've scoured the country to find these cool people and the kind of things I'd like to have in my home. Actually, I'm sure a lot of the pieces will find their way into my house!"
Renovating with kids
Do as much work as you can at night-time, once the children are in bed.
When you're in the thick of a project, balance the weekends by making sure to spend time with your kids on a designated activity. You can then resume renovation work in the afternoon. Or vice versa. • Try to get them involved (safely) where possible, especially with any demolition. Kids love expending energy!
Make them aware of what's happening and share planning and the overall vision with them. Let them pick things out for their rooms (from a well-selected palette!) to help them feel involved.
Using a neutral palette can make it challenging to keep things clean, so magic sponges are a godsend! Remember though that kids are kids and things will happen, so picking finishes that work with family is important.