Forget the activewear – simply roll out of bed and start your day with some squats, stretches and planks.
Thanks to various lockdowns over the past 18 months, we've all become more acquainted with at-home exercising. While gyms have closed and parks have become too busy to easily social distance, we've had to find ways to keep our physical (and mental) health in check from the confines of our lounge (or bedroom, or even the bathroom).
But if you're a bit over the Zoom yoga classes or guided stretch and strength sessions, here's something a little more fun: pyjama pilates.
The exercises are based on the world-renowned system developed 100 years ago by Joseph Pilates and it's a well-rounded strengthening, stretching and toning programme for every age and skill level. It targets all major areas of your body, helping to improve flexibility, core strength, posture, balance and coordination.
In her book Pajama Pilates, pilates instructor Maria Mankin features 40 exercises you can do in different areas around your home in just 10-15 minutes. Here are five of our favourites for you to try.
Sink squat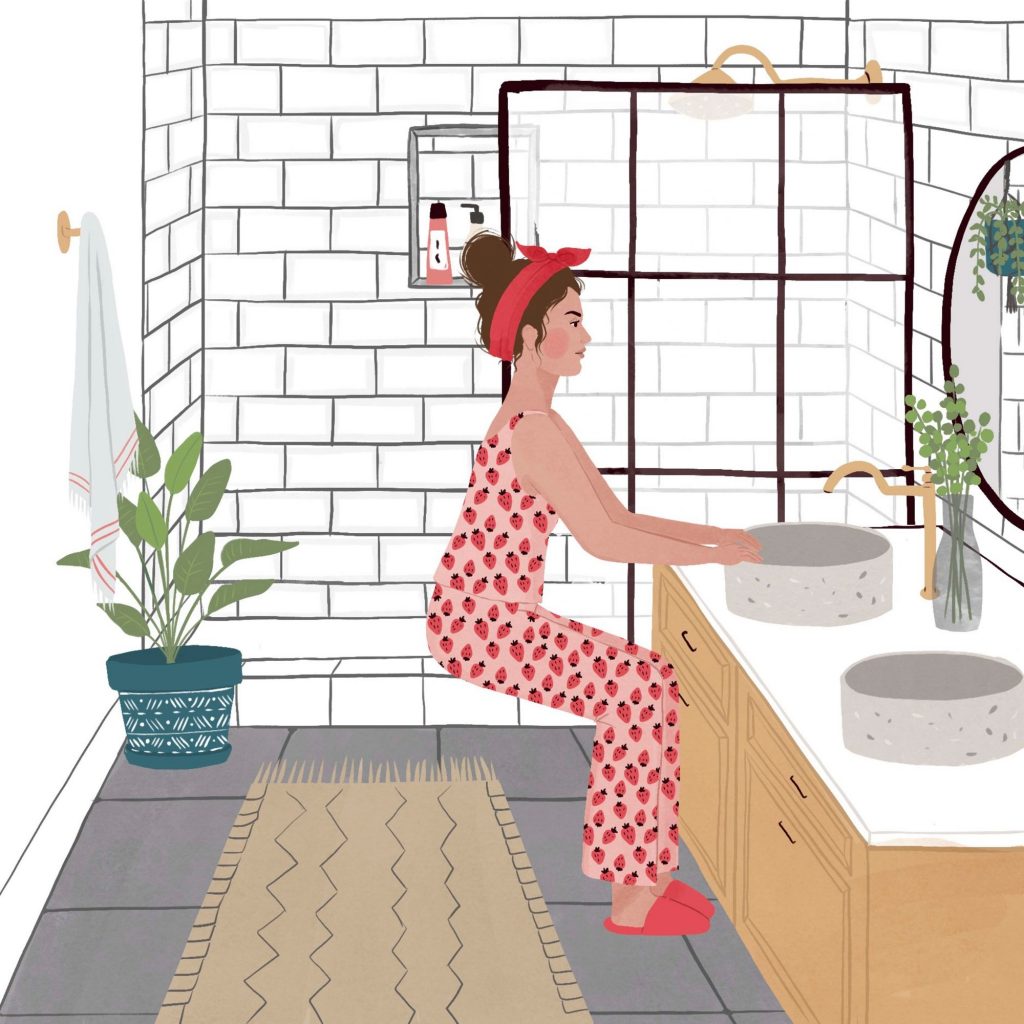 Both Moscow and Mexico City came up with an imaginative way to keep their populations fit and healthy: asking commuters to do squats in exchange for a free subway ticket. You can do this too, but in your pyjamas holding on to your sink. Keep two soup cans or light weights handy for the variation.
Good for:
Activating the core; strengthening quads, glutes, hamstrings and lats; improving ankle, knee and hip joint mobility.
Stand tall facing the sink about half a step away. Hold on to the edge of the sink.
Bend your knees to 90 degrees, as if sitting on a chair, slightly hinging forward at the hips while keeping a neutral spine.
Return to the starting position by pressing your heels into the floor as you straighten your legs. You should feel your buttock muscles activating.
Repeat, completing 10-30 reps.
Variations:
Add up and down pulses in the squat position.
Hold soup cans or weights in your hands and bring your arms forward with your palms facing in as you squat.
Abdominal challenge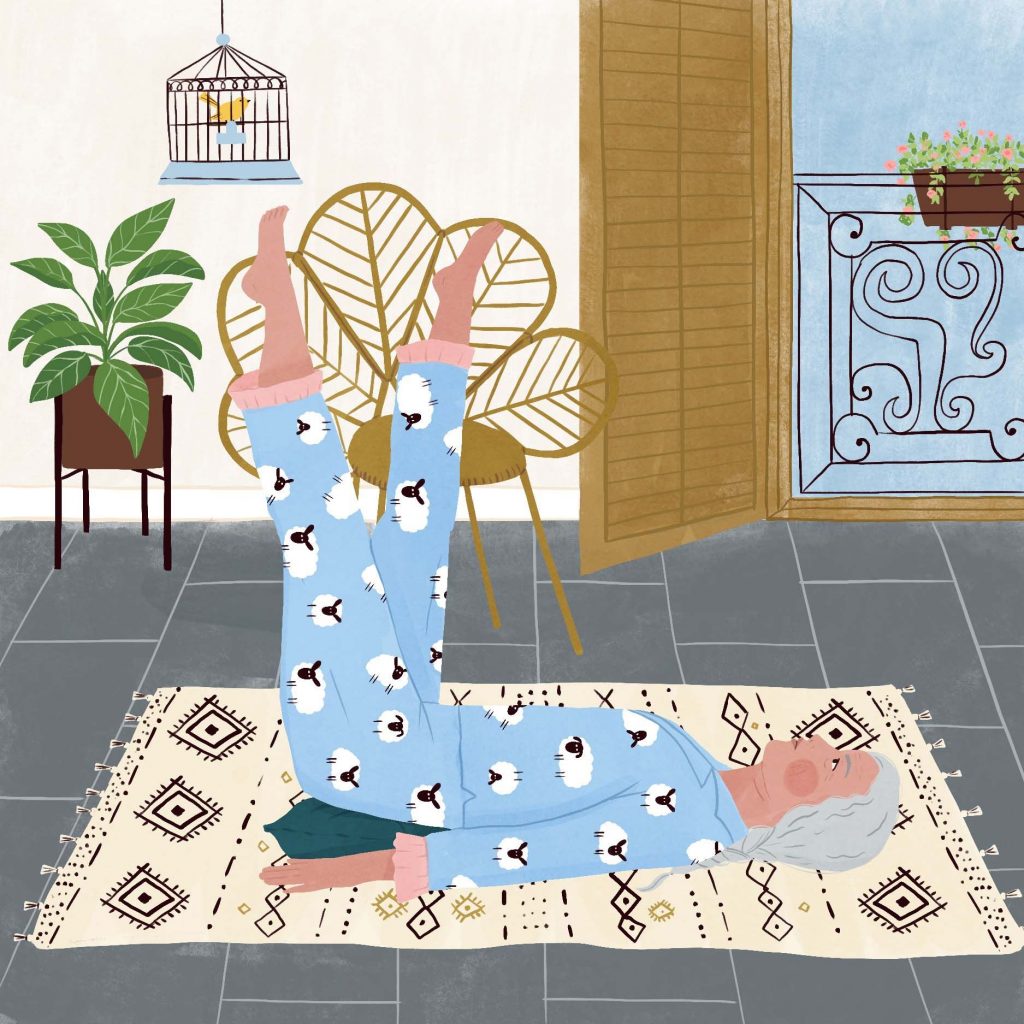 Pace yourself for this exercise and its even more difficult variations. I promise your core will smile at the end! You'll need a pillow for this one.
Good for:
Strengthening the adductors, abductors, quads, hip flexors and obliques; activating the core, spine and shoulder stabiliser muscles.
Lie down on your back with proper body alignment and palms facing down. Place a pillow under your hips to support your sacrum and lumbar spine, and provide extra comfort.
Pull your navel to your spine and imprint your lumbar spine. Lift one leg at a time to tabletop position (knees bent at 90 degrees, so lower legs are parallel to the floor), then straighten both legs.
Lower your legs on either side into a V shape, away from your midline, only so far that your lumbar spine stays imprinted. Then slowly bring them back together.
Repeat, completing 10 reps.
Variations:
From step 2, lift one leg toward your chest while lowering the other toward the floor, then switch. Repeat, for 10-15 reps.
From step 2, circle both your legs away from each other once. Repeat, completing 10-15 reps, then complete 10-15 reps in the opposite direction.
Pillow squeeze
A good way to visualise this exercise – which activates the core and strengthens your adductor (inner thigh) muscles – is to think of zipping your thighs together from your knees to your hips while you squeeze a pillow between them. Activating these muscles will make your core spark.
Good for:
Strengthening the adductor muscles; activating the core; stabilising the lower back and pelvis; aligning the sacroiliac (SI) joint.
Lie on your back with proper body alignment. Place a pillow between your legs.
Inhale, then squeeze the pillow with your thighs for the duration of your exhaling breath, keeping your glutes relaxed.
As you inhale again, release the squeeze.
Repeat, completing 10 reps.
Variations:
Alternate legs, using just one thigh to press the pillow, then the other. That's 1 rep. Repeat, for 10 reps.
Standing plank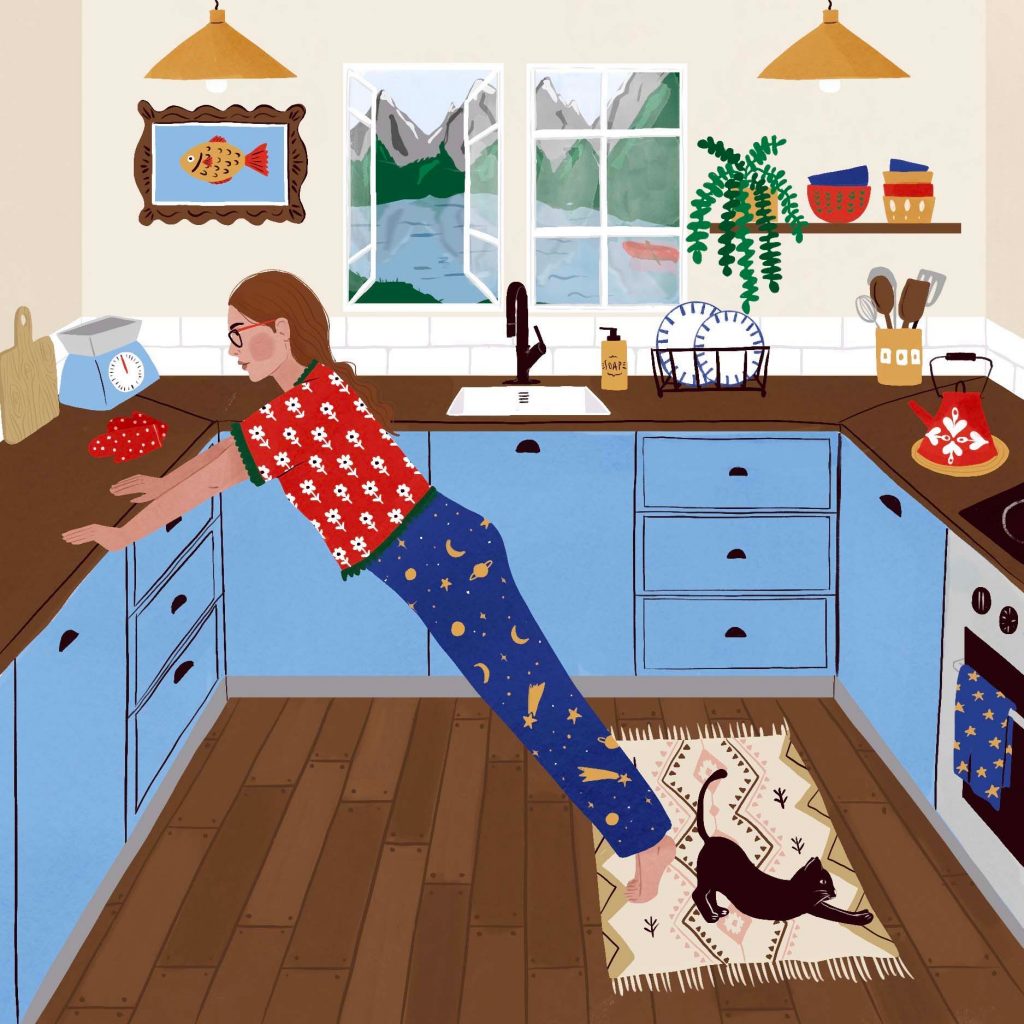 Whether you're a runner, hiker, gardener or golfer, simply holding this position for as long as you can while still keeping proper body alignment will make your core stronger. You will know when it's time to rest! If your wrists hurt in this position, try leaning on your forearms instead of your hands. Add a folded towel under your arms to make it more comfy.
Good for:
Strengthening the obliques, hip adductors, glutes, quads and hamstrings; stabilising the shoulders; activating the core; promoting good posture; improving stamina.
Stand tall 2 to 3 steps away from the kitchen counter, far enough that you can lean forward with your arms straight out in front of you to grasp the counter edge.
Line up your body so that your shoulders, ribs, hips, knees and feet are all in alignment – as if one straight line connects your head to your feet – while gently drawing your shoulders down, away from your ears. You are now in the plank position.
Hold the plank for 10-30 seconds, then return to an upright position.
Repeat, completing 3-5 reps.
Variations:
Increase your time in the plank.
Alternate hovering one leg off the ground in the plank.
Alternating arm and leg reach
This is a good exercise if you'd like to strengthen your lower back. People who have tender wrists can perform this exercise with forearms and bent elbows resting on a folded towel on the edge of the tub. If your bathroom is cramped, save this exercise for the living room floor.
Good for:
Activating the core, shoulder, spine and hip stabiliser muscles; strengthening the glutes.
Find your on-hands-and-knees position with proper body alignment. Pull your navel to the spine to activate your core, and direct
your gaze toward the ground.
Using your core strength, extend one arm forward, palm facing in, as you simultaneously reach your opposite leg back. Keep your hips level and avoid shifting your weight from side to side.
Return your extended arm and leg to the on-hands-and-knees position.
Repeat, completing 3-5 reps, then switch, completing 3-5 reps with the opposite arm and leg.
Variations:
Hold the position for 2 or 3 breaths.
Add up-and-down leg pulses while continuing to maintain proper hip alignment.