Saradha Koirala is a Nepali/Pākehā writer from Aotearoa New Zealand. She currently lives in Melbourne, where she teaches English, literature and creative writing. Her book Learning to Love Blue recently won the Young Adult Fiction Award at the New Zealand Book Awards for Children and Young Adults. It's Saradha's fifth book, but the first she's self-published. 
The judging panel was enamoured by this novel, which deals with striking out alone, navigating relationships and finding one's feet in a new city, calling it an emotional and always relatable read.
What was your favourite age growing up?
I have fond memories of high school and feel like I really started to get to know myself and make good friendships when I was about 14. It's a reasonably carefree age (it certainly was in the '90s, anyway!), so I had a lot of fun exploring relationships and music and style.
Can you share a memory you have of being the age of your readers?
When I was 16 I played in a band and wore clothes from op shops, a bit like my character Paige. I remember going to the youth "hub" in Nelson and playing gigs and feeling like a rock star for the few grungy minutes we were on stage. I also played classical music – violin and double bass – and had a bit of a musical double-life performing at a fancy auditorium during daylight hours.
What was the last thing you read?
The Glass Hotel by Emily St John Mandel. It was amazing. I am in the midst of a Jane Harper thriller and some incredible Australian poetry books at the moment too.
Favourite podcast?
I enjoy parenting podcasts, like Parental as Anything, but generally listen to more audiobooks than podcasts.
What is your go-to guilty pleasure?
Sitting in a café by myself eating cake and reading or writing.
Would you rather have dinner with Jane Austen or Barbara Cartland?
Jane Austen! We have much to discuss about high society and gender roles.
Best ever book you read when you were a child?
I'll never forget a book called Charlotte Sometimes that I got out of the library when I was about six or seven. My mum probably had to read it to me. It was about a girl who goes to a boarding school and wakes up in the past – sometimes – I had never thought about time travel and the possibility of simultaneous lives before. It was fascinating.
Romance or thriller?
Thriller, although I do love a good teen romance.
Poetry or song?
Can I have both?
Which New Zealand writer do you look up to and why?
Janet Frame is my favourite New Zealand author. She wrote huge amounts of poetry, short stories, quirky modernist novels and memoirs. She was reclusive and single-minded and I love the story of her abandoning teaching after one chaotic day.
Do awards matter?
Awards matter because they are wonderful publicity opportunities and great recognition for the hard work writers and publishers do. They raise awareness of books that may have been overlooked or missed from the bestseller lists. Does it matter if someone wrote a better book than someone else? Probably not, but it's been incredibly exciting being part of the New Zealand Book Awards for Children and Young Adults this year.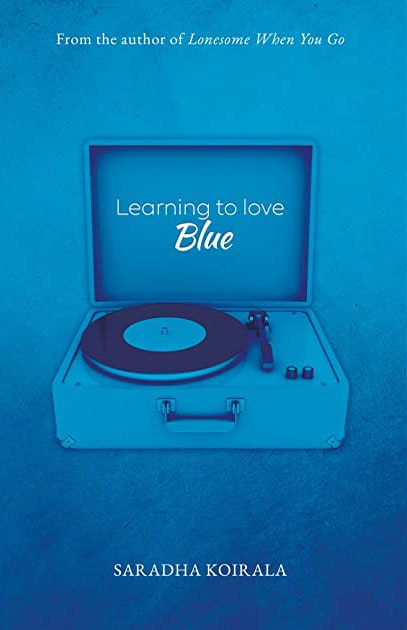 Learning to Love Blue
by Saradha Koirala
(Record Press, 2021, RRP $25).