Monique Fiso celebrates Māori cuisine at her award-winning Wellington restaurant, Hiakai. She talks to Sarah Catherall about creating a cultural culinary experience.
In just a few years, Monique Fiso has gone from being a relatively unknown chef to one of the country's most exciting and revered. Her restaurant, Hiakai, is hidden behind the tinted glass doors of a former brick kiln factory in an off-the-beaten-track part of suburban Wellington. Blink and you miss it. And many do.
It's a fitting setting for one of the country's top celebrity chefs, whose mystery is part of her appeal. Diners who can afford the $125-plus price tag per head clamour to get into her fine-dining eatery. Hiakai, which means "hungry" in te reo, has at least a three-month wait list.
Inside the restaurant on a Tuesday when it's closed, the Samoan-Māori chef is prepping for the week ahead. She's on a high after returning from the Ockhams, New Zealand's most prestigious book awards, where her Māori cuisine cookbook, Hiakai, took out the illustrated non-fiction prize.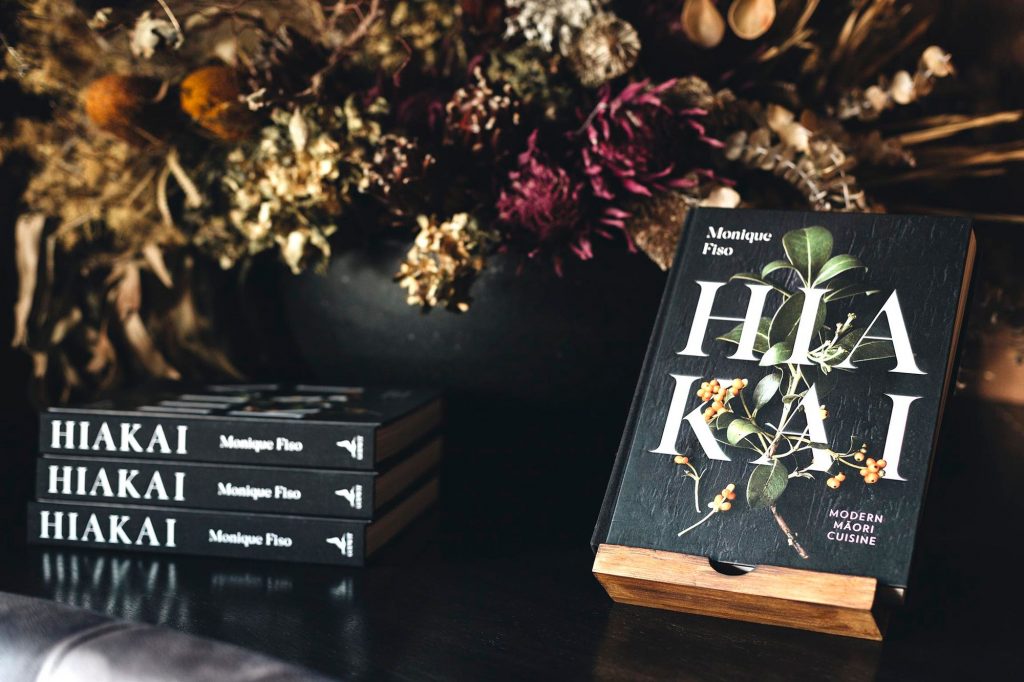 It's another accolade to add to a growing list: three years ago, Monique was handpicked by Netflix to star in its cooking show, The Final Table, on which she competed against other top chefs, many with Michelin stars. In 2019, Hiakai was named as one of the world's top 100 places to eat by Time magazine, and it was the only New Zealand restaurant to appear in Lonely Planet's must-do travel list for 2021.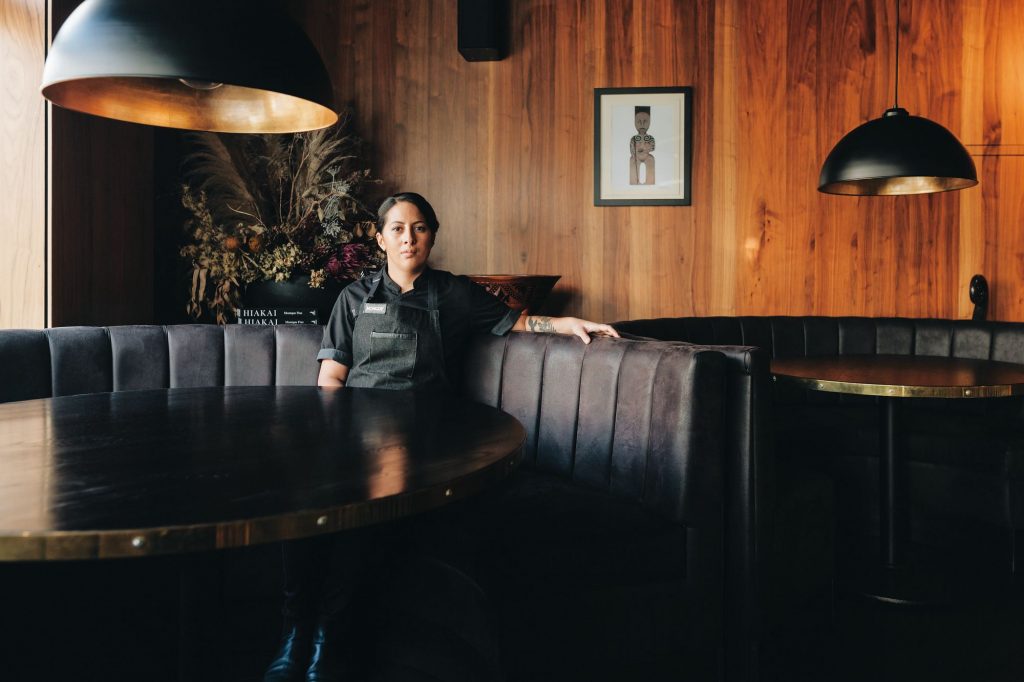 Monique, 33, sits forward in her chair and says that the book accolade was exciting and unexpected. "When I was little, I wanted to be a chef or a writer, and I got to do both. But we've been so busy there's not been a lot of time to celebrate."
Attending the book awards was new territory for the chef. "I'm used to going to food events and food awards, then I'm sitting around with writers and publishers," she laughs wrily.
"The whole reason for wanting to write this book was when I was first starting Hiakai five years ago, I was doing some research. Where were the books about these ingredients and the history of Māori cuisine? I couldn't find them. So, I thought I'd start writing one," she says simply.
The fact that her cookbook is sizzling hot is a sign of how things have changed since she started her Hiakai pop-ups about five years ago.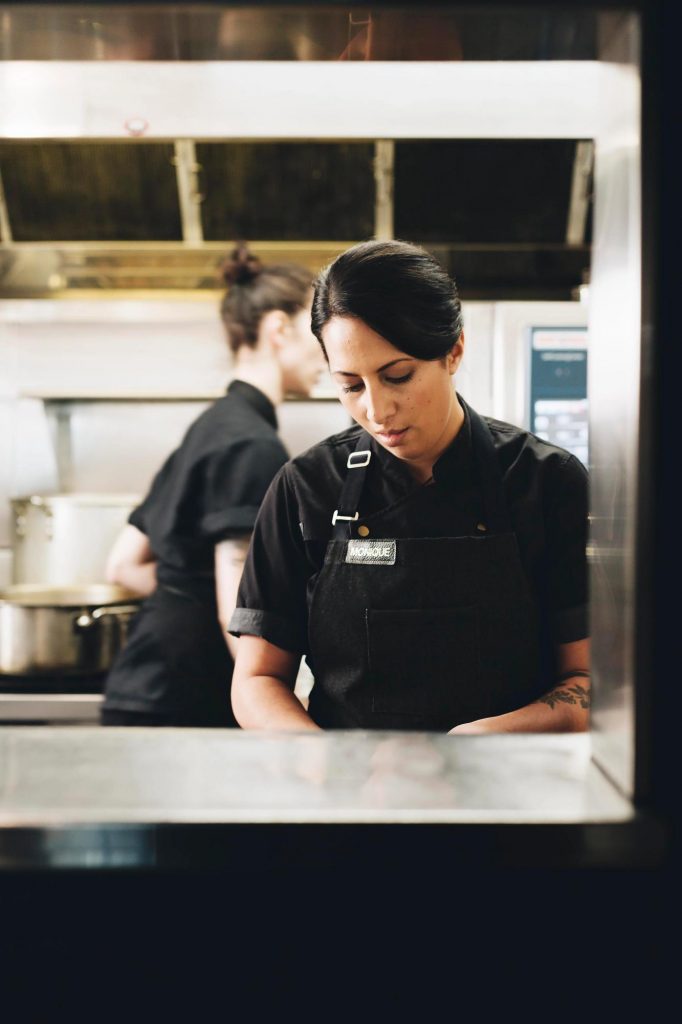 From the start, Monique's goal was to take everything we know about Māori cuisine and indigenous ingredients and flip it on its head. In just a short time, she has proven there is more to Māori food than just hāngī. She has elevated the indigenous ingredients we previously didn't consider cooking and also shaken them upside down. Her indigenous-based degustation menus are pioneering and exciting. When I last dined at Hiakai, the menu featured a dish of green-lipped mussel ice cream served on a base of heirloom moemoe potatoes, finished with dehydrated mussel powder.
"Māori cuisine has come a long way since I started and that makes me happy," she says. "You see so many restaurants integrating indigenous ingredients into their menus now, like [Ben Bayly's] Ahi. New Zealand has a lot to offer. Five or six years ago, you just didn't see that."
Māori cuisine has come a long way… You see so many restaurants integrating indigenous ingredients into their menus now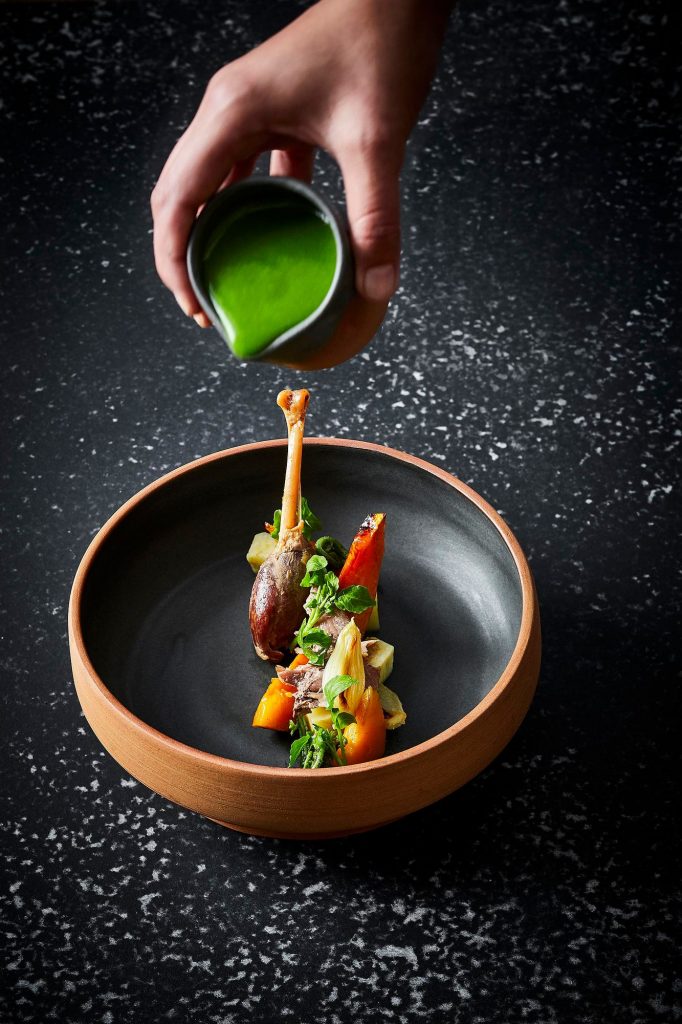 Indigenous ingredients like kawakawa are now more common on menus. "The whole point when I started out was wanting people to embrace Māori culture and our kai into restaurants, and that's happening."
Monique likes to tell stories through food. It's one of the most exciting parts of her job: the overall creative concept. She designs four theme-based menus a year, and the research and development forms a considerable part of what eventually appears on plates.
When I visited in May, Hiakai's menu was based on the Māori creation story of Rangi and Papa. One dish was dark and black: activated charcoal gnocchi with corn tea. "It's such a contrast to the dish before, which is almost completely white. It's so much fun."
Hiakai is fine dining without the starched white tablecloths and napkins. Each waiter is part of what feels like a theatrical experience, arriving at the table to explain each course, and expected to both appreciate and embrace the Māori philosophy behind the menu.
In the open-plan kitchen, Monique is also on show, performing for the 30 to 40 diners who show up at her restaurant each night. They come for her, which is both a blessing and a huge responsibility.
"It adds humanity to the experience to see the kitchen and the people working in there. I've worked in jobs where I've cooked in basements. I think it's important to connect the chefs and the diners, for the chefs to know that this dish is going out to a person who is sitting there."
She laughs ironically that she has only had three nights off service since the restaurant opened in November 2018: once when she was offshore for an event; once when her international plane arrived late; and finally, when she sat in the restaurant experiencing Hiakai as a diner, with her partner Katie Monteith (who is Hiakai's general manager) and her family.
"It felt odd. It's hard to eat in your own restaurant," Monique reflects.
The staff were nervous about feeding and serving their boss. I imagine Monique is tough and focused when she needs to be, determined that her vision for each menu, each dish, each service will turn out exactly as she wants it to.
One of the other difficulties of being a culinary pioneer is the pressure to stay on top. When you've created a whole new food category and a unique dining experience – think kūmara cheesecake with smoke and mist pouring out of it to celebrate the everlasting love of Rangi and Papa – you can't have a bad day. Monique works 100-hour weeks. She nods.
"Yeah, it's odd. It can be hard to not be there. In an ideal world, you would shut, but I'm a small business."
Later, I ask her to describe the theme of her next 10-course menu. "We've got a few things on the go, but we prefer to keep it to ourselves until they happen," she says. "I know it drives people crazy not knowing what we are serving, but we change things so often and we prefer people not coming in with preconceived ideas of what a dish might look like."
Asked if they'll put on a Matariki menu, Monique shakes her head. Last year, Hiakai ran a whole menu devoted to Matariki after lockdown. In 2019, Monique also created a special Matariki menu. "We have other stories that we want to explore as menus. But we'll definitely be celebrating Matariki in our own way, in our own private lives."
We have other stories that we want to explore as menus. But we'll definitely be celebrating Matariki in our own way
Katie adds, "Matariki will be a time for us to reflect on the last 12 months but also make plans for the future."
Culinary roots
Growing up in Cannons Creek, Porirua, Monique was the second of five siblings, raised by her Māori/ Pākehā mother, Serena (Ngā Rauru, Ngāti Ruanui, Ngāti Tūwharetoa), and her Samoan father, Siuai. Monique has said before that the family was more connected to its Samoan heritage – she regularly went to White Sunday service at their local Pacific Island church.
At home, her mother cooked standard Kiwi fare. Her Samoan grandmother lived with them during the week and whipped up taro, chop suey and other Polynesian dishes. Monique remembers the first time she cooked her own meal: a fried egg.
She thinks she must have been young because she dragged a kitchen chair to the stove and stood on it. "Dad and I ate it. I felt so accomplished,'' she laughs.
Cooking was a hobby first. At school, she borrowed cookbooks from the library and played around in her family kitchen. "Some of it was good and some of it was bad. I was trying to do incredibly sophisticated dishes. I'd convince Mum to buy these sophisticated ingredients and I'd cook things up for everyone. My family were my guinea pigs."
But she doesn't recall being inspired by any female chefs, let alone any wāhine Māori chefs. "I remember looking through cooking magazines and I wouldn't see any female chefs, maybe Judith Tabron. Most of the time it would be Alison Holst as a home cook but you didn't see women making careers in restaurants.
"I remember the first time I heard about Michael Meredith and thinking that at least there was a person from my culture who I could look up to, who was at the level of dining that I wanted to be at."
She doesn't remember the moment she decided to be a chef but she became a kitchen hand at 14, the start of two decades in restaurant kitchens. Monique went to cooking school in Wellington. She persuaded chef Martin Bosley to take her on and learned the trade as an apprentice in his former restaurant.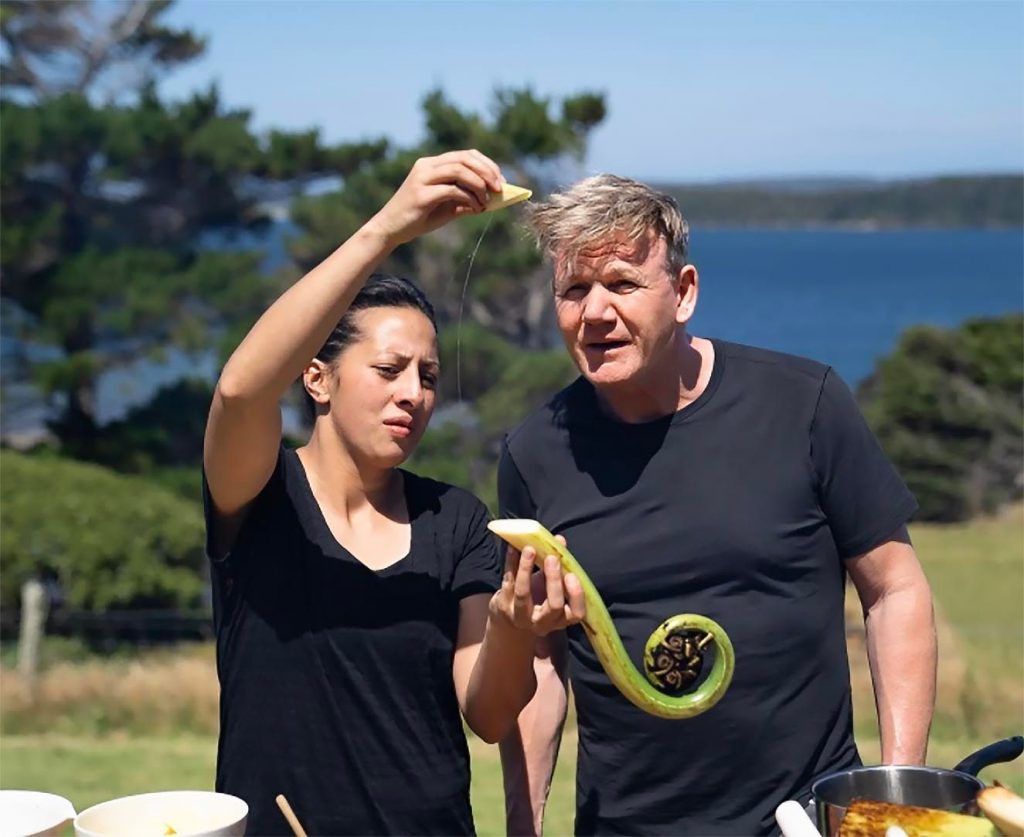 Her moment really came in New York, where she cooked in Michelin-star restaurants: Kiwi expat Matt Lambert's The Musket Room and for celebrity chef Missy Robbins. She told me in a previous interview that working in New York was life and career changing, but she returned to New Zealand exhausted in 2016. She still has the scars to show from a kitchen accident, when caramel bubbling in a pan tipped over her hand. She spent two weeks in hospital and had a skin graft using tissue from her left hand.
The scar is near a tattoo which was inked in New York, based on a lava lava her Samoan grandmother gave her. "I was worried I might lose it. This way I keep it forever," she says.
Monique lives in Thorndon with Katie. When they're not at work, they enjoy foraging together: hunting and sourcing ingredients in the bush and along the seashore is a big part of the Hiakai story. Out the back of the restaurant, vegetables tower out of planters in the garden which Katie tends.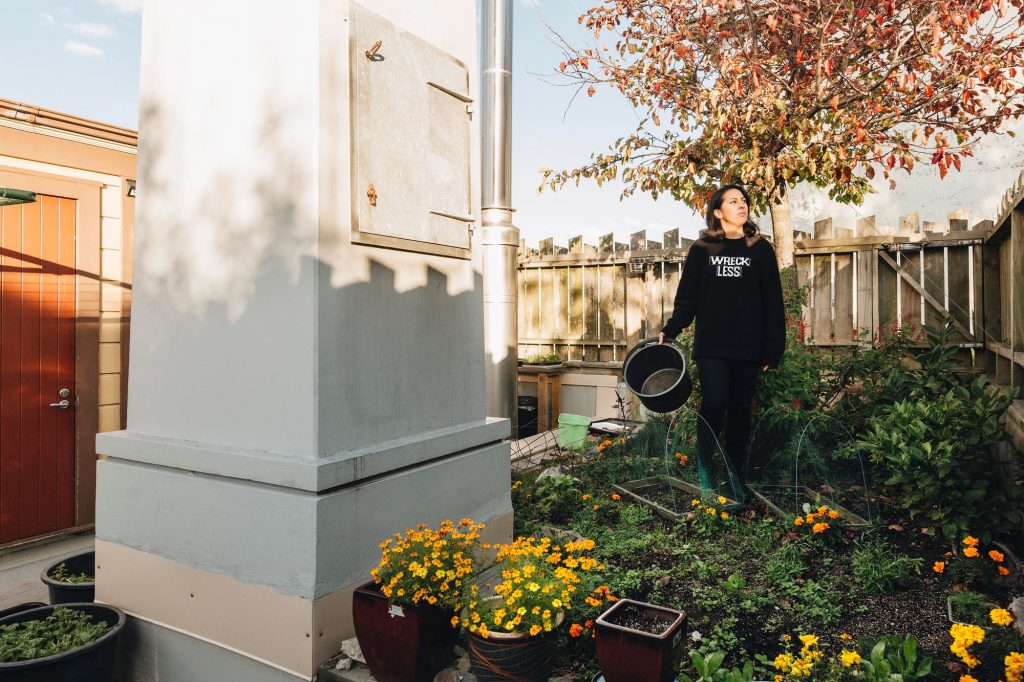 Katie began as general manager in the business two years ago after a career in community work and urban farms. Throughout the interview, Monique defers to Katie: "Ask Katie if I can say that. Katie is gatekeeper," she laughs.
Both Katie and Monique feel strongly that hospitality is a career: their waiters and kitchen staff are carefully chosen and take their roles seriously. Next month, the 13-strong team, including Monique, will start te reo classes.
Katie is also steering the restaurant towards being zero waste. Everything is repurposed for the restaurant or bar: a watermelon rind is being turned into a cocktail. Says Katie, "It's not easy, as hospitality creates so much waste, but I'm passionate about it."
Away from the kitchen, Monique talks about the demands of running a small business. As chief fixer, her toolbox sits near her collection of chef knives. "Who cares if you're on Campbell Live or you win an Ockham? Someone needs to fix the tap. I'm so much handier than I used to be. I have to be," she laughs.
But the physical and mental demands of the job can take a toll. "I'm getting older," she says. "I'm 33, but in chef's years it may as well be 63. It's one of those industries where you get to a certain point and you get older and you can't do the physical stuff as much as you used to. When you're younger, you can carry a lot more things: flour up and down the stairs, that kind of thing. So you need to teach your team to do those things."
Monique says her parents and siblings, including her cross-fit champion brother, Luke Fiso, all dine there. "My family is so supportive but I just treat them like every other diner here. Mum is my biggest fan. She's the biggest Instagram stalker I've got."
Monique stands up for the photo shoot and I ask what she hopes she'll pass on to her diners. "A bit more understanding of Māori culture and cuisine is always my goal," she says. "Some people go away and attempt a few recipes and they tag me in their Instagram stories, home cooks who are trying this new way of cooking which is so cool."
Try some of Monique's recipes here.