Loading the base with sesame seeds makes this version of an old favourite super-good.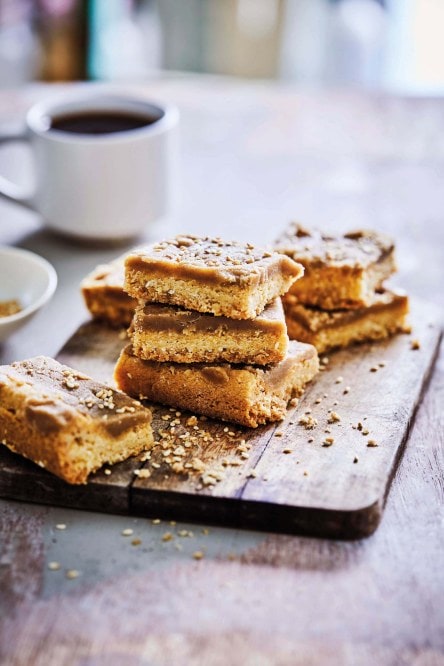 MAKES 16-20 SQUARES
Ingredients
135g butter, softened
1/2 cup sugar
2 tablespoons brown sugar
1 and 1/4 cups gluten-free flour
1 teaspoon baking powder
1/4 cup sesame seeds plus extra for sprinkling
1 teaspoon ground ginger
GINGER ICING
75g butter
1 tablespoon golden syrup
1 cup icing sugar, sifted
5 teaspoons ground ginger
Method
1 Preheat the oven to 190°C. Line a Swiss roll tin with baking paper.
2. To make the base, cream the butter and sugars until light and fluffy. Add dry ingredients and mix to a stiff dough. Press dough into prepared tin.
3 Bake for 20-25 minutes until golden brown.
4 Make the icing by melting butter and golden syrup together. Stir in icing sugar and ground ginger and mix
to combine.
5 Pour icing over hot slice and spread it evenly. Sprinkle over extra sesame seeds. Slice when cool.