A Shortland Street actor, an award-winning journalist, and a father-and-daughter comedy duo walks into a bar. No, this isn't a joke. It's the line-up of some of the Māori stand-up comedians who are joining forces to raise funds for whānau who have been impacted by Cyclone Gabrielle.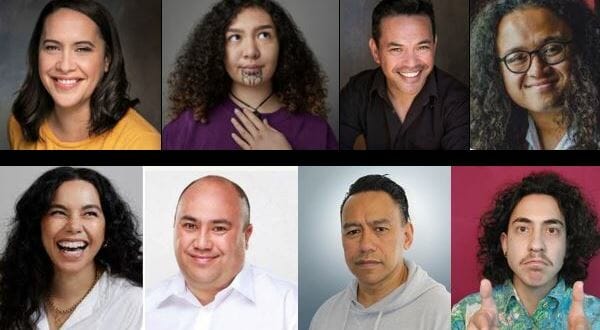 The Māori Comic Relief benefit will be headlined by Shortland Street actor Kura Forrester. She will be joined by some of the funniest Māori comedians in the business, including Albert Belz, Kura Turuwhenua, Bailey Poching, Courtney Dawson, Heta Dawson, Joel McCarthy, and Aroha Awarau.
Forrester says that performing her comedy on stage is the best way that she can help her whānau in the East Coast town of Tokumaru Bay, which was devastated by the recent cyclone.
"I feel honoured to perform in this show and give back with what I love doing most – performing. My whānau have always been my biggest supporters. I wanted to help them," she says.
"My whānau in Tokomaru Bay are the most resilient and funny people I know, so I owe a lot to them when it comes to knowing how to tell a good story. It feels really special to be a part of this Māori comedy line up."
"When I was starting out as a stand up there weren't any shows like this. I feel really empowered and uplifted to be sharing the stage alongside other Māori comedians who are coming together for a very good cause."
The line-up includes award-winning comedians like Forrester, winner of the 2019 Billy T Award; Turuwhenua, winner of the 2022 RAW Comedy Quest; Poching who was Best Newcomer at the NZ Comedy Guild Awards; the Dawsons, who are a father and daughter comedy duo who have been named a finalist and winner of the RAW Comedy Quest; Belz, a former Shortland Street actor, and playwright who appeared on TV's Pulp Comedy; McCarthy, who was a finalist at the 2020 RAW Comedy Quest, and Awarau, an award-winning journalist and playwright who was a finalist at the 2000 RAW Comedy Quest.
Producer and comic, Belz, of Kaituhi Creative, says the idea for the fundraiser came to him while he was admiring a picture of comedy icon Billy T James hanging on the wall backstage at the Classic Comedy Club in Auckland while Belz was waiting to perform.
"I recalled the force of Cyclone Gabrielle smashing into small Māori communities I knew so well, and felt helpless to do anything about it. I had a moment in the green room and wondered what it would be like to jam some comedy with an all-Māori crew?" he explains.
"Then it hit me. Get a bunch of Māori comedians together and hit it out of the ballpark with laughter and fund-raising!".
Māori Comic Relief is at Te Pou Theatre, Corban Estate Arts Centre, 2 Mount Lebanon Lane, Henderson on 1st April at 7:30pm. Tickets at: www.tepoutheatre.nz