Is making Gin easy? Ask Jo Davy and she'll happily discuss the art of making and the finer points of drinking. Turns out making Gin in a paper bottle is not so terribly difficult in comparison to making wine or other spirits but getting a building registered and certified to make gin in the first place is more gruelling than a hike in the snow with slippers on. 
Jo Davy, a Wellington Scientist and her friend Helen Gower can vouch for this having just launched their own handcrafted botanical gin 'Mothers Ruined'. The drink was conceived and distilled in Helen's converted double garage on Wellington's South coast.


A New Business Venture
A new business venture always has an origin story, some kind of catalyst and more often starts with a conversation over a drink. Helen and Jo first met each other while studying science at Swansea University in 1993. Life happened to them in the intervening years (having children, getting married etc..) but fast track to New Zealand where they had both emigrated and one day in that strange lee between lockdowns 2020 the pair met again at an event and had a gin together. Jo, who works for the New Zealand government, said:
"We both have day jobs but wanted to do something a bit different together in our spare time. My brother had recently died and I felt I had to do some extra living for him".
A spark of an idea about making their own gin in a paper bottle quickly turned into a serious plan.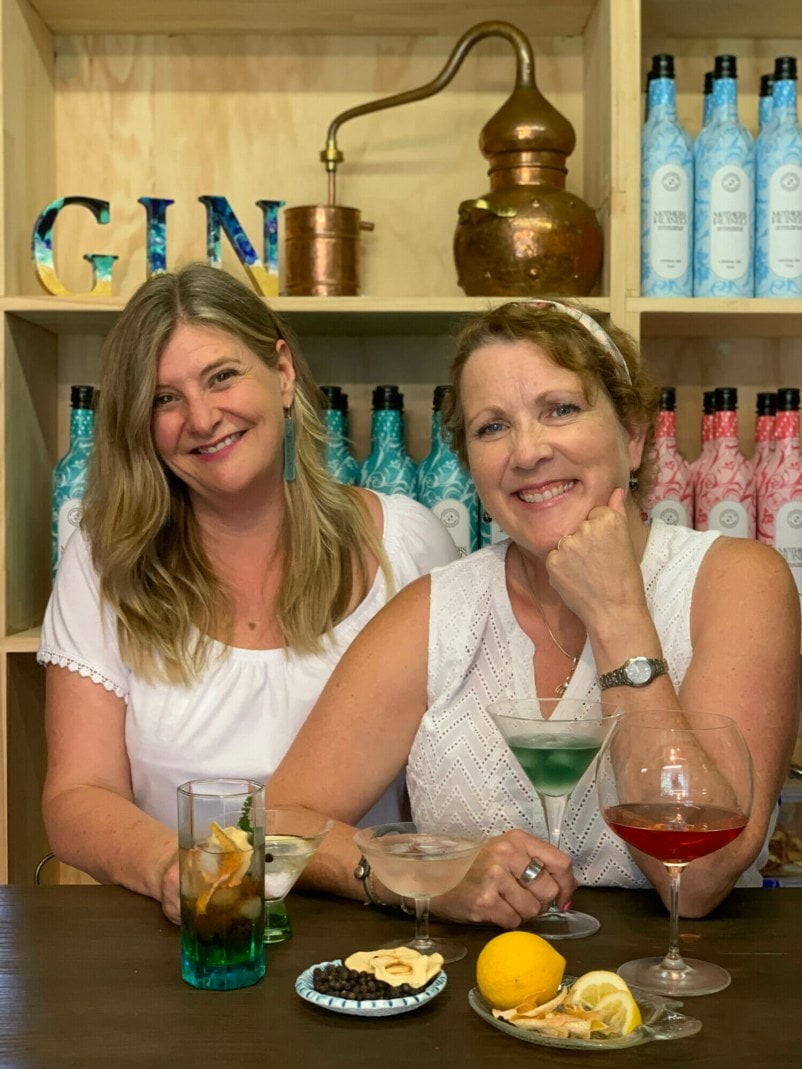 The Process
The pair purchased a stil from Portugal and began meeting up in the double garage of Helen's house in Breaker Bay.
The hard part was the months and months of bureaucracy and jumping through countless hoops with Wellington City Council, Customs and Excise, and Food and Safety to actually get the distillery fully operational but last week the last bit of paperwork was signed off.
"Formaggeddon is done!" says Jo, admitting that there were many layers of complexity that they didn't understand when they first set out. The legalities around alcohol are complex and many.
"It was probably a good thing we didn't know or we might not have started the venture in the first place" she says.
"New Zealand is one of the few countries in the world where you can distil for home consumption without any sort of licence so we were able to do the experimenting and developing and perfecting our recipes easily in the corner of the garage"
"That was the super fun part of it", says Jo merrily. "The legal position is if it's for home consumption then legally only Helen and I were allowed to drink it, which was fine!"
Family Business
Form filling over, the two friends can concentrate on the part of the business they're excited about. The production and selling of their handcrafted botanical gin with papercut artwork by Jo's sister in law and a design and logo by Aucklander Adam McCauley.
The massive point of difference that the pair are delighted by is their packaging. They are the first drinks brand to launch a paper bottle in New Zealand using the Frugal Bottle, a recycled product that is five times lighter than glass and has a carbon footprint up to six times lower.
For both women this is a side hustle. Helen is a cancer researcher and Jo works for biosecurity in Wellington.
"We are not out to try to convince customers to drink heavily. Our motto is 'Take it slow, ' Jo says. "Have one drink but make it something good. Rather than sculling 4 rubbish G & T's just have one and make it a good one".
Related article: Plum & Gin Cured Salmon with Cucumber Salad