Lily Richards tests out the latest technology for women.
Upfront disclaimer: I am not a systematised person. Until recently, I couldn't make a plan, let alone execute one. Taking my father's philosophical advice way too literally, I thought the future didn't exist, and that there was only the now. As a result, my 20s were spent shifting from one impromptu endeavour to the next. I genuinely thought people who planned for the future were unawakened bores.
Don't get me wrong, this doesn't mean I haven't wanted to author my own life and improve my situation; it's just made it basically impossible. Whether it's dieting to deal with endless bouts of thrush or getting deeply involved in online exercise classes, trying to crack the mystery of my menstrual cycle or understanding the motivation of my hormones, it all seems beyond my reach.
I do want to captain my own ship, I just suck at it. Which is why, when offered the chance to try out a new device designed to "sync your body and mind" and help you make "informed decisions about your health", I thought: what the hell? This might be exactly what I need to help me become more disciplined, to finally take control of my own destiny.
The device is called Ivy, made by Bellabeat, so I call her Bella Ivy, because it sounds like the name of a fictional sorority girl from literally every American college drama ever made. I like to imagine her as a high-maintenance overachiever who likes both rowing and Beowulf. Or, if I'm feeling frustrated by the impending technocracy, I'll refer to her as my "lady tracker", which, to be fair, is a pretty accurate description of what she does.
Ivy is designed by women, for women, but even I have to admit her ambitious objective, to help you make good decisions in every aspect of your life (sex, nutrition, mindfulness and wellness), was a beguiling proposition.
She arrived in a black box with a charger, the wristband and instructions on how to set up the app. The retail price isn't cheap – but you probably guessed that when you heard her name. You get the app free for six months after buying Ivy, but thereafter you pay an annual subscription fee.
I was sent the pink option and I swiftly realised that designing a piece of tech you hope will also pass as jewellery is a task very few people could excel at. Ivy is supposed to appeal to every woman, but that's an impossible task. Some women love a chunky piece of turquoise and others a thin gold chain.
Ivy has been designed to fall somewhere in the middle, with an inexplicable fake jewel-type rock in the centre and a soft, non-allergenic silicone rubber wristband. But apparently, Olivia Culpo loves her black version, so beauty is in the eye of the beholder.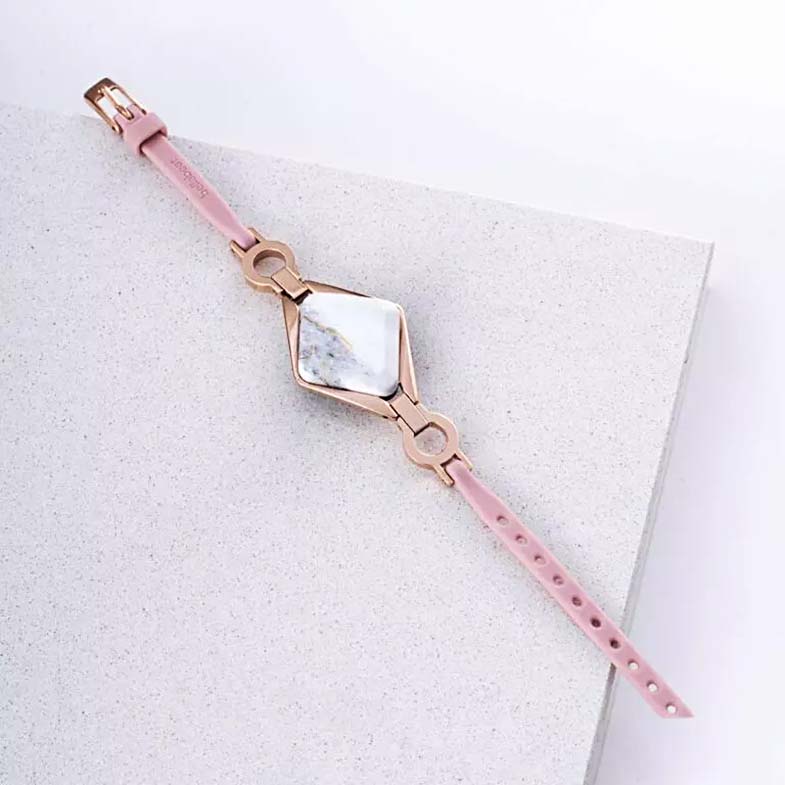 Having never worn anything like this before (I turned the health tracker on my phone off and took David Sedaris's Fitbit story as a cautionary tale – Google it), it took me a while to get used to my new constant companion.
The nights were the hardest.
The sizable fake rock was too cumbersome for my wrist, and when I attempted to wear it on my ankle instead, I kept dreaming I was under house arrest. Once Ivy had my baseline data, or, as I like to think of it, got to know me better, I could see what my heart rate was and how well I was dealing with stress.
But there's only so much biometric data that can be gathered passively. It slowly dawned on me that I was going to have to tell the app how much water I was drinking or sex I was having. On the home screen of the app glows a wellness score that is based on your daily progress. It tracks five categories: steps, activity, meditation, hydration and sleep. To adjust your hydration score, you need to manually add every drink of water you take; you can load your own glass size into the app to accurately account for the volume each drink represents.
Same, too, with the meditation and activity feature, though Ivy is smart and will sometimes have clocked that your heart rate increased or decreased. When you go to add an activity, she'll suggest when it happened and you can just approve or edit.
Fair to say the user experience is a pleasure, so none of this felt feel like a chore. At first.
The gamification and self-competition were strong motivators. I found myself walking every evening no matter how tired I was from the day. Setting out to impress Ivy, I would do one of the 20-minute yoga routines she'd suggest every morning. I finally drank enough water and routinised my meditation process. I was, demonstrably, a better person.
Why does it sound like there's a but coming? Because there is. It was a slow unravelling that quite possibly had more to do with my personality and disposition than the fairly flawless technology.
For about a week I was disciplined, focused and proud of my achievements. After another week I started to resent having to wear Ivy at night.
Then I got a bad cold and didn't feel up to walking anywhere or doing yoga. If the app was interested in keeping track of how much wine I was drinking or television I was streaming, I'd have kept it up. But once I wasn't nailing it, the drive to record my failures for posterity lessened and I fast found myself becoming unhabituated to the principled high I was getting off on the week before.
I no longer wear the device, but I still use the app (it has seriously good menstrual advice, such as support pages for each stage of your period – menstruation, follicular, ovulation and luteal – covering what to eat, how to exercise and mental health. There are yoga, dance and Pilates sessions, breathing, affirmation, mood support and mediation programmes). The remnants of my better self seem to have stuck with me; I know how much water to drink to stay hydrated, how long to walk to hit my daily movement requirement and how many hours constitute a good night's sleep.
Finally focusing on women's health is not something I want to disparage, but I'm still sceptical about the delivery system. Are we so far out of sync that we need a machine to help us pay attention to ourselves? In my experience, the answer was "kind of" and I'm grateful to Ivy for reminding me to take care of myself. But I think I'll take it from here.
Ivy is available in Aotearoa via Femtech Revolution, a female technology marketplace on a mission to rebalance the gender bias in healthcare by connecting women with technologies designed to better help us understand and improve ourselves.