Breaking new ground at the Rugby World Cup is the goal of Dame Julie Christie, who chairs the organising committee.
Dame Julie Christie loves a challenge. The creative mastermind turned governance extraordinaire has a big one on her hands: sell out Eden Park for the opening day of the 2021 Rugby World Cup on October 8.
That's 48,000 people. More than 20,000 over the existing world record attendance for a women's rugby match, which was set at the 2014 RWC final in France between England and Canada.
The Black Ferns were not part of that record, but were crowned champions at the last RWC final in 2017, adding a fifth title to their legacy. And they will be aiming to get another as they welcome 11 of the top rugby nations to compete for the first time in the Cup's history in Aotearoa.
"We believe if we fill Eden Park on October 8, it will be a huge victory for women's sports, and I feel the further success of the entire tournament will follow."
As the chair of the RWC organising committee, a group of people responsible for overseeing the delivery of the major international event, Julie promises the opening day will be one to remember. "It's going to be a festival, that's the feeling the committee wants," she says. "We want people to feel they're part of something they can talk to their grandkids about."
It will be a triple-header, with New Zealand taking on Australia in the final match of the day. There will be entertainment, including a headline act, to be announced in July, and visitors will experience the rich cultures of our Māori and Pasifika communities.
As a board member on the 2011 RWC, Julie recalls how the country embraced every team during the tournament, so she is keen to celebrate this one in a similar way. "We're a small country in the world, but a big country in the rugby world," she says. "When we fill Eden Park on October 8, it will be great to look back and say that was the beginning of a new movement."
The opening day and the first two weeks of the game fall within school holidays, and tickets start from just $5 for children. Family outings in Auckland and Whangārei will be packed with activities, and for those wanting to spend a bit more, hospitality packages are available, with rugby legends Dr. Farah Palmer and Melodie Robinson hosting lounge experiences.
In another of her roles, as a board member on New Zealand's Steering Group for World Expo Dubai, Julie was reminded of the impact a small country can have on the global stage. "We had 1.25 million visitors," she says. "Just seeing that was remarkable. Every one of those teams coming here for the RWC will know they'll experience something they can't experience in any other country."
Experiencing the RWC will have ripple effects well beyond the final whistle, she believes. "There will be 10-year-old girls in that crowd inspired to sporting greatness by what they see in the Black Ferns. And not necessarily rugby greatness. Everybody has something they can be really good at; you've just got to find it."
Visitors will be able to get out and experience Auckland's CBD or walk up one of the many extinct volcanoes in the region. Cruising the Hauraki Gulf on board her launch, Touchdown, after her first successful production company, is one of Julie's favourite pastimes. Kawau Island is a must – visitors can catch a 40-minute ferry there from the CBD.
An indoor activity on her must-do list for visitors is the All Blacks Experience. "You really understand what the players have to go through," says Julie, who is also the AB Experience chair. "I find the women's haka more moving than the men's. It's remarkable."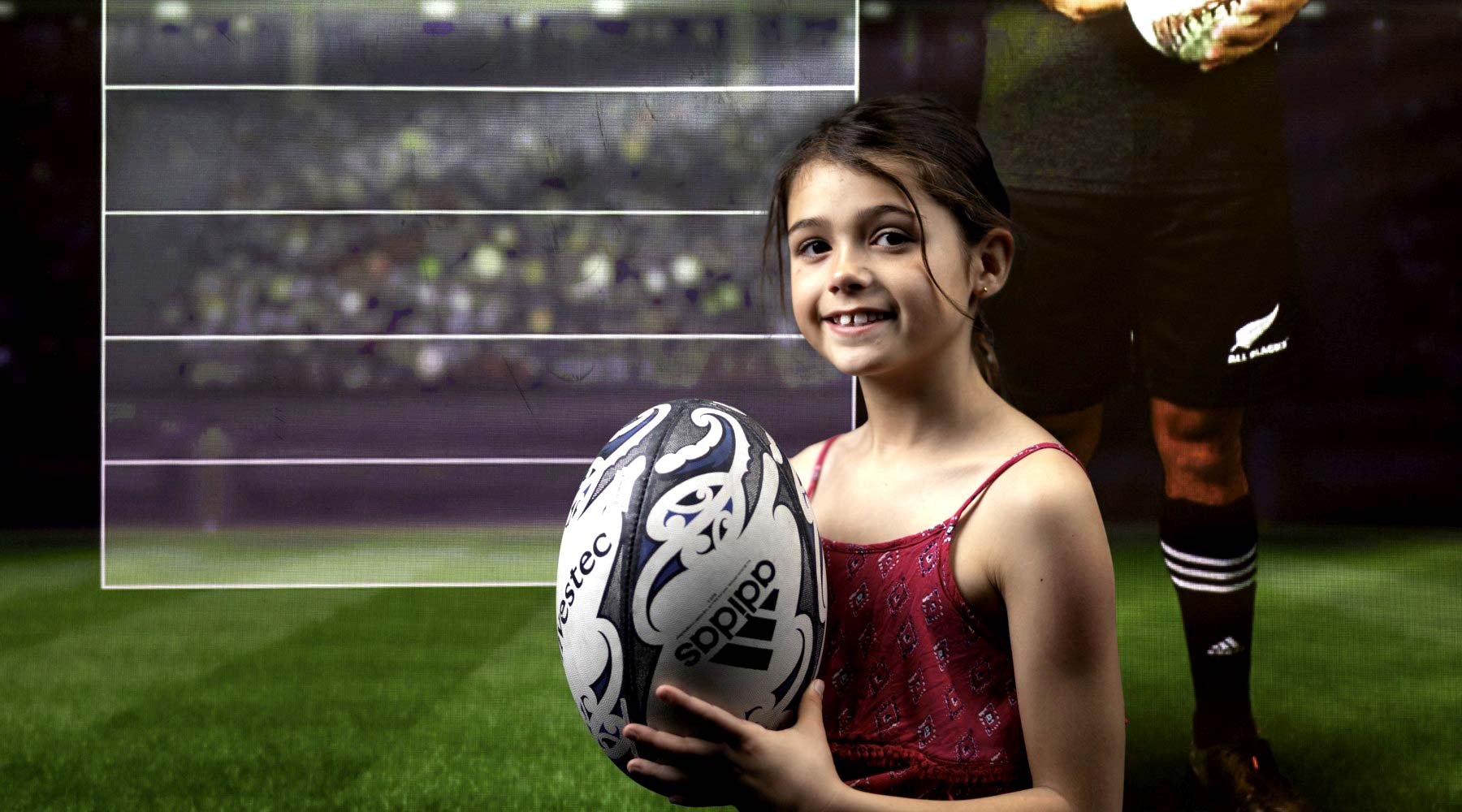 Buy tickets to the Rugby World Cup here.