A new screenlife thriller Missing the movie makes for compelling viewing but despite the speed of the chase it doesn't have the bandwidth for something truly great.
Missing the movie hits every beat of a true-crime doco: thinly concealed family trauma, phone calls in the night, and slow zooms into old mugshots. The story is fiction, but that's not the only point of departure. Missing the movie is also the latest example of a 'screenlife film', the term for blockbusters like Unfriended and Searching that transpire entirely on computer and smartphone screens. 
The film opens with camcorder footage of a little girl, June, playing with her father, James (Tim Griffin). Her mother, Grace (Nia Long), comes in, and the two parents bicker. Pause. Zoom out to a Windows desktop. The home video is trimmed and exported to a folder labelled 'For June'.
Cut to June (Storm Reid), now eighteen and living in Los Angeles, waiting for Grace to leave for Colombia so she can throw a rager. Dad is out of the picture, and Grace is going on holiday with her online dating match, Kevin (Ken Leung). On June's crowded MacBook screen, she messages her best friend Veena (Megan Suri) about buying booze, watches an Uber arrive via a home security system, and scrolls Instagram and Spotify. Grace leaves, so June parties, mum's holiday pics left on read. One week later, June drives hungover to LAX to pick up her mum, but Grace never arrives. June drives home. She calls the hotel. She calls the embassy. Grace is Missing.
Discussing the plot further without giving the game away is challenging. The thriller start proper at the airport. The setup, parent missing in a foreign land, could be more sensationalist, more tawdry, but hooks sink in as the story escalates. There are twists galore, and each twist does the valuable work of making you reevaluate everything that has come before. Many of these left turns are predictable, but Merrick and Johnson spool them out with persuasive sobriety.
It was midway through the film when I realised I was watching an animated movie. Missing the movie brims with gorgeous low-resolution images, particularly when the whole screen frames fragments of webcam images in close-up. Like a wink in Toy Story, these wrong impressions of faces buzz with static. The flowering chat windows and hovering mouses are not 'real' screen recordings but digital objects manipulated in a motion graphics programme. 
This understanding explains the film's theatrical inertia. June and Grace are flat avatars more than dimensional individuals, and much like Pixar, Disney, and Studio Ghibli, the filmmakers adapt to this languor with big gobs of schmaltz. Like a voice cast, the actors express emotion in big gestures, with a thwack of minor key piano accentuating each tug at the heartstrings.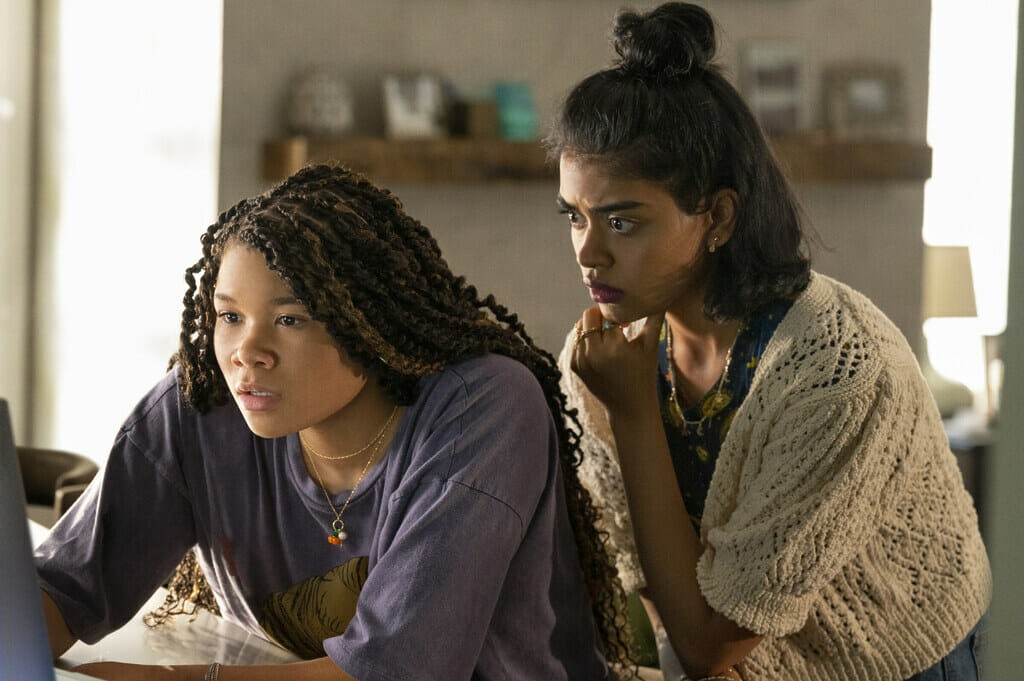 Although the 'screenlife' mode appears new, Missing bears roots to Charles Bronson and Clint Eastwood. The 1970s saw the rising popularity of vigilante films like Dirty Harry and Death Wish, in which good guys with guns meted out vengeance on bad guys the legal system was too feeble to contain. This 'might is right' ethos, in which social norms of privacy are violated at the service of revenge, was sneered at from the left for its fascist undertones. But the sentiment prevails in films like Missing, where June's successive online privacy breaches are justified because they enable her mission.
The film's lionising of Big Tech compounds this queasy moral view. The good characters use celebrated data harvesting apps Google, Spotify, Facebook, and WeChat. The baddies prefer wicked anonymising tech like encrypted email server Proton Mail and VPN services. Trademark licensing deals likely underpin these decisions, but the film still links heroism to corporate trust. The suggestion throughout is that our tech use is symptomatic of our moral character. After all, technologies are extensions of our bodies, a truth expressed in the film by the zap of tension whenever an external viewer interrupts our voyeuristic tie to June's online life.
Despite a juicy suspense scene shot on an iWatch, and the demonstration of digital authenticity, part of me found Missing too close to doing admin. I don't go to the movies to watch someone answer emails. Missing is an enjoyable experiment but one I only need to experience once. Rotten Tomatoes gave it an 86%, what would you give it?
Related article: What's Love Got to Do With It? Movie Review