Love marriage and arranged marriage are two routes to getting hitched, with a few detours packed in, this surprisingly good romcom rides them both for laughs and for love, writes Theo Macdonald.

What's Love Got to Do With It? opens with London documentary filmmaker Zoe (Lily James) running late for her Pakistani neighbour's wedding. She arrives at the terraced house to a flurry of disco balls, dancing, and her mother, Cath (Emma Thompson), taking a breather and a nip of booze, as saucy middle-aged rom-com mothers are wont to do. Dazzled, Zoe heads outside to find Kazim (Shazad Latif), the groom's brother and Zoe's girlhood crush, up in the family treehouse, sneaking a cigarette. Their reunion is disrupted by Kazim's revelation that he has finally bowed to his parents' pressure and agreed–aged 32–to an arranged marriage.
The board is set, and we all know the rules. Kazim visits matchmakers, and Zoe, stifling her anguish, convinces him and his family to let her film the entire process as a documentary. This last wrinkle is a convincing rationale for her renewed involvement in Kazim's life, as Zoe and her mother join the family in Lahore to meet his bride-to-be. The documentary angle also lets Zoe pry into the subject of arranged marriage by interviewing flourishing couples and drawing challenging parallels to the social mechanics of 'love marriage'.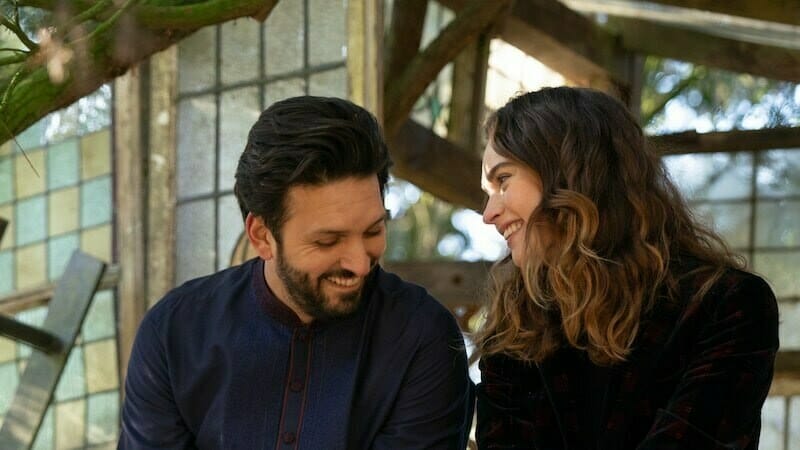 The story also contains a lot of threads not covered in this brief synopsis, some more exciting than others. Career-focused Zoe is perpetually unlucky in love. This rom-com chestnut is usually all fine and dandy, but the film's suggestion that her promiscuity is a form of self-harm carries too strong a touch of slut-shaming. Zoe babysits for a friend with a disintegrating marriage and dispatches her dating history to the children as a turgid string of strained fairy tale parodies, e.g., "Little Red Riding Hood did eccy and hooked up with a chav in the ladies' room". More soul-stirring is a prodigal son subplot about Kaz's sister, who the family hasn't seen in over a year since she married a white non-muslim man. There's also a funny dog that eats Emma Thompson's HRT patches.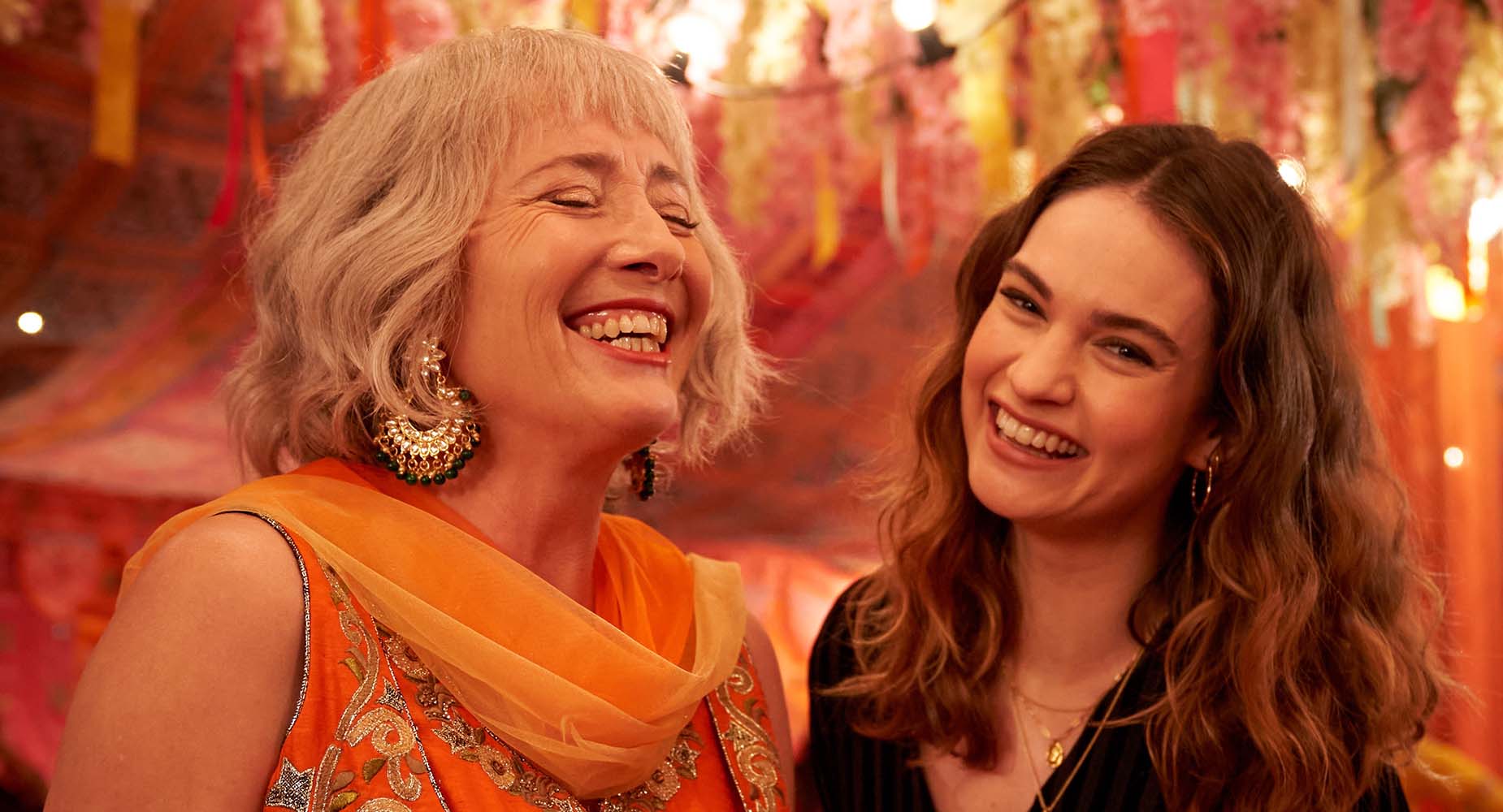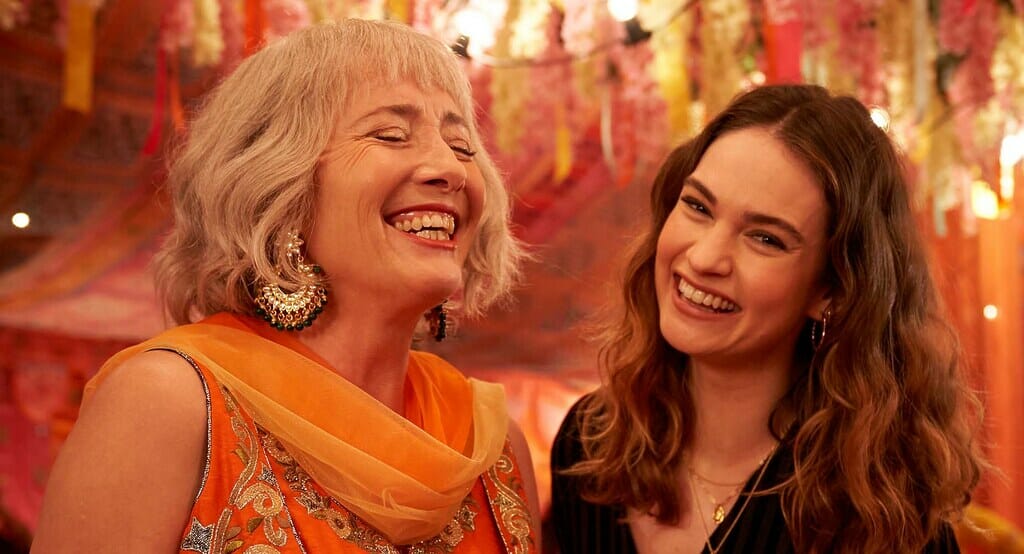 This narrative surplus is likely a consequence of the film's unexpected authenticity. What's Love Got To Do With It? is directed by Shekhar Kapur (Elizabeth: The Golden Age) from the debut screenplay of renowned journalist Jemima Goldsmith, who married cricket icon–and Pakistani Prime Minister–Imran Khan in 1995 and lived in Lahore until their 2004 divorce. With this in mind, the jumble of plot feels like Goldsmith trying to wrangle her thick experience of cross-cultural marriage into a rom-com frame. Although we don't exactly dive into the ethics of documentary filmmaking, the challenges thrown at Zoe about her right to remark on Pakistani values feel drawn from Goldsmith's background working as a journalist in Lahore.
Sharp wit ornaments the dialogue, and some jokes are genuinely left-of-field. Although a batty mother character can be fun for pricking the cross-cultural tension, Emma Thompson wears out her welcome. The trick is to leave us wanting more, and by the second half, it feels like the lingering close-ups of Cath's one-liners are keeping the story at bay. Shabana Azmi and Jeff Mirza are much more comically rewarding as Kaz's conservative parents, as is Asim Chaudhry as arranged marriage guru Mo the Matchmaker.
Other strengths of the film are the delightfully expressionistic cinematography–which dances with credibility in one scene when a dramatic blue tint reflects a ripening argument–and generous set dressing. Highlights include Zoe's shelf of Lonely Planet guides, visible when her producers say her documentary has a 'white lens', and Kazim's framed photo of the Guggenheim Museum. Shazad Latif plays Kazim with the charm and allure a leading man needs. Kazim confronts Zoe on her fantasy of easy multiculturalism, a tension treated sincerely by the film. His character is a modern man who knows his own values and respects his family's, even where they differ. Lily James has less to do playing Zoe, going from self-doubt to indecision, but she does live on a houseboat, which is pretty cool, even if none of her one-night stands say so.
What's Love Got To Do With It? wants to be a grand statement about the complexity of romance and its relationship to family. At a certain point, the characters were pontificating far too much, and you have to wonder if the whole city took a class in monologue. Nonetheless, the film possesses a rich, gratifying sentiment, able to satisfy despite its excesses.